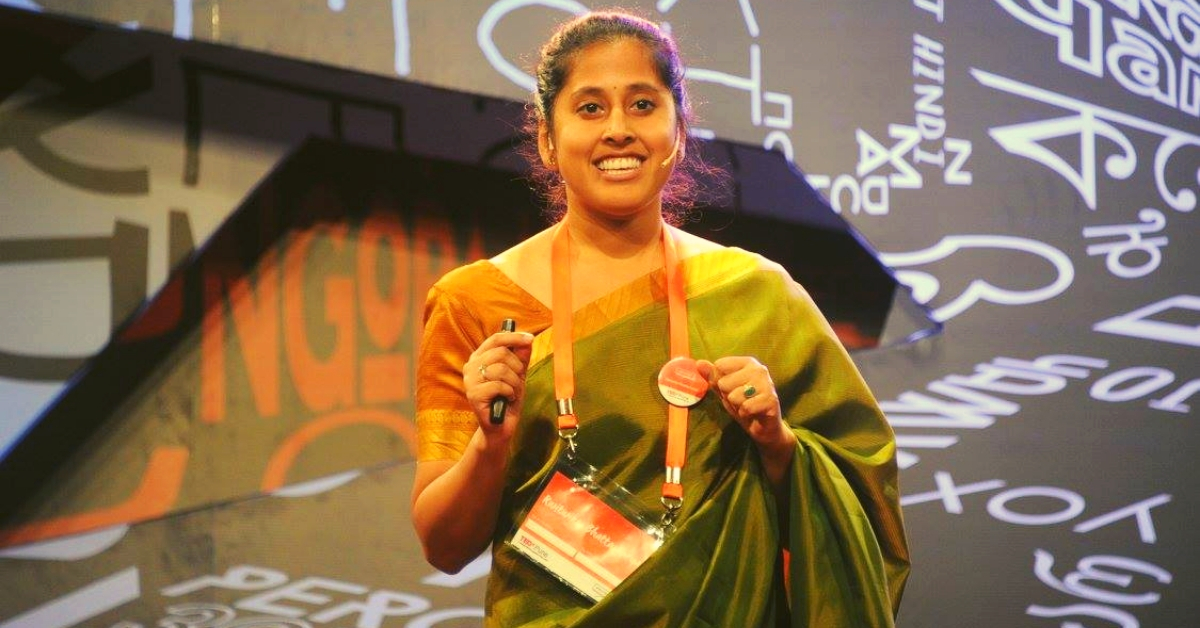 Working in 17 states, positively impacting the lives of 50 lakh Indians, mobilizing over Rs 100 crores of underutilized government funds — Rwitwika Bhattacharya's Swaniti Initiative is the kind of change governance in India truly needs. #Governance #ImpactThatMatters
Back in July 2012, Rwitwika Bhattacharya's contract with the World Bank had come to an end.
For the postgraduate from the prestigious Harvard Kennedy School, the choice was between corporate consulting and starting her public policy venture in India.
In the six months between finishing up at the World Bank and joining Accenture, she started the Swaniti Initiative, a social enterprise, which works with policymakers and elected representatives to deliver development solutions across the country.
Thus far, this data-driven public policy enterprise has worked with MPs and state and district administrations to positively impact the lives of 50 lakh ordinary Indians.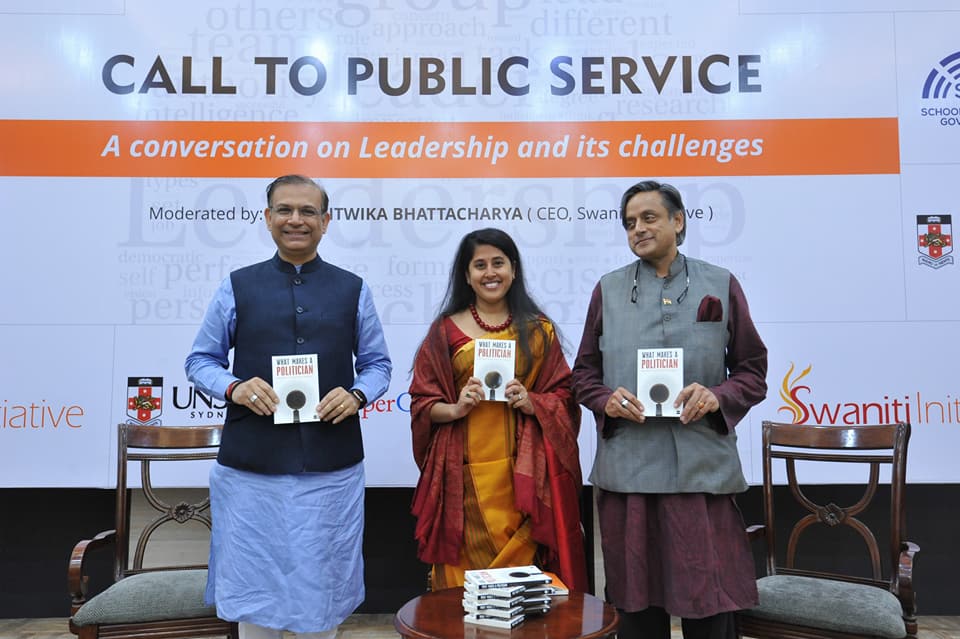 "My experience at the World Bank was great, but I wanted to do more. My father, Ranjan Bhattacharya, was active in politics, so I grew up seeing and meeting MPs. Thus, it made sense to reach out to them. I wanted to see how they were doing, what development in their constituency looked like," says Rwitwika, speaking to The Better India.
Although MPs do not implement schemes on the ground, they have two things working for them.
One is that they are closely connected to the community. So, if you need to make a development-related intervention sustainable at the community level, you need to go to the MP's office. Second, if you want to nudge a bureaucrat in a particular direction, their influence does help.
Swaniti works very closely with MPs through their Supporting Parliamentarians on Analysis and Research in the Constituency (SPARC) Fellowship across sectors like agriculture, education, livelihood, renewable energy, social welfare, water, health and nutrition.
Today, the Swaniti Initiative extends to State governments and district administrations.
Problem statement
At the very core of what Swaniti Initiative does is working with governance systems to improve public services.
Let's take the Building and Other Construction Workers (Regulation of Employment and Conditions of Service) Act, 1996, and the BOCW Welfare Cess Act, 1996.
These two promise access to social benefits like life insurance, health insurance and basic housing, to workers in the construction industry.
However, according to the Labour Ministry, in the 22 years since this law was passed, governments have managed to spend only 35% of the corpus, resulting in nearly Rs 28,000 crore lying unused.
How do we go ahead and make sure that scheme is available to construction workers?
At the root of corruption in India are weak and scattered systems of governance that are incapable of tracking how money for various public schemes and programmes is utilised where the rubber meets the road at the district and panchayat level.
For big ticket schemes like Swachh Bharat or Beti Bachao, Beti Padhao, a district magistrate can keep track of the money coming in and how it is utilised.
However, there are hundreds of other government programmes for which such data isn't streamlined. Funds allocated for these schemes that aren't utilised go back to the state exchequer.
"So if the very fundamentals of how much money is coming in, where it's going, how much is being spent and output of these programmes isn't closely tracked on the ground at say the village level, then preventing corruption becomes impossible. Having worked with state and district administrations, this is something we have noticed," says Rwitwika.
Making matters worse is that several districts they work in are functioning with 50% less staff, and the available staff does not have a proper support system.
Solution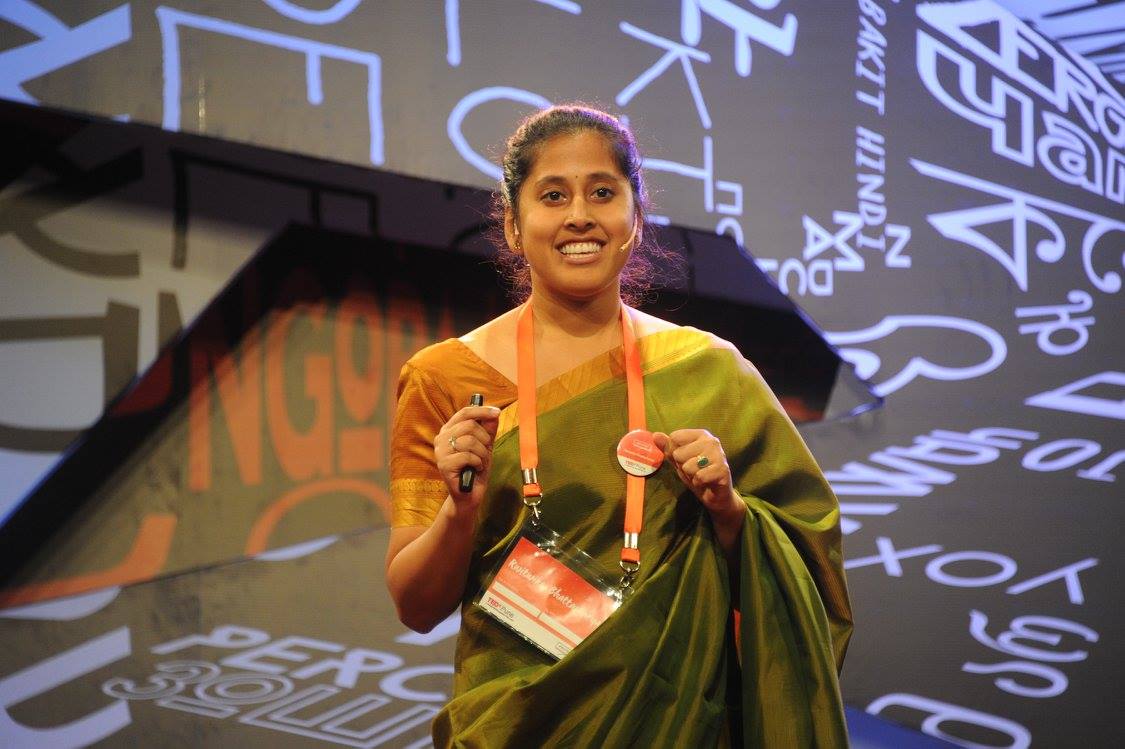 The standard model the initiative follows in different states is to collect data on the ground or use data available at a district level and figure out the following:
1) What does the demography look like?
2) What are the major issues?
3) What are government agencies doing to address them?
In Uttarakhand, what Swaniti noticed is the mass exodus of young men seeking employment opportunities outside the state.
"In Pindar Valley, we noticed that there were about 700 men who stayed back but were chronically unemployed, i.e., without work for six months or longer. Approaching the local community and officials, we asked what measures were feasible. We also found out that there were State-funded programs to build infrastructure in the community, like roads and parks. After collecting all the necessary data, we noticed about Rs 70 lakh of this money was sitting idle. Can we go ahead and deploy these resources on the ground build infrastructure? With women and children in abundance, one possible solution was to build community parks for them," informs Rwitwika.
The Swaniti team went back to the district administration with the solution to build more parks for the community so that the unemployed youth could come in and get work for at least seven-eight months.
In the process, the district administration could also build infrastructure for the community.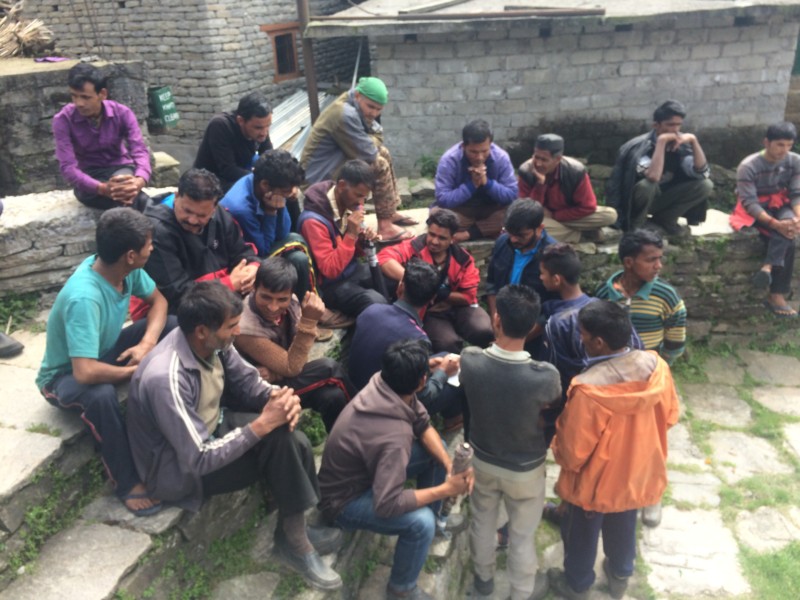 "We essentially set an example for the district administration for how they could take data that is available and turn it into something usable, and find a solution to the problem. In about three years (September 2015-September 2018), the project was at a stage where out of 700 people, we were successfully able to employ around 420, besides spending the entire Rs 70 lakh corpus earlier unused," she adds.
Leveraging data, another Swaniti initiative in Khati village, Uttarakhand, has given a Block Development Officer the ability to map the requirements of a school 7000 ft above sea level directly on his smartphone without having to physically spend three days going there.
However, Swaniti has gone beyond focussing on district administrations to local communities.
For example, they track how much money is coming in for local women self-help groups. These women can help create economic activity by mobilising those funds for their self-help groups and creating opportunities within the community.
Thanks to their work, over 100 crores in funds that would have gone unspent had they not intervened at the district level, has been mobilised.
Data and more
However, a more significant concern is not merely collecting data, but helping district administrations plug gaps in their data collection process with Swaniti associates on the ground.
In Puri, Odisha, for example, there was one particular scheme for construction workers in which 75% of the funds had remained unspent even though 900 labourers had registered for it.
Initially, the district administration was adamant that Swaniti's data was off the mark, but a local MP intervened, and the data was scrutinised again.
What the administration found was more than 70% of the funds were indeed not utilised.
At a closer look, these associates figured out that an official had registered these workers in a file, but forgot about it. However, what they also ascertained that publicity, a major component of this scheme, had remained unaddressed.
"We then reached out to the sarpanches, youth clubs and other local groups, holding information camps. In just a month and a half, we ended up getting 7000 odd applications. Then, we went back to the administration, asking them to process these applications. However, processing at a local district level happens on pen and paper, or the local data entry officer isn't competent enough to work with computers. It took us five months to get this information through into the system, track how many people are beneficiaries, and how much money is left in their bank accounts," recalls Rwitwika.
In India, the quality of data and its use is still at an initial stage, but the good thing is that we are at the point of change and are now trying to figure out ways to incorporate it. However, data alone doesn't work. It has to be complemented with action and having people who are going to push that information and shake people out of their inertia.
"We realised that we could not be just a data or tech company. People respect your organisation when it places people in tough regions. For example, there is a village deep in Godda district located within the heart of Jharkhand's Maoist belt, where the closest railway station is eight hours away. We have a team of about six people working there addressing different developmental challenges. Unlike other organisations, we don't drop in from Delhi, tell them what to do and fly out. For us the magic combination is using information intelligently and having people on the ground who can assist with implementation," argues Rwitwika.
Jaano India Platform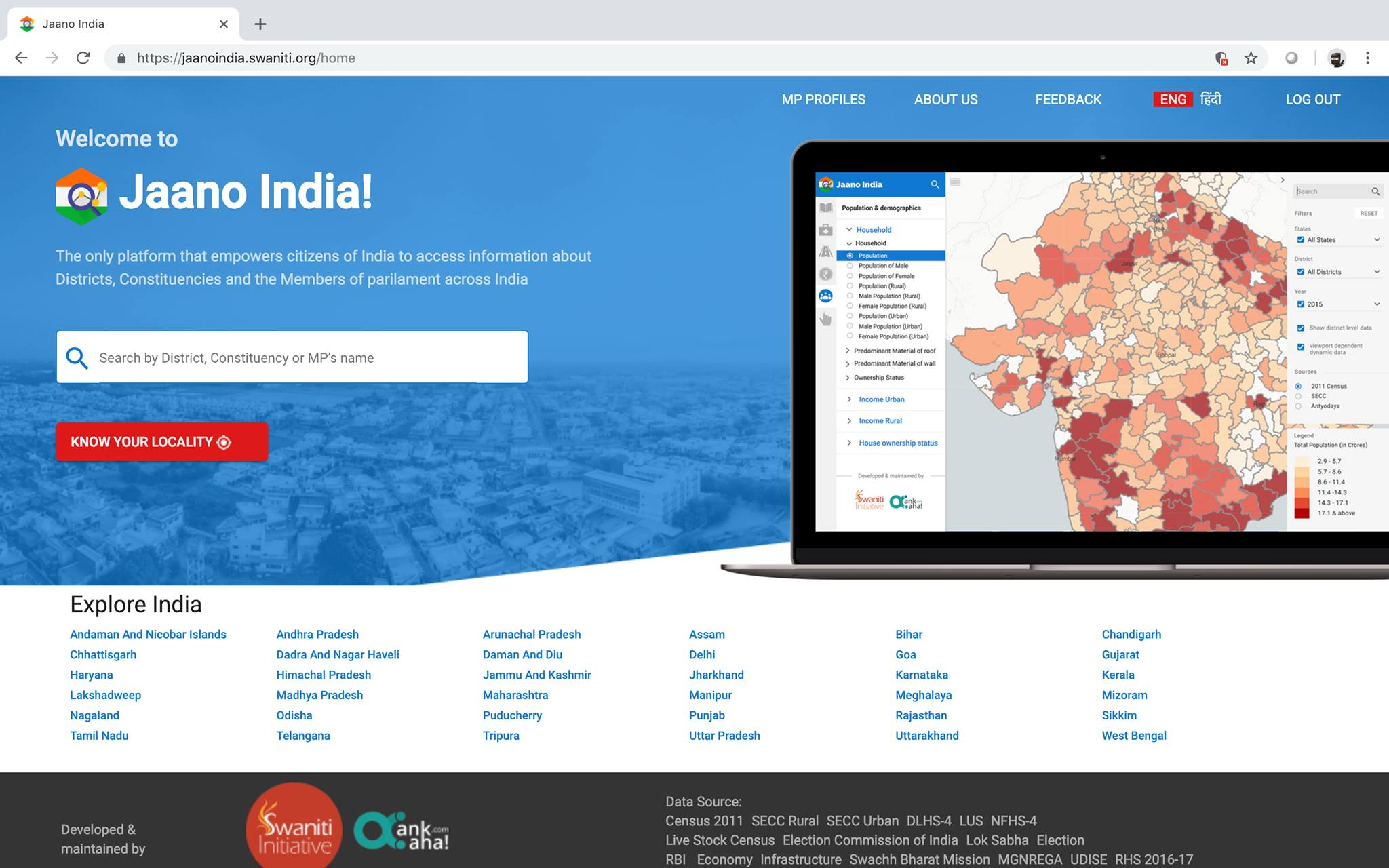 On Republic Day this year, Swaniti announced that it had developed the 'Jaano India' platform, a one-stop shop for finding all data related to district constituency and their respective members of parliaments.
Over 850+ data points are drawn and collated from various sources including Election Commission, Livestock Census, RBI, Lok Sabha, Swachh Bharat Mission, MGNREGA and NSSO, among others, to gauge important developmental markers from literacy to housing to infrastructure.
"We worked on it for two-and-a-half years. Voters can see their MP, measure his/her performance, rate it, and check their background. They can also check out how much of a margin his/her party won by in the last election, and their performance in the previous elections," says Rajat Gupta, a key figure in building this platform.
---
Also Read: Employment to Agriculture: Meet the Startup Helping States Revolutionise Governance
---
One of this platform's more fascinating features is a map of India, where you can visualise different data points at a district level across sectors like health, literacy, sex ratio, land utilisation, the percentage of working women and implementation of certain key government schemes, among others.
These figures have been updated according to the latest figures available in different government websites.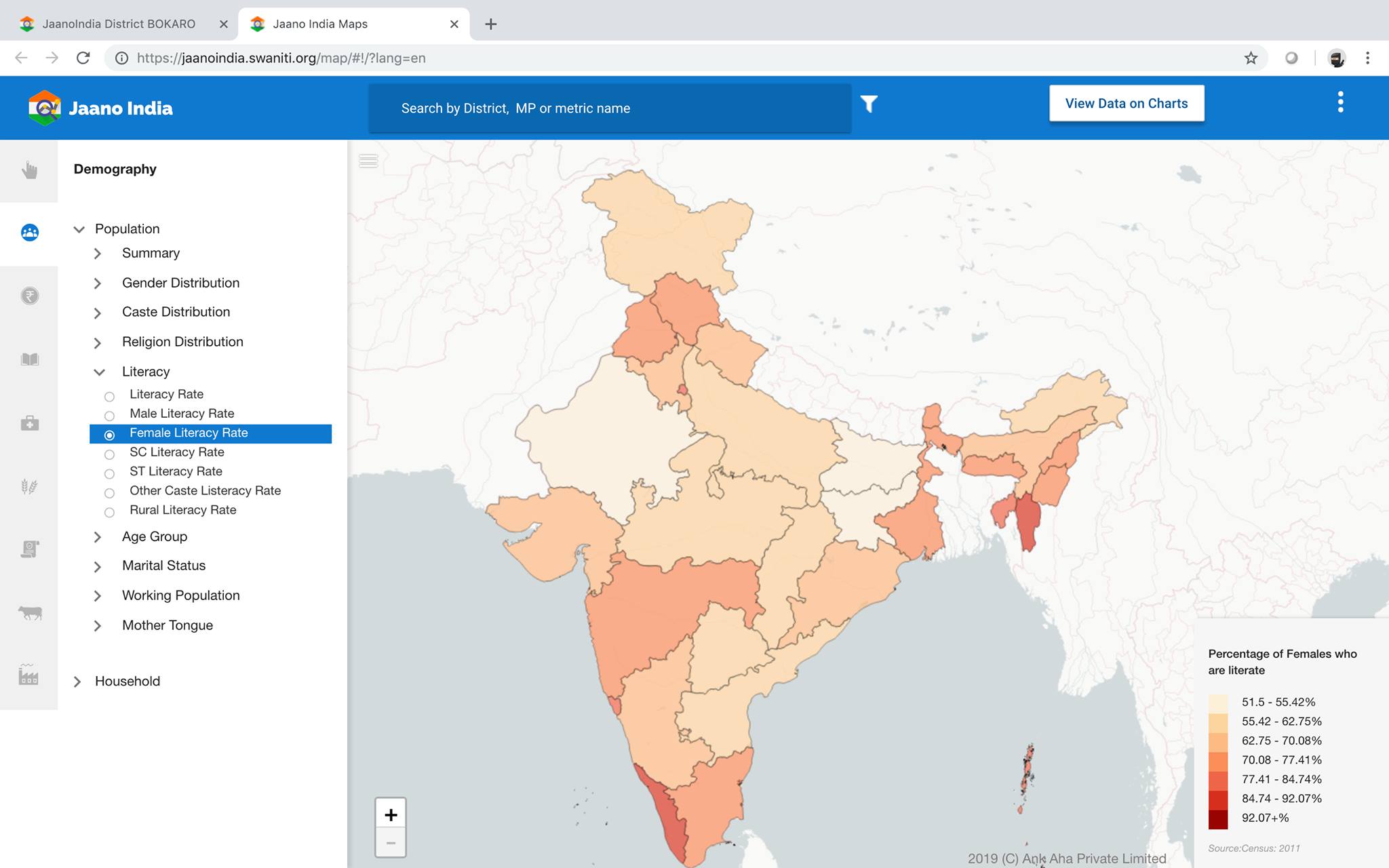 "You can compare all districts in the country on various metrics like sex ratio, literacy rate. It also helps you ascertain whether the sex ratio has increased because of literacy rate or not. Right now you can compare the two datasets manually, but in the future, we will build an algorithm that does this correlation automatically," says Rajat.
Building the map was a real challenge. Mapping the data and setting it in the proper geographical context is hard, he admits. However, they developed an algorithm which can help them mark out that data on a map accurately.
"The vision is to provide a district level health card to citizens so that they essentially know what their district looks like, where are the developmental gaps and what is the situation right now. Since this is all government data, public administrators can't accuse them of trying to dissuade citizens," he adds.
Also, this platform is mobile and tablet optimised.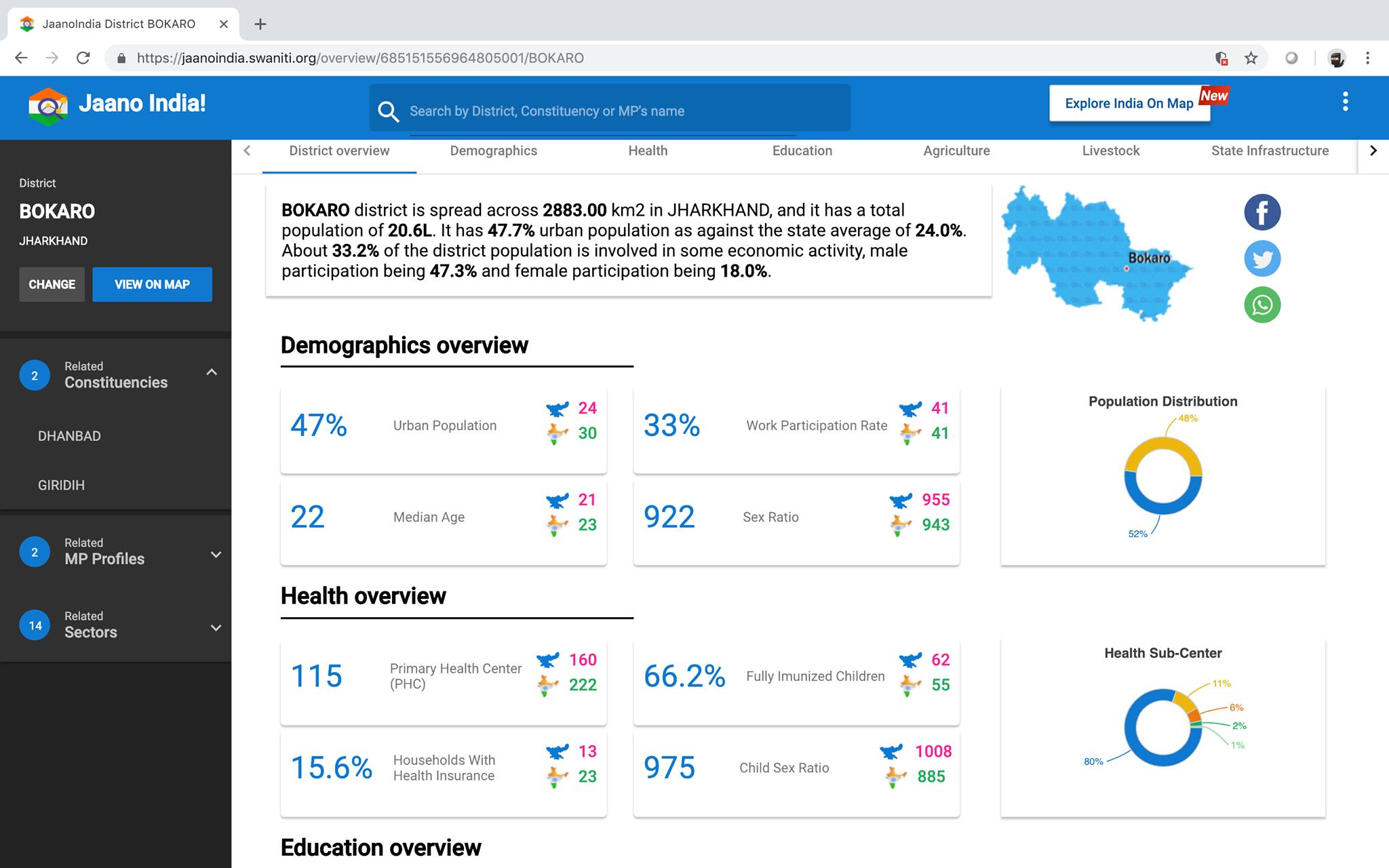 Recently alongside Ank Aha and Tata Trusts, Swaniti has developed an app on both Android and iOS called the UPaAI (Unified Planning and Analysis Interface) or 'solution' in Hindi, which integrates data on infrastructure and other development markers for each constituency.
This provides MPs with district-wise information on his/her constituency, helping them make better decisions on how to utilise MPLAD funds and better coordinate better with state and district authorities on various welfare programmes.
If you haven't already voted, you can visit their platform, which will help you not only learn more about your district but also help in the process of making an informed choice.
Concluding remarks
For Rwitwika and her team at Swaniti, this has been a remarkable journey. The decision she made back in 2012 to start Swaniti and ditch corporate consultancy wasn't just about sacrificing a lucrative career, but also leaving behind the comforts of living in the United States.
To uproot herself from her comfort zone and help address India's developmental challenges is something that we should all appreciate. God knows we need more such people.
(Edited by Gayatri Mishra)
Like this story? Or have something to share? Write to us: contact@thebetterindia.com, or connect with us on Facebook and Twitter.
We bring stories straight from the heart of India, to inspire millions and create a wave of impact. Our positive movement is growing bigger everyday, and we would love for you to join it.
Please contribute whatever you can, every little penny helps our team in bringing you more stories that support dreams and spread hope.