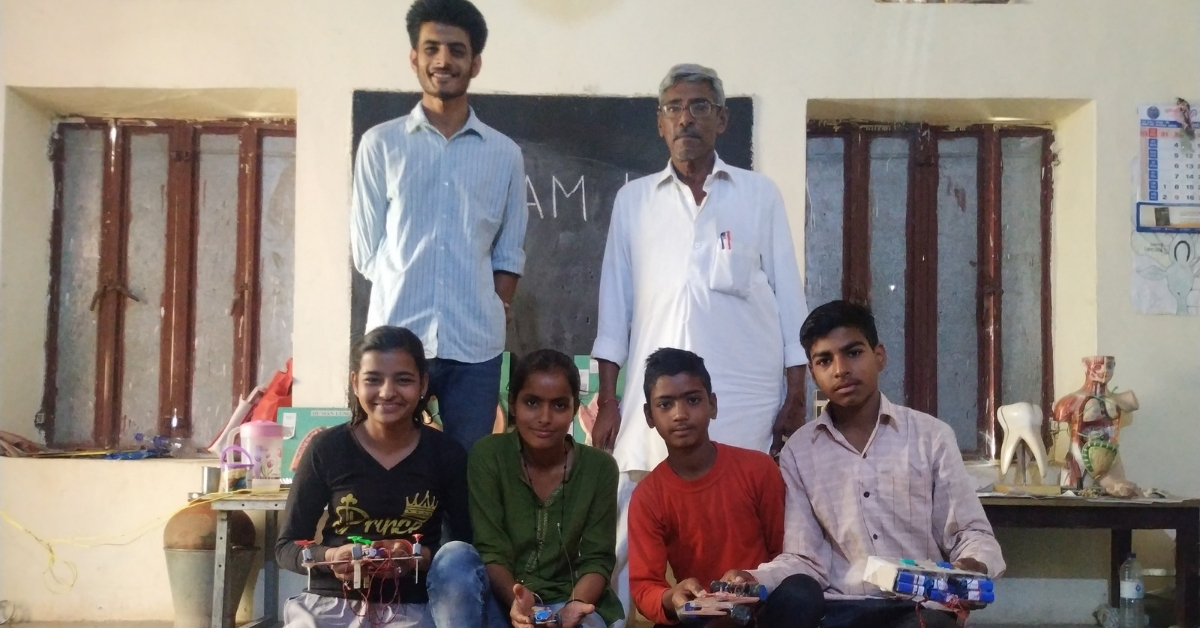 Under a fellowship programme started by Barefoot college, recently graduated people from urban spaces are introduced to the grassroots realities of rural education and allowed to impart education with a different approach
Keyur, a 9-year-old, is eagerly looking for materials he can use to construct the door of his house. After that is done, the only step left will be to attach it, and his dream house will be ready.
Like him, many of his classmates are also racing to find the final parts for their homes, ranging from sofa sets, cots, sewage pipelines to clay utensils.
No, this isn't child labour. As part of their academic curriculum, students of Class 4 in the school are building miniature models of how an ideal community should be.
This sounds like a high-end private school isn't it?
Well, it isn't.
The students belong to the Shiksha Niketan School, an extended primary school run by the Barefoot College in Tilonia, a small village in Rajasthan.
While the Barefoot College, started by Sanjit Bunker Roy in 1972, aims to provide local solutions to rural problems, Shiksha Niketan's objective is to go beyond classroom education and provide hands-on experience to the young guns of India.
To ensure the holistic growth of children, the management of the school recently started a fellowship programme. Under this programme, recently graduated people from urban spaces are introduced to the grassroots realities of rural education and allowed to impart education with a different approach.
The rapid increase in the number of students in schools has led to a deviation from its founding principles of alternative value-based hands-on nature-oriented learning. New teachers have the baggage of traditional rural schooling and do not much experience to rely on in terms of being a role model for the students, Maanasa Paramasivam, Resource Development Programme Manager, Barefoot College, tells The Better India (TBI).
The programme also benefits people who want to bring a difference in rural areas.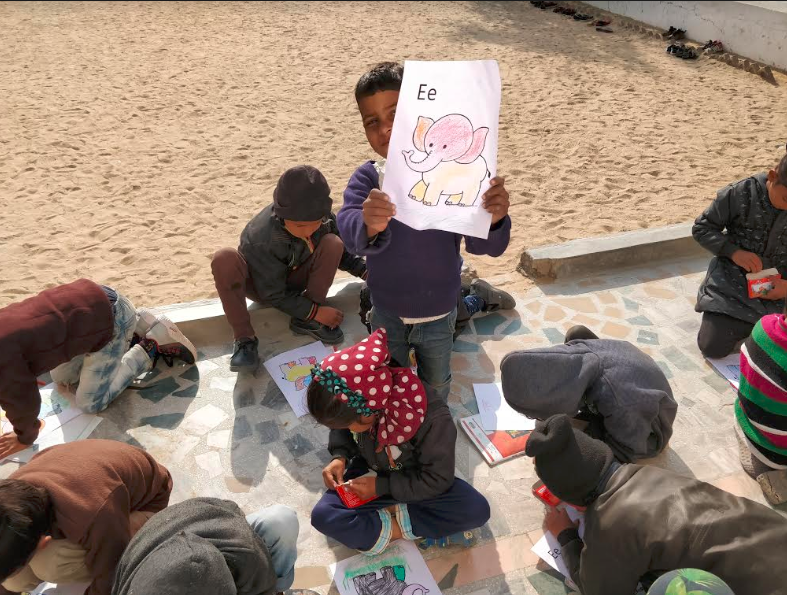 The fellowship encourages young people to become community leaders by exposing them to rural challenges. It gives them a platform to take ownership and bring solutions by optimising resources available in the community, she adds.
The basic model directs the fellows to work in collaboration with the school departments and teach academic concepts through outdoor activities like gardening, developing solar energy, waste management and so on.
Meet the first set of fellows —Yamini Saxena, Jayashree Kulkarni and Joy Banerjee —who left behind fairly comfortable lives in their respective cities to focus on rural education.
An Architect Who Wants 'Concrete' Development
Born and raised in Mumbai, Jayashree Kulkarni was passionate about aesthetics and creativity, and this led her to join the Academy of Architecture in Mumbai.
During her college days, she always had a soft corner for social issues and was active in extra-curricular projects. It was during one such project that she was introduced to the vast inequality gap that exists between the education imparted in rural and urban areas.
"I was working on a dam rehabilitation project, and that is when I came to know the harsh reality of forced migration. Thousands of people from rural areas are forced to displace in the name of development. From unemployment to education, villagers are left to deal with their own problems. This incident was the trigger for me to bring about a difference," the 25-year-old tells TBI.
Through a multistage selection process, Jayashree was evaluated based on her competencies including leadership, critical thinking, and commitment.
She packed her bags and moved to Tilonia after receiving extensive training to develop pedagogical awareness and teaching techniques.
During the training, Jayashree was also given an in-depth understanding of the content and curriculum they would be using and to gain a better understanding of the rural context. As she had prior experience of working with children from tribal areas, it wasn't difficult for her to form a relationship with students of Shiksha Niketan.
She was allotted Class 4 and 5 with environment and science as the focus areas.
Jayashree believes in maximising outdoor classroom activities, and use them as a tool to encourage children to strike a balance between nature and development to helping ideate their ideal society,
Emphasising on the need to develop self-knowledge she says, "You can understand all your potentials, skills and talents only by working on the field. This way the learner becomes sensitive to other life forms. A deep sense of ownership is then developed amongst learners about their learning outcomes."
Keyur and his classmates are an example of outdoor learning. The project of building a house is executed under a chapter on 'Society' mentioned in the textbook.
"First, I asked the kids to depict their family and neighbours by making miniature models. Then I asked them to make a list of everything their world should have. The kids are now turning the pointers into miniature models by applying their community wisdom," she says.
Gardening is another interesting activity that the children have taken up. We already have a garden in the school, and there was a barren patch available, so I asked my students to expand the garden by planting trees. This is to make them feel one with nature," says Jayashree.
This Lucknowi ensures that Education is Not Only About Passing an Exam
After completing his graduation in Political Science and Sociology, Joy was looking for opportunities to work in rural areas. He undertook the fellowship intending to understand the education system in villages.
The condition of education in rural areas is very concerning considering the kids are conditioned to clear the exams to get a government job. Thus, the concept of learning and applying those concepts for a better life is missing, Joy Banerjee tells TBI.
More than the culture shock, it was the pattern of education that gave Joy sleepless nights. It was hard for the 21-year-old to accept that children would mug their chapters just for the sake of clearing primary school.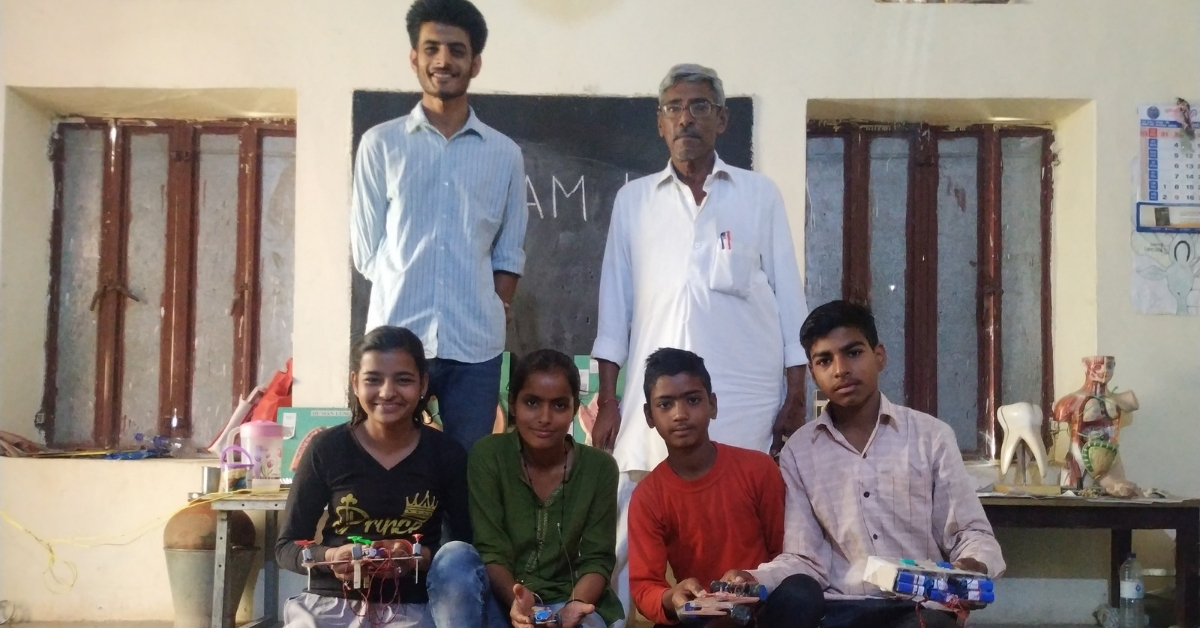 So, it was challenging for him to make the students understand the world that existed outside the classroom. Initially, when he joined in August last year, he faced a lot of resistance from the students.
I started encouraging the children to work with each other to design or build whatever they liked. This helped them realise their likes and dislikes, and I banked on this to prove that there are professions beyond government jobs, he says.
Besides, teaching science, math and art, Joy regularly undertakes sessions on social issues likes caste, gender disparity, sanitation and environment for their all-round development.
Together with Joy, the students of Classes 6 and 7 practice environment-friendly activities like composting, rainwater harvesting, water filtration and so on.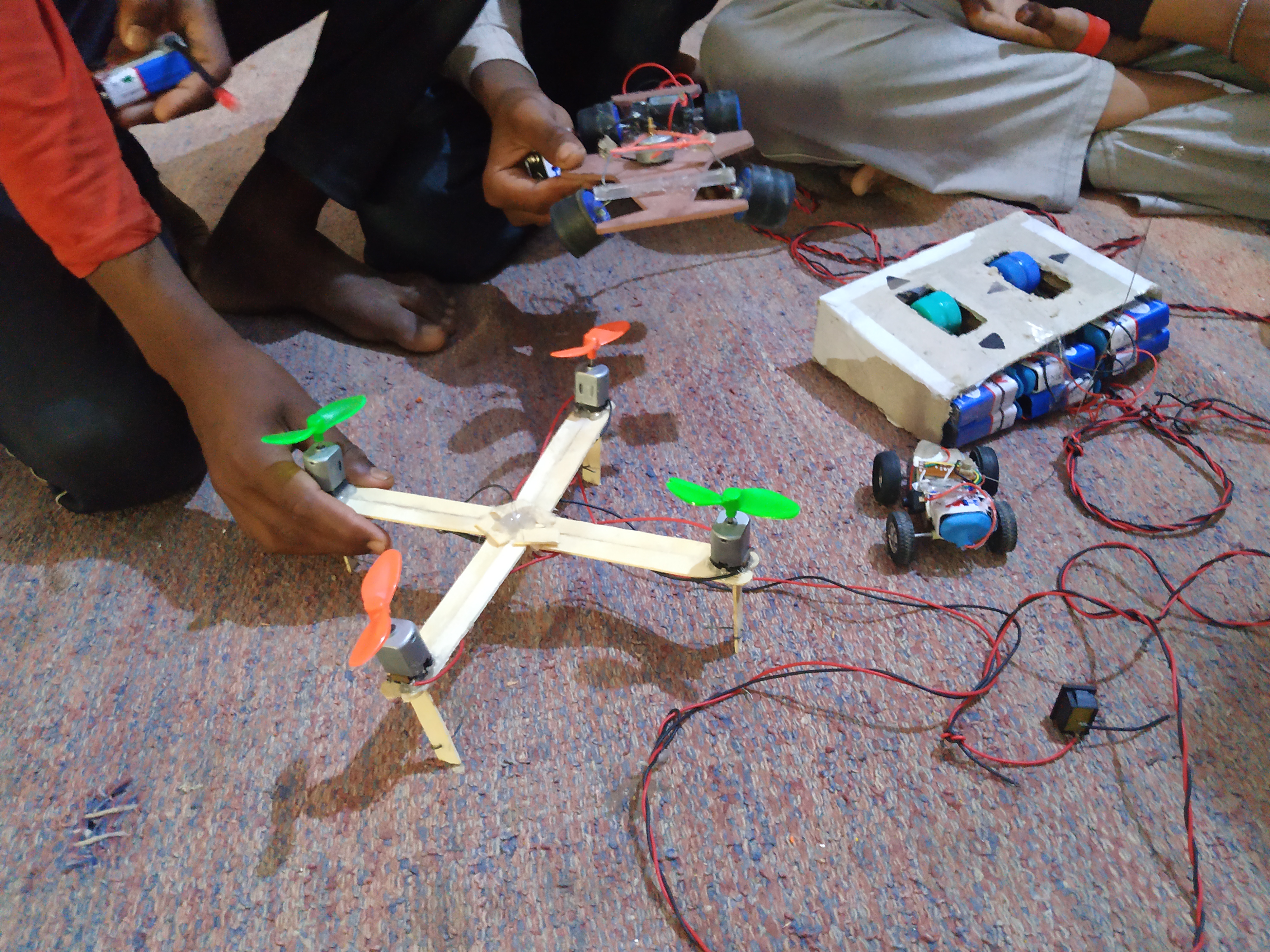 In the department of technology, his students are currently working on developing a drone and a washing machine from discarded items.
An Economist Who Is Going Beyond 'Chalk-and-Talk' Method
Yamini Saxena's area of expertise and interest is public policy, and she was always clear about acquiring a hands-on experience before applying her textbook learnings in her professional work.
She completed her Masters in Economics and directly signed up for the fellowship programme in July 2018.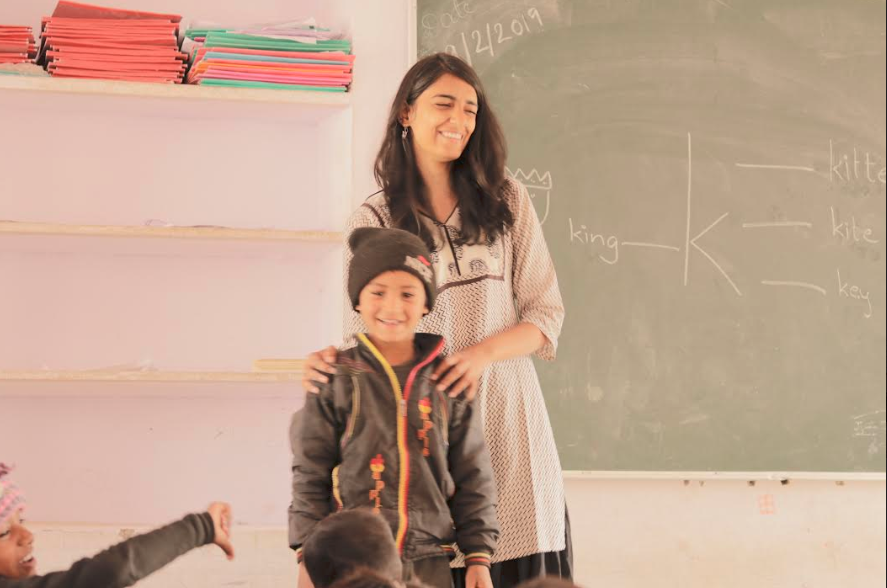 Speaking to TBI, Yamini says,
I was very conscious of what topics I wanted to learn during my BA and MA, and thus I chose subjects related to Development Economics. I wanted to understand the educational policies in rural areas before working in the field of Public Policy.
Like the two fellows, it took some time for Yamini, to adjust with the locals in terms of language, food and weather. The adjustment problem was also there when it came to engaging with the students, who primarily conversed in either Hindi or Marwari. Elaborating on this, the 24-year-old said,
I teach English to Classes 1 and 2. Since the language is completely alien for them, they do not have preconceived notions about learning it. This has made my job easy.
Having studied in schools and colleges that always encouraged extra-curricular activities, Yamini had already zeroed on her education tool. From dancing, singing, poetry to games, Yamini uses a combination of tools to teach English.
You cannot expect children to sit in a class for 45 minutes without losing interest. By unleashing their creative side, it is easier to grab their attention for a longer period of time. Most of them are first-generation learners and to make them comfortable I use immersive techniques, she says.
She also focuses on phonics, a teaching method for reading and writing of the English language by developing learners' phonemic awareness (the ability to hear, identify, and manipulate phonemes) to teach the correspondence between these sounds and the spelling patterns that represent them.
Unlike her peers, Yamini has the advantage of working with young minds, as they are easy to mould and establish a strong base.
Conclusion
"The inequality in terms of pay scale, gender, work is widespread, and education is the main channel through which these issues can be eliminated. The learning ability of children in rural areas is at par with the urban kids, but only due to a lack of effective teaching methods, the children are deprived of quality education. This is a sad reality, and we need to change this," says Yamini.
Meanwhile, Joy and Jayashree are noticing an improvement in terms of children's behaviour patterns.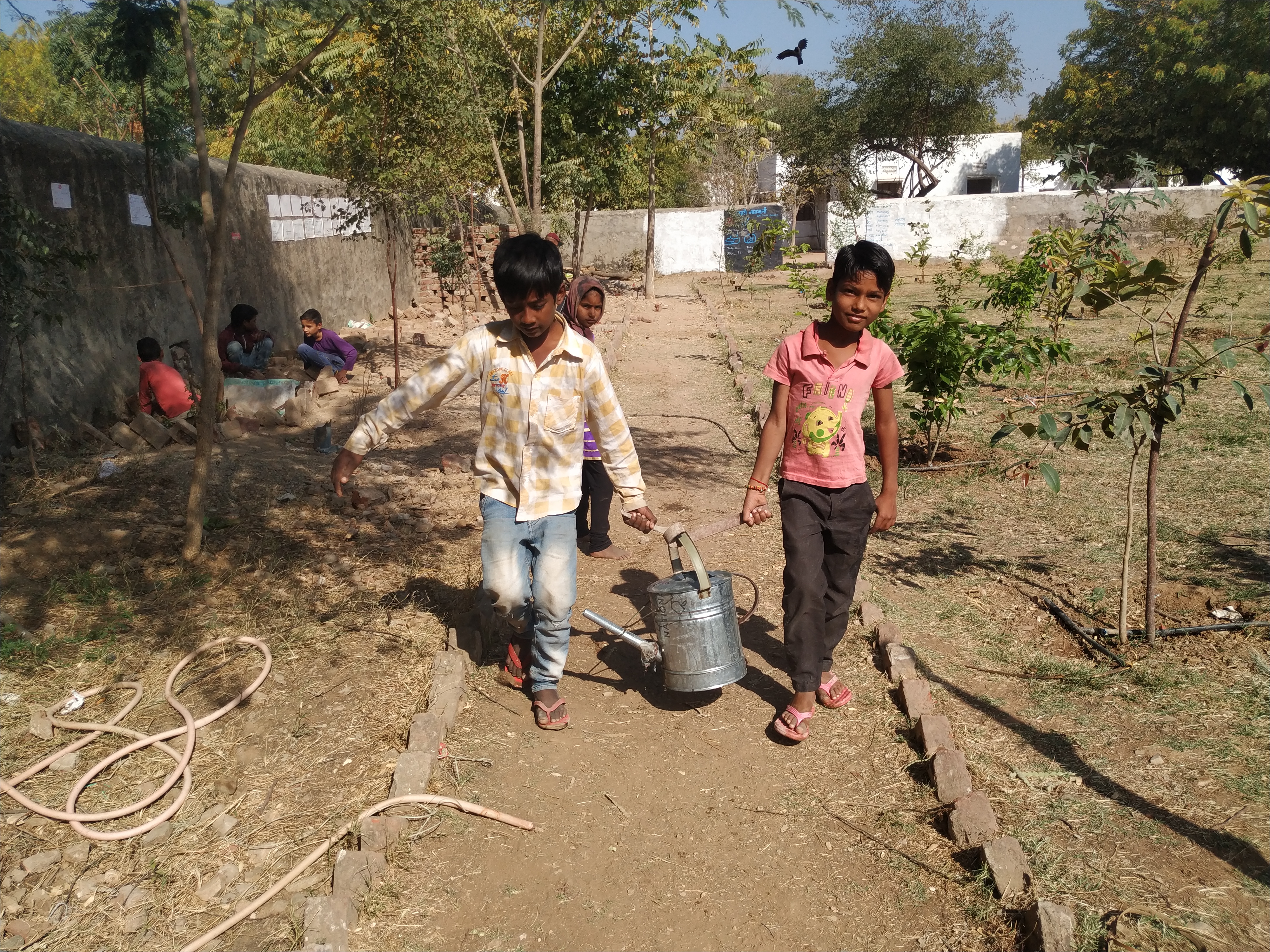 Students who were once convinced that spending time outside classrooms is a waste of time, are now excited to attend school, says Joy.
The school timings are from 8 to 2, and the fellows have to ensure that children engage in activity-based learning every day. While some projects are a one-day affair, some are long-term like the gardening activity.
If you wish to bring a difference in rural education and be a part of the Barefoot fellowship you can apply here.
(Edited by Gayatri Mishra)
We bring stories straight from the heart of India, to inspire millions and create a wave of impact. Our positive movement is growing bigger everyday, and we would love for you to join it.
Please contribute whatever you can, every little penny helps our team in bringing you more stories that support dreams and spread hope.