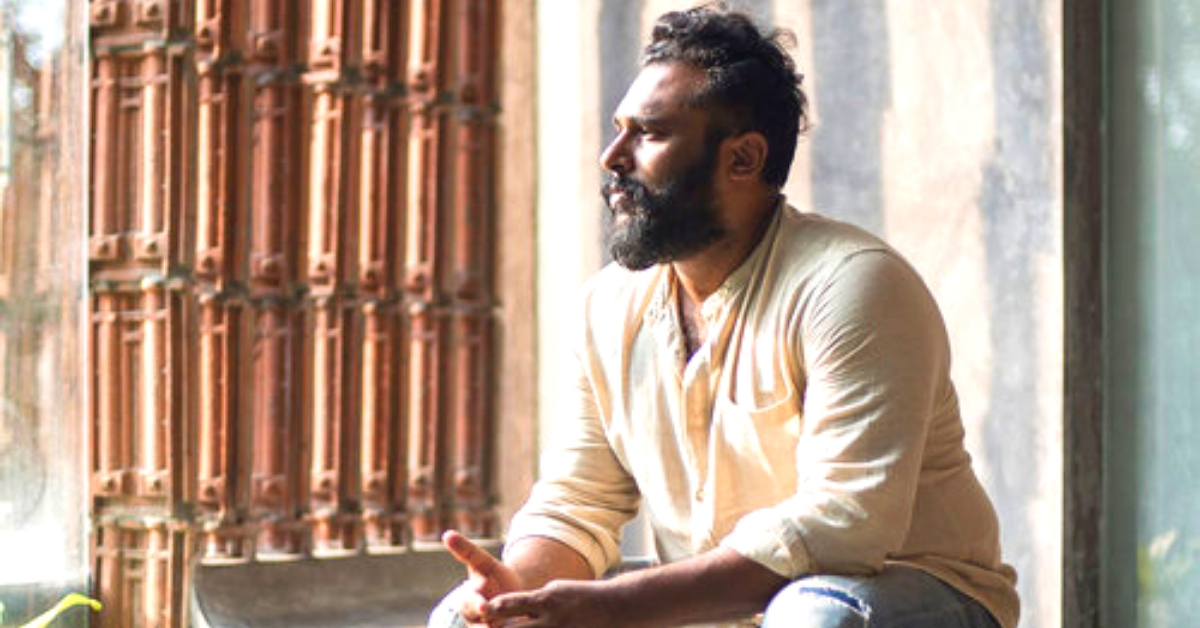 Used bottles, scrap metal, jute sacks, coconut shells, broken bricks and more — Vinu Daniel is a shining example to architects everywhere. #SustainableHomes #GreenIndia
Vinu Daniel is a leading exponent of sustainable architecture in India. However, he never intended to become one.
Born and raised in the Middle East, Vinu always aspired to become a musician.
However, his parents wanted their son to pursue a conventional profession, so, after passing out of school in Abu Dhabi, Vinu moved back home to Kerala to study architecture at the College of Engineering, Trivandrum.
"I got into architecture thinking that it was a creative space, where I could express myself. I had no idea what was in store for me. Within a year or two, I was angered by the pedagogical framework within which conventional architecture was taught. Adjusting to it was difficult, and I felt that architecture had become all about satisfying one's ego," says Vinu, in a conversation with The Better India.
This is a sentiment that many experts have expressed in the past.
With advances in building technology, many architects have envisioned and executed luxurious forms and geometries. But indulging themselves or their clients in these ventures has also generated excessive amounts of waste.
However, a chance meeting with legendary architect Laurie Baker in his fourth year played a critical role in making him fall in love with architecture.
"Baker explained how buildings could completely co-exist with nature and avoid waste. He also told me something very profound about a chance meeting he had with Mahatma Gandhi," says Vinu.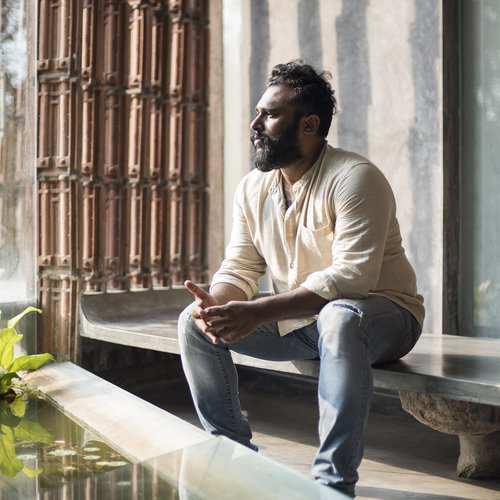 Inspiration
"It was also through the influence of Mahatma Gandhi that I learnt that the real people you should be building for, and who are in need, are the 'ordinary' people—those living in villages and the congested areas of our cities.
One of the things he (Gandhi) said has influenced my thinking —that the ideal house in the ideal village will be built using material that is found within a five-mile radius of the home," wrote Baker.
Vinu felt that Baker's words were truly inspiring and he could relate to them.
"In urban spaces, there is a need to include waste and debris in construction. This method would serve millions with housing needs and not burden the environment," says Vinu.
After his graduation in 2005, he worked with Auroville Earth Institute for the UNDP (United Nations Development Programme) Post-Tsunami construction.
On returning from Pondicherry in 2007, he started 'Wallmakers' which was christened thus by others, as the first project was just a compound wall built utilising mud bricks and beer bottles, which was lying waste.
By 2008 he had received an award for a low cost, eco-friendly house from the 'Save Periyar' Pollution Control Committee for the house which was constructed for a cancer patient.
Thus far, Wallmakers have mostly constructed residential structures, while also working on different religious edifices, commercial buildings and even pavilions.
"Initially, I found it very difficult to convince clients that sustainable architecture is needed in commercial buildings. Unlike residences, they require it more because these are spaces where a lot of people communicate and interact. Commercial spaces aren't merely about the floor area ratio, but also about making people comfortable, interact and happy to work with each other," he says.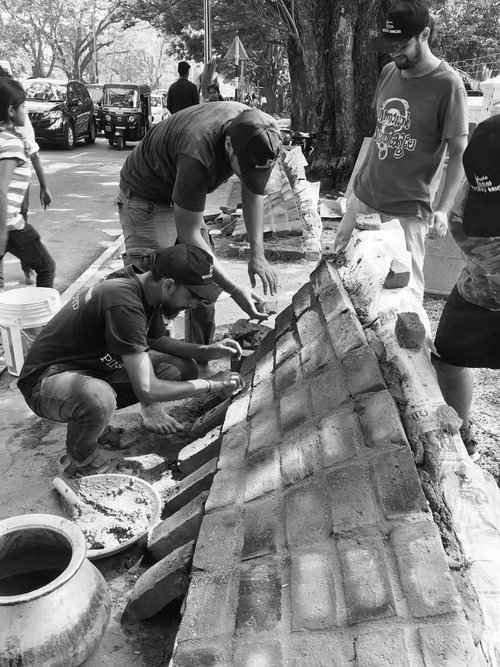 Turning point
For Vinu, however, the penny dropped with the construction of the Valsala Cottage from 2008 to 2009. This cottage, which won him the India Today eco-friendly house of the year (South Zone) award, was for his mother's brother in their native place Mavelikara.
"It was a difficult time for me. The masses didn't accept my design philosophy and ideas. I had a tough time convincing people. However, one day, my uncle came and asked me to build him an innovative, beautiful and sustainable houses using mudbricks. He gave me a free hand to do anything. It gave me a lot of freedom to think differently," recalls Vinu.
At that point, he was at a crossroads in his career, asking himself whether he could continue pursuing eco-friendly architecture.
"I decided not to condition myself into thinking in terms of conventional structures. I wanted to be free with my designs, break convention. This cottage allowed me to do that," he says.
The cottage predominantly uses compressed stabilised earth blocks (CSEB) which are essentially mud blocks. It is "construction material made using damp soil under a high amount of pressure to form blocks. CSEBs are composed of dry inorganic subsoil, non-expansive clay, aggregates and Portland cement, are an environmentally friendly alternative to clay bricks," says HAPPHO, a Pune-based construction solutions company.
What Vinu did was apply traditional climatic and ventilation techniques in a contemporary way.

Most houses in Kerala have something called a Nadumuttam (a traditional open courtyard) which is offered to the sky. The Valsal cottage similarly has an eye-shaped courtyard space at the centre of it. Additionally, it also harvests rainwater and redirects it to the plants outside.
"This allowed for more internal cooling. Since hot air is lighter, it would escape through the central courtyard opening. Meanwhile, the upper stories had a complete wall made of beer bottle jaalis and CSEBs. In ancient houses, there used to be an upper area, which had a gable full of holes, allowing hot air to escape the building. In our case, all the hot air escapes out from first-floor room jaali. Using beer bottles also allowed the light to flow in seamlessly as well. This design created conditions for natural cooling, making air conditioners redundant," informs Vinu.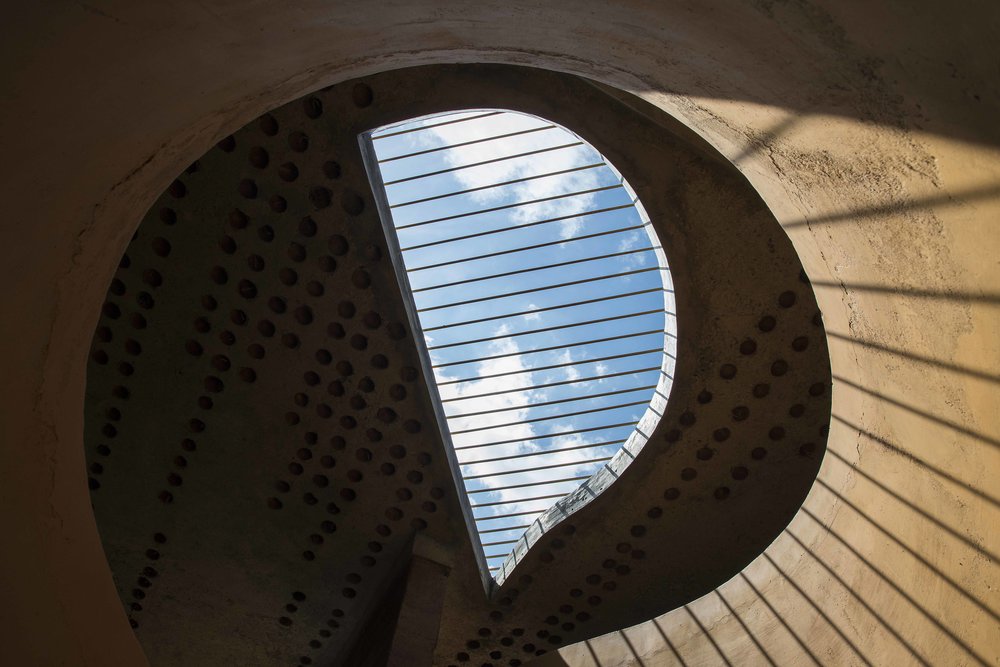 However, creative differences in 2015 resulted in the modification of the structure. The structure was painted, the courtyard removed, and the jaalis were changed in the upper room.
"It's all about priority. Back then the priority wasn't that the house is cool within and liveable. The focus was on showcasing it to others backed by misguided rationales like if the air comes in, it brings along dust and thus maintenance might be a concern. We could have easily worked around this problem by using mosquito nets, etc. Only now that climatic conditions have changed severely are people aware of why these traditional and sustainable designs are needed," he recalls.
Using what we have already used
Since the very beginning of his career, Vinu has been using recyclable waste. In the Wallmakers' latest project, they are using pet bottles to build an entire house alongside material like mud and scrap wood. It's a composite creation. These pet bottles filled with mud serve a structural purpose as they act as compressors and thus are used as bricks to construct houses.
For Vinu, necessity and innovation are significant facets of his projects. Depending on where the client's structure is located, he comes up with innovative solutions.
In one such project, the location where his client wanted to construct a house was once a dump yard.
How do you utilise the trash around you? That's when he first came up with the patented debris wall and shuttered debris wall, which he shares with fellow architect Shobhita Jacob.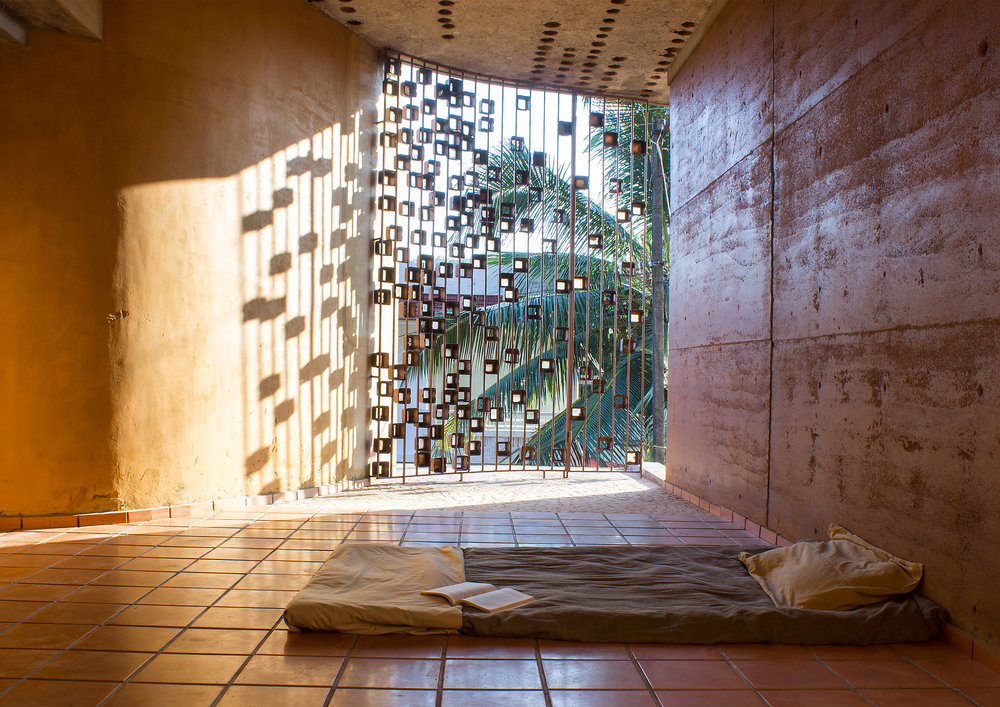 "Once again, it's coming back to the Gandhian philosophy of utilising material found within a five-mile radius. Just look around when you walk out. You will find lots of waste material like plastic and construction debris strewn around. Abiding by that principle, I cannot ignore this waste. One must start thinking maybe this is new material because this is all we may have in the future. We must prepare ourselves for the day when resources we take for granted no longer exist," he says.
One excellent example of how Vinu employed the patented debris wall was for a house in Pathanamthitta, belonging to academic Biju Matthew.
"While all other walls of the house are built of rammed earth with mud sourced from the site itself added with barely 5 – 7% cement; this debris wall is built around a frame of 6 mm steel rods and plastered 22 gauge wire mesh which supports the layers of debris poured in with intermittent watering, finished with a final layer of plaster. This wall made of 80% building material remains, 15% gravel, 5% cement and 5% manufactured sand is not just resource and cost-efficient, but also surprisingly strong and of extremely pliable form," says this column in Future of Design.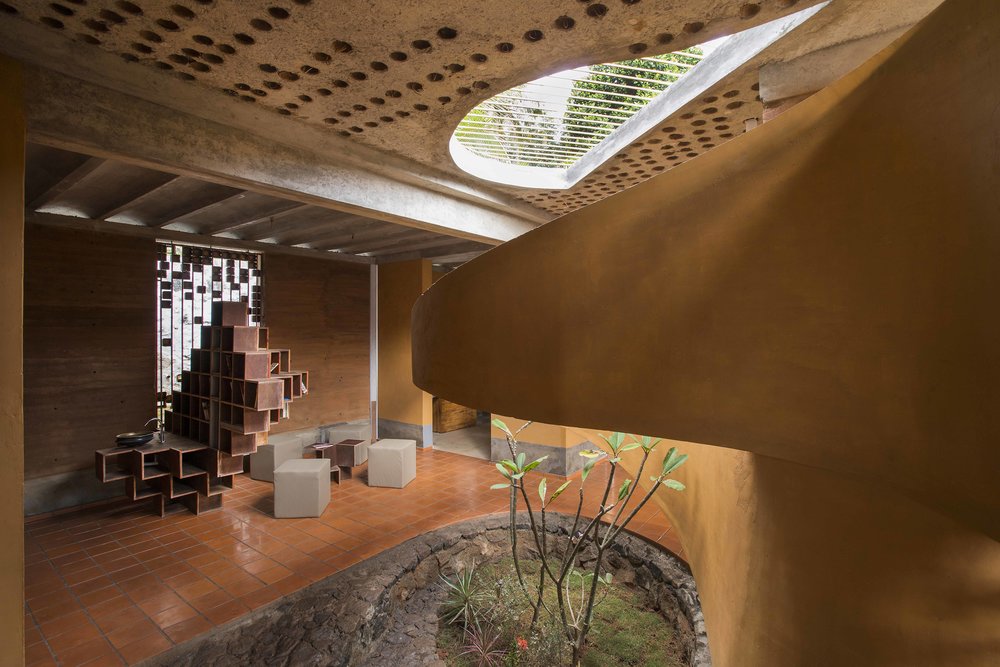 The debris wall is painted over with waterproofing material. Meanwhile, the shuttered debris wall involves a process of putting a shutter and pouring the debris mixed with small quantities of cement mixture to hold it well alongside with the mixture of mud to avoid honeycombing.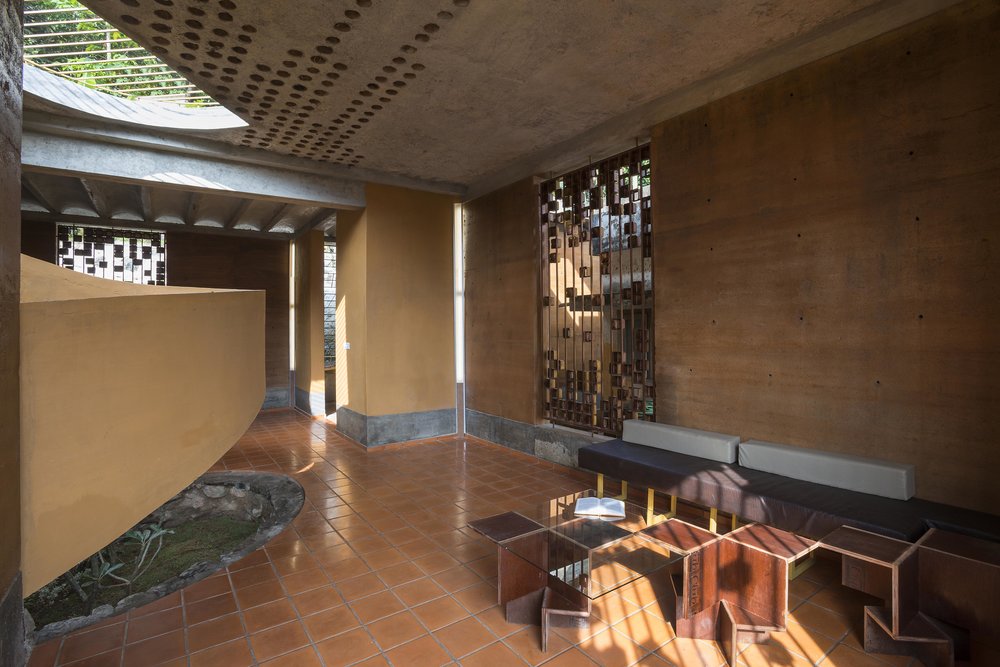 Back in Vogue
With climate change wreaking havoc on how we live our everyday lives and the emergence of an eco-friendly consciousness among many Indians, sustainable architecture has gone from a model once ignored to one which everyone wants to adopt.
The advantages are clear. This is precisely why it's time to hark back to a time when the mainstream didn't embrace Vinu's line of work.
As stated earlier, his very first project was the construction of a compound wall.
Well, he was initially tasked with building the entire house until the client developed cold feet, leaving him to construct just the compound wall.
Also Read: Pune Couple Builds Cement-Free Breathable Homes That Don't Need ACs or Fans!
However, Vinu wasn't fazed and instead used it as an opportunity to work with labourers in making mud bricks for the wall. This gave him hands-on experience in making mud bricks, a material many consumers want today for its cooling properties.
Today, it looks like Vinu's time has finally arrived.
(Edited by Gayatri Mishra)
Like this story? Or have something to share? Write to us: contact@thebetterindia.com, or connect with us on Facebook and Twitter.
We bring stories straight from the heart of India, to inspire millions and create a wave of impact. Our positive movement is growing bigger everyday, and we would love for you to join it.
Please contribute whatever you can, every little penny helps our team in bringing you more stories that support dreams and spread hope.