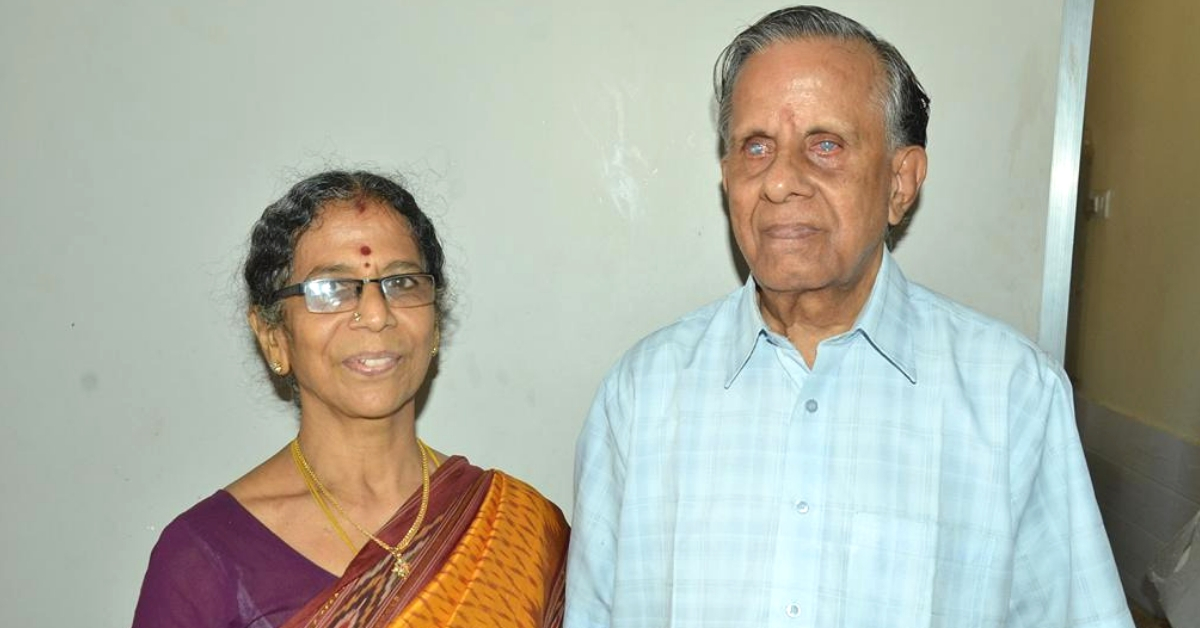 Pained by the state of poor and homeless people, Jalaja and Janardhanan were driven by an overwhelming sense to care for those who had no one.
At first sight, Tirunagar-based R Jalaja and K Janardhanan will pass off as any other retired couple, making plans to invest their time and savings in travelling or with family.
Well, they did find a greater purpose post-retirement, one that was not centred upon themselves but society.
In one of our previous stories about seven doctors from Madurai who treat the poor and abandoned for free, this is the couple who had donated a plot of land purchased with their life's savings to these doctors for setting up a permanent healthcare centre.
This is their story.
Jalaja and Janardhanan nursed a mutual passion for social service, but it wasn't until the early nineties that they would actually get down to work.
Pained by the state of poor and homeless people, they were driven by an overwhelming sense to care for those who had no one.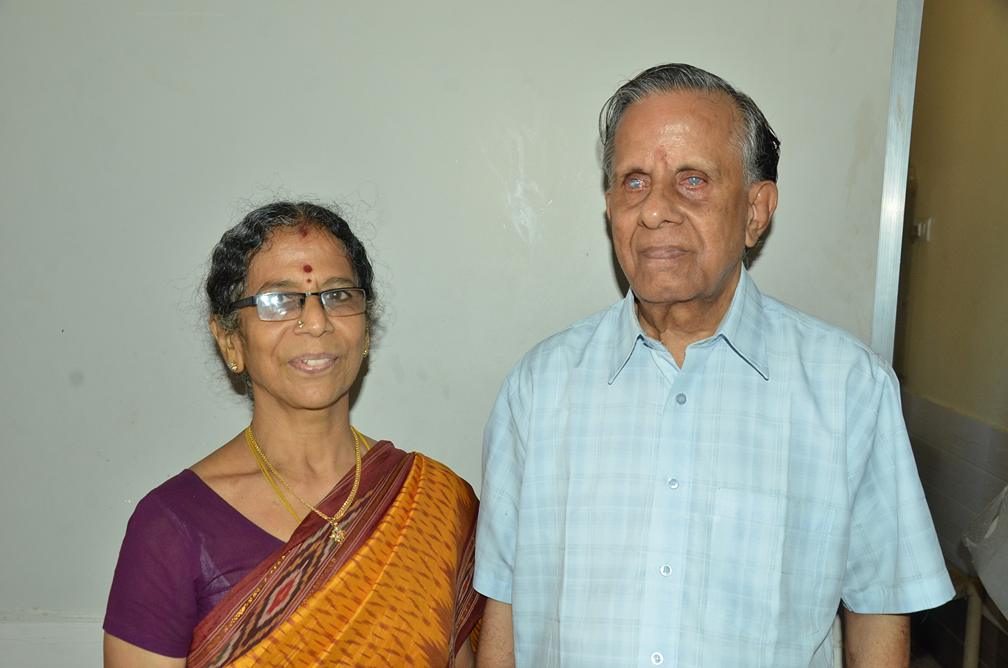 It was the plight of the elderly that particularly affected the duo; ten beggars in search of food would knock their doors almost every day. They wanted to open an old age home for them. They realised that they had the financial viability of not just accommodating 10-15 persons in their own home but also feed and care for them.
"But because we were both working at the time, our commitment towards the cause would be hard-pressed. So we contemplated over one of us taking voluntary retirement. As Jalaja had reached the eligibility for the same, she decided to take the call. That's how it started. We decided to keep aside 25 per cent of our salaries and use our own home," says a very jovial Janardhanan to The Better India.
So after completing 20 years of service in the Customs & Central Excise Department, she applied for voluntary retirement in 1994 to realise their dream of serving the elderly, while Janardhanan continued serving as Assistant Director Telecom in BSNL until retirement.
Moving to the first floor of their two-storey house, the couple decided to operate their old age home from the ground floor, keeping in mind the ease and convenience of the potential inmates. With an area of 600 sq ft, they figured they could easily accommodate 8-10 persons, with 4-5 cots in the hall as well as bedroom. It greatly helped that they had two bathrooms—one in the master bedroom and one outside.
With the accommodation and sanitation addressed, the most important part remained—the food. The couple led a very simple life with Jalaja preparing the daily meals for them both.
"So, initially she would prepare the food for the inmates. As time passed and the health of the inmates improved, they began to help her out with the kitchen chores. Since we were sure of the people in the house and their consumption, we knew the exact amount of time it would take to cook—the kitchen wasn't occupied 24×7," he explains.
Interestingly, when they opened the doors of their old age home, Jalaja and Janardhanan could only bring home two individuals. It would take another two years for their home to reach its full capacity—thanks to word of mouth.
"Since there were very few facilities in our area, the word spread quite quickly. We didn't have to go in search of the people, they found us," he says.
But all of these investments were made before they admitted anybody.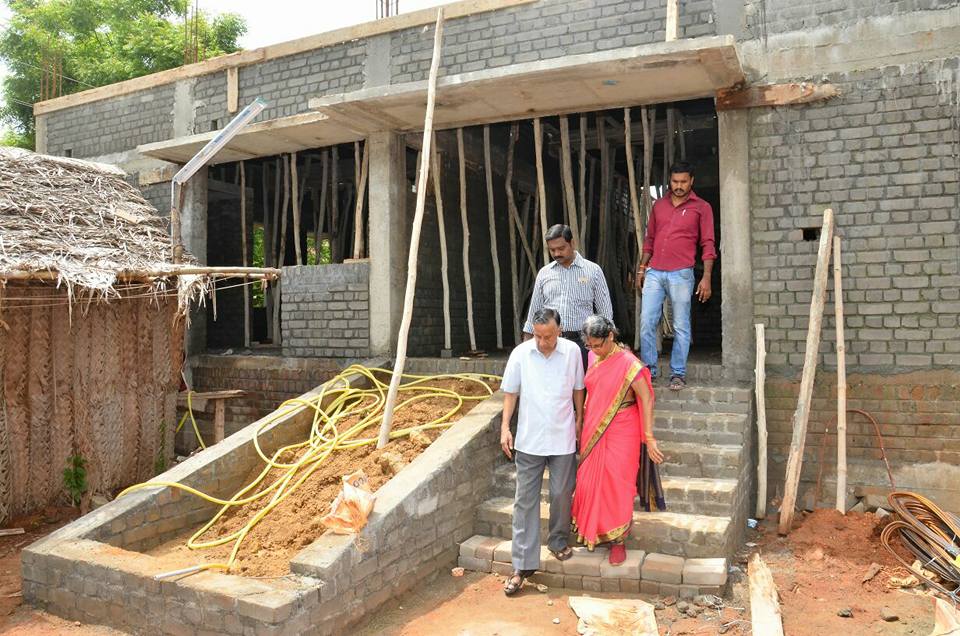 "We were very particular about that and managed our finances accordingly. If we were to accommodate ten people, everything had to be in place beforehand. It shouldn't be the case where people are in the house without cots or other provisions. Every single person was provided with his or her own cot, mattress and side racks, along with an almirah with individual lockers where they could keep their stuff," Janardhanan adds.
For the next four years, their home became a dignified haven for many homeless and deprived elders in the town, for whom the couple became not just caregivers, but children.
In 1998, luck came knocking on their door when the house adjacent to their home became vacant and up for sale. With plans to extend their service further, they bought this single-floor residence by explaining their purpose to the owners. Using funds from their EPF as well as savings, they bought the house at Rs 3.5 lakh. With this move, they could accommodate even more people.
"By 2000, we had 16 inmates under our care—with both houses having eight inmates each. However, we had only one kitchen running for both the homes. Being adjacent to each other, we faced no difficulty with managing that. We would provide them with rice, sambar or rasam, two types of vegetable curries and buttermilk. By then, we had employed a cook. On occasions when the cook was unavailable, we would cook because we couldn't keep our inmates waiting," he says.
With so many people at their home, it often became hard for Jalaja to manage, because Janardhanan's work hours were quite erratic. Because of their undying passion, he decided that he too would step down and shoulder the reins of the homes alongside his wife. In 2000, he retired, five years before he intended to.
Around this time, they purchased a plot comprising 27 cents (where 100 cents make one acre) in Joseph Nagar near Vilachery. They wanted to construct a bigger old age home. This would become the plot that they would later donate to the Aishwaryam Trust in 2016.
The fact that Jalaja and Janardhanan sought no help or assistance in their pursuit of serving the poor and needy is remarkable. From food to household items, they managed everything through their income and savings. Despite receiving enough pension to live luxuriously, they led a very frugal life to be able to serve the needy.
However, as the years passed by, they could no longer ignore their health concerns.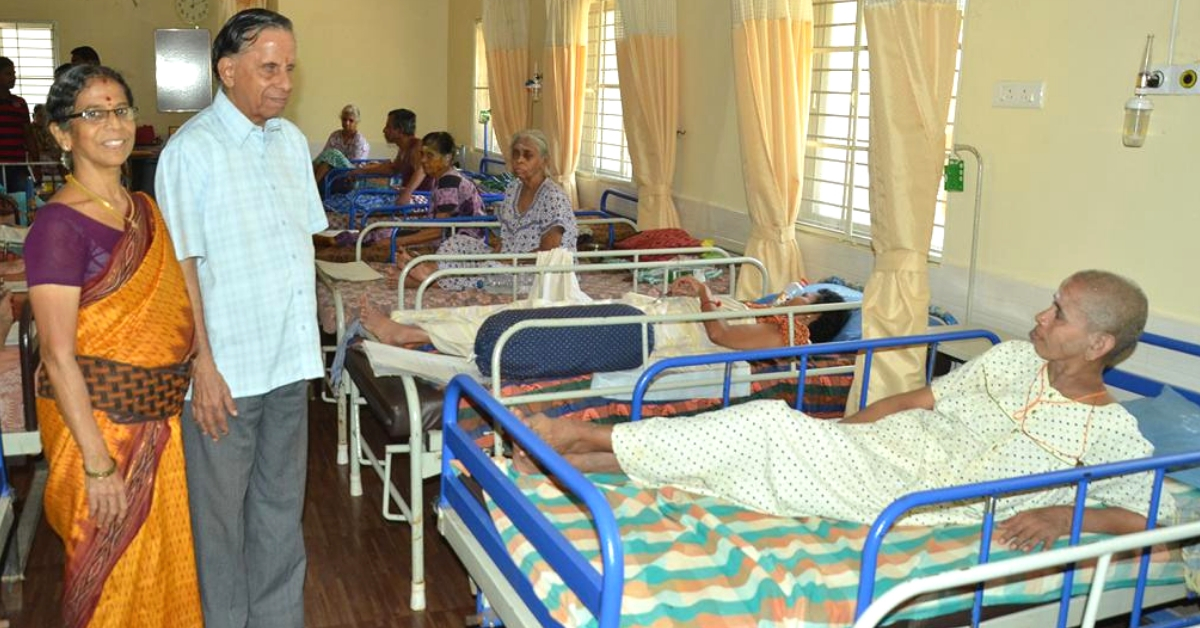 In 2002, when Janardhanan contracted the Irido-Corneal Endothelial, or ICE syndrome, one of his eyes lost vision entirely while the other ended up with partially impaired vision.
"This made it hard for us to manage the home, but we didn't want to abruptly end what we had started so sincerely—many lives were at stake. For them, it would be like losing the roof above their heads one fine day. So, gradually, we helped relocate most of our inhabitants to other homes. It was hard, but we had no other way—it was better than becoming homeless and uncared for all over again," he recalls.
In 2016, they came across Aishwaryam Trust and the group of young doctors who were treating the poor and downtrodden. In the newspaper article, they read how the group wanted to set up a permanent hospice but lacked the resources to do so.
"It reminded us of the work we did through our old age home, but this was even more difficult. Their commitment to service for the poor and that too, at such a young age, really touched us and caught our attention," Janardhanan says.
Upon meeting the doctors, they decided to donate their 27-cent plot in Vilachery. "We never wanted to sell that land or encash it, even though the real estate value would bring great returns. Even before we came across the Trust, we wanted to donate it for a greater cause, especially after we realised it wouldn't be feasible for us to build an old age home on our own," Janardhanan mentions.
By this time, they had lit up the lives of over 150 elders—of whom—some got to reunite with their family members, while a few passed away at the home.
One of the doctors from Aishwaryam Trust, Dr Manikandan, shares how they did not have enough money for the registration deed. "The couple took care of that. Without them, we don't know what we would have done," he said, in an interview with TBI earlier.
As for raising funds for the construction of the hospice, many people in the city came forward and helped the Trust. Even here, Janardhanan and Jalaja donated a generous amount, while also encouraging their relatives and friends to follow suit. Janardhanan also guided the doctors in the design and planning of the hospice.
In March 2017, the couple completed the registration formalities and flagged off the construction in June. By the end of the year, the first floor of Nethravathi Pain, Palliative Care, and Rehabilitation Centre was commissioned. Shortly afterwards, even the second floor began functioning.
The couple were the rightful guests of honour at the inauguration.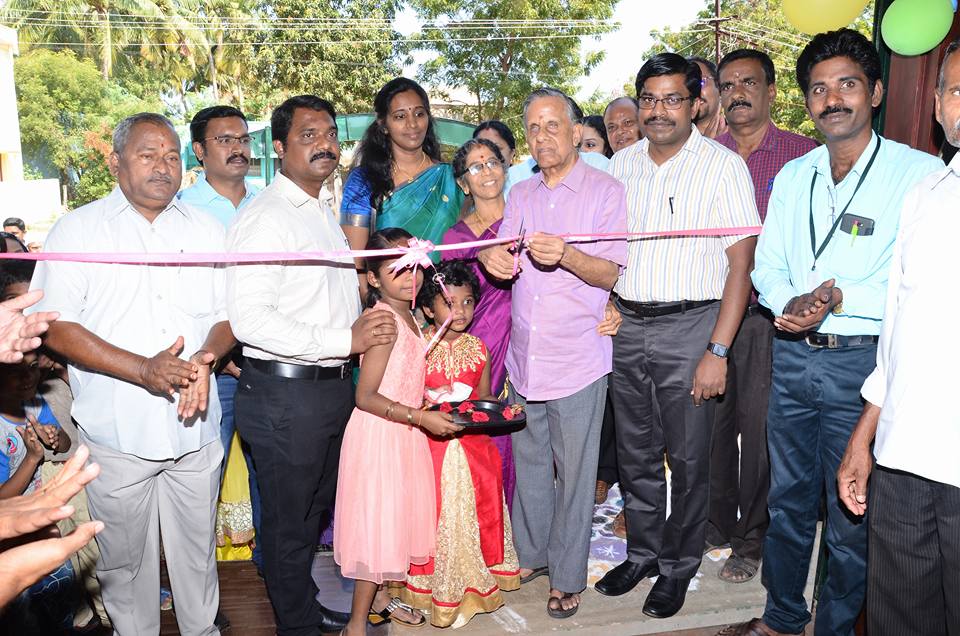 Nethravathi Care today has 50 beds and serves 42 patients without any charges. The patients include those with advanced cancer, stroke, and fractures, besides bedridden old people who have been abandoned by their families.
---
You May Also Like: How a Mumbai Social Enterprise Is Helping Dementia Patients & Families Lead a Better Life
---
Besides caring for the elderly with dignity in their twilight years and giving away their most valued investment for a hospice, Janardhanan and Jalaja's passion for social service is truly admirable. At 73 and 66, they are true unsung heroes of our society who shine as symbols of compassion and charity. Their incredible story inspires us, and we hope their tribe grows.
(With inputs from Ahmed Sherrif)
(Edited by Shruti Singhal)
We bring stories straight from the heart of India, to inspire millions and create a wave of impact. Our positive movement is growing bigger everyday, and we would love for you to join it.
Please contribute whatever you can, every little penny helps our team in bringing you more stories that support dreams and spread hope.