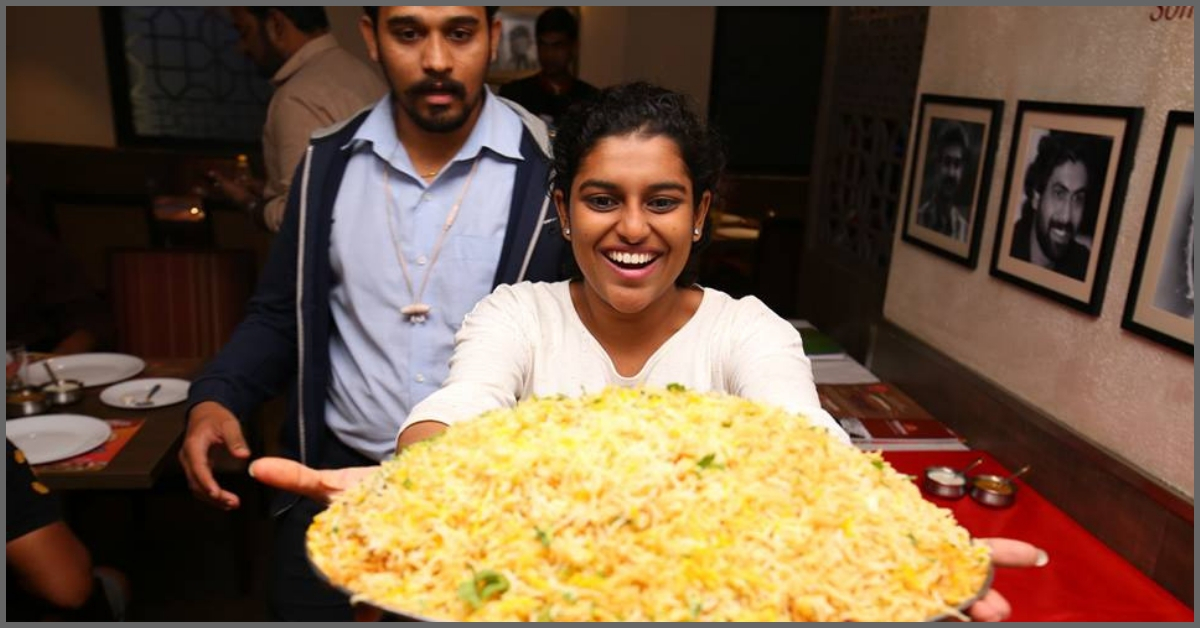 As of March 2019, Paradise Biryani has 36 branches across the country which employ more than 3,500 people, generating a turnover of around Rs 360 crore. It is a prominent landmark in the twin cities, and a visit is incomplete without a pit stop at the heritage restaurant.
Hyderabadis don't just dream of heaven, they crave Paradise.
Yes, that's how much Hyderabadis love their biryani.
While Irani chai and Osmania biscuits, kebabs and haleem, pani puri and mirchi bajji can make a Hyderabadi's heart beat, nothing makes it sing like a serving of biryani.
And, since 1953, Paradise is the brand that has been serving them the "world's favourite biryani."
Hussain Hemati and Ghulam Hussain started Paradise on 1 September 1953; the same day that Hemati's son, Ali, was born. It was natural that he would want Ali to take over the business when he grew older.
Paradise Cafe aimed to serve visitors to Paradise Cinema, a movie hall that opened in Secunderabad the same month.
"I wanted to become a pilot, but my parents stopped me because they didn't want me to fly," Ali Hemati begins. "Then, as a young man, I wanted to go to America and start a new life there, but again, my mother stopped me. My father was not keeping well, and they wanted me to take over the business."
Somewhat reluctantly, in February 1978, he took over the café. It could seat about a hundred people, with about 40-50 members of staff. The competition was stiff, and they earned Rs 2,000 each day.
"It was quite difficult for me. I was new to the business and had minimal experience. Also, Hyderabad didn't have such a huge market then. When I took over, it was a restaurant which wasn't the focus of attention for over 25 years," he shares.
And so, he requested his uncle, Ghulam Hussain, to guide him.
Young, educated and motivated, Ali did his research and found that there was not a single restaurant for conservative families in the twin cities, as all the top restaurants served alcohol.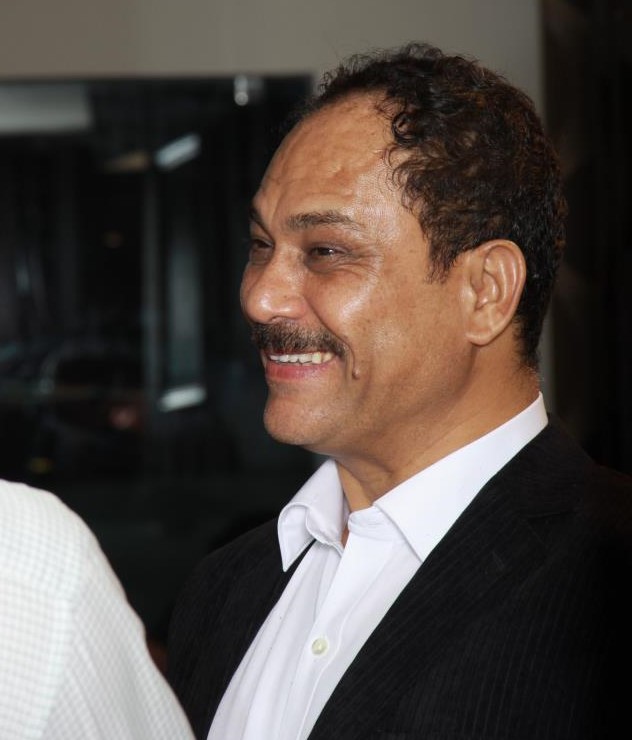 "Most of the Hindu and conservative families I knew would not like visiting restaurants that served alcohol," he opines.
Ali decided that if he had to develop the business, he would have to do something different. The days were long, but his energy matched them. Despite reaching home at 1.30 a.m., he would wake at 5.30 to go for a jog and arrive at the café by 6.30 a.m.
The standard advice he got was to serve alcohol, wisdom he didn't agree with and couldn't follow.
"First of all, my religion forbade the consumption of alcohol. Secondly, I didn't want to run a business with something like that," Ali shares.
His solution?
To set up an air-cooled restaurant where families would feel comfortable in going to dine. Eating out was a luxury in those days, and not quite the given it is today.
So in 1983, the twin cities of Hyderabad and Secunderabad got their first non-alcoholic air-cooled family restaurant. Today, the premises are air-conditioned.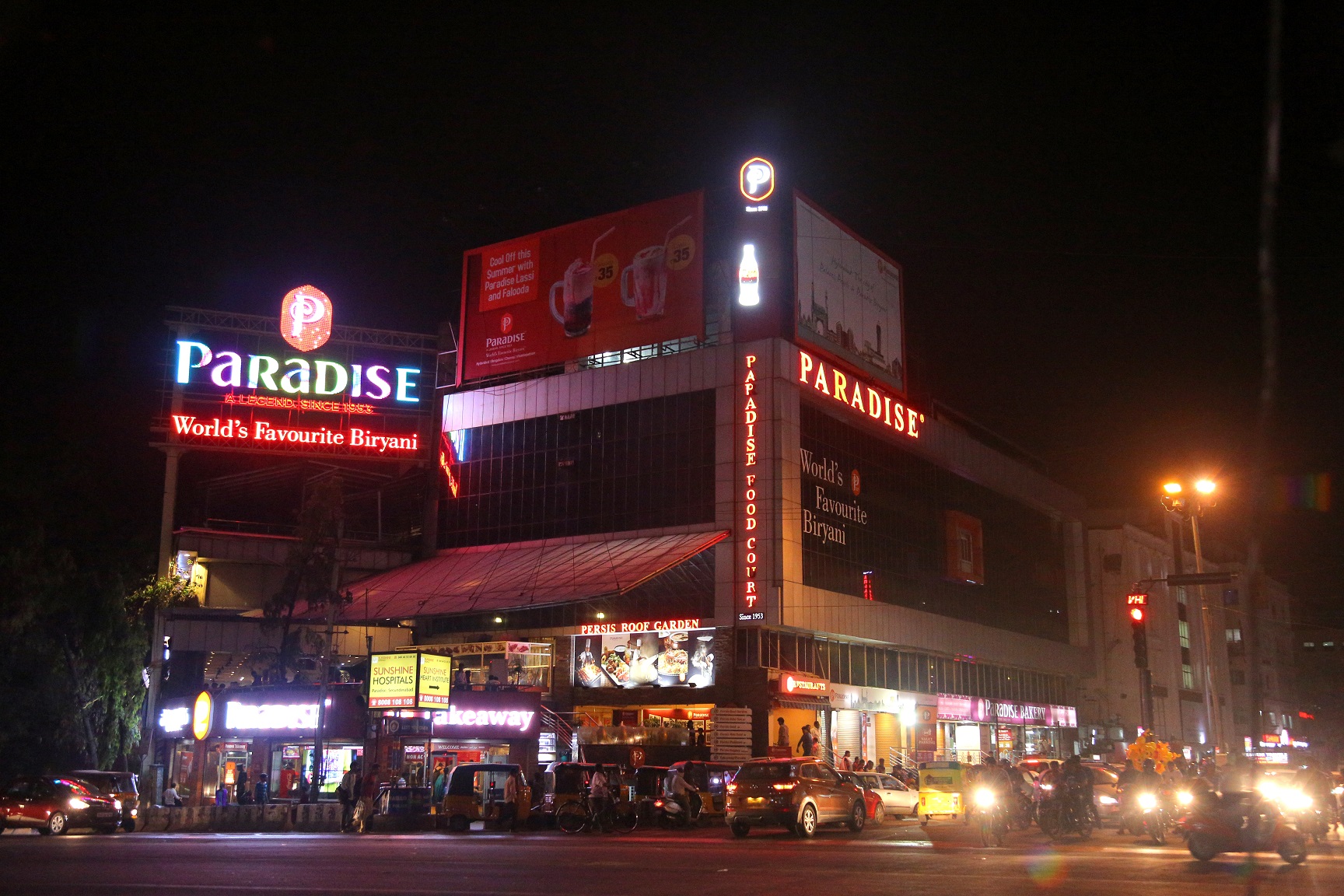 "A lot of people started coming, and they all seemed quite happy with it," he continues.
This positive response brought to focus aspects like quality of food, cleanliness and service. Ali had to acquire additional space and renovate the place, to cater to the demand and expand the restaurant.
On the left side of the café is a road that leads to the main road or chowrasta and on the right is the road that leads to Paradise Cinema.
Ghulam Hussain also gave Ali a stellar piece of advice on customer management.
Ali recalls, "He told me not to be excited about the crowd that comes from the right side, i.e., the theatre, as their numbers tended to depend on the film being a hit. Instead, he told me to focus my energies on the people coming from the left side or the main road, because they come for the quality of food served."
As of March 2019, Paradise Biryani has 36 branches across the country which employ more than 3,500 people, generating a turnover of around Rs 360 crore.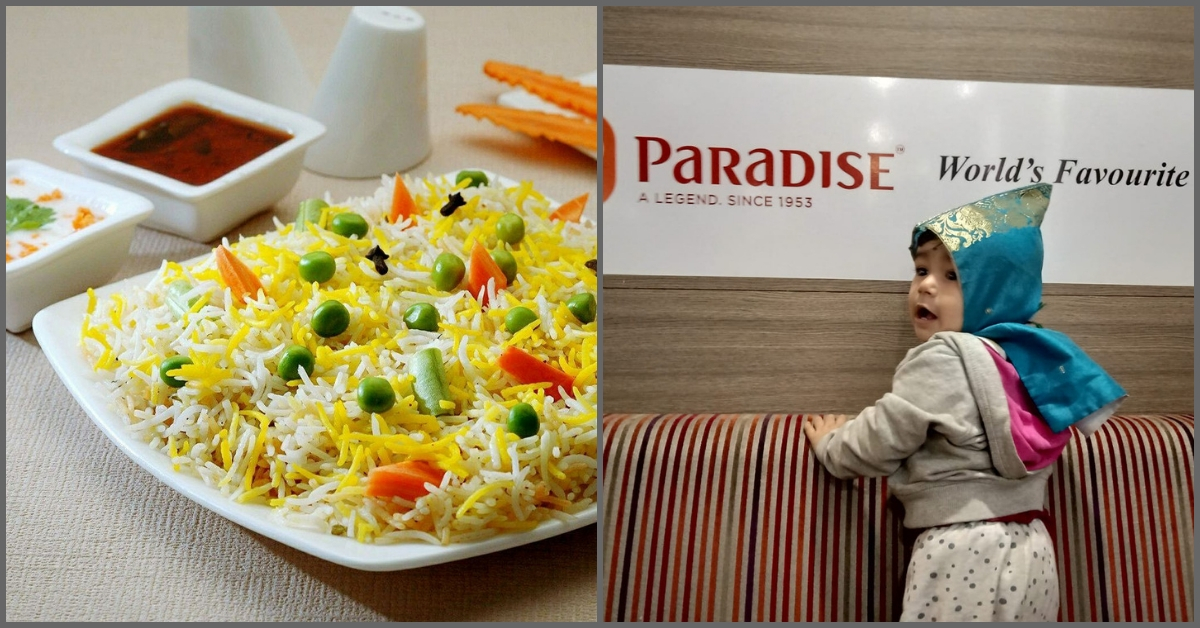 It is a prominent landmark in the twin cities, and a visit is incomplete without a pit stop at the heritage restaurant.
Somi Reddy began work at Paradise in 1979 as a waiter and climbed the ladder to reach the position of Manager of Projects. He tells me he oversaw the "flowering and branching" of Paradise, first to Masab Tank in Hyderabad, then to Bengaluru, Chennai, Vijayawada, Guntur and Gurugram.
He credits the leadership of Ali, who treated his employees with dignity and respect, "and made us feel like we were a part of his family."
"He [Ali] used to be there with us, while we were working. So we weren't just doing our job, we were doing our duty to humankind. Because the hospitality and food industries are services to your fellow humans too, aren't they?" shares Somi Reddy.
Along the way, Ali secured long-term partnerships not only with patrons but with other businesses—Coca Cola and Daawat Rice, for instance—two items that complete the biryani experience.
"Daawat Basmati was a leading brand in the country, and we liked its quality. We came to an agreement and obtained an exclusive rice variety, an arrangement that has been in place for nearly 15 years now."
Similarly, Coca Cola's popularity in India has continued unabated since its introduction to the Indian market. Ali claims that Paradise is in the top three customers of the beverage in the Indian QSR space (Quick Service Restaurants).
During this journey, Ali recalls a series of events that would change the whole story. "It was sometime during 1984-85 when there was a shortage of chicken in the market."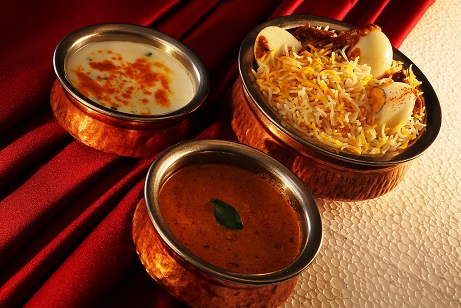 The reduced supply caused the price of chicken to hike from Rs 12 to Rs 48, almost overnight. Reeling under this price rise, most other restaurants in the city stopped serving chicken dishes.
"This was when I decided that I would stick it out. We continued to sell chicken biryani at the original price, despite buying chicken at much higher costs. From 40 chickens a day, we jumped to 400. And we did this for two whole months!"
The garnishing to this steaming situation was the loyalty of the customers. Ali feels that they probably found it cheaper to buy chicken biryani instead of plain chicken.
"After two months, when the price of chicken returned to its original rate, the other restaurants had lost their chicken-share in the market. But we sailed through because we had taken that bold decision. It's incredible that we took that risk because a lot of money was involved."
It reinstated his faith in hard work and honesty, traits that he considers most important in the path to success. And from that day, the figure of 400 daily chickens only kept increasing.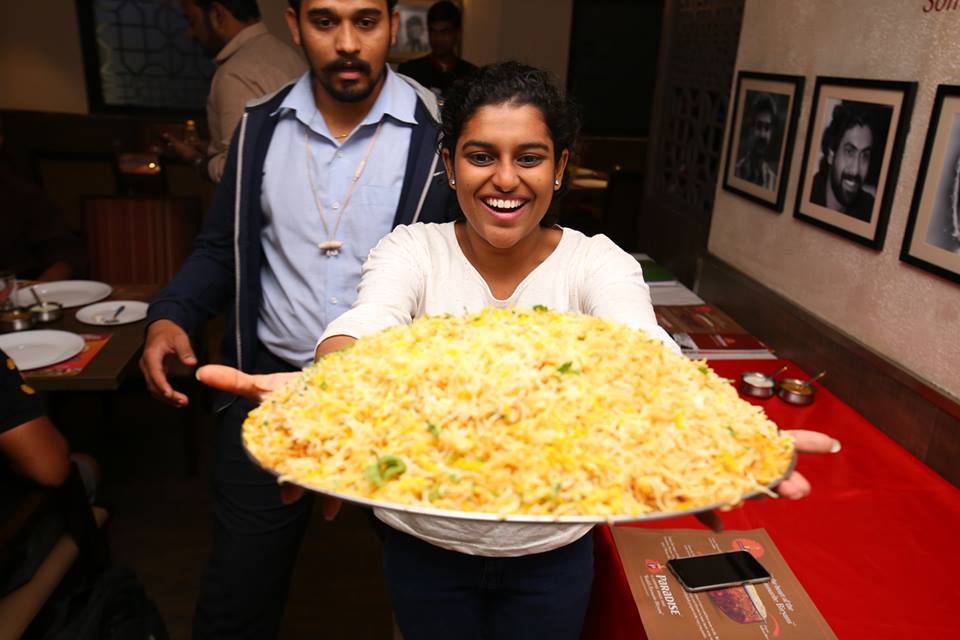 A Mathur, a Zomato user comments, "No visit to Hyderabad is complete without visiting Paradise Biryani. The quality and taste of food is better than the food served at top hotels. The biryani tasted and smelled great. The chicken biryani was full of chicken pieces, and the chicken was moist and flavoursome. The paneer butter masala was also great. Overall, a great experience!"
As the twin cities grew, they welcomed the changes of the 90s and the early 2000s, serving the old world charm alongside the new wonders of a glocalised world.
The IT industry was being set up, pastimes like golf were becoming popular and traffic 'jams' became common. Even biryani was not enough to tempt most people to go all the way to Secunderabad, barring weekends.
That's when in 2009, almost 56 years after it was opened, the second branch of Paradise, a Takeaway only, was started at Masab Tank.
The first restaurant at Secunderabad, however, remains the largest, with its capacity to serve 1,524 people, across multiple floors in the same building. It's perhaps one of the largest restaurants in the continent.
While other branches are much smaller, they all have a 'Hall of Fame' section with framed pictures showing celebrities, politicians, public figures, cherishing their favourite biryani.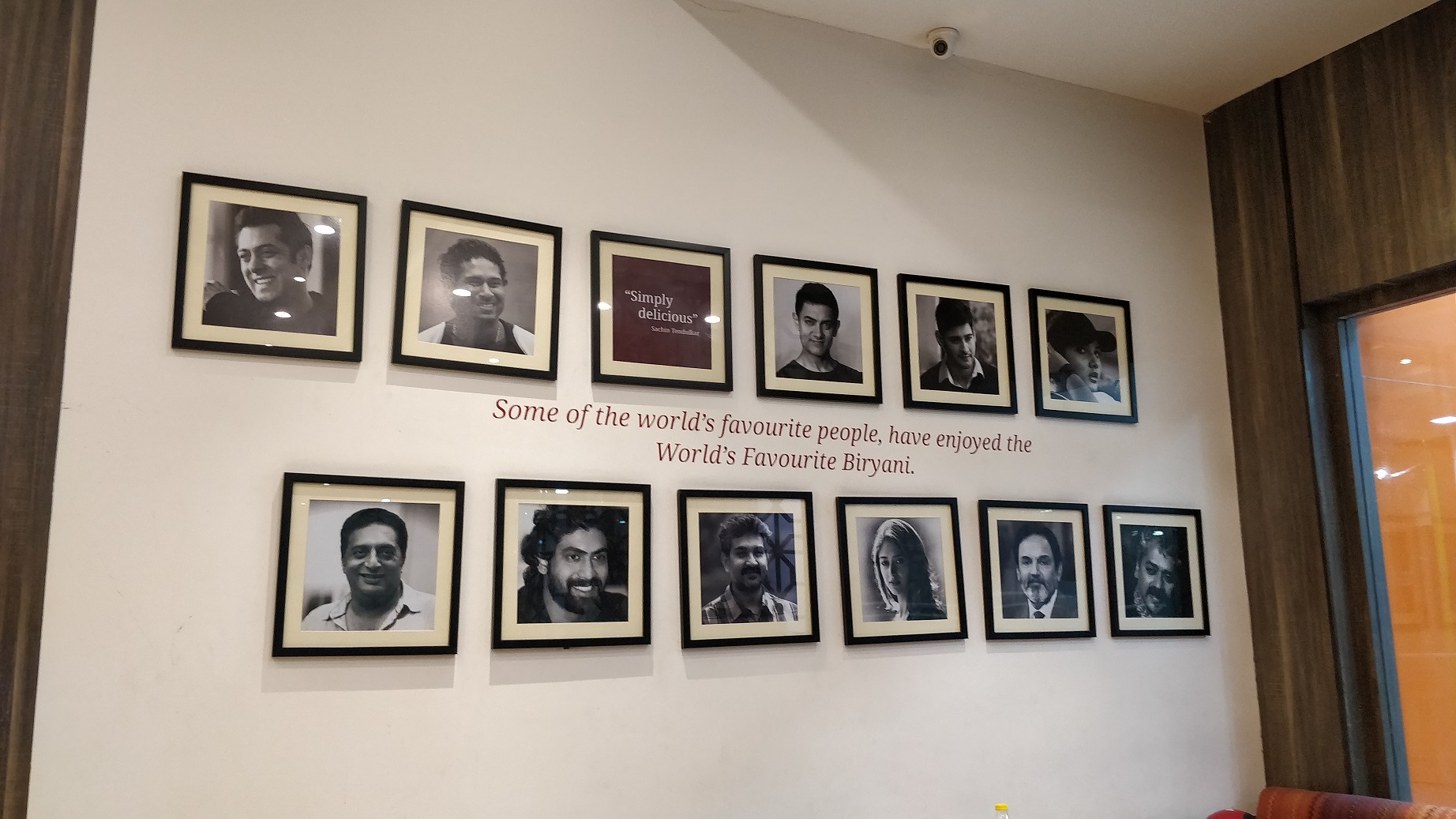 They leave a note or two about their experience, reiterating your faith that this a space where you can comfortably fold up your legs, and savour your biryani with your hands, just like you would at your home.
Chaithanya Guptha Gollapalli, another Zomato user, says, "I'm a person who doesn't like his biryanis that spicy. I constantly look for biryanis with rich flavour and aroma. And this place truly satisfies my inner self. To me, Paradise is a true 'paradise' for veg biryani."
In 2014, Samara Capital, a leading PE fund, invested in Paradise Biryani to aggressively take the brand forward. The structured growth plan included expanding into the North Indian market and becoming a pan-India brand, where international expansions too would be explored.
"It's a much more organised system now, with a professional CEO, HODs and other things. It's a lot more systematic, all professionally managed, with everything in compliance," Ali informs me.
Amidst all this, the selection of quality vendors for ingredients in each city was a painstaking exercise—most raw materials being purchased centrally. Local chefs in each city were formally trained in Hyderabad for months, to enable them to master the biryani-making process.
The Biryani marination making was also restricted to the central kitchen in every city and dispatched to each outlet every morning.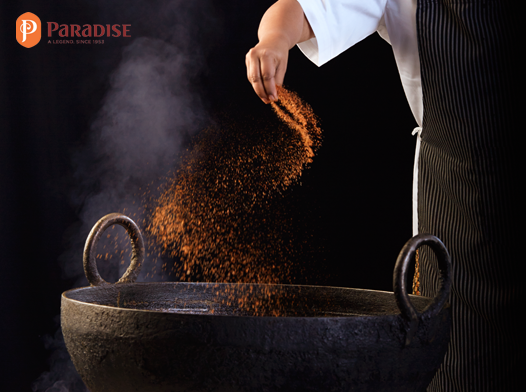 NP Chandrasekhar says, "We probably have one of the fastest takeaway mechanisms in the marketplace today. An average customer picks up his order from any of our outlets in under five minutes. Even at the Dine-in, our speed of service is commendable and highly appreciated by all our guests."
As the Strategy Consultant, he has been involved in the transformation process since 2013. The rigid systems and processes at every stage helped standardise the dishes across cities and outlets, he states.
Customer grievances or complaints are also taken quite seriously here. I'm told that the ratings and comments on the feedback form are discussed among staff and any action required is taken without delay.
---
Also Read: The Hebbars: This Karnataka Couple Set Up One of India's Biggest Recipe Empires!
---
While specialising in its USP—the biryani—the restaurant invites customers with various annual food festivals—the Haleem season that coincides with the month of Ramadan; the Kebab Festival during August-September; the Veg Fiesta that is timed with Dussehra and Diwali; and the Hyderabadi Food Festival in January-February.
Besides, Paradise also serves thousands of cups of Irani chai every day, and the bakery stocks a variety of products including the very popular Osmania biscuits and samosas.
And that's not all.
Earlier this year, the Limca Book of Records recognised Paradise for selling 70 lakh servings of biryani in 2017! The number crossed 90 lakh in 2018.

Apart from catering to different taste buds, Brand Paradise is also committed to the well being of the people. In 2011, they started the Paradise Foundation, which adopted Balika Sadan in Guntur, providing school bags and slippers to 75 girl children, and donating fans, water purifiers and sports equipment to the institution. The Foundation also plans to establish a residential school for orphans. Here, children will be provided with hostel facilities, food and education.
The 65-year-old man who led this achievement is shy and remains as humble as ever. He retains his child-like enthusiasm and energy, and exercises every day. That's how he keeps his mind sharp, he points out. While he is the Chairman of Brand Paradise, he is also supported by his younger brother, Dr Kazim Himathi, and his brother-in-law, Ali Reza Brazendeh.
A few weeks ago, he was given the Lifetime Achievement Award at the Asia Food Congress in Mumbai. Brand Paradise also won the Golden Spoon Award 2018 at the India Food Forum in Mumbai.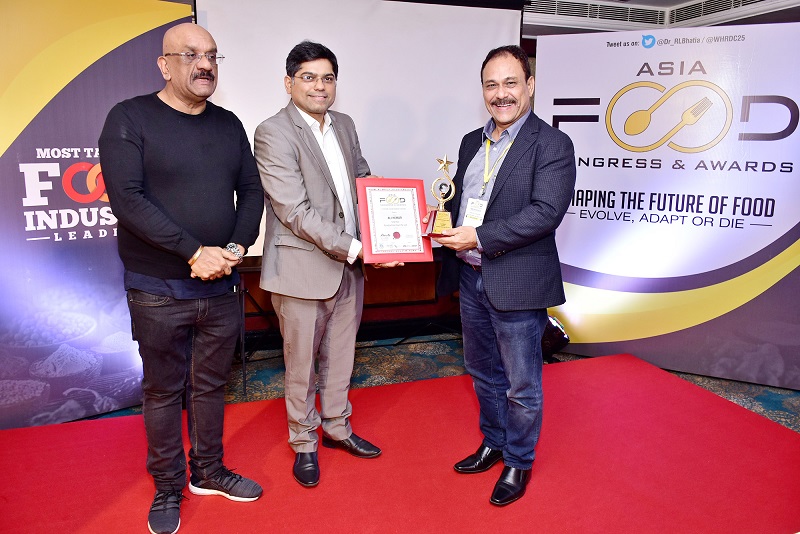 He signs off, "We cannot satisfy everyone. Complaints will always be there—for late service or poor service, an unclean restaurant, or improper quality…But, we must always rectify them. Honesty and hard work always pay. I believe in being honest with myself and my customers. I always ensure that my customers get the best. They should go back happy and come back again and again. So work hard, be honest and leave the rest to fate."
To know more, look up the Paradise Food Court on Facebook or write to info@paradisefoodcourt.in.
(Edited by Gayatri Mishra)
Like this story? Or have something to share?
Write to us: contact@thebetterindia.com
Connect with us on Facebook and Twitter.
We bring stories straight from the heart of India, to inspire millions and create a wave of impact. Our positive movement is growing bigger everyday, and we would love for you to join it.
Please contribute whatever you can, every little penny helps our team in bringing you more stories that support dreams and spread hope.