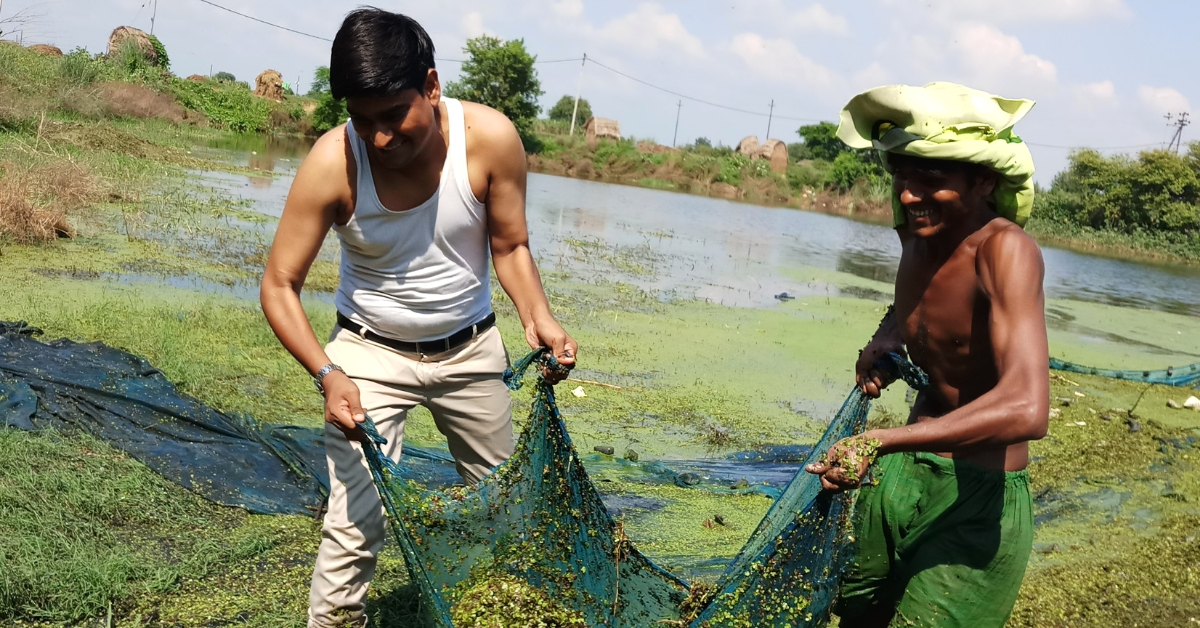 Juggling his job in an MNC, this hardworking farmer's son utilises his after-work hours and weekends to breathe fresh life into Noida's lakes. The kind of hero India truly needs!
Around this time last year, the Uttar Pradesh government had declared five of its districts as drought affected. Summer had just begun in India's most populous State when the districts of Mahoba, Lalitpur, Jhansi, Sonebhadra and Mirzapur were already facing a severe water crisis – an unfortunate trend for several years.
With the water table getting disrupted due to climate change as well as human activities, 68 UP districts faced severe droughts in 2002 which has remained more or less the same these last 13 years.
One person among the thousands affected by drought was Ramveer Tanwar from Dadha village in Greater Noida. Ramveer comes from a family of generations of farmers who have seen upfront adverse effects of the changing climate and water tables on their lives.
---
Join The Better India and Anand Malligavad as part of the Lake Revivers Collective and donate now to help us breathe life back into India's lakes. Anand is a techie from Bengaluru who has revived 3 lakes in the city and plans to save a total of 45 lakes by 2025.
Unable to view the above button? Click here
---
Ramveer grew up diving into the village lakes and wells on a hot day. In the summer of 2012, as a class 12 student, Ramveer noticed that the lakes that he and his friends would swim in were disappearing.
"The lake that once had fresh, clean water, was now choking with garbage. It was covered in such filth that it was difficult to see the water beneath. The area had started stinking, and I also noticed that the biodiversity around the lake was diminishing. It was a call for concern, and I tried to answer it," the 26-year-old tells The Better India.
It began not with lake revival but water conservation: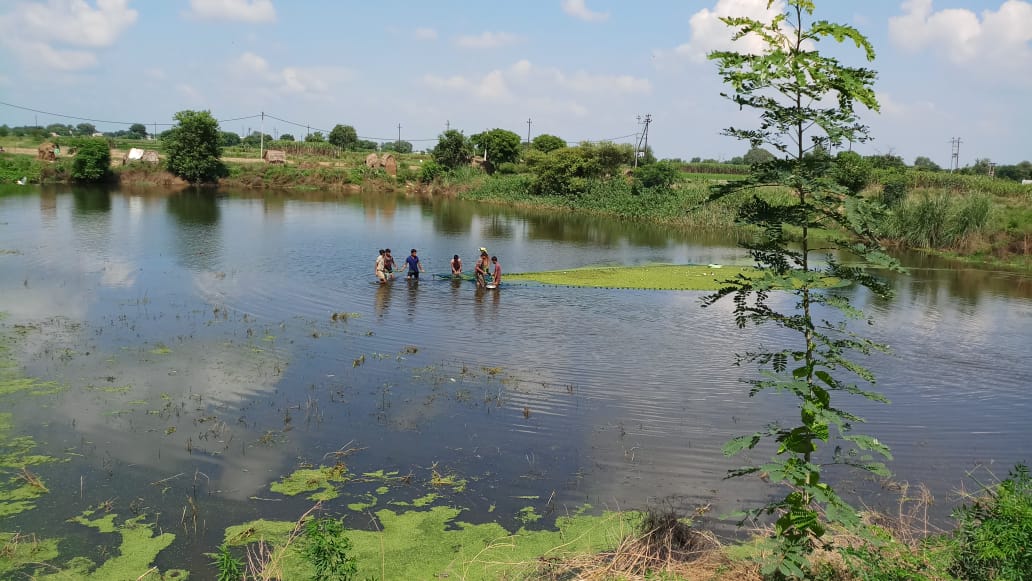 At that point, along with attending school and helping his father on the farm, Ramveer also took tuitions of young students. Teaching bright young minds made him realise that this could be an excellent avenue to begin a campaign. He started speaking about the lake's condition to his students and how the conservation of water could help its restoration.
"The bore well of 25 feet was dried up in a year, making the villagers dig further to 150 ft," he tells the Edex Live, adding, "They would let water overflow because they didn't imagine that water could, one day, disappear. Unlike the mafia or the construction contractors here, these villagers had no understanding of what they were doing- it was important that we picked up a conversation."
When the children tried to explain the consequences of throwing waste into the village lake, they were greeted only with smirks and derision.
A small amount of garbage in the house could not affect the big lake, they scoffed. That's when Ramveer decided to take matters into his own hands and went from door to door, talking to the village families about water conservation.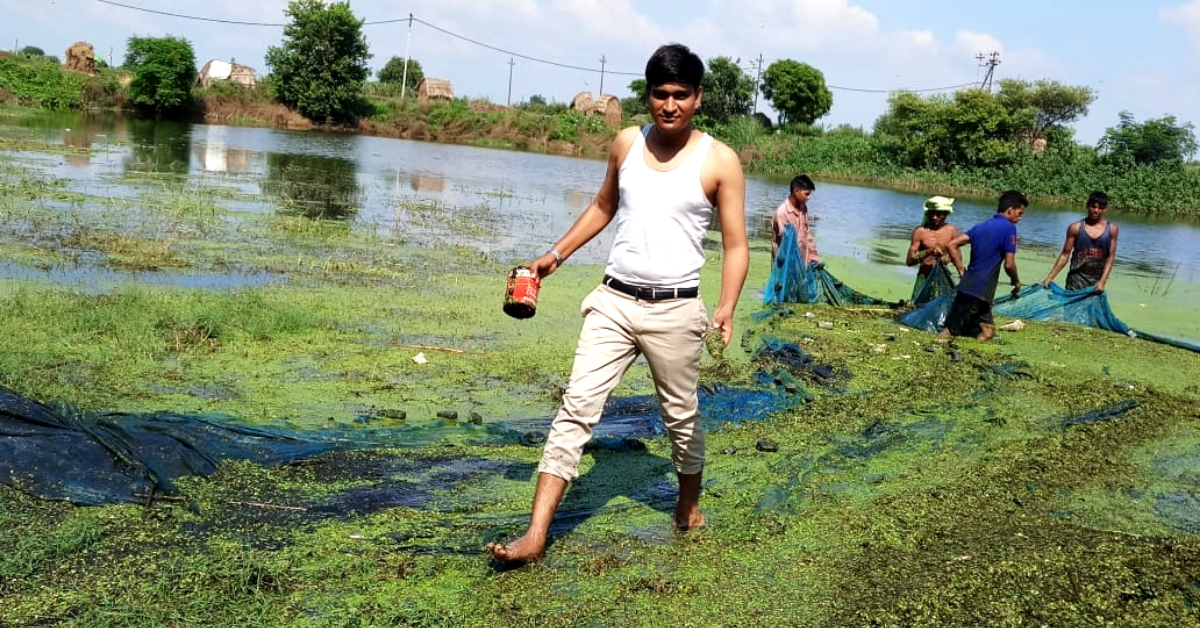 As the stage was set for his efforts, Ramveer then urged his students to bring their parents, neighbours and friends to a chaupal (commonplace) every Sunday. Here, he began uniting the families to strive for water conservation. "The responses were positive and more people started arriving at the chaupals. Soon we started getting calls from the nearby villages as well," he tells the publication.
Soon, word reached N P Singh, an IAS officer, District Magistrate (DM) of Noida at the time. Singh, who has been recognised for his work in uplifting the Bawariya community in UP, decided to give a better platform to Ramveer's work to attract the attention of his district to it. He named the engineer's efforts as 'Jal Chaupal' and shot a documentary about it. This 2-minute feature film, Ramveer tells TBI, was played as a preview in several movie theatres to bring awareness to the villager's efforts.
What had begun as an effort to conserve water took a fresh turn when Ramveer got two filters built near the lake to stop domestic waste from entering the lakes. This, he realised, was his true calling- reviving lakes and restoring its biodiversity.
One good deed deserves another: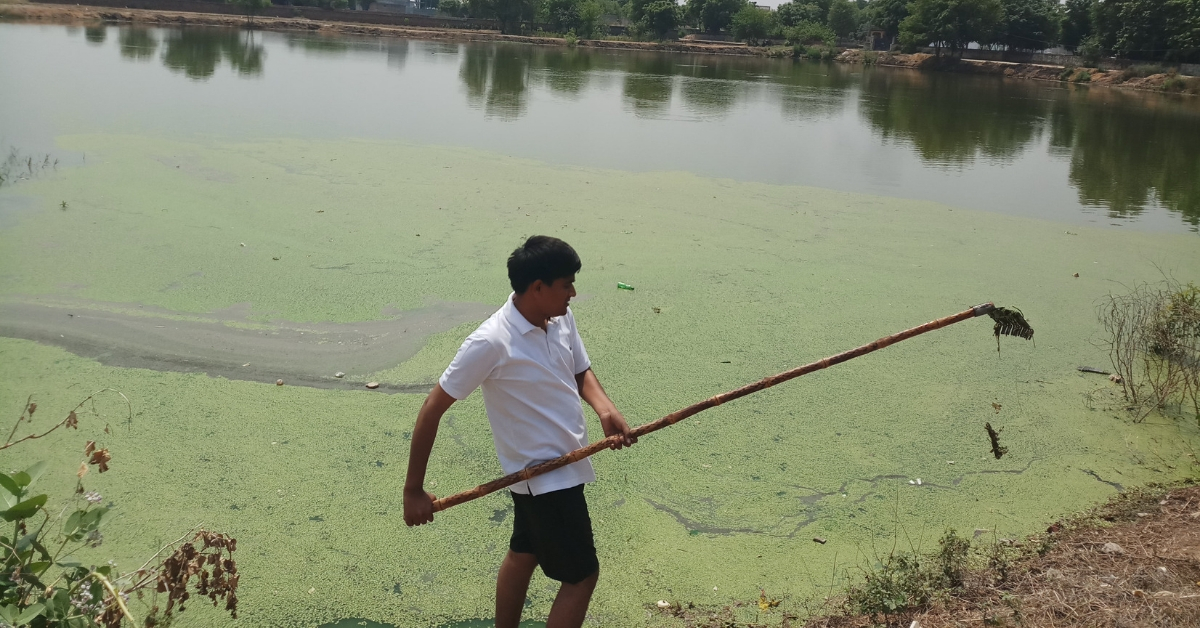 It took a few months, but Ramveer, along with young children and adults, cleaned the lake in his village, taking out the trash and installing filters to maintain it. Soon enough, he was getting requests from neighbouring villages to revive their lakes too.
"We started by reviving the pond in Dabra village, which had been turned into a dumping yard. However, with the help of locals we cleaned it and also planted saplings on the periphery of the pond to rejuvenate the ecosystem there," he told the Times of India.
Positive responses and outcome of these lakes and ponds inspired Ramveer to beckon people all over India to join the cause. He thus started the #SelfieWithPond campaign on Facebook, inviting people to post the latest pictures of a lake or pond in their area. There was no condition laid for the cleanliness of the water bodies. If the lake was dirty, it acted as a pointer for the local authorities to clean it. If it was clean, it served as an inspiration.
"We got a great response for the campaign, which I thought would be limited only to Noida or at the most, Uttar Pradesh. But we got photos from as far as Karnataka and Tamil Nadu. A few weeks after the campaign gained momentum, I also got calls saying that as a result of some pictures, the local authorities had started cleaning the lakes. It felt great, genuinely," the engineer tells TBI.
What goes into the cleaning of one lake: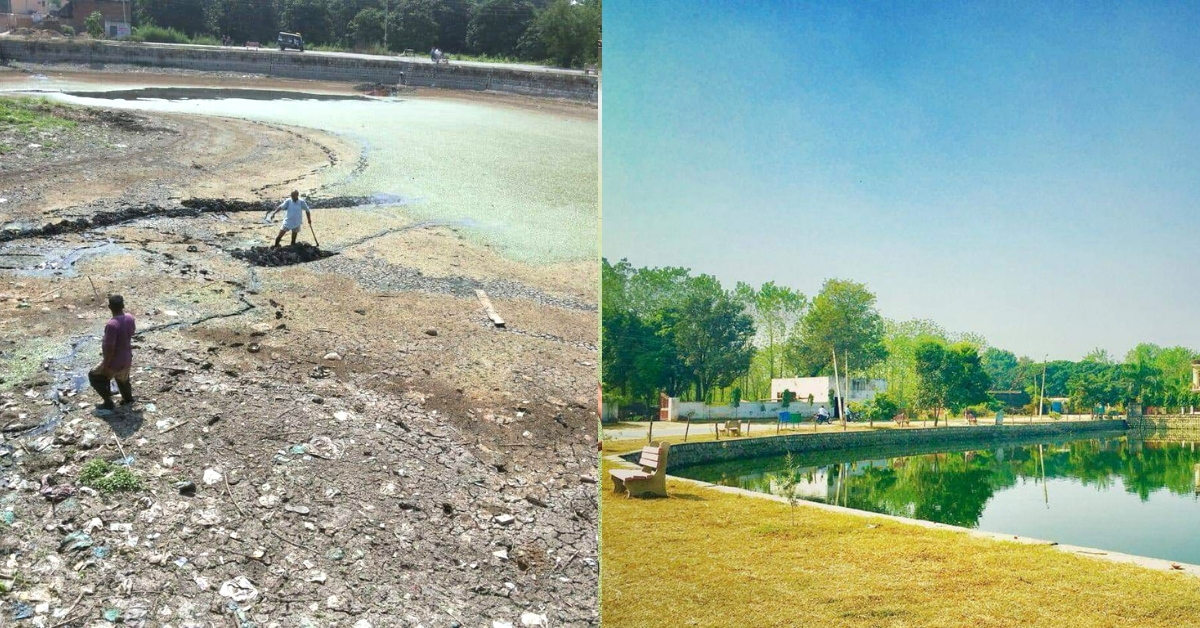 Ramveer and his team of core members and volunteers have revived over ten lakes so far, since their collaborative efforts that began in 2014. Usually, they focus on small lakes that are between 0.5 to 3 hectares due to a fund crunch.
"The revival of a lake takes anywhere between Rs 2 to Rs 25 lakh, depending on its size," says Ramveer. "I used to shell out money from my pocket. My friends who are active in the cause also contributed equally. One of them is a lawyer, one is an engineer like me and we all have regular jobs. After we return from the office and on weekends, we spend most of our time on this cause. But to become more financially sustainable, we have started approaching organisations to make use of their CSR activities. That is a lucrative source that we are currently looking into."
But what is even more interesting is how Ramveer and his team involve villagers in cleaning the lakes in their localities. Whether it is by asking for labour or equipment, they ensure that the cleanliness and revival drives are not 'by some outsider'.
"It is important to establish an emotional bond between the villagers and the lake. Without that, they will think of us as some outsiders who cleaned the lake and will feel nothing about going back to trashing the water body.
So, we start our work 2-3 months before the actual cleanliness starts. We approach the respected elders in the village, explain our work to them and form a group that helps us spread the word. Later, we ask for each villager to contribute to physical labour or equipment. They also pitch in Rs 5 per person – a fund that is handled by the group of elderly villagers. Depending on the availability of big machines and the time we require to gather funds, the entire process takes anywhere between 6 to 12 months," Ramveer explains.
On average, the team extracts 500-1000 kg of plastic per hectare of land from each lake. While the plastic is sent for recycling after the revival, it demands the question as to why it landed there in the first place. Perhaps we need to rethink our garbage disposal methods, so it doesn't directly harm the water bodies that benefit fishers and farmers. To ensure that their efforts are sustained after revival, fishers from the local communities are given the responsibility of the lake.
At a time when big cities like Delhi, Hyderabad and Bengaluru are at the risk of running out of groundwater in the next two years, it is individual efforts like Ramveer's that are serving as an inspiration. You can support his efforts financially or as volunteers. Write to him at ramveertanwarg@gmail.com to join his cause.
---
Join The Better India and Anand Malligavad as part of the Lake Revivers Collective and donate now to help us breathe life back into India's lakes. Anand is a techie from Bengaluru who has revived 3 lakes in the city and plans to save a total of 45 lakes by 2025.
Unable to view the above button? Click here
---
(Edited By Saiqua Sultan)
Like this story? Or have something to share?
Write to us: contact@thebetterindia.com,
We bring stories straight from the heart of India, to inspire millions and create a wave of impact. Our positive movement is growing bigger everyday, and we would love for you to join it.
Please contribute whatever you can, every little penny helps our team in bringing you more stories that support dreams and spread hope.
Tell Us More