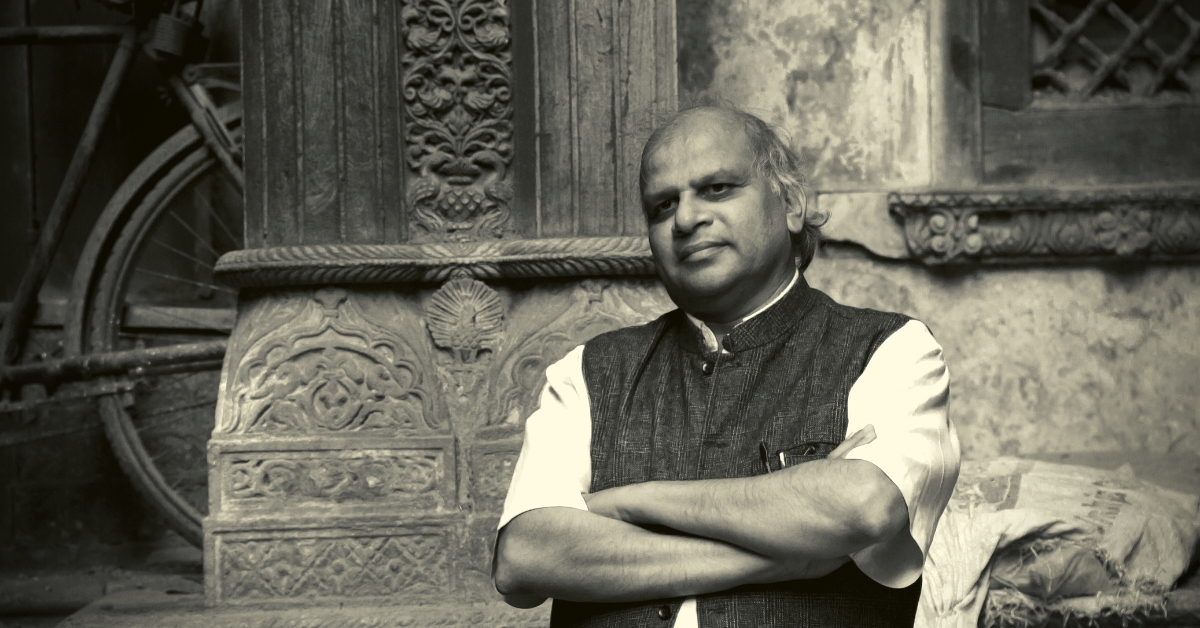 "Nearly 27.4 million tonnes of waste is produced every single day in Indian cities. This is creating enormous mountains of waste. We wanted to work with that and use it for the greater good," says the architect who has won over 30 national and international awards! #SustainableHomes #GreenIndia
"Design is a lot like music; the right balance needs to be maintained. One wrong chord and everything comes crashing down!" says Yatin Pandya, an Ahmedabad-based architect.
For over 34 years now, Pandya has been creating both personal and public spaces that 'aim for the whole' while using municipal and industrial waste as construction material.
In his conversation with The Better India, Pandya takes great pains to point out that his designs disrupt conventions, not the environment.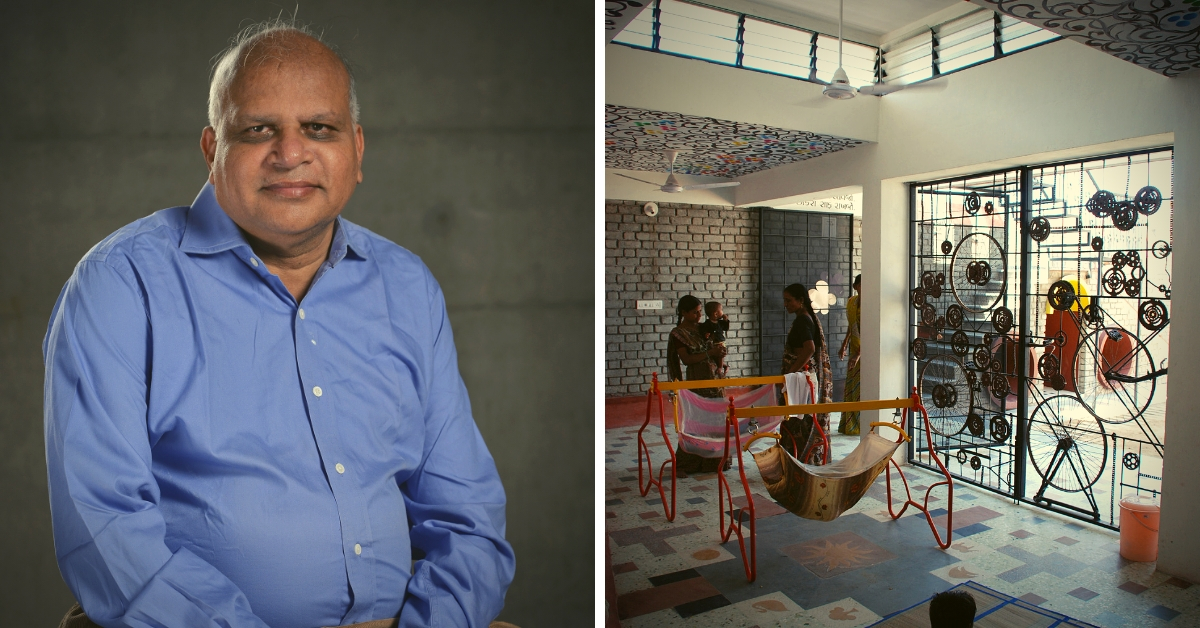 With this idea of embracing the perfect harmony between nature and the human world, he founded Footprints E.A.R.T.H. (Environment Architecture Research Technology Housing) in 2008, and since then, has been working towards creating a legacy of sustainable architects in India.
One such prominent project that defines the organisation's core principles is the Manav Sadhna activity centre and crèche, in the city.
With its innovative use of construction material governed by environmental concerns, the project was hailed as a model of sustainable architecture and holistic community development of a slum.
It also earned him more than 10 national and international design awards.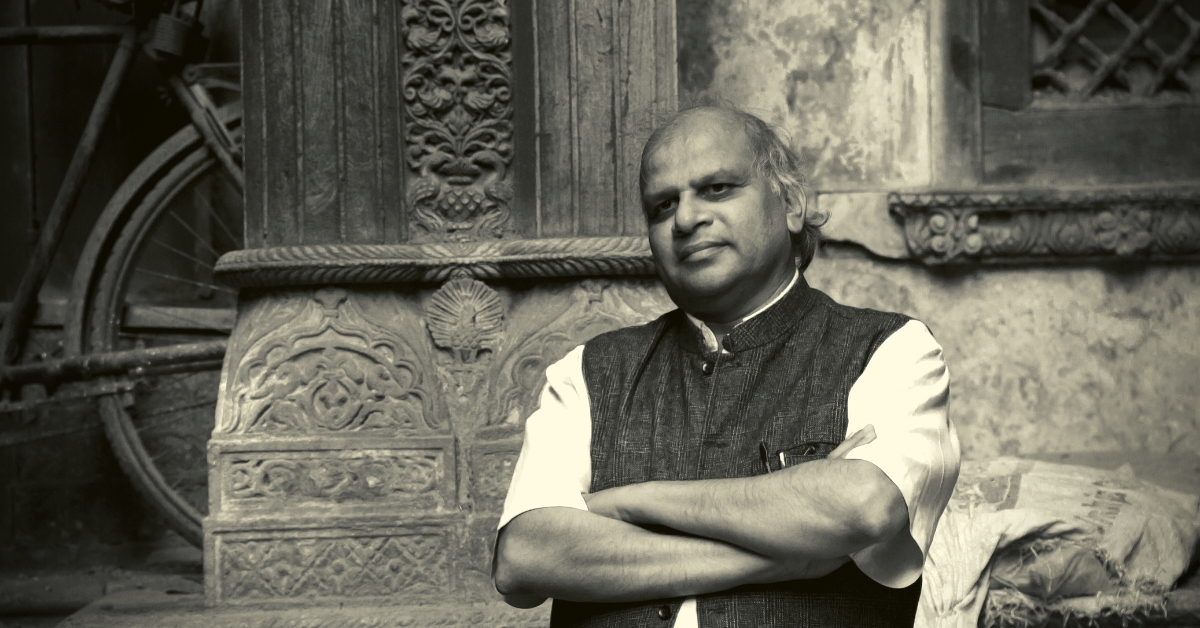 "Indian cities produce nearly 27.4 million tonnes of waste is every single day. In Ahmedabad alone, it rises to 2750 metric tonnes daily. This is contributing to creating enormous mountains of waste, and we wanted to work with that and use it for the greater good," said Yatin.
And the opportunity arrived when Manav Sadhna, an NGO, approached Yatin to create a community space at Ramapir Tekra, one of the largest slum areas on the western banks of the Sabarmati river.
---
Also Read: Earthbags to Compostable Toilets: K'taka Couple's Minimalist Farm is Sustainable Living At Its Best!
---
In the midst of one of the largest slums in the city inhabited by approximately 150,000 residents, Footprints E.A.R.T.H created a community centre simultaneously addressing environmental concerns, economic issues and affordable housing.
Today the campus performs as a school in the morning, a vocational training centre in the afternoon, a health centre and gymnasium in the evening, and as a community centre and entertainment spot in the late evening.
According to Yatin, this attempt to use recycled municipal waste as building material was a first for the organisation.
"Using municipal waste for construction not only helped in reducing pollution but also provided an extended economic activity to the waste collectors and providers. We built the building material in-house, so we could create high-quality material at a cheaper rate than conventional options providing affordable and superior quality building alternatives for the urban poor," he said.
It ably demonstrated the application of almost twenty types of recycled waste for various components like flooring, walling, roofing as well as ventilation.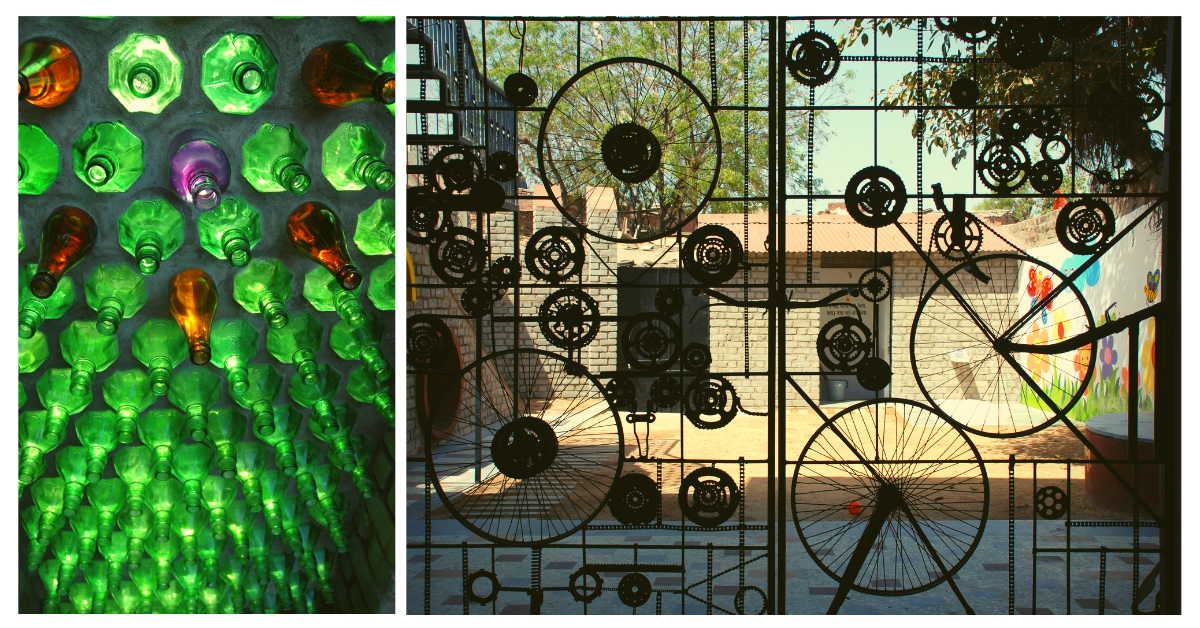 "We also used discarded materials like fly ash from the thermal plant, municipal waste, wooden crates, plastic bottles and even glass, as raw materials. All of this was used to create one of the most basic components of construction-walls," said Yatin.
He added that even rags, wrappers and other packaging material were used in the process.
The next step was to create doors, windows and ventilators, using wooden crates (used as vegetable or fruit storage), as well as empty oil tin containers.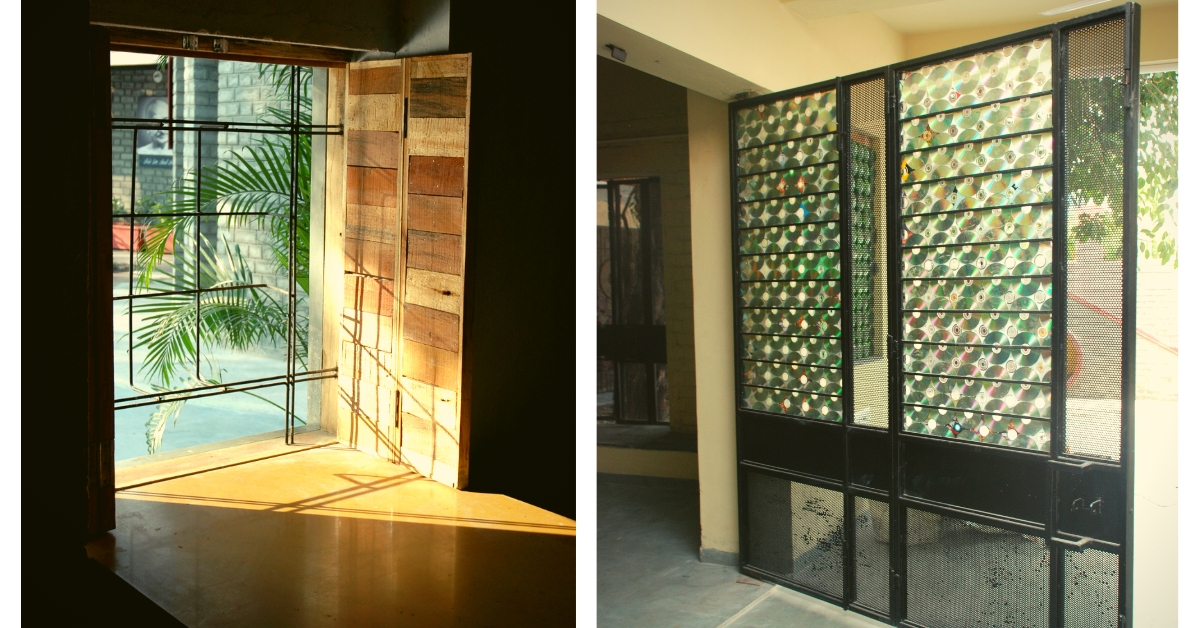 "One challenge was to work with ceramic industry waste, as it does not get recycled for any other use. So, we decided to convert it into floor tiles and paver blocks. We also incorporated a way to use waste materials from construction industries, like broken stone, tile residue, stone cutter blades, metal scraps, broken slab and even old bathroom fixtures," said Yatin.
The 59-year-old architect added that all these alternative building components created out of waste were lab tested for strength and performance.
"Maintaining the quality and durability of the construction has always been a major concern. And so, all our experiments were thoroughly tested before actual implementation," he added.
As a result, the remarkable project not only transcended the boundaries of conventional construction but also provided design and economic sustainability for the beneficiaries, i.e. the slum dwellers.
Owing to this, residents of the slum were actively involved in the construction, in various components like creating crate walls, panelling doors, etc.
After the project's success of using fly ash-filled bottle blocks in place of bricks to create walls, the blocks began to be mass produced by the locals and were utilised in sites across the city.
"The building activity was not one-dimensional. It was a holistic community building as the locals participated with their skilled and unskilled labour and even earned wages for the same, making it a holistic cycle of development," said Yatin.
One of the many forerunners of sustainable design in India, Yatin has continuously been looking back into the past to find true inspiration.
"Most people now think that this is something new, something away from the 'traditional' methods of construction. But they are wrong. Using the usual—concrete, brick, etc. is not 'traditional,' it is 'conventional.' The real challenge is to look back to our roots, find and learn from our traditional methods of construction that maintain the correct balance of sustainability, and then innovate. The traditional methods employed to create structures so many years ago continue to prove their worth of timelessness by transcending time and remain fresh, allowing space for experimentation for the generations to come," he says.
Yatin's disruptive ideas have, thus, been writing the sustainable narrative of India's architectural future.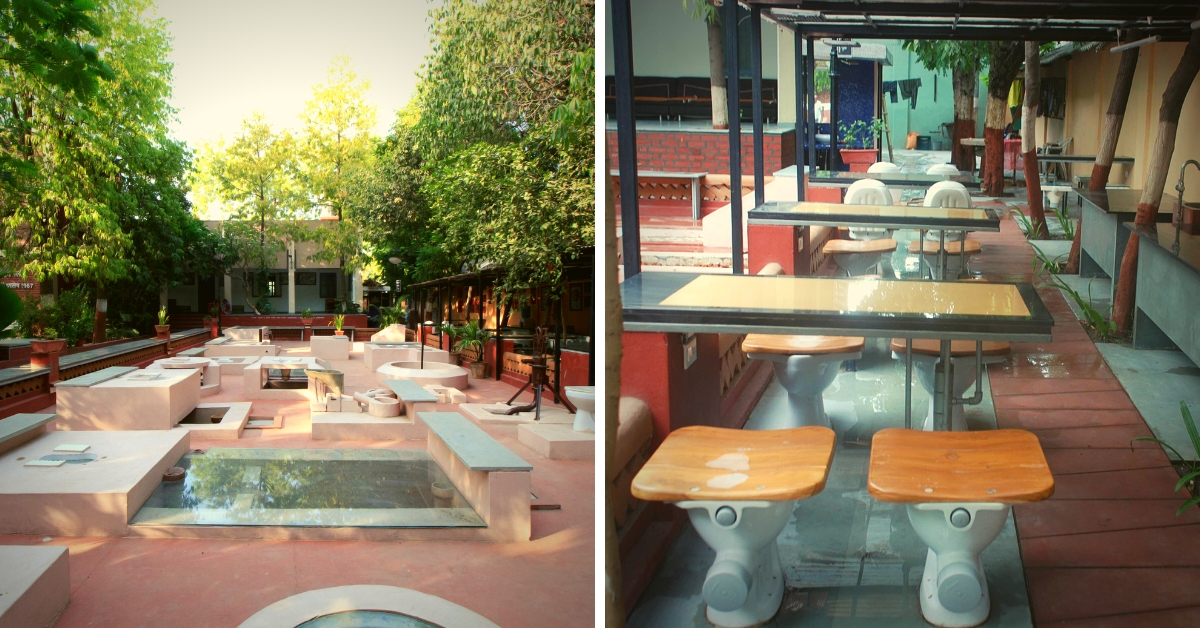 "When I began Footprints E.A.R.T.H in 2008, my main objective was to initiate a research-based practice of sustainable architecture, which not only takes inspiration from nature but also gives it back through preservation and conservation," he shared.
With almost 30 national and international awards to his name, Yatin has created a new line of design bent on transforming the socio-economic discourse of the country.
As an author, researcher and an academician, he hopes to transform the future of design through his projects.
"People need to know that there is a better and greener alternative to the conventional methods of construction and design. I always tell that to my students. In the last few years, although the trend for sustainable spaces has picked up space, it needs to be addressed with a more academic and research-based approach. A lot of design institutes have recognised this, and are the ray of hope to create a legacy of environmentally responsible architects and engineers!" he concludes.
(Edited by Gayatri Mishra)
We bring stories straight from the heart of India, to inspire millions and create a wave of impact. Our positive movement is growing bigger everyday, and we would love for you to join it.
Please contribute whatever you can, every little penny helps our team in bringing you more stories that support dreams and spread hope.