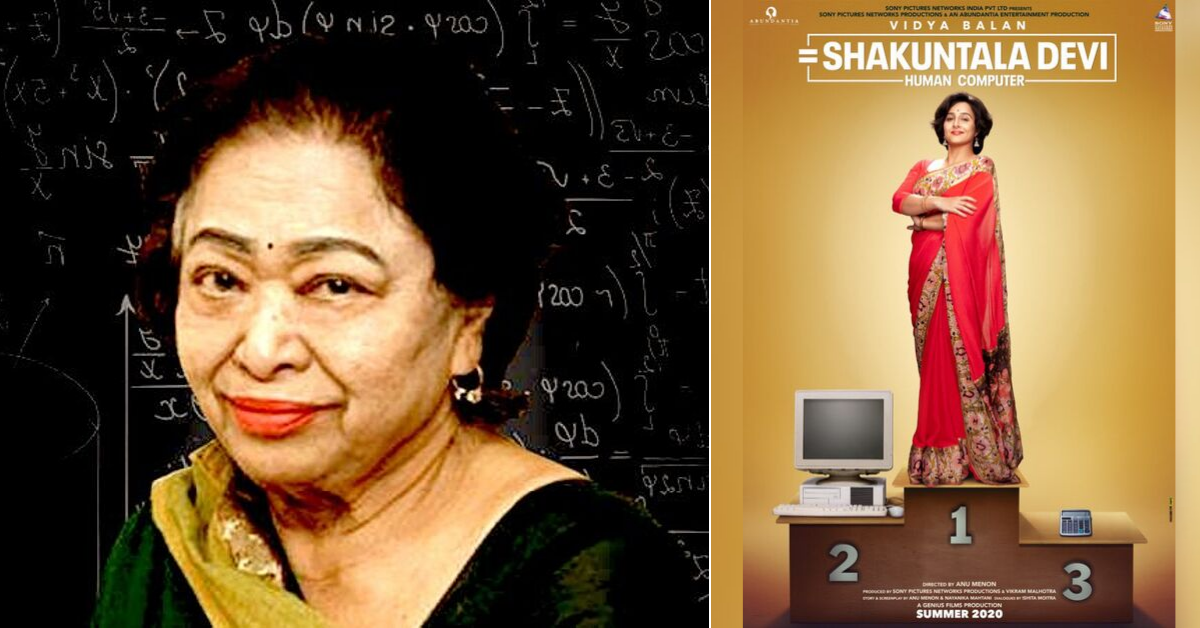 "My only qualification for writing this book is that I am a human being," wrote Shakuntala Devi in 1977, calling for "full and complete acceptance, not just tolerance and sympathy."
Sitting in a circus tent with her father, surrounded by artists and animals, 3-year-old Shakuntala was observing the cards in front of her.
Her father, who was born into an orthodox Kannada Brahmin family had run away from home to become a circus performer.
There, he excelled in trapeze, tightrope, lion taming and human cannonball acts. After the shows ended and the tents were pulled down, he would spend time with his daughter, and perform card tricks to entertain her.
Shakuntala, he believed, was still too young to understand his 'magic' tricks. But he was in for a surprise when the toddler beat him at his game—not by a sleight of hand, but because she had perfectly memorised the numbers.
This was when he realised that Shakuntala was a mathematical prodigy with an uncanny ability to memorise numbers.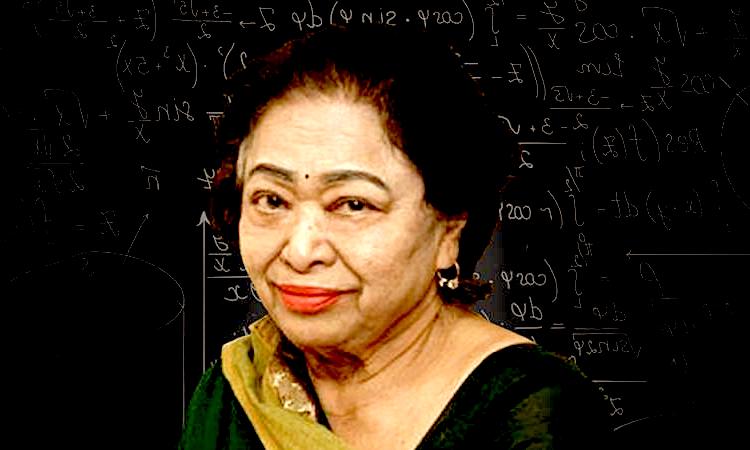 Recognising her gift, he decided to quit the circus and nurture her talent.
He began with road shows, where the young girl, who had not received formal education, displayed her ability to calculate complex numbers in her head.
Shakuntala had become an expert at solving math problems by the age of 5, and her first major show was at the University of Mysore, at the age of 6.
In 1980, at the Imperial College of London, she correctly multiplied two 13-digit numbers in only 28 seconds. The feat was even more remarkable because it included the time to recite the 26-digit solution!
The numbers—7,686,369,774,870 and 2,465,099,745,779—were selected at random by a computer, and in case you are wondering, the answer is 18,947,668,177,995,426,462,773,730!
It earned her a place in the 1982 edition of the Guinness Book of World Records. Additionally, she also came to be known as "the human computer."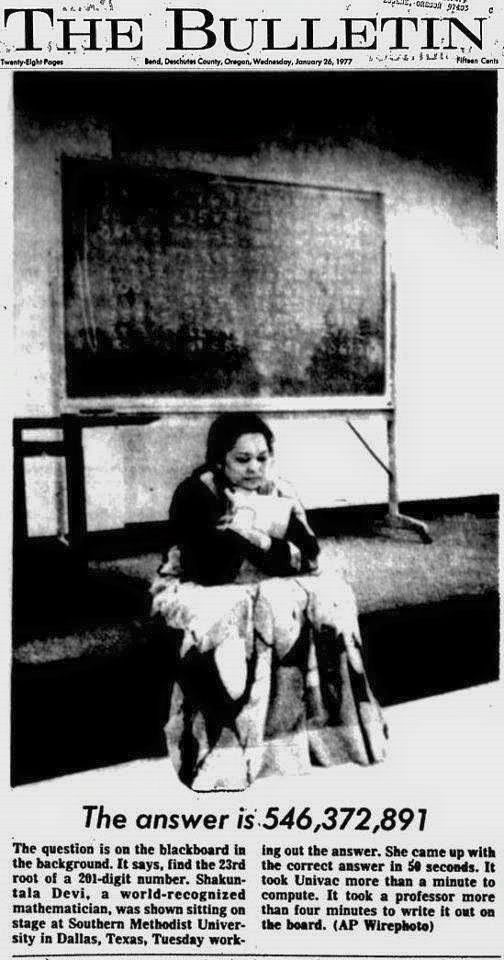 While Shakuntala Devi's extraordinary ability to solve complicated arithmetical problems with apparent ease and astonishing speed astounded the world, we are equally in awe of how and why she led a fight against the criminalisation of homosexuality.
In the mid-1960s, when Shakuntala returned home after displaying her mathematical skills to professors and researchers in London, she married Paritosh Bannerji, an IAS officer from Kolkata.
All seemed well until Bannerji's sexual preferences came to light.
Even in the 21st century, sexual preferences is a taboo topic in India, so the situation in the 1970s, could not have been easy to grapple with.
One would presume that the realisation that she had married a gay man would have turned her world upside down.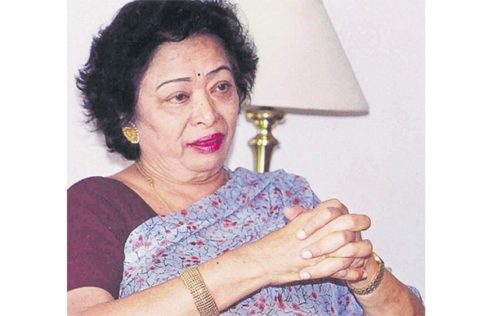 It probably was a deep shock, but Shakuntala rose above it and made a genuine effort to study the plight of the gay community in India.
While still married to Bannerji, she started speaking to members of the gay community still 'in the closet', same-sex couples living abroad and in India. She also began documenting their experiences, their expectations from society and the subdued manner in which they had to live.
Section 377 of the Indian Penal Code was scrapped only in 2018. But Shakuntala had called for its decriminalization in 1977.
Compiling her research and interviews in her book, 'The World of Homosexuals,' she tried to bring their struggles to the notice of the mainstream. In that age, the book wasn't well received. But as the tide turned in favour of the LGBTQ+ community, researchers and activists rediscovered the gem.
Today, the book is also considered to be one of the first comprehensive studies of being gay in India, making Shakuntala Devi revered as an early pioneer in modern India's fight for gay rights .
"My only qualification for writing this book is that I am a human being," she had documented, calling for "full and complete acceptance, not just tolerance and sympathy" for those who identify as gay.
Here are some powerful quotes from her book:
On the quality of being 'Immoral'
"Immorality does not consist in being different. It consists in not allowing others to be so. It is not the individual whose sexual relations depart from the social custom who is immoral—but those who are immoral who would penalize him for being different."
On the division of 'Them vs Us'
"This conception of homosexuality as a 'condition' and the behaviour it supports merely operates as a form of social control in a society in which homosexuality is condemned… The time is overdue now, when rather than pretending that homosexuals don't exist, or hoping to eradicate them by the sheer weight of disapproval or prison sentences, we face the facts squarely in the eye and find room for them so that they can live unfettered and unmolested, and make their contribution to the common good of community."
The book was published in 1977, two years before Bannerji and Shakuntala Devi finalised their divorce.
After this, Shakuntala went on to follow her passion for teaching mathematics and wrote books that would make the subject easy and fun for students. While she never received a formal education, she built on her inherent skills through intense practice.
While Shakuntala Devi is renowned across the world for her numerical prowess, we firmly believe that her story of coming to terms with her husband's closeted sexuality and becoming a crusader for gay rights deserves to be highlighted and appreciated so much more.
(Edited by Gayatri Mishra)
Like this story? Or have something to share? Write to us: contact@thebetterindia.com, or connect with us on Facebook and Twitter.
NEW: Click here to get positive news on WhatsApp!
Tell Us More
We bring stories straight from the heart of India, to inspire millions and create a wave of impact. Our positive movement is growing bigger everyday, and we would love for you to join it.
Please contribute whatever you can, every little penny helps our team in bringing you more stories that support dreams and spread hope.