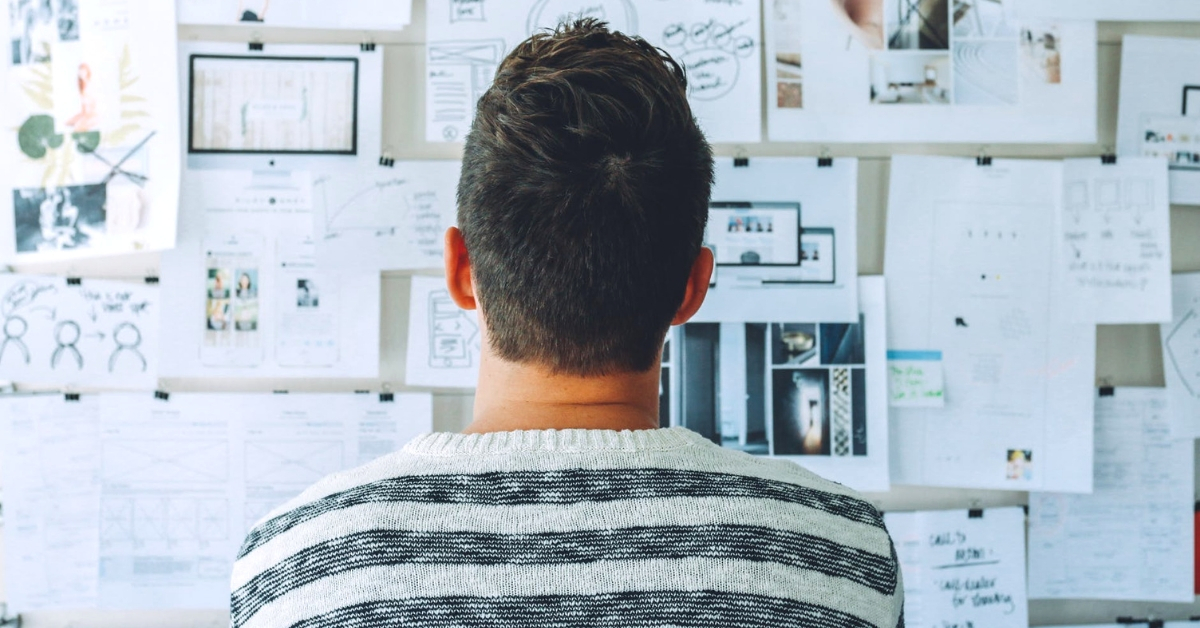 The evaluations parameters that our jury members have used include the scale of problem statement identified, the uniqueness of solutions, user validation, quality of prototype, future prospects identified, and overall presentation.
The youth is the hope of the future, and most capable of addressing the pressing challenges faced by the nation.
In recognition of this idea, Atal Innovation Mission, NITI Aayog and The Better India have come together to launch 'ATL Tinkering Innovation Marathon 2018' — a nation-wide challenge that aims to recognise and develop innovative ideas by young Indians that have the potential to remedy major national problems.
The marathon, which focuses on ideas with social impact, is open to all under the age of 18.
Phase one of the challenge began on September 5 and we received over 1400 entries. These powerful ideas are spread across categories like clean energy, water conservation & management, smart mobility, architecture & design, health tech, sustainable development goals, agri-tech and waste-management.
A remarkable panel of 26 esteemed jury members has evaluated over 1400 entries to shortlist the top 200 innovations. You can find details of the shortlisted innovations here.
The evaluations parameters that our jury members have used include the scale of problem statement identified, the uniqueness of solutions, user validation, quality of prototype, future prospects identified, and overall presentation.
The shortlisted participants will now get a chance to improvise their prototypes further, submit a detailed pitch document that shines light on the research, use case, area of impact, scalability, technical innovation, business prospects and more. Post this, a second round of jury evaluation will be conducted and the top innovations will be announced. The top teams will get a chance to be a part of a unique Student Innovator Program, under which 10 renowned incubators have come forward to mentor the winning teams. They will be taken through a 9-week digital learning module and an on-ground rapid prototyping boot camp. The entire program will come to a glorious end with the ATL Tinkering Innovation Marathon conclave where the shortlisted teams will get an opportunity to pitch their innovation to a jury panel comprising of corporate leadership, senior members from the field, public policy, and technical experts. The final three winners will be announced at this conclave.
"There are numerous reports highlighting the need for collaboration between and industry and academia to enhance the pool of skilled talent. ATL Tinkering Innovation Marathon is aligned to this approach and we hope to see more and more such opportunities for young innovators to hone their ideas and possibly scale them up. An innovation mindset in schools and colleges will surely benefit the talent but also contribute towards nation-building," says Rachana Panda, Chief Communications Officer & Citizenship Leader, GE South Asia.
As we gear up for phase two of the marathon, meet the 26 judges who are experts from academia and industry in different categories and from different parts of the country, and who have joined the ATL Tinkering Innovation Marathon as our esteemed jury members.
Dr Abha Rishi, CEO of The Atal Incubation Centre, BIMTECH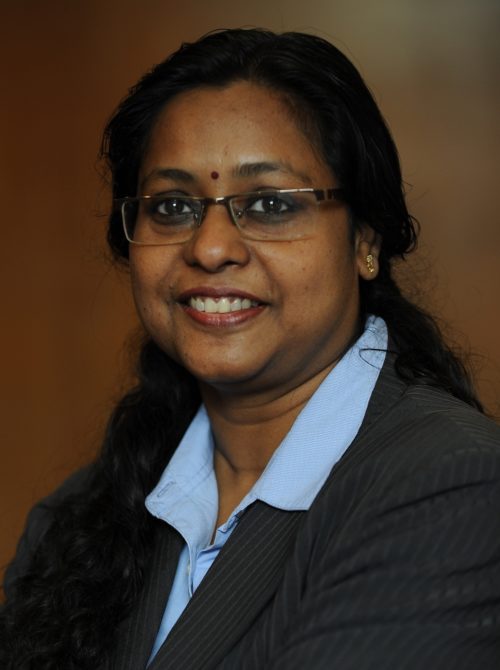 Dr Abha Rishi is the Chairperson of Centre for Innovation and Entrepreneur Development and is also the CEO of The Atal Incubation Centre, BIMTECH. She has 24 years of experience in the field of international trade, both in the industry and academics. She is also a Fulbright Research Fellow from India at Rutgers University, Newark, USA for 2009-10 and is a jury member for the Clean Energy category of the marathon.
Abhishek Pareek, CEO, Atal Incubation Centre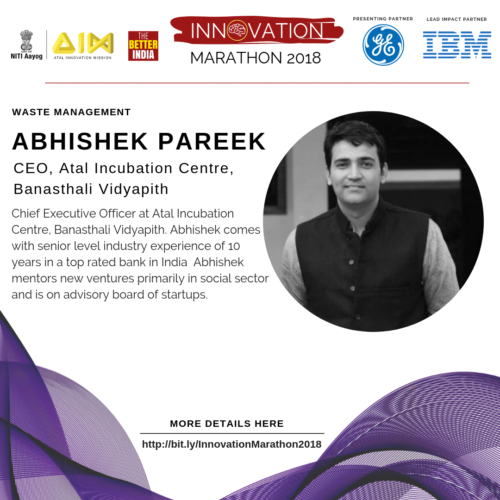 CEO of the Atal Incubation Center in Banasthali Vidyapith, Abhishek has over ten years of senior-level industry experience a leading bank in India. The incubation centre is supported by Atal Innovation Mission, NITI Aayog and is one of its kind Incubation Centre set-up to foster innovation and entrepreneurship for women in Rajasthan. His wide range of experience in Working Capital Finance and other related products across sectors in deeper geographies of Rajasthan gives him a good understanding of different businesses. As the CEO, he mentors start-ups and is an integral part of the advisory board.
Abhinav Jain, Research Associate, Electricity & Fuels Group, TERI: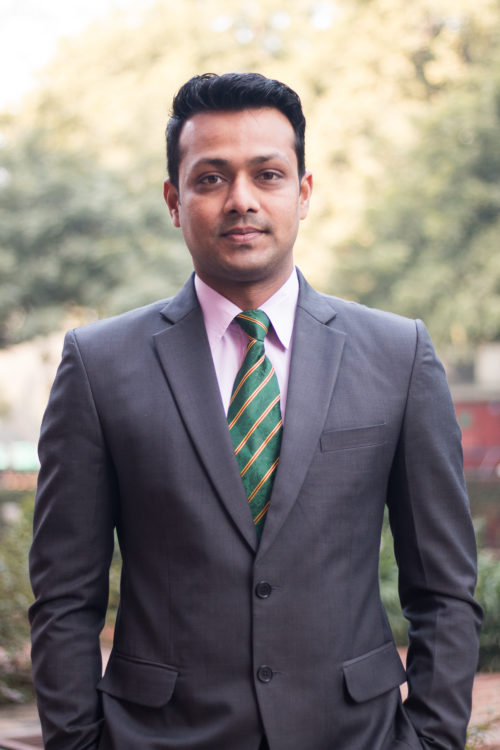 Abhinav is an energy management specialist and an electronics engineer, with over six years of experience in renewable energy policy and implementation. He has worked on implementing projects on Grid Connected Solar Rooftop Programme and Solar Water Heating Programme of Ministry of New and Renewable Energy, across India.
Amit Raje, CEO, Atal Incubation Centre, Aartech Solonics Pvt Ltd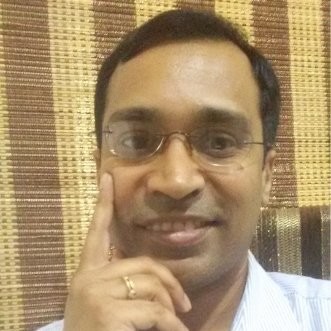 Amit Raje has been working to create a unique platform for enabling the entrepreneurial ecosystem in central India. With expertise in entrepreneurship, technology assessment, application engineering and customer reach, the centre under his guidance has been facilitating innovations in selected and specialised energy applications at Aartech Solonics Limited.
Dr Anjlee Prakash, MD & Chairperson, Learning Links Foundation: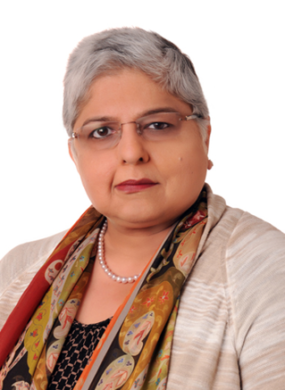 'Educate, Innovate and Transform' has always been the guiding mantra for Dr Anjlee Prakash, who is currently the MD & Chairperson at the Learning Links Foundation. With a PhD in Education and 28 years of experience in the field, she has been the recipient of several awards as a woman leader, for striving to attain excellence.
Archana Sahay, CSR Head at Dell EMC: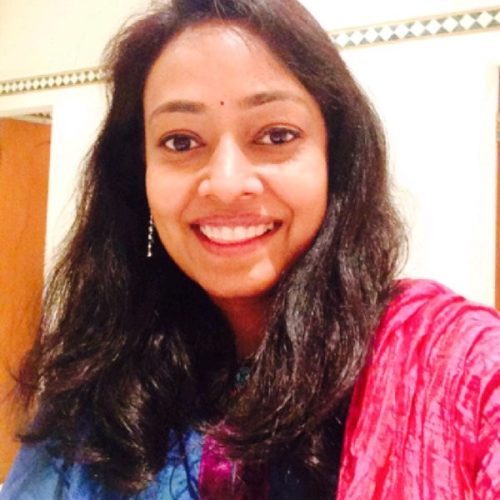 Having spent more than 18 years with prominent global conglomerates like SAP, Cisco, Thomson Reuters and Vodafone, Archana brings a wealth of knowledge and experience across several domains, like NGO partnership, strategic planning, corporate donation and employee engagements.
A R Shivakumar, Principal Scientific Officer, Indian Institute of Science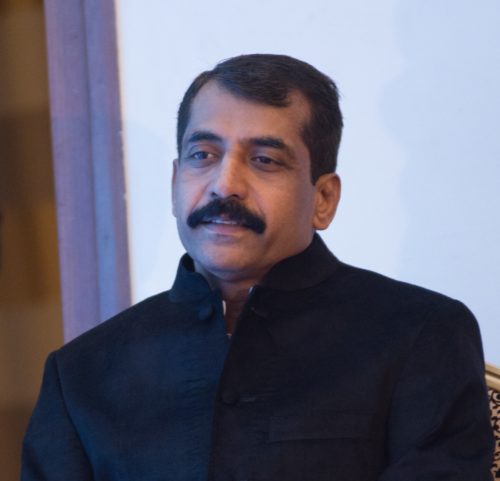 A R Shivakumar is the principal scientific officer at the Indian Institute of Science (IISC) and has undertaken several projects around water conservation and management. One is his prominent projects at the Karnataka State Council for Science and Technology (KSCST) has been to develop Rainwater Harvesting programmes both in urban and rural homes of Karnataka. He is better known as the Bengaluru scientist who has not paid a water bill in 23 years. He believes that a lot of water is being wasted due to mismanagement and that planned rainwater harvesting (RWH) can effectively sustain the city's water supply. He has been instrumental in bringing substantial policy-level changes in the government to establish RWH in government and private buildings and we are honoured to have him in the jury panel for the Water Conservation and Management category.
Ashish Goel, CEO and Co-Founder, Urban Ladder: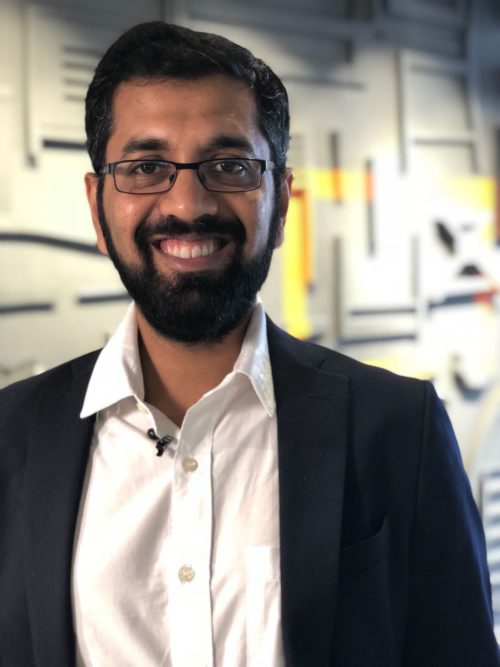 Ashish co-founded Urban Ladder in 2012 with the aim of making it India's leading furniture and home décor destinations. Marrying innovation, utility and aesthetics, his venture aims to create sustainable furniture for all. It is this knowledge and passion that he is using to evaluate entries in the field of architecture and design for this challenge.
Dr Binish Desai, Social Entrepreneur, Empirical Eco Solutions: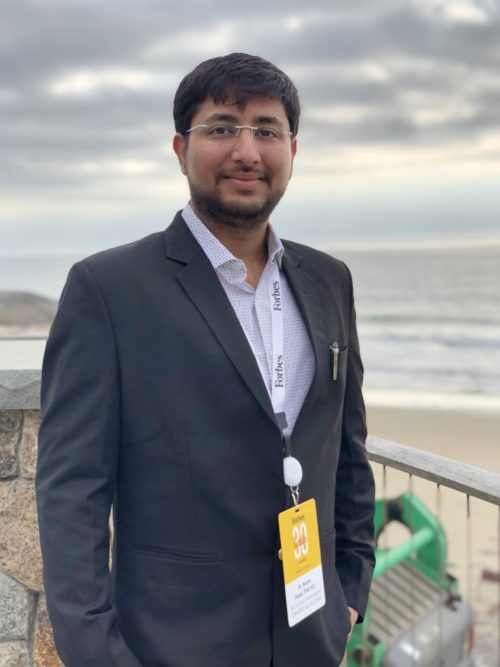 An expert in waste management, Dr Binish Desai is also known as the 'Recycle-Man' of India. A social entrepreneur and an innovator from Gujarat, Binish designed P-block bricks made from the waste produced by paper mills, and is using his patented technology to create sustainable rural infrastructure. Binish founded Eclectic Technologies and Eco Lights Studio to offer unique eco-products and solutions for rising industrial waste in India and us using his knowledge as a jury member in the Waste Management category of ATL Tinkering Innovation Marathon.
G Sriram Prasad, Founder Keerai Kadai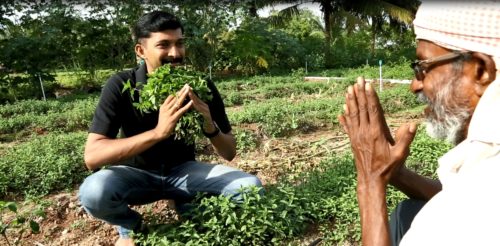 Prasad is the founder of Keerai Kadai an e-commerce venture which supplies over 40 varieties of leafy vegetables to its customers through the click of few buttons! With a background of over 12 years in the field of E-Commerce and Web/Graphic design industry, Prasad decided to venture back to his roots, and establish a social enterprise which fills the gap of nutrition in the urban society.
Harish Hande, Founder, SELCO India: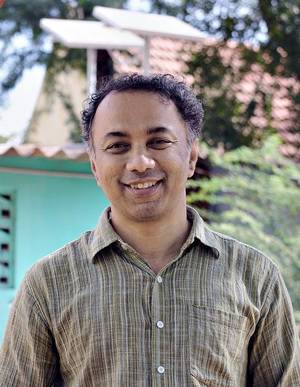 A social entrepreneur, Harish Hande co-founded SELCO India in 1995 and was awarded the Ramon Magsaysay Award in 2011 for his pragmatic efforts to enable the poor to use solar power technology. He was also awarded the Karnataka Rajyotsava Prashasti in 2011 by the Government of Karnataka. In 2013 the Trustees of University of Massachusetts awarded him the Doctorate of Humane Letters. Harish has joined ATL Tinkering Innovation Marathon as a jury member in Clean Energy category.
Jateen Lad, Architect:
An award-winning international architect, Jateen Lad is famous for the Sharanam campus near Pondicherry, which is recognised as one of India's most sustainable structures. A jury member for the Architecture and Design category of ATL Tinkering Innovation Marathon , his expertise lies in integrating nature with technology, thus producing spaces that reflect the sustainable harmony between the two. His work is based on the belief that good architecture and ethical construction practices can be a force for social change.
Jeet Vijay, CEO-Atal Incubation Centre, Pinnacle Ventures
Jeet holds a substantial knowledge and experience in private equity, venture capital, and strategic advisory investing. He has been advising startups and private companies in India by leveraging the experience of living in the USA for 18 years and creating significant value for companies via capital infusion, financial restructuring, operational optimisation, M&A, and organic growth initiatives.
Dr. Manish Anand, Fellow, Centre of Resource Efficiency & Governance, TERI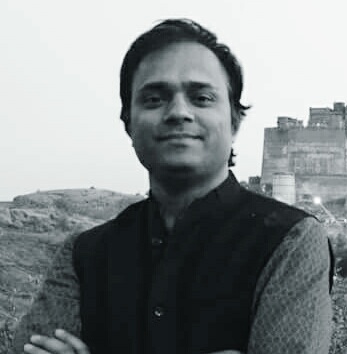 Dr. Manish is fellow at the Centre for Resource Efficiency & Governance, TERI and a jury member for Healthcare Technology category. Having been involved in 25 research and consulting projects with almost 50 research publications to his name. He holds a Master of Agricultural Science and an MPhil/PhD in Science Policy Studies and conducts research in diverse areas of science policy including emerging technologies, energy and environment-related issues. He has over 11 years of experience and has worked on a range of interdisciplinary research projects essentially focusing on the governance of science, technology and innovation to address development challenges from a global as well as local perspective.
Mohan Simhan, VP and Head of Consumer IOT, Vodafone India: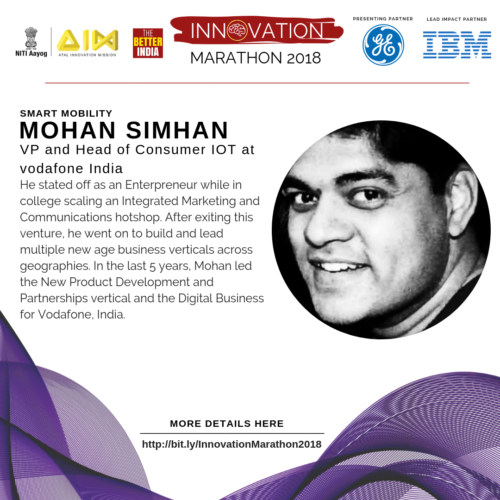 A jury member for the Smart Mobility category, Mohan became an entrepreneur while in college, scaling integrated marketing and communications hot shop. After exiting this venture, he went on to build and lead multiple new age business verticals across geographies. In the last 5 years, Mohan led the New Product Development and Partnerships vertical and the Digital Business for Vodafone, India. He is an award-winning innovator at Vodafone and is a constant learner.
Naveen Kumar, Founder NaPanta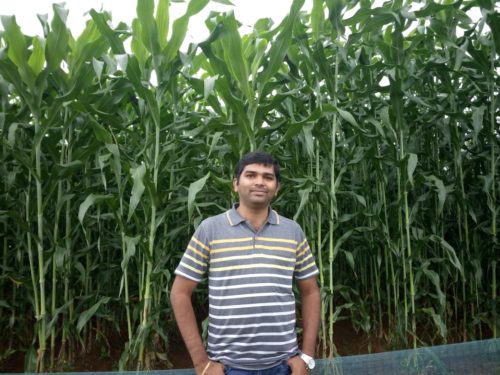 Naveen is the founder and CEO of NaPanta.com – a digital platform for agriculture. Impacting more than 100,000 farmers in Andhra Pradesh and Telangana, the venture addresses the inefficiencies in pre-harvest management for residue-free agri-produce with superior market linkages.
Param Mandloi, Head of Strategy and Innovation, Mahindra Susten: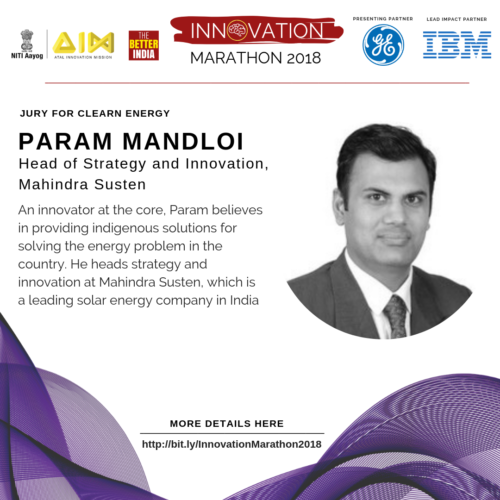 Head of strategy and Innovation at Mahindra Susten, a leading solar energy company in India, Param is an innovator in his core. Working at the energy sector, Param believes in deriving sustainable solutions to the crucial problems through indigenous innovations. Keeping this in mind, he has come on board the ATL Tinkering Innovation Marathon journey as a jury member for the Clean Energy category.
Pavan Kumar, Founder and CEO of Workbench Projects: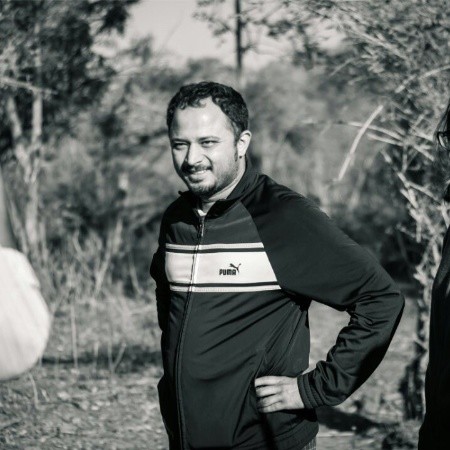 Founder and CEO of Workbench Projects, Pavan Kumar is on a mission to change the hardware ecosystem and maker culture in Bengaluru – one idea at a time. His venture hopes to rekindle the spark of creative productivity among engineers to create effective solutions.
Pranali Sadanand Chavan, Research Associate – Nutritional Security, TERI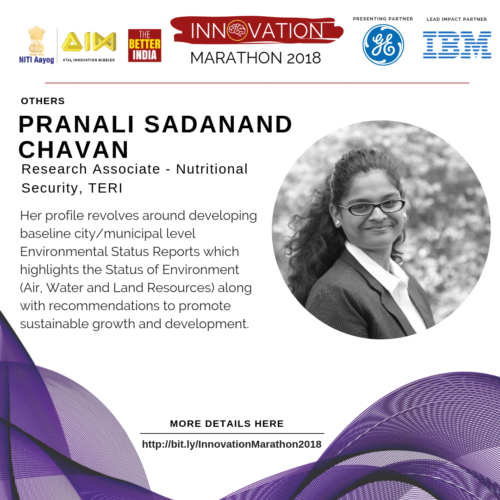 A research associate at the nutritional security, TERI, Pranali has worked around developing baseline city or municipal-level environmental status reports and has been providing recommendations to promote sustainable growth and development. She has been
involved in preparing reports on carbon footprint, air quality status and water quality status report of Maharashtra by calculating and analyzing the Air Quality Index and Water Quality Index.
Rahat Kulshreshtha, CEO, Quidich Innovation Labs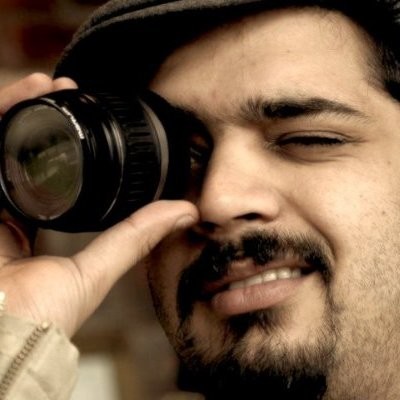 Founder & CEO of Quidich, a drone filming company that uses drone technology in tandem with GIS (Geographic Information Systems) capabilities to add efficiencies across different businesses. Rahat has combined his previous film-making experience with over 2000 hours of drone operations to deliver imagery as never seen before.
Rajiv Vaishnav, Managing Partner, Cornerstone Venture Partners: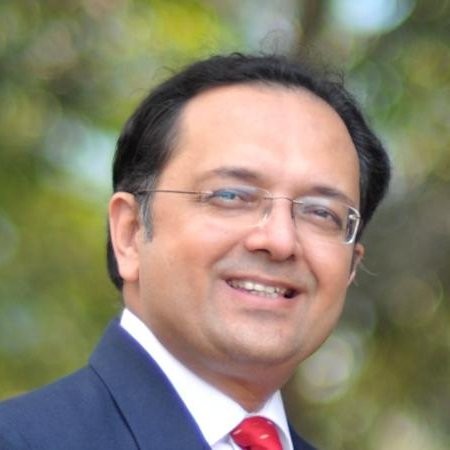 As the Managing Partner at Cornerstone Venture Partners, a global tech VC fund, Rajiv has enabled promising tech ventures to grow and expand customer access in unique ways. Before this, he was also the Vice President, Member Outreach at NASSCOM for over 13 years and been an integral part of NASSCOM's Trusted Sourcing Initiative, leading the Cyber Labs and cyber awareness initiatives in Mumbai, Thane and Pune in partnership with enforcement agencies.
Sameep Padora, Founder, Sameep Padora & Associates: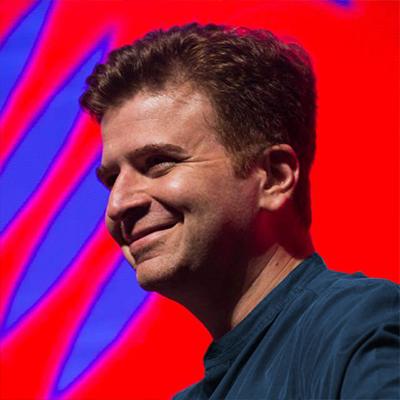 A member of the Academic Councils of a number of schools, Sameep Padora is a prominent name in the field of architecture and design, as the founder of Sameep Padora & Associates (sP+a). Sameep completed his undergraduate studies in Mumbai in 1996 followed by post-graduate studies at Cambridge, where he received a Master's Degree from the Graduate School of Design at Harvard University in 2005. He has joined the jury panel of ATL Tinkering Innovation Marathon for the Architecture and Design category.
Snehal Shetty, COO, Amrita TBI: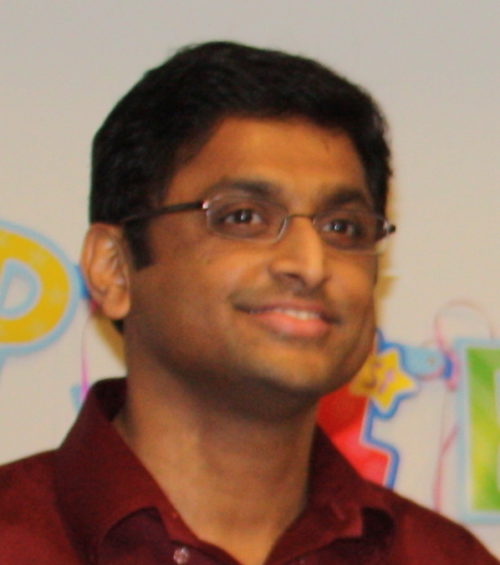 As the COO of Amrita TBI, Snehal has been instrumental in making it one of the top incubators in the country, thus building a strong startup ecosystem. Amrita TBI, a non-profit startup incubator, is supported by the Union government and Amrita Vishwa Vidyapeetham, to fund, mentor and nurture ideas, startups, and entrepreneurs. Snehal has joined us as a jury member in Agriculture Technology category.
Sonia Rani, Fellow, Sustainable Buildings, TERI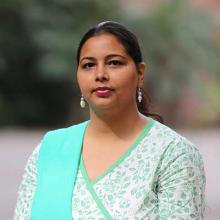 Sonia has expertise in various domains like holistic sustainable development, building materials, construction, demolition waste management, resource efficiency, circular economy and smart cities. A fellow at TERI, she has been leading and managing assignments in the building sector under the purview of policy formulation and advocacy, capacity building, research and development etc.
Tanmay Shah, Innovations Head, Imaginarium: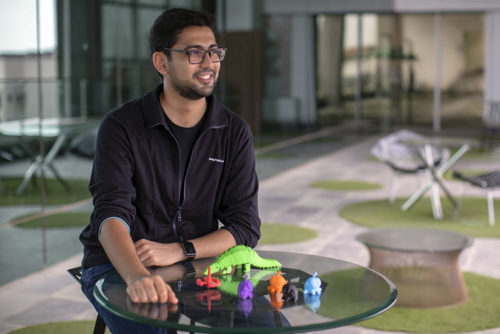 As the Innovations Head at Imaginarium, a rapid prototyping and rapid manufacturing centre, Tanmay believes in creating the perfect concoction of 3D printing and digital fabrication technologies and applying it to traditional industries — to help businesses, brands and individuals stay relevant in today's fast-moving world. He is using his expertise to evaluate entries in the category of Healthcare Technology.
Dr Taslimarif Saiyed, Director, Centre for Cellular and Molecular Platforms: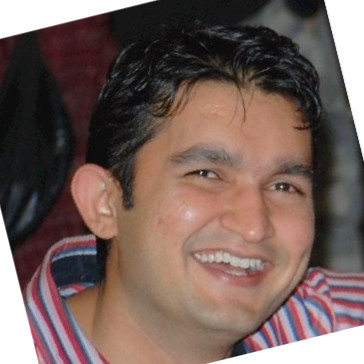 Dr Taslimarif Saiyed is the Director, Centre for Cellular and Molecular Platforms and also heads the Discovery to Innovation Accelerator program at C-CAMP. He is actively involved in promoting innovation in life sciences & healthcare by supporting the translation of discoveries to application, entrepreneurship and technology development. She is using her expertise to evaluate entries in the Healthcare Technology category.
Know more about the ATL Tinkering Innovation Marathon 2018 here.

Like this story? Or have something to share? Write to us: contact@thebetterindia.com, or connect with us on Facebook and Twitter.
We bring stories straight from the heart of India, to inspire millions and create a wave of impact. Our positive movement is growing bigger everyday, and we would love for you to join it.
Please contribute whatever you can, every little penny helps our team in bringing you more stories that support dreams and spread hope.