For Bipin Dhane, the path ahead was seemingly clear. In 2013, after graduating from IIT-Kharagpur in Naval Architecture, he found a job at a multinational company in Singapore.
However, for this IIT graduate from Satara, Maharashtra, life had other plans, and in many ways, he had seen it coming.
"I never wanted the corporate life. There was no fulfilment in working there. For nearly a year and a half, I had thought about quitting. One day on social media, I connected with a friend of mine who was working in the remote river island of Majuli on the Brahmaputra River in Assam as a teacher for underprivileged children. I aspired to work in the education sector, and she told me there were opportunities to teach there. I finally mustered the courage to quit in October 2015 and made my way to Majuli," says Bipin, speaking to The Better India.
His parents weren't happy with their son's decision.
"They already knew of my desire to quit, but they were unhappy, particularly my father, who was angry," he adds.
Fast forward nearly four years, and today Bipin runs The Hummingbird School, a co-educational institution, for the underprivileged children from the indigenous Mising tribal community in Kulamu village, Majuli.
The school has 240 students coming from 11 villages, of which 70 live in a hostel, and conducts classes up to Grade 5.
"Today my father is a proud man, and he shares my story with everyone," he says with a grin.
While working with the students, Bipin and his team of six colleagues felt the need to further extend their work with the community, so in November 2017, they founded the Ayang Trust.
In the Mising language, 'Ayang' means love and compassion—core values while working with any community. "It's because of their love and affection that we are working with them," says Bipin.
Besides the school, Ayang is currently working to transform five other government schools and running a community library which is serving children from five nearby villages.
The trust is also working to improve livelihood opportunities for locals by promoting a producers' collective and working closely with rural women weavers of Majuli. Recently, these weavers got their own yarn bank.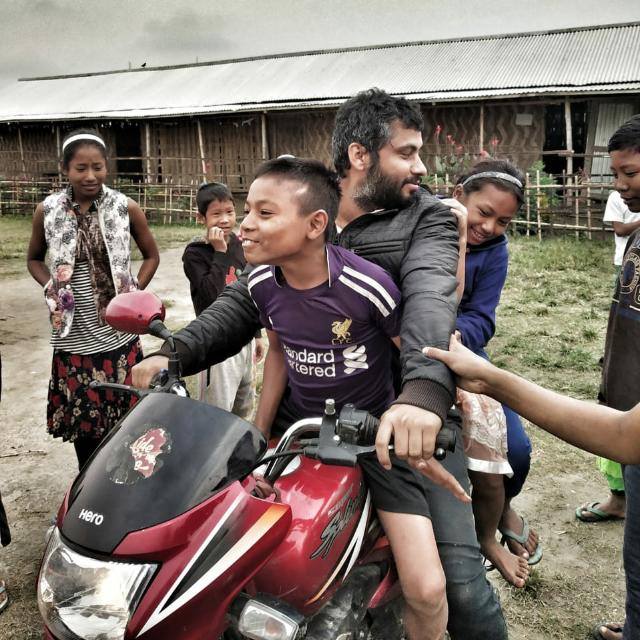 Early Days
When Bipin first arrived in Majuli, it wasn't his intention to set up a school. Sometime in mid-2016, another friend, a local, who was teaching with him at a nearby village, took him to Kulamua.
There, his friend began narrating the problems afflicting the village in front of its residents who had to come to greet him. After an extended discussion, they requested Bipin to do something about their various problems—no pucca roads, health facility or a functional school.
"The people felt that it was time to take the initiative and do something. That's when they asked me to start a school in their village. As a person who has a hard time saying no to people, I agreed to give it a shot. But I had no money and pretty much transferred all my savings to my parents," recalls Bipin.
To overcome this issue, he reached out to his friends, batchmates, and sister. He even reached out to residents of the village, and people from the surrounding villages. Three families donated their land for the school.
"Residents donated wood, bamboo, and other construction material. From the break of dawn every day, they helped me in constructing this school. It took about three months to build it. The residents entirely built the school, and they constructed it for free," says Bipin.
At the end of it in early 2017, The Hummingbird School was set up with 120 children from 11 villages of Majuli.
Starting out, a major challenge was how to deal with the annual floods.
"In the first year, when the floods came, we realised that the infrastructure we had built couldn't cope with the floods. They left behind much damage, but the village community came together to fix up the school. Now, some of our buildings are built above a certain level of water using a combination of modern and traditional building techniques," he adds.
Curriculum
"We have students until Class 5 and aren't affiliated to any school board. Once the process for including students from higher classes begins, we will apply for board affiliation. We do not burden children with a fixed curriculum based on a school board system. Our curriculum is set strictly within the local context. We aren't obsessed with the notion of churning out doctors or engineers. If one of our students ends up becoming a model farmer or a successful designer in traditional Mising textiles that's an achievement for us," says Rituparna Neog, Program Manager of the Ayang Trust, speaking to The Better India.
In addition to basic language and computational skills, the school imparts basic life skills and takes classes on agriculture.
Twice every week, students have to attend classes on integrated farming practices, where children engage with the farm and learn how to grow crops. From these sessions, they learn basic plant biology, but more importantly, understand where they get their food from.
"If they understand the process behind growing food, they will grow up learning not to waste it. The objective here is also to make them into conscientious citizens. The Mising people are traditionally skilled in textile weaving, bamboo craft, and art. For example, we have a member from the local community with a physical disability, who teaches these young children bamboo craft. Through such activities, they also learn to apply basic mathematics for measurements, make different patterns and deliver an end product," says Rituparna.
After class, art and music teachers from both the local community and outside volunteers impart lessons, besides conducting self-defence classes. They also have a football coach.
"We are also teaching them folk dance, holding separate classes for bamboo weaving to make their own baskets and cots, folk storytelling sessions," he adds.
However, the most critical facet of their curriculum is how they inculcate elements from Mising tribal culture into their curriculum.
This tribal community has an incredibly fascinating history. Although they identify as Mising (Mishing), they have been identified by the term Miri by the Assam administration. They are officially listed as Miri under the Scheduled Tribe index.
Encouraging identity
"Originally a hill tribe from Northwest China, Tibet, and Mongolia, the Mishing, one of Assam's aboriginal communities, travelled down from the Manasarovar lake.
This lake is the highest freshwater lake in the world and an ancient holy site considered by pilgrims to be the source of the four greatest rivers of Asia (the Brahmaputra, Karnali, Indus, and Sutlej) and around the 8th century settled in Arunachal Pradesh.
Around 700 or more years ago they migrated down the course of tributaries feeding into the Brahmaputra like the Dihing, Disang, Dikhow, Subansiri, Ranganadi, and Dikrong to the Assam plains in search of a less hostile more economically viable life," reads this description.
Having said that, there isn't any real clarity on their origins.
"We are collecting folk stories from the Mising community, and trying to incorporate them in different classes. These stories are about their ancestors, where they came from, how they evolved and came to Majuli, heroes from their community, famous personalities, and such. Most classes are held in a story-telling format. For example, through nature walks, where they go and see the river, learn about the basic sciences. But this storytelling goes hand-in-hand in building capacity for critical thinking. We take examples from their traditional housing system marked by an elevated structure stilted above water levels to avoid rising water levels during floods," says Rituparna.
They impart lessons on these traditional means of coping with natural disasters and resilience building, a critical facet of life in the community.
Besides, there are lessons on water sanitation, hygiene and how to avoid skin diseases that are prevalent during floods with both the community and children. "When we teach these life skills to children, they go home back to their parents and discuss it," he adds.
Since the Mising do not have a script of its own, they employ a Roman script. The students are taught Mising.
"The school is developing a book on Mising history for the children and adult. Since a lot of it has been lost, the attempt is to address questions of how, when and from where did they come from," says Bipin.
The school has taken the assistance of both locals, academic organizations like Virasat-e-Hind and various other anthropologists as well for the history book.
Free, but community participation
What's particularly unusual about this school is that it essentially sponsors the education all of its students. Every month, the cost of educating one child comes up to Rs 1200. Of the 240 children, the families of 100 pay a subsidised amount of Rs 250 per month. For the rest, it's free. On top of that, they have a hostel for 70 students, for whom all facilities are free.
"Yes, the tuition for many of these students is free, but that isn't the complete picture. If everything is free, how will students and their families value the education we are giving? Akin to how the entire community participated in the construction of this school, the parents of students whose tuition fees are waived off come to school once a month and contribute their services. For those living in the hostel, their parents come over three-four times a month to offer a day's labour assisting non-teaching staff with the cooking, cleaning, washing, collecting firewood, etc. Moreover, they also get a chance to monitor how their ward is doing. This creates a sense of ownership," says Rituparna.
Funding for their tuition comes from the Sunbird Trust, a Bengaluru-based non-profit which provides financial access to education of underprivileged children, particularly in the Northeast.
Recently they also received funding from the Rotary Club of Poona Downtown, Pune, to build a hostel, computer, hostel, and library room. Last month, they felicitated Bipin with the Budding Social Entrepreneur 2018-19 award.
"We don't determine which students get 100% scholarship. The village councils determine that. They choose based on which family is among the poorest, if the mother is a widow or if a family has a person with a disability. This criterion holds particularly strong with choosing students who get into their hostel, where we provide food, lodging, clothes, medical facilities, among other services for free. The school is on the cusp of receiving further funding from another Bengaluru-based foundation," says Bipin.
Teachers, meanwhile, are selected from within the village community because, in the future, the school will come under their leadership. For the initial three months, these prospective teachers from the village undergo the school's rigorous training module, building capacity.
After they finish training, they are employed as teaching assistants to senior teachers. For every class, there are two teachers who teach all subjects.
"We look for volunteer teachers from outside Majuli or Assam with a lot of experience and expertise as well. These volunteers get a stipend, while local teachers and non-teaching staff receive a monthly salary. The school employs 20 teachers and 10 staff members.
Also Read: 'Golden' Pune Couple Left Everything Behind to Transform Remote Manipur Village!
How does the school sustain itself?
Besides growing their own food, all staff and local villagers help with the construction and repairs. For certain other essentials like medicine and clothes, they do need money. At the moment, both the village and school are looking at different ways of raising money by encouraging eco-tourism in these pristine parts, where tourists spending over 10 days will have to pay an amount that could fund an entire year's tuition fees for one or two students.
"We are still struggling for funds and volunteers. We need greater support. If your readers can help with funds or volunteer to teach the kids here, it would mean the world to us," says Bipin.
(Click here if you want to contribute!)
For the IIT graduate, this has been a remarkable experience. "I never knew things would change and grow so fast. I hope to stay here as long as possible. There is a certain magical quality about Majuli and the villages within it. It's something that always stays with you," he adds.
(Edited by Gayatri Mishra)
We bring stories straight from the heart of India, to inspire millions and create a wave of impact. Our positive movement is growing bigger everyday, and we would love for you to join it.
Please contribute whatever you can, every little penny helps our team in bringing you more stories that support dreams and spread hope.