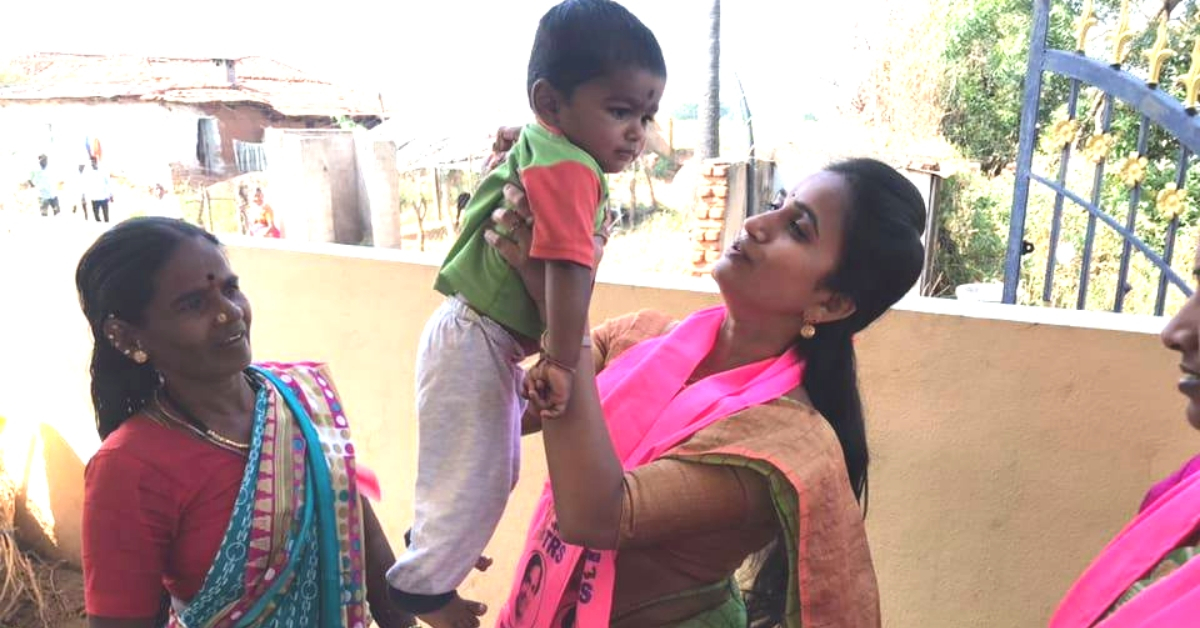 "One thing that I'm very proud of is starting the 'respectful maternity care' initiative, where both doctors and midwives are tasked with treating women with dignity, respecting her privacy at every stage of pregnancy, and acquiring a woman's informed consent before anyone touches her," says IAS officer, detailing the campaign which single-handedly brought down the overall maternal mortality rate of the entire country.
When Indian Administrative Service (IAS) officer Karuna Vakati was appointed Commissioner for Health and Family Welfare in the Telangana government in October 2016, Chief Minister K Chandrashekar Rao had asked her about the state of maternal health and what needs to be done.
"The chief minister asked me why the State should increase the number of institutional child deliveries in public health institutions. I told him about the increasing rate of C-Sections, how women, particularly in the rural and tribal areas, lack access to quality healthcare, about the financial burden they suffer during their pregnancy in private hospitals and many other challenges. In response, he said that we should go all out to address these concerns," says Vakati, in a conversation with The Better India (TBI).
The National Family Health Survey (NFHS) 2015-16 stated that 91.5 per cent of births in Telangana were institutional deliveries—among the highest in India. On the face of it, Telangana had a pretty good record; however, a closer examination of the numbers indicated gaping loopholes.
Of all the institutional deliveries in the State, only 30 per cent took place in public healthcare facilities. Another real concern was the rate of Caesarean Sections (C-Sections) that made up nearly 58 per cent of all deliveries—the highest in India. Public health commentators attributed high C-Section rates to more women giving birth in private hospitals.
Taking cognizance of the problem, the Telangana government embarked on a series of reforms to increase the number of institutional deliveries in public health facilities, reduce C-Sections and bring down the Maternal Mortality Rate (MMR) from 81 per 100,000 live births in 2014-16 to 70 per 100,000 live births—as mandated in the United Nations Sustainable Development Goal.
Telangana went from an MMR of 92 per 100,000 live births in the 2011-'13 period to 81 per 100,000 live births during 2014-'16. The state now hovers close to the 70 mark. Their efforts has resulted in a pan-India drop in MMR from 167 to 130.
The results have been quite spectacular. The State government data says that the institutional deliveries in public facilities have risen from 30 per cent to well over 50 per cent. Of the over 3.8 lakh deliveries that took place in the State in 2018-19, 2, 22, 588 were conducted in government health facilities and 1, 57, 690 in private care.
"We managed to achieve this target in just ten months (a record of sorts), while states like Tamil Nadu took 15 years to achieve this feat," claims Vakati who is now Commissioner for land administration after finishing her tenure in the Health Department in September 2018.
How did the State government achieve these goals?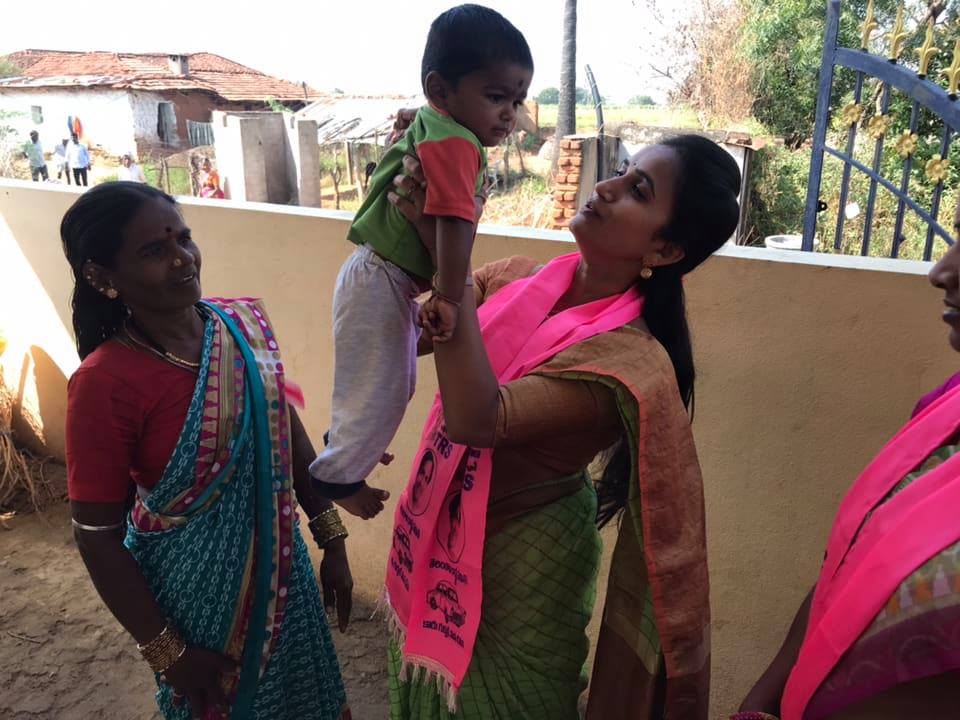 1) Upgrade public health facilities
The process begins with closely monitoring the available public facilities, finding out why some of them perform fewer deliveries and ascertain how to encourage more women to come to these facilities.
The standardisation of labour rooms entailing the revamping of public health facilities with modern delivery beds, equipment and general beautification to make them attractive topped the objectives. Among the first State to adopt the guidelines issued by the Ministry of Health and Family Welfare and the World Health Organization for standardisation of labour rooms, the State government invested a great deal of taxpayer money into upgrading them.
As a consequence, today, almost 300 labour rooms in the State have been renovated.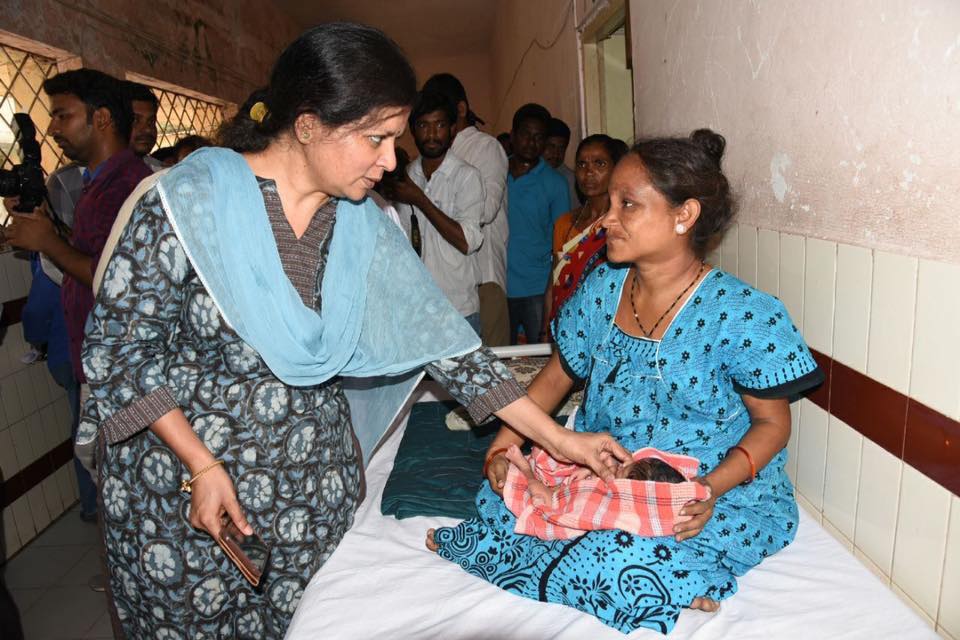 2) KCR Kit scheme
To make the public health care system more attractive to expectant mothers, the State not only streamlined the process of antenatal check-ups to make them more effective and efficient but also introduced the KCR Kit scheme in June 2017. All pregnant women in the state are eligible, but the scheme is primarily aimed at the women coming from low-income households.
At the time of delivery, the mother is provided with a Rs 2000 KCR kit that contains a lot of goodies for the newborn like baby oil, soap, talcum powder, mosquito net, and a soft blanket to wrap the child in, among other items.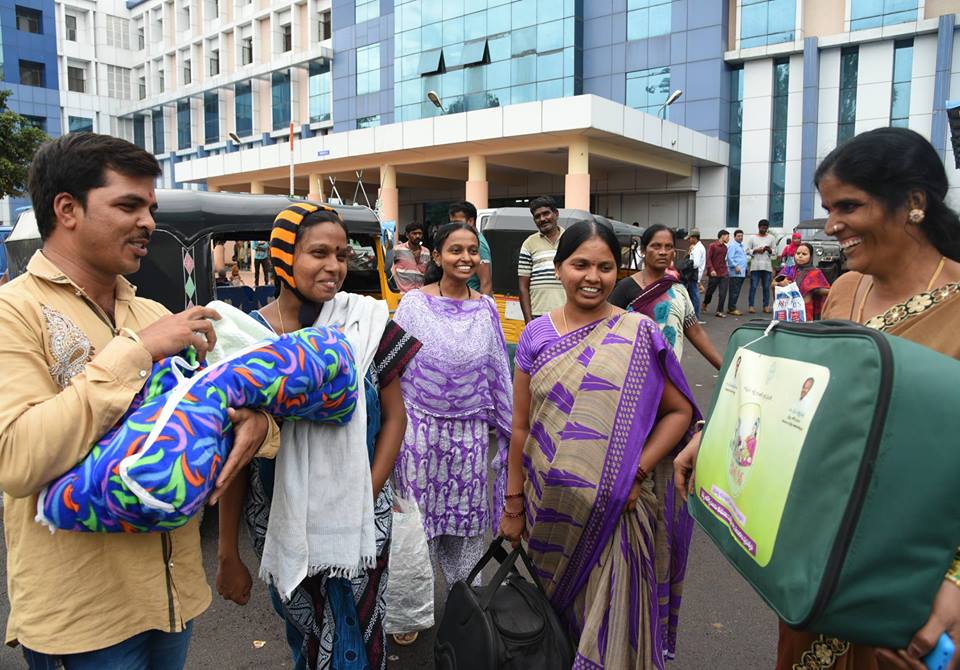 "We also transfer a total Rs 13-14,000 directly into the pregnant mother's account to coincide with four major milestones. At the time of the first antenatal check-up by medical officers, Rs 3000 is transferred online directly into their bank accounts. At the time of delivery, Rs 4,000 is transferred if it's a boy and Rs 5,000 for a girl child. At the first round of immunisation after 3.5 months, Rs 2,000 is transferred. Finally, at the end of full immunisation another Rs 3000 is transferred," says Vakati.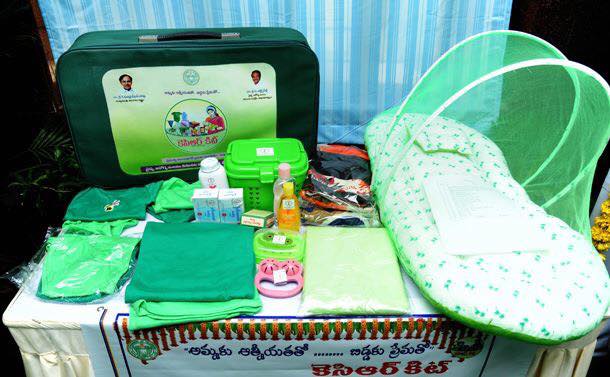 The principal objective behind this particular scheme is to help compensate for the wage loss women suffer during pregnancy. Despite their pregnancy, cash-strapped women are compelled to work which can spell health complications to the mother and the child. The KCR Kit scheme acts as an incentive for women to approach public health institutions.
3) Introduction of '102' Amma Vodi vehicles
Launched towards the end of 2017, the State government introduced a toll-free number 102 to offer transportation services for pregnant women seeking pre and antenatal care, pre and post-delivery drops from their homes to the hospital, and immunisation visits to public health facilities. All these services are free. For pregnant women, particularly in the remote tribal areas, the Amma Vodi programme seeks to address the glaring institutional gaps they suffer.
"Attached to this programme is a call centre that provides 24-hour service on a toll-free 102 number, which tracks pregnant women in a given area. If a woman missed her check-up or appointment, someone would call from the centre and remind them. This system helped us track pregnant women at high risk and plan safe deliveries," informs Vakati.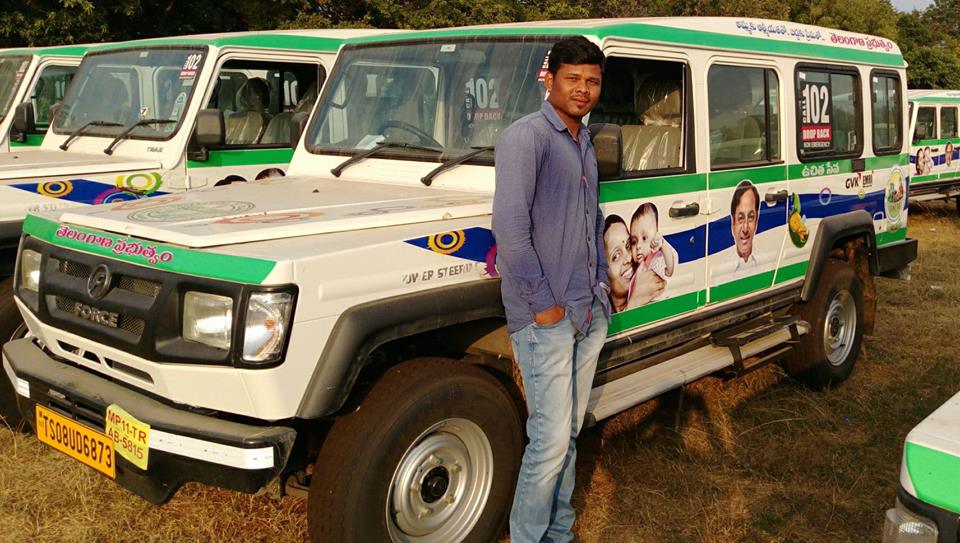 "During a pregnant woman's first or second ANC (antenatal checkup), you come to know whether the pregnancy is complicated or not. Once it's understood there is a complication, the pregnant woman is immediately referred to a referral hospital which will have specialists. There is a warning given to these facilities like 'so and so woman is coming', and the affected person is told 'you have to visit this facility at so and so time'. It is a 360-degree approach to increase institutional deliveries," adds Vakati.
As of today, 15 per cent of deliveries take place at Primary Health Centres (PHCs), 60 per cent in the first referral hospital and the remaining across different tertiary hospitals.
4) A new cadre of midwives
Medically, across the world, midwives are understood as functionaries of a health system who conduct regular deliveries. While Telangana ranks among the bottom five States in terms of MMR, the incidence of these tragic deaths is heavily skewed towards remote villages, particularly in tribal areas. In these parts, immediate medical assistance isn't readily available.
It's not a question of throwing money at the problem by hiring more specialists through the National Rural Health Mission (NHRM) and posting them to these areas. Many of these specialists the government hires are unwilling to go and live in these remote areas for an extended period.
Also Read: Employment to Agriculture: Meet the Startup Helping States Revolutionise Governance
"While we saw an increase in institutional deliveries through public health facilities, the C-Section rate had not fallen to the extent we thought it should. Thus, came the idea of introducing a special cadre of midwives, who would not only promote natural births but also address the challenge of offering quality care to women in remote areas in the absence of specialists," informs Vakati.
For decades, health experts have advocated for a specialised class of midwives who would dedicate themselves to care for pregnant women and their infants.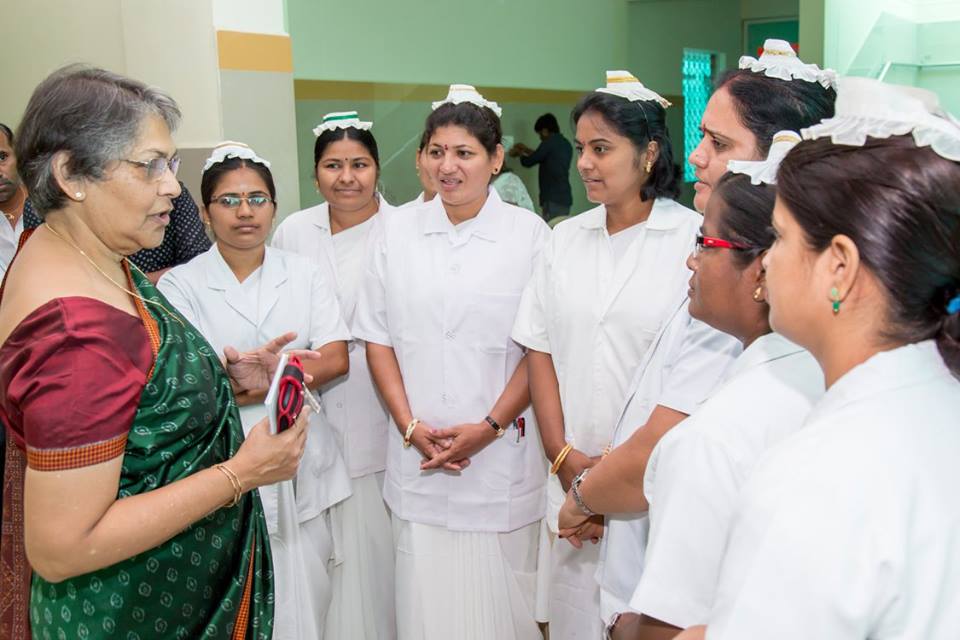 Under the system practiced in many states, Auxillary Nurse Midwives (ANMs) and Registered Nurse and Registered Midwives (RNRMs) conduct deliveries in rural areas. These women spend only a few months training for Pregnancy and Child Care before shifting to other nurse-related responsibilities.
"In 2017, we identified a batch of 30-35 nurses with over five years of nursing experience and put them through this 18-month training programme in Karimnagar so that they can provide quality care during pregnancy, childbirth and prevent maternal and infant deaths. These midwives are then deputed to PHCs and various other district hospitals," says Vakati.
Speaking to The Better India, a doctor at the local health centre in Karimnagar which has the highest incidence of C-Sections in the state, said on conditions of anonymity, "These midwives have reduced our workload. See, we don't have enough specialist doctors here, but their presence has made our lives a lot easier."
"In 2017, the Government of Telangana initiated a tripartite partnership between State Government, UNICEF and Fernandez Hospital to train nursing students in midwifery using 18 months course based on ICM [International Confederation of Midwives] competencies. Training of the first batch is going on. NHM supports training. Total 126 posts of midwives created by the State Government," says the Centre's Guidelines of Midwifery Services in India issued in December 2018 and inspired by the Telangana model.
This 'Midwifery Services Initiative' aims to create a cadre of Nurse Practitioners in Midwifery.
5) Increase the number of specialists and 'Respectful Maternity Care
The State government increased the number of specialists hired under the NHRM. Thus far, it has sanctioned 4,000 doctor posts. "One thing that I'm very proud of is starting the 'respectful maternity care' initiative, where both doctors and midwives are tasked with treating women with dignity, respecting their privacy at every stage of pregnancy, ensuring they aren't spoken to rudely, and acquiring their consent before they are touched. This is one of the first things we did during our reform drive, but it remains an essential facet," says Vakati.
Impact
The most significant impact of increasing institutional deliveries in public health facilities is the steep reduction in costs undertaken by low-income households. "Increase in institutional deliveries at public health facilities from 30 to 50 per cent means and an increase of 7-8,000 deliveries per month. With an annual income of these families being up to a maximum of Rs 1, 50, 000 (rural areas) and Rs 2, 00, 000 (urban areas), the money they save during pregnancies, thanks to these reforms, is huge," argues Vakati.
Additionally, safer deliveries for women have decreased MMRs and increased normal births, thus allowing them to have more productive and healthier lives.
Vakati, however, isn't keen on taking a lot of credit for the success of these reforms.
"Yes, I was administratively heading it, and we would have gone ahead with these reforms irrespective, but there was a lot of political support, and this made a lot of difference. The creation of 4,000 additional doctor posts is an example of political initiative. Even before the number of posts was increased, doctors on the ground took five or six times the workload to implement these reforms. Creating and improving infrastructure does not happen overnight. It took about a year to improve the infrastructure. Meanwhile, the doctors performed on the ground with the facilities available. This was a team effort. The sight of seeing happy and healthy women has been gratifying," she adds.
These are some lessons other states could take to improve the lives of pregnant mothers.
(Edited by Saiqua Sultan)
Like this story? Or have something to share?
Write to us: contact@thebetterindia.com
Connect with us on Facebook and Twitter.

We bring stories straight from the heart of India, to inspire millions and create a wave of impact. Our positive movement is growing bigger everyday, and we would love for you to join it.
Please contribute whatever you can, every little penny helps our team in bringing you more stories that support dreams and spread hope.