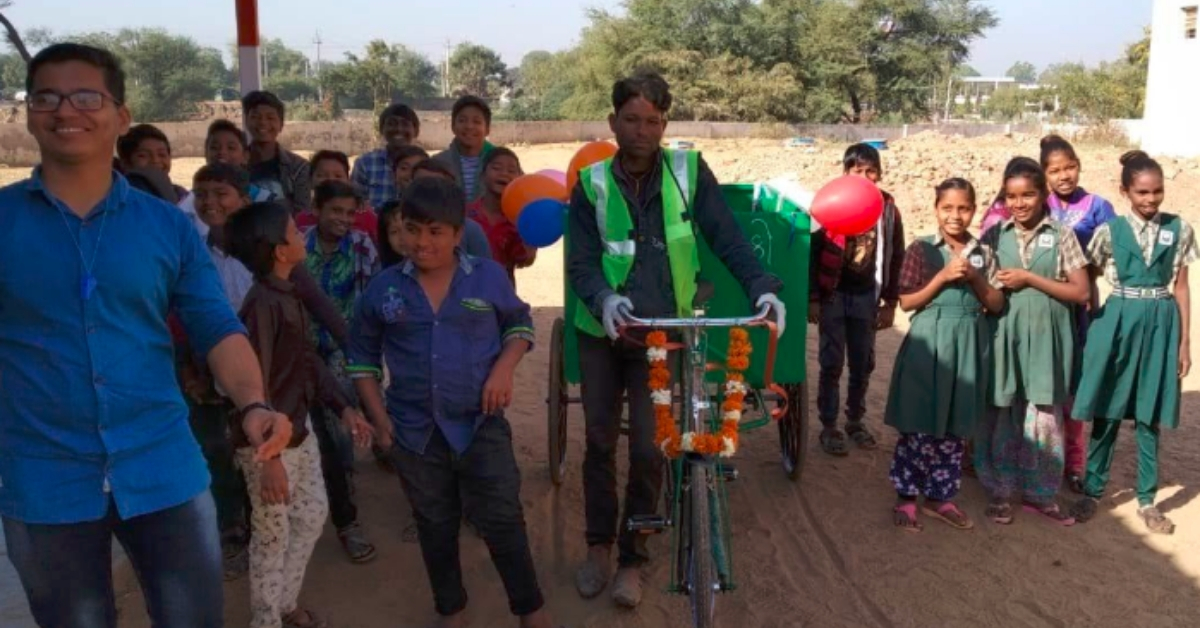 For years, residents in Ambapur dumped garbage near local ponds. However, a three-stage programme implemented by a bunch of youths helped them treat their waste scientifically
What is the first thing that comes to your mind when you picture a village?
An open area with lush greenery, houses made of bamboo and mud and lungful of fresh air.
The reality, however, is entirely different most of the times. Lack of awareness regarding hygienic habits, public cleanliness and garbage disposal cause not only health problems but is also detrimental to living a better lifestyle. The story was no different in Ambapur village, located 10 kilometres from Gandhinagar, Gujarat.
Up until September 2018, ponds were overflowing with garbage, toxic, smog-choked air, children were frequently falling ill, and animals were gasping to breathe after consuming plastic.
With no formal system of waste management in place, the village comprising over 500 families, was slowly drowning in its filth. Luckily, a group of college students from LDRP Institute of Technology and Research in Gandhinagar, who visited the village last year for a clean-up drive, noticed this plight.
Through a college project, we had conducted a couple of clean-up drives in the village. Even though we completed our task, something was incomplete. To enrich the beauty of the village, we even started the VAVO (which means 'to sow' in Gujarati) project and planted trees, Deep Bhuva, one of the college students, tells The Better India (TBI).
---
Also Read: 'Golden' Pune Couple Left Everything Behind to Transform Remote Manipur Village!
---
After spending a couple of weeks in the village, Deep saw how the mountains of waste were affecting the environment, and consequently people's health. But with lack expertise or experience in the field, there was nothing much he could do.
Fortunately, it was during the same time when he came in contact with Kinjal Shethia, Founder of Mumbai-based "Need Box Foundation." The NGO has worked in the area of waste management in the past.
Together with Kinjal and his team of friends, Deep kick-started a programme to solve the problem of garbage in Ambapur in September last year.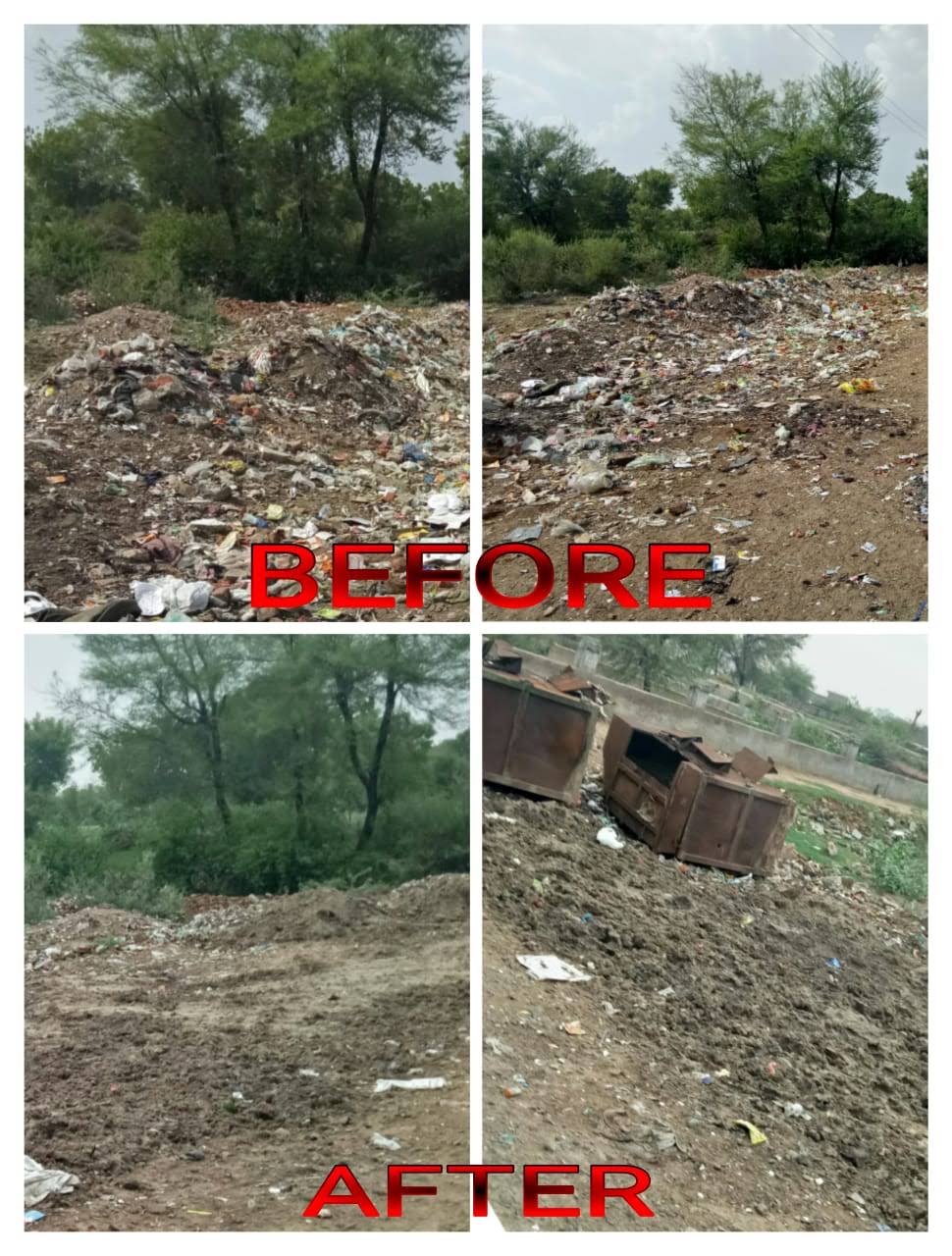 While volunteers from VAVO focused on educating the people, Kinjal and her foundation started a fundraising campaign online.
"From our past experiences, I can say that funds are critical when it comes to executing a project. So, we started a campaign online. It is an on-going campaign as we also need money to sustain the project," says Kinjal.
Like every project undertaken for long-term impact, this one too began with a massive awareness drive. The team took the Gram Panchayat committee into confidence to ensure that people took 'outsiders' seriously.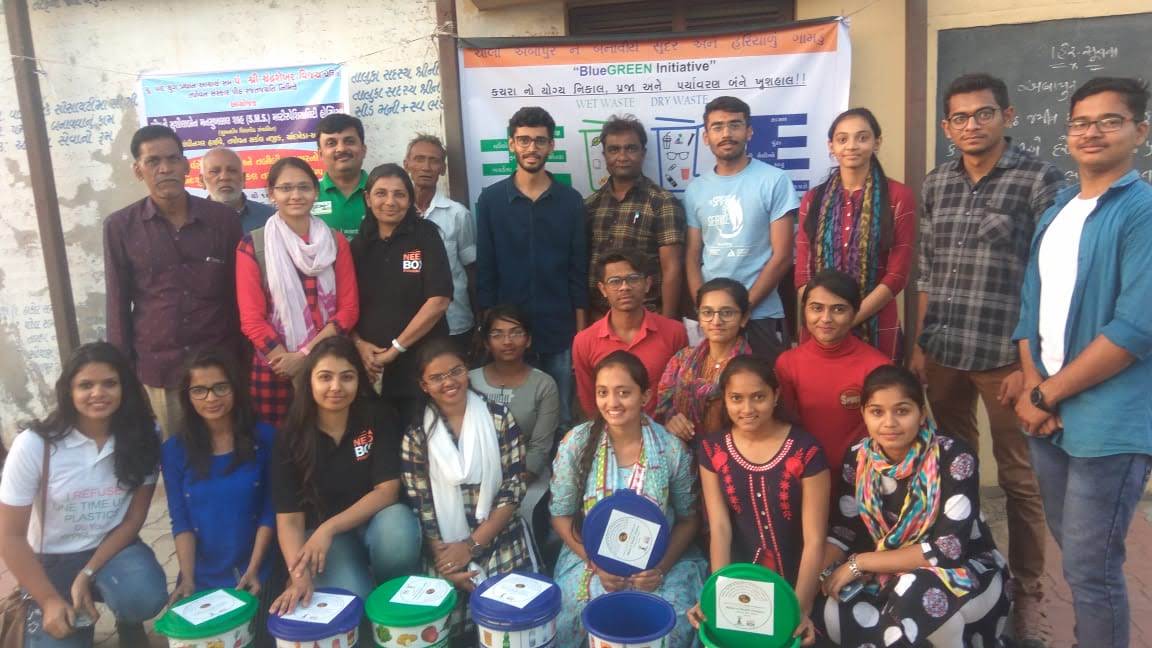 ---
Also Read: Think Solar Means Just Bulbs, Heaters? This Village Has Hammers & Sewing Machines!
---
Recalling their first interaction with the locals, Kinjal says, "In a scenario where you are disturbing people's comfort zone, usually one expects a backlash. However, we were thrilled to see how the locals were excited about it. It was almost like they had been waiting for someone to take care of their waste."
For the first few weeks, the college students and NGO volunteers visited every household and explained the outcome of dumping their waste near the ponds. As an alternative, the team hired a ragpicker for door-to-door waste collection.
It was for the first time the villagers had someone knock their door every morning to pick up their household waste!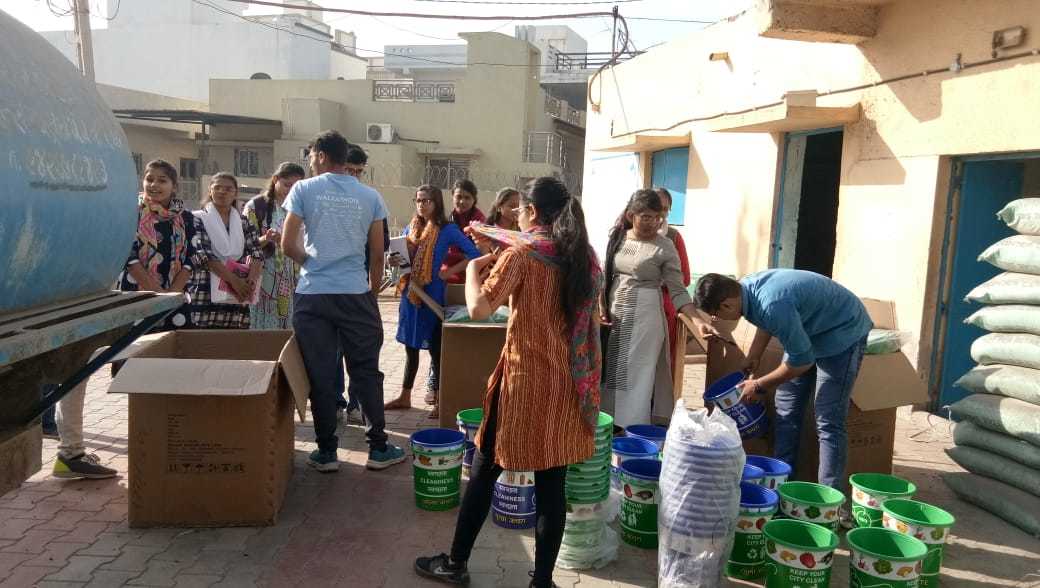 We had been habituated to dump our waste outside the house or near the local ponds. When Mohan, the ragpicker, started lifting our garbage, the guilt of dirtying the environment was no more there, Leela, a resident told TBI.
In the second stage, every household was given a blue and green dustbin to practice waste segregation.
"Once they got used to not littering their surroundings, we introduced source segregation to treat the wet and dry garbage separately," says Kinjal.
Mohan transports the wet garbage to the composting pits located on the outskirts of the village. He stores the dry waste in a room and deposits it at a recycling unit every month.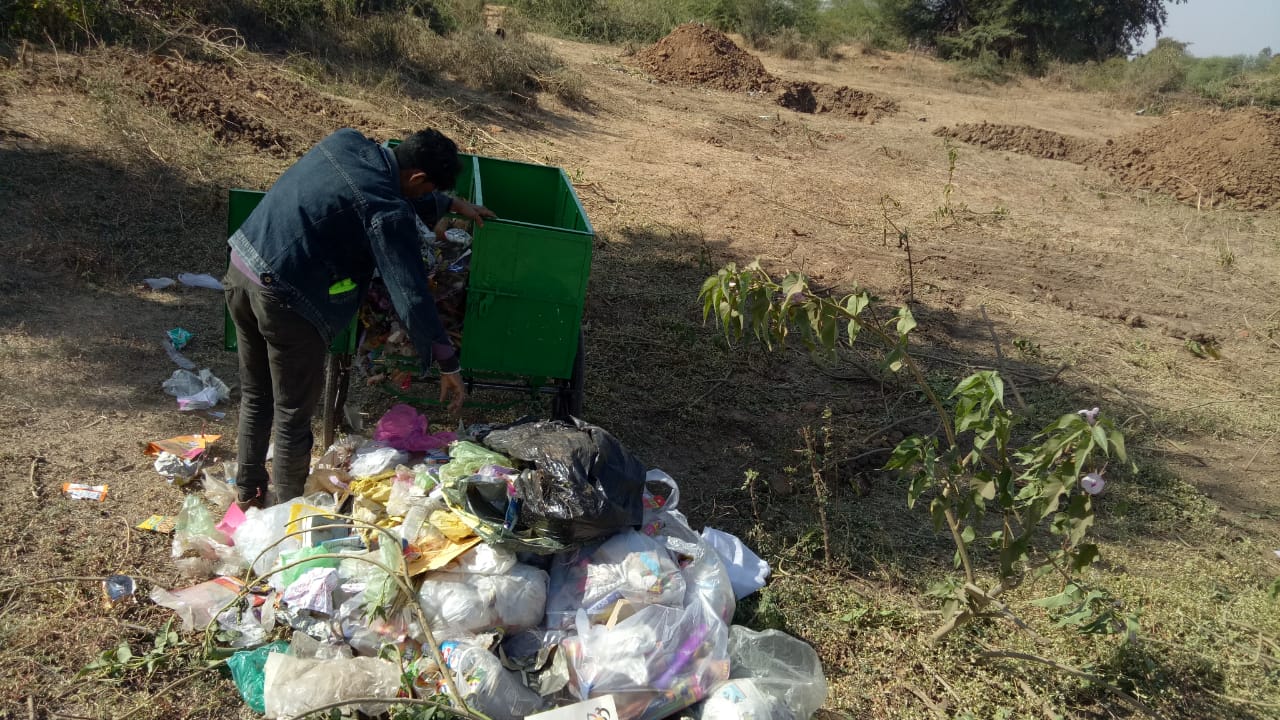 In the third stage of the programme, the team launched two composting pits set up on the land provided by the Sarpanch committee. The manure generated from the pits is handed over to local farmers for use in their fields.
Today, eight months later, no waste is dumped near the ponds.
Knowing that sustaining this project is more difficult than its implementation, Kinjal and Deep have introduced several measures for its sustenance, surprise checks being one of them.
---
Also Read: This Village With an Eye Donor in Every Home is an Example For All of India
---
"Since the volunteers live close to the village, they conduct random visits to the village once a week. For first time offenders, we issue a warning, and on repeating the offence, we levy a fine of Rs 80. Interestingly, there has been no violation of waste segregation till now," adds Deep.
After turning into a zero-waste village, there has been a significant change in people's mindset and the condition of the village.
Commenting on the visible change, Sachin Patel, a resident from the village says, "Earlier the roads would be littered with garbage that would attract insects and rodents. Now, the village has become very clean. It feels so much better to walk around the village without coming in contact with eyesores like rotting piles of refuse. Today we see proper disposal of waste."
Now the village has a collection system to collect waste and more importantly along with collection we segregate waste. Nobody throws waste outside. Even kids throw the garage in dustbins. I am pleased to see the work conducted by the volunteers, says Tushar Parekh, another resident.
Deep feels that the villagers have undergone a transformation at an individual level. They not only refrain from littering their surroundings but also stop others from doing so.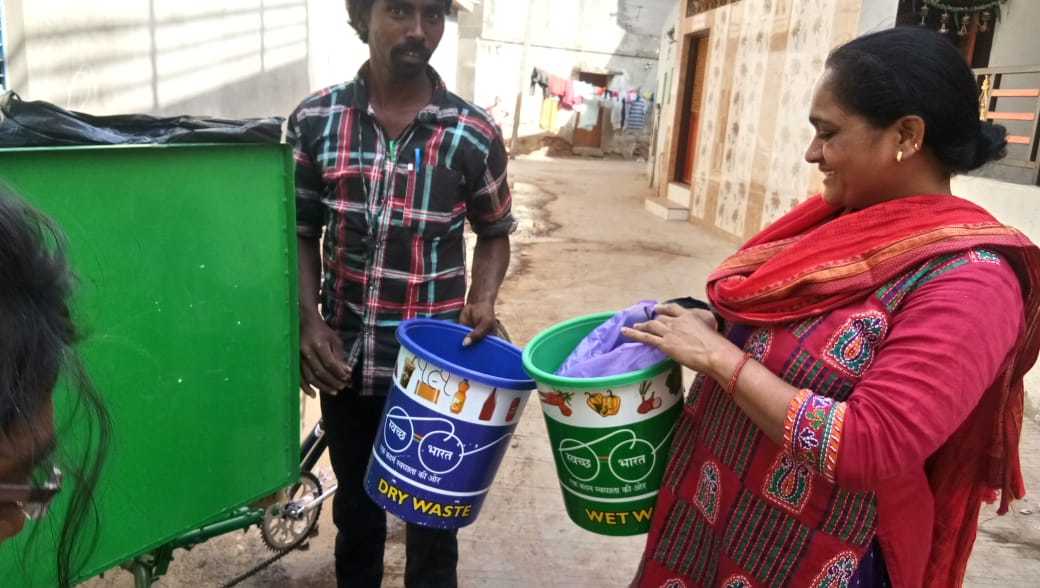 Mohan's life has also changed for the better. Earlier, he used to rummage through the waste with a hope to salvage something useful to sell which could afford him his daily meals. Now, with the monthly salary from the Sarpanch committee and the money he earns from selling the dry waste to the recycling unit, his financial problems are solved.
The waste management model implemented in Ambapur shows how collective efforts of people can solve even the biggest problems in the shortest time.
Kudos to the villagers for accepting a change and sustaining it and to the volunteers who dedicated their time and effort to a village that was completely alien to them!
(Edited By Saiqua Sultan)
Like this story? Or have something to share?
We bring stories straight from the heart of India, to inspire millions and create a wave of impact. Our positive movement is growing bigger everyday, and we would love for you to join it.
Please contribute whatever you can, every little penny helps our team in bringing you more stories that support dreams and spread hope.