Apart from being sturdy and cost-effective, the manufacturers had to ensure that the boxes were tamper-proof.
When independent India was laying the groundwork for its first elections in 1952, clueless to the rest of the world, workers at a factory in Mumbai's Vikhroli were making history.
They were manufacturing the first-ever ballot boxes to be used in the general elections.
At Plant 1 of the Godrej & Boyce Mfg Co Ltd, these workers burned the midnight oil to produce nearly 12.83 lakh ballot boxes within four months.
Here's the lesser-known story.
The first election was a result of the continuous efforts of then Chief Election Commissioner, also a mathematician Sukumar Sen, and his team. You can read all about this civil servant who set up India's extraordinary electoral system here.
The real unsung heroes though were the faceless workers at Godrej & Boyce Mfg Co Ltd who supplied the 12.83 lakh steel ballot boxes.
The Election Commission drew pictorial symbols for political parties, so voters didn't have to read the names out. This ensured that even those who were not literate could cast their vote without needing someone to help them.
They also set the system of marking voters with indelible ink to prevent second voting.
Sources of mass media like radio and films were used to propagate voting and educate the masses about the electoral process and its importance. Officials rushed from door to door, tracked eligible voters, prepared massive rolls, held mock elections and taught the people how to vote.
The biggest question though was who would manufacture the lakhs of ballot boxes because several things had to be kept in mind even while manufacturing and procuring these.
Apart from being sturdy and cost-effective, the manufacturers had to ensure that the boxes were tamper-proof.
The time was ticking and the design had to be finalised.
Besides, external locks were very expensive.
At this time, the skilled shop-floor worker at Godrej, Nathalal Panchal, came to the rescue. After 50 designs and prototypes, one ballot box was deemed technically acceptable and economically viable.
Panchal had finally designed a ballot box that ticked all the criteria.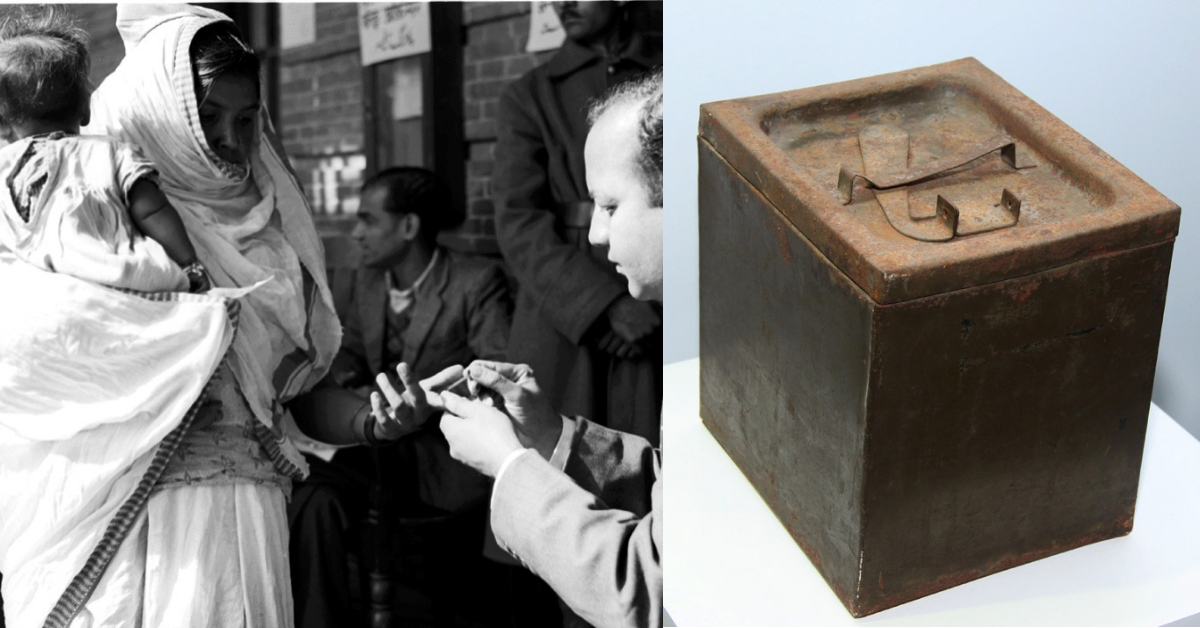 "It could only be opened by breaking a pre-impressed insignia and manipulating the locking lever through the aperture covered by the insignia," Vrunda Pathare, chief archivist at Godrej told The Hindu Business Line.
The design made its way to Plant 1, to the tireless team of then plant manager K R Thanewalla. Slogging in three shifts, the workers manufactured 15,000 ballot boxes a day, even clocking their best at 22,000 boxes per day!
Godrej's official website mentions Late K R Thanewalla once saying, "We would be at the plant from quarter to seven onwards and rarely left before midnight."
They did this without affecting the production of any of their other products like safes, cupboards, cabinets or locks.
Thanewala added how Plant 1 had only started its operations in May 1951.
"Pirojsha Godrej (the owner) would come to the factory at 3 o'clock every afternoon asking us how it was going. And he got orders from other companies who had not somehow or the other managed to make them (ballot boxes). The mechanism was tested. Every box had to be checked. Click when it closes and click it should open. Once it was closed, without putting your finger inside and pulling the string, you cannot unlock it," he told The Times of India.
Vrunda adds, "The workers at the factory were putting in extra hours every day to ensure that the ballot boxes were readied in time."
Even at a time where raw materials like steel were in short supply, more than 82,000 tonnes of steel were used in manufacturing these boxes.
As shocking as it is, the production cost of one 'olive green' ballot box was a meagre Rs 5.
---
Also Read: Elections: How Are Your Votes Counted? Are They Secure? Here's How It All Works!
---
Speaking to The Times of India, an official from the archives division at Godrej added that the original order was for 12.24 lakh ballot boxes, but the company ended up producing 12.83 lakh.
"It's probably because orders were given to other companies as well and those who did not finish them in time passed the order on to Godrej in the end."
Once this order was ready, the boxes were chugged to more than 23 states in India, from Vikhroli Railway Station in loaded commercial and passenger train wagons, under the moniker of 'election specials'.
Thanewala adds how the boxes were moved, "…We had to walk to the station and back. And…I did a lot of night shifts. At night we [used to] light mashaals (torches) and with the mashaal, I used to walk from the railway tracks up to Vikhroli station. It was great fun."
Godrej-made ballot boxes were used in the elections from the 1950s until the 1960s.
We may have moved to the tech-savvy EVMs now, but those who voted in the days of yore continue to trust the old-fashioned olive green paper ballots boxes a lot more.
To know more about India's first elections, here's a story that narrates it in rare photographs.
(Edited by Shruti Singhal)
Like this story? Or have something to share?
Write to us: contact@thebetterindia.com
Connect with us on Facebook and Twitter.