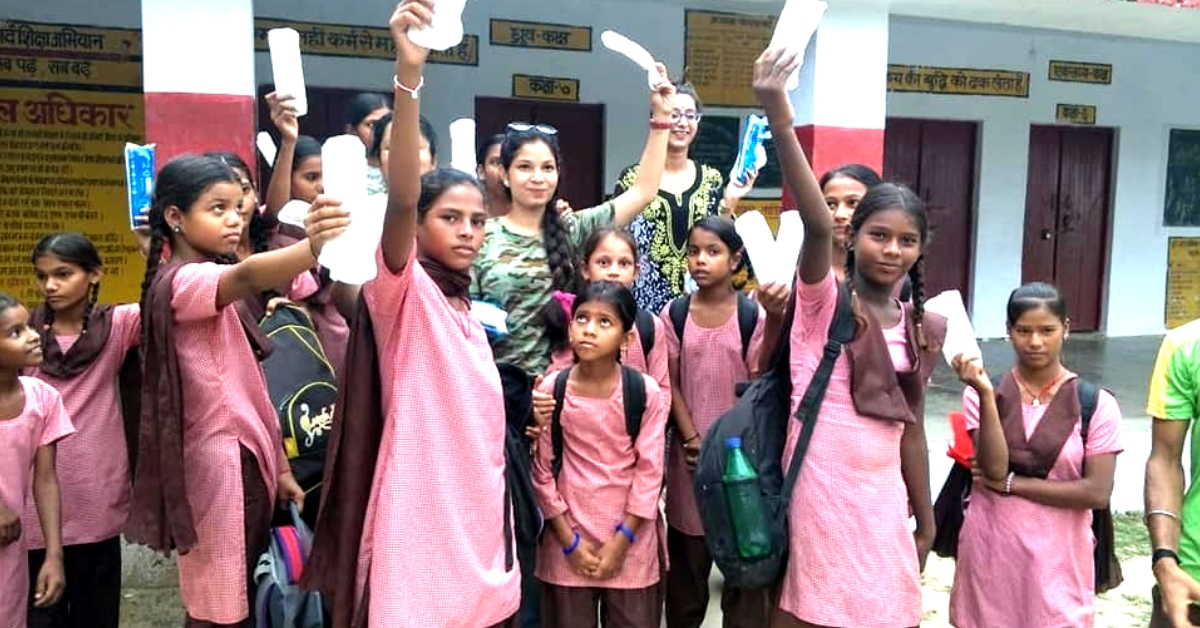 26-year-old Chitransh is helping make menstrual hygiene accessible to more than 148 women in rural and urban slums in Bareilly, Uttar Pradesh through a 'PadBank' which is completely free of cost!
When Chitransh was in school, he was just as curious as most boys his age, when he saw ads on TV about sanitary pads or when girls and women spoke in hushed whispers about the 'P' word.
And while the topic of menstruation often resulted in a wave of giggles among the boys in his class, Chitransh turned to his mother with a head full of questions and was courageous enough to voice them.
Chitransh's mother, Sunita, thankfully did not brush them off, and decided to sit him down and explain the monthly phenomenon.
Cut to 2019 and 26-year-old Chitransh is helping make menstrual hygiene accessible to more than 148 women in rural and urban slums in Bareilly, Uttar Pradesh through a 'PadBank' which is completely free of cost!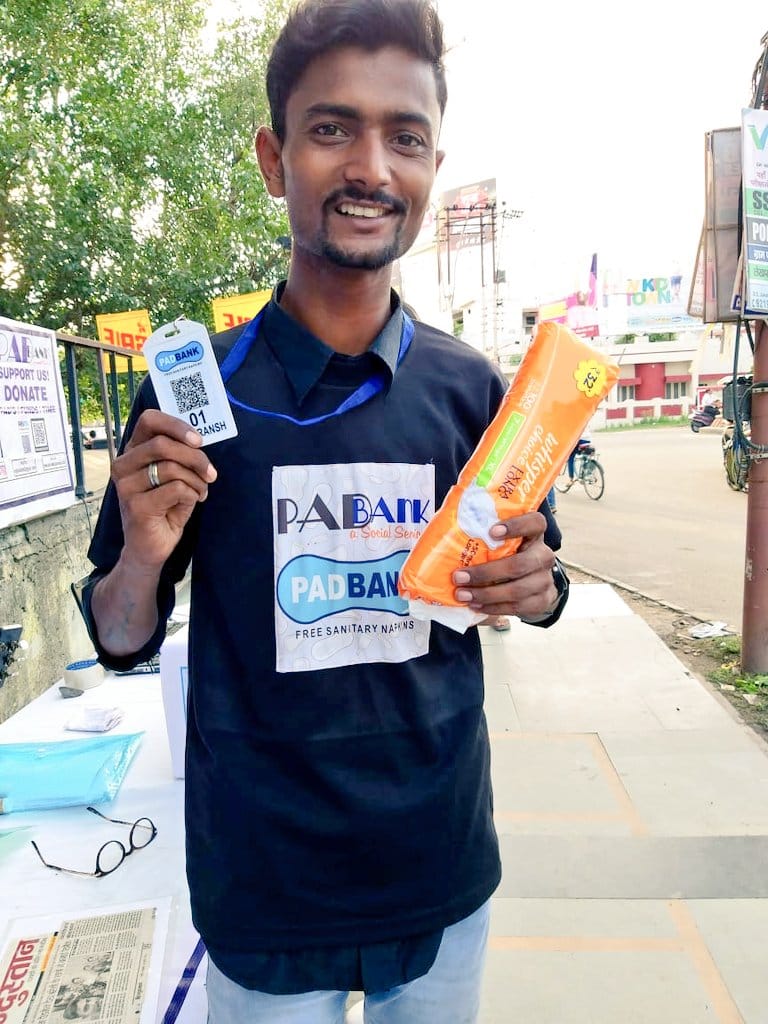 With more than 19 pad donation drives and 148 girls and women as beneficiaries, his team has distributed 1500 packets of pads (close to 12,000 pads) free of cost since June 2018!
The Better India got in touch with Chitransh to know about his journey.
It all began when the resident of Shastri Nagar came across families living on the pavement, during his commute to work.
"I wondered how they sustained themselves, because odd jobs hardly earned them Rs 15-20. I knew I wanted to do something for them. While several initiatives dealt with charity in food, clothes, and money, I decided to work in the space of menstrual hygiene. The topic is often brushed under the carpet and treated as a taboo when it is a natural phenomenon, but I believe that every woman has the right to a safe period."
The release of 'PadMan' a film starring Akshay Kumar and Radhika Apte, which chronicled the story of menstruation warrior Arunachalam Muruganantham, was also a significant inspiration.
"It helped me realise that men could work towards breaking the period taboo, and gave me the confidence to talk about menstruation."
He was aware the path would entail a few negative reactions or even humiliation, with people laughing at him, but he decided to go ahead, anyway.
To ensure that underprivileged women would be more comfortable, he spoke to his friend Ana Khan, who readily agreed to travel to Paharganj and interact with women.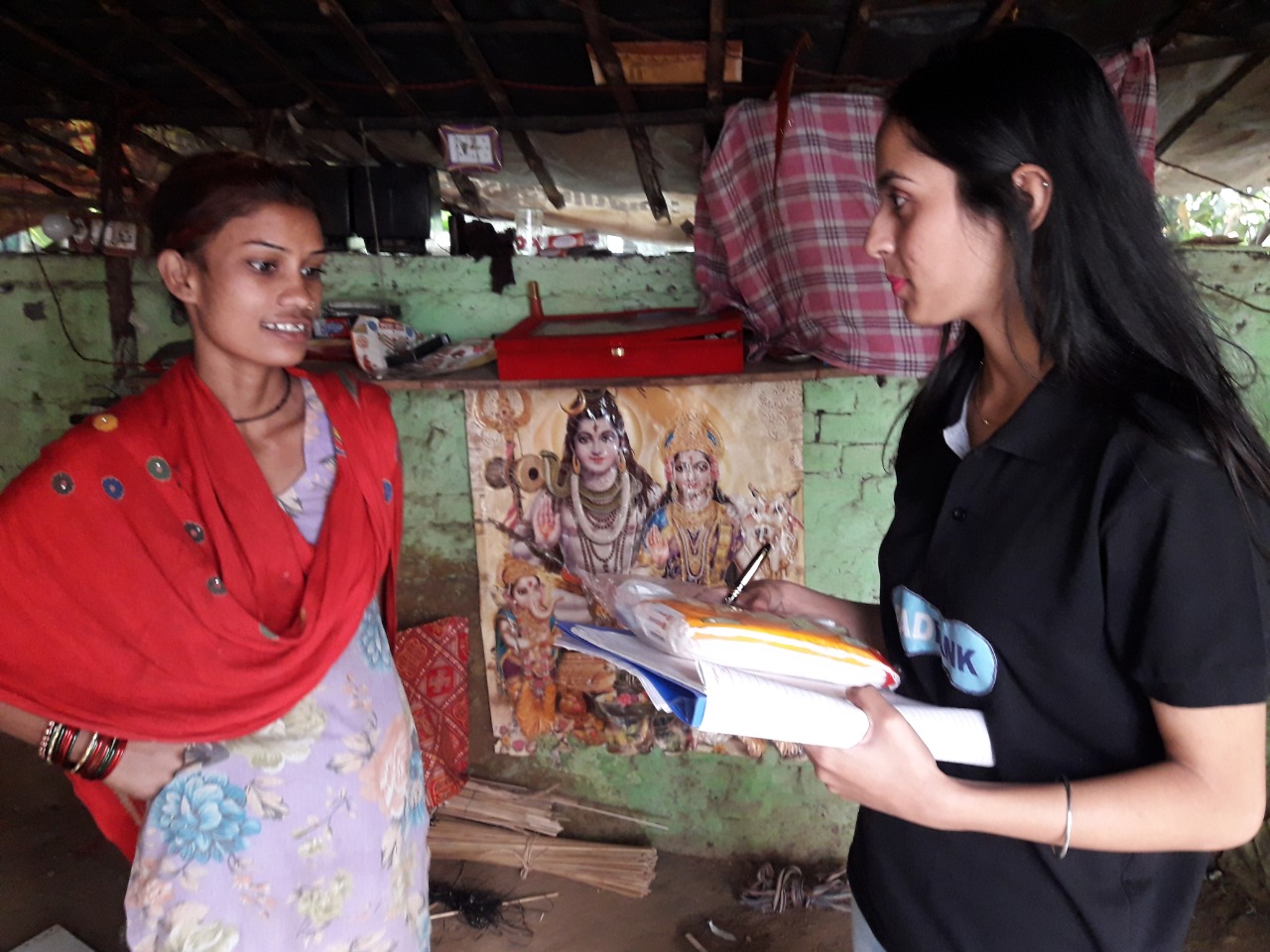 "On June 27th, I bought my first Santali pad and brushed up on my knowledge about menstruation. When Ana and I visited the women in Paharganj, we gathered them in one place. They spoke to us about the unhygienic substitutes they used like use-and-throw cloth, polythene, cotton, and even jute bags. We educated them about how these alternatives could cause infections in the long run and distributed our first set of free pads to them."
Was it easy? No.
Today, the initiative with more than 19 such donations has extended from the slums to schools, but the initial journey was full of roadblocks.
"When we would visit the slums to speak to women, their husbands would slam the doors on our faces or tell us, what is need to discuss menstruation? A few older women were also resistant to our work. Many women were also shy, thanks to the stigma around menstruation. But we slowly started easing them into conversations. This often happened in the noon when their husbands were at work. Today, every month, these women openly approach us, regardless of whether the team member is male or female and asking for pads. That is a big mindset change."
How does it work?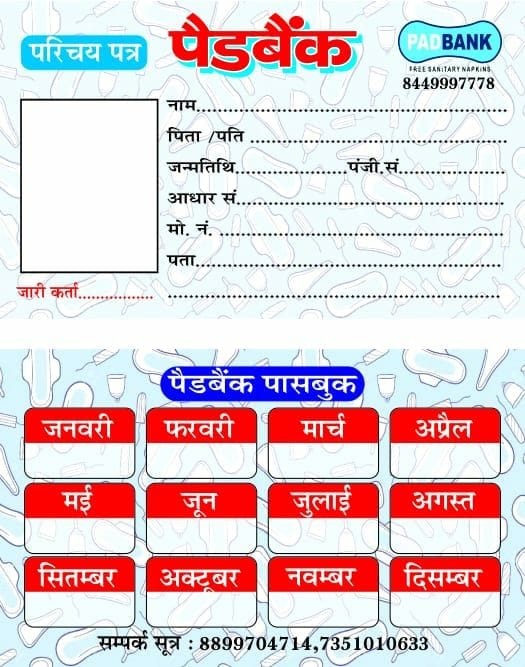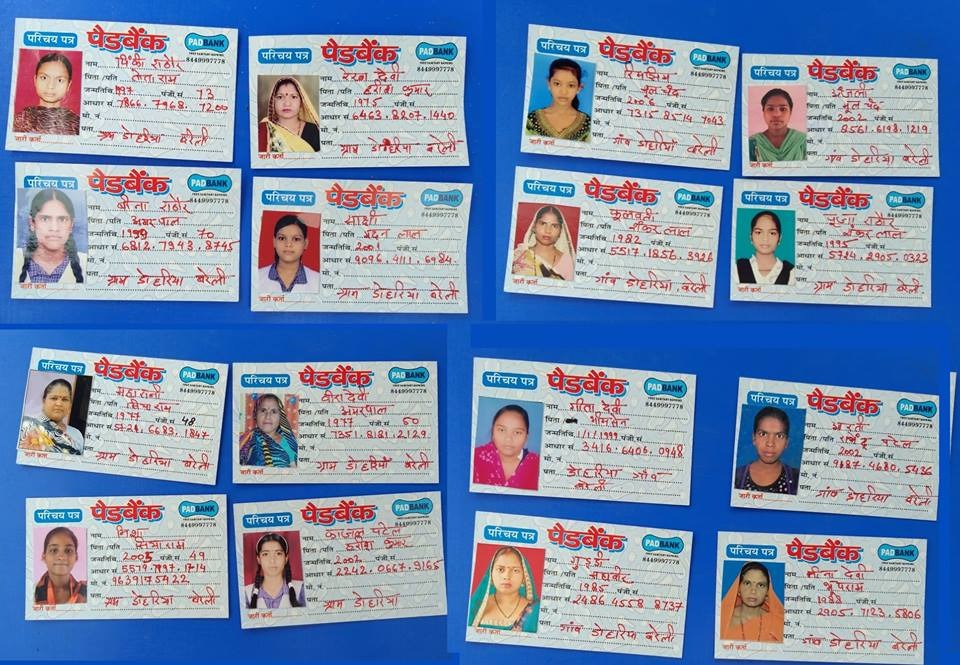 PadBank, true to its name, works like a bank where every woman under the initiative has a passbook which has her photograph and ID in the front and the months mentioned on the back.
"Every month, we give them a pack of eight pads free of cost and tick the box against the respective month. We maintain the data for each of these women and girls with the dates of their period mentioned. We ensure that the packet reaches them before that. For some reason, if we don't reach on time, we ensure that the women can get pads from the centers we have set up —like a medical one or a PadBank members' home. While all the members have a stock at home to dispense to these women, we ensure that the centre that the women get the pads from during emergencies is paid. We also have a calling service, where women can get in touch with us, and we deliver it to them."
---
You May Also Like: This Woman Was a Pavement Dweller, Today She Runs a Sanitary Pad Manufacturing Unit!
---
Family Support
"When I started, I did not tell anyone. I decided to wait until the first distribution to tell my parents. When I told them, their response was unexpected. They said, 'Had you told us earlier, we would have helped you too!'"
And from then on, there has been no looking back. Both Sunita and Dinesh Saxena have been backing their son.
With more than 15 members, 19 distribution and eight menstruation awareness sessions and workshops in schools and public spaces, PadBank will complete a year on June 27.
While the pads are funded by the members who shell money from their own pockets and savings, a few good samaritans like their teachers, residents, etc. extend help in terms of sanitary napkin donation and financial support too.
They work in collaboration with a pad manufacturing unit in the vicinity which sells them the packet of eight pads at the low-cost of Rs 19, despite the fact that their distribution cost or MRP is Rs 30.
The team members include Chitransh, Utkarsh Saxena, Ana Khan, Shilpi Saxena, Saher Choudhary, Rashi Udit, Aishwarya Lal, Jennifer Lal, Ashesha Arora, Amaan Siddiqui, Anil K Raz, and Emmanuel Singh.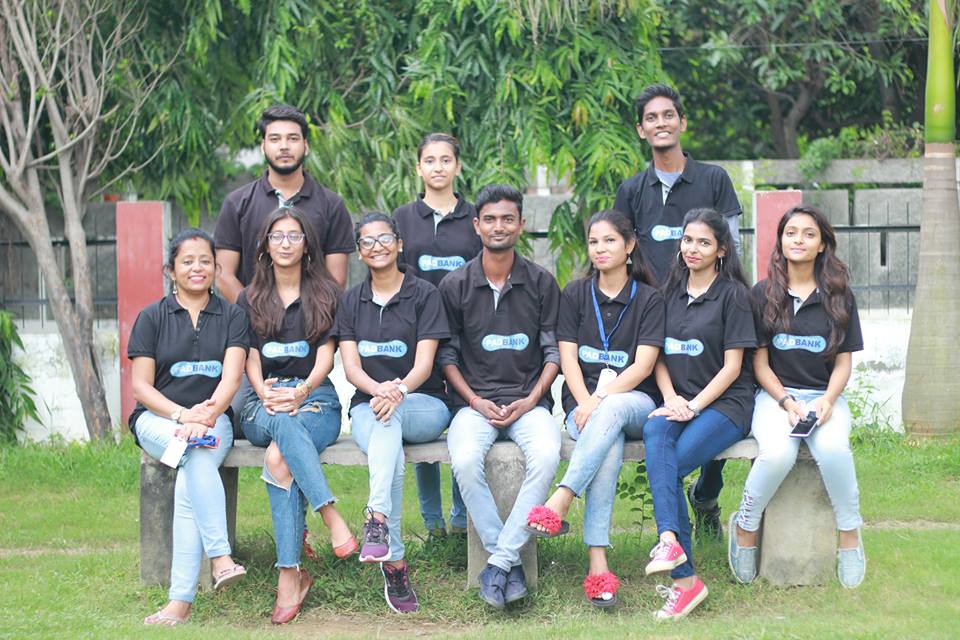 "We want to break the taboo around menstruation. It needs to be openly spoken about without any stigma shame attached to it. We want to empower young girls and women with the courage to not only turn to their mothers but even ask their fathers and brothers to buy a sanitary pad packet when in need. And it gives me immense joy to tell you, that from people who slammed the door in our faces and shamed us in the beginning to now them becoming a part of the bank, the journey has been a rewarding one" says Chitransh.
Chitransh believes that creating awareness among young boys and men is just as important, and want to conduct workshops exclusively for them.
"Under our Twitter and Instagram campaign 'Let's talk about period' we are appealing to our followers to make 30-second videos and talk about menstrual hygiene, myths, sustainable practices, etc.," he says.
He adds how often schools don't agree to allow boys and girls to be educated in one room when talking about menstruation.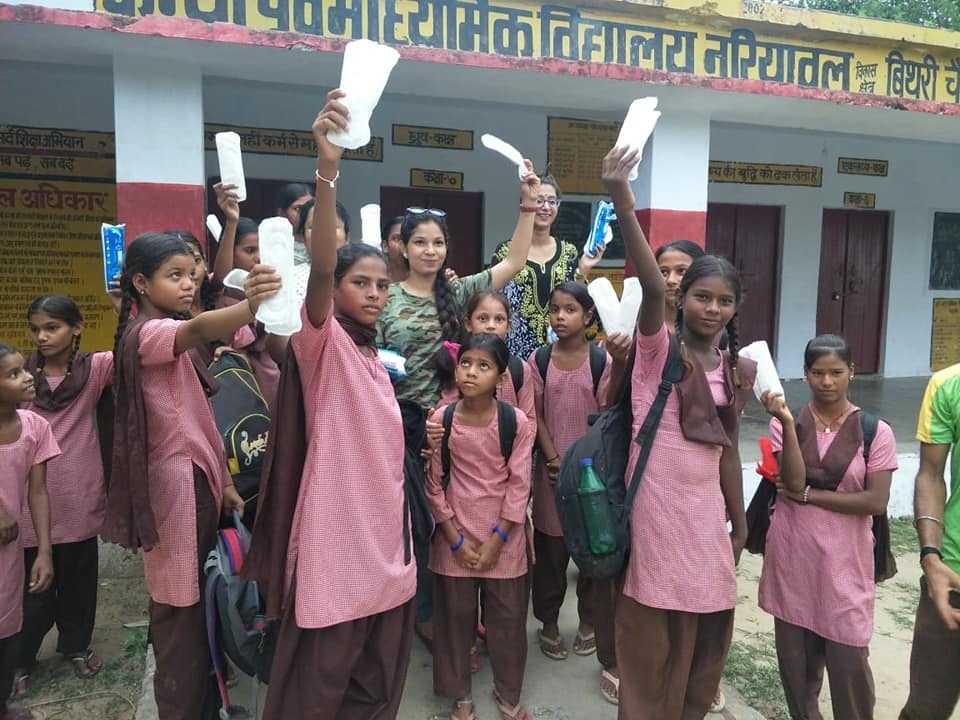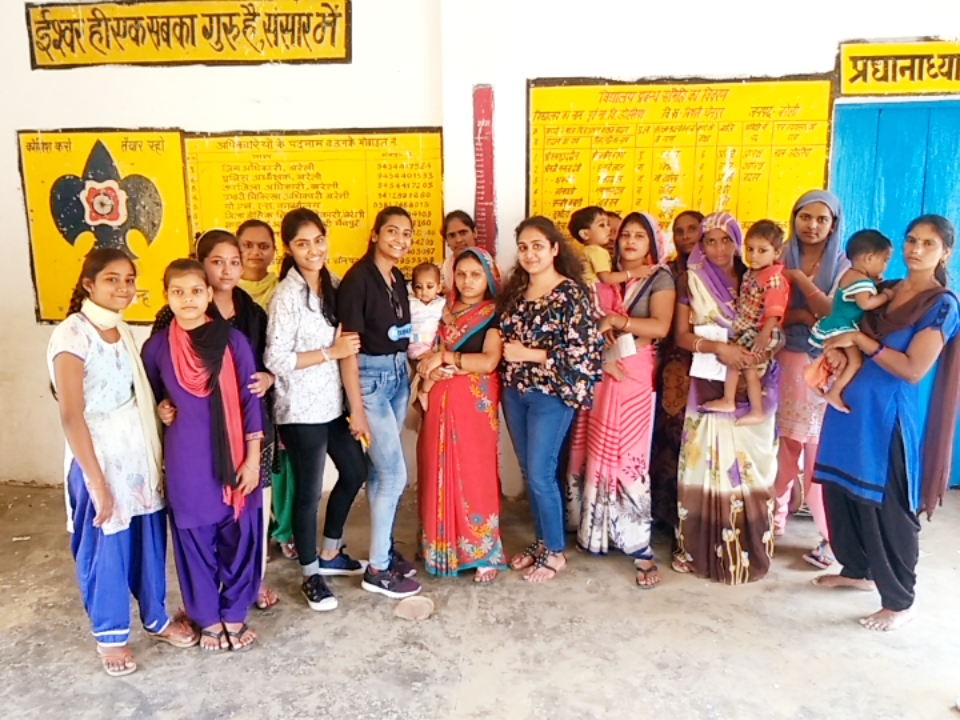 "But I think, it is crucial. Only when they are educated together, will girls not shy away from asking for help from their male counterparts in times of crisis. Even our boys need to learn that it is not something to make fun of but extend help."
He ends with a message, "I want to tell everyone who comes across this story, that this is not rocket science. From gifting your house-help a sanitary pad every month to helping underprivileged women in the vicinity, it is a replicable model. We can all be a part of the PadBank. Today, only 18 per cent of women in India use sanitary pads. My vision is to help increase this number to 75 per cent by India's 75th Independence Day in 2022."
Want to help Chitransh Saxena and his team, get in touch with him on +91 84499 97778 or write to him at mypadbank@gmail.com
Visit their website here, donate to their cause via Paytm http://p-y.tm/LnT-W3B
(Edited by Gayatri Mishra)