Towering trees with dense canopies, all of whom are the legacy of Seturam Gopalrao Neginhal, still stand tall along the busy roads and streets of Bengaluru.
For those of us who do not know, it was the painstaking effort and visionary planning of this retired IFS officer that gave the city roughly over a million trees.
Speaking to The Better India, the 88-year-old remembers how in the early 80s, Bengaluru was losing a lot of its green cover to accommodate its growing population.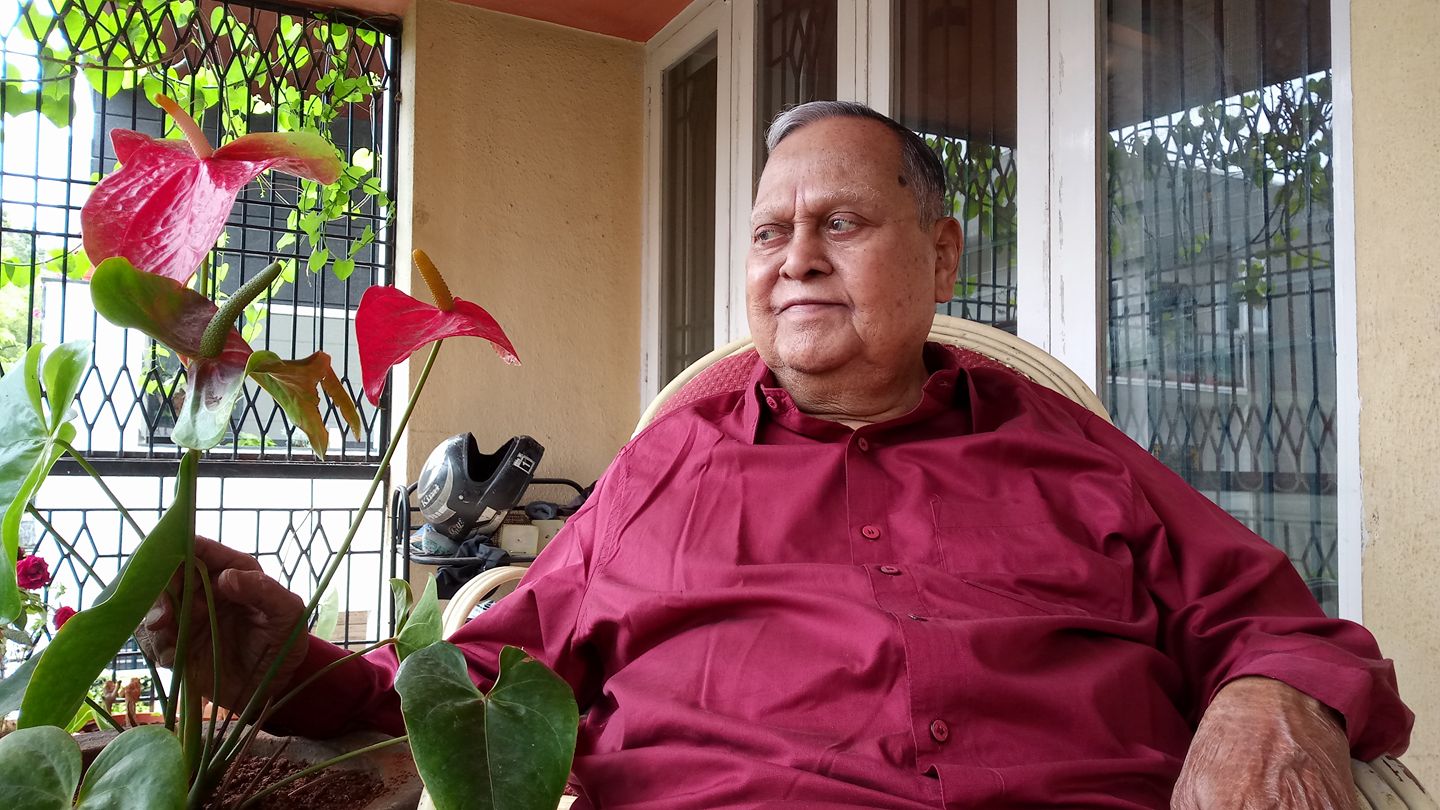 "The rapid urbanisation was a cause of great worry, especially for Gundu Rao, the former CM. He pulled up the BBMP and BDA and asked them to come up with a plan that could undo the damage to the environment. His idea was to plant about a million trees in a year, but the concerned officials produced quite unsatisfactory figures from their end—merely a few thousand," Neginhal remembers.
Utterly disillusioned, the CM spoke to Shyam Sundar, the Principal Chief Conservator of Forests at the time, who told him that this would happen if they got a separate division for the purpose. The government approved this proposal, and Neginhal was brought in to implement it.
The year was 1982, but he didn't proceed with the plan immediately.
"I went around the city to understand why the City Corporation and BDA authorities had failed. I found several reasons—the tree guards put up by the BDA were of a small height, because of which they were easy targets for the roaming cattle. Also, concrete drum-like structures priced at Rs 650 per unit, contained the saplings. I wanted to find a cheap yet effective alternative and came up with the idea of a wooden tree guard—comprising bamboo poles that were covered with chicken mesh—costing up to Rs 23 in total," he explains.
Neginhal also mentions that the major reason why the plantation drive failed, was something else.
"The saplings were barely one foot tall at the time of planting, and couldn't survive for long, either way. To counter this shortcoming, I let all the saplings that we had hoarded in the nurseries to grow to a minimum of six feet in height, before planting them across the city in the wooden tree guard," he adds.
For the next five years, Neginhal left no stone unturned in his mission of greening the city.
He even went to the extent of creating 8-10 nurseries across the city from where people could purchase saplings at nominal prices.
"Unlike the regular nurseries that had a maximum capacity of 5,000 plants, I made sure that each one of these could easily house about one-crore saplings," he adds.
There was another issue observed by Neginhal, which he felt was hindering the plantation process.
"The departments were conducting the plantation drivers themselves, and the red-tapism in the system was an inherent roadblock. I felt that public involvement could resolve the situation, so I visited almost every locality and tried to build a sense of community ownership amidst the people. We gave away saplings to them, who took it upon themselves as a challenge to take care of them. More than a challenge, I feel it was like a race!" Neginhal exclaims.
He also added that they would send saplings in lorries across every locality for their easy access, in addition to opening tree banks in areas like Koramangala, Nandini layout and Indiranagar, so that people could come to pick up the plants.
"We would give away saplings for free, and also involve the CM, MLAs, teachers and school students in the plantation process. I also brought in the concept of tree wardens to popularise tree planting and appointed close to 350 volunteers who would keep a tab on the trees in their areas," he says.
When asked about the species used during the plantation, Neginhal mentions that he wanted the people to make the selection as it would elicit more interest.
"I also used a mixed approach for the species selection, where I combined the native rain trees with exotic species like the Gulmohar for a more diverse ecosystem," he adds.
Reminiscing the olden days, Neginhal recalls a plantation drive that happened during midnight along the Anand Rao Circle and the Majestic area.
"It was particularly a difficult exercise as there is always heavy traffic in that area, even at 12 in the night! I told my team to get saplings that had already grown up to 15 feet and above in lorries and plant these in hours where there was no traffic, around 2 am. With the help of labourers, we planted all these trees in the area in two hours. Next day, when the pedestrians hit the road, they were astounded to see the tree-filled area, which was barren the night before!" Neginhal laughs.
Shedding light over the reach and impact of his efforts, Neginhal mentions that at that time, CMs of states like Maharashtra, Andhra Pradesh, and even central ministers would come to Bengaluru and become inspired.
"They would go back and tell their officials—'if they can do it so successfully, why not us? '" he remembers.
Neginhal also shares an interesting anecdote about the time when the former PM, Rajiv Gandhi, wanted saplings to beautify Shakti Sthal, the samadhi of Indira Gandhi in New Delhi.
"He wanted the saplings immediately and reached out to different cities like Kolkata, Mumbai, Hyderabad, and Chennai. But no one had any plants until someone told them to reach out to Bengaluru. The Director of Horticulture was deployed for this purpose, and when he met me, he was so relieved to see the wagon-loads of tall saplings! Now if you go to the Shakti Sthal, all the greenery you see there are from the trees that I provided," he adds.
Until Neginhal launched his ambitious plan of greening the city, a concept such as urban forestry was unheard of.
In fact, one can rightfully call Neginhal the pioneer of urban forestry.
"Extensive plantation drives were conducted only across village precincts and not in the cities. After observing the success in our efforts of greening a metropolitan city, the planning commission added urban planting in the next five-year plan," he proudly mentions.
Neginhal is also a prolific author. Aside from having authored books on urban and city planting, he has also written field books on forest trees of the Western Ghats as well as those in South India and a book on the wildlife sanctuaries in Karnataka that is based on his experiences as a forest officer.
Today, with hundreds of trees in Bengaluru facing the axe to make space for housing and development projects, it would be safe to say that the city's greenery is at stake.
We ask Neginhal about what we, as citizens, can do to protect our trees.
"Ideally, a single person needs a minimum of two trees for a balanced exchange of oxygen and carbon dioxide. Today, almost 80 per cent of the city is covered in concrete and cement. When there are trees, not only do we get shade but also the dust issues that we have these days, are under check. If we look into the state of China with its high rate of development, people are dying of cancer owing to dust, and it could happen to us as well," he states.
Neginhal says that unlike the older and current generations who have developed hardened beliefs and habits, the younger generation is the best shot we have towards environment conservation.
---
You may also like: Citizens Turn Bengaluru's Jakkur Lake into Eco-Zone With These Herbs & Rare Trees!
---
"Schools and colleges must inculcate environmental awareness and the curriculum should include the importance of preserving wildlife. There are so many things that young minds can imbibe, and thanks to it, they will grow up being more aware and conscious towards the environment," he concludes.
You can write to SG Neginhal at sgneginhal@gmail.com.
(Edited by Gayatri Mishra)
We bring stories straight from the heart of India, to inspire millions and create a wave of impact. Our positive movement is growing bigger everyday, and we would love for you to join it.
Please contribute whatever you can, every little penny helps our team in bringing you more stories that support dreams and spread hope.