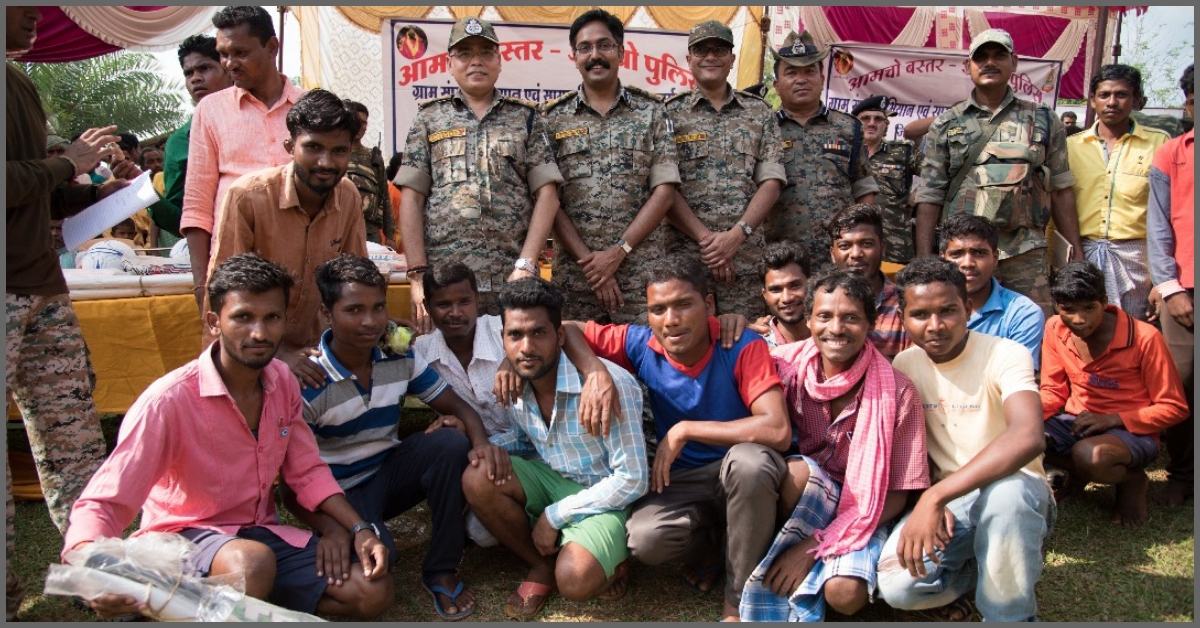 Notably, Sheikh's 'Rakhi with Khaki' initiative for women's empowerment gained a place in the Guinness Book of Records last year, with over 1,400 women participating!
Bharti Pankaj, sarpanch of Devri Khurd Panchayat, never had the guts to speak up in her male-dominated region. Today, she is breaking barriers with the self-defence course conducted by Chhattisgarh Police, under the leadership of IPS Arif Sheikh.
"We have been dwelling in a violent area since decades where the voice of a woman is suppressed. The scenario began to change in 2016 when Arif Bhai visited our Panchayat and encouraged thousands of local ladies to learn the art of standing strong. We were touched and tied rakhis to him and his team," Bharti shares.
She adds, "Over 1,400 women took selfies and shared them as their profile pictures on social media platforms. He converted our 'fear' into 'confidence'."
Sheikh's initiative was noted by the Guinness Book of Records which felicitated him for enabling women's empowerment with the concept of 'Rakhi with Khaki' in 2018.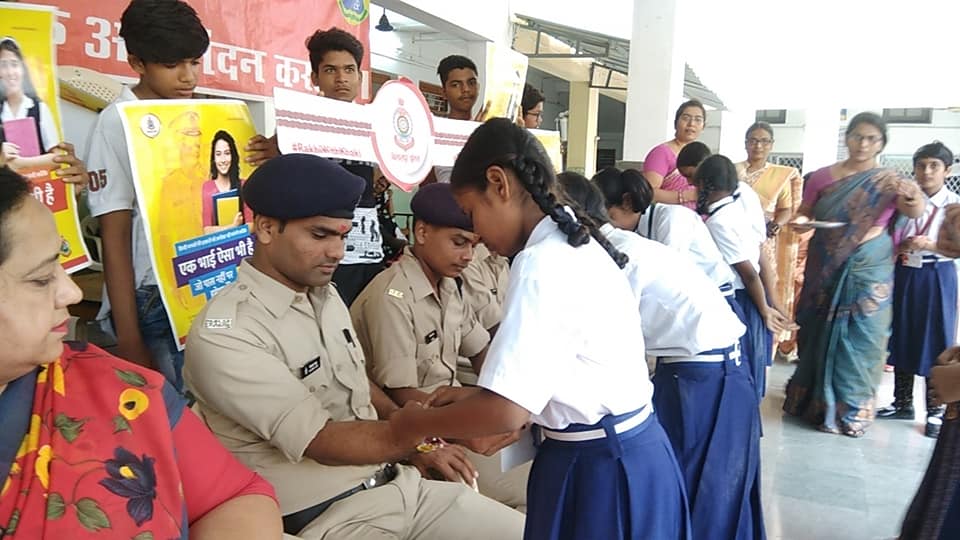 Today, Sheikh is not only an icon in maintaining his brotherly devotion but also making 'Community Policing' a success in Balod, Bastar and Bilaspur districts of the state.
Following Government of India's (GOI) call to forge renewed partnerships with the public, termed as 'Community Policing', IPS Arif Sheikh posted in Chhattisgarh became the country's first cop to bag an award for such an effort since 2016. Sheikh and his subordinates have made it easier for residents of the three districts to reach the police whenever needed.
According to official sources, cybercrime in Balod has reduced by 30 per cent, with local villagers reporting similar incidents under Mission e-Raksha. Likewise, 30 lives were saved, and accidents decreased by 28 per cent under the Jeevdaya scheme. In Dhamtari, liquor sale reduced by 25 per cent under Mission Purna Shakti.
Applauding his efforts, Bilaspur Police Inspector General (IG) Pradeep Gupta, says, "Through community policing, people have the opportunity to decide how police services are to be carried out within the community. It allows them to have a greater voice in addressing their concerns and enhances the overall service delivery."
Meanwhile, a state excise department officer highlighted Sheikh's efforts in implementing Mission Purna Shakti at Dhamtari.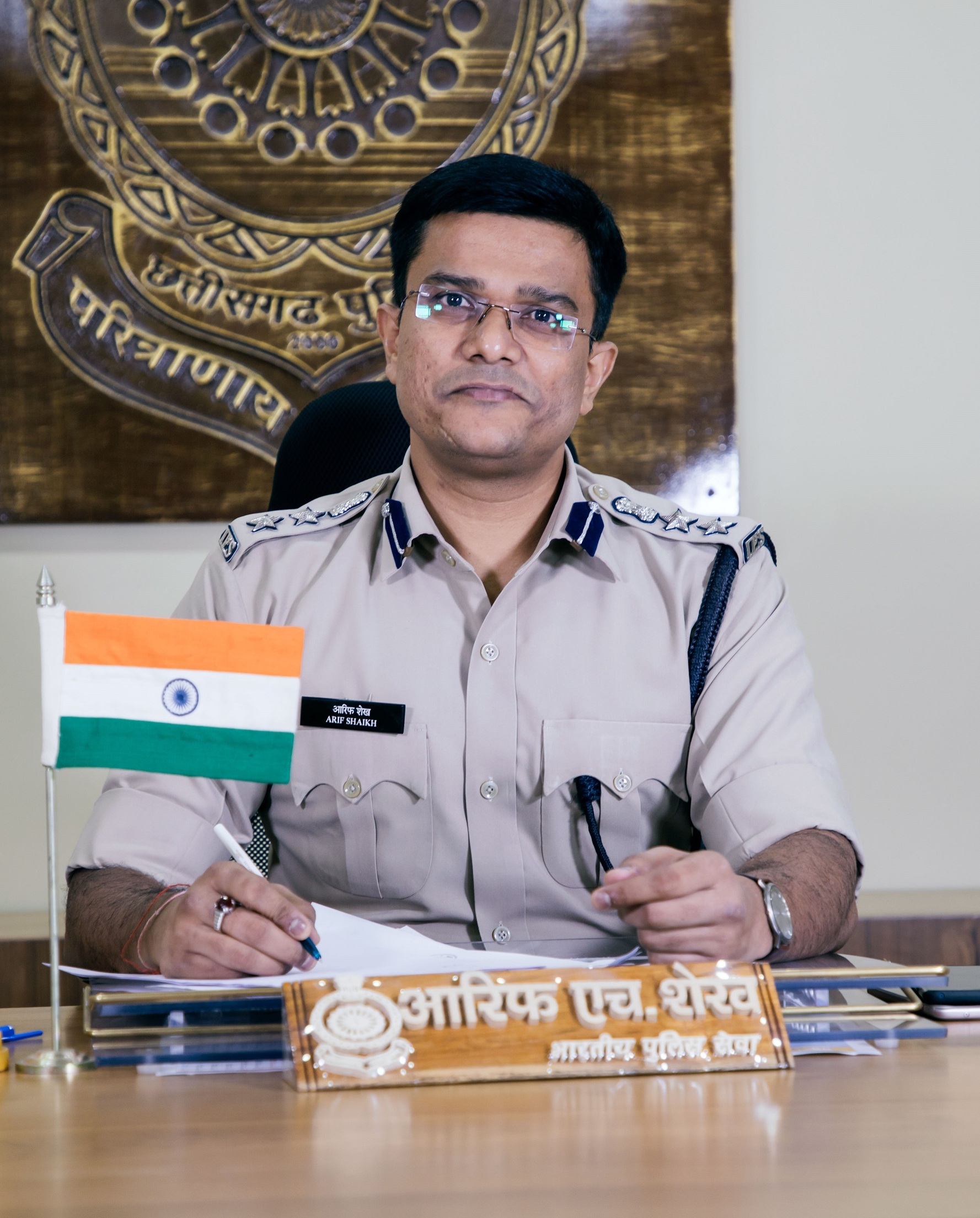 Notably, the rationale for working in the mission mode is to achieve the set target promptly, to monitor the results and curb deviations, if any.
"This combination keeps the police force on its toes. People act as facilitators and instruments of social change. The ultimate responsibility, however, rests with the Police," informs Sheikh, the awardee IPS.
Mission e-Raksha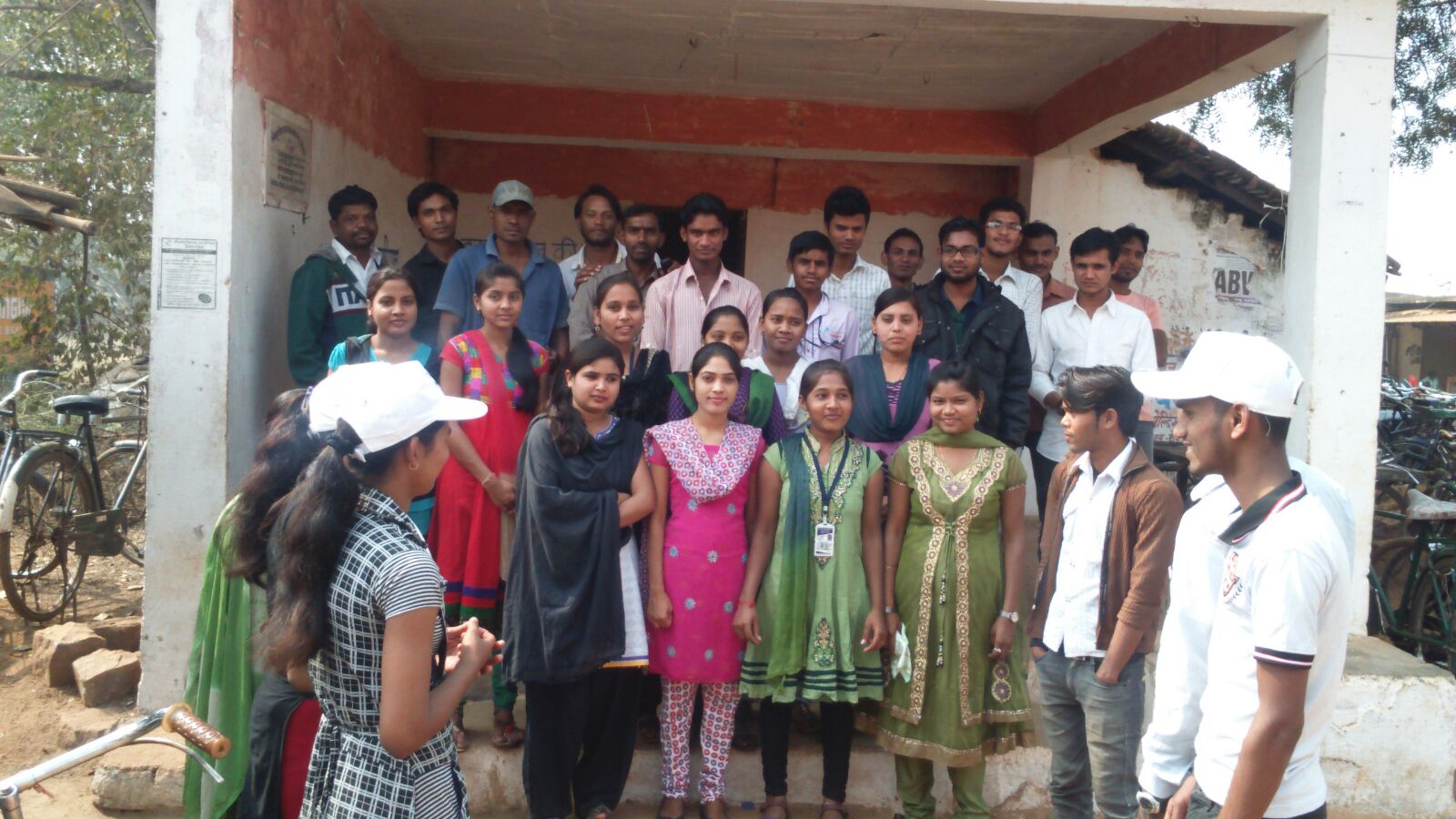 With the advent of Superfast Internet and new mobile technologies like 3G and 4G, transactions on e-commerce portals have taken giant strides. These domains have also attracted the attention of criminals.
Correspondingly, there are ever-increasing attempts to penetrate this system via hacking or luring the gullible to share their usernames and passwords. Balod is primarily an agrarian district where innocent villagers become vulnerable targets.
On average, the police receive 7-8 complaints every month about ATM frauds, hacking, defamation and posting of explicit content on social media. Creating awareness and building capacity about cybercrime seemed to be the only ways to protect them from this rapid onslaught.
However, it was virtually not possible to connect with every citizen of the district of nine lakh. The police decided to focus on students with a technical bent of mind who would, in turn, spread the light of awareness among the masses, across villages and towns.
Mission e-Raksha was launched on 16 November 2015 as part of the Cyber Safety Week. 80 schools and colleges were covered in 12 Police Station areas across the district.
A team led by the local Sub-divisional Police officer along with local officer-in-charge of the police station and staff visited these schools and colleges. The participating students were sensitised via a standard powerpoint presentation. Besides the handout, pamphlets were also distributed and awareness material was shared on Facebook.
---
Also Read: Maharashtra IPS Officer Is Taking Police Stations to the Doorsteps of 1.5L Villagers!
---
Nearly 5,000 interested participants above age 16 took an exam. Of these, 400 secured 50 per cent marks and were deemed as qualified and christened 'e-Rakshaks'. Within a few weeks, they visited 705 villages, towns, fairs, and camps to spread awareness on cybercrime.
It was probably the largest mass contact and mobilisation programme in the state where the e-Rakshaks acted as a potent force multiplier.
Mission Jeevdaya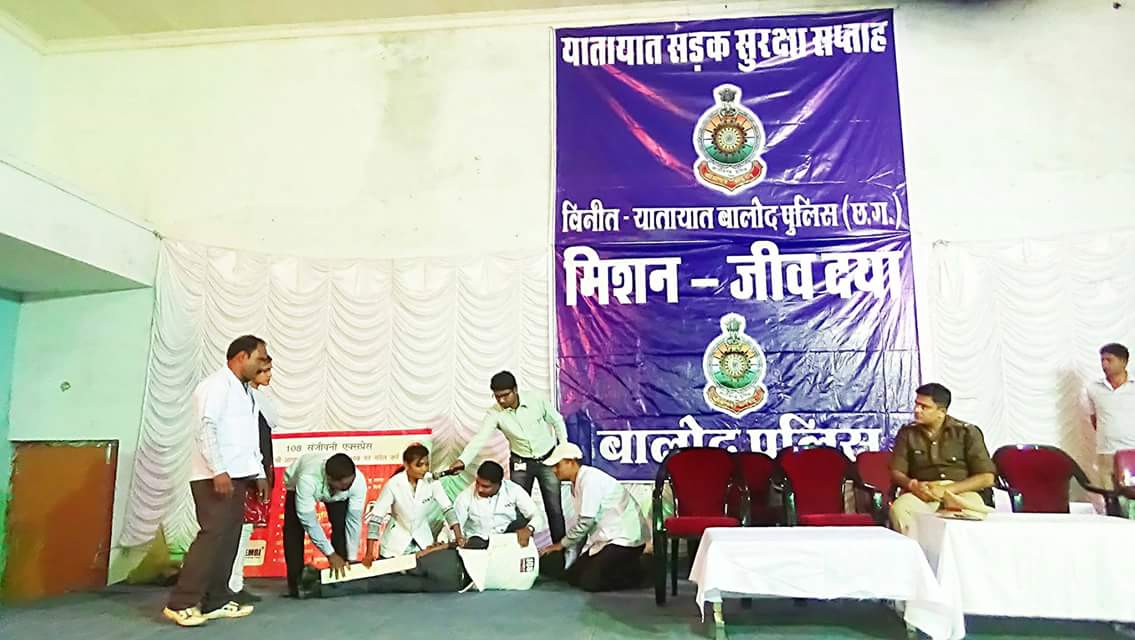 According to NDTV, every four minutes, one person in India dies because of a road accident. Almost 70-80 per cent of the deaths occur due to the absence of immediate first-aid in the initial 30-40 minutes of the accident. This period is called the golden period, during which, if emergency health care is provided, the chances of survival are higher.
With the onset of the 108 services, the injured victim does get immediate help but sometimes that initial period of 30 minutes becomes critical. Mission Jeevdaya (Sympathy towards life) was initiated to address this problem.
In Balod, 35 accident-prone black spots were identified and highlighted by the police via fluorescent hoardings. Five-member teams from across the district were appointed to undergo a two-day workshop. They were trained in accident trauma-related emergency medical aid by Sparsh Medicare, Bhilai, and GVK's 108-team.
Mission Purna Shakti
The need for empowering women vis-à-vis the current socio-political milieu can hardly be overemphasised. Mission Purna Shakti is an effort of the Balod Police to forge a new relationship between women and the force, to address critical issues like women's safety, female literacy, and female foeticide.
Balod is an agrarian district where 80 per cent of the population is rural. Women's safety is much more prominent in villages due to general perception of women as 'objects'. The traditional practice of training women in karate is passé and a waste of time and money. The women wearing traditional saris cannot practice kicks and punches.
A 'Ready to react' training was given to rural women, who while wearing their traditional attire, not only defended themselves but also knocked out their assailants by using day-to-day objects like hair pins, bangles, water bottles, purses.
Nearly 1,200 women in 12 Police stations areas of Balod were trained. They were given torches, ropes and lathis to help other women in distress. They would further train other women in "ready to react" situations. This Mission aptly called 'Purna Shakti' will be a giant leap towards women's empowerment.
Amcho Bastar, Amcho Police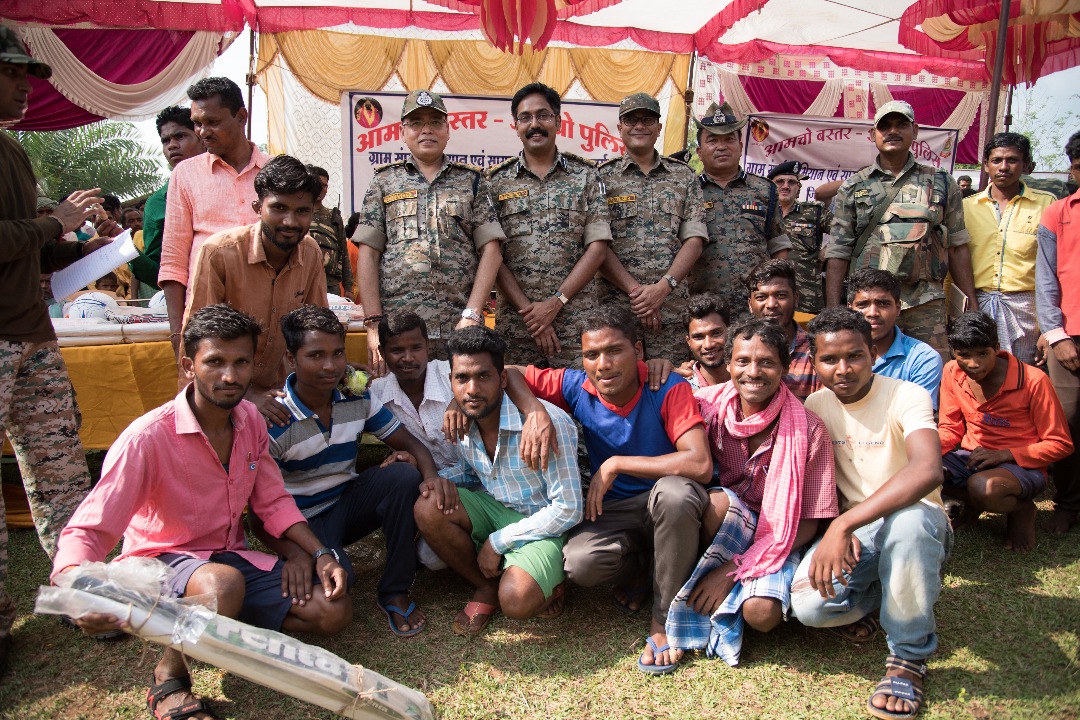 This endeavor was specially and specifically initiated for the Bastar region, and hence the name, 'Amocho Bastar, Amocho Police'. The idea was based on the motto, "Our Bastar, Our Police".
Through this campaign, police personnel consistently met the tribals and shared small doses of happiness on their traditional festivals. In addition, the police administration arranged stocks of everyday items required for the tribals.
As a result, there was mutual love, confidence and trust. It also led to the increase in public involvement in reduction of crimes and increased cooperation in dealing with Naxalism.
Statistically, the initiative resulted in the death of five Naxalites whereas more than 461 Maoists surrendered and chose a path to peace. Through the campaign, arrangements were also made for rehabilitation and reintegration of the displaced children. The task of educating them and bringing them out of child slavery was also successfully undertaken.
Samvedna Centers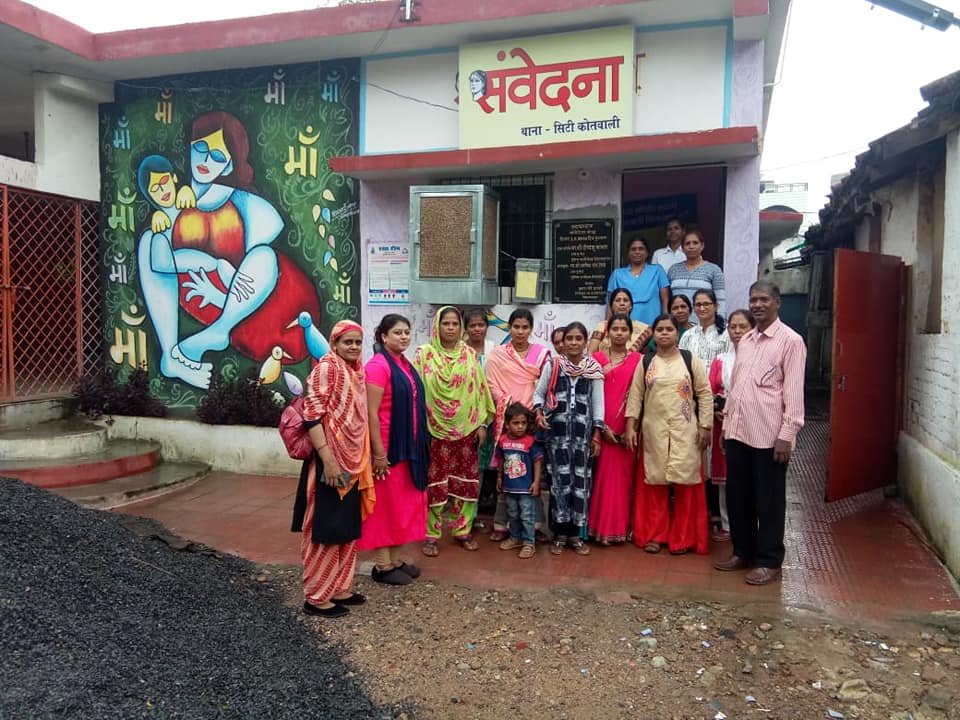 Considering the needs and necessities of women, S P Arif Sheikh began an initiative of 'Samvedna Kendra' or sensitisation centres for women These centres would be equipped with sanitary pads, and toilets, a legal aid cell, along with medical and counselling facilities.
Chhattisgarh's first Samvedna Kendra was established at Torwa, followed by Sipat and Ratanpur. It has been beneficial to women citizens as well as lady police officials.
With his five-pronged initiatives—Mission e-Raksha, Mission Jeevdaya, Mission Purna Shakti, Aamcho Bastar, Aamcho Police and Samvedana Centres, IPS Arif Sheikh tried to spread awareness among people and empower them.
Approaching the remotest regions in Bastar, he hosted several programmes to reach the maximum number and categories of people, interacted with them and boosted their confidence and sense of safety. While he has been since transferred to Raipur, his initiatives have helped improve the relationship between the community and the police.
His message to the community is that they should trust in the police. Constructive communication with the police personnel while expressing their grievances, IPS Arif Sheikh is showing the way forward and demonstrating how civil servants can come forward in contributing to the communities. He is a true braveheart and an institution builder.
---
You May Also Like: Here's How One Doctor-Turned-IPS Officer is Using Kindness to Counter Naxalism
---
He concludes, "I believe in being proactive by forging a partnership with the locals. My focus is on taking the community ahead and making the people happy. Through community policing, our team has lowered road accidents, cybercrime and sexual crimes against women."
(Written by Jinendra Parakh & Sumedha Chaudhary. Edited by Shruti Singhal)
Like this story? Or have something to share?
Write to us: contact@thebetterindia.com
Connect with us on Facebook and Twitter.