Easy to make, chemical-free & even medicinal, these homemade colours are just the thing to make your Holi happy and healthy.
I retire to the shell of my room, locking it so no one can enter, come Holi.
There was a time when I thoroughly enjoyed the festival of joy and colours. But over the years, I have developed severe allergies to the chemicals used in the colour powders. The rashes I get after playing Holi are certainly not worth the few hours of fun. And the hours I have to spend rubbing the colour off my skin take away all the fun of the festival.
While there are organic colour powders available in the market, they are much more expensive than the widely available chemical ones. Plus, you wouldn't know what ingredients are actually used in these colours.
So whether you are concerned about your skin or the environment, homemade colours are the best option this Holi. Together with your family, you can make these colours, giving you the perfect reason to bond with your loved ones.
Here are five ways to make your Holi colourful without harming your skin:
1. Red colour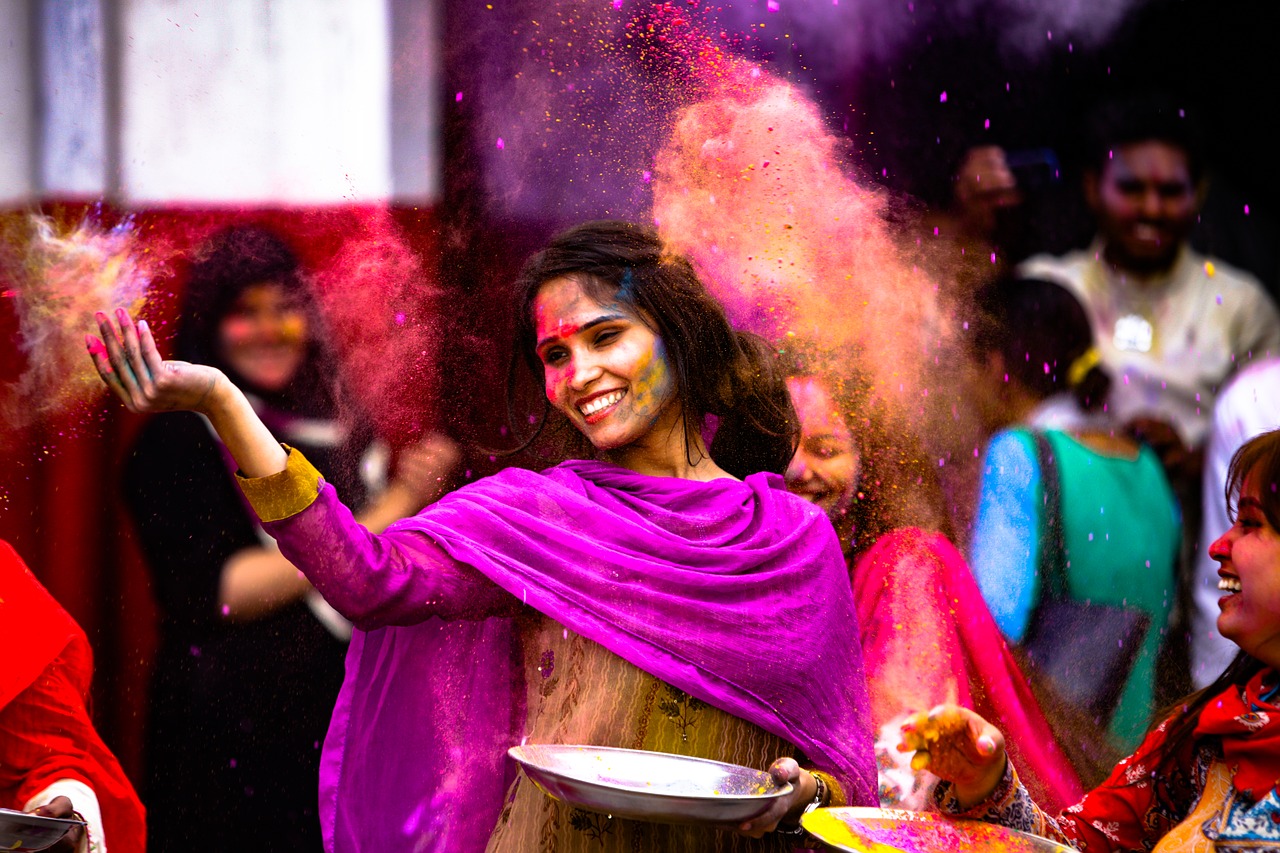 Dry hibiscus flowers in the shade and grind them. Blood-red flowers will give you a beautiful colour. If you wish to increase its bulk, add some flour and mix thoroughly.
Red Sandalwood powder or Lal Chandan will not only give out a lovely shade but is also great for your skin. You can use its powder form as a dry colour, and also for wet colour. Just add two teaspoons of the powder in a litre of water and bring it to boil. When it cools down, dilute and use.
2. Orange/ Saffron colour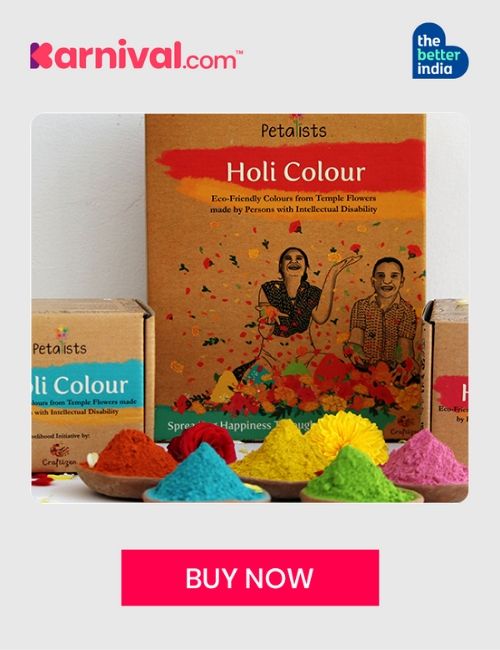 You can soak Tesu (Palash/ Flame of the Forest/Dhak) flowers overnight in water or boil them to get a lovely yellow-orange colour. You can also dry the medicinal flowers in the shade and grind them finely for a dry colour.
Good quality henna mixed in water will also give you an orange mixture. You can also soak kesar (saffron) overnight in water for a wet orange colour.
---
Celebrate a safe Holi this year! Buy natural & eco-friendly colours made with flowers and vegetables here.
---
3. Yellow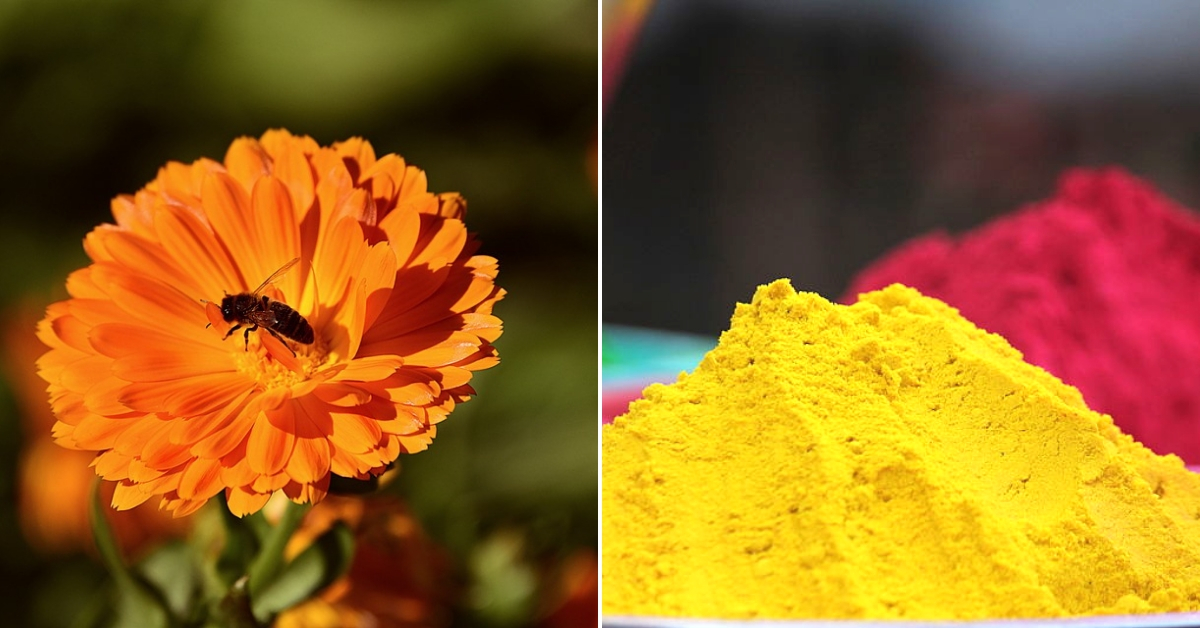 You will need 100 gm turmeric powder, 50 gm marigold flowers, 20 gm orange peel powder and 200 gm arrowroot powder, along with 20 drops of lemon essential oils for this colour.
Mix all of these ingredients in a large mixing bowl. Make sure you rub the mixture nicely so that you get a fine powder.
4. Blue
Jacaranda flowers give out a lovely blue shade, and if you are in Kerala, the blue hibiscus will also work wonderfully. Just dry either of these flowers in the shade and grind them. If you are going for a wet colour, crush the berries of the indigo plant and dilute them in water. Mix till the solution is even.
Some indigo plant species also have leaves that give a nice blue colour when mixed in water.
5. Green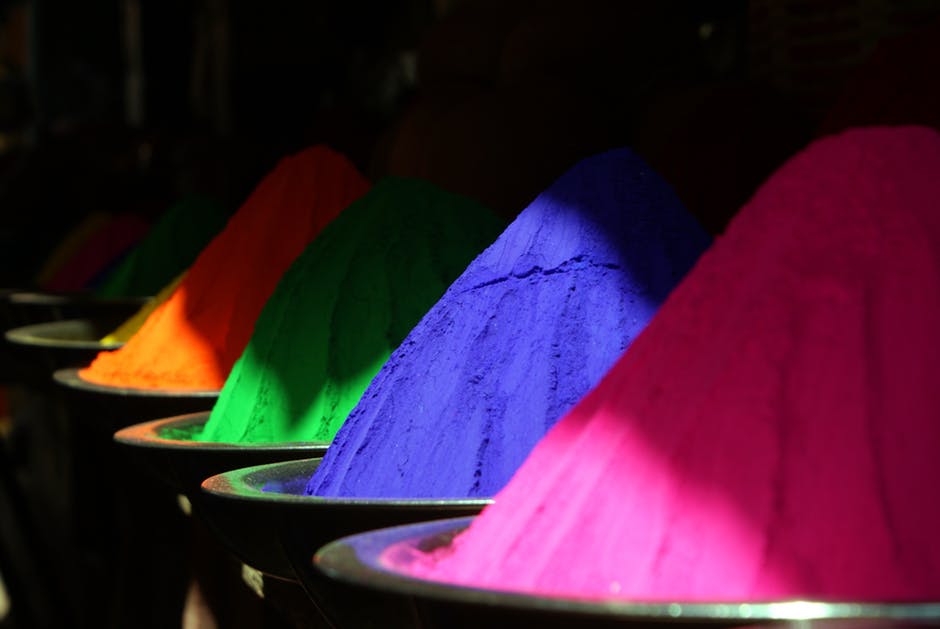 For a dry colour, mix equal quantities of henna powder and flour and for a wet colour, boil some neem leaves in water. Let the mixture cool; add or remove the superficial water as required.
6. Pink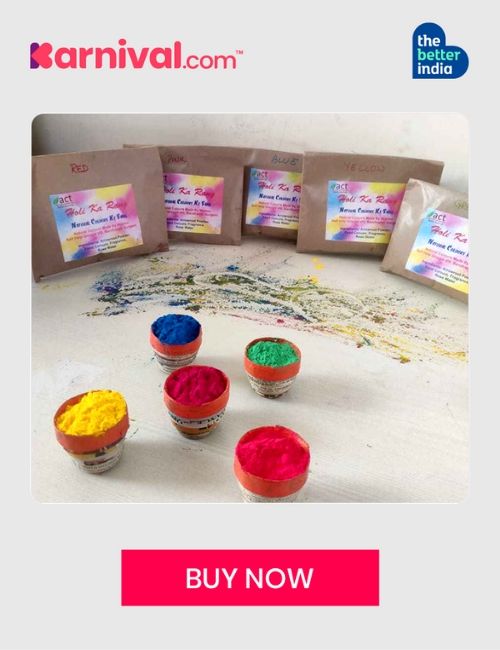 Along with pink hibiscus flowers, beetroot is an excellent ingredient to make organic pink or magenta colours. For a dry variety, grind a beetroot to make a paste. Let it dry under the sun. Once it is dried completely, add besan (gram flour) or wheat flour to increase its bulk.
For a wet colour, boil pieces of beetroot in water and let the mixture dry.
7. Brown
If you wish to go whacky and organic, boil one part of Henna powder and four parts of Amla powder in water. You can mix these powders with flour to make a dry variant of this colour.
Chemical infused colours have somewhat reduced the joy of Holi. This season, why not ditch the ready-made harmful colours and go for homemade ones? Not only will they help you bond with your family, but will also guarantee a safe festive time, full of medicinal benefits and devoid of allergies.
(Edited by Shruti Singhal)
Like this story? Or have something to share? Write to us: contact@thebetterindia.com, or connect with us on Facebook and Twitter.