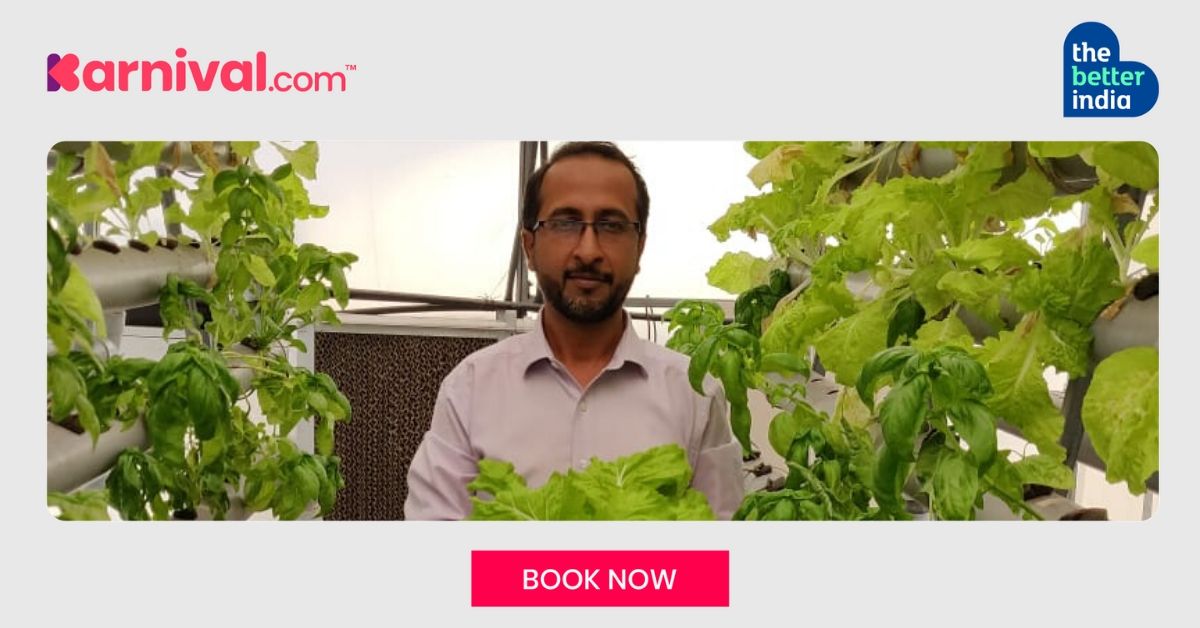 His alternative farming journey began with a small 100 sq ft unit on his terrace in Navi Mumbai. Its success led him to purchase a 15-acre land in Raigad.
I was eight when my parents sold our farmland in Athani on the Maharashtra-Karnataka border so that we could settle in Mumbai. I told myself that I would buy back the land when I became successful," recalls 42-year-old agriculturist Vijay Yelmalle in an interview with The Better India.
Until 2013, Vijay had a lucrative job in the chemical industry in Singapore. After 14 years, he decided to quit and return to India.
Although the dream of buying back the same piece of land didn't come true, he turned to hi-tech alternative farming techniques like aquaponics and hydroponics.
The motivation to take up farming wasn't merely nostalgia, clarifies Vijay.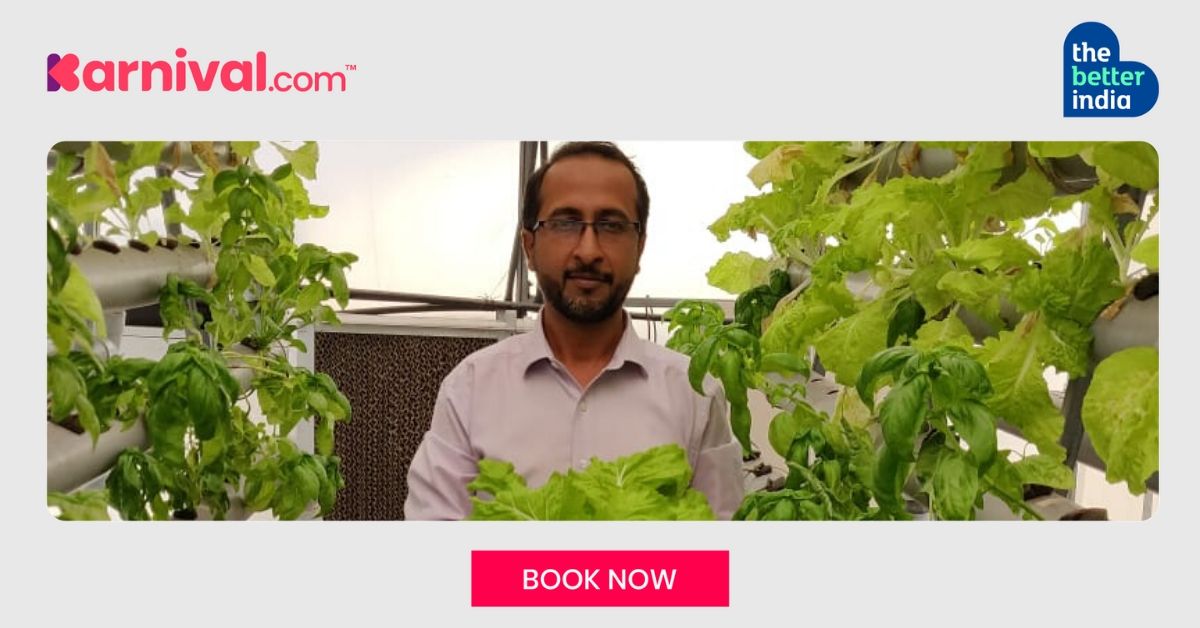 "Ever so often, I read about farmer suicides in India, especially in my home state, Maharashtra. One of the prime reasons for this was the lack of profit from conventional and unsustainable farming methods. I decided I would do something for small and marginal farmers."
The alternative farming journey began with a small 100 sq ft unit on his terrace in Navi Mumbai. Its success led him to purchase a 15-acre land in Raigad. He moved on to establish the Center for Research in Alternative Farming Technologies (CRAFT) which trained over 2,000 aspiring urban farmers in hydroponics and aquaponics.
Presently, he trains 30 people each month, charging between Rs 3,000-5,500. This amounts to nearly Rs 15-20 lakh annually!
The Beginning – His own terrace garden/training centre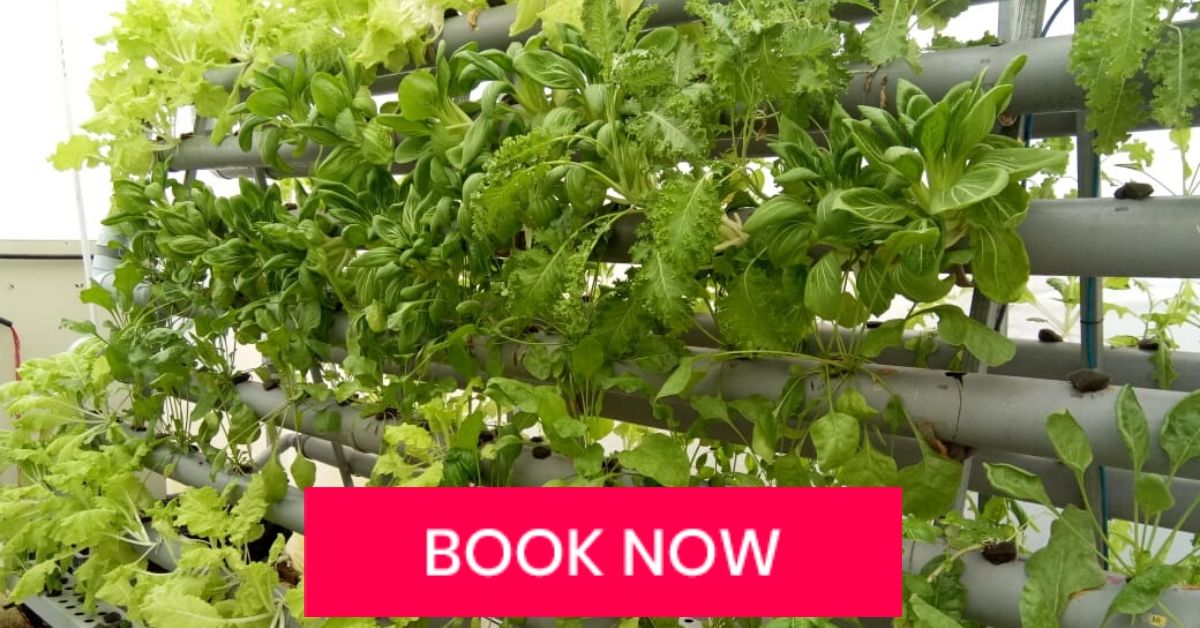 Vijay's 150 sq ft hydroponic unit on his terrace in Kharghar, Navi Mumbai, produces about 1.2 tons of leafy greens in a year. He runs this space independently and also uses it as a training space for farmers and students.
While it is still at an early stage on the supply chain, the produce is sold in local shops or distributed free of cost to relatives and neighbours.
What is hydroponics?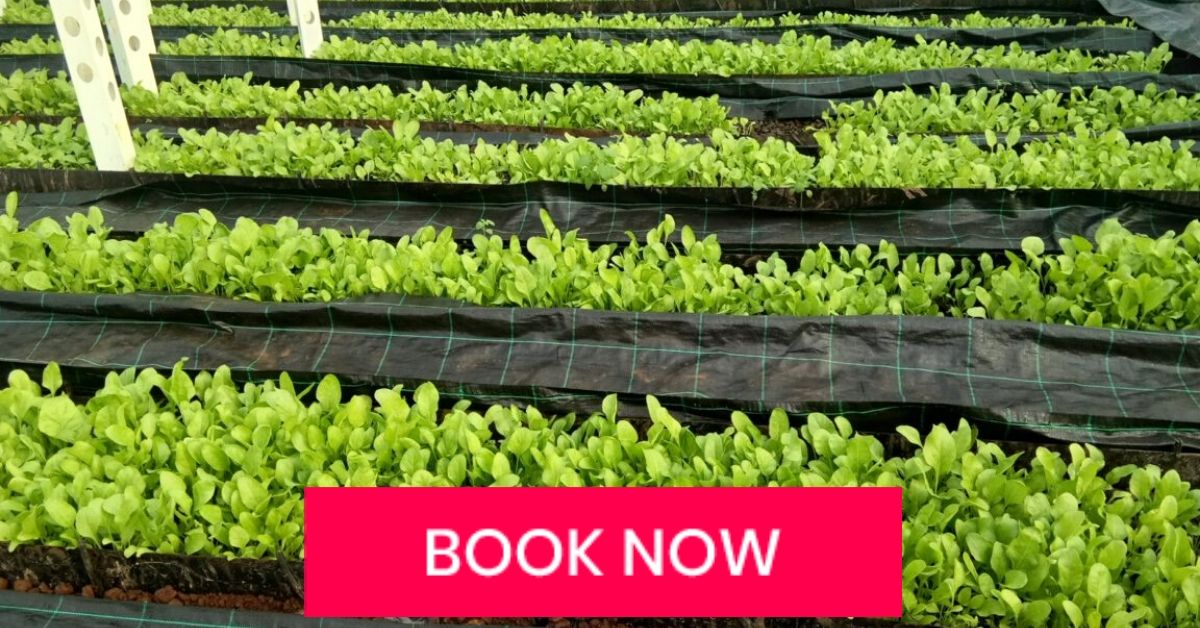 A soil-less method of farming, it uses PVC pipes as planters, where synthetic micro and macronutrients that facilitate growth are fed directly to the plant.
The method uses 90 per cent less water than conventional soil-based farming, with the plants growing 50 per cent faster and having a better yield as well.
"But the entire process is based on a carefully planned system with the nutrients scientifically calculated before being fed to the plants. The setting up of the greenhouse unit in which the plants thrive can be capital intensive and unviable for small and marginal farmers, so we had to think of a method that could help them gain profits, but also be less expensive to set up."
And thus began the journey of his social venture, RuralIDEA.
He used his land in Raigad to set up two low-cost aquaponic units of 300 sq m. Costing Rs 8 lakh for each unit, these aquaponics farms produce a total of four tonnes of fish and ten tonnes of pesticide-free leafy vegetables per year.
Recently, RuralIDEA was selected for extensive incubation under the All-India Agriculture Startup Challenge Competition conducted by ICAR (Indian Council for Agricultural Research) and IARI (Indian Agricultural Research Institute).
Learn hi-tech hydroponic farming techniques from Vijay firsthand and grow your own soil-less leafy greens in Mumbai. Book your spot now.
What is aquaponics and how is it different from hydroponics?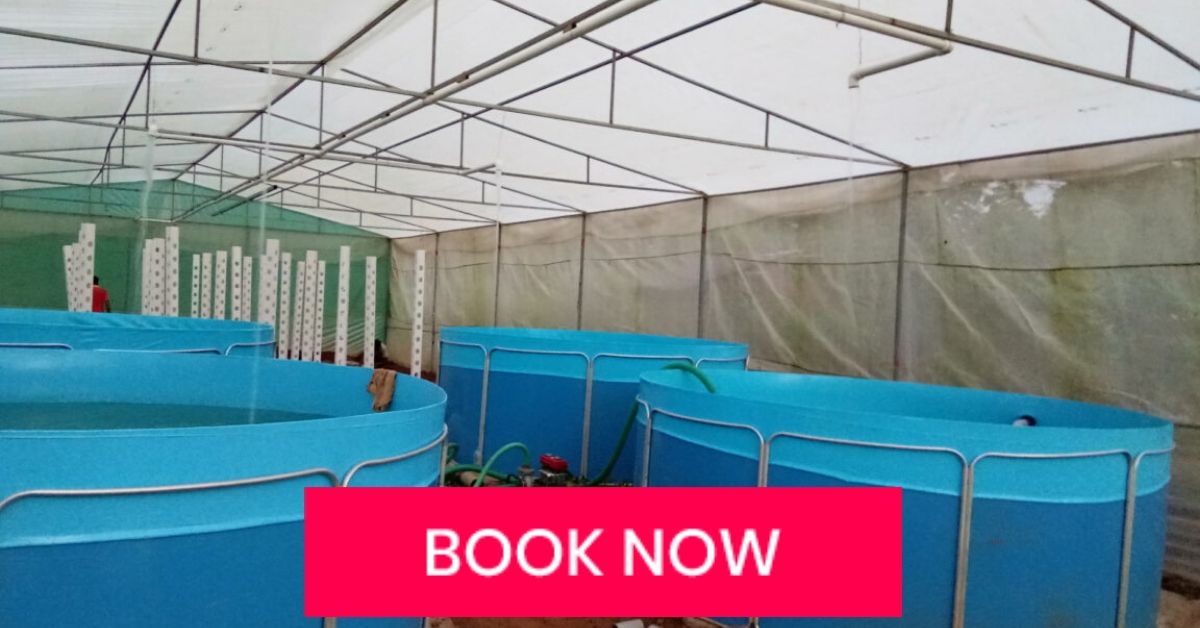 Aquaponics is the combination of aquaculture (raising fish) and hydroponics (the soil-less growing of plants) to grow fish and plants together in one integrated system.
While it is similar to hydroponics as it does not use soil, one difference is that it does not rely on synthetic nutrients to promote plant growth. Aquaponics, as a result, is a more organic system which requires less monitoring. It uses fish excreta as an organic food source for the plants, which in turn, naturally filters the water for the fish.
Microbes introduced in the system convert ammonia from fish waste into nitrates. This form of nitrogen promotes plant growth.
Benefits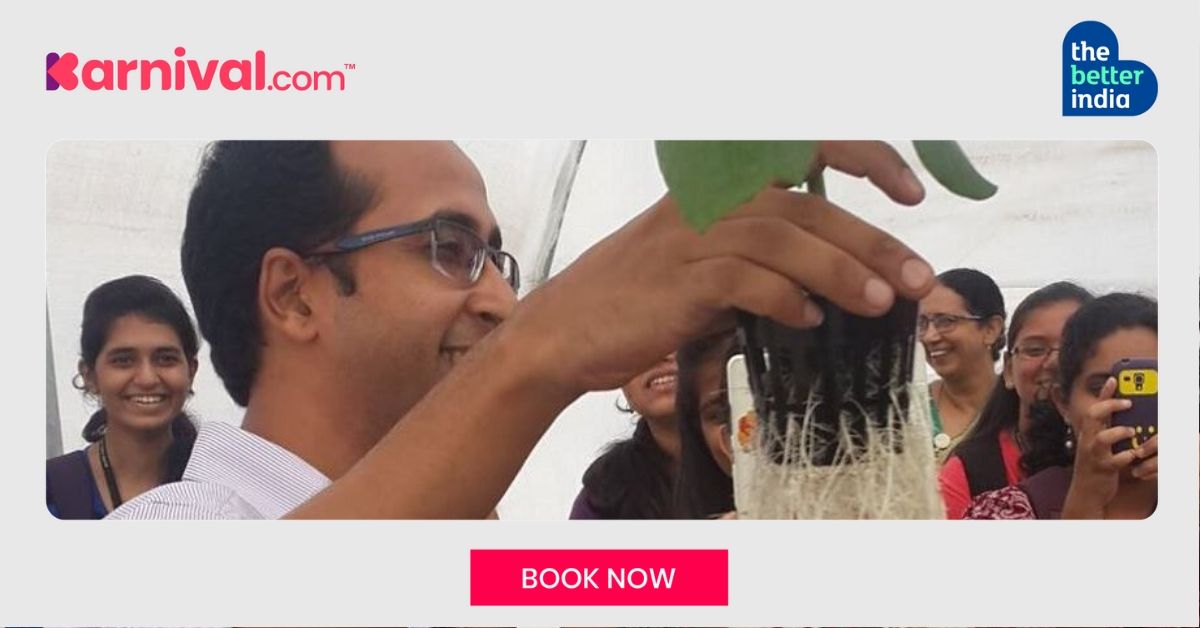 It uses 1/10th of the water in soil-based gardening and even less than hydroponics or recirculating aquaculture. It doesn't use any harmful chemicals or pesticides. So it is a natural ecosystem!
It eliminates labour dramatically when compared to soil-based methods. Also, the system can be set up in spaces ranging from your basement (using grow lights), a rooftop or a full-fledged greenhouse. You can harvest both plants and fish from one integrated setup!
Each 300 sqm farm has four tanks with 8,000 litres of water. While the cultivated fish include Tilapia, Rohu, Catla and few freshwater ornamental fish, the veggies include spinach, amaranth, kale, pak choi and the greens of mustard, radish, and beetroot.
---
Also Read: 73-YO Man Turns 200 Acre Land Into Organic Farm, Saves 2 Cr Litres of Water/Year!
---
The setup has helped turn around the lives of two rural families.
Vishnu Pawar would once travel more than seven kilometres a day through the jungle in search of work from his small Adivasi pada Tadmal, situated inside the Sahyadri ranges.
Today, working at the aquaponic unit, he can earn his living by selling fish and vegetables easily, take care of his wife and three young children.
Similarly, 12-year-old Rohit Pawar whose father died of a snake bite last year, couldn't afford to pay Rs 12 to travel to his school 12 km away. His two young siblings and mother, as well as paternal grandparents, struggled to make ends meet. The household expenses fell on the frail shoulders of his grandfather who worked as a labourer in fields. Today, they are selling the produce from the aquaponic unit and doing much better.
Cost & Returns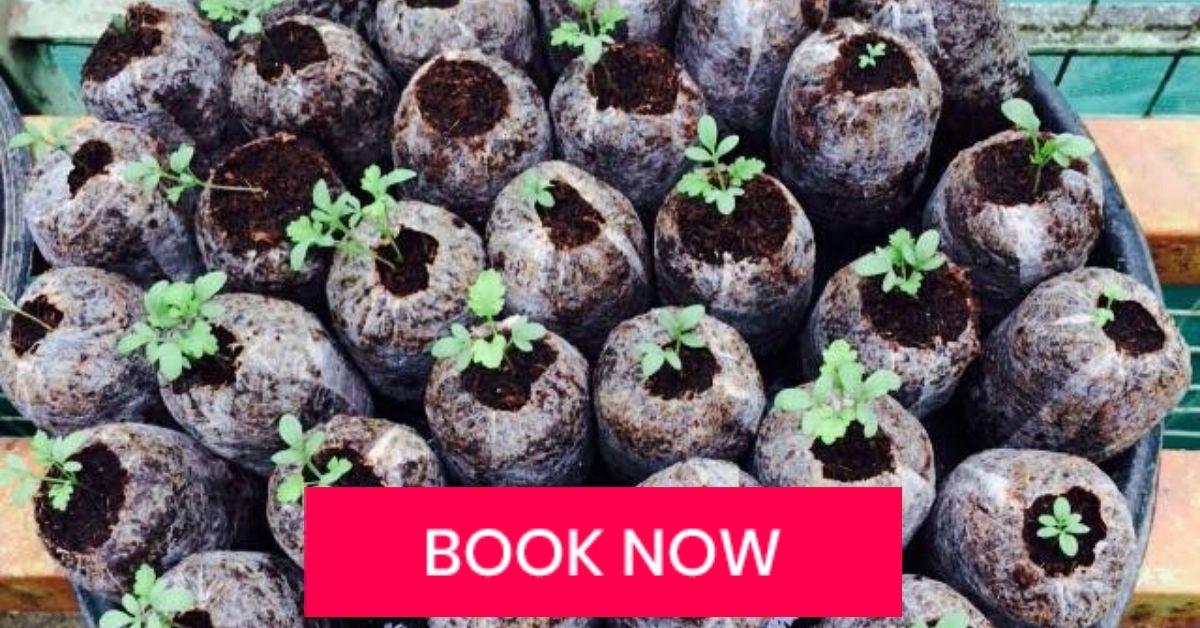 When asked if the ticket price isn't too high for small and marginal farmers, he says, "Aquaponic units are set up at Rs 3 crore for an acre too. Comparatively, we are trying to make the setup affordable for rural farmers. While I do understand that Rs 8 lakh is a big amount for small farmers, we are working on subsidising it with government subsidies and CSR funds. Further, the remaining amount could be loaned, as was the case with the farms of Vishnu and Rohit, which were funded with Mudra loan from a nationalised bank."
He further explains how fish has very stable rates across India at Rs 50 per 250 gm. Besides, he notes that fresh live fish are preferred by people.
"People travel 4-5 km on bikes to buy live fish in rural India. So the farmer can easily earn Rs 4 lakh a year. Besides, live spinach from our farm at Tadmal to Kharghar when sold at an organic store earned Rs 25 for 150 gram, which is a high rate! Spinach normally loses almost 90 per cent of its vitamin C and antioxidants within 24 hours of harvesting. And that is the time the spinach takes to reach urban kitchens after harvesting. We bring green vegetables with roots, which when kept wet , keep the greens alive until cooking. So this has the upper hand over its local competitors!"
When asked what's next on his list, he quips that he is planning to work out a model where they can help marginal farmers earn at least Rs 4 lakh per year.
How? I ask.
"The cultivated fish will be sold at the farm gate. As for the vegetables, RuralIDEA will buy back the vegetables at a higher price and in return, supply all inputs such as fish feed, fish fingerlings, seeds."
Learn hi-tech hydroponic farming techniques from Vijay firsthand and grow your own soil-less leafy greens in Mumbai. Book your spot now.
(Edited by Shruti Singhal)
Like this story? Or have something to share?
Write to us: contact@thebetterindia.com
Connect with us on Facebook and Twitter.