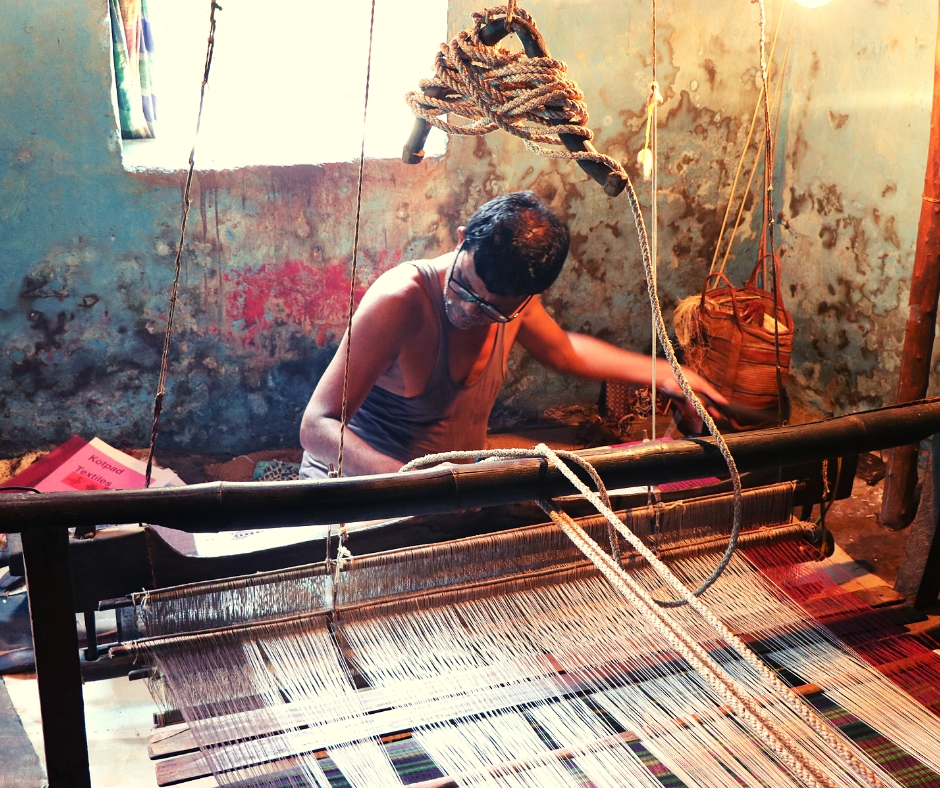 Cow dung, castor and wood ash - the use of such unusual elements in this eco-friendly fabric is a technique rarely found in the global textile industry. #Incredible #GreenIndia
Back in October 2016, Biswanatha Rath, a Pune-based documentary filmmaker was scrolling through the internet when he came across a series of articles about the then concluded Amazon Fashion Week that showcased the work of indigenous Kotpad weavers.
"While reading these articles, I went through a variety of emotions. At one level, I was proud of how this unique handloom tradition was receiving a lot of love and respect. However, it made me sad that I hadn't heard about such a unique tribal textile tradition that the sleepy town of Kotpad was practising, which is just 50 km away from my hometown," says Rath a native of Jeypore in Koraput district, Odisha.
In conversation with The Better India, Rath informs how he even called his friends and relatives from Jeypore and Koraput to check whether they knew about the art. Unfortunately, they did not.
Today, Rath is making rounds of the national and international film festival circuit to screen his documentary highlighting this unique tribal textile tradition struggling to survive. Created under the aegis of the Public Service Broadcasting Trust and the Prasar Bharati Corporation, the nearly 30-minute long film is titled 'Kotpad Weaving: The Story of a Race against Time'.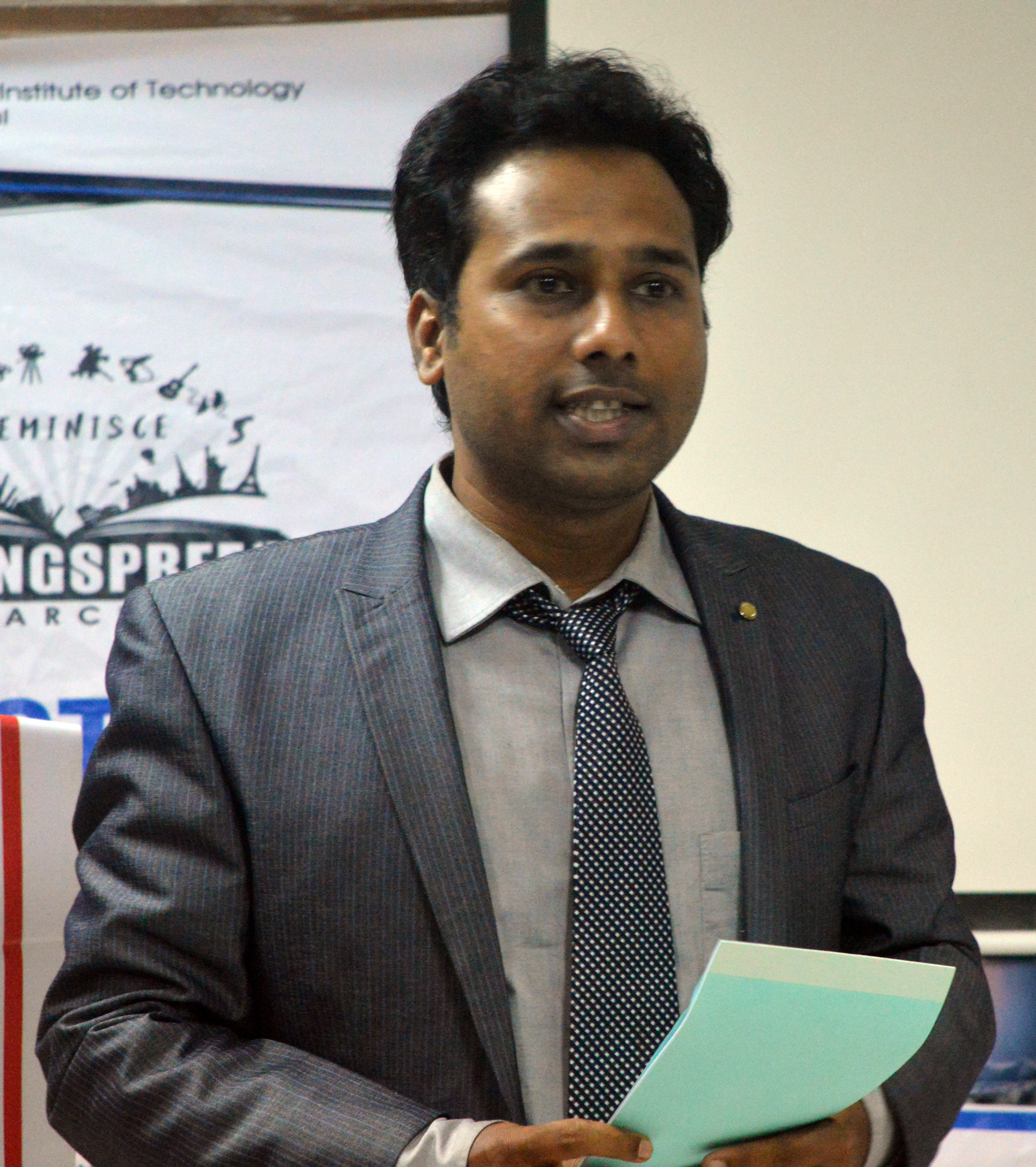 To the uninitiated, a Kotpad fabric's standout feature is its use of natural dye. The source of the colour is the root of Indian Madder Tree, commonly known as 'Aal'. The dyeing process also involves cow dung, wood ash and castor oil—usually unheard of in the global textile industry. Antique pit looms help weave beautiful patterns with nature-inspired tribal motifs in the fabrics.
Untouched by any artificial chemical, the production of garments in tradition has remained true to the concept of sustainability with its eco-friendly ways of dyeing.
The Kotpad weavers from the Mirgan community make saris, dupatta, gamchas and tuvals—a handloom tradition that has spanned generations and survived through centuries.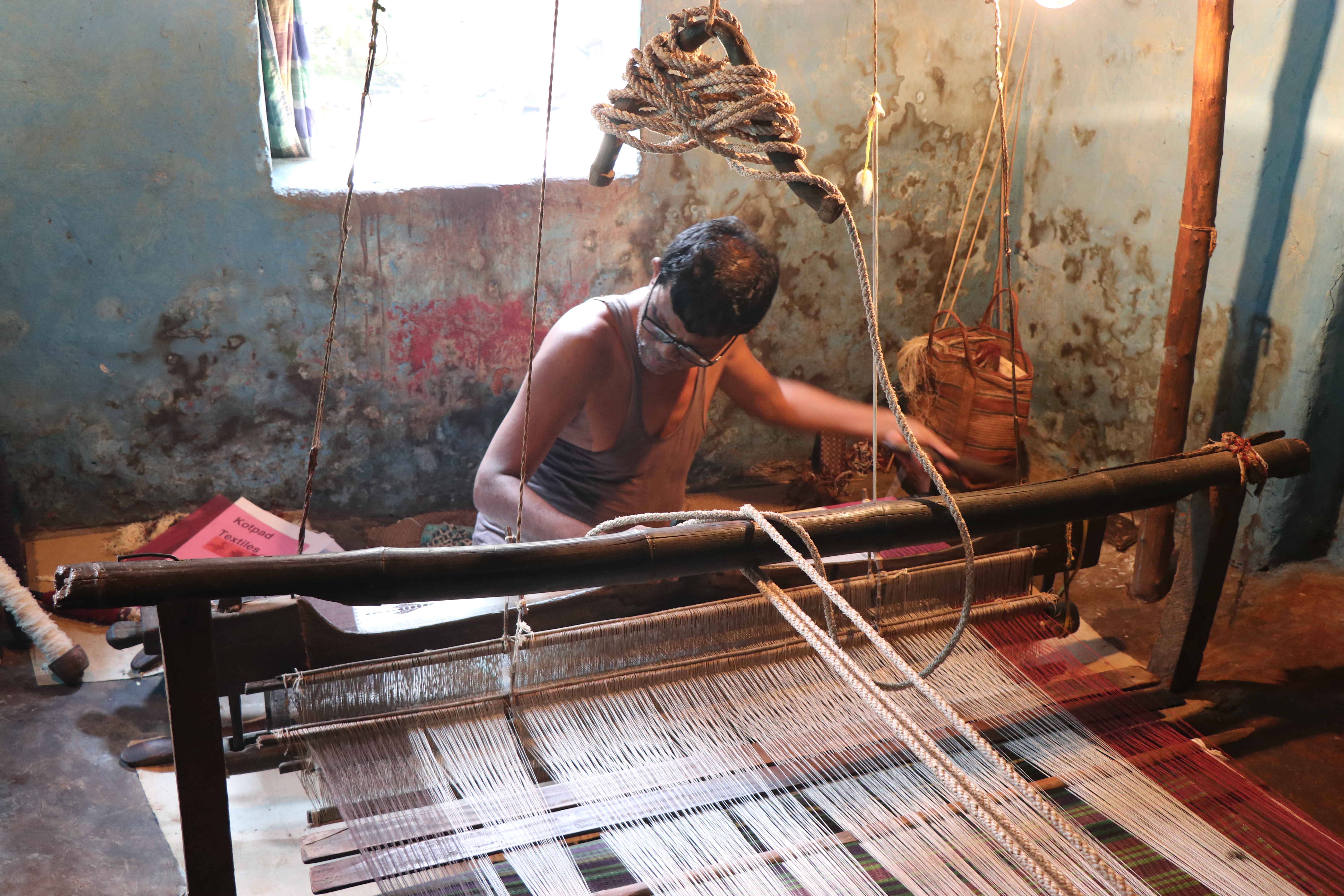 "This is a tradition which goes back generations. We don't know when it started. Just the way, my father used to do, dyeing using the colour from the root, cow dung or using mud from ponds, or by using 'Heerakasi' (iron fillings). We have continued to work the way he used to do," says Kapileswar Mohonto, a National Award winner and Ex-President of Weavers Cooperative Society. (Source: Biswanath Rath)
The women of the community are responsible for the dyeing work. They essentially prepare two colours—maroon and brown. Although dyeing is an elaborate process that takes roughly 30 days, in its briefest form, we can describe it in the following way.
• Cotton yarns are dipped in water and then castor oil.
• The dyers then apply cow dung, wood ash, 'Aal powder','Heerakashi' and 'Haradaa' powder to the cotton yarns in measured quantities.
• Application of these items involves several cycles of heating and drying the threads.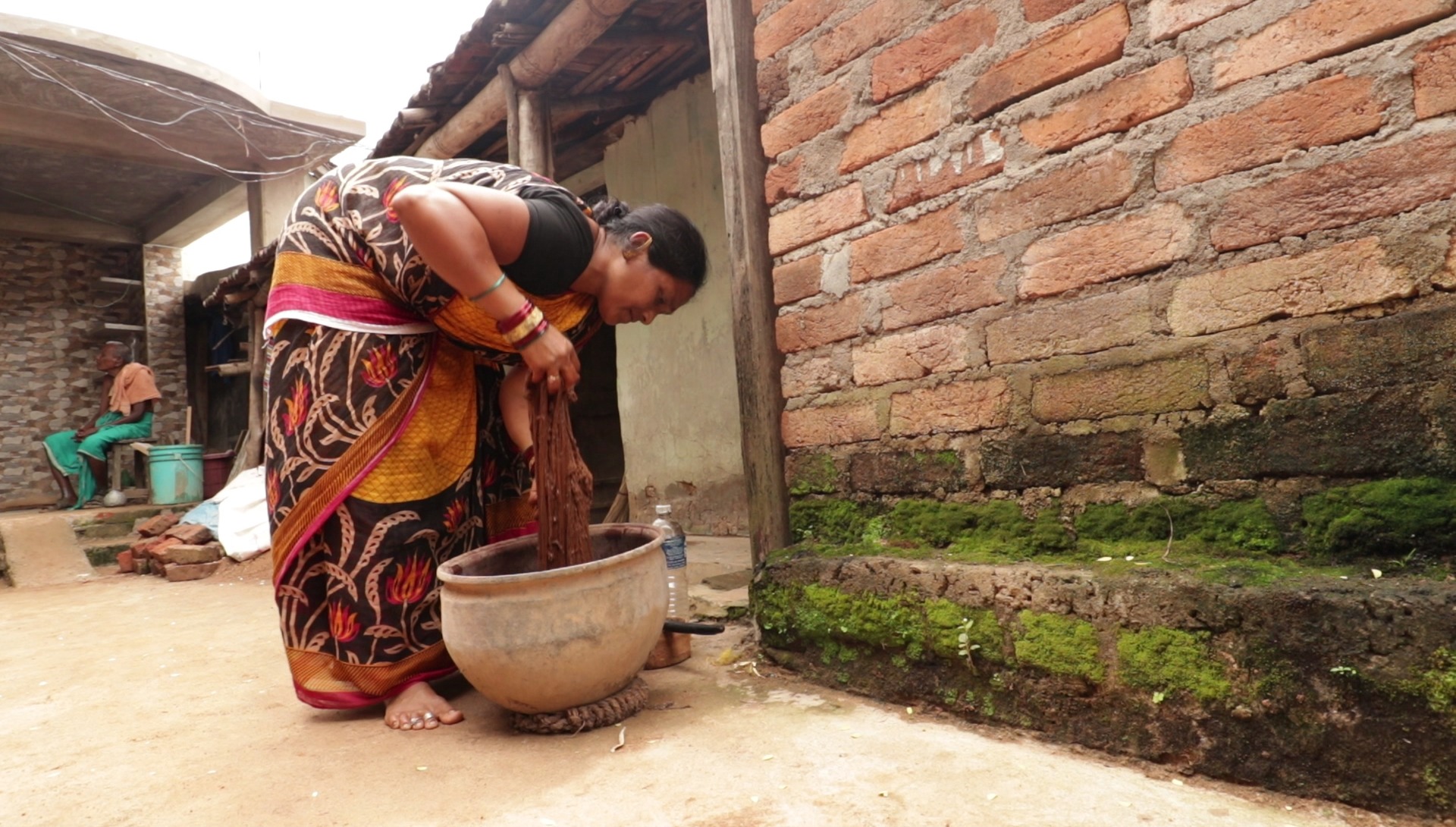 The concept of sustainability, during the process of dyeing, is not just limited to the raw materials alone but also extends to the utensils or other tools used in the process. For washing, the women take the yarns to the yarns to the nearby pond. They use wooden rods to dry them. Even for heating the water, they use a handi or earthen pot. As for drying the yarn, sunlight is sufficient.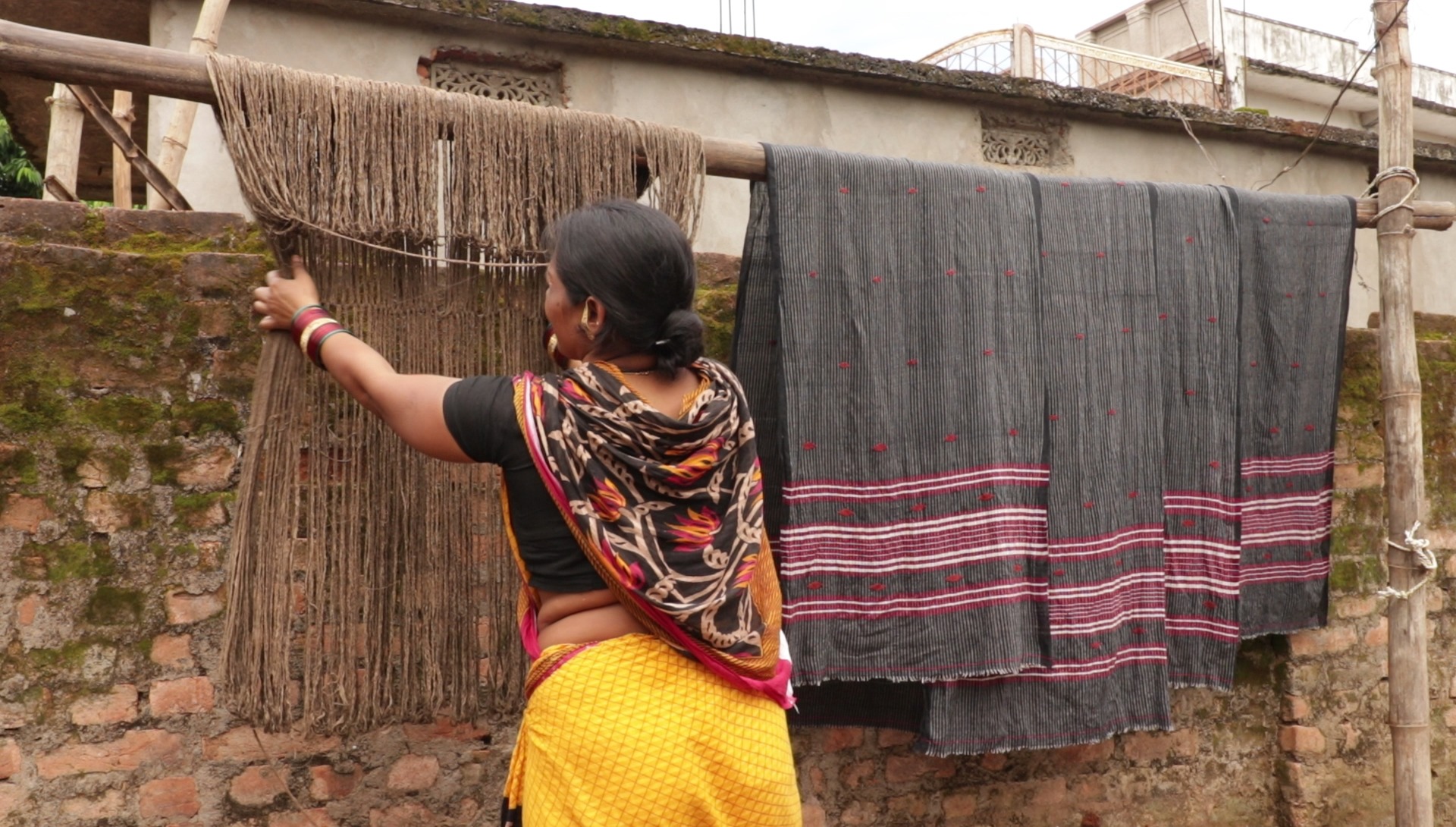 "Taani" (warping) is a process where the strands of the yarn are brought together, and starch is applied to make the thread stronger. Then we clean the yarn and start the weaving process informs Padma Shri Gobardhan Panika, a Kotpad Weaver. (Source: Biswanath Rath)
A pit based loom made of wood and bamboo is used to weave the yarn. Everything is hand-woven. To weave a simple sari with tribal women motifs (pattas) takes about four-five days, while a conventional sari takes about a minimum of two weeks.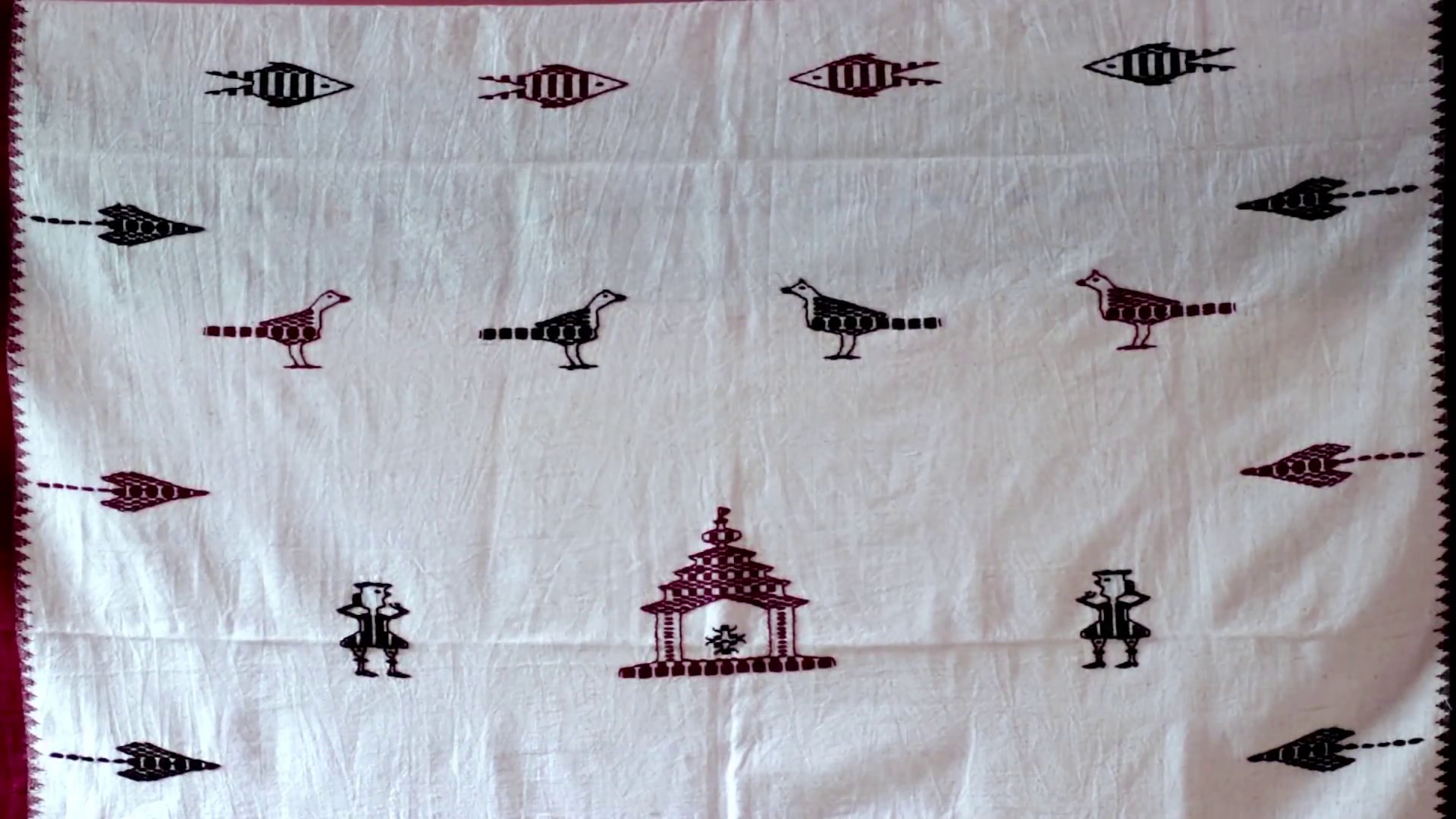 Textile Designer Anupriya Mridha (Founder of Vani Vrtti) says, "The feature of Kotpad garments that stands out is its simplicity. Their natural surroundings inspire design motifs, and they are replicated into the fabrics. What you see are very conversational kind of patterns in these textiles. All the yarns that you see here are hand spun which creates very soft fabrics."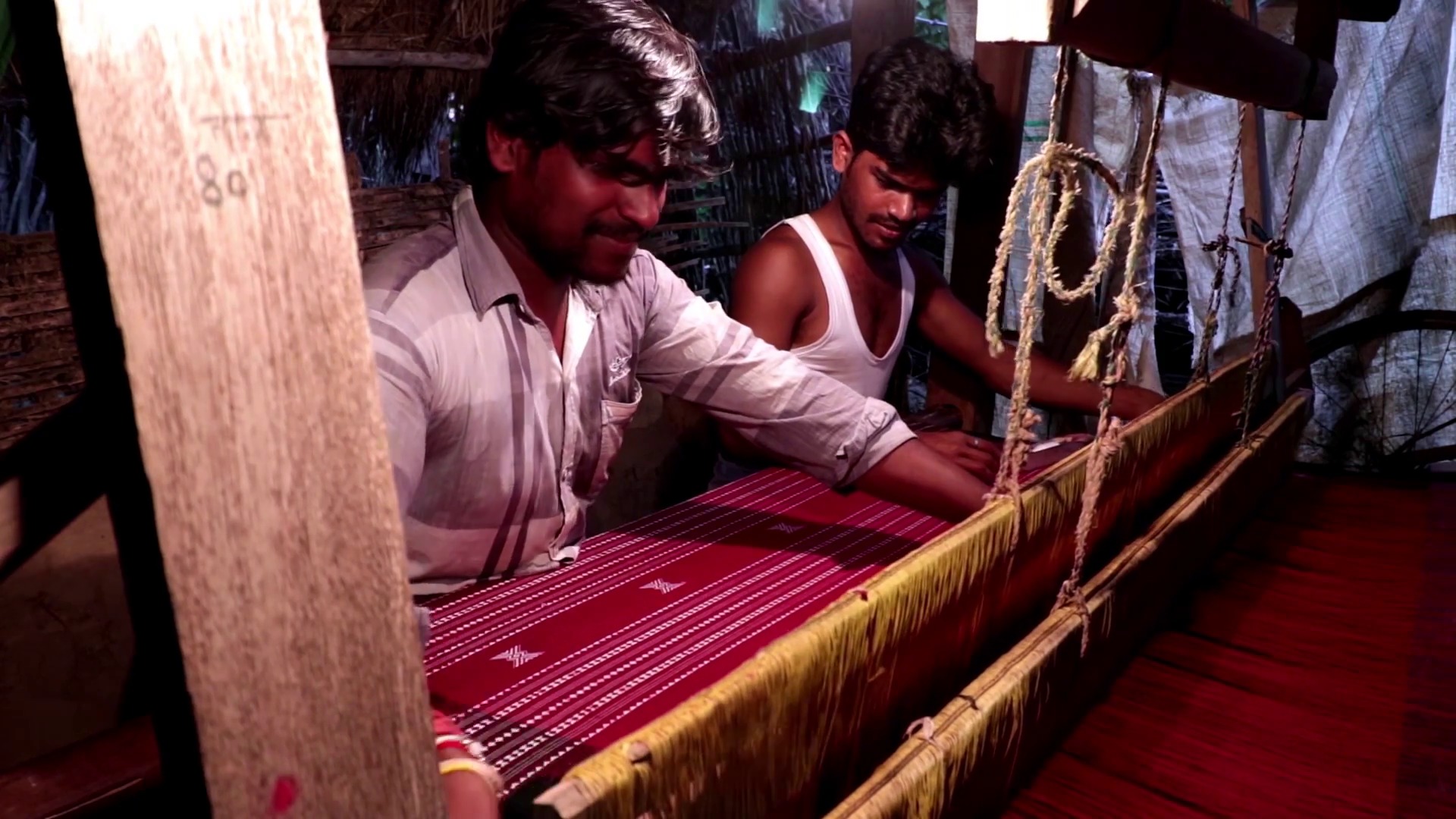 Jayashree Mishra, a local customer, feels, "Over time, the smoothness is enhanced, while the original glow never entirely fades away even after wearing it for a decade."
Back in 2005-06, the Odisha government successfully acquired the Geographical Indication (GI) tag for the natural dyeing process involved in Kotpad weaving, ensuring that it is never pirated or copied.
Challenges aplenty
Despite all its uniqueness, some obvious obstacles are standing in the way. For starters, the Indian Madder tree is slowly dying out which will bring the natural dyeing process to a grinding halt.
Also, considering that the entire process is time-consuming, scaling it up for mass production seems highly unlikely. Kotpad fabric also cannot compete with the mass produced and cheaper synthetic fabric. Each year from June to October, there is little to no weaving activity because the rain destroys the material. As a consequence, the younger generations of Kotpad weavers are unwilling to pursue this art form and instead, have taken up other blue collar jobs on offer.
A Kotpad sari typically costs from anywhere between Rs 4,000 to 14,000 depending on the intricacies of design and the number of motifs weavers use. However, as Biswanath Rath learns from various Textile Designers, Fashion Designers and Entrepreneurs, there is another concern surrounding Kotpad weavers—their professionalism or the lack thereof.
According to fashion designer, Lipsa Hembram, Founder of 'Galang Gabaan', "The weavers are extremely cooperative in terms of sharing their techniques, ideas and work methodologies. However, when you give them work, the professionalism you expect does not exist."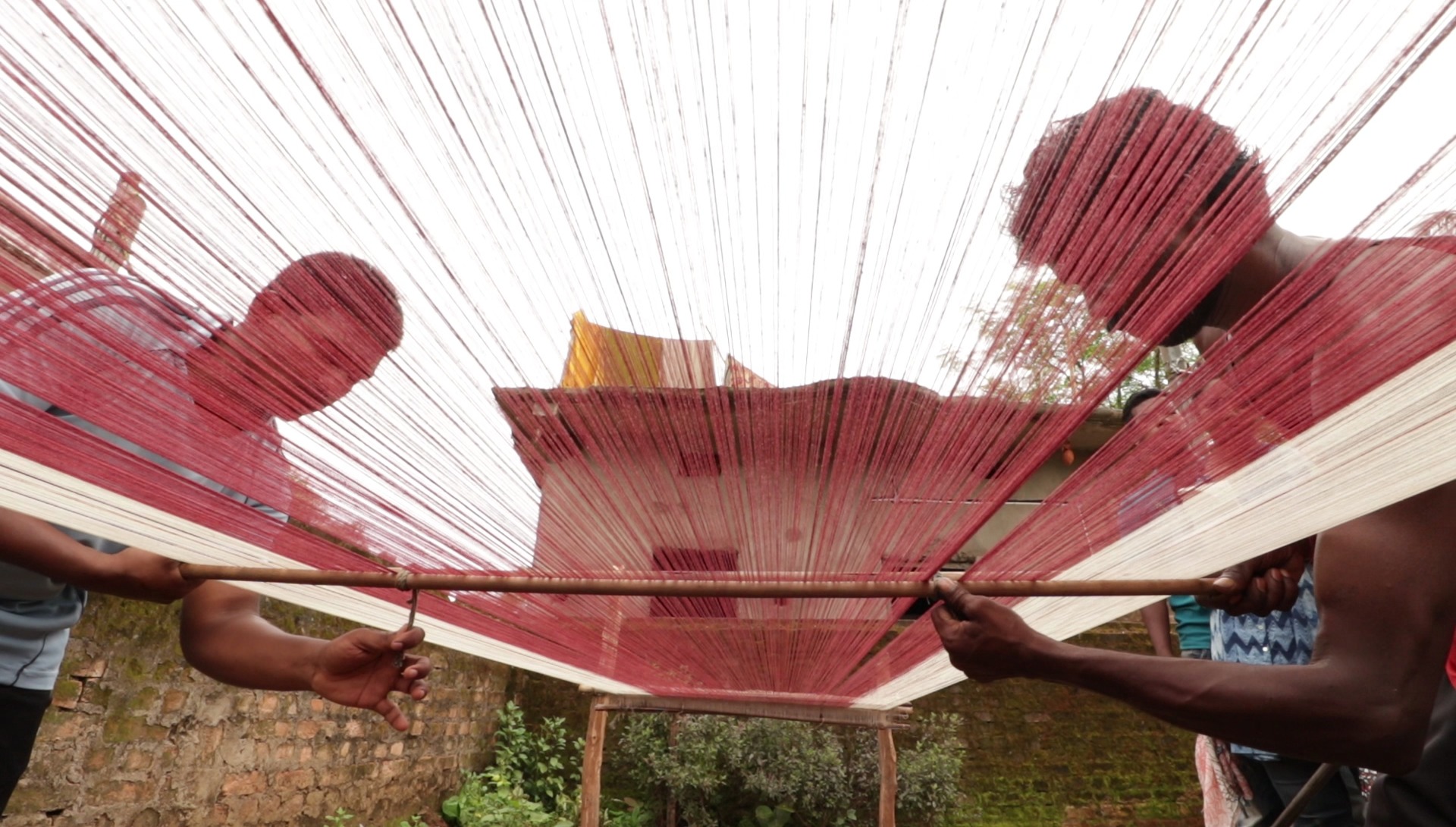 "From festival celebrations (during which they don't work) that lasts for several weeks to lack of necessary infrastructure in that region like medical facilities (which makes them travel to cities for any illness), there are several social and environmental factors because of which they haven't quite understood the importance of fixed timelines," adds Dr. Sudha Dhingra, a Textile Design Professor from NIFT New Delhi.
Biswanath feels this is something they can and must work on to renew not only the interest of the textile/fashion industry for this dying art but also improve the brand image of the Kotpad Handloom ecosystem.
Local authorities are taking steps in this direction like establishing a plantation of Aal trees. Documentaries like Rath's also help generate greater awareness about this art form.
Also Read:  Hindu Pashtuns: How One Granddaughter Uncovered India's Forgotten Links to Afghanistan
The problems plaguing this art form, on the brink of getting lost forever, are not insurmountable. The eco-friendliness, beautiful tribal motifs and a generations-old tradition testify its worthiness. If given the right motivation and aid, Kotpad weavers can make their mark in the global garment industry.
(Edited by Saiqua Sultan)
Like this story? Or have something to share?
Write to us: contact@thebetterindia.com
Connect with us on Facebook and Twitter.


We bring stories straight from the heart of India, to inspire millions and create a wave of impact. Our positive movement is growing bigger everyday, and we would love for you to join it.
Please contribute whatever you can, every little penny helps our team in bringing you more stories that support dreams and spread hope.