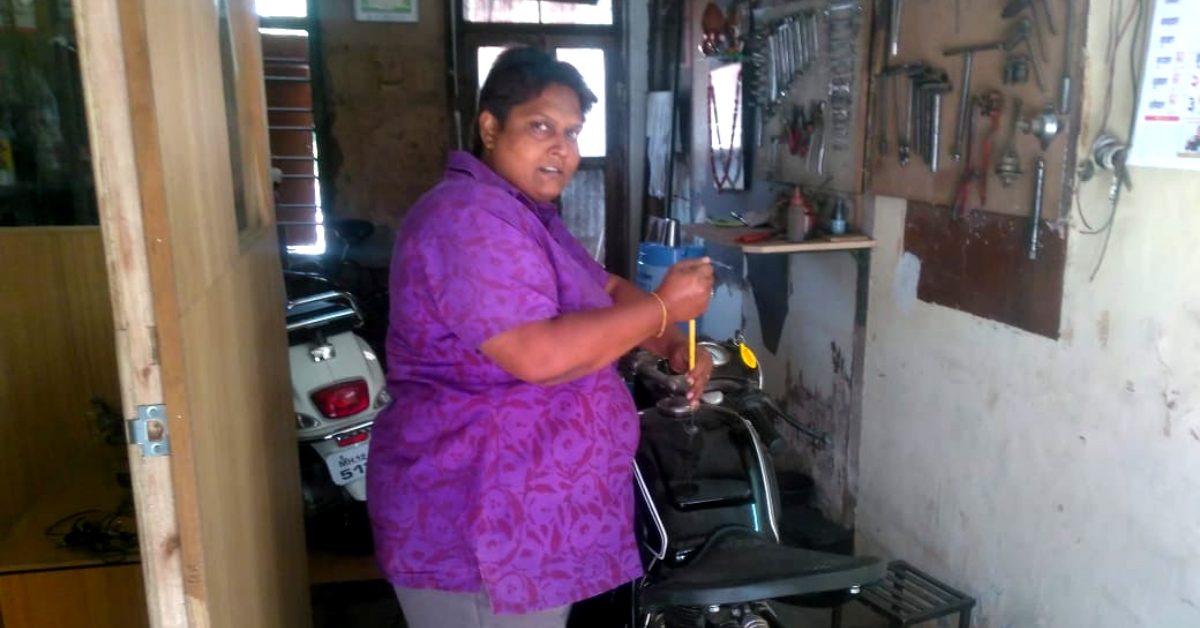 Deepali was only 16 when her father lost four fingers in an accident and she had to take on the responsibility of their garage. Today, her annual profit runs in lakhs!
---
This International Women's Day, we introduce you to some truly incredible Indian women whose stories define resilience, courage and inspiration. #BalanceForBetter
---
It is around 10 o'clock on a weekday. 47-year-old Deepali Dharmadhikari is busy attending to her clients in a garage in Navi Peth, Pune. Some bikes require regular servicing and some need to be repaired. Dharmadhikari has been in the business for 30 years now, and the clients seem to trust her suggestions and guidance. Even though female mechanics are a rarity in India, no client of hers questions Dharmadhikari's judgments and ability to repair the vehicles.
The mechanic's journey started at the young of 8 years. Riding bikes had fascinated Dharmadhikari even as a child. Fortunately for her, her father owned a garage that repaired auto-rickshaws. Since she could not ride a bike at such a young age, she settled for observing her baba repairing the vehicles and helped him out in odd jobs.
"I was always interested in riding bikes, but as a young girl, I would assist my father in his garage. I would express my wish to ride a bike some day and travel throughout India. To that, my father advised that if I wish to ride a motorbike, I must also learn how to do minor repairs. Even before I could legally ride, I started learning how to repair vehicles," Dharmadhikari tells The Better India (TBI).
She had a knack for repairing the vehicles and working in the repair shop never bored her.
By the time she was in class 10, she had not only mastered minor repairs but had also begun major fixing and servicing of the autos. That's when tragedy struck.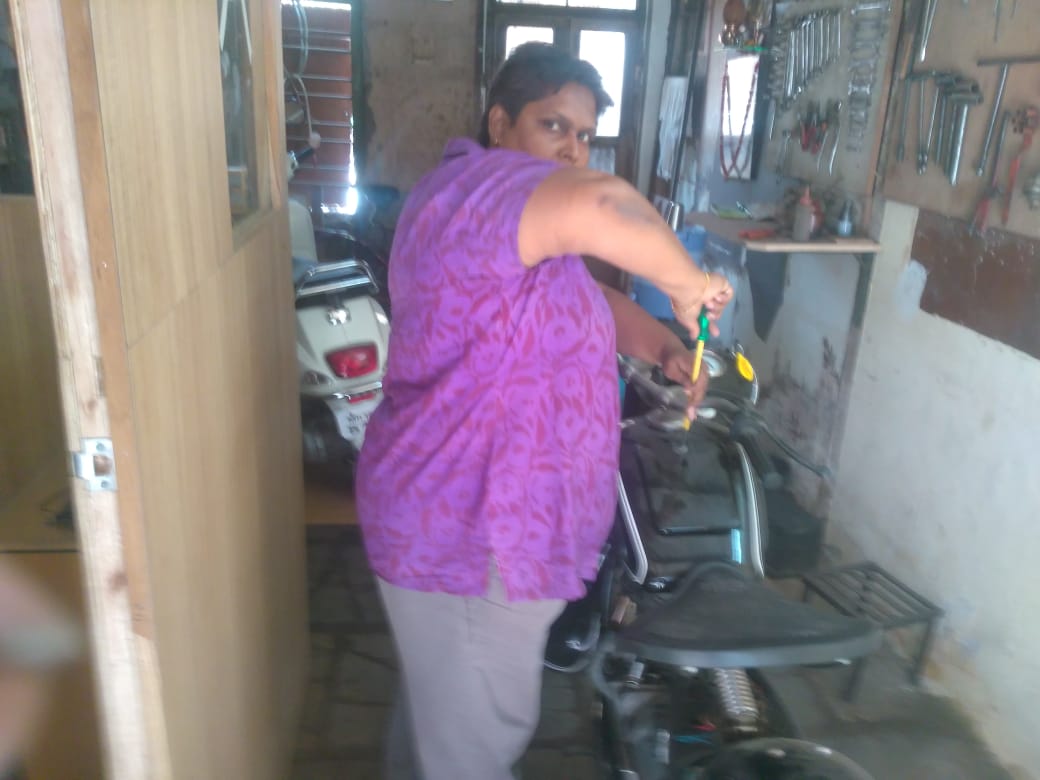 "One fateful day, my father met with a terrible accident and lost four fingers on one hand. He was the sole bread-earner of the family, and now, he could not work in the garage. We could not afford to employ other mechanics or labourers because the salaries would have consumed all of the profits we earned from the small garage. So, I decided to take over," she tells TBI proudly.
By then, Dharmadhikari was well over the minimum age (i.e., 14 years) required for employment as cited in the Constitution of India. So she could safely take over the reins of the garage. Balancing her studies with her work, she started managing the Shakti Auto garage. But, the legality of her being allowed to work and her experience could not earn her the faith of her clients. Additionally, the ingrained belief that a woman cannot be as good a mechanic as a man, made many distrust her skills.
Elaborating on how she overcame the challenges, Dharmadhikari says,
"Yes, I faced several challenges when I had just started. No one would believe that I could repair their autos as proficiently as my father.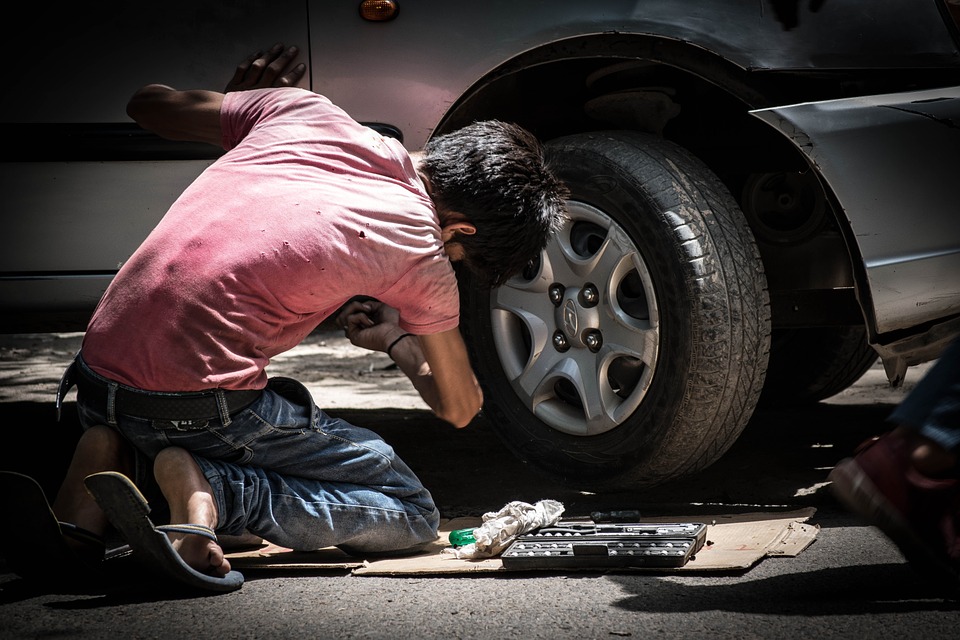 But I had only one option to keep the clients on-board. I told them to give me just one chance. If they faced issues even after I had repaired the vehicle, they could stop coming to us. My repairing service spoke for me, and soon enough, the distrust in my capabilities was a thing of the past!"
Back in 1989, when Dharmadhikari, a teenager then, had taken over the running of the garage, she had to ensure that she earned at least Rs 30,000 to sustain the family of four. Her mother and sister did not work, and so she had to shoulder the responsibility of the entire house. In Dharmadhikari's head, bowing down to patriarchal prejudice or misconceptions was not an option.
---
You may also like: At 75, This Incredible Granny From Pune Trekked to the Nathula Pass All Alone!
---
Two years after appearing for her class 12 boards, she took over the management of the garage full time. But, in doing so, she had to halt her education. Gradually, she shifted from an auto-rickshaw to a two-wheeler garage. "I started facing problems in terms of credits and non-payment of fees. I understand that auto-drivers too have to face a financial crunch, but I could not afford to suffer losses either. So, I shifted."
Today, the garage is over 40 years old, of which, 30 years have been under Deepali Dharmadhikari's management.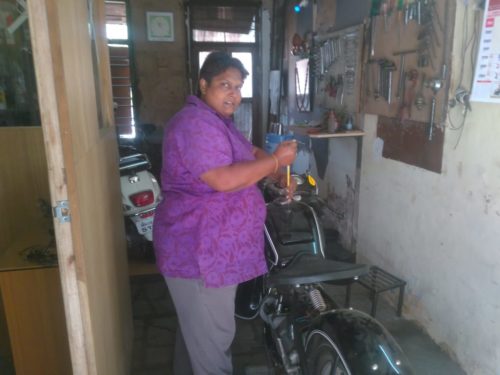 Today, she earns an average profit of Rs 50,000 from the garage and also handles an interior designing business simultaneously. Where she could not afford to hire a single labourer or mechanic, Dharmadhikari now has employed 3 and now only monitors the operations.
"Both my parents have passed away, and my sister is married," she tells TBI, adding, "I live alone and go to the garage only in the mornings to start the operations and in the evening, to check if the work has been done well. The afternoons are reserved for the interior design business. I completed my graduation course about ten years ago after a long hiatus, and I am happy with where things are now."
---
You may also like: Amidst The Turmoil, Kashmir's Only Woman 'Bat-Maker' is Scripting a Saga of Her Own!
---
On Women's Day, we applaud those women who have smashed patriarchal biases and prejudices into smithereens to make their presence felt in their area of work.
Like Dharmadhikari, who shared with TBI how she fought against all odds to be where she is. She encourages women to take charge in whatever fields they aspire to ace in. She also hopes that her garage that does not need any advertisement, serves as an example for all those who do not want to conform to established conventions
(Edited By Saiqua Sultan)
Like this story? Or have something to share?
Write to us: contact@thebetterindia.com
Connect with us on Facebook and Twitter.

Find Out What's Good Today – Sign Up Now!