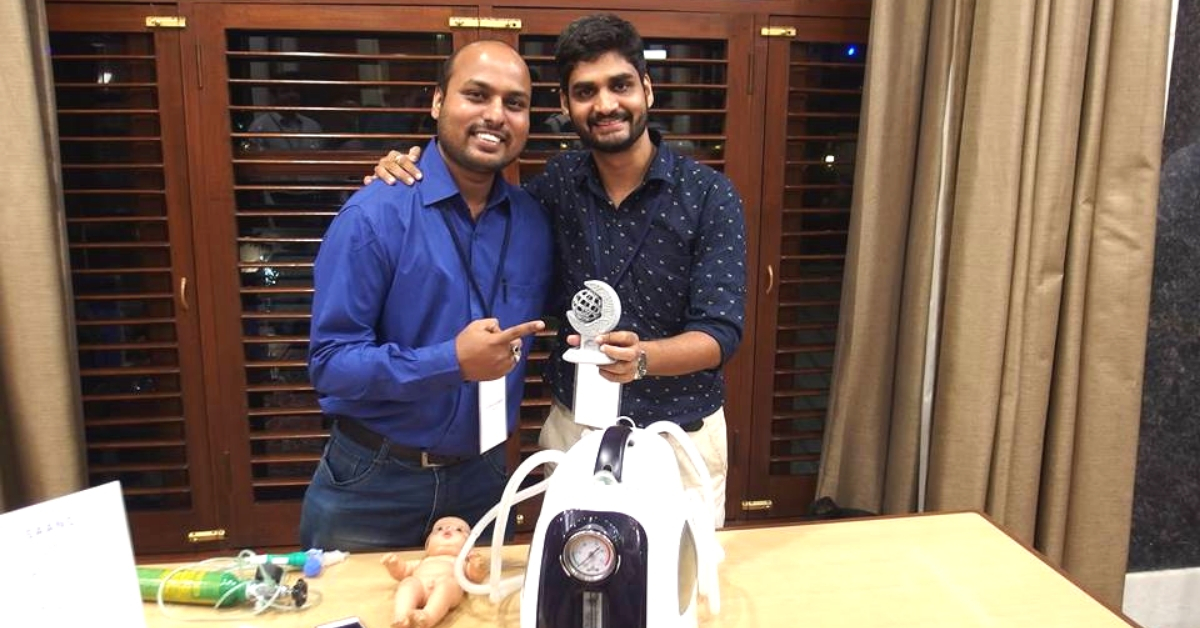 In a country where 37 per cent of patients on mechanical ventilators get pneumonia and where 50 per cent of babies are born away from well-equipped hospitals, these medical marvels are proven life-savers.
---
This article is part of a series on innovations in support of the ATL Tinkering Innovation Marathon – organised by Atal Innovation Mission, NITI Aayog and The Better India. Read more about the marathon
here
.
---
Nitesh Jangir grew up in Shivnagar village, Rajasthan.
Nachiket Daval, a son of a now-retired naval officer, lived in many parts of India due to the nature of his father's profession.
Despite their different backgrounds, the two friends-cum-business partners have similar experiences with regards to the prevalent healthcare system in India at both village and district levels.
Nachiket and Nitesh saw upfront how the lack of medical facilities—existing and advanced—spelled doom for the people awaiting their turn at the Primary and Secondary Healthcare Centres.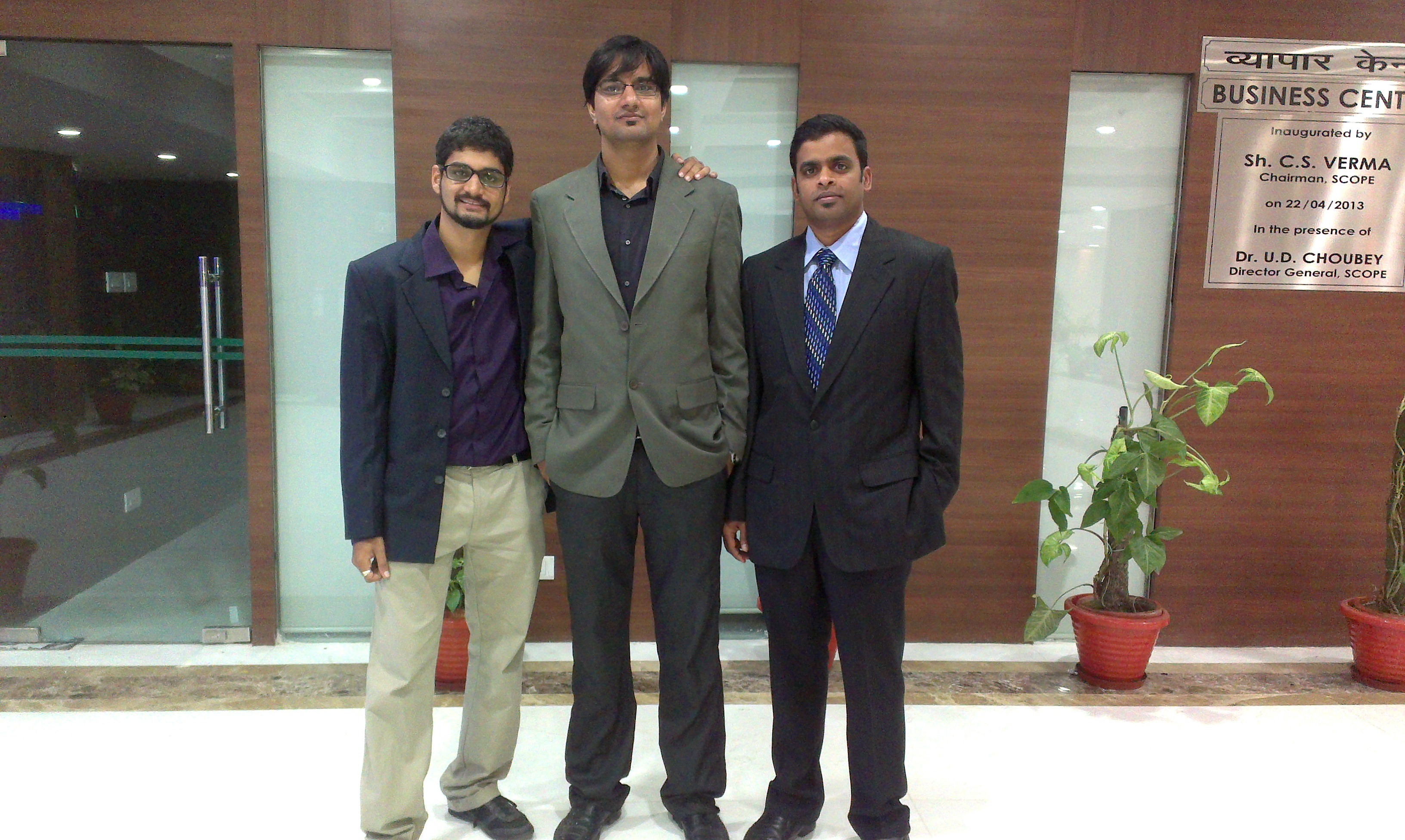 While Nitesh went on to study engineering, Nachiket pursued design. But, always present back of their minds were the patients sitting at the hospitals waiting for treatments they could neither access and frankly, nor afford.
One of Lung India's studies found that 37.5 per cent patients on mechanical ventilators in Indian ICUs catch pneumonic infections. In a large number of cases, such infections can be life-threatening.
Another shocking find stated that out of all children born, 53 per cent die under the age of 5 years during the neonatal stage. These studies propelled Nitesh and Nachiket to search for solutions.
And COEO Labs was the result.
Nitesha and Nachiket's company makes medical devices with the aim to meet the medical needs in critical care. Together, they designed two devices; Saans—a low-skill, low-cost, neonatal Continuous Positive Airway Pressure (CPAP) device and VAPCare- an intelligent secretion management device to prevent ventilator-associated pneumonia (VAP).
How COEO started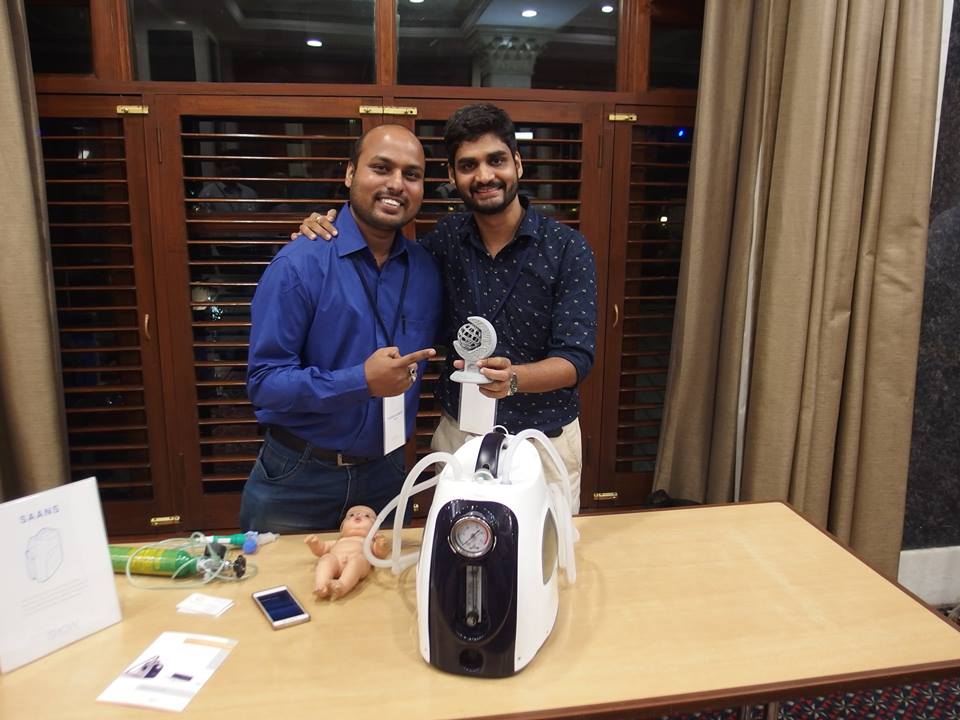 Nitesh and Nachiket met at a biodesign program in Bengaluru which aimed at identifying gaps in the healthcare industry and filling them with affordable innovations.
"This program involved two and a half months of observation and more than four months of analysis and intense research," Nitesh shares with The Better India (TBI).
"We spent our observation time at St John's Medical College and Hospital in Bengaluru and 15 days in an ambulance service. We specifically chose the fields of emergency and critical care since these are the fields where a number of critical events occur at all times."
They spent most parts of their days in hospitals, sometimes even staying there for 24 hours at a stretch. Although this program was in 2014, the duo still remembers two unfortunate incidents that sped up the invention of Saans and VAPCare.
Saans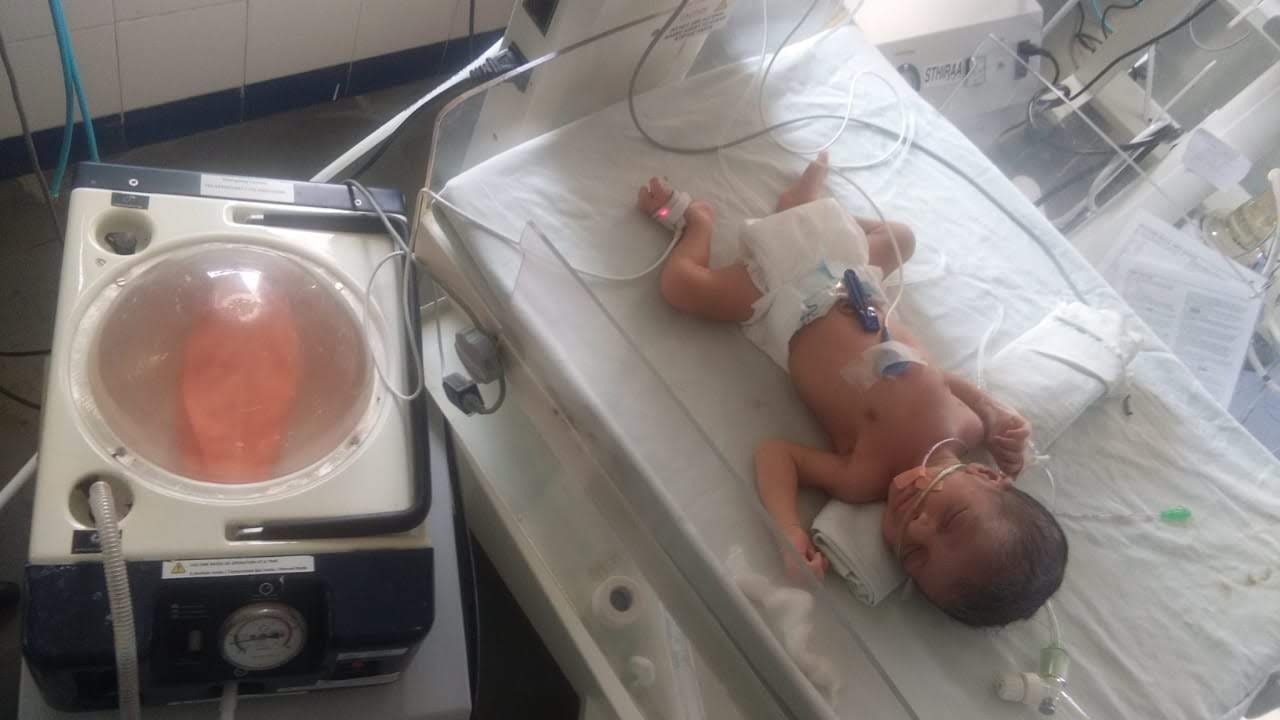 "On a night shift at the hospital we saw an auto come into the emergency department. Three people came out of the auto carrying a new-born. The doctor's started the medical procedure immediately but they couldn't save the baby," Nachiket tells TBI.
The friends later found out that the baby had been a premature who suffered complications due to severe lack of oxygen. Lack of appropriate medical support at the hospital where the baby had been delivered, and the time it took to transfer the baby to another hospital proved fatal for the infant.
In a country where about half of the children born are, at the most, 5-10 km away from a care centre, the number of babies who die due to lack of medical facilities is staggering.
The Product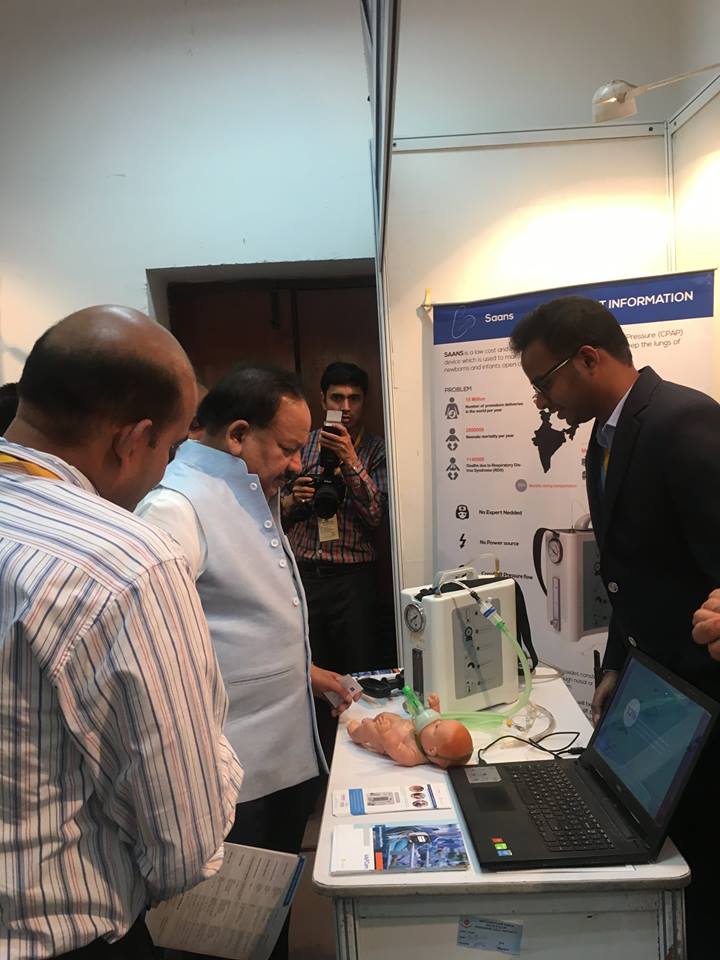 Sometimes deliveries may not always be in a hospital with respiratory support systems for premature babies. In some cases, well-equipped ambulances may do the needful but what of those who cannot afford to wait for an ambulance or where the ambulance too, is does not have the necessary equipment?
"Currently, all neonatal CPAP machines (including bubble CPAPs) require electrical power or compressed gases to function—neither of which is easily available in primary care centres, or during transport in low-resource settings," says the COEO team.
Saans is the world's first neonatal CPAP device that can be powered in multiple ways – through direct source electricity (including a vehicle's electrical supply), a rechargeable battery, compressed gas, or even manual air pumping.
When there is a power cut, as is very frequent in many parts of India and Saans can be operated manually with the help of a standard Bag Valve Mask bag (BVM) (a manual resuscitator) fixed to it. The system, patented by COEO, converts a variable flow of the BVM bag to a continuous and controlled airflow.
---
You may also like: 76-YO Bengaluru Man Fulfills Friend's Dying Wish, Builds Cancer Ward for the Underprivileged!
---
Saans, which took over three years testing and finalisation, has already started showing results. Nitesh shares a story which has a permanent place in the team's heart.
"We deployed a Saans device to a low-resource hospital in Kolar, Karnataka. This hospital has a high volume of premature births but lacks infrastructure to support the existing CPAP machines. A few days after we gave them the device, we got a message from the doctor saying that there was a premature baby admitted to the hospital," says Nitesh.
The doctor said that they had tried everything they could to save the baby. When nothing else worked, they tried Saans and the baby's condition improved within two hours. At night, during a power cut, the device continued to work thanks to its manual settings.
"The doctor messaged saying that the baby survived because of Saans and he congratulated the whole team for developing the device."
VAPCare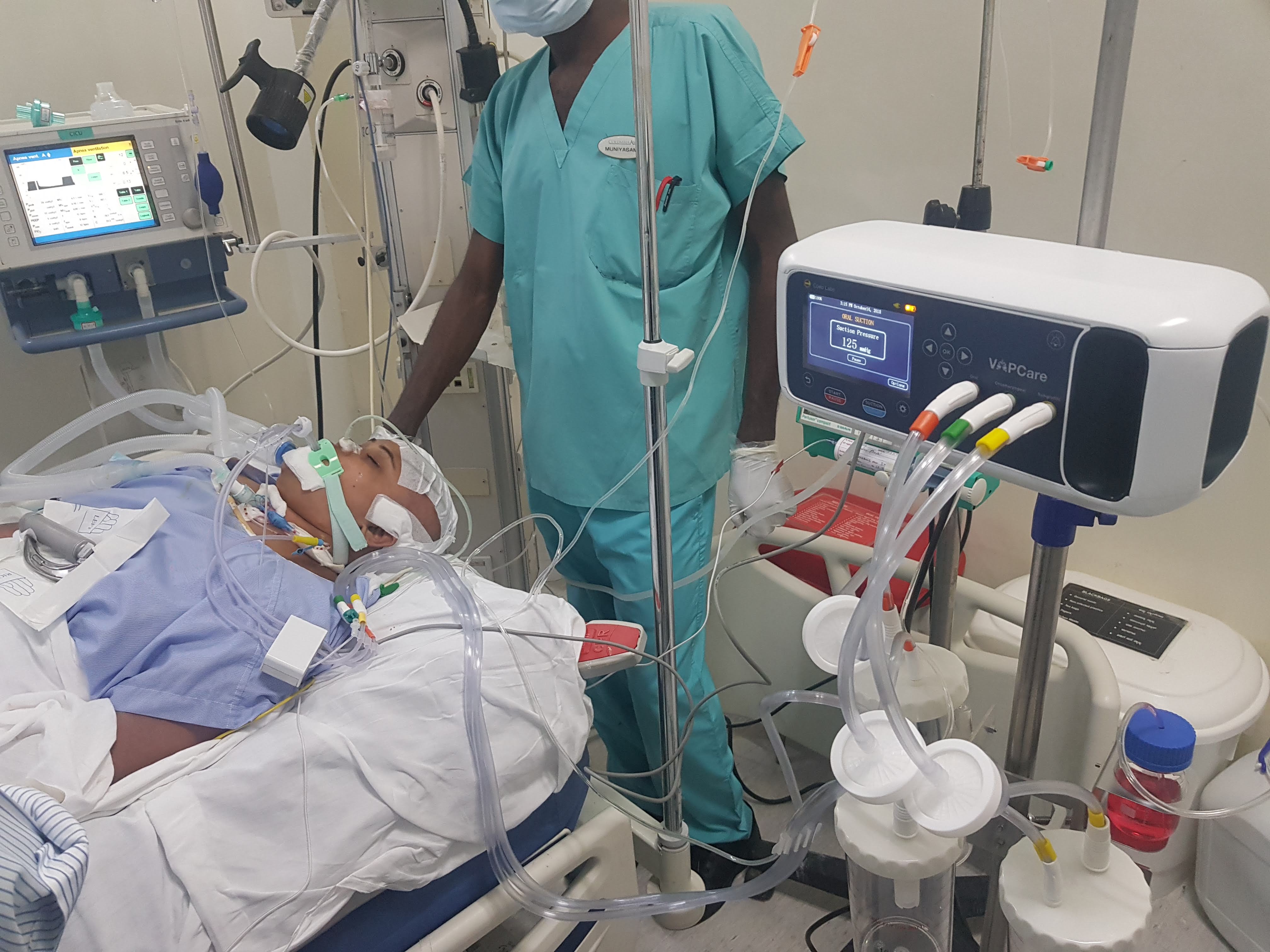 The nasal and oral secretions on mechanical ventilators may cause infections in a patient on ventilator. Over 37 per cent of patients in India, admitted in an Intensive Care Unit (ICU) get infected due to the secretions entering their lungs.
"A 30-year-old male met with an accident while riding his two-wheeler. As he had sustained head injuries, he was admitted to the ICU. Doctors said that he will be off the ventilator within two days and he will be fine after that. When we came to check the patient after 3 days this patient was still on the ventilator and his family was talking about selling their property and ornaments to pay for his care," shares Nitesh.
Shocked, the duo inquired about the patient. The doctors told them that the patient had caught an infection named "ventilator-associated pneumonia", one of the most common and critical hospital-acquired infection.
"We followed the patient for the next 10 days and he did not survive," Nitesh informs.
The product
COEO labs is working on a holistic system to provide targeted suctions for the secretions to prevent "ventilator-associated pneumonia". The device has a suction port each in the oral, oropharyngeal and subglottic regions.
A lumen, connected to the suction ports and riding over an existing endotracheal tube, controls the suction based upon the sensor input. VAPCare also does oral lavage (rinsing out the oral cavity with an antibacterial solution through the disposable lumen) according to the user-defined timing for the maintenance of oral hygiene
---
You may also like: This Low-Cost Innovation By IISc Scientists Can Be a Medical Game-Changer for India!
---
According to the COEO team, the device has 6 functions:
1. Secretion management by automatic suction of three locations—oral, oropharyngeal and subglottic region.
2. Sensors-enhanced, electronic timer based suction to detect the presence of secretions in the suction catheter. The device will continue the suction till it finds no secretion in the suction catheter.
3. Can electronically control suction pressure for each suction port.
4. Can detect the blocked ports of the suction catheter.
5. Can clear the blocked ports of suction catheters.
6. Perform oral lavage by introducing liquid inside the oral cavity and removing the liquid after sometime to maintain oral hygiene.
The advancements in medical technology in India are still sluggish. And, the better and improved medical devices are only serving those patients who can afford them while the people who cannot, suffer in the gap.
With COEO labs, Nitesh, Nachiket and their team are trying to find innovative ways to bridge this gap with affordable technology.
For in-depth information on the machines or to purchase them you can visit their website here.
Know more about the ATL Tinkering Innovation Marathon here.

(Edited by Saiqua Sultan)
Like this story? Or have something to share?
Write to us: contact@thebetterindia.com
Connect with us on Facebook and Twitter.

Find Out What's Good Today – Sign Up Now!
We bring stories straight from the heart of India, to inspire millions and create a wave of impact. Our positive movement is growing bigger everyday, and we would love for you to join it.
Please contribute whatever you can, every little penny helps our team in bringing you more stories that support dreams and spread hope.