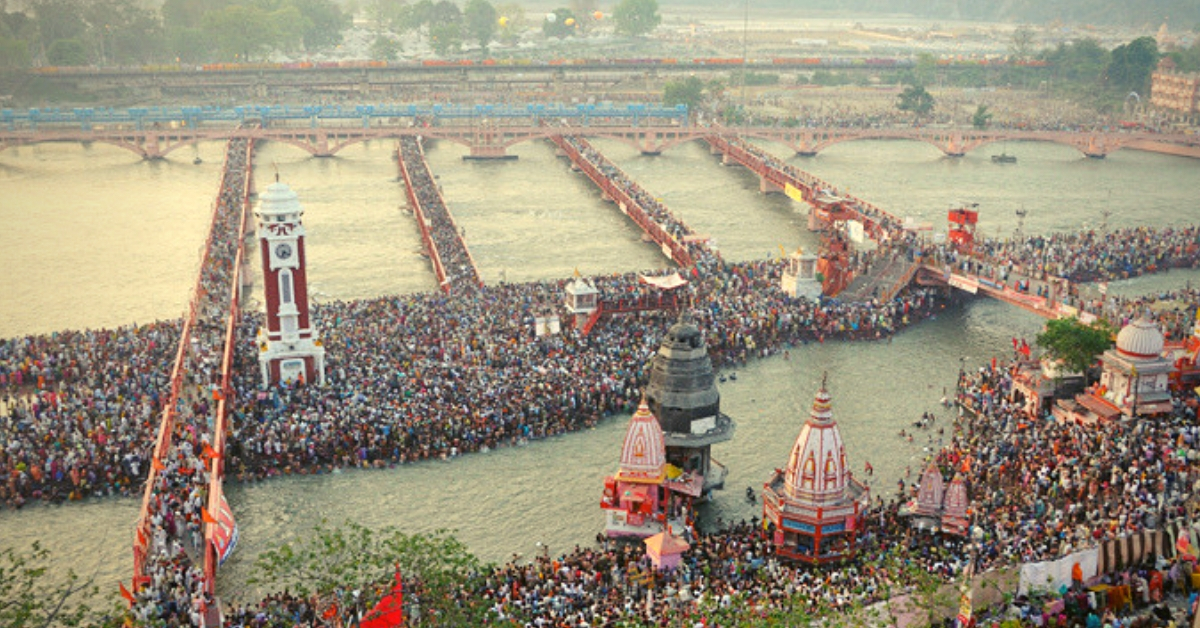 With almost 150 volunteers spread across the mela grounds, the camp has reunited more than 22,000 children and 12,50,000 people in the last 73 years- all for free!
Many of us have grown up watching Hindi movies that revolve around a recurrent trope—protagonists lose a loved one in the Kumbh Mela, only to reunite years later under the most dramatic circumstances.
While such scenes added plenty of melodrama to the movie, the 'Bhule Bhatke Shivir' at Prayagraj ensures that reality is fortunately very different.
Bhule Bhatke Tiwari: The Saviour of the Lost
Every six to twelve years, millions of devotees gather for the Kumbh Mela held in four different locations. Of these, the Prayagraj Kumbh Mela, at Allahabad, is one of the biggest—in 2013, approximately 120 million people participated in the festival.
Amidst the mass merriment, losing a loved one has been a common hazard.
In 1946, 18-year-old Raja Ram Tiwari, an Allahabad-based farmer, found the purpose of his life in mending this.
Raja Ram was wandering around when he found a helpless elderly woman lost in the overwhelming crowd of the Kumbh Mela.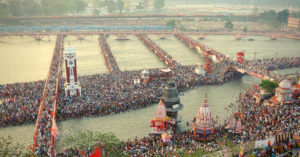 He helped her find her way home, and overcome with gratitude, she touched his feet. Moved by the gesture, Raja Ram decided to continue helping people.
From the next day onwards, he stepped out with a tin loudspeaker, screaming and announcing names of the lost. That year, he singlehandedly managed to reunite more than 800 people and consequently earned the sobriquet—Bhule Bhatke Tiwari.
Over time, he roped in the other members of the family, and in the last 73 years, the continuous efforts of Bhoole Bhatke Shivir has reunited more than 22,000 children and 12,50,000 people.
Today, the mantle has been passed to his youngest son, Umesh Tiwari.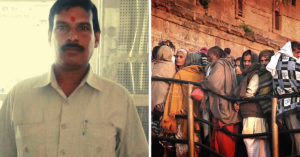 Carrying the Legacy Forward
Umesh grew up seeing a constant stream of devotees visiting his home every Ardh Kumbh Mela or Maha Kumbh Mela, which occur once in 6 and 12 years, respectively.
---
Also read: Floating Post Offices At Kumbh Mela Will Turn Your Selfies into Stamps!
---
Speaking to The Better India, Umesh said, "My father was a very benevolent person and being his son is a privilege. But, while starting something is important, continuing it is even more crucial, and this is why he got the rest of the family involved in this work as well. I began working with him from the age of 20, in 1995, but beyond following my father's footsteps, what drove me was a sense of satisfaction. Every time, someone is reunited with their loved one, the smiles and the blessings fill my heart. It is this that continues to drive me, and will drive generations of our family."
Kumbh Mela 2019
After the death of his father in 2016, Umesh took over the entire responsibility of the camp. Assisted by his 18-year-old son Ashutosh, and 150 members from all across the country, he now does what he calls 'God's work.'
"People, who come to our door, are either our friends or family, or 'bhule bhatke' (lost), and we welcome them with love, free meals, blankets and a promise that they will reunite with their family. In many cases, we have even booked tickets for the lost pilgrims to return to their homes safely," he said in a proud voice, cutting through the cacophony of loud microphone announcements that will continue to fill the air till March 4, the last day of the mela.
On an average day, the camp successfully reunites almost 250 people, and the number reaches as high as 1700 people on special days like the purnima (full moon). The process can take about an hour, or go on for a few days.
And, all this is done for free.
Umesh adds that the camp has been lucky with benefactors donating graciously towards the cause. "Even the camp structure and other basic facilities like free electricity and water, are given to us by the government," he said.
With the Ardh Kumbh Mela on full swing from January 15 this year, the Uttar Pradesh Police has joined hands with the camp and has so far, reunited almost 24,000 people.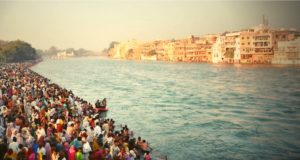 The shivir has also embraced technological assistance for higher efficiency. But, Umesh quickly mentions that while computerised methods (social media and the like) are useful to an extent, most people still get rescued via the traditional methods.
And what exactly are these traditional methods?
The shivir is marked with by huge yellow balloons with the words 'Bhoole Bhatke Shivir,' which the pilgrims can see from a distance and reach for help.
People come in with chits bearing the names of those they were with, and volunteers announce the names on the microphones, that are connected to speakers blaring out messages across the area.
"We have more than 150 volunteers manned at crucial points, who carry out search proceedings of the lost devotees. Most of the time, these devotees come from rural areas and are not comfortable with technology. Which is why this method always works," said Umesh.
While the two events form the crux of their lives and their onerous job, in the years they do not occur, the family goes back to its usual profession of farming.
Like his father, Umesh is not fond of being called a saviour. With utmost humility, he says, "As humans, we must help other humans in distress. A job is always not what earns you money, but also what earns you satisfaction and love. This earns us the latter so we don't need praises, only more help and support so that more people can be rescued."
Spoken like a true hero!
(Edited by Gayatri Mishra)
Like this story? Or have something to share?
Write to us: contact@thebetterindia.com
Connect with us on Facebook and Twitter.