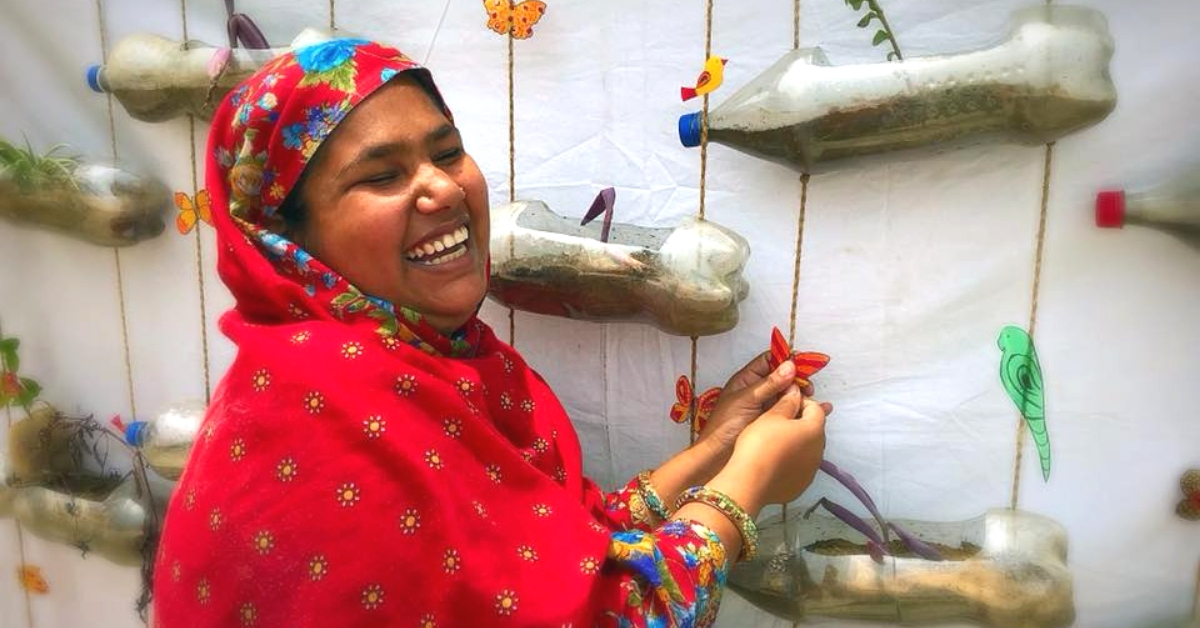 Gulmeher began operating as a social enterprise with a group of 30 women, mostly waste-pickers, mobilised from the Ghazipur slum. So far, the women have recycled 7,000 kilograms of paper and kept 15 tonnes of discarded flowers out of the landfill.
"Aasman aur zameen ka farq hai," 30-year-old Salma tells me, comparing her earlier circumstances, with life as she knows it now: there's a world of difference.
Hers is one of the 400 families living sandwiched between the Ghazipur landfill in East Delhi and the city's largest wholesale meat and flower markets.
The landfill is the recipient of a third of the capital's garbage, sewage, and construction debris. It is estimated to receive upwards of 2,500 tonnes of garbage every day.
That's about the weight of 11 Statues of Liberty!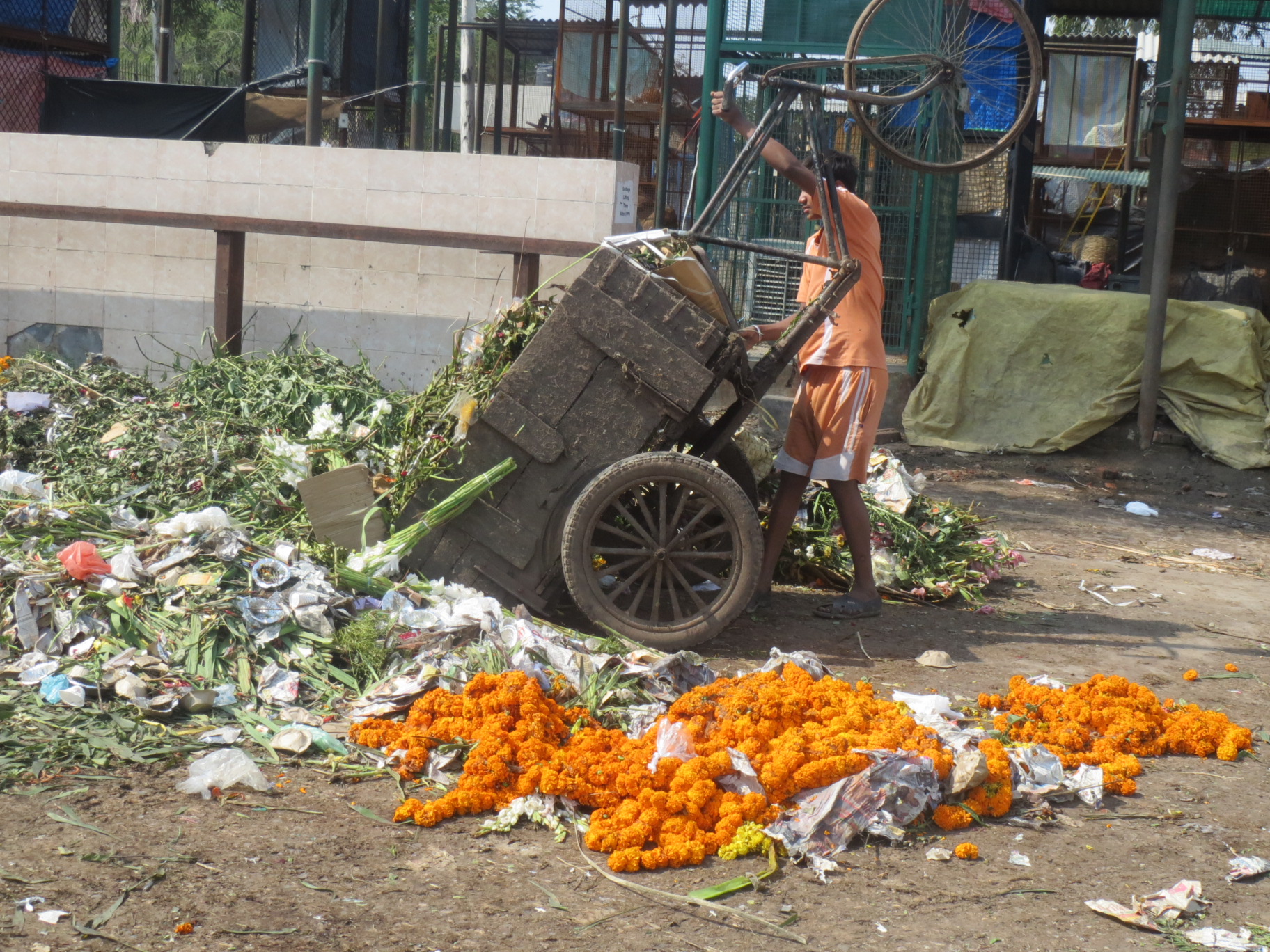 The communities living around the dump are largely migrants from West Bengal, Bihar and Uttar Pradesh, who eke out a living from the landfill. The men scour the mounds of garbage for any useful waste they can find, while the women segregate and prepare it to be sold to scrap dealers.
As you can imagine, scavenging on Ghazipur's waste mountain—prone to spontaneous fires and frequent collapses—is a dangerous task with meagre returns.
"Rain or shine, we would spend all day on this dump, even eating our lunch surrounded by its stench and squalor," Salma recalls.
Today, she and thirty other women like her—who've known no life but the one on the landfill—are employees and shareholders in the Gulmeher Green Producer Company. They make diaries, calendars, and photo frames with recycled paper and adorn them with delicately-pressed dried flowers and leaves.
This is laborious work, requiring long hours and fine movements.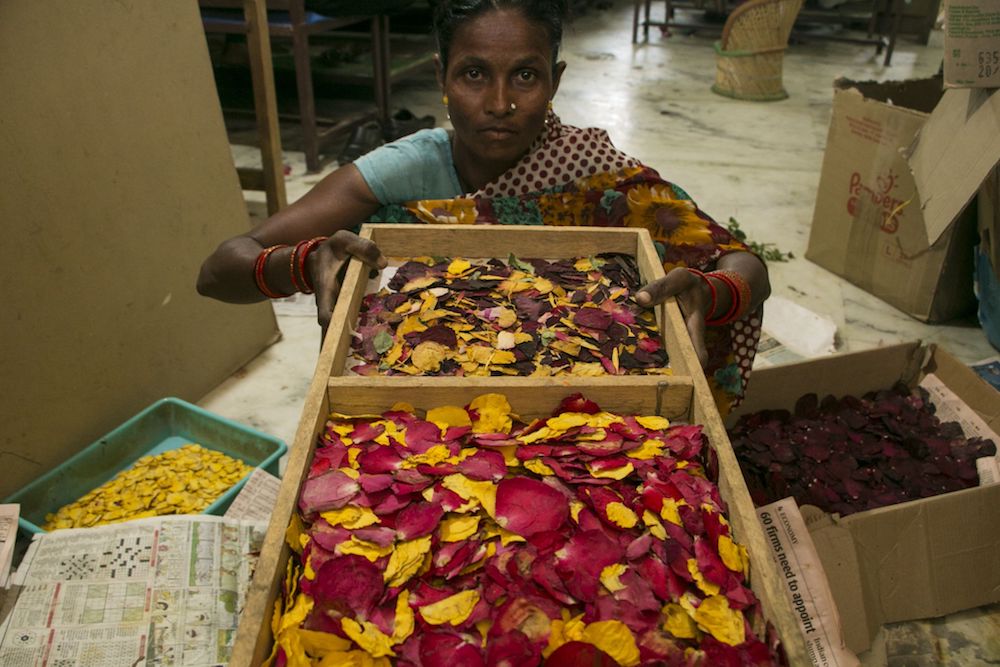 The flower market of Ghazipur lacks a cold storage facility, so heaps of flowers that remain unsold in the morning make their way to the garbage every day.
At dawn, the women of Gulmeher make their way to this market to collect the flowers which are dried in the sun. Then, the petals and leaves are painstakingly separated, ready to be turned into art.
In 2013, former infrastructure and financial services major IL&FS built a waste-to-energy plant to divert waste away from the Ghazipur landfill—a move that threatened to leave hundreds of waste-pickers out of jobs.
As a way to provide alternative livelihoods to the affected communities, the company, through its CSR wing, Nalanda Foundation, began implementing a slew of initiatives in the area, one of which was Gulmeher.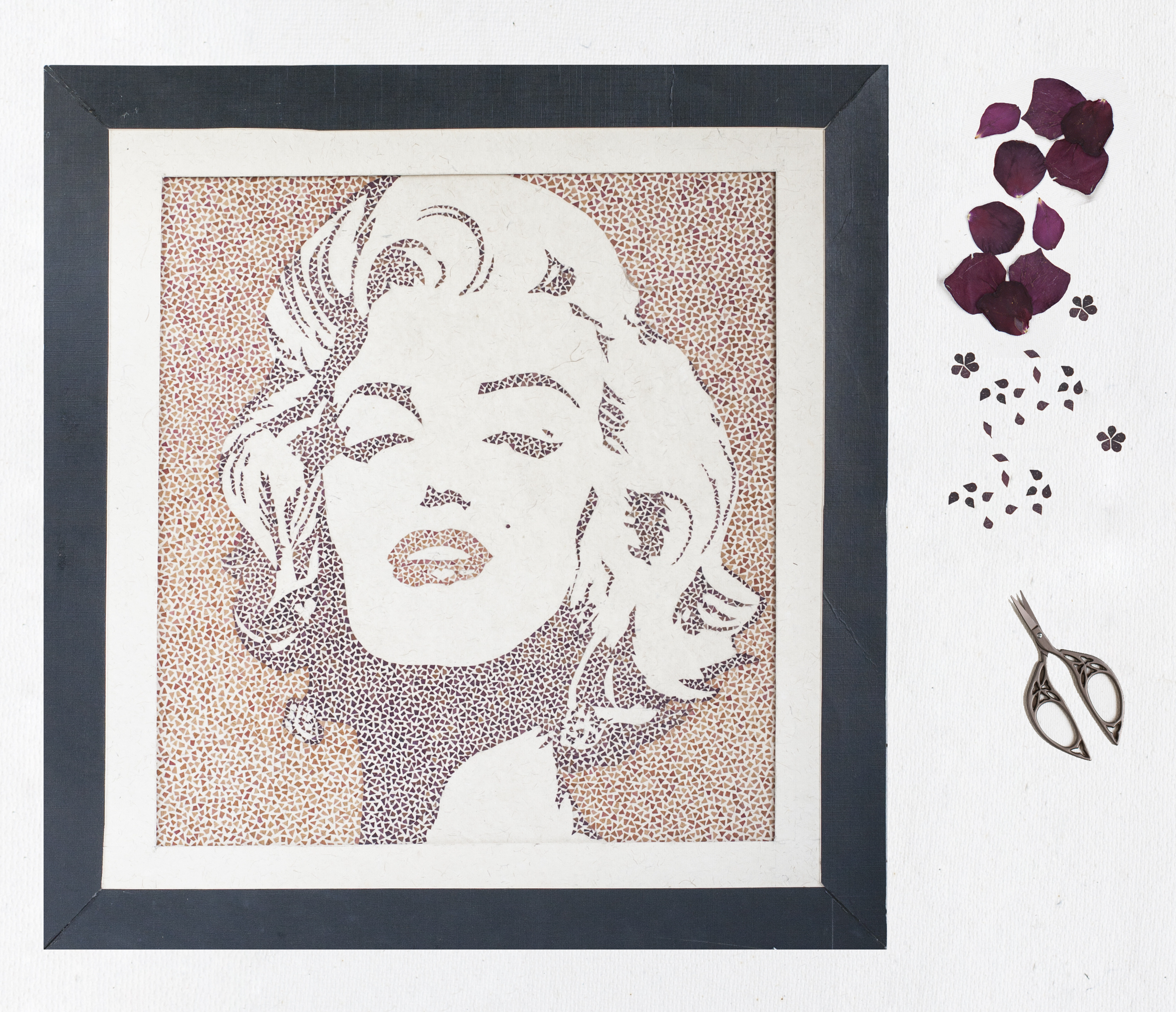 Gulmeher began operating as a social enterprise with a group of 30 women, mostly waste-pickers like Salma, mobilised from the Ghazipur slum. Its aim was to leverage the women's expertise in waste collection and segregation, and give them professional training in skills that would help them move out of waste-picking and into safer, more hygienic jobs.
Women were Gulmeher's main focus because, while the men found alternate employment as rickshaw operators and store hands, it was important to create employment for the women in the vicinity of the slum so they could be close to their homes.
Early efforts to engage the women with literacy and financial management classes proved unsuccessful, says Anurag Kashyap, mentor at Gulmeher.
So it was decided to build on skills the women already had—embroidery and tailoring, for instance, and create eco-friendly, zero-waste products from raw material that was available in abundance around them.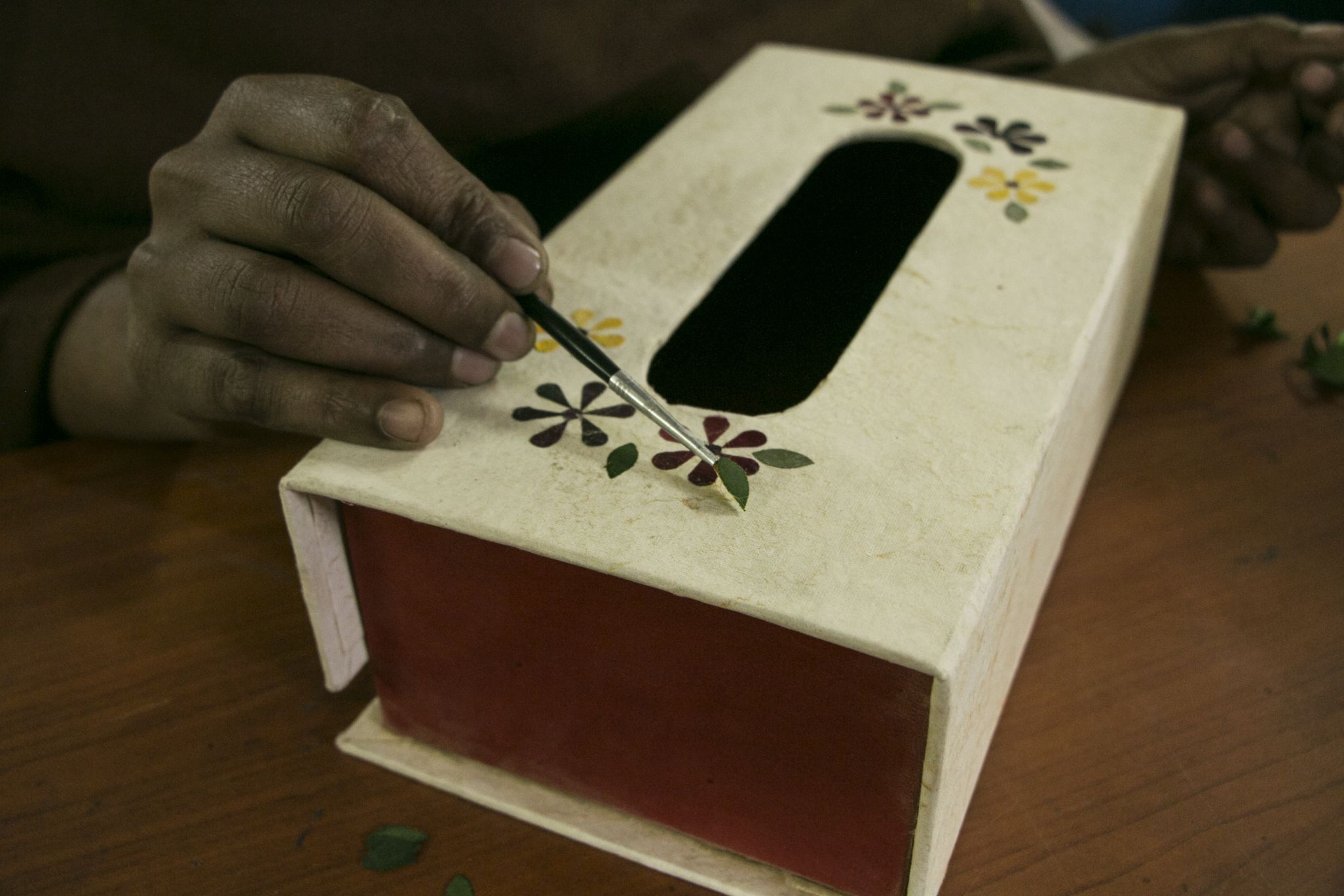 Under the expert guidance of a professional designer, the women learnt how to painstakingly cut and arrange flower petals and leaves into intricate patterns inspired by nature and wildlife.
"For the first few months, the women had a hard time sitting even for a few hours because they were accustomed to being on the move all day—picking and sorting waste," Kashyap remembers.
They've come a long way since—making rudimentary greeting cards and gift boxes and intricate, life-like portraits of Hollywood starlets.
---
You can buy a range of handcrafted Gulmeher stationery and gift items from The Better India Shop here.
---
Today, Gulmeher's 'Rang Birangi' unit is bustling with activity. With Holi round the corner, the women are busy turning flowers and vegetables into safe, chemical-free colours.
Upstairs, the terrace is a patchwork of marigolds, roses and spinach drying in the sun, ready to be powdered and mixed with flour to make natural colours for the festival.
From a clutch of women turning haldi (turmeric powder) into fiery ochre dust, Naseema Bibi pulls away to talk to me. This is good, safe work that keeps her out of the landfill, she says. Between February and March, she begins her days early, going to the flower market to collect the discarded flowers before they wither in the heat or end up as garbage.
Armed with a few kilos, she then heads back to the unit to begin the work of drying, crushing and packing.
It earns her an income of up to Rs 10,000 a month that she remits back home to East Medinipur to pay for the education of her four children.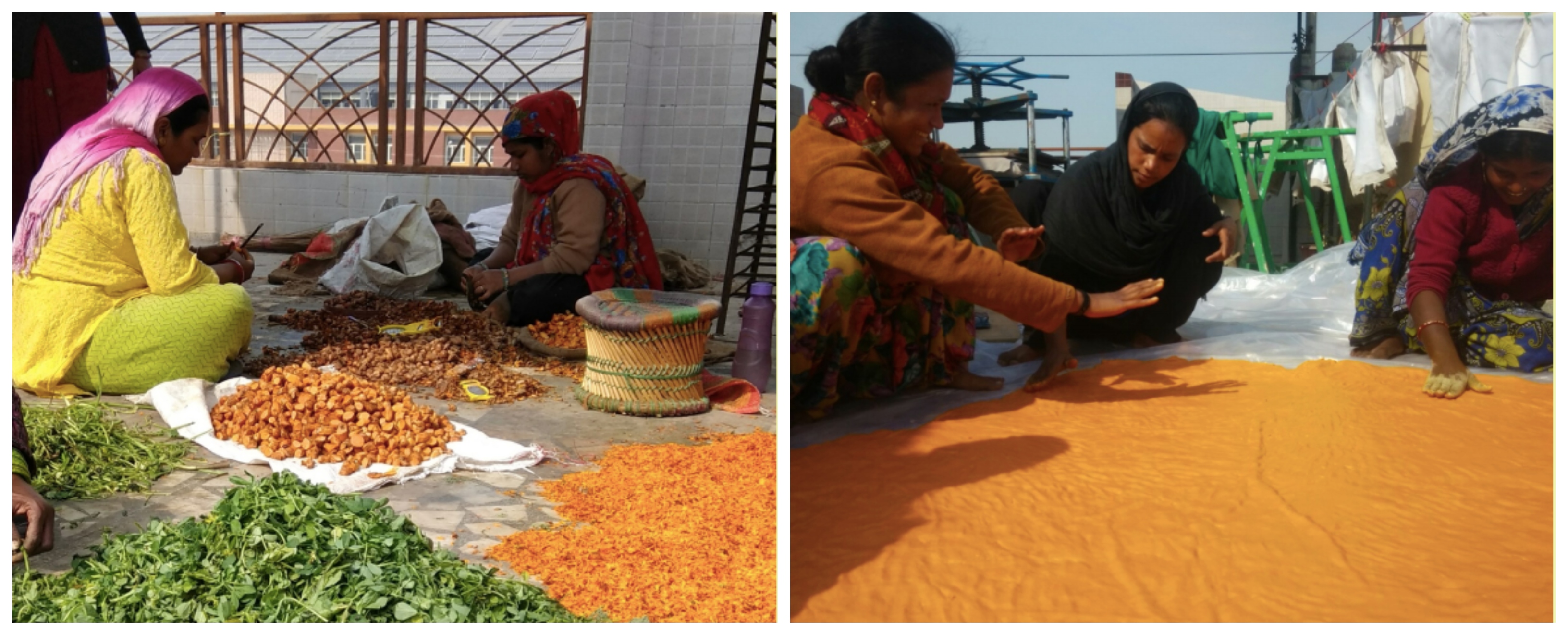 "I used to earn about the same while picking waste as I do here," says Salma, but, as she's told me earlier, there's a world of difference in the work she's doing now.
As a full-time employee of Gulmeher Green Producer Company, the work is stable, and she receives a regular income which is credited to her bank account. She's saved enough money over the last five years to buy a plot of land and invest in gold ornaments for her daughter.
Others, says Kashyap, have used their savings to build independent toilets and upgrade from tarpaulin shelters to brick and mortar dwellings.
"You won't understand until you come here and see for yourself," Salma urges me more than once, as we talk to visit her to fully comprehend the change it has brought to her life.
While there have been marked economic benefits from Gulmeher's initiatives, the social outcomes have been most satisfying, Kashyap says. Because she works fixed hours, Salma has been able to enrol in an open university and spend a few hours every day, studying for her upcoming exams.
"We also fall ill far less," she and Naseema say, which means a considerable saving on medical bills.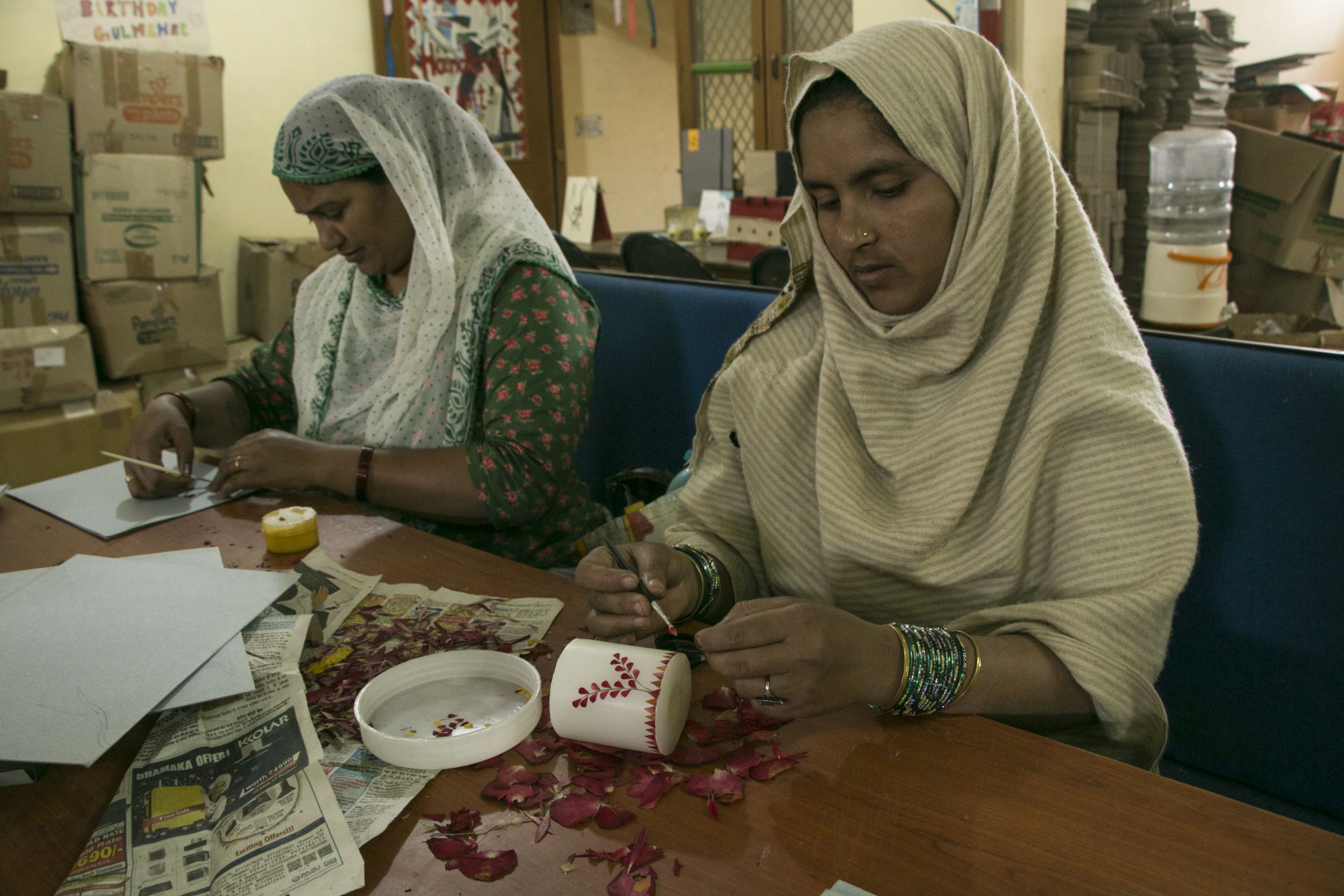 It's not all roses at Gulmeher, however.
With the collapse of IL&FS last year, the NGO lost its primary source of funding. Kashyap, former Associate Director of IL&FS' Nalanda Foundation, found himself faced with the decision of shutting down Gulmeher. This refused to dampen the artisans' spirits. Recognising that there was no more external support, they rallied to protect the venture and keep it running.
"That really encouraged us to find a way to stay afloat and become financially independent by expanding our product range and tapping new markets," says Kashyap. He now funds Gulmeher personally and with the help of donations and grants.
This hasn't been easy because most of Gulmeher's products see seasonal demand and compete with low-priced, mass-produced items. In the last year, the women have forayed into new areas, and their skills evolve to keep up with his vision. They have started taking bulk orders for customised products and make corporate gifts from new categories of waste—recycling old newspaper and discarded plastics into stationery and stitching cloth bags.
So far, the women have recycled 7,000 kilograms of paper and kept 15 tonnes of discarded flowers out of the landfill. Gulmeher's products carry stories of transformation, but they're beginning to command a market based on their professional craftsmanship, not just because they tug at the heartstrings.
---
You can buy a range of handcrafted Gulmeher stationery and gift items from The Better India Shop here.
---
We're sitting atop a virtually inexhaustible resource, the gold mine of the future—garbage. So, once we carve out a niche for ourselves, it's just a matter of scaling up and replicating this model to empower many more waste-pickers across the country with sustainable alternative livelihoods so that they can lead a life of dignity," Kashyap says.
Feature image source: Facebook/Gulmehar
(Edited by Shruti Singhal)
Like this story? Or have something to share?
Write to us: contact@thebetterindia.com
Connect with us on Facebook and Twitter.

We bring stories straight from the heart of India, to inspire millions and create a wave of impact. Our positive movement is growing bigger everyday, and we would love for you to join it.
Please contribute whatever you can, every little penny helps our team in bringing you more stories that support dreams and spread hope.
Tell Us More