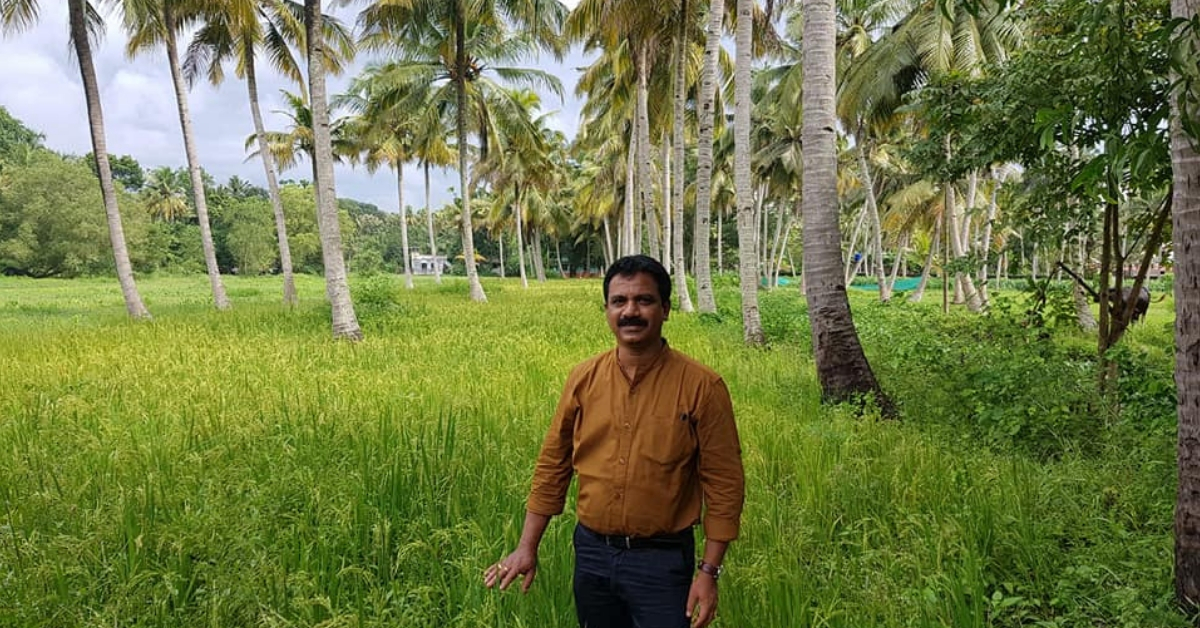 The change began in January 2014—the year declared by the UN as the International Year of Family Farming (IYFF).
Between 1990-1997, a fairly high number of cancer cases were documented across the Karunagappally taluk in Kollam district of Kerala.
While there were many theories about the cause, the popular opinion was that the prolonged exposure to high natural radiation from the mineral reserves along the Chavara-Neendakara coast was to blame. However, there was no conclusive evidence of the same.
Two decades later, Karunagappally was struggling to shake off the cancer label, and this confounded a group of upper primary school students from Kulasekharapuram, a gram panchayat in the taluk.
During a science exhibition, they reached out to Binesh Vijayarajan, the Panchayat Agricultural Officer.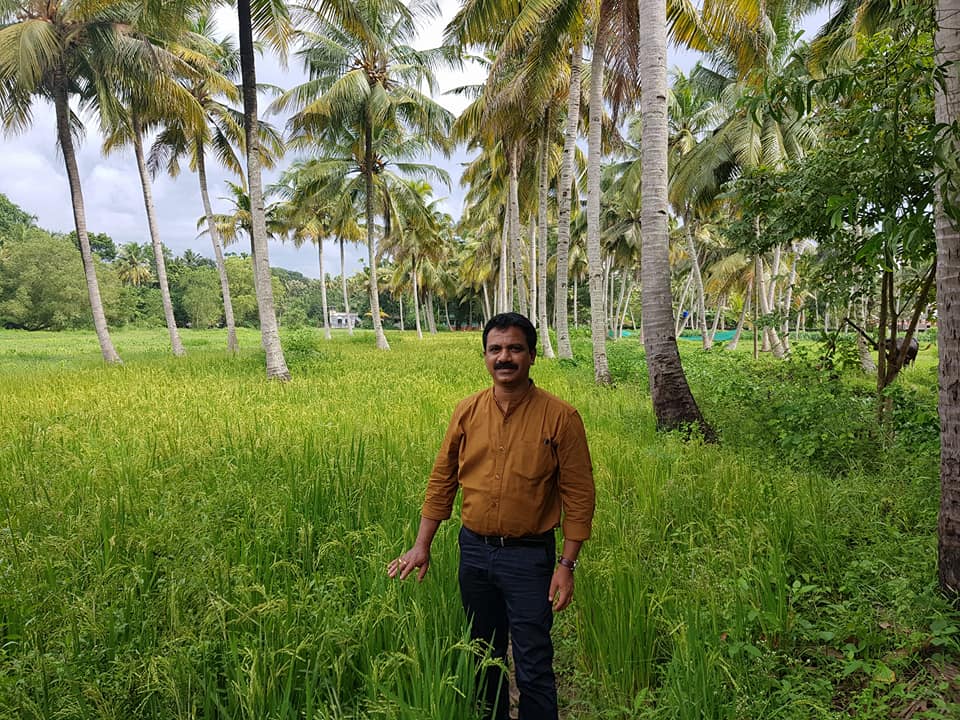 "It was in 2013, when about ten schoolgoing children, questioned me about the unfortunate label and they wanted to know if we could do anything to change it. At that point, I didn't know what to say, but I didn't want to disappoint these young minds either," he says to The Better India.
Binesh was aware of the situation, but the question by the children made him ponder.
"I asked them to make a list of 100 houses in the vicinity and prepare a questionnaire for the residents. It included questions about their food habits, medical concerns and most importantly, where they were sourcing their food from. The data collected was an eyeopener. None of the households were growing their food; they were purchasing vegetables and fruits from local markets. These were usually sourced from Tamil Nadu and were heavily laced with pesticides," he explains.
Binesh wanted to understand the extent to which the pesticides had penetrated the produce.
"We then visited the local markets early in the morning, when a fresh load of produce had just been delivered and purchased half a kilo of the most commonly consumed vegetables like tomatoes, ladies' fingers and chillies. We took the produce to the Kerala Agricultural University (KAU) where we were helped by Biju Mathews, an expert in pesticide studies, and found that the amount of pesticides in the vegetables was 200 per cent higher than the permissible limit. It was shocking," remembers Binesh.
He discussed the situation with the Panchayat committee, and they offered him their full support to come up with a solution.
"We began with suspending the license of the five main pesticide dealers in the area. The second part of the plan was to introduce organic farming to every single household. We felt it was necessary to make the citizens aware of the poisons they were unknowingly consuming," says Binesh.
The change began in January 2014. Coincidentally, the UN also declared the year as the International Year of Family Farming (IYFF).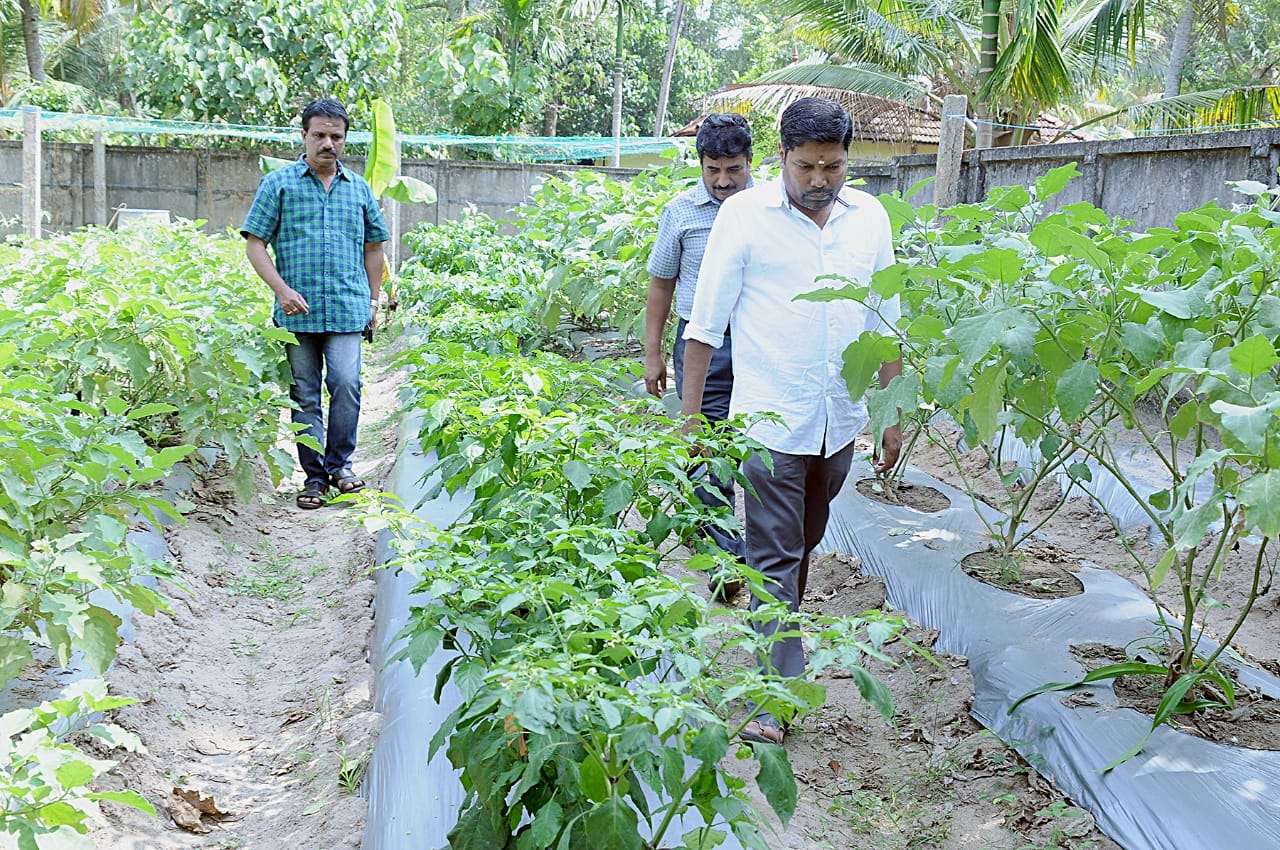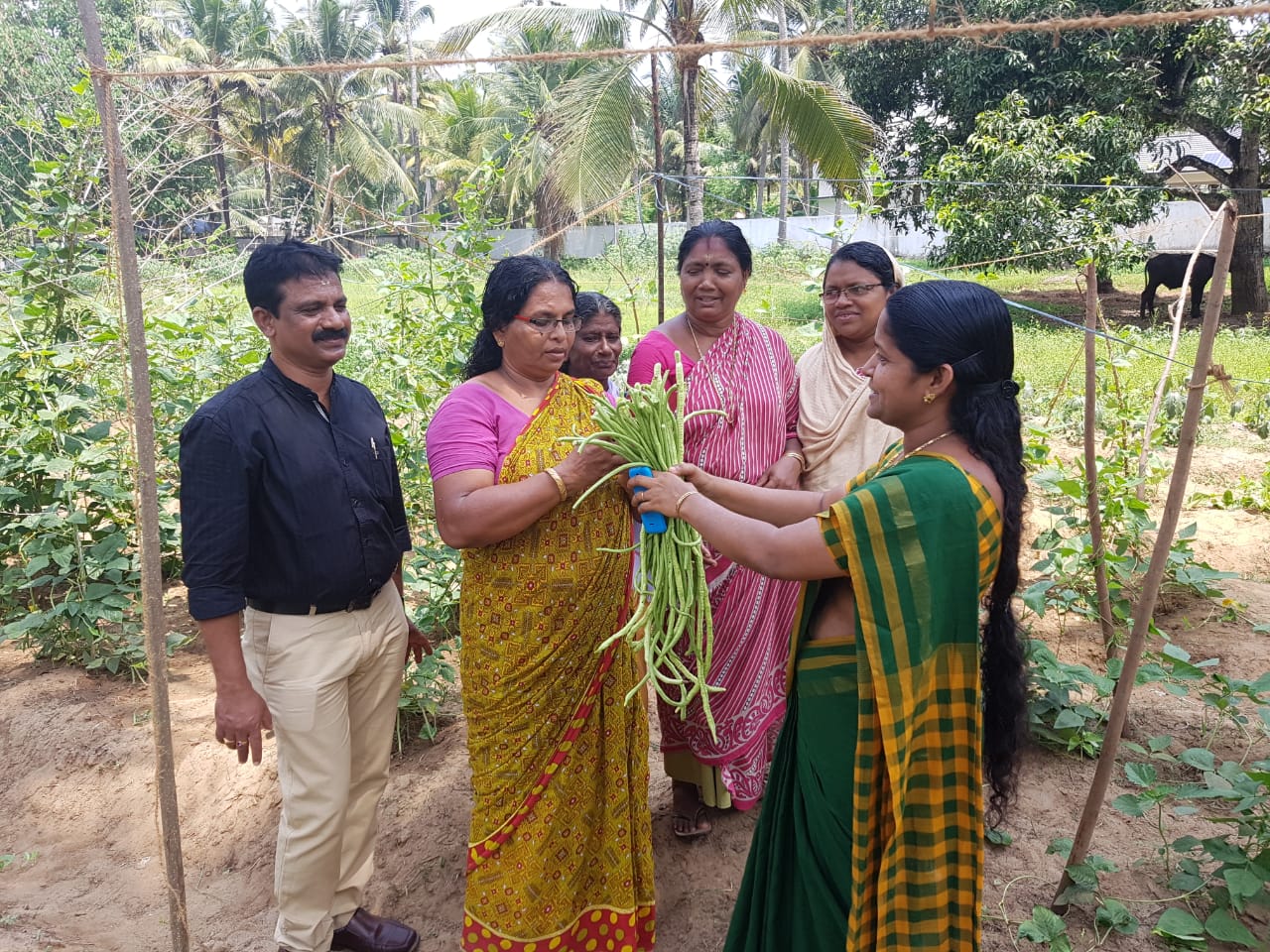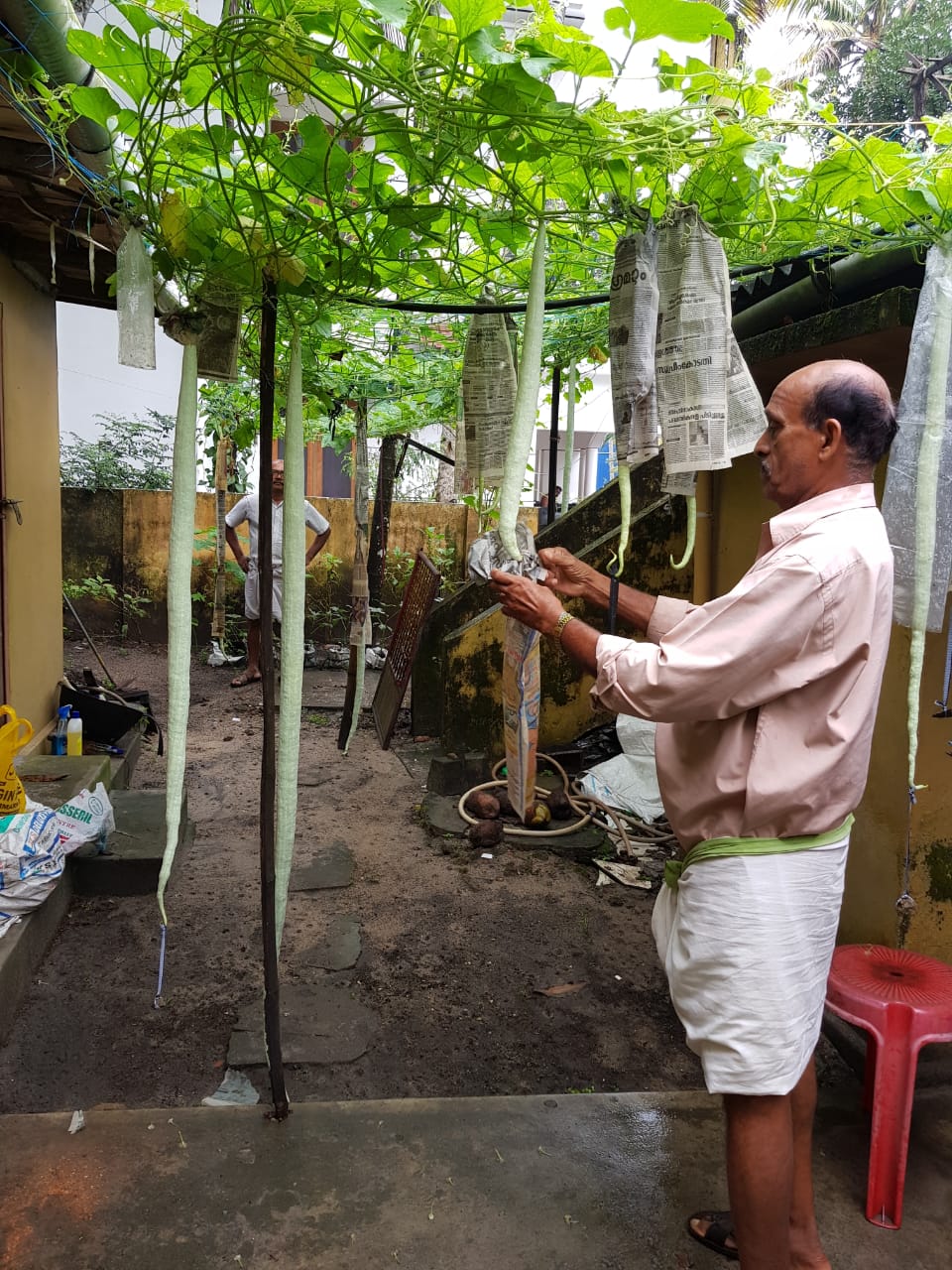 "To emphasise that the produce grown in the area would be '100 per cent pesticide free,' boards stating the same were placed across the Panchayat. We also thought of approaching the residents, but before that, we wanted them to understand the harmful effects of pesticides and chemical fertilisers. At the time, there were roughly about 13,000 families in the area, and we supplied each one of them with tomato, brinjal, cowpea, chilli and ladies' finger seedlings, along with 1.5 kg of organic manure," Binesh says.
But the fact that these people would not persist in their efforts couldn't be ruled out.
"So, we decided to form squads in every ward—23 in total—which would monitor the progress of the farming done at homes in their jurisdiction and offer any form of aid or assistance if needed. We brought street theatre groups on board, organised meetings and gram panchayat get-togethers, just to drive home the message," Binesh adds.
Their motto became 'Food Safety, Safe Food Production, and Sustainable Development.'
Because the region is inherently fertile, the people reaped a bumper harvest and this motivated them to grow local tuber crops like kappa (tapioca), chena (elephant foot yam), chembu (colocasia), kachil (greater yam) and nana kizhangu (lesser yam). They also started cultivating ginger and turmeric in 2015.
"We realised that our hard work had paid off, when people began to tell us there was no greater joy in consuming the food that was the result of their own blood and sweat," Binesh proudly adds.
Binesh's idea coupled with Panchayat committee's support and community effort resulted in a successful organic revolution in Kulasekharapuram, and the state government has proclaimed it as a benchmark for the rest to follow.
In fact, Kulasekharapuram has bagged the award for 'Best Organic Panchayat in the State' three years in a row (2014- 2017).
Binesh mentions that the residents adopted some innovative farming practices including setting up rain shelters to ensure vegetable production through unfavourable seasons to the organic management of a whitefly outbreak across coconut groves. They also embraced organic waste management methods.
Here, we would like to mention some of Binesh's remarkable projects that are truly worthy of appreciation.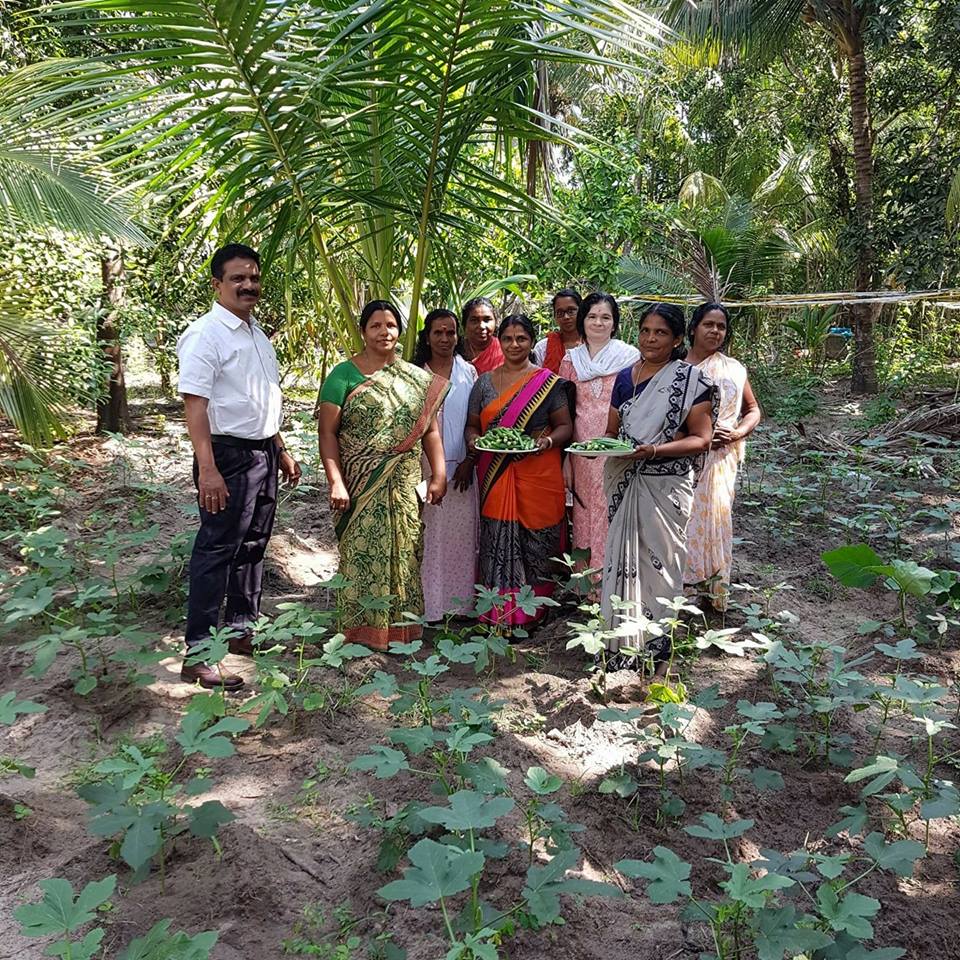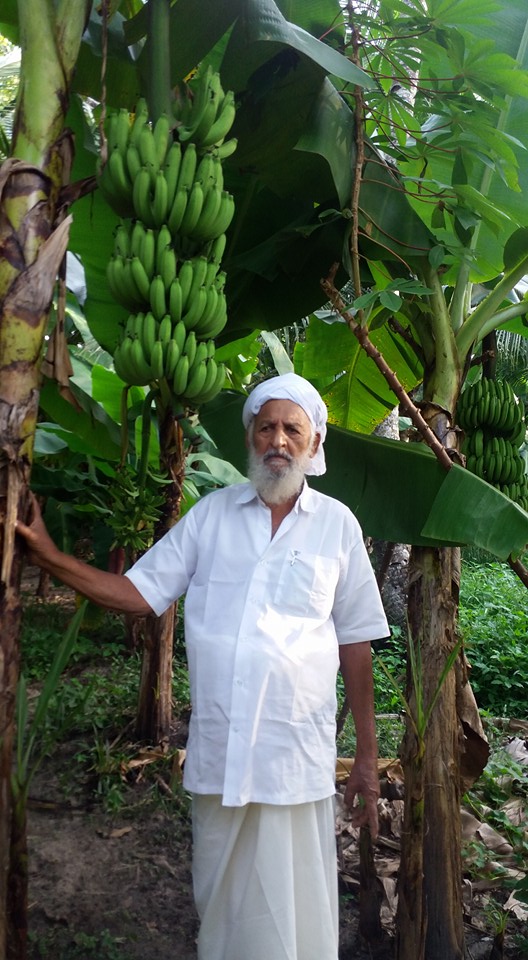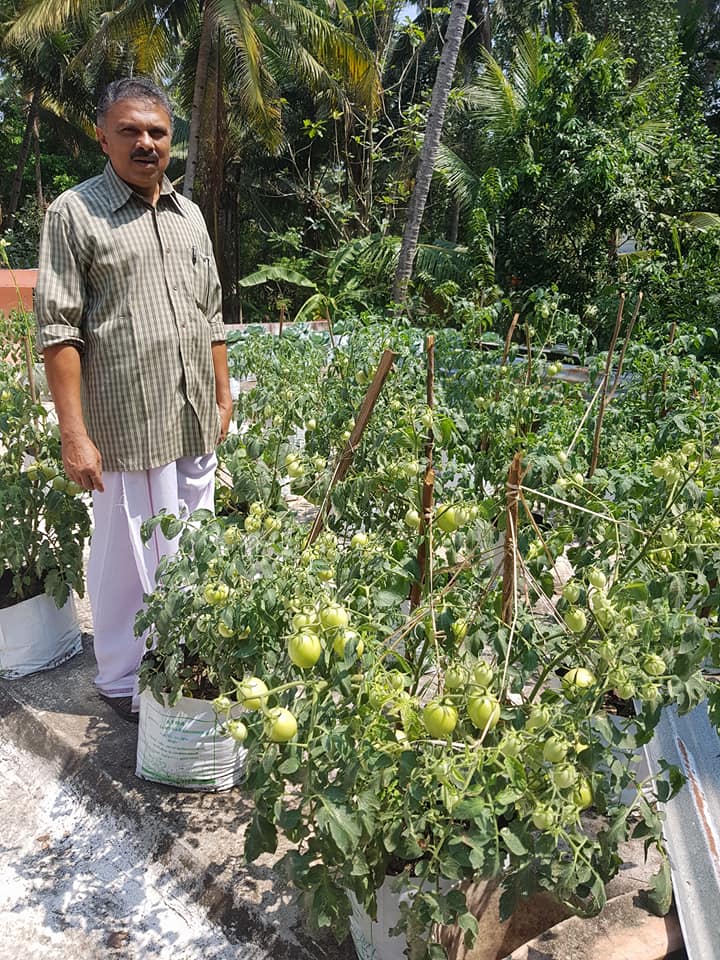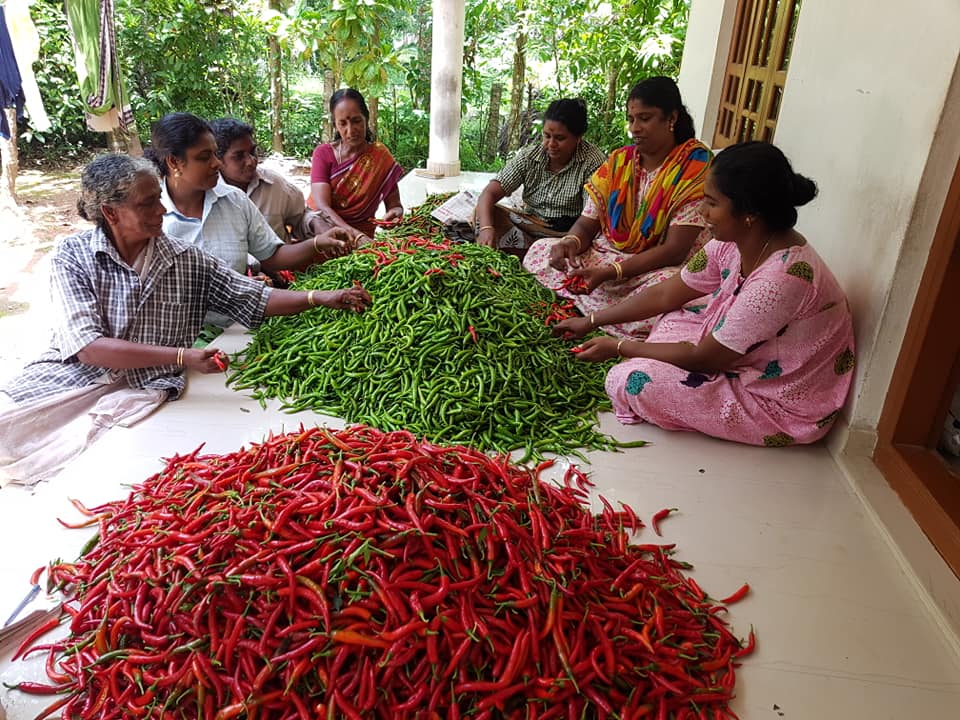 The first one is the organic upland paddy production initiative that has helped people pursue small-scale paddy cultivation under coconut groves since 2013.
"In Kerala, we are blessed with a brief spell of rainfall before monsoon every year, which is known as 'summer shower.' While it is not enough to carry forward fully-fledged production, I thought of devising a way that would utilise this resource for the cultivation of paddy. Following the shower in the first half of May, we prepare the land and sow the seeds, that are then grown under the shade of coconut palms and receive necessary moisture collected in the fronds. People have been able to successfully harvest paddy by August—in 120 days. This has been one of our most successful initiatives," proudly adds Binesh.
He also conceptualised an innovative practice under which even the poorest of families can cultivate paddy and grow their own rice by making ring-like grooves around a coconut palm.
"Our agenda was to help every family in Kulasekharapuram to grow enough rice that they could consume on Onam, our harvest festival. With paddy sown in 8 ring-shaped grooves, each one foot apart around the palm, a family can harvest close to 8 kg of paddy, which then trickles down to 4 kg of rice. More than enough for any family to have their fill during Onam," he says.
What is more, Binesh observed that through this practice, not only did one successfully harvest paddy from the frond moisture, even the yield of the palms had considerably improved. "We even found that the groundwater table in the area had become even more enriched," he adds.
The third initiative was the launch of value-added products under the brand name, OCTTA'K'— an acronym made from the first letter of seven Panchayats under the block—namely Oachira, Clappana, Thodiyoor, Thazava, Alappad, and Kulasekharapuram. This was started to help the sesame farmers in the Oachira block.
"The Onattukara region is known for its sesame production, but over the years, the yield had fallen, and the returns were poor, and this had a severe effect on the farmers. I came up with the idea to use the produce to prepare value-added products like gingelly oil. It has great demand across the state," he explains.
The Oachira Farmers Extension Organisation (OFEO) was formed with help from the farmers, and then with the support of the Panchayat Committee, they procured a plot of land measuring 35-cents, a building for processing, and machinery worth Rs 25 lakhs.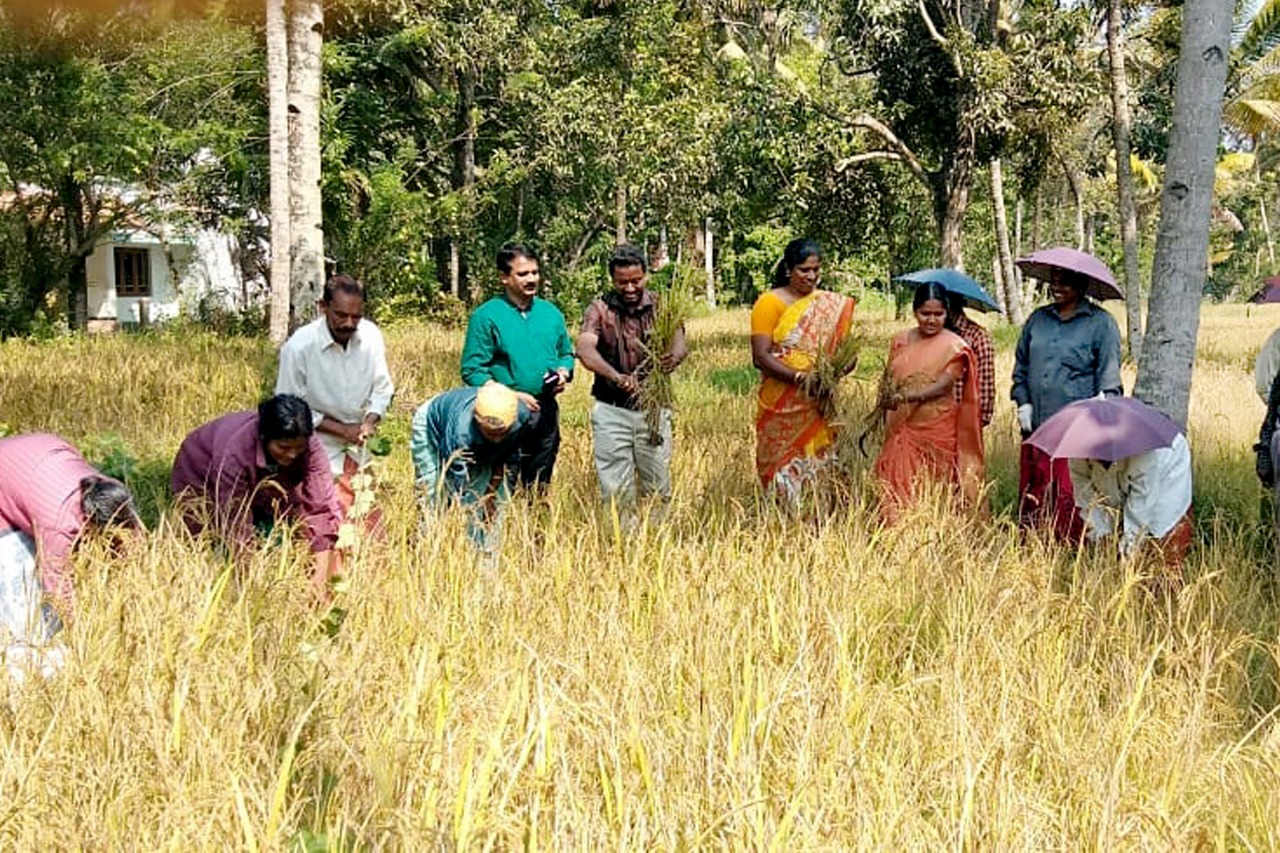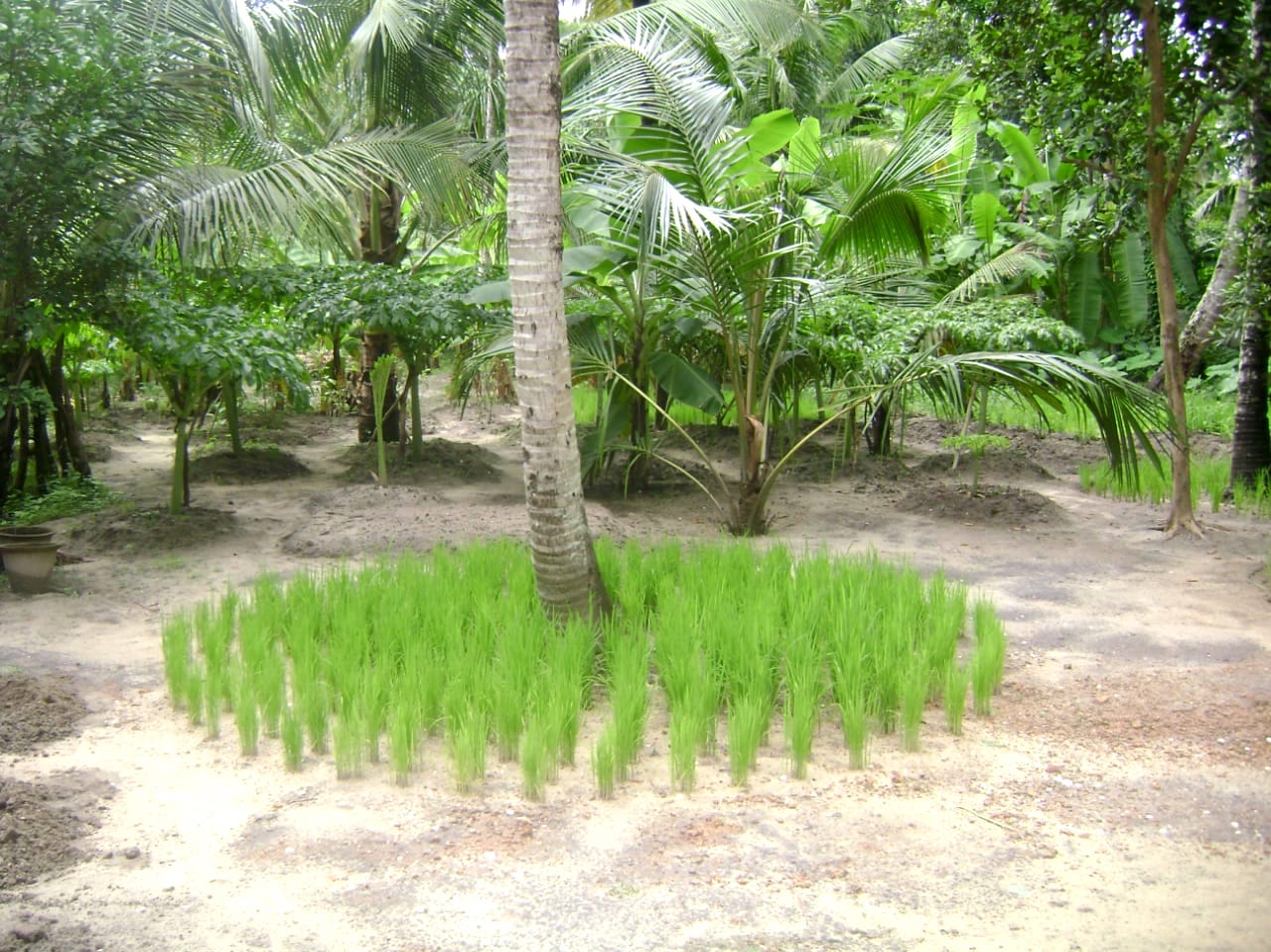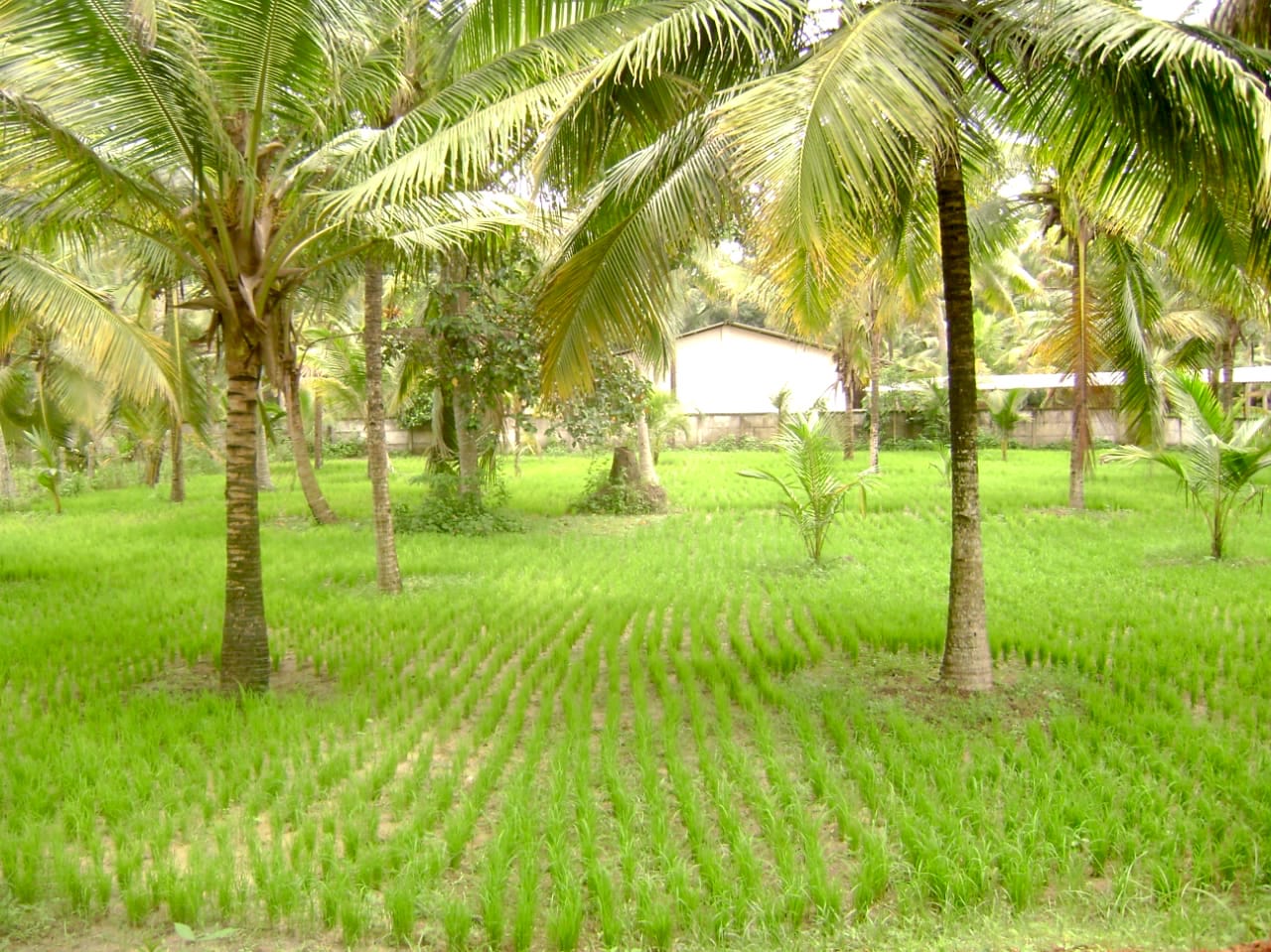 "As sesame is a seasonal crop, we also launched virgin coconut oil from Adinadu that would sustain the farmers during the off-season. There has been an almost multifold increase in the revenue of the farmers," Binesh mentions.
In addition to all this, the people of Kulasekharapuram Panchayath now have a mini processing unit/rice mill, thanks to Binesh's efforts.
"Since, most families grow paddy and chillies as well as spices like turmeric and coriander on their land, getting these ground emerged as a challenge. For these people had to carry the produce to the nearest town or even city. By establishing this mill, they can get anything ground ranging from rice to spices and that too at a nominal price of Rs 6 per kg," he concludes.
---
You may also like: From Home to Police Station, This Kerala Cop's Green Thumb is Reaping Rich Harvests
---
A native of Karunagappally, Binesh modestly mentions that his efforts have received statewide as well as national recognition.
"But that is alright. The knowledge that our children eat healthy, pesticide-free food and our farmers can sustain their livelihoods without causing any further damage to the environment is the best award I could ever receive," he concludes.
(Edited by Gayatri Mishra)
Like this story? Or have something to share?
Write to us: contact@thebetterindia.com
Connect with us on Facebook and Twitter.
We bring stories straight from the heart of India, to inspire millions and create a wave of impact. Our positive movement is growing bigger everyday, and we would love for you to join it.
Please contribute whatever you can, every little penny helps our team in bringing you more stories that support dreams and spread hope.