Toxic clouds fill the air as tall flames engulf large stretches of agricultural land, turning everything into ashes and smoke.
This jarring image is common in several parts of North India. Known as stubble burning, it is an agricultural practice widely used to get rid of waste.
A rising concern for environmentalists as well as the government, efforts to stop the practice have not yet received the desired result.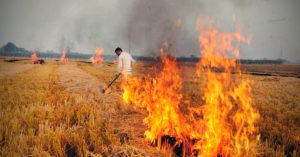 However, a sexagenarian based out of New Delhi might just have a sustainable answer. Her solution: transform the waste into tasty wealth by growing mushrooms!
An erstwhile educationist, 62-year-old Geeta Arunachalam has devised easy methods to use agricultural waste to cultivate and harvest one of the most expensive foods in the Indian market.
---
Did you know you coud grow Oyster Mushrooms at home? Join Geeta Arunachalam, a certified mushroom cultivation trainer, for a workshop on Oyster Mushroom Farming on July 8, at 6:00 pm.
Unable to view the above button? Click here
---
Speaking to The Better India, she explains the process of waste management.
"Essentially, stubble burning involves setting fire to the straw stubble and other agricultural waste that remains after harvesting the grains. However, instead of burning the waste, one can get rid of it by using it to grow mushrooms. In fact, oyster mushrooms, one of the lesser-known varieties are rich in nutrients and grow very well with leftover straw," says Geeta.
She adds that the lack of knowledge about mushrooms, especially oyster mushrooms, makes it even more expensive.
A quick search on the internet reveals that a kilo of Oyster mushrooms falls within the range of Rs 400 to 600, which is comparatively more expensive than button mushrooms, which are approx Rs 250 per kilo.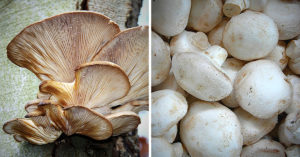 "Compared to the common variety of button mushrooms, oyster mushrooms taste even better and are rich in protein content, as well as minerals, vitamins and amino acids (like tryptophan and lysine)," Geeta continues.
Over the past 12 years, she has trained hundreds of individuals to grow mushrooms in limited spaces.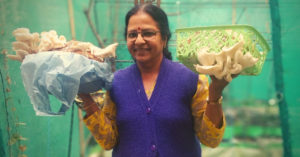 A retired school principal, Geeta Arunachalam found her calling in 2007 when she kickstarted her project 'Taste from Waste'. It is a crash course on growing mushrooms, recognised by the Ministry of Environment.
"I was working in the Mycology division of the Indian Agricultural Research Institute (IARI) in 1982 when I was exposed to the wonders of mushrooms. But, I couldn't pursue it then due to work and family commitments," she shares.
Yet, in the midst of her job as a biology teacher and then a Principal, this passionate environmentalist continued to push her students to be more aware. Through tree plantation drives, waste recycling projects as well as do-it-yourself guidance, she advocated cultivating mushrooms in small kitchen gardens.
What began as a part-time initiative grew into a substantial purpose after retirement.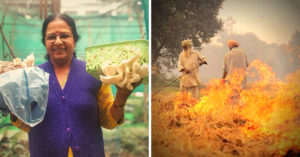 "After my retirement in 2016, I could fully concentrate on my gardening and especially, my interest in mushrooms. To show how they can be grown in the smallest of spaces in urban and semi-urban areas, I grew both oyster and button mushrooms in a desert cooler," she said.
Till date, she has conducted individual and group sessions in more than 100 schools and 50 gardening groups and NGOs in and around Delhi.
As opposed to the common belief that oyster mushrooms can only grow in higher altitudes or cooler cities like Bengaluru with temperatures between 10 to 30 degrees Celsius, her methods make it possible for the mycelium to sprout and grow, in the extremes of the North as well.
She speaks about her eventual goal to expand the growth of mushrooms in both urban and rural areas of India, especially North India.
---
Did you know you coud grow Oyster Mushrooms at home? Join Geeta Arunachalam, a certified mushroom cultivation trainer, for a workshop on Oyster Mushroom Farming on July 8, at 6:00 pm.
Unable to view the above button? Click here
---
She says, "Several village co-operatives run by rural women can grow mushrooms by building small sheds near the fields where the stubble is abundant. As per the process, the walls of the shed can be built out of straw blocks and then smeared with a coating of clay and cow dung, and then covered with burlap sacking. The wall needs to be regularly sprinkled with water to maintain the ideal humidity level between 50 to 70 per cent. These walls also help in keeping the shed insulated against extreme temperatures, thus allowing the mushrooms inside to flourish."
Once the shed is built, the next step is to grow the mushrooms by setting up the spawn: the grain-mycelium mixture from which they eventually grow.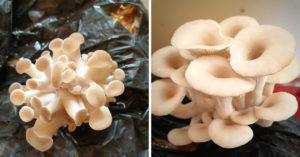 "For this, you need 5 kilograms of well-dried and yellow straw and spawn measured to a weight ratio of 2% in comparison to the straw. The straw then needs to be cut into strips that are 4-5 inches long, washed and dried. Make sure that the straw does not have a rotted stalk and that it is mildly damp. Then, the next step is to prepare the container or receptacle using a number of waste materials like garbage poly bags, jute sacks, perforated plastic colanders, a hollow log or simple gardening net. The receptacle is then disinfected using a solution made of 2% formalin and punched with half-inch holes for aeration."
The next process, she says, involves thoroughly sprinkling the spawn over the straw. Available at Rs 100 per kilo, only 10 gm of spawn is required for a 5-kilo bundle of straw.
"Once the spawn is sprinkled properly, the sack or receptacle needs to be tied at the top and suspended. It will take around 25-30 days for the first set of mushrooms to harvest. The next harvest will follow after 10 to 14 days," says Geeta.
According to her, the advantage of using straw in the process ensures that every entity is utilised, without wastage. Even the decomposed straw used for growing mushrooms can later be used as a nutritious compost for the remaining plants.
A passionate home gardener, Geeta hopes that more people are made aware of the wonder of growing mushrooms, making them a mainstream food, not only contributing to a healthier diet but also a healthier environment.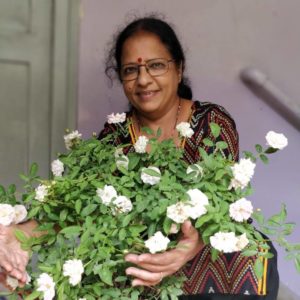 "Nature has solutions to most of our problems, but one needs to look close and embrace them. Growing mushrooms is one such unwonted experience, which can yield both health and money for the country," she concludes.
Her effort to reintroduce the meaty ball of wonder to India's rural and urban women is indeed an exemplary initiative.
To know more about her work, look up her website.
---
Did you know you coud grow Oyster Mushrooms at home? Join Geeta Arunachalam, a certified mushroom cultivation trainer, for a workshop on Oyster Mushroom Farming on July 8, at 6:00 pm.
Unable to view the above button? Click here
---
(Edited by Shruti Singhal)