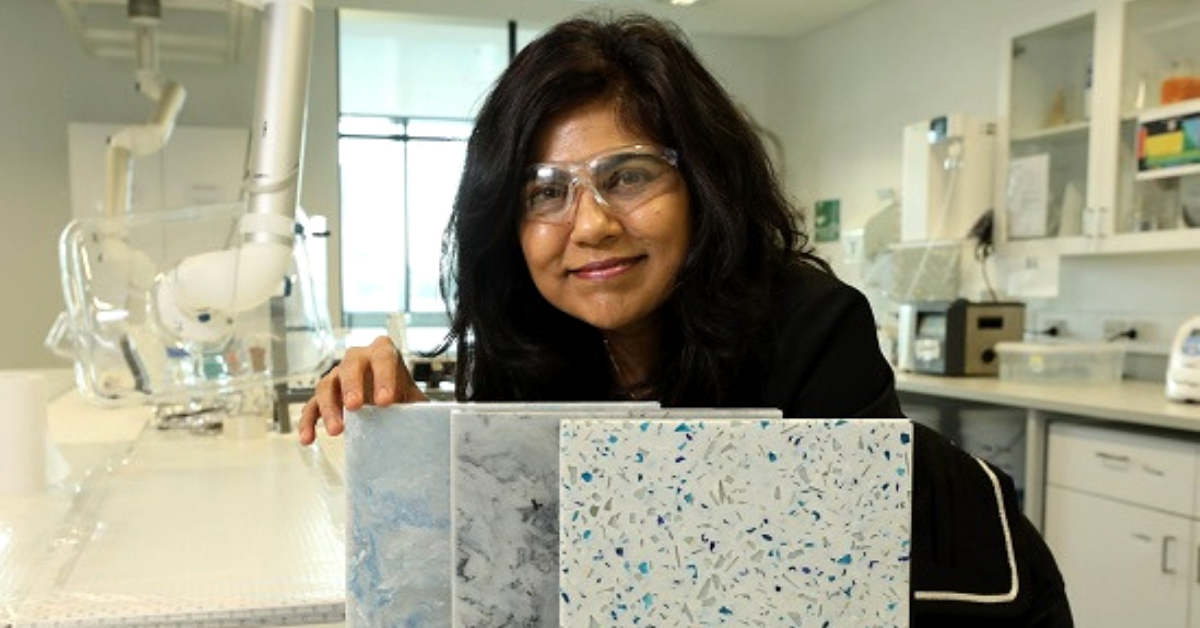 "Fashion has a lot to answer for. People regularly updating their wardrobes are contributing to one of the worst trends in human history. That clothing is now one of the biggest consumer waste streams, with 92 million tons estimated to be thrown out in a year, means we must urgently and seriously consider new ways to deal with unwanted clothes."
The season changes, and with it, the fashion. In the quest to keep track of what's 'in' and what is not, we, quite conveniently, tend to gloss over the huge price the environment has to pay for our clothes. The process of procuring materials, making fabrics, creating garments, having them shipped worldwide and ultimately, their disposal, is a long-drawn-out. And it requires an army of the labour force. The fashion industry is responsible for about ten per cent of all greenhouse gas emissions.
With trends like fast fashion, where your clothes are stylish one day and outdated the next, is it any wonder that 92 million tons of fashion materials lie waste around the globe? The fashion industry is termed as one of "world's most damaging industries."
However, hope persists with researchers and eco-crusaders working tirelessly to come up with ways to turn this wasteful and highly polluting industry around.
Taking a 'fashionable' spin to sustainable innovation, Veena Sahajwalla senior professor at UNSW University, and director of the Centre for Sustainable Materials Research and Technology (SMaRT), Australia, has designed flooring and wall building materials using old, discarded clothes!
Sahajwalla and her team are also inventing a way to incorporate them into your home décor.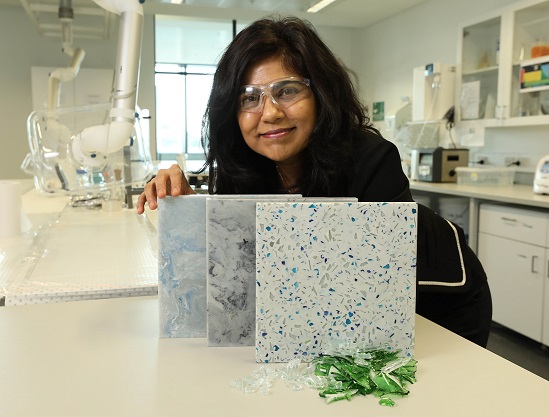 "Fashion has a lot to answer for. People regularly updating their wardrobes are contributing to one of the worst trends in human history. That clothing is now one of the biggest consumer waste streams, with 92 million tons estimated to be thrown out in a year, means we must urgently and seriously consider new ways to deal with unwanted clothes," writes Sahajwalla.
The researcher has been actively working to find innovative solutions to recycle waste materials like glass, e-waste and fabric. She started her work by collecting an assortment of discarded clothes, uniforms, bedding and mattresses. The team also looked at other sources of fabric such as polymer textile in waste packaging, shopping bags as well as disposable lab coats. Once they had the requisite material for their experiments, they manually removed all the zippers, buttons and such other material to end up with just the cloth—cotton, polyester and nylon.
A mixture of these fibres was put through a fine-grained shredder.
The resulting fleece was treated with heat and pressure in a way that the different fibre components stick together to form a solid panel.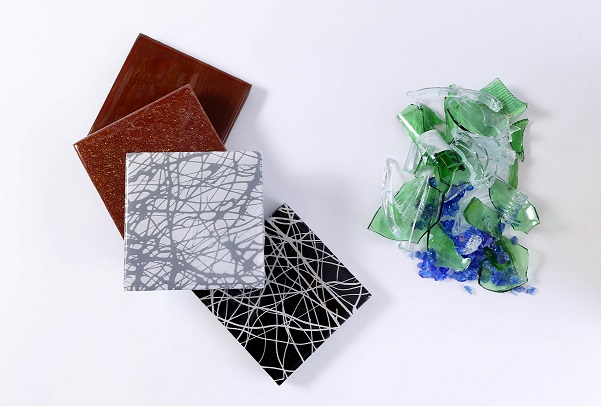 Speaking to The Better India (TBI), Sahajwalla said that via various heating and compression techniques, you could transform clothing fibres, including wool, cotton and thermoplastics into a composite of both hard and flexible building products. This shows it can be done at scale. In some cases, they mixed in wood waste such as sawdust to broaden the range of characteristics of our finished products.
The result was the creation of high-quality and stylish building products. The textile materials tested exceptionally well in labs to mechanical performance properties including strength, flexibility and resistance. Yet further lab testing is required to explore these properties ahead of consideration of applying for any formal assessment against construction regulations informs Sahajwalla.
Since the ceramic-like building material is still in development and testing stages, the team has not opened it for commercial use yet. As of now, its production is labour-intensive because it is being manufactured on a small scale. Once the design and outcome are marked good-to-go, it will be produced on a larger scale, and the team hopes to bring the technology to India too!
About the brilliant innovator: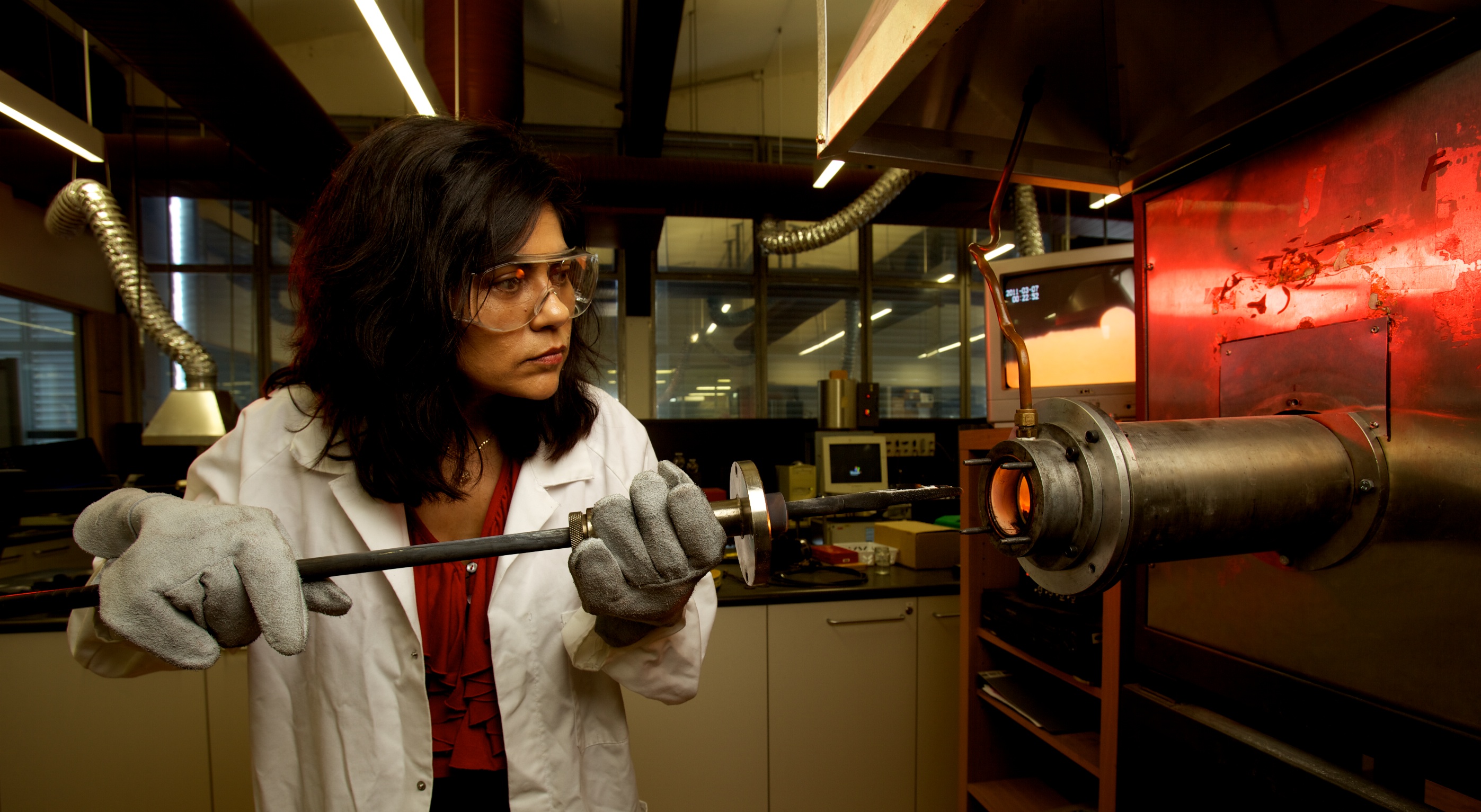 Growing up in Mumbai, Sahajwalla would observe the giant heaps of trash being left for segregation at the hands of underprivileged communities. While this influenced her passion for recycling, the long lines of factories on the sides of highways motivated her to become an engineer. "I built robust foundations at IIT Kanpur, my alma mater. At IIT, I had the opportunity to be guided by exceptional professors and be in the midst of bright, inquisitive classmates. IIT also taught me the value of hard work, which played a significant role in my research career," she tells TBI.
Sahajwalla elaborates that as she continued to study, she saw a tremendous opportunity value to be added to the massive amounts of materials already being collected in developing countries. The pioneering scientist saw she could add a lot of value to the existing waste collection system, by creating value-added resources that would otherwise just be discarded or end up in a landfill.
Keep such goals in mind, Sahajwalla joined SMaRT as a director. One can say that her time at UNSW and SMaRT has been highly successful thanks to the many game-changing innovations she helped develop.
Other green innovations: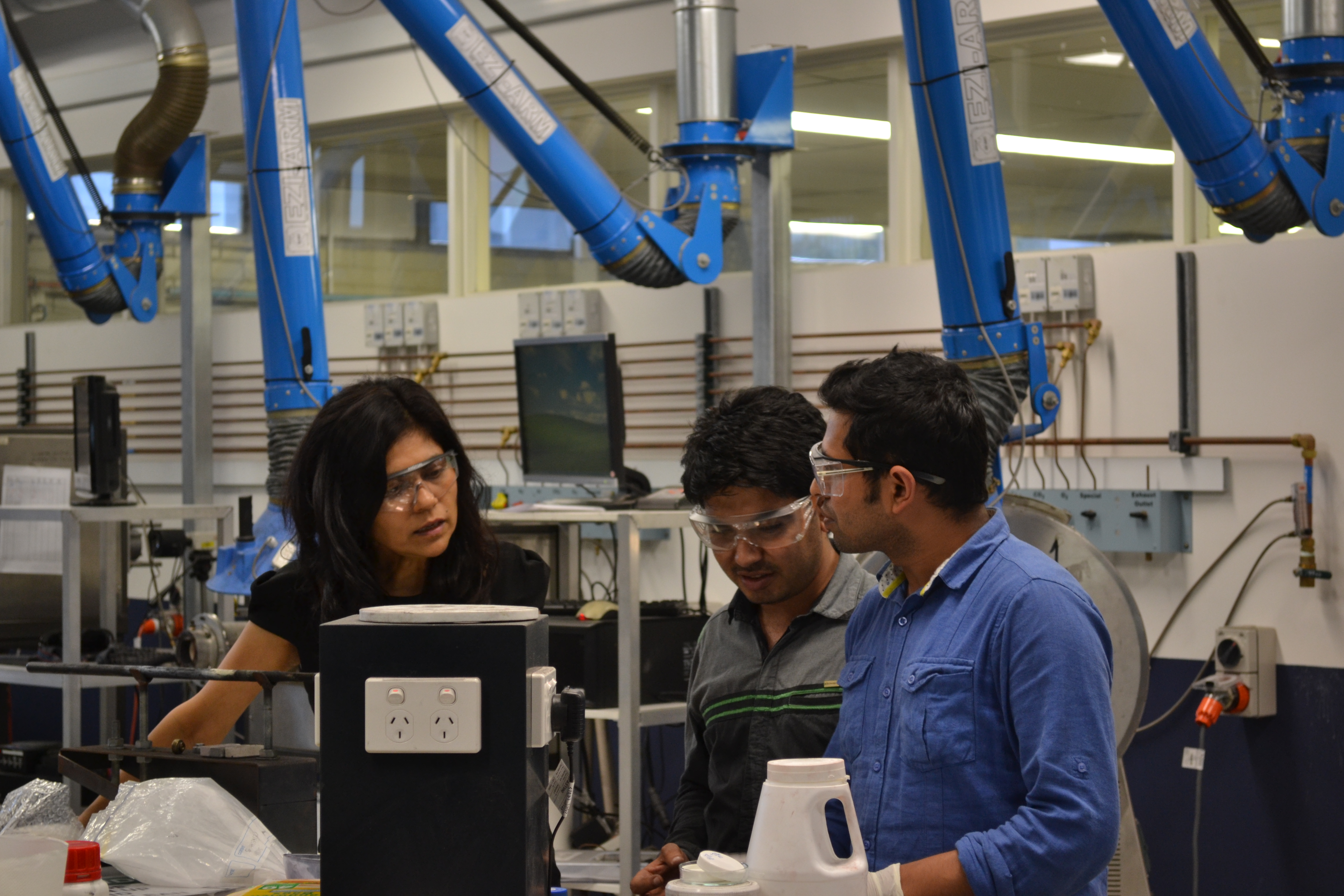 Even before designing the ceramic-like tiles made from old clothes, the professor and her team had found a way to produce 'green' steel by recycling rubber tyres! The ground-breaking innovation promises to cut down the usage of coal in making steel significantly.
Speaking about the green steel, Sahajwalla told the Cooperative Research Centres Association (CRCA, Australia), "The exciting "side benefit" was that the recycled scrap rubber or plastic material produced a more stable foamy slag compared to using coke only. This greatly improves the steel furnace's energy efficiency."
---
You may also like: Mangaluru Teens Use Traditional Fruit to Make Eco-friendly Rubber, Win International Medal!
---
In December 2018, the scientist was discussing the application of this innovation in India with Steel Research & Technology Mission of India (SRTMI). Speaking about the collaboration, Mukesh Kumar, the director of SRTMI told The Telegraph, "We feel that this technology could be used in a direct reduction process and electric arc furnaces used by most of the secondary steel industry. At a later stage, we can work with them to see if this can be used in larger blast furnaces, too. Even if we can use this technology in 20 per cent of our secondary steel making, it represents huge savings in coal imports and carbon emissions."
Earlier that year, Sahajwalla's team had also opened the world's first e-waste micro-factory.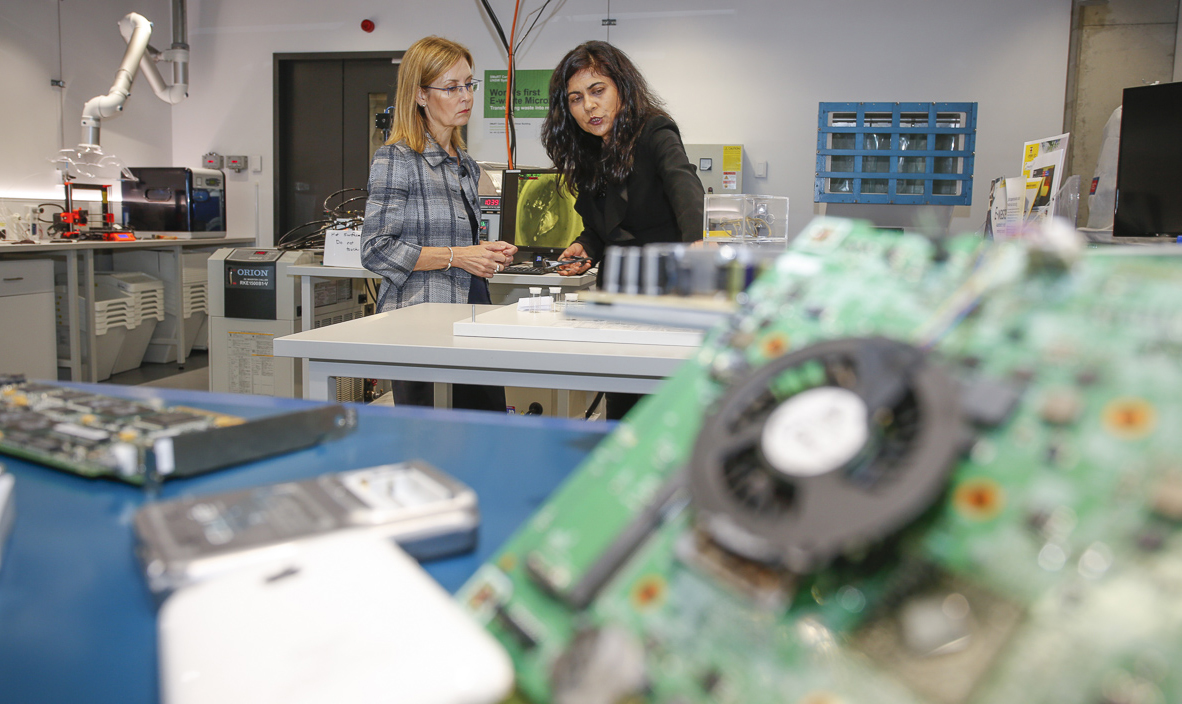 "I had started working on the idea to develop an e-waste micro-factory more than ten years ago. In April 2018, we launched it. The micro-factory is a series of small machines and devices that uses patented technology to reform waste items into high-value materials for use again in manufacturing processes."
The e-waste micro-factory reforms discarded computers, mobile phones and printers. It has many small modules for this process and fits into a small site, she further explains.
"Pre-programmed robots are used to select components such as circuit boards from computers or laptops. These boards can be broken down in small furnaces which use controlled temperatures to extract the valuable resources, such as copper alloys. The glass and plastic can also be combined in our micro-recycler which is capable of operating at high temperatures to produce silicon carbide nanoparticles. Our lower temperature micro-factory produces filament for 3D printing," says the professor.
---
You may also like: From Hair to Home, Award-Winning Bengaluru Teen Has All the Right Inventions!
---
In another research exercise, a prototype technology designed by the SMaRT team recycled used glass into high-quality ceramics that can be used on bench-tops and tiles. "These tiles which can be used in kitchens and bathrooms can come in all sort of sizes, colours and finishes," explains Sahajwalla. "Conventional glass recycling technologies are limited by the need to separate waste glass into different glass types and the extreme sensitivity of the re-melting process to any contamination. We demonstrated that mixed broken glass can be used as the primary input in the production of polymeric glass composites, with the mechanical properties, utility, aesthetic appeal and expected market value that is comparable to natural and engineered stone products," she adds.
The technology will be launched later this year along with their 'green micro-factory'.
E-waste, rubber and fabric, though different from each other in terms of usability, have one crucial thing in common. They are weighing the planet down. Reduction of use is an excellent way to begin at an individual level, and responsible manufacturing should be taken up on an industrial scale. It is scientists like Veena Sahajwalla who are taking it upon themselves to walk the green road and find ways to pull the planet back from the edge of destruction.
(Edited By Saiqua Sultan)
Like this story? Or have something to share? Write to us: contact@thebetterindia.com, or connect with us on Facebook and Twitter.
We bring stories straight from the heart of India, to inspire millions and create a wave of impact. Our positive movement is growing bigger everyday, and we would love for you to join it.
Please contribute whatever you can, every little penny helps our team in bringing you more stories that support dreams and spread hope.