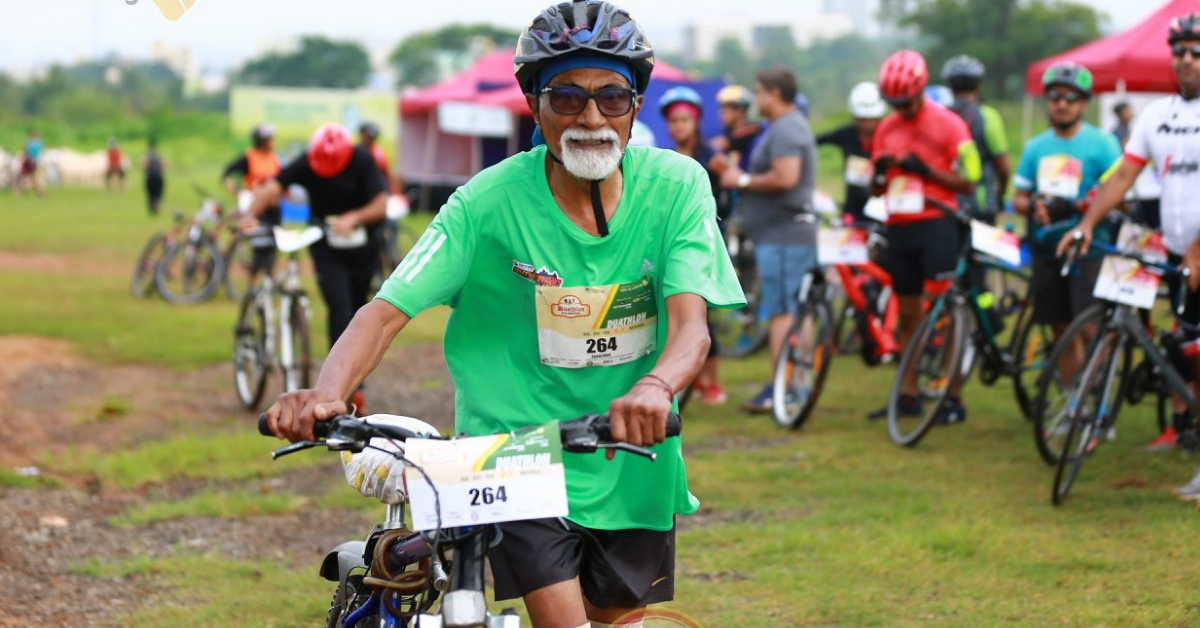 86-year-old Bylahalli Raghunath Janardan was diagnosed with epilepsy in 1995. He was told that he would have to rely on lifelong medication, but at the age of 64, the man took to cycling.
How often do we trade our cars, rickshaws or taxis to cycle to our destinations? Or perhaps scale mountains and run full marathons on vacation?
If you work 12-hour desk jobs, chances are, never.
But an 86-year-old retired railway employee from Bengaluru is driving people, both young and old, to think in a new direction.
Bylahalli Raghunath Janardan was diagnosed with epilepsy in 1995. He was told that he would have to rely on lifelong medication, but at the age of 64, the man took to cycling!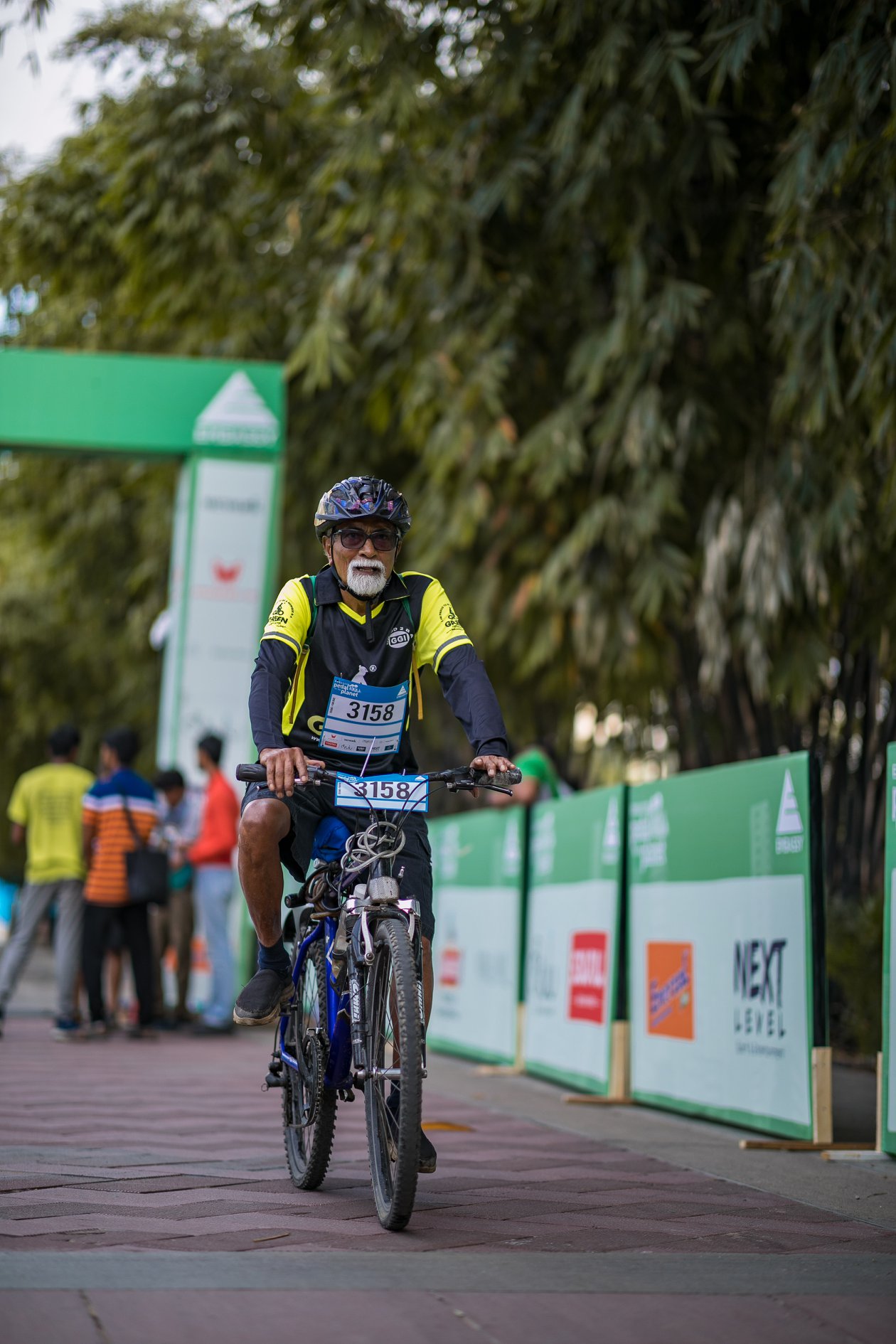 In the last 23 years, this man has cycled almost 4,00,000 km, a distance, he says, is 'the one between the earth to the other side of the moon'.
Scaling mountain peaks at 68, he has trekked the Himalayas about 20 times, including Mt Kailash.
At the age of 72, he took to running and has completed over 16 full marathons, 64 half-marathons, and 60 running events of 10 km.
In a tête-à-tête with The Better India, he opens up about his battle with epilepsy, his passion for organic gardening, running, cycling, scaling peaks and more.
The Railway Man and the half-acre of land he revived
Janardhan had a 34-year-long illustrious career with the Railways. During his stint at Mughalsarai in Uttar Pradesh, he was able to revive a half-acre of land through organic gardening.
By the time he had retired, the land that was once barren with no green patch in sight had produced 1,000 fruits. His model gained popularity among other Railway colonies who replicated it.
He grew veggies like onion, potato, radish, and carrot, to fruits like papaya, Indian Jujube or Ber, mango, without any reliance on chemicals.
March 1995 – The doomsday
It was four years after his retirement that it all started.
Janardhan was travelling with his wife and relatives in Dubai to meet a prospective match for his youngest daughter when he fainted in the car. He was rushed to the closest nursing home.
What he was about to hear next left him speechless. Major Epilepsy – he was told.
Even as the doctor gave him a rundown of what his life was going to be with unpredictable seizures, lifetime medication and round-the-clock care, the 62-year-old refused to accept it.
"My mother lived till 103. When I was told that I would have to pop pills for the rest of my life, that I couldn't be left alone at home, or be allowed to step out on my own, I was shattered."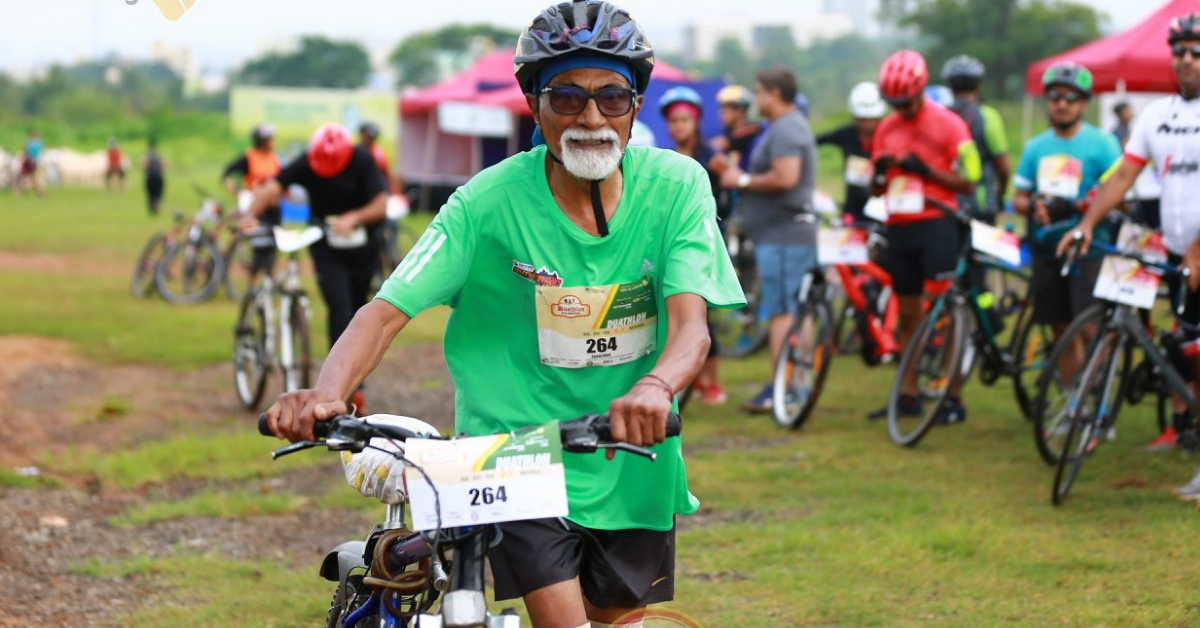 Despite initial resistance, he had to bow down to family pressure and turn to the medication. But the side-effects were quick. The man who loved the outdoors was suddenly drained of all his energy.
"I was inactive and lazy for the most of the day. This wasn't me. I had lived a very active life. Watching that turn to dust each day was painful. We contacted several specialists, but the advice was the same–continuous medication, refrain from strenuous activities and never be alone. I wondered how long people could take care of me. I did not want to be a burden to anyone. Deep down, I was convinced that I didn't have epilepsy."
When everyone was asleep, he started waking up at 4:30 am and going out for walks alone.
As time passed, he started walking 20 km in the morning, with no fear of an epileptic attack. Little did he know that this was the beginning of a new journey.
December 24, 1996
He recalls, "On this day, my son Ashok, a sitarist, was selected by his University for a cultural event in erstwhile Devanahalli (now Kempegowda airport). Over 17 universities were participating. It was about 30 km from our home. I knew how much it meant to him. And so, I decided to travel to watch him perform."
That day, for the first time in 40 years, the man hopped on a cycle.
It was the Hero Jet 2000 cycle he had bought for his son the year he retired. It was lying unused for some time.
"On a whim, I cycled the 30-kilometre stretch to Devanahalli. I couldn't watch the performance because of the crowd, but I did stop there for about 30 minutes before travelling back home."  
By the time he reached, he had cycled 77 kilometres!
Exactly a week later, he cycled another 72 kilometres! The following day, without telling anyone, he cycled another 132 kilometres to his village, Bylahalli, from where he gets his name.
"My brother, who was a father figure to my wife and me, was furious. He thought I was reckless with my health. But in the coming years, he learned that this passion for continuous activity was the fuel that kept me going through life."  
In the 23 years that followed, he has been free from medication. Along the journey, he has met with numerous accidents as well as a few showdowns with miscreants.
He recalls one incident where a local under the pretense of guiding him, whipped out a knife and threatened to rob all his money. Despite trying to talk the man out of the situation, he refused to relent. Faced with no choice, the elderly man grabbed his camera and smacked it across the miscreant's face, slid down the rocky path, and escaped.
Similarly, when he once made a stop on his cycling journey, four black hats grabbed him. They moved him to a secluded location by grabbing his arms and legs. They asked him to part with his money. One of them threatened to throw a boulder at him. But they realised that all his money had fallen out during the altercation on the way. They threw the boulder aside and escaped.
When I ask him, "Did any of these incidents make you want to give up cycling?" He quips, "Never. I won't stop cycling. Not for anyone."
Janardhan adds how he has also cycled in a desert for 30 km in 3.5 hours and completed five cyclathons of 60 km each.
"I cycle 15 km per hour, 48 km a day. I can go on for another 14 years with all of these activities," he says.
---
You May Also Like: At 87, This Incredible Chennai Woman Has Clinched 414 Medals, Including 345 Golds!
---
Another interesting sport that the man took up was stair-racing, also known as vertical runs. The idea of this competition is to have participants scale multi-storey buildings in record time.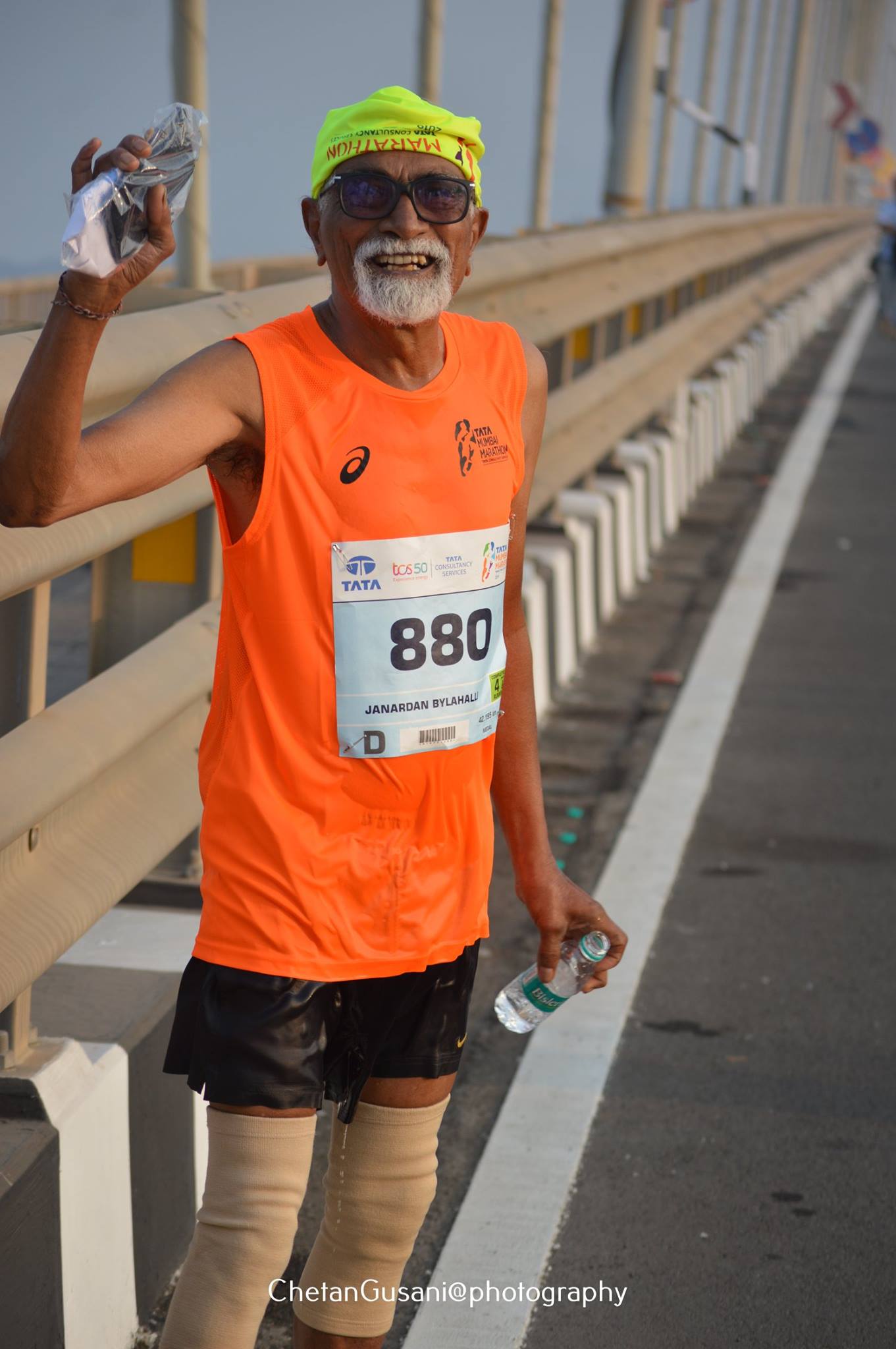 He has climbed 32 floors four times, 52 floors once and 64 floors once. His personal best was climbing the 64 floored Almas Tower in Dubai. With a 280-meter vertical flight, he climbed 1,600 stairs in 22 minutes!
Trekking
It was at the age of 68 that he decided to take up trekking!
When he decided to trek Mt Kailash in 2008, even the organisers of the trek dissuaded him due to his age. "What if something happens to you, sir?" they asked.
He went ahead anyway.
He was the oldest person in the batch. Despite being asked to take the help of a porter or a pony, he scaled the arduous terrain on his own.
He has trekked the Himalayas 20 times, including the Siachen pass, Kargil, Leh, Dras, as well as the Kangchenjunga.
He has also trekked through the Western Ghats about 14 times!
When asked about the secret to his health, he says, "I wake up at 5:30 and the first thing I do, even before brushing is–drink warm water with honey. My breakfast is heavy with a few dry fruits and nuts like dates, almonds, and walnuts. Sans masala. Lunch is lighter with phulkas and sabzi or kanji, and dinner is frugal. Sometimes, two plantains or green bananas and a glass full of milk are enough."
The constant exposure to the sun, as he puts it, has made his bones as strong as 'steel'. Of course, there have been dislocations but never fractures, he adds.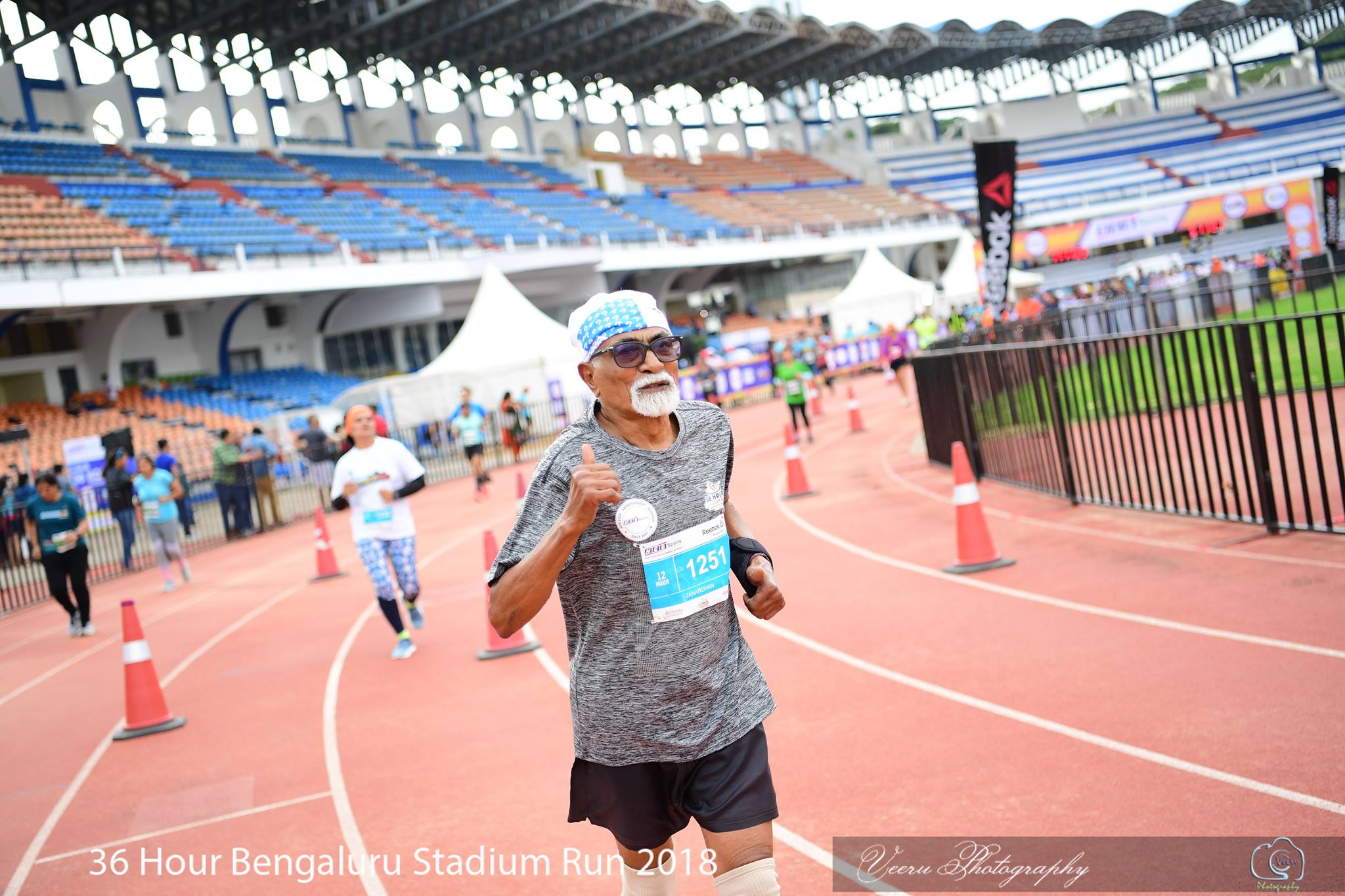 Often, a part of the prize money he earns from marathons or cycling events is donated for causes he supports.
This mini-celebrity who participates in marathons, duathlons, and cyclothons, was bestowed with the Kempegowda Award by the Karnataka government two years ago. Even the Jayanagar post office released a special commemorative stamp bearing his image.
A quick rundown of his adventures. Till date, the runner, cyclist, and trekker has completed:
16 Full marathons

64 Half marathons

One 50k run

Two 30k runs

Eight 25k runs

60 – 10k runs

Two 60k Cyclathons

Six Duathlons

One Endurance Stadium 63k in 12 hours

Vertical Runs: Run 2k+Run Up 32 Floors (twice), Run up 52 Floors (once), Run Up 64 Floors (once), Run 5k with 20 Obstacles (four times).
---
Also Read: Rain Harvests to Organic Food: B'luru Couple's Solar-Powered Home is #Lifegoals
---
His next goal is to do the 24-hour Stadium Endurance Run held by NEB Sports at Bengaluru and target 110-120k by the coming August. He also wants to participate in the NEB Sports Cyclathon Event and pedal a distance of 100k within four hours.
We hope he continues his adventures and inspires people for many years to come.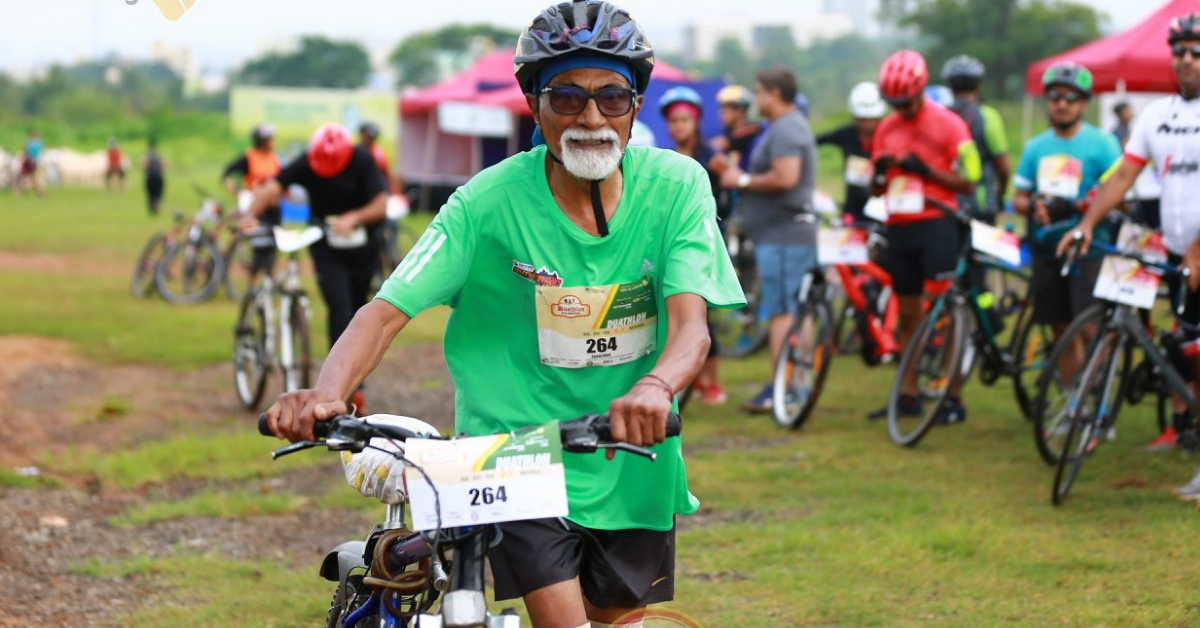 If this story inspired you, get in touch with Bylahalli Raghunath Janardhan at gogreenjanardan@gmail.com.
(Edited by Shruti Singhal)
Like this story? Or have something to share?
Write to us: contact@thebetterindia.com
Connect with us on Facebook and Twitter.
We bring stories straight from the heart of India, to inspire millions and create a wave of impact. Our positive movement is growing bigger everyday, and we would love for you to join it.
Please contribute whatever you can, every little penny helps our team in bringing you more stories that support dreams and spread hope.
Tell Us More