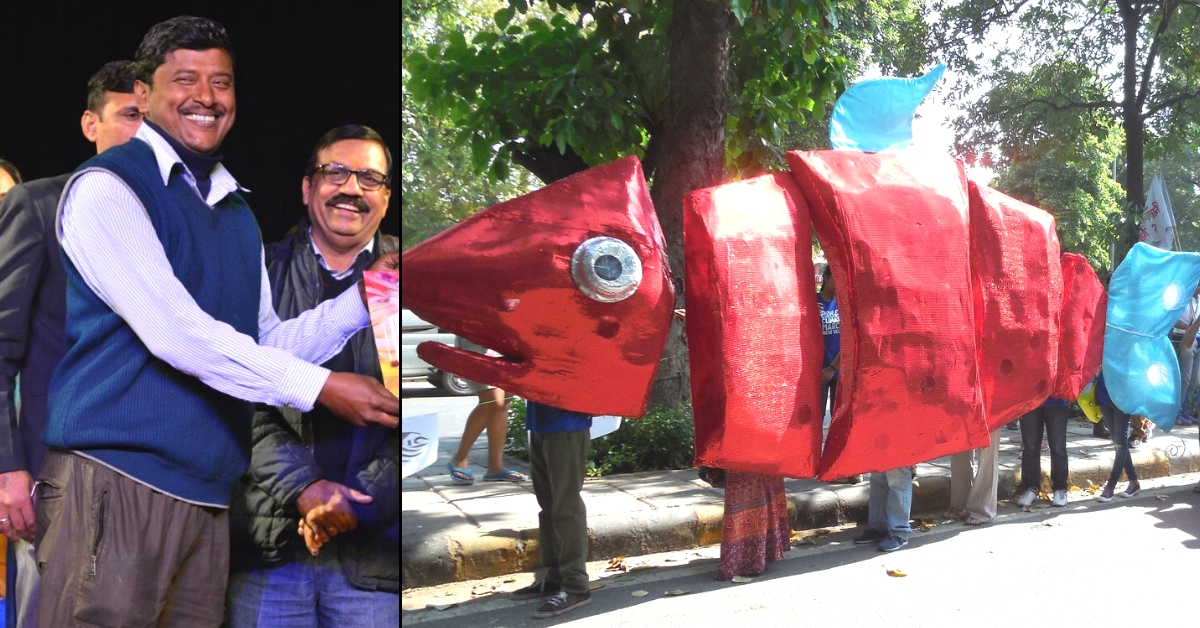 "Be it hard-hitting facts about dowry or crimes against women, the message can be lucidly conveyed through these puppets."
In February this year, Subhasis Neogi was busy crafting his 35-feet-long dragon puppet for the Swasth Bharat Yatra in Chandigarh, organised by the FSSAI (Food Safety and Standards Authority of India).
Giving the final touches to the massive puppet that had to be carried by seven volunteers, he says, "We have been struggling with our dragon. We are going with the Department of Food, Supplies and Consumer Affairs. We have to customise the dragon puppet with the logos of healthy foods and habits. Ours is the biggest puppet. Jugaad se banaya hai tokriyon se (The puppet has been made with locally-available baskets)."
He adds, "Puppetry involves physics and mathematics. For instance, if we have an 8-10 feet tall puppet set up in front of a windy lake which has to be visible to 450 people, we have to think about how we will balance such a big structure; what would be its weight; how we would distribute it; and if we be able to move it.
These are issues that have to be addressed, along with adequate attention to the safety aspects, he notes.
"Log humko katputli wala samajhtey hain woh alag baat hai (Although, people think we are only puppeteers. That is another story)," he chuckles.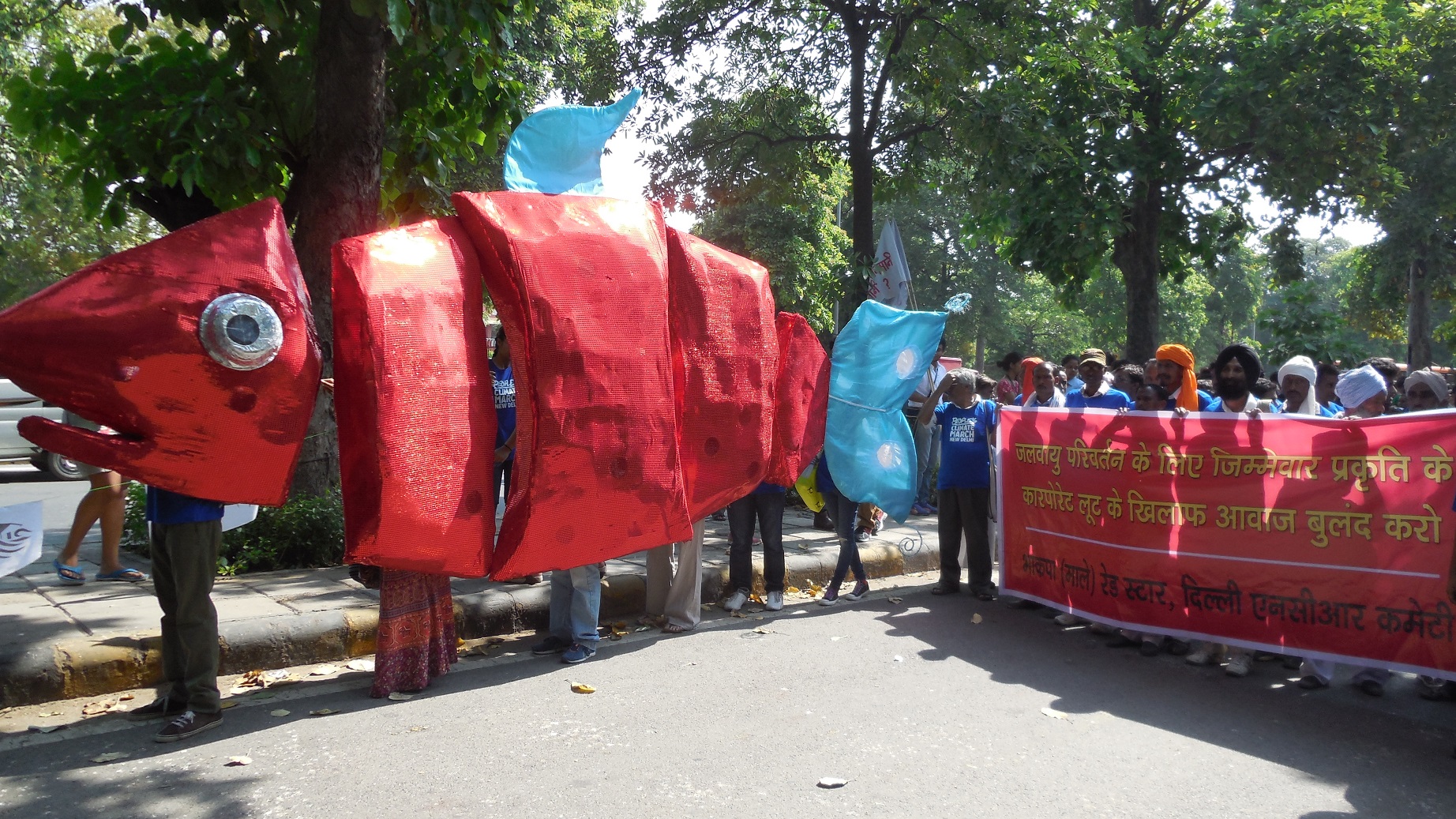 Neogi is the president of PNA-The Puppet Theatre, Chandigarh. PNA is short for Putul Nacher Ashor or 'Katputli Ki Mehfil' that he started in 2005.
Known for giant puppets, stagecraft and props, his earlier works include:
– the mascot for the People's Climate March, an international event held in Delhi in September 2014;
– the mascot for the Bekauf Azaadi Rally, organised in August 2017 to highlight the need for security for women in cities;
– a larger-than-life crab for cancer awareness in association with the Postgraduate Institute of Medical Education and Research (PGIMER), Chandigarh, in November 2017;
– and a flying metal bird, made with a thela or a push kart to go with a Ruskin Bond play. This was presented by children at Mind Tree School.
"We love to work with junk and paper. We have no choice. Stagecraft can cost Rs 500 or Rs 5,000," he says.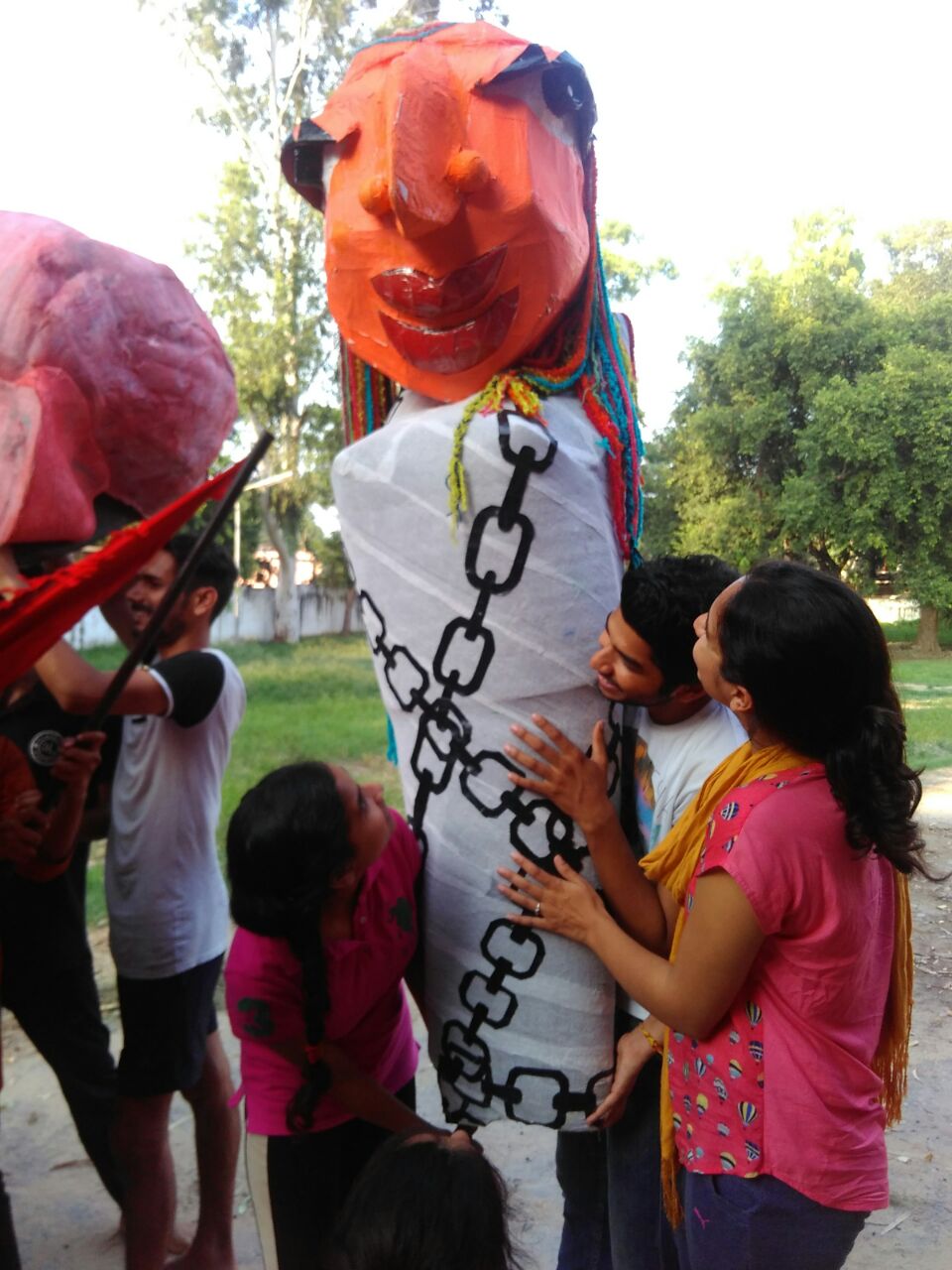 ---
Also Read: Modern Day Manto: Delhi Man's Puppets Talk about Sex & Gender, Are You Listening?
---
Subhasis Neogi's puppets have been displayed in several international festivals. In 2016, he was conferred with the prestigious Nek Chand Excellence Award.
This annual award is given in the name of Padma Shri Nek Chand, who had built Chandigarh's famous Rock Garden from crockery pieces, stones and discarded material. The Award aims to recognise people who have created works of art from waste materials.
Subhasis was chosen for his work in creating giant puppets from waste paper, cane baskets, pushcarts and other discarded material.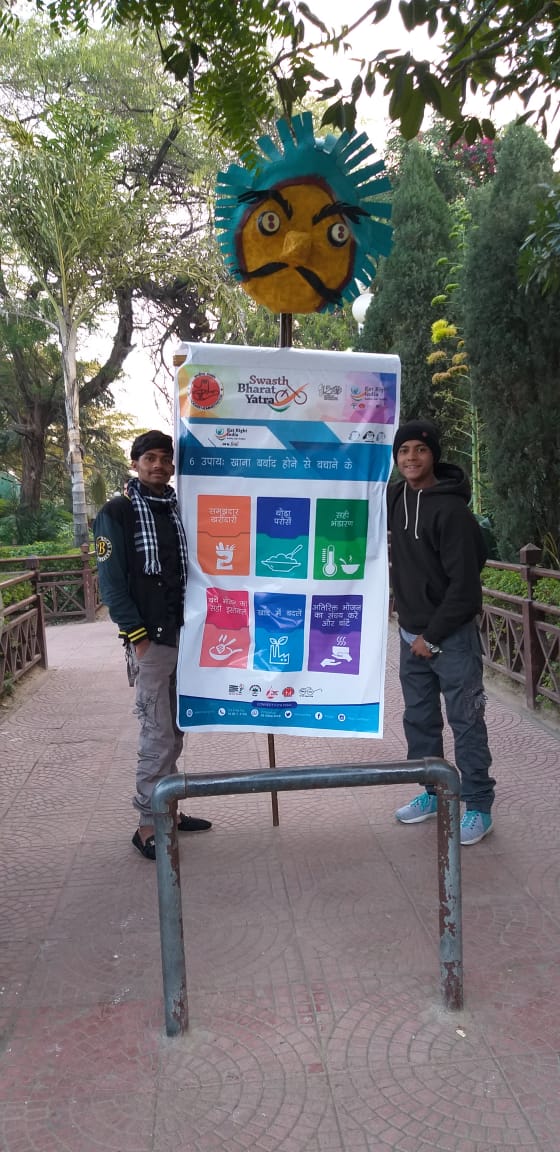 As regards their wide-reaching impact, he shares, "Popeye agar palak khao bolega toh kha lenge bachche (Children will eat spinach if a puppet of Popeye tells them to). Be it hard-hitting facts about dowry or crimes against women, the message can be lucidly conveyed through these puppets."
Life has been a rollercoaster ride for this Chandigarh-based animator and illustrator. He has even presented Putali Rani Badi Sayani, a puppet show produced and presented for Doordarshan's young viewers in 2008. Along with PGIMER, he has participated in several awareness campaigns for blood donation, Thalassemia and cancer.
His puppet play Poly Bag Bhagao, aimed to make cities plastic-free by urging people to avoid using polythene bags. It was staged over 25 times in Delhi, Bhopal and Chandigarh!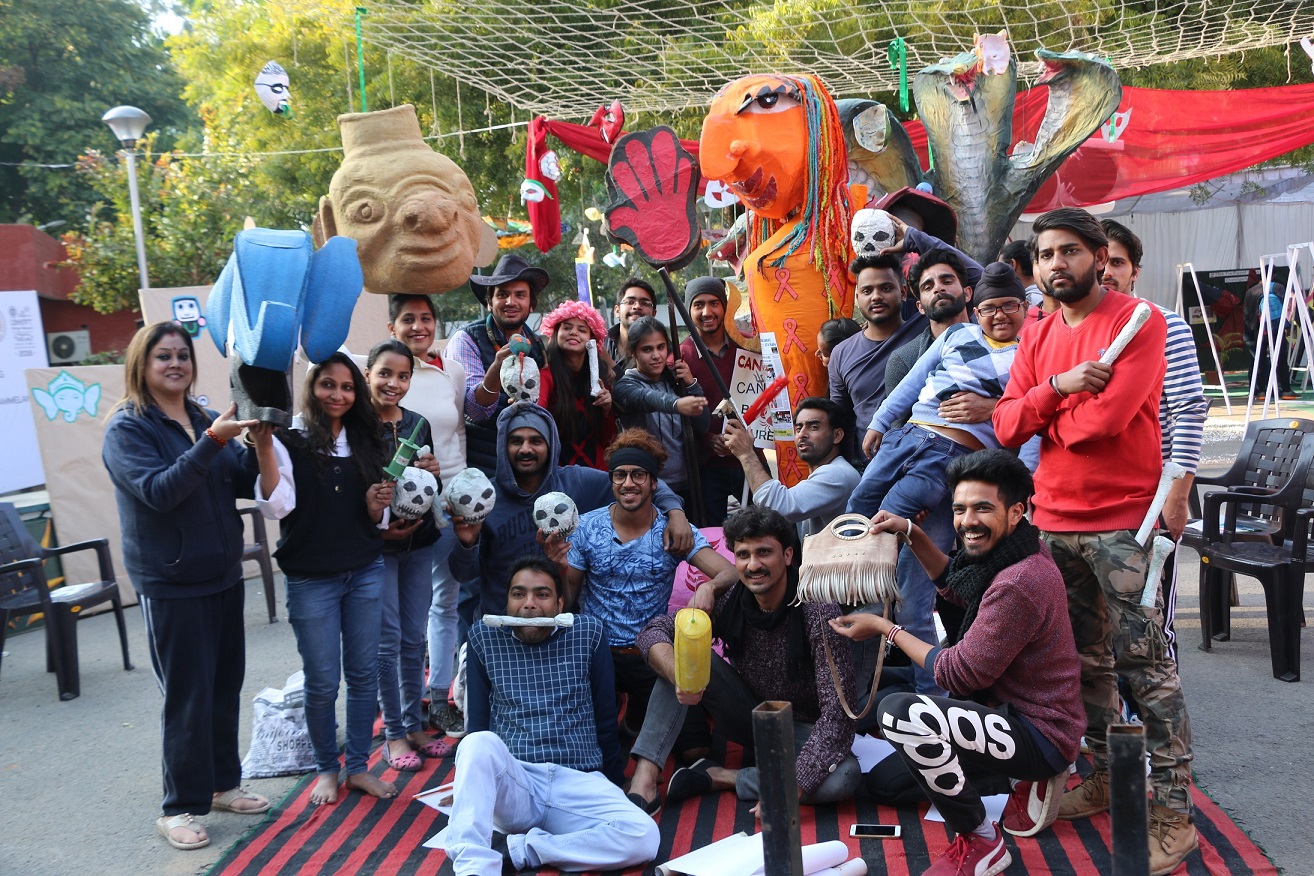 He has also worked with the Chandigarh Traffic Police, Chandigarh AIDS Control Society, Chandigarh Lalit Kala Academy and other organisations.
In association with the T S Central State Library, Chandigarh, he has conducted outreach programmes for minors undergoing trials in juvenile homes. Through this partnership, he also conducts workshops on creating educational toys for children.
One of his hard-hitting shadow puppet plays,Udaan, received critical acclaim for highlighting the atrocities on women, women's rights and empowerment.
He shares, "People approach us for collaborations. We work on a war-footing and try to make each project unique. The team is enthusiastic as they know 'Dada sambhal lengey' (Their brother will take care of the project)."
When he is not designing mammoth puppets, Subhasis is busy with outreach programmes for rural children and students of government schools. For him, "Outreach is to reach places where no one wants to go, where there is dung and filth."
Reaching children in the villages of Punjab and slums of Panchkula makes him content. "They don't go to school in swanky cars. Being the have-nots, they want to learn in earnest. There is a fire in them," he says.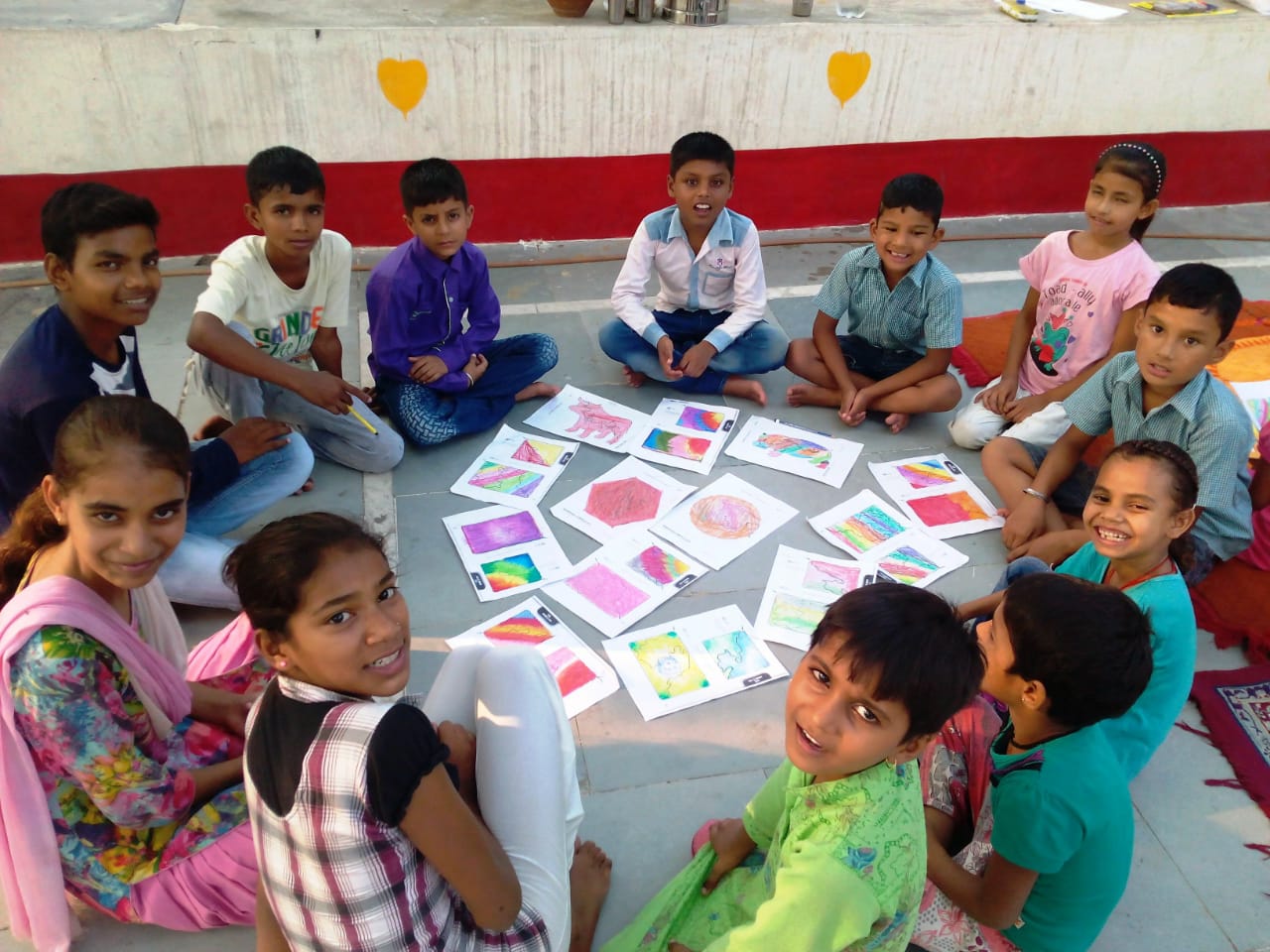 So, after working till 2 p.m. at a local college where he teaches animation, he dedicates the rest of the day until the wee hours of the night, to prepare puppets and modules for his dream project, 'Widen Your Horizon'. It is an outreach programme he started seven months ago for the children of masons, maids, servants and daily wagers in rural areas.
Come afternoon, children from surrounding slums and villages start trickling at Ashoka Buddha Vihar located in Khuda Ali Sher village. What follows is food for the mind and soul, with a brief meditation session by the Buddhist monks, theatre time, hands-on scientific toys, a puppet-making session, and more.
"You cannot have boundaries when you are teaching children," he says, as he packs his outreach programme with diverse yet interesting activities.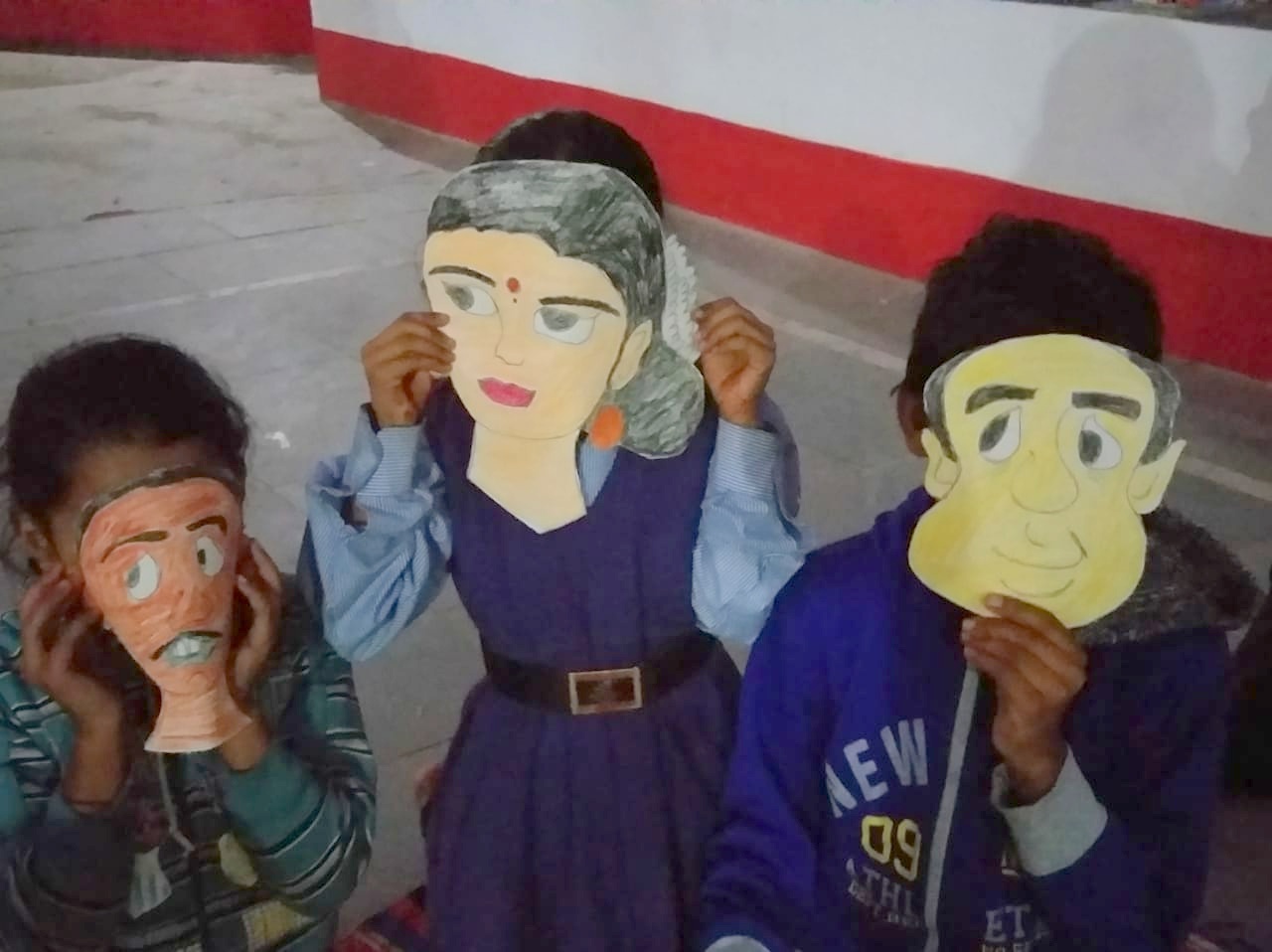 A toffee and sometimes a tetra pack of fruit beverage—when he can afford it—are the treats awaiting the young participants after the workshop.
The team carries a carpet that comes as succour for children during winters. "Tik ke baithtey hain (They sit poised during meditation). It shows that they are inculcating discipline," he smiles.
"I try to ensure that each time we meet the children, there is something different for them to learn. A friend donates Hindi books every month. The motive is to initiate reading habits among them," he says.
More children are coming for the weekend outreach programme, he shares. Subhasis is also associated with teacher training as well as 'theatre in education' for over ten years for government school children.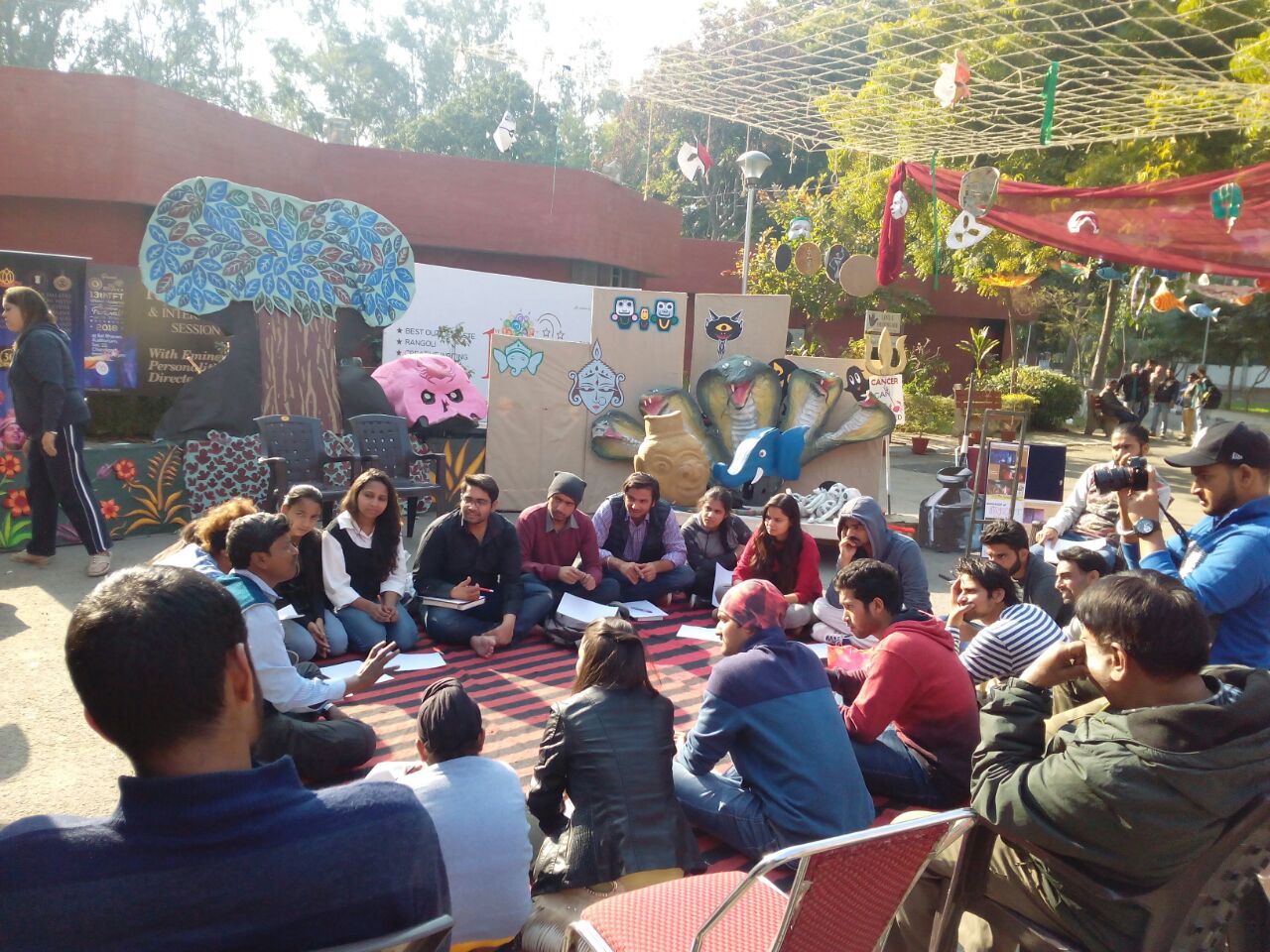 "It is called object theatre. We pick up a topic from the syllabus. Students stage a play after a month-long workshop. For instance, in Haryana, the students presented a play on the solar system. It was larger-than-life. I believe that anything can work when it comes to animation. So we had planet puppets talking among themselves about their characteristics, distance from the Earth and so on," he recollects.
Before he came to Chandigarh 31 years ago, Subhasis was associated with theatre in Kolkata. He designed props and stagecraft. He obtained his professional training in theatre and mime from Jogesh Dutta and Niranjan Goswami from the city of joy.
"As a Bengali, I am fond of theatre. I left Kolkata in the mid-80s. I started puppetry in 2003 with a workshop with Dadi Pudumjee, followed by elaborate training in Delhi. Prior to animation, I did theatre and made props and stagecraft. I still love to do theatre. In my puppet theatre, my characters are alive. My benches can talk, and my trees can walk. In fact, puppetry can be called 'bina digital ka animation' or 'manual animation on stage'. According to me, this is the difference between theatre and puppets."
Speaking about the Bengali play Bhushundir Mathe (A Land of Ghost) that he recently directed in Chandigarh, he says, "It is a historical play based on a short story by Padma Bhushan Rajshekhar Basu who was known by his pen name Parshuram. It was staged in Shanti Niketan in 1948 for the first time. It is a satire that is still being staged after so many years. I plan to present it in Hindi with a sutradhar (host) this time."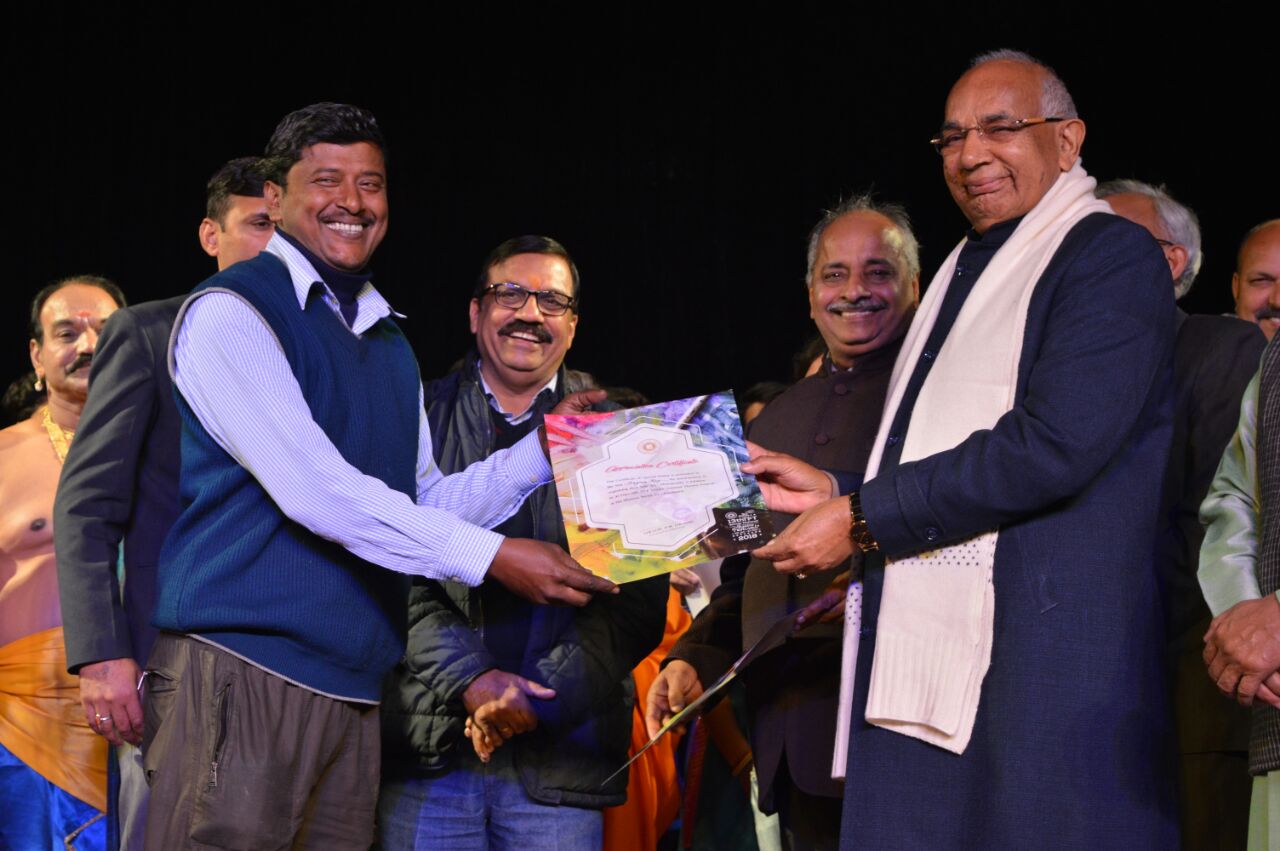 "For 19 years, I worked in the corporate sector. I came to Chandigarh to look for a job after my father's demise. Ek hi naukri ki zindagi mein maine (the only job I did in my life). I wanted to study in an Arts College or the National School of Drama. Both didn't happen. My wife told me that I would be happier in a creative field. She motivated me to quit my job to take up puppetry, which was not easy," he recollects.
His wife, Anupama Neogi, teaches chemistry for classes 11 and 12. It is to her that Subhasis owes his recognition. There is not much money that puppet and stagecraft offer, but he is happy. It is his passion that keeps him going.
---
You May Also Like: These Chandigarh Students Have Turned Their School Trash Into a Stunning Garden!
---
Till date, his projects have been innumerable and each standing out for its sheer creativity. Despite all the laurels, he works silently with his puppets, letting the props speak for him.
(Edited by Shruti Singhal)
Like this story? Or have something to share?
Write to us: contact@thebetterindia.com
Connect with us on Facebook and Twitter.