Almost 500 years ago, when Kempegowda founded Bengaluru, he dotted it with numerous beautiful water bodies, thus earning it the sobriquet – city of lakes.
But, that is all in the past, because the present has ravaged the city of its natural treasures. From 262 water bodies in 1960, the figure has declined to 81, of which only 34 are currently alive.
But in a city bubbling with pollution, there is one man who is on a mission to change the scenario for good.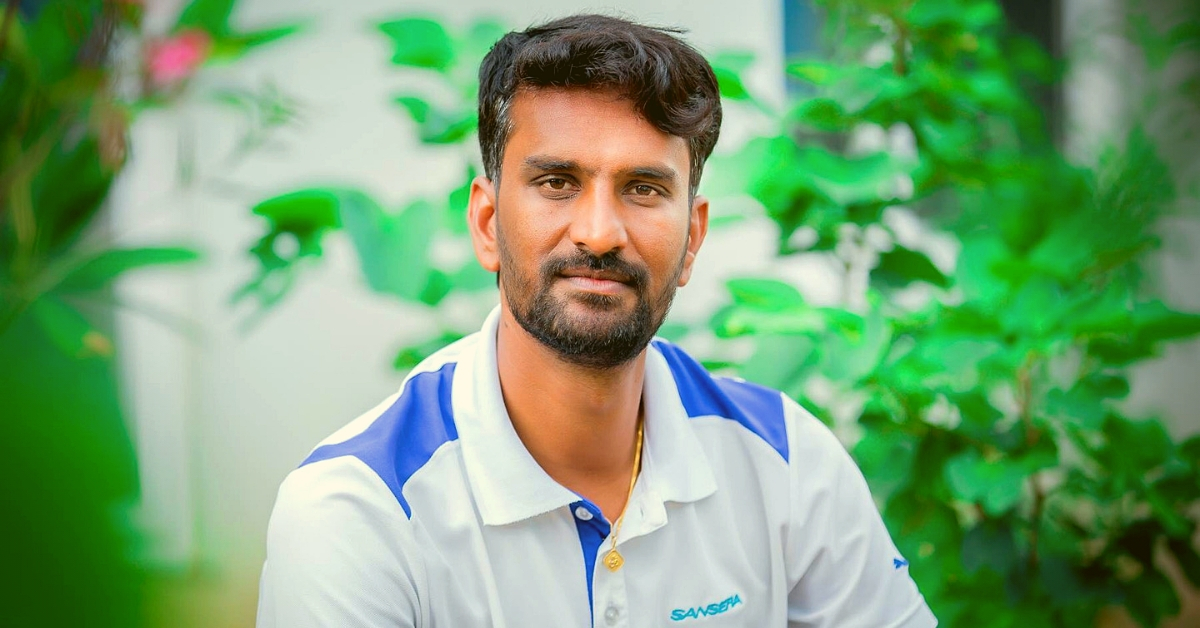 After months of research and study on the city's lakes, 38-year-old Anand Malligavad is all set to rejuvenate 45 lakes by 2025, with the work already in progress!
---
Join Anand and The Better India as part of the Lake Revivers Collective and donate now to help us breathe life back into India's lakes.
Unable to view the above button? Click here
---
Speaking to The Better India, Anand shares details of a few recent successes that gave back Bengaluru its prized lakes.
The first, he says, was the 36-acre water body, Kyalasanahalli Lake near Anekal, which was restored in only 45 days!
Anand designed and executed the rehabilitation procedure with the help of nearby communities, including several techies from Electronic City.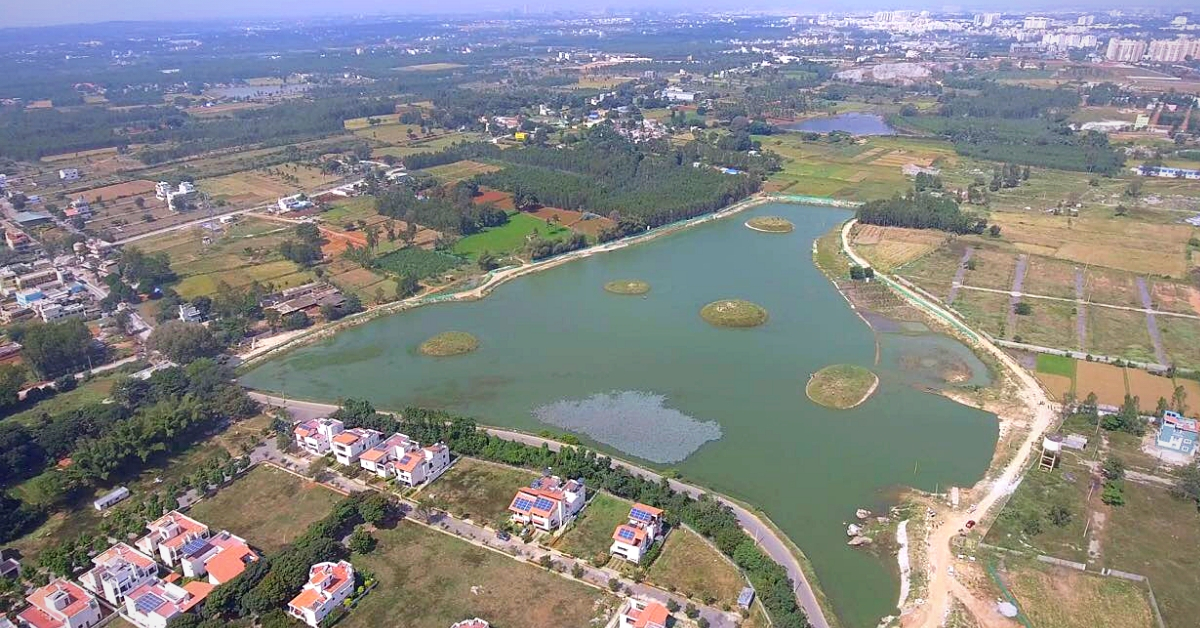 "We began the work on April 20, 2017, with a budget of Rs 1 crore and 17 lakh, provided by Sansera Foundation. We needed help and reached out to the nearby community with the help of a senior citizen, B Muthuraman (74). Together, we covered almost 400 houses to spread awareness. Eventually, people began to show up, and joined hands to work long hours to make this possible," says Anand. He was Sansera's CSR head at the time.
B Muthuraram, the ex-Vice Chairman of Tata Steel, had constructed a house just opposite the lake in 2009. But when he came to live there in 2014, the dry lake irked him to action. He approached Anand, who was already venturing into a project of rejuvenating the city's lakes.
Without the help of any industry experts, architects or engineers, Anand, a mechanical engineer, along with fellow citizens, removed almost 4 lakh cubic meters of mud from the lake.
They did this with merely three earth movers and six trucks.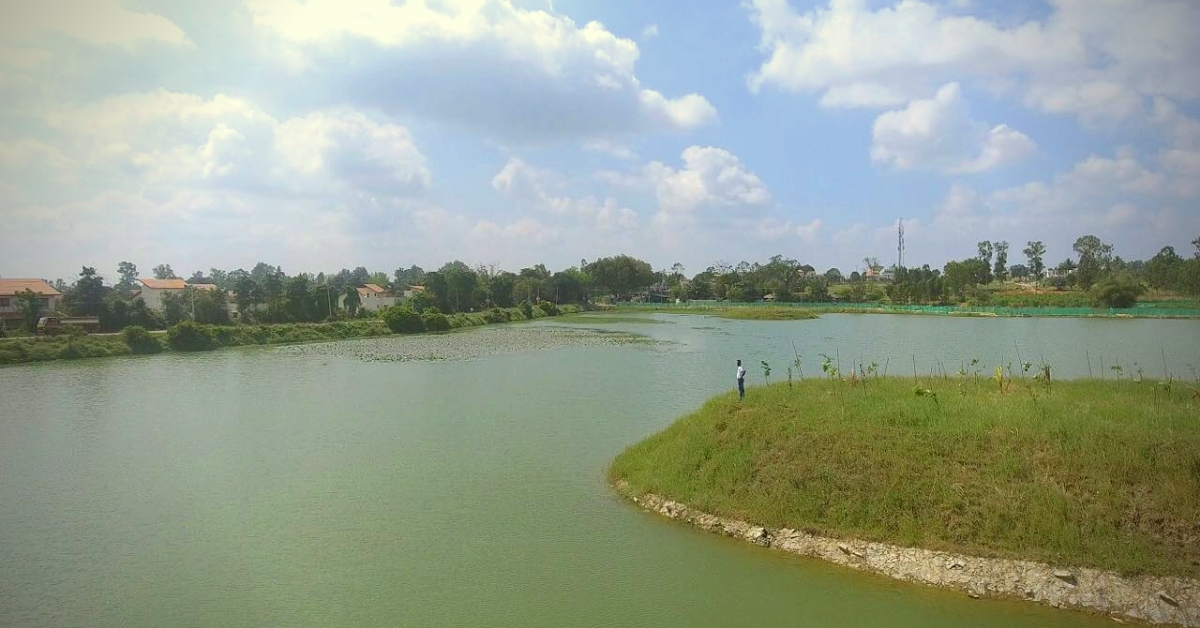 This mud was then used to create five islands of 110 diameters each, all across the lake, in only ten days. These islands now serve as nesting areas for birds, with a huge tree planted in the middle for nests, as well as fruit-bearing and flower saplings around.
"A total of 18,000 saplings, 3,000 fruit bearings of 22 varieties, 3,000 native species of plants, and 2,000 ayurvedic plants, now populate the lake area, providing it with a bounty of natural treasures," he adds.
The next step was to remove around 1 lakh cubic meter of mud from the lake and fill it with water.
"When I first visited the spot, it was a disaster. Such a huge lake had dried up, and villagers were using it as a playground or dumping their waste. From that, we went on to create an oasis," exclaims Anand.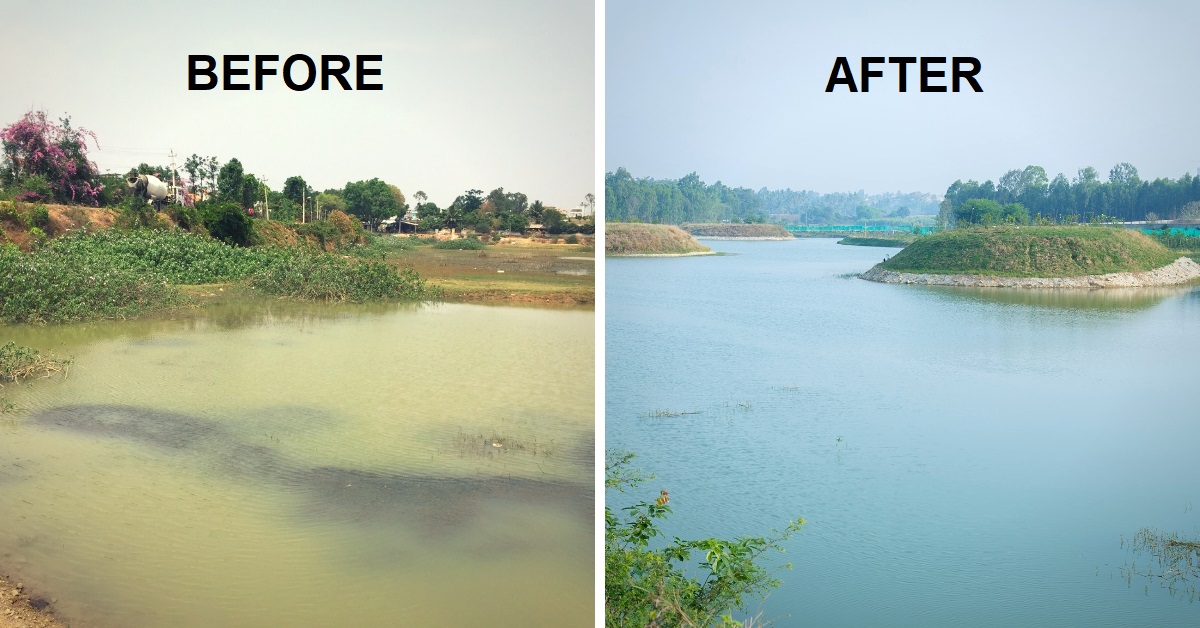 Two canals of the stormwater drain were diverted 1.8 km away, and then the September rains showered their magic, restoring life to a lake which had been dead for the past 35 years.
The work eventually followed with the plantation of saplings and the creation of two Japanese Miyawaki forests on the lake.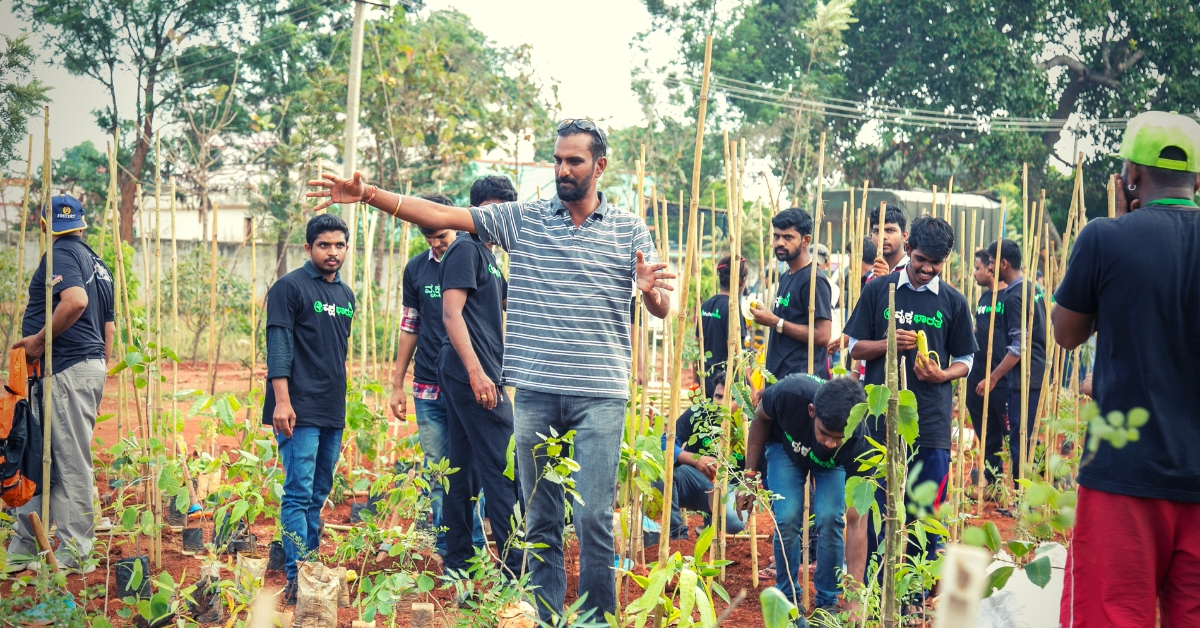 "It's a unique procedure, and we created forests of almost 25,000 sq feet with more than 5,000 plants. A total of 1,500 volunteers came together to plant trees in the forests in a record time of 1 hour and 45 minutes," says Anand.
He adds that the design was made keeping in mind the long-term aspects of sustainability.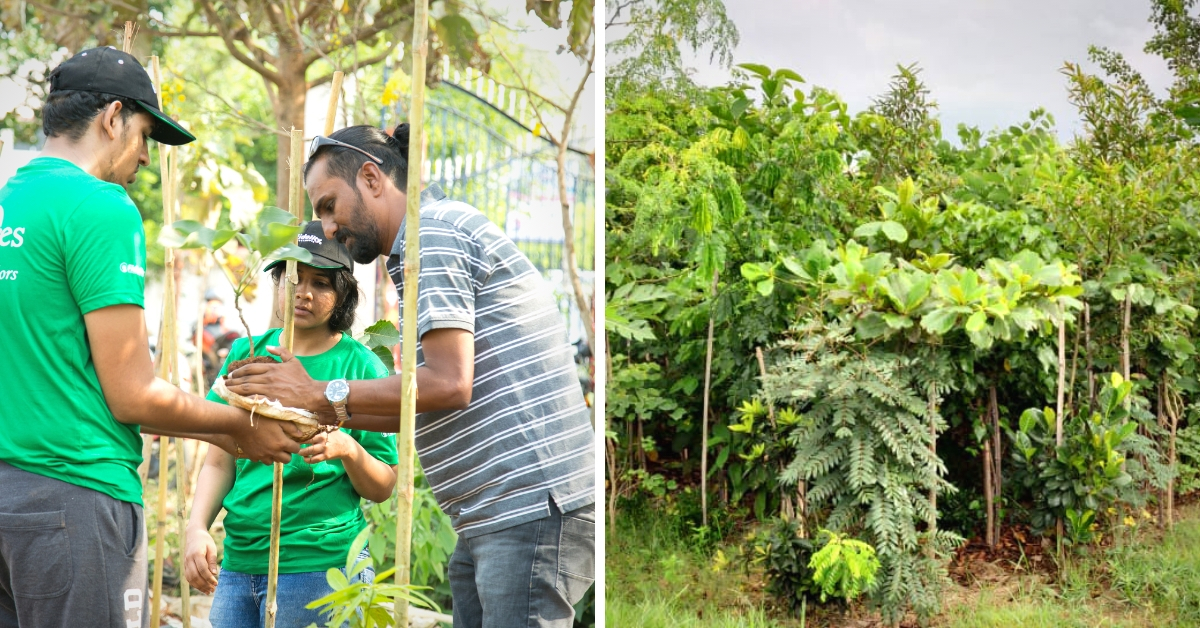 And so, the area surrounding the lake was not only protected by plants but also turfed with natural grass to save it from soil erosion.
---
Join Anand and The Better India as part of the Lake Revivers Collective and donate now to help us breathe life back into India's lakes.
Unable to view the above button? Click here
---
"Also, keeping in mind the majority population of farmers in the area, we didn't want the lake water to be directly used for irrigation purposes, which would cause harm to the aquatic life. So, instead, we created and recharged 186 borewells around the lake for their use," he adds.
On June 5, 2017, the lake was entirely transformed, paving the way for Anand, a lake conservationist, to save the rest of the lakes, independently.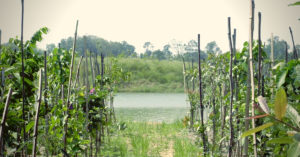 "After completing Kyalasanahalli Lake, I had found my calling, and so, I left my Sansera job, and began to work on other lakes, all on my own. The next stop was Vabasandra Lake near Bommasandra," he says.
With funding to the tune of Rs 75 lakh from Hewlett-Packard (HP), he began the work on April 5, 2018, and in two months, the 9-acre area of the lake was transformed into a 50 ft deep water reservoir.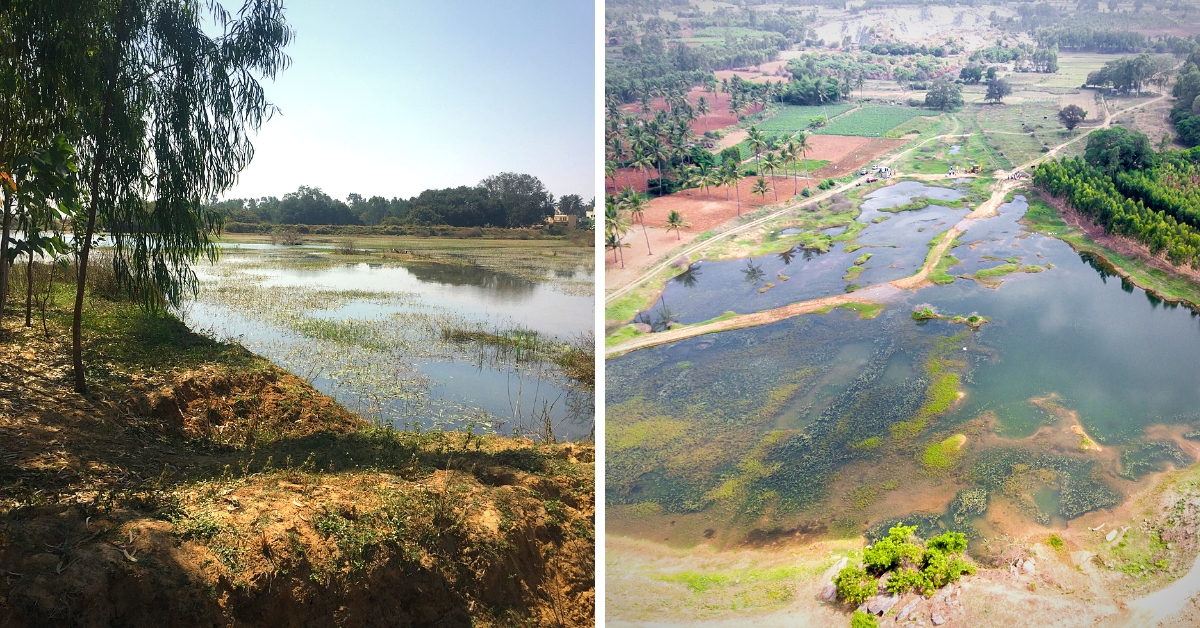 "Being an upper stream, restoring this lake and making it a reservoir would mean year-long life for the lakes situated on a lower level, like Kyalasanahalli," the water conservationist says.
Following this, the next target was 16-acres of Konasandra Lake.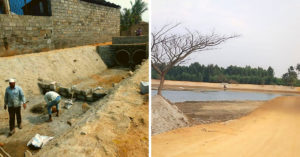 "It was in a situation worse than the foam-filled Bellandur lake when we found it. The pollution had changed the water to a toxic gel-like substance, making it one of the most poisonous lakes in the city. This was the doing of the industries and pharmaceutical companies in the area. But then, one of them, Hikal Ltd, decided to alter the damage and helped us with a fund of Rs 81 lakh to rejuvenate it," Anand proudly says.
This work began on November 3, 2018, and was completed on February 3, 2019.
With 42 more lakes to be saved, Anand has already planned his next strides at Gavi and Nanjapura Lakes, with a plan to transform the latter into 'one of the best' wetlands in India.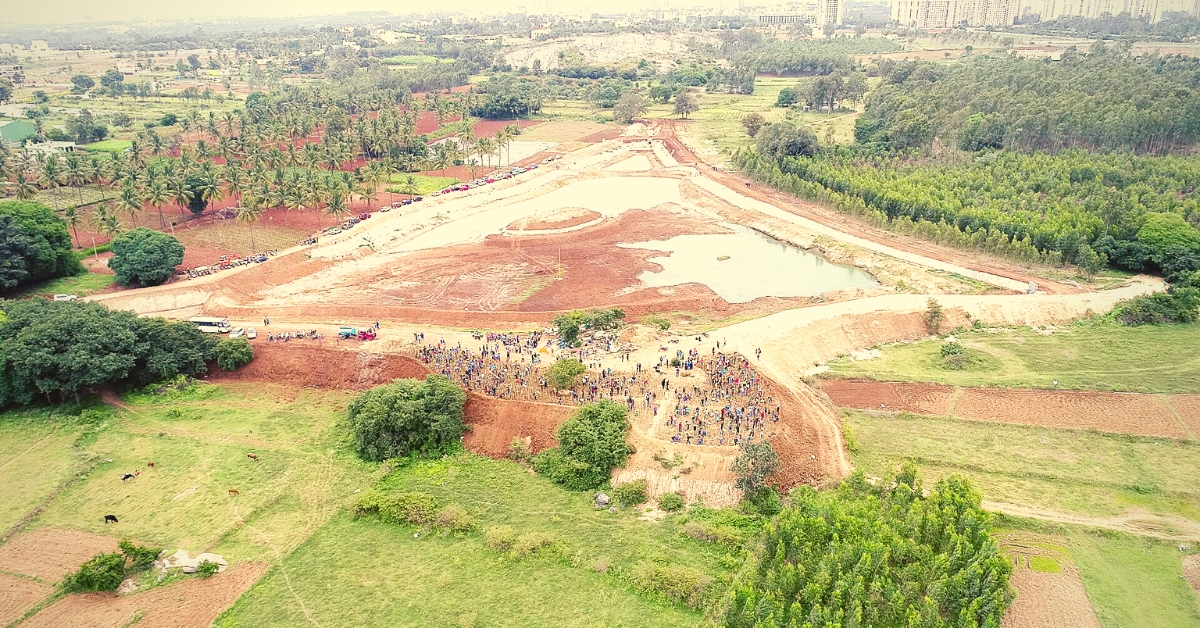 "Saving nature does not require only money, but willpower and a collective effort. It is my dream to give this city one of the best wetlands in the country. Nanajapura lake is the best spot for that, and we also plan to create a bird sanctuary, thus giving the ecological cycle, a healthy wind!" concludes Anand.
---
Join Anand and The Better India as part of the Lake Revivers Collective and donate now to help us breathe life back into India's lakes.
Unable to view the above button? Click here
---
With his expertise and iron will, he has been pushing the city to its former natural glory, inspiring many more on the way!
To volunteer or know more about his work, write to him at m.anand161980@gmail.com.
---
Impact Update: After this article was published, Anand Malligavad received messages, emails and calls from across the world — from people who wanted to learn from him, help him or appreciate his efforts. He received over 1,500 emails and has been taking over 30 calls every day since Feb 15, 2019. Other than over 500 messages congratulating him, he has received over 400 partnership requests, and around 3,000 people have contacted him with a desire to volunteer. Around 70 organisations, including NGOs and corporates, are in touch with him with requests to share his technical know-how on the subject.
He received several calls from across Karnataka, of people who want his help in rejuvenating water bodies in different areas. And Anand has already started making a database of all those requests. The Department of Rural Development and Irrigation has invited him to be part of a statewide community-driven water conservation project called Jalamrutha.
"Post this article I got an opportunity to interact with so many other unsung heroes of Bengaluru who are doing their bit to save the environment. It has also triggered many individuals to come forward and start thinking about protecting lakes in their vicinity. I have taken a very strong decision to never make a business out of this cause. Everyone is free to approach me with their projects and I shall support them "Free of cost" My life now is dedicated to lakes," says Anand.
---
(Edited by Shruti Singhal)
We at The Better India want to showcase everything that is working in this country. By using the power of constructive journalism, we want to change India – one story at a time. If you read us, like us and want this positive movement to grow, then do consider supporting us via the following buttons.
Please read these FAQs before contributing.