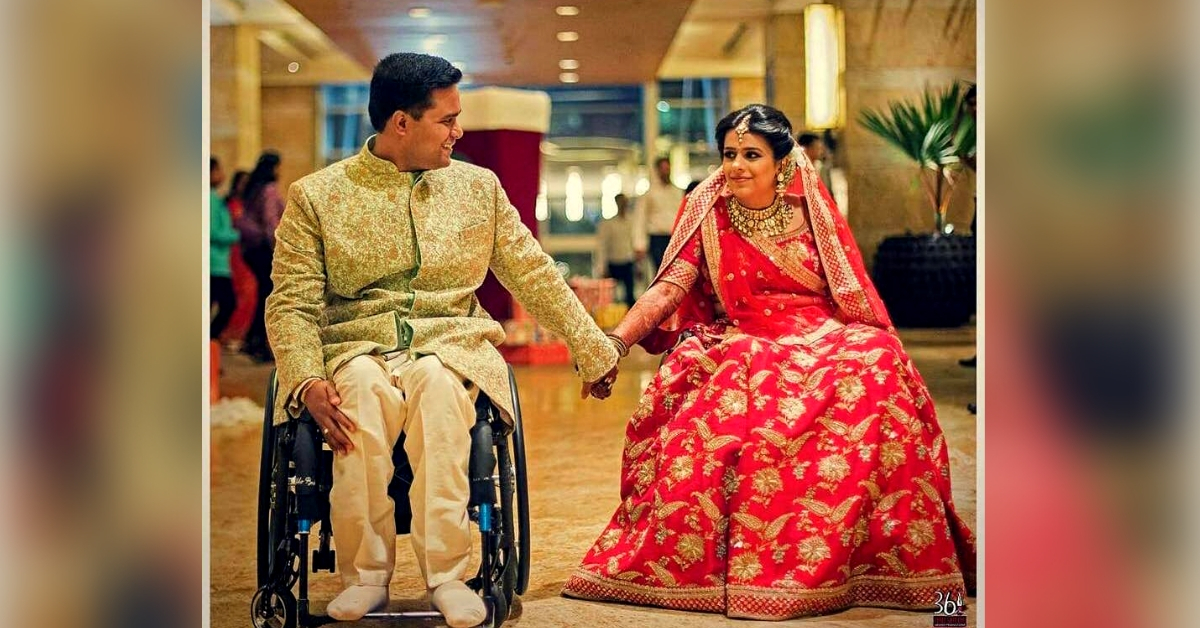 "We may be differently abled, but together we're complete... together we're two parts of one whole."
---
Some of the greatest love stories go unseen, unheard and undocumented, simply because they're ordinary couples living their lives. So this Valentine's Day, we try to showcase such stories—everyday people and their extraordinary love!
---
This Valentine's Day, we are celebrating inspirational stories of strong bonds of love that overcame insurmountable problems and persevered. Nehal Thakkar and Anup Chandran's saga of love is one such tale.
Over 11 years ago, Nehal met Anup at a medical convention in Mumbai. They got talking and realised that they had shared a tragedy with eerily similar details.
Severe spinal injuries sustained in a car accident in Navi Mumbai robbed Anup of his ability to walk.
Nehal was caught in a similar accident on the same road in the same model car on the same date – the 22nd day of the month. She too suffered spinal injuries and was restricted to a wheelchair.
The only difference? The two accidents were three years apart.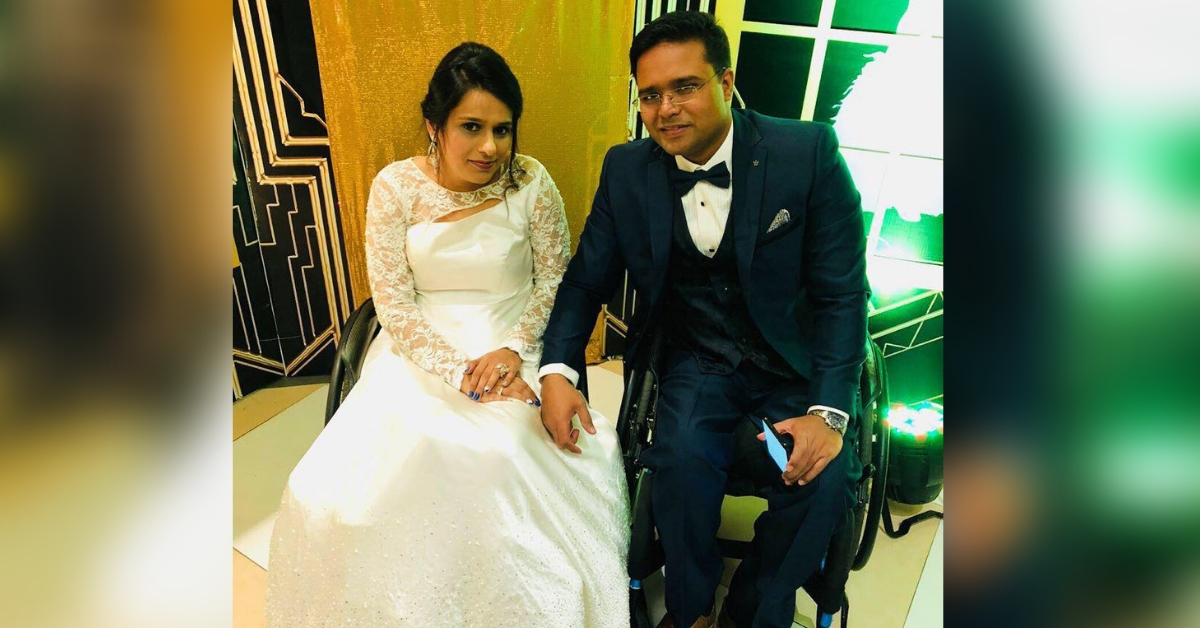 "The similarities were shocking that it was on the same Palm Beach road in Navi Mumbai. And we had both been in a Maruti Zen when we met with the accident. Just the dates were different," Anup tells The Better India, adding, "Mine was on 22 June 2003 and hers, on 22 November 2005. Both of us had fractured spines post-accident and are wheelchair bound."
When two people have suffered the same tragedy bonding inevitably follows. "That's how we became friends — initially, we used to talk about our accidents and supported each other. But slowly, we started meeting for a movie, or coffee or with a group of friends. We began to text each other all the time and have conversations that lasted till 4 in the morning," Anup told Humans of Bombay in 2017.
Anup works with the Standard Chartered Bank and Nehal runs her own event company called Madea.
The two encouraged each other to forge ahead in their respective careers despite the tragedies they had both suffered.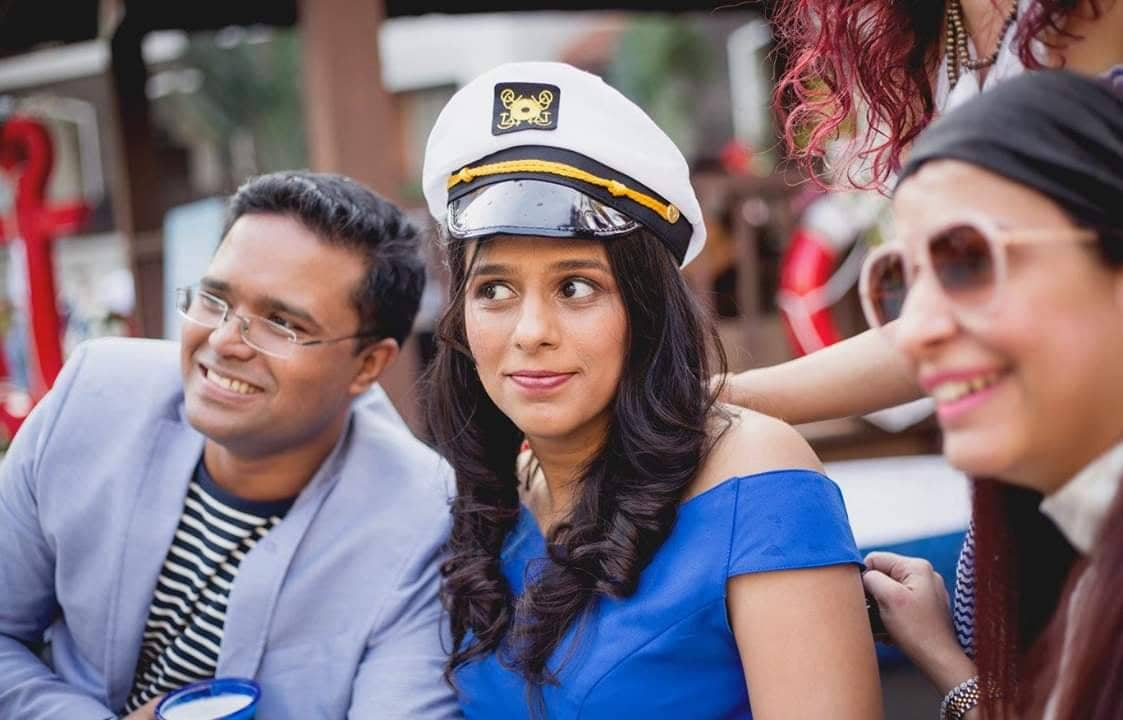 "Nehal needed a push to become independent – which I gave and got her to start driving and be free from her helpers and live a more active life. She supported me whenever I was low from personal or work issues by being a patient listener," Anup told TBI.
The continued texting brought them closer—but their true feelings for each other only came to light when Nehal went on a trip abroad. The daily texting was reduced to a call per week during that 20-day trip, and this separation crystallised the intimacy blooming between the two.
---
You may also like: Parted by Partition, This Couple's Miraculous Reunion Is What Legends Are Made Of
---
"I missed talking to her every day, and when she came back she told me the same thing! We both confessed our feelings to each other and began to date. Of course, initially, it was difficult because of both of us are wheelchair-bound, and a lot of time, we both needed help — sometimes to use the restroom while having dinner at a restaurant or even to get out of a cab!" he adds.
However, the couple shrugged off such inconveniences, and after seven years of dating, Anup and Nehal decided to get married. But their parents were doubtful.
The primary cause for concern was how the couple would manage if both of them were bound to wheelchairs.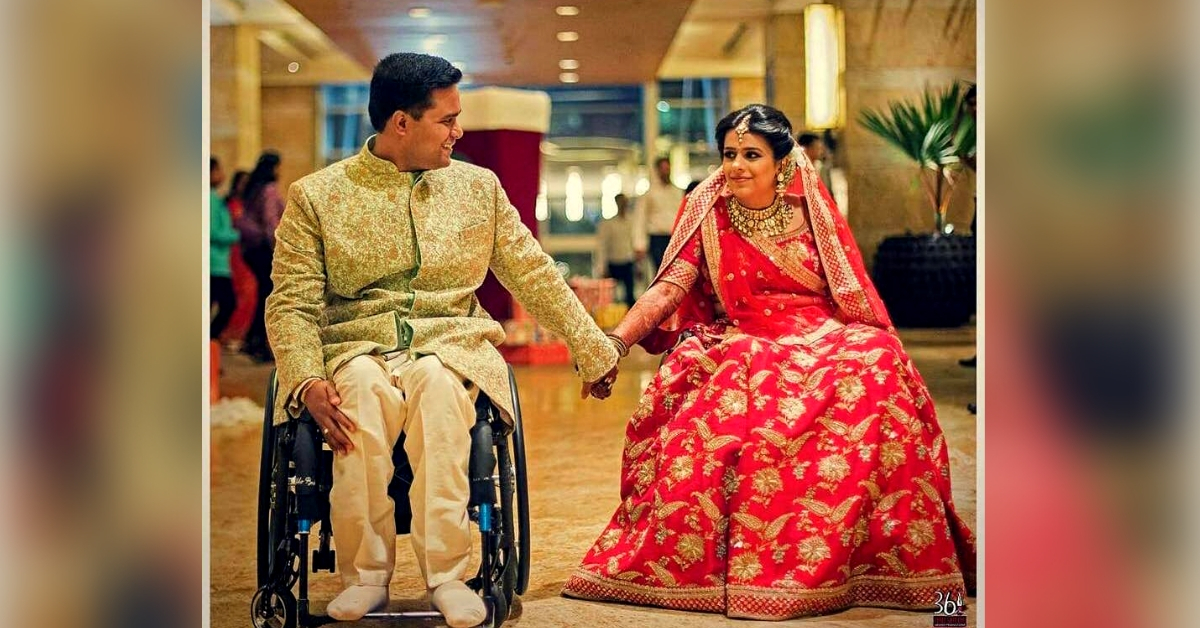 But the couple was not one to give up easily. For seven years, they were not only managing but also thriving on each other's moral and emotional support. For the determined duo, their parents' scepticism was just another opportunity for them to show how perfectly they fit together and a wheelchair was not reason enough to keep them apart.
---
You may also like: Mumbai Couple Reverses Societal Roles, Proves Marriage Is All About Equal Partnership!
---
"Through these past few years, we've shown them that we can more than manage. We've tried being independent and doing things on our own, and as for the rest, when we live together, we'll figure it out together. In fact, we've learnt to be around one another and support each other so much that we recently went to Goa alone and it was by far the best time. That's what we're looking forward to forever. We may be differently abled, but together we're complete… together we're two parts of one whole," Anup told HoB.
The happy couple tied the knot in January 2018. It is real-life examples like these that make us truly believe in the power of love. "We believed in our destiny and have been able to live our dream life. The irony is we now live overlooking the same road where we met with our accidents," Anup says.
For several years, Nehal and Anup have been each other's support systems and we wish them many more years of togetherness and the strength to face any hurdles that life may throw their way!
(Edited by Saiqua Sultan)
Like this story? Or have something to share? Write to us: contact@thebetterindia.com, or connect with us on Facebook and Twitter.