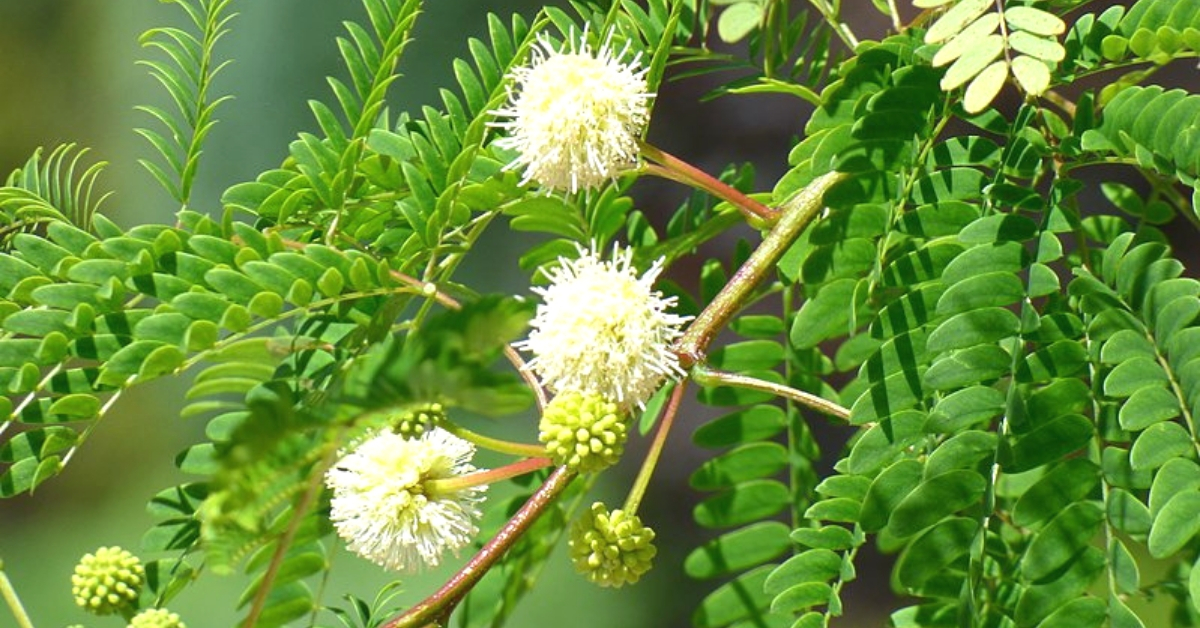 Interestingly, in India, Subabul wood is already being used as raw material for paper pulp.
Subabul (Leucaena leucocephala) tree—so named for its resemblance to the Babul (Vachellia nilotica) tree is quite a common sight in India. This multi-faceted, fast-growing tree was introduced in India from Hawaii, in the early 1980s, for its many benefits. Leucaena provides medium-density wood, high-protein fodder from its leaves and fixes nitrogen in the roots which help the soil. No wonder that the then Government of India made it a part of a social forestry program to increase green cover and provide fuel for rural households.
However, things did not pan out according to the government's plans. The tree could find no takers for its relatively soft wood (unfit for timber and also as fuelwood), and by late 1980s, the government and others had lost interest in its propagation.
Yet Leucaena persevered. It could not be eradicated easily as it produces seeds in thousands and requires very little water for growth. With natural dispersion of seeds taking its course, the tree spread rapidly in all areas where it was planted. Over the years, this tree got reduced to a pretty sight along the roads and its benefits forgotten.
The Resurgence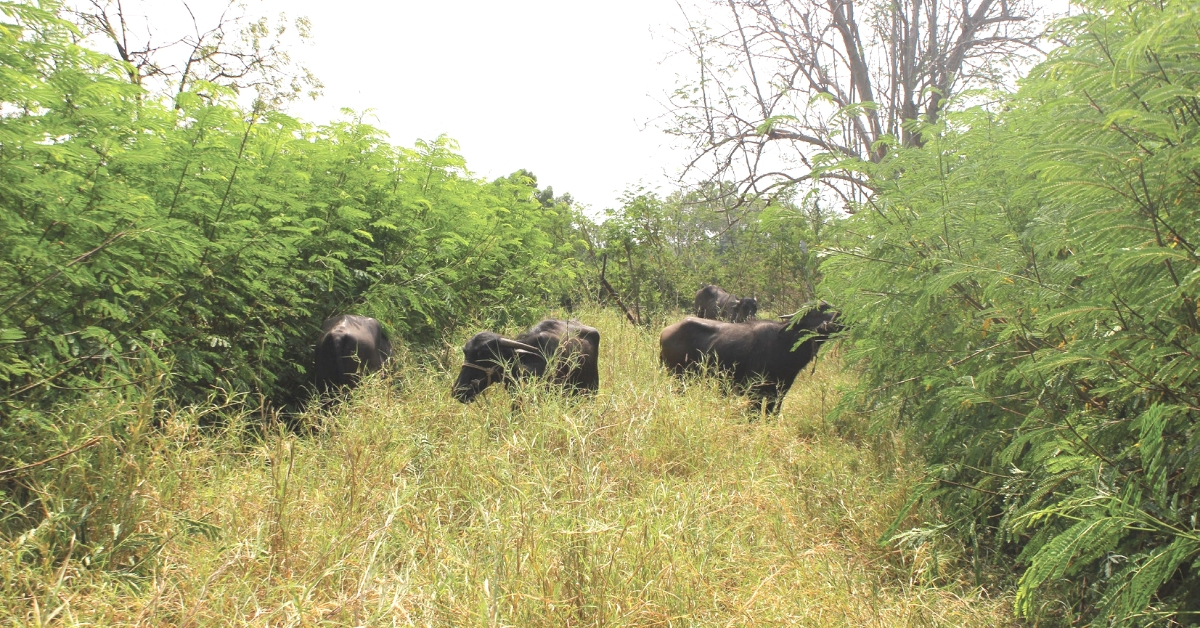 In November 2018, an International Conference on Leucaena took place in Brisbane, Australia. Researchers and workers from all over the world discussed its various uses and how to expand its acreage. Nandini Nimbkar (President of NARI) and I were the only two delegates from India. The fact that the conference was taking place after about 20 years (the last one took place in 1997 in Vietnam) attested to the new found love for Leucaena as a fodder crop.
Leucaena has become a very attractive fodder crop world over and I feel that it is this quality of Leucaena as good fodder together with its value as a fuel and paper pulp crop that gives it great potential for India.
All scientists and researchers at the conference showed that Leucaena was excellent fodder for animals, both in good rainfall areas as well as in dry and drought-prone areas. Most of the data shown in the conference were for increased meat production by feeding the leaves of the tree alone though it is well-known that even small quantities of Leucaena can increase milk production thereby reducing or even eliminating the need for concentrate supplementation.
In Australia, we visited quite a number of large properties (3000-5000 acres) where the animals grazed on Leucaena grass pastures only. Leucaena contains an anti-nutrition compound Mimosine which can cause toxicity in animals. However, researchers at the conference showed that in a short time the gut of animals adapt and degrade Mimosine. Also, researchers have identified bacteria which when fed to animals completely neutralized the toxicity of Mimosine.
Subabul and its viability for India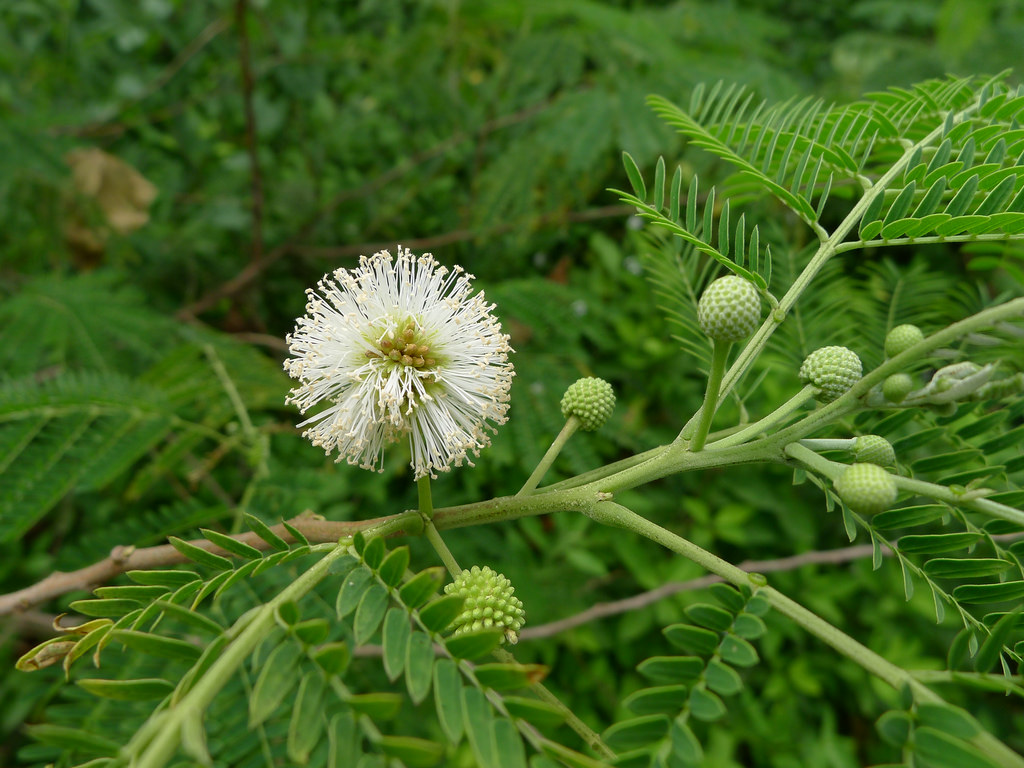 Source: Flickr
A large number of livestock camps attest to the shortage of fodder in India. Both large and small animals require fodder in the absence of large areas of grazing land like in Australia, Europe and America and there is a need to harvest the Leucaena leaves; prepare leaf meal and then feed it to the animals. Also for it to become popular so that farmers find it remunerative to plant, it needs to have other uses. Thus, Subabul wood can be used both for energy and also as a raw material for pulp.
Interestingly, in India, Subabul wood is already being used as raw material for paper pulp. India is, probably, the only country in the world to use Subabul wood for pulp making. About 100,000 ha of Leucaena has been planted in India for this purpose. The program can spread even more if the import policy of the GOI is made to help the local paper mills rather than the importers. Presently the import duty on pulp is very low thus growing Subabul is becoming economically unviable.
Subabul: an alternative power-generation fuel?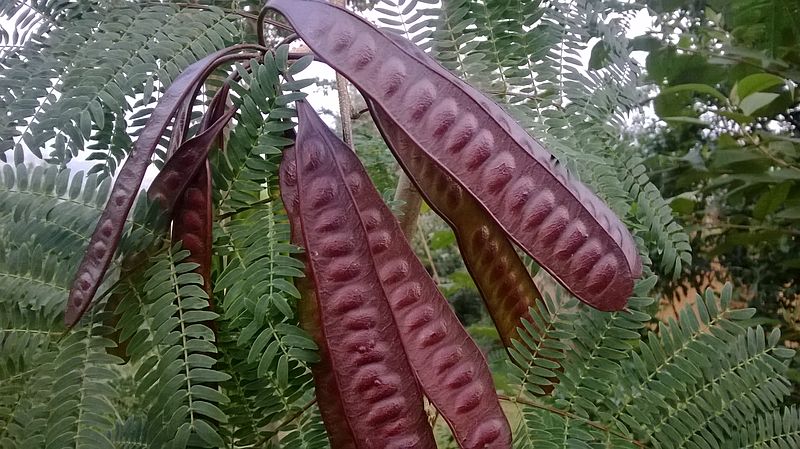 Source: Wikimedia
Nimbkar Agricultural Research Institute, in the early 1990s, developed a taluka biomass policy of producing 10 MW power in each taluka using agricultural residues and supplemented by Subabul wood. This policy which was implemented by the Ministry for New and Renewable Energy (MNRE) and was the forerunner of the national biomass-based power plants. I feel 5-10 MW power can be produced in each taluka by dedicated Subabul plantations and the leaves can be processed into leaf meal and sold as an excellent fodder.
Thus the power plant can become a source of producing both power and fodder.
Our data has shown that for producing 5 MW of power, an area of 1600 ha under Subabul plantation will be required. This can produce about 12,000 tons of dry edible biomass/year (leaves and small stems), enough for about 7500 livestock. Many such plants in different talukas all over the country can help in decentralized energy and fodder production.
And the benefits for the farmers
On an average Subabul produces about 5-10 tons/ha-year of dry edible biomass and 40-50 tons/ha-year of fresh woody biomass. With the cost of high protein dry fodder at Rs. 12/kg, a farmer can easily make around Rs. 60,000/ha-year from Leucaena fodder alone. This income will be supplemented by the wood supply at Rs. 2/kg. Thus a farmer can make about Rs. 1.4 lakh/ha-year.
---
Also Read: From Food to Fodder, Here's How This Magic Plant Can Take Care of Our Needs
---
Our data also shows that with Rs. 2/kg fresh woody biomass cost the electricity cost from Leucaena will be about Rs. 5.7/kWhr. This electricity is costlier than that produced via Solar PV but cheaper than that from diesel gensets. However, the attraction of this scheme is that it is decentralized and can be run year round irrespective of insolation.
What is needed to make this scheme a success is to develop machines to harvest wood and foliage and also to do excellent R&D to produce Leucaena varieties producing high leafy and woody biomass.
(Edited by Saiqua Sultan)
Like this story? Or have something to share? Write to us: contact@thebetterindia.com, or connect with us on Facebook and Twitter.
We bring stories straight from the heart of India, to inspire millions and create a wave of impact. Our positive movement is growing bigger everyday, and we would love for you to join it.
Please contribute whatever you can, every little penny helps our team in bringing you more stories that support dreams and spread hope.