"Sometimes the completion of all the formalities can cost someone's life. So we try to bridge that crucial gap", says the inspiring doctor about his efforts to provide quality health care to India's most vulnerable.
For Dr Manoj Durairaj, his profession is not just about healing people but giving them a new life.
A practising Cardiac Surgeon at Ruby Hall Clinic, a Pune-based hospital, the doctor also heads the Marian Cardiac Centre and Research Foundation, where he treats patients with heart defects for free.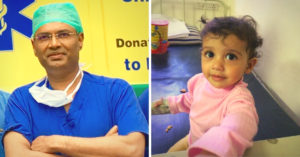 "I truly believe that the forces of nature are responsible for the good work done by the foundation and me. I have never had to turn any patient away for the lack of money or resources to facilitate the treatment," said Dr Manoj while speaking to The Better India.
Following in his father's footsteps
Dr Manoj's father, Dr Manuel Durairaj, was a Cardiologist with the Indian Army for 21 years and served as the honorary physician to three presidents—N Sanjeeva Reddy, R Venkataraman and Gyani Zail Singh.
He had also founded the Department of Cardiology at Ruby Hall Clinic.
But his most significant contribution to the society was the Marian Cardiac Centre and Research Foundation, which he founded in 1991. Dr Manoj joined the foundation in 2005 after completing his education at the All India Institute of Medical Sciences (AIIMS), New Delhi.
Talking about his journey, Dr Manoj said that his father had inspired him to tread the path of social change.
---
Also Read: How a Doctors' Collective in TN Is Challenging Politics & Discrimination in the Medical Profession
---
"I grew up seeing my father dedicate his time, money and medical expertise to treat the people who are far from quality healthcare due to monetary reasons and geographical distance. That inspired me to not just take up the profession that had the potential to make a substantial difference to people's lives, but also continue his work of taking quality healthcare to those who need it the most."
Today, the clinic uses its own funds, in addition to the monetary contributions of their 30-odd donors, to help more than 300 patients find a new life.
"Contrary to common perspective, our donors aren't high-profile organisations or individuals. These are salaried and retired people, some even former patients, who donate whatever they can to make our work possible," said Dr Manoj.
From treating valvular heart defects to correcting cardiac malfunctions like congenital heart disease, Dr Manoj has conducted more than 350 free surgeries in all these years, for patients, especially children, coming from low-income families.
In his conversation with TBI, he spoke about a situation when the clinic's funds were not enough to help a child. Thankfully, the donors saved the day.
"Two years ago, we have received funds worth Rs 6.5 lakh for a heart transplant surgery for a 12-year-old girl from Ahmednagar. It was a true miracle to find so many people coming together to save this life. All thanks to my donors, we have been able to provide high-quality bypass surgeries worth Rs 2.5 lakh and more to the needy."
In India, healthcare is being made available to the poor through various government schemes, but there are those who are geographically situated on the borderline areas or do not have the needed documents to prove that they are deserving of those concessions.
"Sometimes the completion of the entire process can cost someone's life. So we come to facilitate to bridge that gap," says Dr Manoj.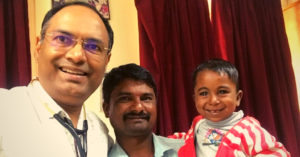 To do this, the doctor travels to areas outside of Maharashtra as well and operates on people who do not have the state's BPL card, at a charitable trust in Ahmednagar.
What also sets apart this clinic from the rest is its focus on post-operative care, which government agencies do not fund.
At the clinic, these post-op patients are offered OPD consultations and monthly medicines for free.
One such patient is 14-year-old Prerana, the daughter of a single mother from Jalgaon. After undergoing a heart transplant two years ago, Prerana was adopted by the foundation, and it bears all her medical expenses that are worth Rs 10,000 to 15,000 per month.
Although currently, Prerana is a single full-support case, Dr Manoj hopes that the foundation will be able to provide similar support to many others in the coming future.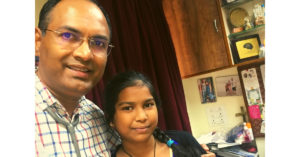 A saviour in the eyes of many, he feels that he has only just begun, and there is a lot of work to do.
We salute Dr Manoj Durairaj's persistence, and hope that the foundation meets the noble goal of reaching out to people all across the country.
(Edited by Gayatri Mishra)