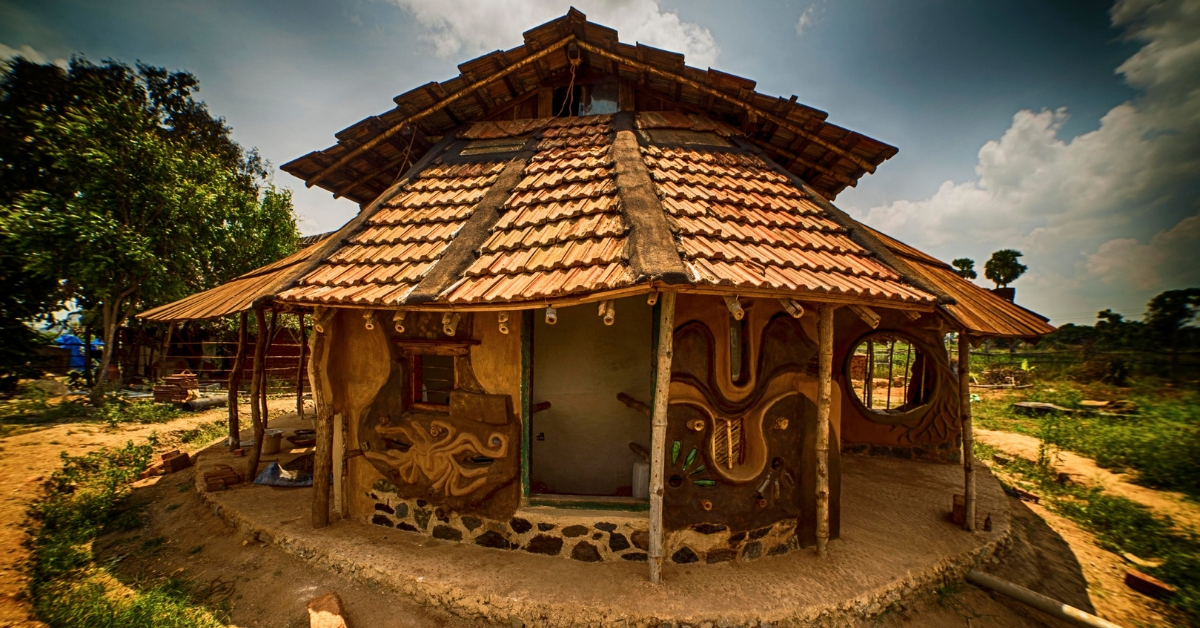 The Better India (TBI) is bringing to you a series of stories on sustainable architecture and living options and in this quest, how can we leave mud houses out?
Jayan is an organic farmer in the Attapadi village of Kerala. You can see him toiling away in his field, using natural fertilisers and pesticides to nurture his crops. His green, chemical-free field is his pride and joy.
And it was this prized possession that made him decide to shift from his concrete, non-eco-friendly home to a mud house designed by Biju Bhaskar, the founder of Thannal Hand Sculpted Homes.
Chemical free, sustainable living is the way of the future and why should your home not be a part of the same? Whether you wish to build a "natural" house in the middle of a bustling city or as a way of getting closer to nature in a remote area, Thannal will help you build sustainable mud houses with your hands.
Here, we bring to you the advantages, challenges, and features of mud houses as we speak to Thannal's founders and team members who have been their passionate advocates and builders.
Let's start with the advantages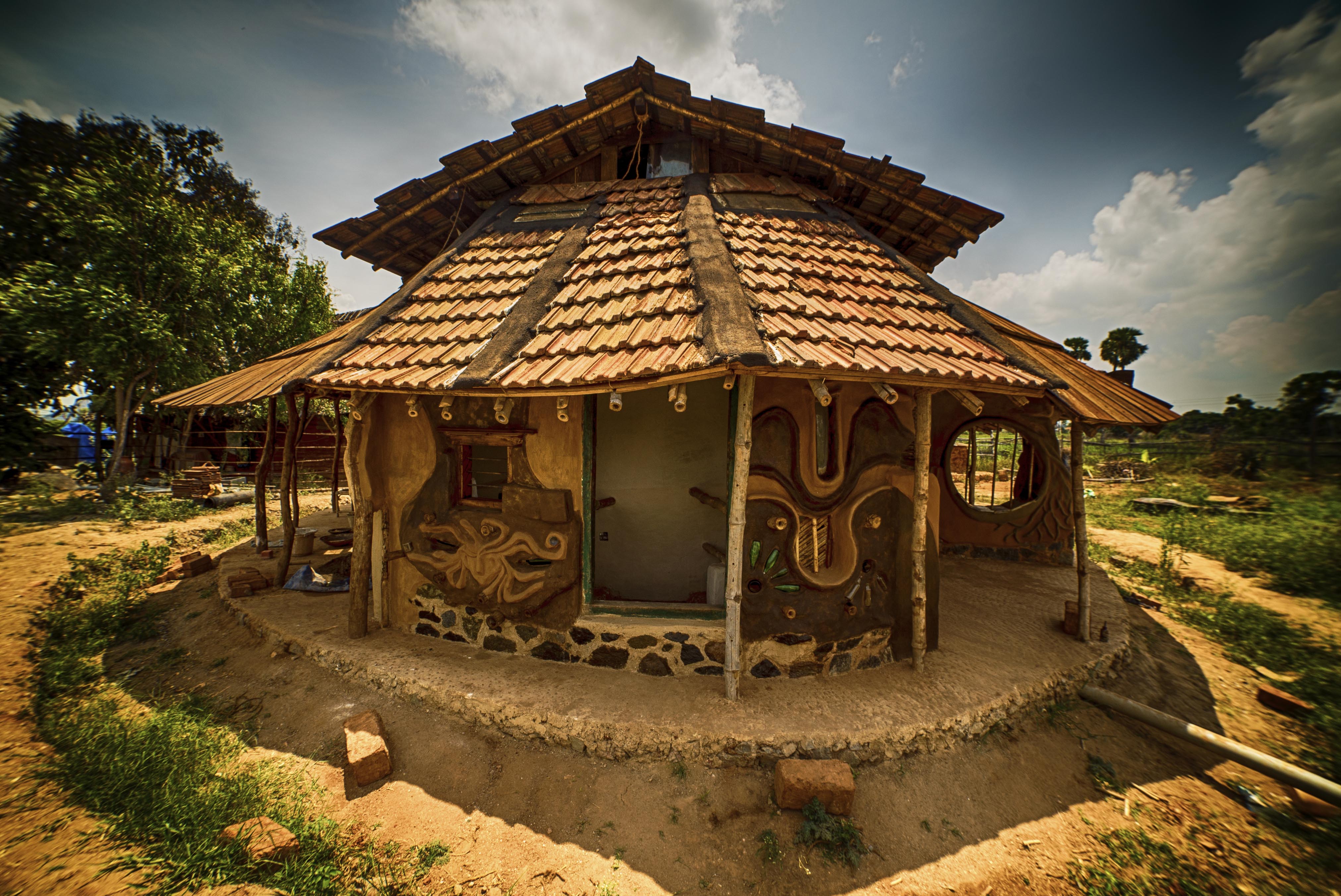 Speaking to TBI, Biju Bhaskar, one of the co-founders of the organisation says, "Mud buildings are very much similar to the human body. Mud walls, being porous, can breathe, like our skin. This helps in maintaining comfortable indoor temperature, irrespective of extreme weather conditions outside. So one can save a lot of money spent on ACs and other mechanical means to keep the space comfortable."
Matkas are a classic example of how cool (literally) mud is. Of course, you won't be able to adjust the indoor temperature of your house like you would with an AC, but the clay house will keep the structure naturally cool in summers. You are free to install fans or heaters inside to maintain the temperature that suits you.
"Another major advantage is that the material is re-usable and if you break it down, mud can easily go back to nature. So if your son needs to build a house, he can re-use the entire material and not really look for anything new. This way we can reduce the dependency on nature for construction," the founder says.
Yet another advantage of these houses, Biju says, is that they utilize the locally available resources and labour.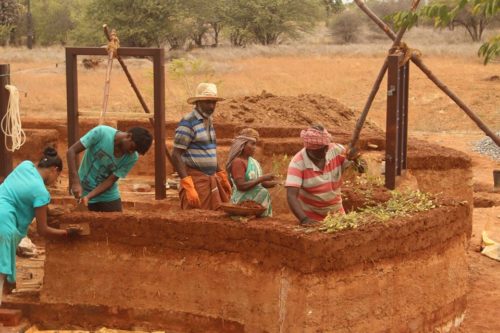 The proportion of how much lime, clay, cow dung, among others, you use in the mud to construct the house may vary. But as the raw materials are local, they naturally complement the climate, weather conditions of the area and the needs of the residents.
A 500 sq feet house for a family will take between two to five months to build and not be a big burden on your purse.
"Depending on the availability of materials available locally, we have been able to attain a construction cost of Rs 800 to Rs. 1000/- per sq ft. It is very affordable as compared to conventional building costs or so-called "sustainable architecture," which is even more expensive than the conventional architecture (Rs.2500/- to Rs. 3000/- per sq ft.)
This is achieved due to the main material required—Mud—which can be sourced from either the site itself or from nearby areas. Lime is the major binding material and is required in less quantities than cement. We neither use cement in our buildings nor mix it with mud. We do not use materials like sand or steel in our construction and likewise, materials which are on high demand by the construction industry. This also helps us keep our material costs down. We refrain from using plastic wastes in our buildings as we believe the aura and positive energy in making a space more habitable are derived from natural materials only," says Thannal's website.
Where do I get all this mud from?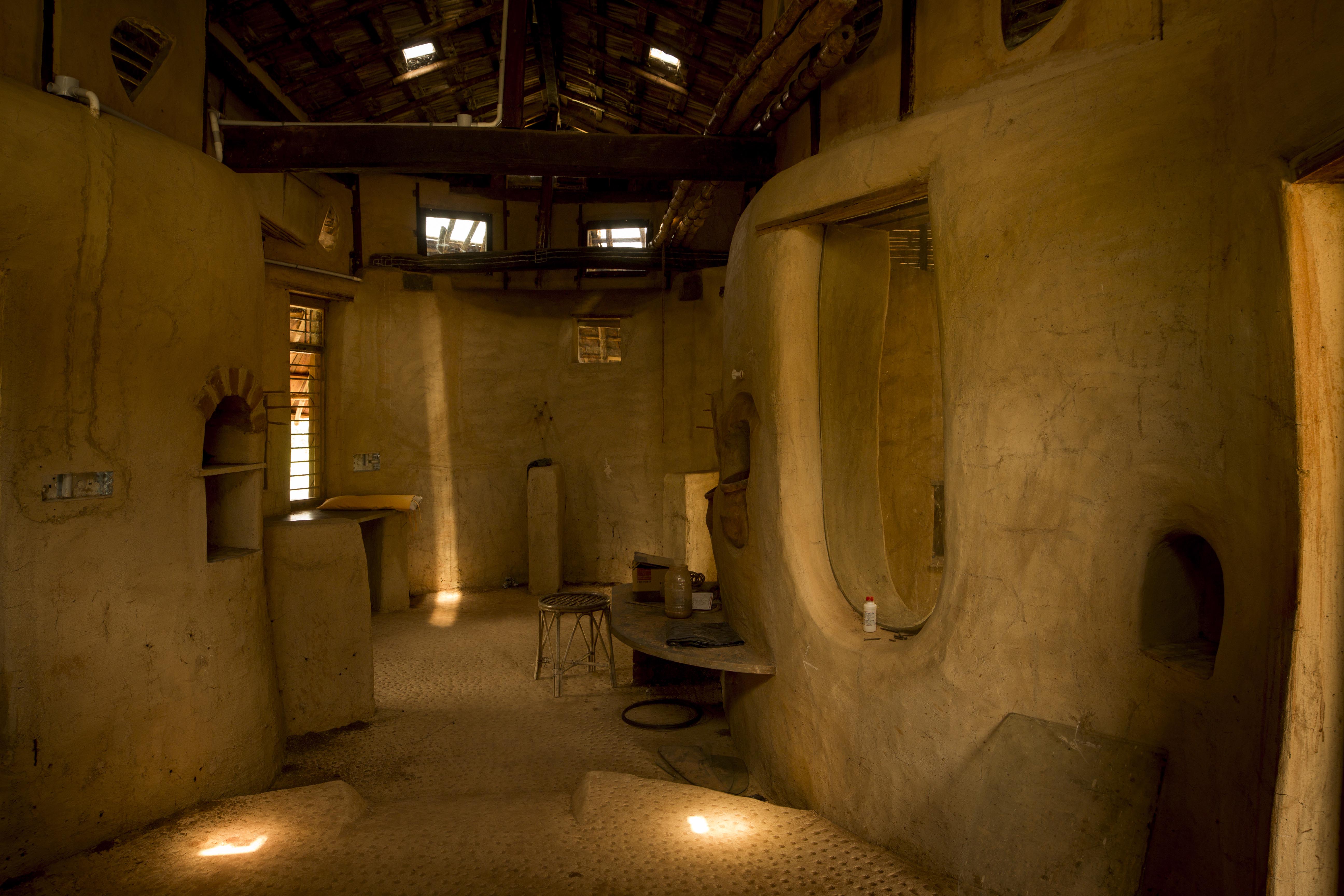 When it comes to mud houses, there are four major types of construction practices.
· Cob is the simplest and the oldest technique where a mixture of soil, clay, cow dung, hay, cow urine, and lime is used for construction.
· Adobe goes a step forward and sun-dries clay to form bricks.
· The Wattle and Daub method uses bamboo for construction
· Finally, the rammed earth technique uses two wooden planks tied on either sides of what will be your wall and mud is filled in between.
The technique that best suits you depends on the climatic conditions of the location and the size and type of architecture you want. It is best to consult with experts like Thennul (link to contact below) to know what would best suit you.
"In a rural scenario, it is not at all difficult to procure materials. If you have a plot, you can dig a pond for water conservation and use the same mud for making the house. In [an] urban scenario, if you look at any construction site, for example, shopping malls or any big houses, tonnes of mud will be used for raising up the building to the road level.
They use mud, which is like 'gold' for making houses, under the building and use concrete to make the spaces which are used by humans.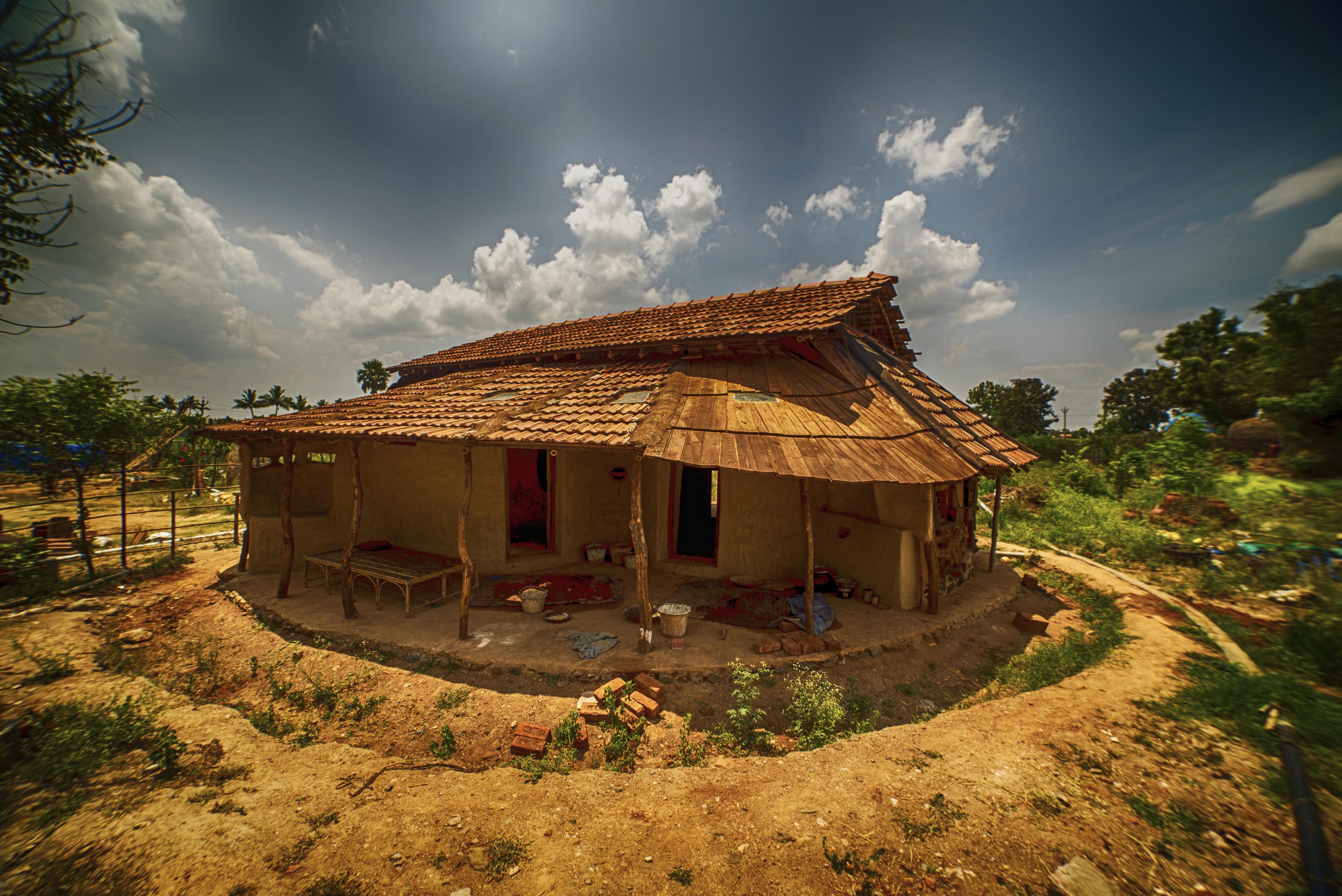 So such contractors can be contacted for mud in urban scenarios," says Sindhu Bhaskar, Thannal's co-founder and Biju's wife, giving a general idea about where one can obtain the primary materials
In the states of Tamil Nadu, Kerala, and Andhra Pradesh, the duo further inform, every district has at least one lime kiln. "We can get both stone lime and shell lime, as per proximity to the sea. You require only 25-30 bags of Lime for a 500 sq ft home, whereas you need a truckload of cement for the same," she says.
The challenges that you will encounter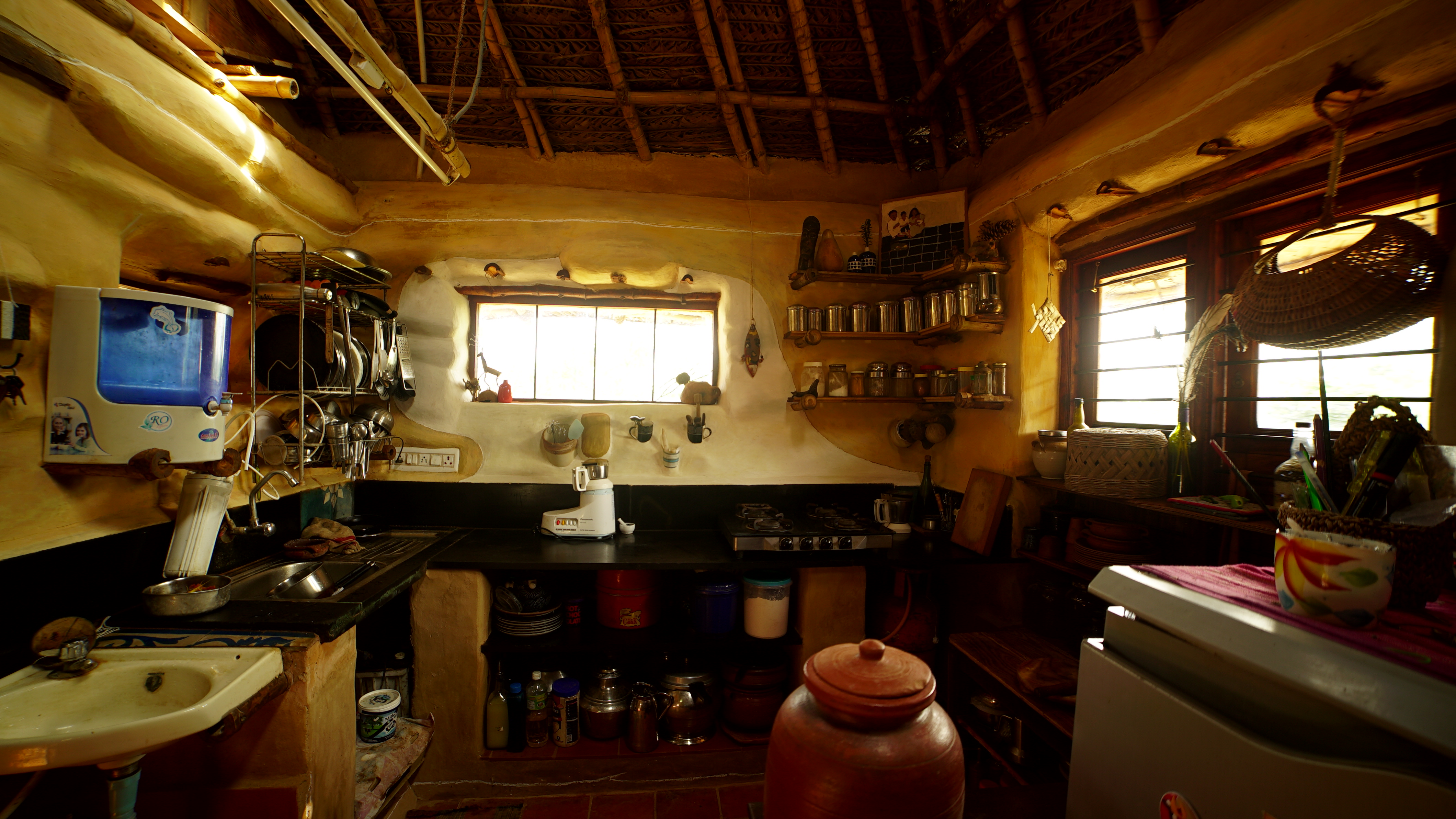 Mud houses were common in the yesteryears and you can still see a few in remote villages across India. However, concrete has taken over most parts of the world and so, one cannot guarantee that building a mud house for yourself will be a smooth process.
Firstly, you might need to take a personal interest in gathering the materials. The people at Thannal believe in their own special form of barter system—where they offer you services in exchange for "creating learning opportunities" about which you can read more, here.
Although conventional construction plans require personal supervision as far as the requisition of materials is concerned, for a mud house—you will have to go the extra mile in search for supplies.
---
You may also like: British Man Builds Eco-Home for Rs 1.5 Lakh in Karnataka, Donates It to Farmhand
---
On the brighter side, you learn the art of constructing an eco-friendly home and the satisfaction of building your home with your own hands! Thannal, especially, makes sure that you do.
Secondly, since mud is naturally cool, the architecture might not be suitable for cold regions unless you make specific arrangements to keep the indoors warm through naturally insulating roofs and floors.
Areas that receive heavy monsoon showers might face severe problems since mud, as we know, disintegrates in a deluge. However, this can be solved with a high foundation of stones, leak-proof roof projecting on all sides and advanced waterproof plasters of Lime.
Thirdly, if gaps are left in between roof and walls, you might invite insects and tiny reptiles as your house is essentially made of natural resources. However, eco-friendly repellents and techniques, using plant derivatives should do the trick for you and keep them away.
The brains behind Thannal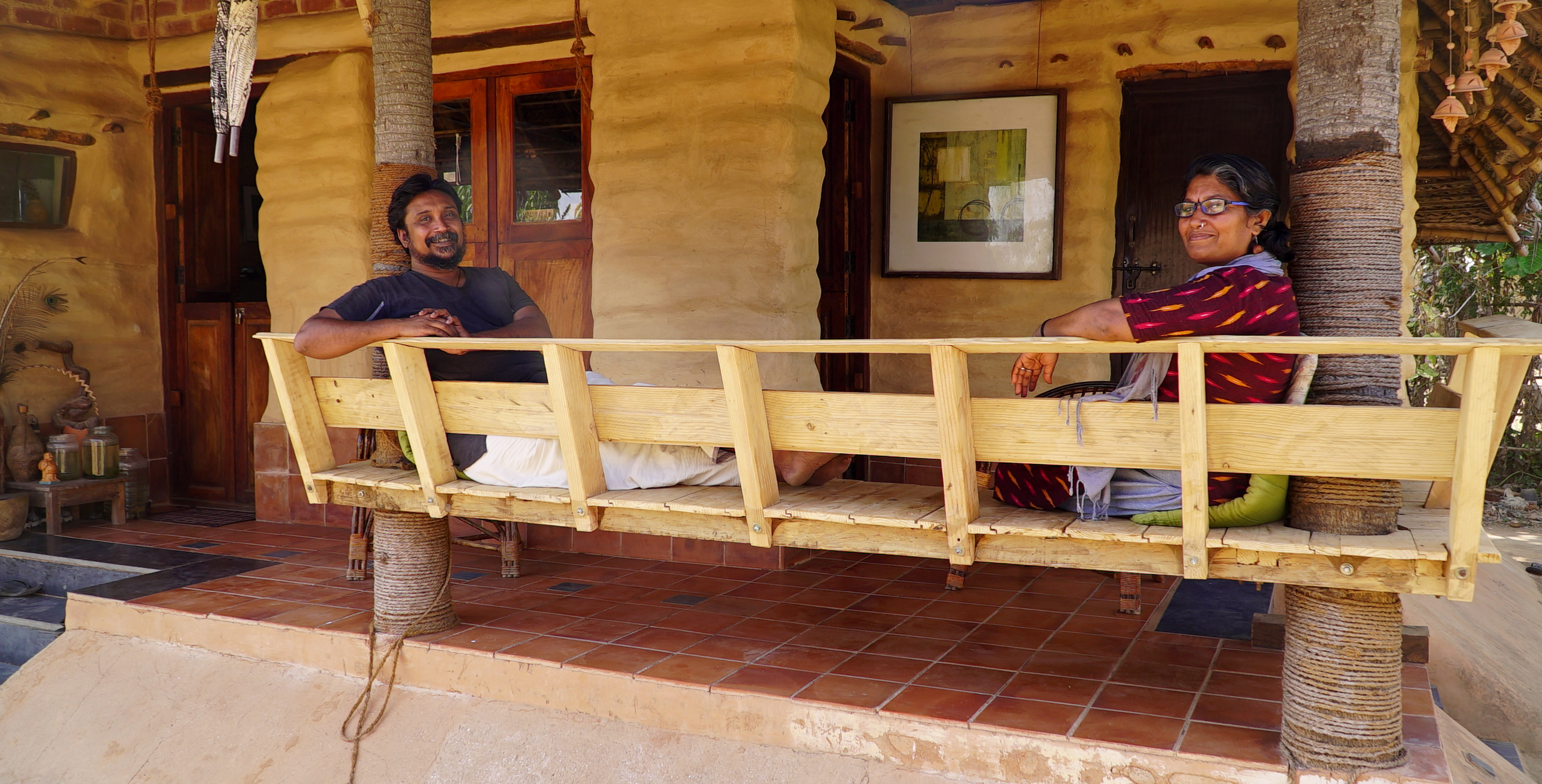 Biju comes from a traditional farming family. He was pursuing a degree in architecture when, interestingly, he dropped out of the conventional course and began travelling to different parts of India to learn about natural living and eco-architecture.
Trained in wood sculpting at Khajuraho, the entrepreneur completed his architecture degree in 2009 and started Thannal Hand Sculpted Homes in 2011, along with his wife, Sindhu.
The Bhaskars, and their children Adhya Vriksha and Bodhi Vriksha, live in a mud house at the foothills of Arunachala, Tamil Nadu, and promote this kind of living to everyone.
"We have used a different technique with mud, using Earth-Bags. Earth-bag is a technique used by the armed forces in making stronger outposts in less time. It is also used in creating bunds and terraces to reduce soil erosion. This can also demonstrate to the locals a new technique, as Cob and Wattle and Daub are already familiar to them. Earth is filled in jute bags and used as building blocks. It was done in forty-five days, involving six farmers and two shepherds. Natural material used were mud, lime, different plant and animal derivatives as admixtures. It's an example of top to bottom use of Natural Material," they say.
---
You may also like: This Bengaluru Engineer's Green, Innovative & Low-Cost Home Is Perfect for Us All
---
Thannal, too, is based in Tamil Nadu, but like in the case of Jayan the farmer, they are not restricted to the State.
Whether you wish to build a farmhouse in a village or go eco-friendly in a concrete jungle, a mud house is worth being considered as a sustainable, practical and cost-effective option.
You can contact the Thannal experts here to know more about how they can help you, where you can find the materials or information about how you can join them as a volunteer.
(Edited by Saiqua Sultan)
Like this story? Or have something to share? Write to us: contact@thebetterindia.com, or connect with us on Facebook and Twitter.
We bring stories straight from the heart of India, to inspire millions and create a wave of impact. Our positive movement is growing bigger everyday, and we would love for you to join it.
Please contribute whatever you can, every little penny helps our team in bringing you more stories that support dreams and spread hope.