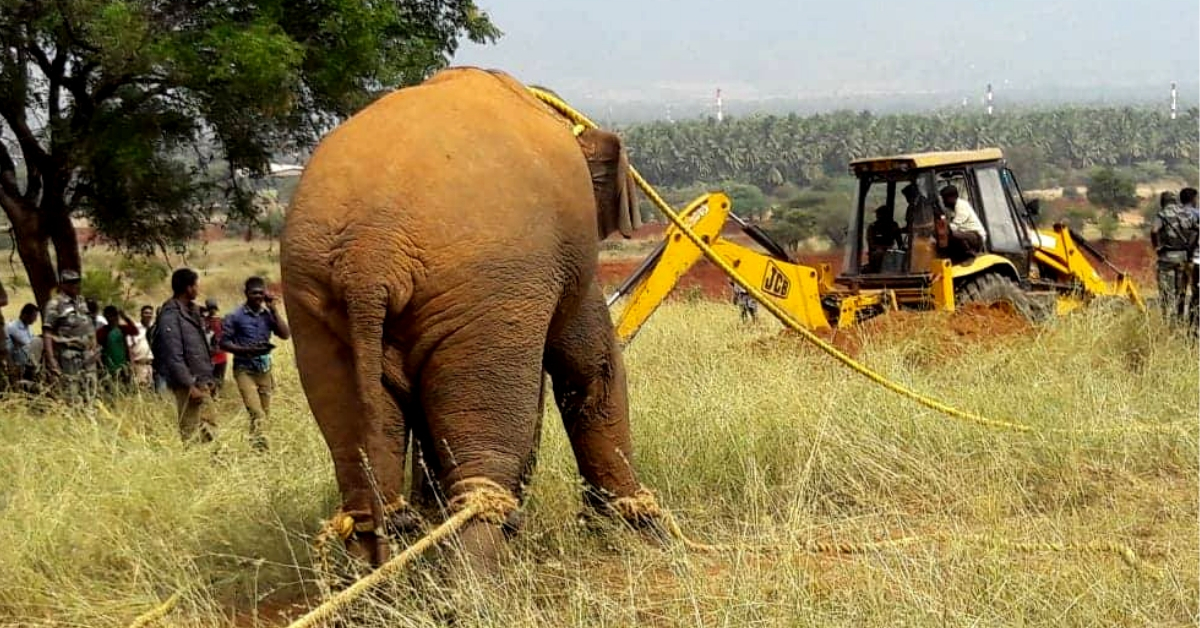 "Chinnathambi is a very calm elephant. He never troubled anyone and even after all the troubles and physical damages he went through, he was very quiet and patient. All he is doing is finding a way back"
To give him his due, it wasn't really Chinnathambi's intention to become an internet rage. The poor 25-year-old was only trying to maneuver his portly frame through the narrow alleyways of a village near Pollachi, Tamil Nadu. But all it took was a man with a smartphone to make a video of Chinnathambi's sojourn with the song 'Marana Mass' as the background music and voila! – A tusker dancing to the tune of Thalaivar's latest song was trending across media platforms.
Chinnathambi, named by the villagers of Pollachi, is a wild male elephant who not only has his own fan following, but also a group of devoted protectors bent on saving him from becoming a Kumki—a trained captive elephant used to trap wild elephants.
This is a tusker's story that involves a Public Interest Litigation, a campaign and persistent protests from villagers leading to the state government dropping their plans to domesticate an adult elephant. It is a tale fit for a movie on its own.
How It All Began:
Chinnathambi had been wreaking havoc in the villages around the Thadagam region of Coimbatore for quite some time over the past year.
Upon receiving complaints from villagers, the forest department captured him, fitted him with a radio collar and released him in the Valparai forest range on January 26, 2019.
Please bring back to home ? #ChinnaThambi pic.twitter.com/2mkfVKFKgL

— ?தமிழ்? (@gdbalg) February 1, 2019
That forest range is more than a 100 kilometres from Thadagam, where Chinnathambi was initially captured. One can imagine the trauma of being captured, forced into a lorry, and being driven for some 100 kilometres – a journey that easily takes some four hours – before being abandoned in a strange forest, cut off from everyone and everything you know.
Elephants are intensely social animals, who have as close a bond with surroundings as most human beings. So it is really not that surprising that Chinnathambi decided to make his way back to familiar surroundings.
All of this perhaps would have gone unnoticed, if not for yet another negative impact humans had on Chinnathambi. A blockage – in the form of human settlements and roads – in our protagonist's migratory path forced him to enter human habitation some 50 kilometres from the forest range he was dropped off in.
Side note: For all the forced migrations imposed on him, it took him only a few days to wander nearly a 100 kilometres back. 
Once deviated from his forest path, Chinnathambi's love for jackfruits, a common crop in Tamil Nadu, found him strolling down the village near Pollachi where the video was made, accidentally trampling crops along the way.
A roaming adult tusker could have scared villagers – who had no means to control him. But the villagers were neither angered nor did they wish to drive the jumbo away. On the contrary, Chinnathambi found a fan-following in the rural areas around Coimbatore.
While the forest department was scratching their heads thinking of ways to stop the elephant from causing further damage to human property, residents in the area had already started an online 'fan club' of Chinnathambi.
T Hari Prasad, who started the fan page, told the Times of India, "The elephant should be united with its family and the forest department should take [the] necessary steps to bring back the elephant. People blocked the migratory path of the elephant and it was therefore forced to enter villages and agricultural fields. So, we cannot blame the elephant."
The mature, 'Man-With-Wild' approach that villagers like Hari Prasad have taken should be highly appreciated.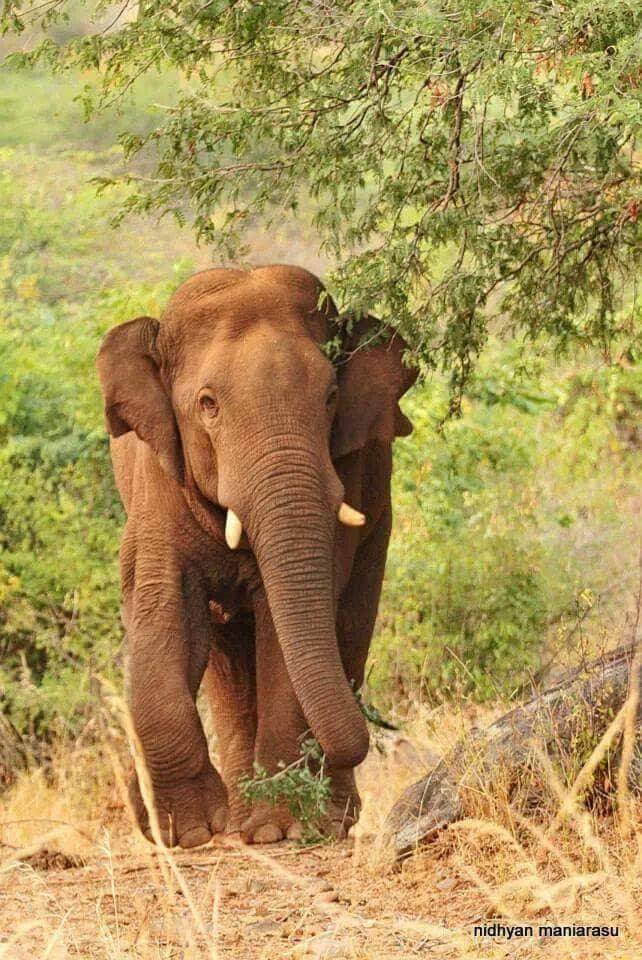 Elephants are known to be wise, friendly mammals unless they are provoked or feel vulnerable. Chinnathambi has been moved, forcibly, from his surroundings. As social beings, this tends to make jumbos anxious. And you definitely do NOT want an anxious elephant around you.
So it cannot be easy defending the wild 'beast' that has damaged crops and homes that serve as a livelihood and dwellings for villagers.
There have been some conflicting views on sending Chinnathambi back, on account of his damaging crops and trees in the village. But a majority of the villagers are firm on their stance that the wild belongs only in the wild.
For his part, Chinnathambi has honoured the faith shown in him by the villagers so far. Reports state that he has damaged a few houses and of course, crops, but he has caused no injury to humans.
An Elephant on Safari. Now What?
Forest Minister Dindugal Sreenivasan and his team were of the firm belief that they have no option but to capture the tusker and train him to be a Kumki. But that did not go down well with the villagers and animal activists in Tamil Nadu. They immediately took to social media to protest against this decision and started the #SaveChinnathambi campaign.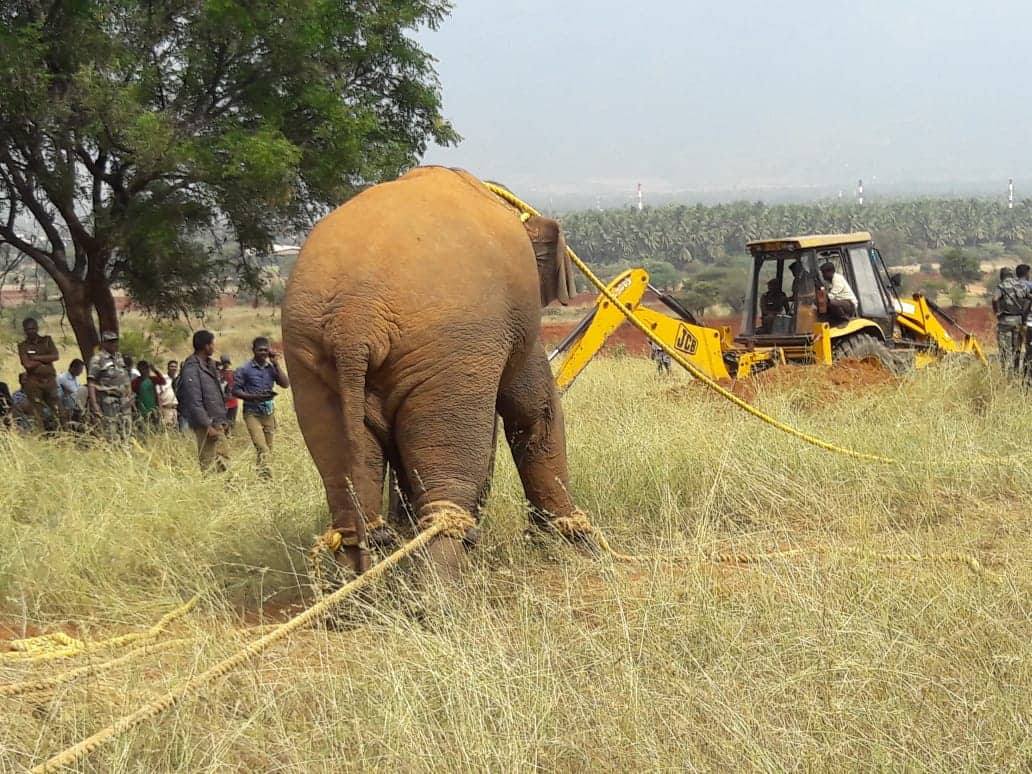 The Better India spoke to Nivedhita Jayaraj, who, through her Facebook page—Chinnathambi the Elephant—reached out and gathered public support. "Chinnathambi was a great source of support to save the natural resources in Annaikatti ghats," she says.
"He is a very intelligent, wild being who is native to Annaikatti and Thadagam areas. The native tribals from that region believe that this elephant family is the only safeguard of natural resources. They also observed that Chinnathambi is a very calm elephant.
He never troubled anyone and even after all the troubles and physical assaults he went through, he was very quiet and patient. All he is doing is finding a way to reunite with his family, who, reports say, are also looking for him!" she added.
---
You may also like: Safari in Silence: Tadoba, Sariska Tiger Reserves Go Greener, Get Electric Cars
---
The view of the villagers was simple – a wild elephant belongs in a forest, no matter how many times it strays into human territory.
Secondly and more importantly, training him to trap other wild elephants would mean starvation, beatings, and torture. And the tribals were not having that on their watch.
As it is, they claim that Chinnathambi's tusks were "broken" when the forest department pushed him into a lorry while transporting him to Valparai. They were not ready to let the elephant be tortured further.
While the villagers were doing their bit to protect the jumbo, animal activists like Arun Prasanna filed a Public Interest Litigation (PIL), requesting Chinnathambi not be domesticated.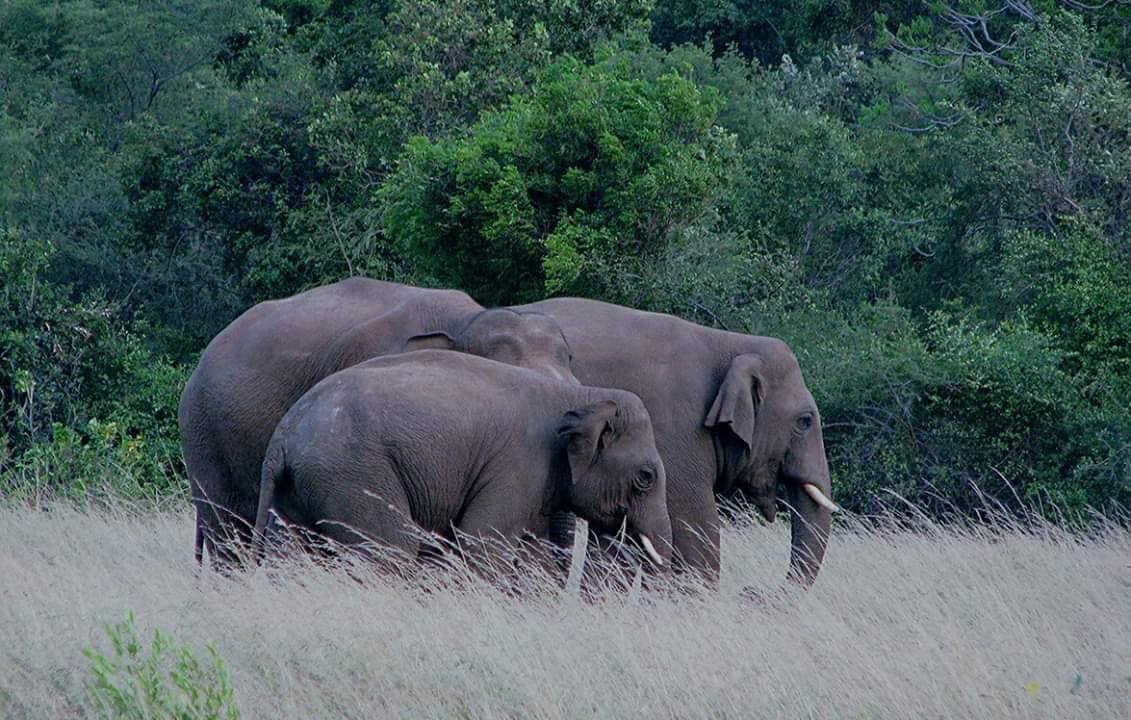 Online campaigns like #SaveChinnathambi, the PIL and on ground protests in front of the Coimbatore Collectorate office put enough pressure on the government to reverse their decision.
"Following this, the forest department expressed their apologies for capturing Chinnathambi in a way it that hurt him physically," Niveditha told TBI, adding, "The judge has asked the state government and forest department to give answers about the situation with Chinnathambi, requesting them to take expert advice in capturing Chinnathambi and sending him back to forest."
---
You may also like: Undaunted by Threats, This Man is Fighting to Save Kaziranga's Wildlife
---
And this time, instead of pushing the elephant forcefully into a lorry, the forest department is making use of two Kumki elephants at their disposal, whom, Niveditha says, Chinnathambi has befriended already. The trio is now reportedly heading back to Chinnathambi's familiar haunts – and keeping clear of human settlements.
This crusade – by tribals, activists, and villagers – for Chinnathambi's right to live and die a natural death in the wild is a classic tale of the symbiotic relationship between the forest and us – and is surely an example of compassion we should all take seriously.
(Edited By Saiqua Sultan & Vinayak Hegde)
Like this story? Or have something to share? Write to us: contact@thebetterindia.com, or connect with us on Facebook and Twitter.
We bring stories straight from the heart of India, to inspire millions and create a wave of impact. Our positive movement is growing bigger everyday, and we would love for you to join it.
Please contribute whatever you can, every little penny helps our team in bringing you more stories that support dreams and spread hope.