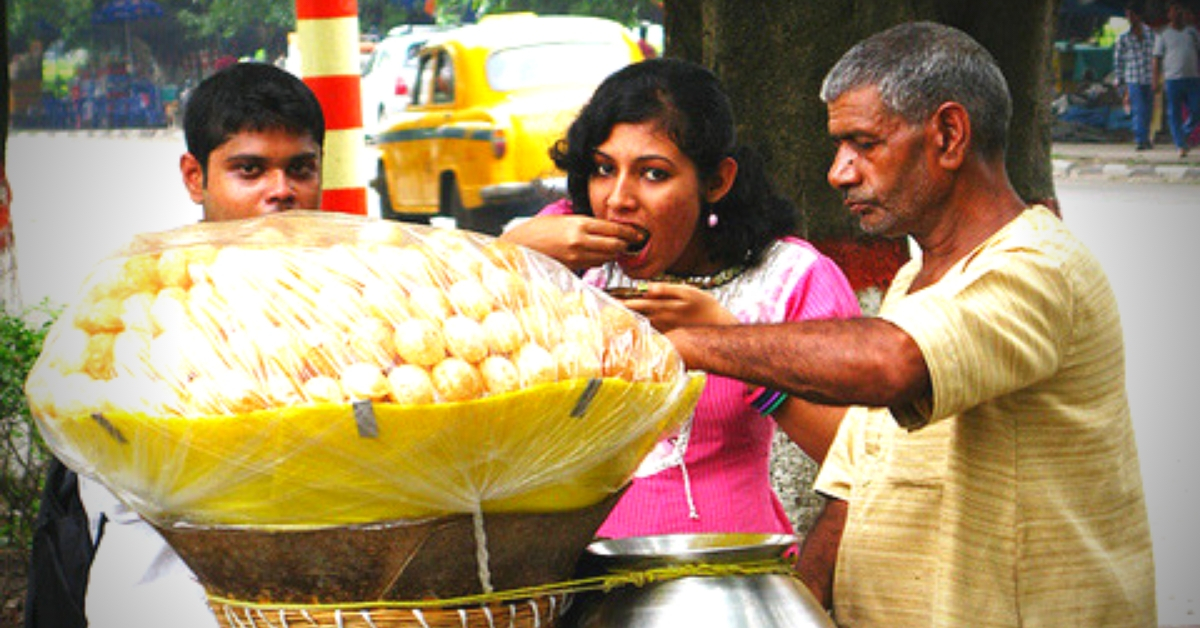 From spicy street treats to austere vegetarian delicacies, here's a list of must-try foods that define Kolkata's vibrant culinary culture. How many have you tried yet? #FoodSecrets #MustRead
A Bengali's identity is defined by the enthusiasm they exhibit while debating their choices and affiliations.
This is true when it comes to differences in origin—Bangal (East Bengal) or Ghoti (West Bengal), fandom—Mohun Bagan or East Bengal, and even politics—Shobooj (Green) or Lal (red).
But, there's one thing which can make a Bengali sit down, switch off and stay deliciously silent—Food!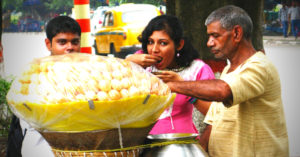 Bengalis take their food very seriously, and the cuisine is quite literally, a melting pot of cultures. It is infused with influences from the Mughals, Chinese, Armenians, Parsis, as well as the Britishers.
Thanks to this, Kolkata, the City of Joy, is filled to the brim with gastronomic wonders. No wonder then, that it is also known as the City of Food.
Here's a list of 10 delicious delicacies in Kolkata that you have to try!
1. Sweet Beginnings: Dudh Puli Pithe and Patishapta
Come winters and Bengali households get busy with removing woollen clothes from boxes, stocking packs of Boroline, and most importantly, sourcing fresh Nolen Gur (New jaggery/Date palm jaggery) for various kinds of Pitha (rice cakes).
Apart from the taste, jaggery contains certain properties to keep the body warm and immune from cold and cough, making it a Bengali family's tastiest medicine!
Two of these jaggery-based delicacies are Dudh Puli Pithe and Patishapta Pithe.
Dudh Puli Pithe is a creamy sweet dish of soft rice dumplings stuffed with jaggery and sweetened coconut, and dipped in thickened milk.
Similarly, Patishapta is also made of rice flour, but in the form of soft and lacy crepes that are filled with coconut and jaggery.
Where: Although a winter affair, you can now have them all year round at Pithe Bilashi, Nalban Food Park, Opp Cognizant, Sector V, Kolkata, West Bengal 700091.
2. Ball of wonder: Phuchka
One of the most popular dishes in India, this is another spicy version of the Pani Puri. Made with whole wheat, instead of flour or semolina, Phuchka balls are stuffed with mashed potatoes and dipped in tangy tamarind water.
Apart from these essential ingredients, what separates this ball of wonder from its siblings is the addition of few drops of Gondhoraj lebu (some call it the less social, more attractive cousin of kaffir lime) to add to a flavoursome twist!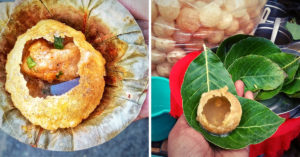 Where: Try almost 17 different types of Phuchka at Pravesh Pani Puri, Woodland Rd, Alipore, Kolkata, West Bengal 700027. Personal favourite: Phuchka with alu'r dom (spicy potato)
---
Also Read: TBI Food Secrets: If You Love Pani Puri, You Will Love the Interesting Story Behind its Origins Too!
---
3. A sip of nostalgia: Daaber Sharbat at Paramount
Tucked away in a small corner of college street, Paramount is a 101-year-old sherbet shop.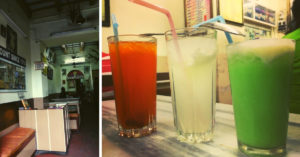 Once a common joint for revolutionaries and intellectuals like Subhash Chandra Bose, Kazi Nazrul Islam, Satyajit Rai, Suchitra Sen, Uttam Kumar, SD Burman and PC Sorcar, it was established in 1918 and is not just famous for its unique drinks, but the stories that each of them tell.
The Daaber Sharbat, made of tender coconut water, ice, a secret syrup and coconut pulp, is one of the oldest and most popular drinks. It was created by the founder Niharanjan Mazumdar in collaboration with the renowned scientist, Prafulla Chandra Ray.
Where: 1/1/1D Bankim Chatterjee Street, College Square, Kolkata, West Bengal 700073
4. Chicken and Fish Kabiraji
Coated in bread crumbs, this popular snack is crispy on the outside and juicy on the inside.
Essentially a cutlet, made of fish or minced pieces of chicken, coated with ginger garlic paste, egg and bread crumbs, it is served with tangy and spicy kashundi (Bengali mustard sauce).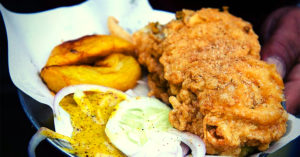 Although several speculations exist around its origin, one interesting anecdote takes us back to the alleys of college street, to Basanta Cabin, a place frequented by Rabindranath Tagore.
Tagore was bored with the usual cutlets coated in biscuit dust. The head cook of the cabin, decided to take up the challenge and created this delicacy for the poet, called Kabi-Raji, literally suggesting that it was approved by the poet.
Where: 53, College St, near Medical college, Lalbajar, College Square, Kolkata, West Bengal 700073
5. Snacking with telebhaja!
Bengali evenings are usually a joyful affair of adda (chit-chat) and debate, over a cup of tea, and telebhaja.
The term means 'fried item,' and includes an array of chops, like Peyanji (onion) chop, beguni (eggplant) chop, Aloor (potato) chop, Tomato chop and Mochar (Banana blossom) chop.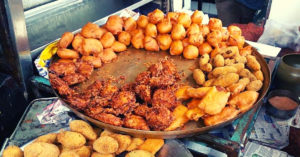 Coated in generous layers of spiced besan (corn-flour) and fried in oil till deliciously crispy, these chops, also known as cutlets, can be found at every nook and corner of the city.
6. Veggie delight: Shukto and Aloo Posto
Although it is difficult for many to believe, Bengalis have their own share of pure vegetarian dishes. These don't even include ginger, garlic and onion!
The story of Aloo posto (potatoes cooked in poppy seeds) intertwines drugs, trade and politics, and the British make an appearance as well.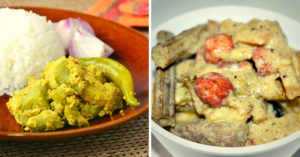 In short, Poppy seed or khus khus is an oilseed obtained from the opium poppy. Once a medicinal plant, it slowly made its way to the royal kitchens of Mughals where it was used to enhance the texture of the food or thicken gravies.
However, it was only later when the British discovered the potential market for it in China, that the prized ingredient was made available to the common people, thus aiding in the creation of a typical Bengali vegetarian dish—Aloo posto.
Shukto is yet another example of a Bengali dish where poppy seeds are used. A bittersweet medley of vegetables, it is made of potato, bottle gourd, bitter gourd, pumpkin, lentil dumplings, and more, dipped in a gravy of coconut milk, and sprinkled with mustard and poppy seeds!
7. The Chinese Connect
Today, Kolkata-based Indians of Chinese origin mostly live in Tangra and Tiretta Bazaar—both known as China Town, new and old—respectively.
From light and flavoursome mei foon (rice noodles) served with chicken, lamb or pork, to the best clear soup, Tangra houses one of the top Chinese restaurants serving authentic Chinese cuisine.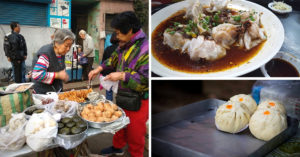 Tiretta Bazaar, on the other hand, is the place for Chinese breakfast. Rice pudding, pork and chicken dumplings, and prawn chips are some of the popular items at this Old Chinatown bazaar.
8. Peter Cat: Chelo Kabab
A beautiful plate of buttered, steamed rice, lined with chicken kabab and mutton sheekh kabab, and topped with a roasted tomato and a fried egg, is what makes up the Chelo Kabab, one of Kolkata's most iconic dishes.
The star of the menu of Peter Cat, the legendary Anglo-Indian restaurant, this sizzler-like platter dish introduced Bengalis to the wonder of Iranian cuisine.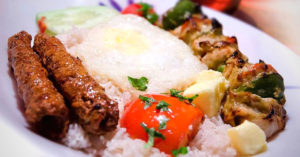 Its popularity later prompted them to introduce its vegetarian alternative with paneer kabab, mixed vegetable kabab and toasted stuffed potato!
Where: 18 A, Stephen Court, Park Street, Opposite KFC Restaurant, Kolkata, West Bengal 700016
9. Kosha Mangsho: Golbari
A 97-year-old recipe still breathes in the alleyways of Shyambazar, Kolkata. This is not a humble mutton curry and is definitely not for the faint-hearted.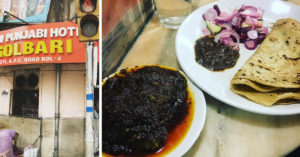 A plate of thick and spicy velvety gravy with soft pieces of mutton that melt in the mouth, Kosha Mangsho at the famous Golbari, is served to hundreds daily, with the perfect combination of parathas, tamarind chatni (sauce) and onion salad. Truly, a must try!
Where: Shyambazar, 211, Acharya Prafulla Chandra Rd, Fariapukur, Kolkata, West Bengal 700004
10. For the love of Maach
This part of India truly is known for its love for fish, be it in their snacks, curries, pickles or even dal (lentils).
While is a plate of hot Maach Bhaat (fish curry and rice) is soul food for a Bengali, the Shorshe Ilish and Chingri malai curry, stand out as two of the most beloved traditional dishes.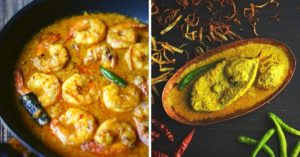 Shorshe Ilish is a classic Bengali dish which traces its roots back to the freshwaters of the Padma River, in East Bengal (now Bangladesh).
A prominent monsoon food item, the dish is essentially Hilsa fish cooked in mustard oil and dipped in the delectable mustard sauce, along with onion seeds and green chillies, and is served with steamed rice.
Chingri Malai Curry is made of prawns. While Shorshe Ilish, which was initially a Bangal (East Bengal) recipe, Chingri Malai Curry is essentially a Ghoti (West Bengal) recipe.
But, food in Bengal is beyond boundaries. Therefore, this creamy and spicy Bengali curry made of prawns in coconut milk and spices, is a universal favourite!
The cuisine in Bengal extends far beyond just Biriyanis or the Roshogolla. With all its festivals and cultural events neatly woven around it, food in Kolkata forms the city's lifeline.
An adventure in itself, the food trail is ever enticing and exciting. So, why wait?
(Edited by Gayatri Mishra)