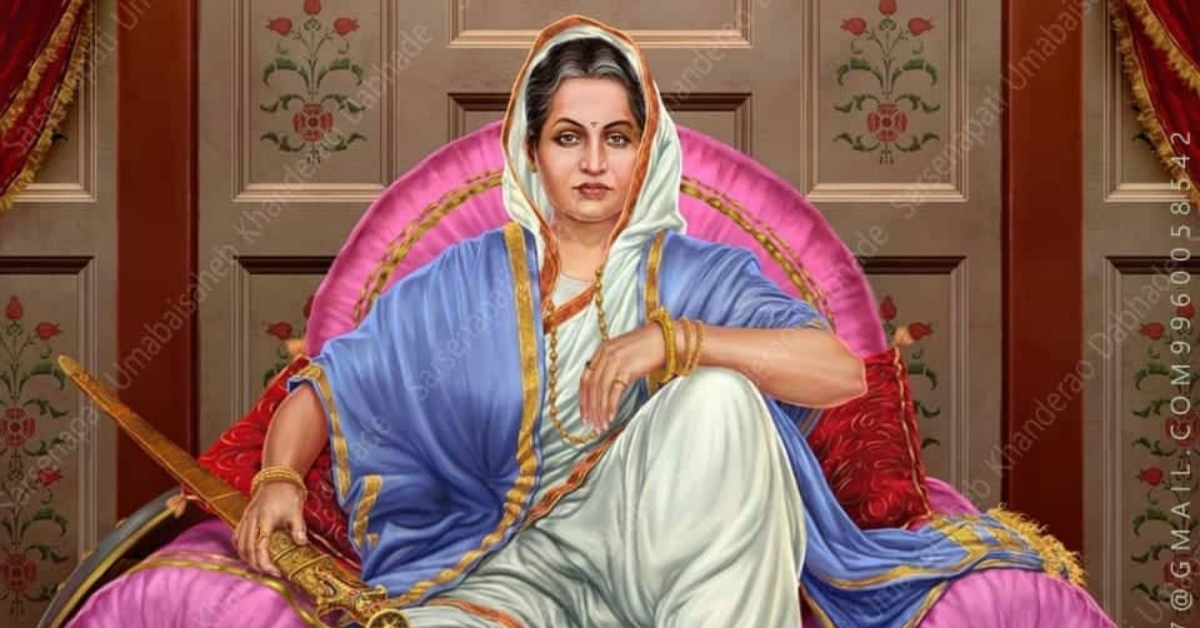 "Not many books on the life of Sarsenapati Umabaisaheb Dabhade are found in bookstores. Very little has been written about her. I always feel that her story just remained in the original letters and in a very few books written in the old times. Her laurels did not reach the masses as they should have."
Rising above the quiet, accepting nature of her husband–the Maratha Senapati in Gujarat–and ruling the jagirs (feudal land) when her elder son was killed in battle, Umabai Dabhade carved her name as the first woman commander-in-chief of the Maratha army.
Today, Umabai has been largely washed out from public memory, and her portraits are almost non-existent.
But her valour in standing up against the Peshwa's unjust taxes on her subjects and the "women's war" that she led alongside Shivaji's daughter-in-law is a chapter of history that deserves a special mention.
Umabai was the daughter of Devrao Thoke–a Deshmukh of Abhonkar.
A 'Deshmukh' was a person granted a territory of land by the ruler of the kingdom. This hereditary system would allow the Deshmukh (literally, the head of state) to collect taxes and look upon the basic welfare of its residents.
At a young age, Umabai got married to Khanderao Dabhade, the eldest son of Shivaji's bodyguard, Yesaji.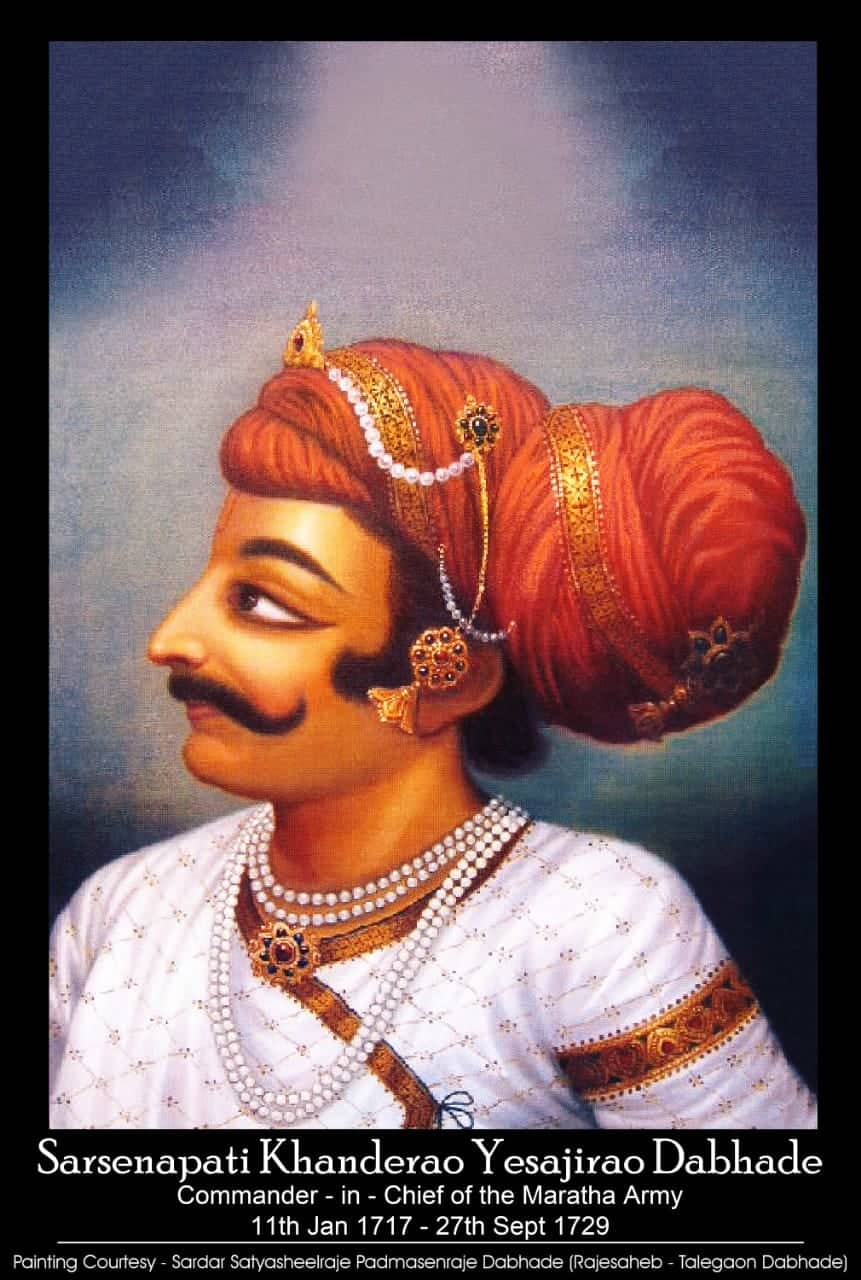 Khanderao was an accomplished patriarch of the Dabhade clan that went on to become the commander-in-chief of Shivaji's descendants.
Even as she took on the role of the third and youngest wife of Khanderao, Umaji did not lose the headstrong spirit and determination that she was known for as a child. She never bowed down to societal norms without questioning them, not when her father-in-law asked for it, neither when the Peshwa did.
Young Umabai was once roaming around the palace of Tarabai, the queen of Chhatrapati Rajaram Bhosale. Playfully, she picked up a pair of gold anklets (Toda, specifically) from her jewellery box and wore them. Yesaji, her father-in-law happened to see this and instructed her to take them off immediately. Not because they belonged to the queen, but because gold anklets of that make could be worn, he explained, only by royal women and not by the Dabhade clan.
It was then that Umabai decided to work hard and be so important that she could confidently wear the "royal" jewellery.
Shortly after this incident, an astrologer predicted her future. Her future had the golden anklets, but they came with iron shackles.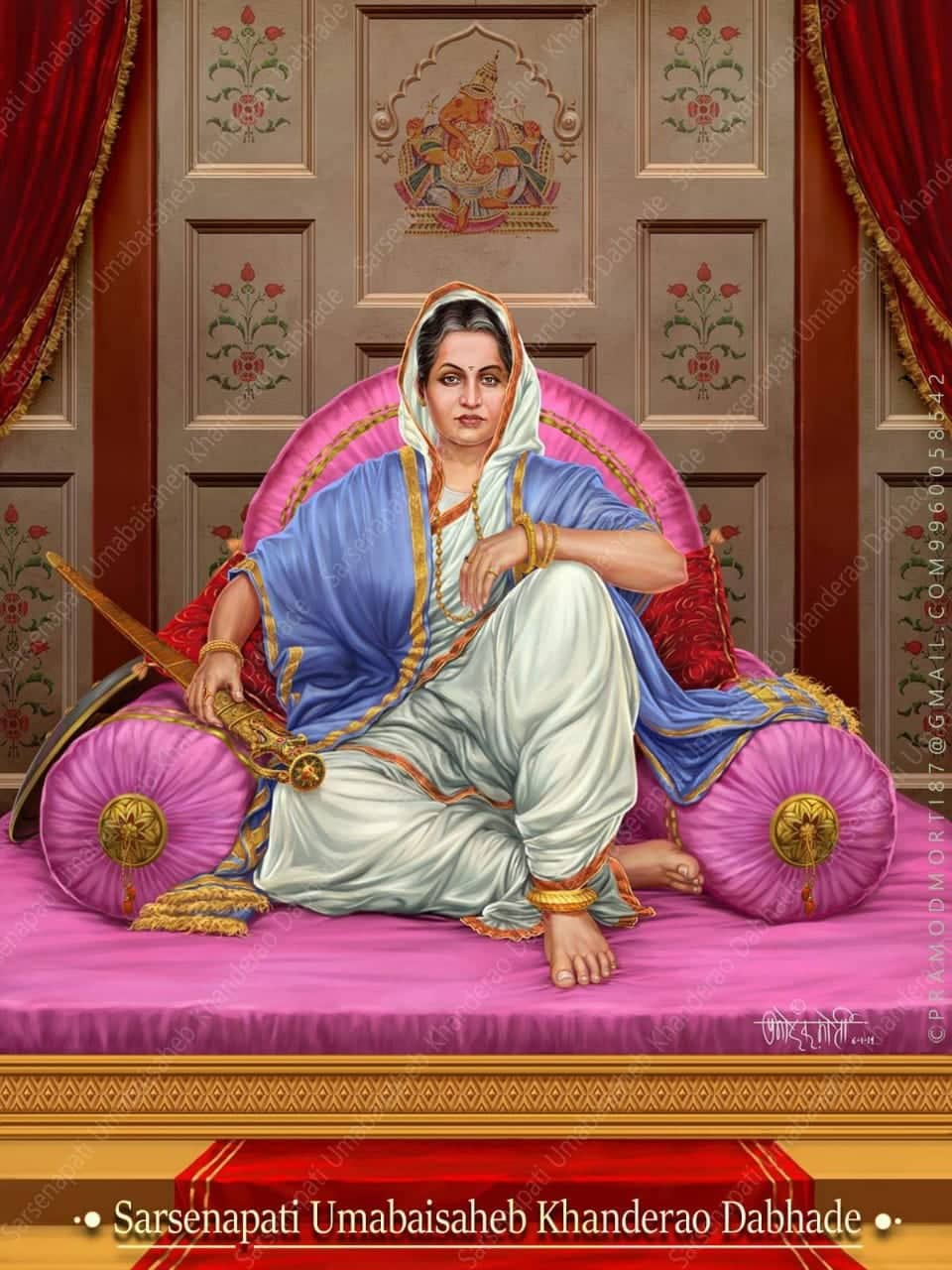 After Khanderao's death on 27 September 1729, Trimbakrao, the eldest son of Umabai, took charge as the Senapati. At this time, Bajirao I was the Peshwa or the Prime Minister of the Maratha kingdom. The two were on loggerheads about the Chauth tax.
This annual tax levied on 25 per cent of the revenue or produce was a primary source of income for the Dabhades. After Khanderao's death, Bajirao was planning to take over the tax collections from the Gujarat province, which led the Prime Minister and the commander-in-chief to a battle.
The rebel Trimbakrao was killed in this battle in 1731, and all his assets and his position were offered to Yashwantrao, his younger brother. Yashwantrao was still too young to take charge, and so, Umabai became the Dabhade matriarch.
It was Chhatrapati Shahu, the Maratha king who had facilitated this passing of power. He was sympathetic towards Umabai, who had lost her husband and eldest son within two years and who was now ruling the Gujarat provinces as a widow.
Under the command of Shahu, the Peshwa allowed the Dabhades to continue collecting the Chauth tax as long as they gave half of their collections to the Prime Minister. Umabai pretended to reconcile with the Peshwa, but since she still held a grudge against her son's killer, she never paid the dues.
Shahu was still sympathetic towards her and did not take any harsh steps. This continued until Peshwa Bajirao's death in 1740 and Chhatrapati's death nine years later.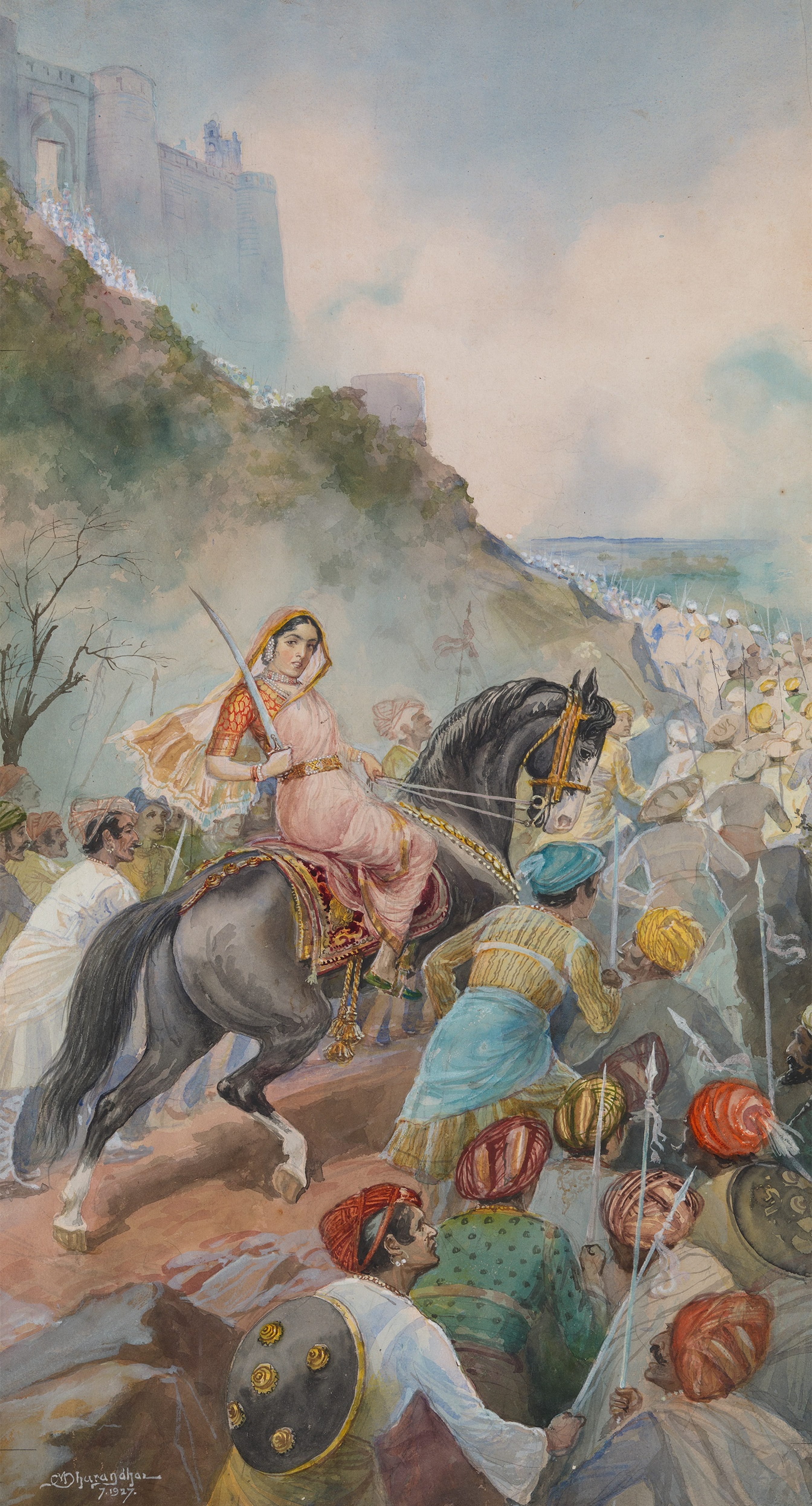 Until that time, Bajirao had been consistently expanding his empire, and all was financially well in his rule.
When Rajaram II, the new Chhatrapati, took over along with his Peshwa, Balaji, they faced severe financial trouble. As a result, they decided to force the Dabhades into paying their dues.
Umabai's unsuccessful petitions led Tarabai, the Maratha queen, to propose an alliance of the two women rulers. Tarabai wanted a direct war, whereas Umabai was leaning towards a more amicable understanding. She met with the Peshwa on more than one instance, explaining that the tax was imposed forcefully, that it was unfair and hence, must not be binding.
---
You May Also Like: Kanhoji Angre, the Maratha Admiral Who Defended Konkan from the Europeans!
---
During one such meeting, while the Maratha chief was trying to convince the Peshwa to let her have the Chauth tax without having to pay her dues, Tarabai imprisoned the Chhatrapati.
It is here that the women leaders came together against the Peshwa in the truest sense. Sensing that a battle between Tarabai and the Peshwa was imminent, Umabai dispatched a force of soldiers under her command to aid Tarabai. Damaji Gaikwad was leading the force.
However, the Peshwa defeated this army and imprisoned Gaikwad. He demanded that Umabai pay an equivalent of Rs 25,00,000 and surrender half of the Gujarat territories as war indemnity. Gaikwad pleaded that he was just a subordinate and be let go so the Peshwa can have a dialogue with Umabai.
Even as Balaji let Gaikwad go, he launched a surprise attack on him and his army a month later and held him and the Dabhades captive. Umabai, Yashwantrao, his younger brother Sawai Baburao among others were at the mercy of the Prime Minister.
Perhaps their situation would have been better if the Gaikwad hadn't betrayed them and collaborated with the Peshwa. Gaikwad was made the Maratha chief of Gujarat, and as a compensation to the Dabhades, he promised to pay an annual maintenance expense.
Even as Umabai lost her fortune to her army commander, the courage she showcased while standing up to the Peshwa is hardly shown by anyone else.

Very few people today know about her story, but she holds a unique position in the Maratha history–that of the first woman chief of one of the largest kingdoms that existed in modern India.
The Better India got in touch with Sardar Satyasheelraje Dabhade, the 13th descendant of Umabai, who resides in Pune. The history buff has been researching little-known facts about his family's history.
Speaking to TBI, he explains how he studies these facts. He first visited the 'Bharat Itihaas Sanshodhak Mandal' in Pune which still houses all the old original documents of his family.
He adds, "My friends from the Mandal, Mandar Lawate and Mahesh Tendulkar also helped me study old documents of my family. Mandar Lawate, being an expert in Modi Script, helped me translate and understand the letters of Khanderao and Umabaisaheb."
---
You May Also Like: The Forgotten Warrior Queen of Gond Who Didn't Bow down to Akbar's Army!
---
Historians Babasaheb Purandare, Late Ninad Bedekar and Pandurang Balkawade also helped him find old documents of his family at the Pune Archives, "and that's how I started studying the history of Sarsenapati Khanderao and Umabaisaheb Dabhade," he shares.
Elaborating on Umabai's history, he says, "Not many books on the life of Sarsenapati Umabaisaheb Dabhade are found in bookstores. Very little has been written about her. I always feel that her story just remained in the original letters and in a very few books written in the old times. Her laurels did not reach the masses as they should have."
However, he takes pride and respite in the fact that the Limca Book of Records 2011 mentions Umabaisaheb "as being the only woman Commander-in-Chief of the Maratha Army and the only woman Commander-in-Chief in India's history".
(Edited by Shruti Singhal)
Like this story? Or have something to share? Write to us: contact@thebetterindia.com, or connect with us on Facebook and Twitter.
Tell Us More
We bring stories straight from the heart of India, to inspire millions and create a wave of impact. Our positive movement is growing bigger everyday, and we would love for you to join it.
Please contribute whatever you can, every little penny helps our team in bringing you more stories that support dreams and spread hope.