Sorrow is a powerful emotion that seldom finds an appropriate release. Be it curled up in your bed, or around the arms of your loved ones, the act of crying has been rather personal, and not widely explored, says this 62-year-old expert.
In a eureka moment, Kamlesh Masalawala claims to have found a magical therapeutic procedure of crying out loud, to rid people of all their grief, quite literally.
And, he is doing so, in a one-of-a-kind Crying Club!
With a mention in the Limca Book of Records, Kamlesh has been known as the man who could make anybody laugh away their worries. His sessions were doing well, until two years ago, when the renowned laughter therapist came across something which changed his outlook towards therapy altogether.
He soon realised that the healing process had to be complete. In his words, the other side of the coin was missing.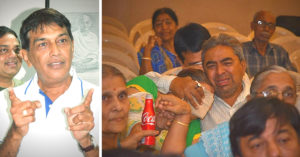 Speaking to The Better India, he explains, "Human personality is like a coin, which needs clear imprints on both its sides to be truly valuable. No human can be eternally sad or eternally happy, and so they need to let go of both the emotions, by laughing and crying out loud."
And, that is exactly what this Surat-based Healthy Crying Club does every single month.
The club is meant to provide a safe space and platform for people to confront their sorrows and frustrations head-on and vent them all out in tears.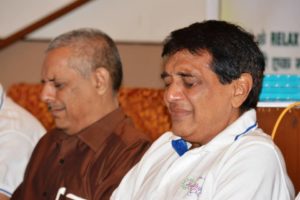 With the motto 'Tears to Cheers', they conduct one session on the last Sunday of every month, between 8 am, and 10 am in Surat, Gujarat. And, participation is open to everyone.
However, Kamlesh shares that convincing people to let off their barriers and inhibitions and embrace their sorrows to eventually release them is indeed a challenging task.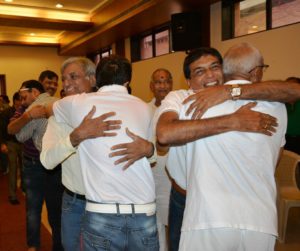 "As we grow older, we form walls that prevent us from expressing ourselves clearly. And, for the same reason, children are emotionally and physically more healthy when compared to adults, as they can cry without a whim. It is not embarrassing or a sign of weakness at that point in time. And, it should be, even now. Strength is not in suppressing your feelings but in letting them go to liberate yourself," he said.
Thus, challenging this notion, along with the support of a few psychologists, the club began in 2017.
"I was introduced to Crying therapy by one of the top psychologists in the city and was instantly interested. Further studies helped me to realise the benefits of the therapy, how it can reduce almost 50 per cent of the medication for patients with psychological issues," he says.
Scientifically, he explains, that the benefits of crying are because the act helps one release a toxic hormone, cortisol, from the body.
"People cry, either when they are sad or when they are happy. But the liquid excretion during both the actions is different. Only when a person cries out of sorrow, stress and frustration, that the body is freed from the toxin cortisol, which can be very harmful to the body in the long run," he explains.
And, owing to this, people of all ages, be it 20-year-olds to even 80-year-old senior citizens, have been making visits to the club, once every month.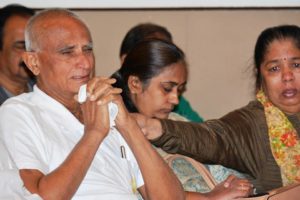 With the growing number of people, Kamlesh and his associates are planning to expand their procedures to reach better results. One such plan includes integrating laughter and crying therapy.
As per the principle, this integrated therapy will fill the void created after a good cry with oodles of laughter.
He concludes,"Most people feel lighter after crying. We want to utilise that blank space and fill it with happiness. Just like a beautiful day arrives after every night, a burst of joy fills our lives after every sorrowful episode!"
---
Also Read: Therapy is For Everyone – 5 Ways It Can Improve Your Overall Health
---
(Edited by Shruti Singhal)