The t-shirts use low-impact, vegetable-based dyes that produce fewer, and less damaging effluents than those used in chemical dyes. They're also packed in recycled post-consumer plastic bottles that can be reused as planters.
Whether it's the heavily polluting fashion industry, everybody's favourite groundwater-depleting sugary foods and cereals, or the exploitative labour practices involved in making our electronics, we've come to understand that our consumption habits are putting our ecosystems at risk.
Until a brand comes along that not only offers eco-friendly alternatives for daily-use products but also promises to plant a tree every time we shop.
In 2017, Mishal and Mikail Pardiwala began tinkering with essential oils, baking soda and coconut oil in their tiny factory in Mazgaon, Mumbai.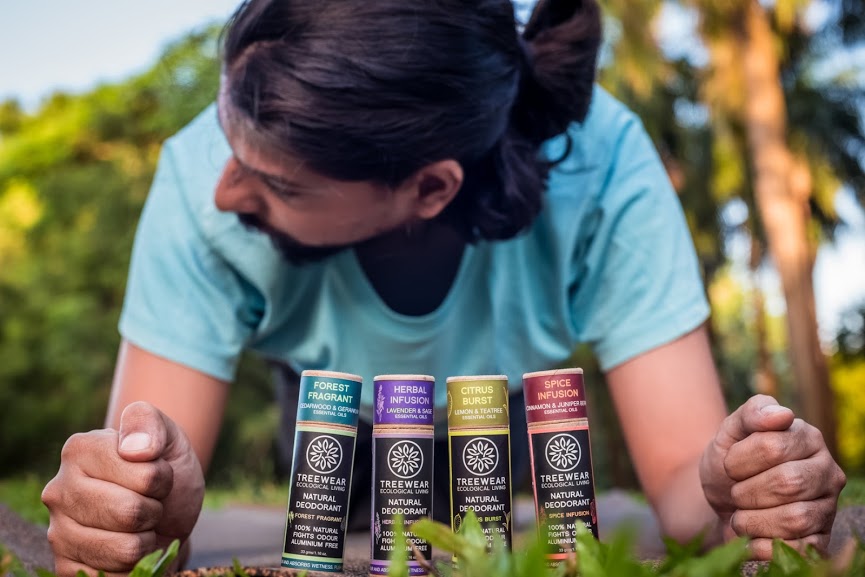 Several months of testing followed, after which they came up with the recipe for natural deodorant.
Before the end of the year, there were four unique fragrance blends that the brothers were ready to take to market, tapping into a consumer base with greater health-consciousness and a growing demand for chemical-free personal care products.
But, their offerings are much more than that.
"As city-dwellers, we are so far removed from the problem of climate change, and rarely think about the origin of the products we use," Mikail begins.
The Pardiwalas—Mishal, an architect, Mikail, an entrepreneur—are both passionate environmentalists. They quit their former jobs to launch Treewear in 2016 as a brand of organic cotton casual wear, that strove to promote the idea of slow fashion.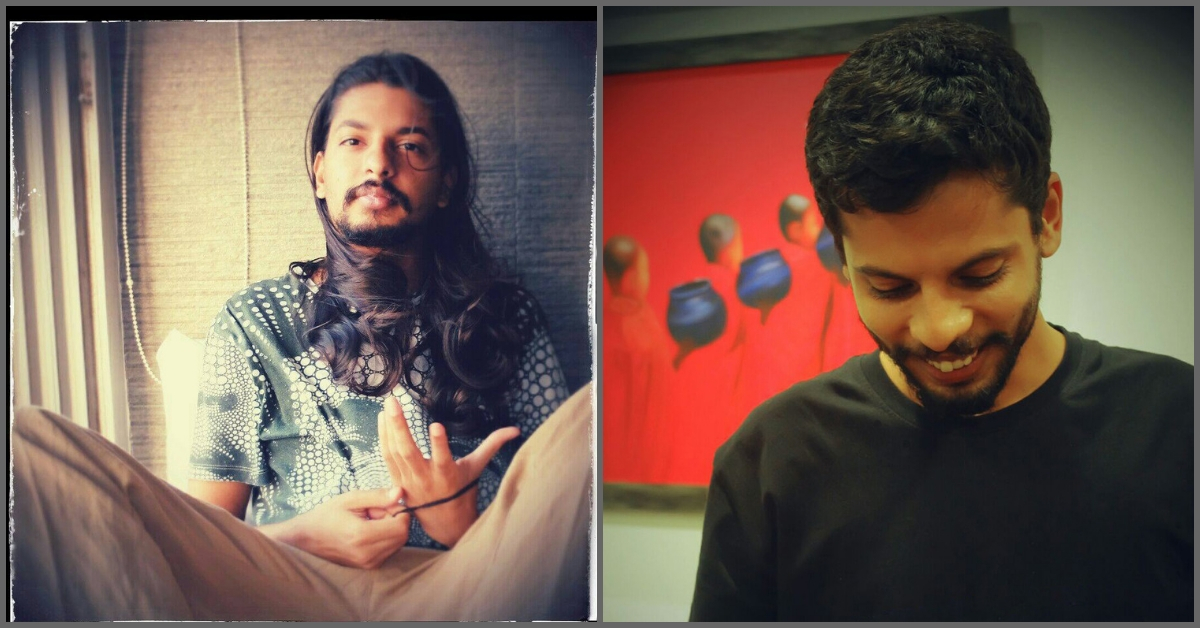 The t-shirts use low-impact, vegetable-based dyes that produce fewer, and less damaging effluents than those used in chemical dyes. They're also packed in recycled post-consumer plastic bottles that can be reused as planters.
Aware of the environmental damage caused by fabric waste from the fashion industry, the duo went a step ahead and began collecting off-cuts from their designs, turning them into functional upcycled products like rugs and dog chews, thereby cementing their commitment to becoming a zero-waste brand.
---
---
The idea for Treewear was born from the urge to take something eco-friendly and put it into products that people already use.
"Nobody has to completely change their lifestyle in order to live an eco-friendly life; just switching to safer personal care products can have a big impact," Mikail says.
Discontent at being manufacturers of sustainable apparel, their search for safer personal care products for themselves, led to a new business opportunity.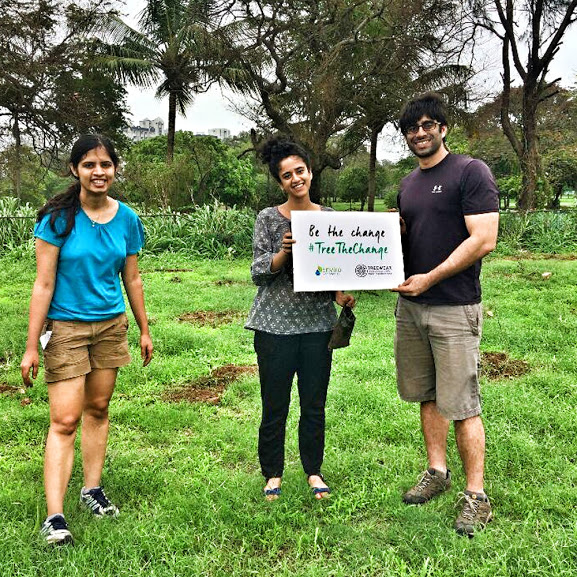 "When we found that these products were hard to come by in safe, natural formulations, we set out to make them ourselves."
After months of testing and refining, the brand launched its natural stick deodorants in four fragrances, and a 100 per cent natural, alcohol-free hand sanitiser in three fragrances.
Treewear's deodorants are free of aluminium. Instead, they use anti-bacterial essential oils, moisturising cocoa butter, baking soda – an odour remover, cornstarch which wicks away moisture and prevents oiliness and stickiness, and beeswax.
To cater to its vegan customers, in the offing is a 100 per cent plant-based deodorant. The hand sanitisers, says Mikail, are seeing growing appreciation among young parents, especially with growing awareness of the immunity-depleting properties of chemical-based cleaners which destroy good bacteria.
"A lot of time goes into identifying each ingredient to make people feel that the products are made keeping their well-being in mind, besides making it easier for them to shift to natural daily essentials."
This is evident in the product labels which read less like a medical journal and more like a recipe with ingredients you can instantly recognise.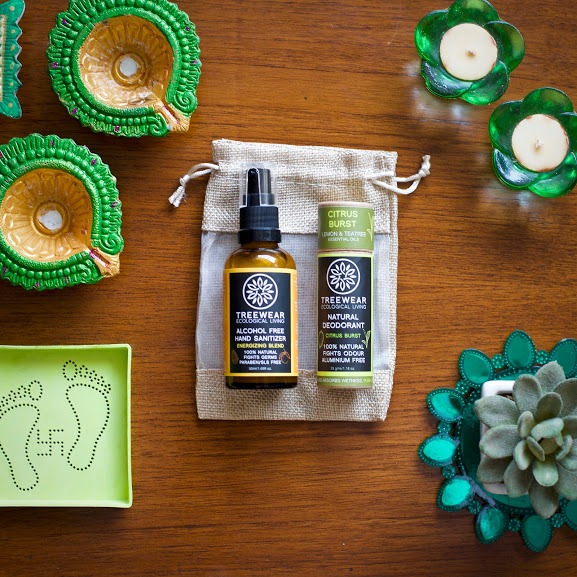 Circular economy principles find a place in this latest line, too.
"We look at each aspect of the product and see how we can design it to be as zero-waste and eco-friendly as possible – even in its post-consumer impact," says Mikail.
The packaging is designed to be contemporary and minimal, but it's far bigger than that. The hand sanitiser is packaged in reusable glass bottles while the cardboard tube of the deo-stick is designed out of recycled paper, making it biodegradable.
"When you're done using it, just remove one lining, and the rest of the package can be composted," he explains.
The impact doesn't end there. For every product it sells, Treewear plants a tree in partnership with Grow Trees – an NGO that conducts afforestation programmes using indigenous species across India. It also aims to create sustainable local livelihoods and offers related benefits such as raising the water table in drought-prone areas, along with improving the access to food.
Mikail tells me that an additional 15 per cent trees are planted to account for attrition, and the saplings are closely monitored for three years to ensure maximum survival. They are also geo-tagged, enabling customers to locate and track them online.
So far, Treewear's tree planting projects have helped plant more than 1,700 trees. In Udaipur, they will regenerate degraded forest land, revive local flora and fauna, and improve farm productivity.
In the vulnerable mangroves of the Sundarbans, reforestation has helped check soil erosion and habitat loss, besides employing women from the surrounding villages.
Mikail says that the idea for the company stems from the need to give people a better alternative and help them make a change in small ways. These are items you need regularly – a deodorant, for instance, must be replaced every three months. "So think of the combined impact a single person can make over a few years, with the trees planted, the waste diverted from landfills, and toxins kept out of one's body," he says.
Entering the natural personal care category has been a good decision for the Pardiwalas, with the product gaining several satisfied customers whose referrals are a source of new business.
---
Also Read: Brushes to Cloth: 10 'Green Gold' Alternatives That Will Help You Go Plastic-Free
---
For most people, using products with safe ingredients is a good place to begin the shift to an environmentally-friendly lifestyle, and since the launch of the segment, the enterprise has sold nearly 1 lakh units per month, with other daily essentials in the works.
There are also plans to maximise social impact by moving its manufacturing to women's self-help groups in rural Maharashtra, where an established market promises steady livelihood and low risk for the artisans.
Treewear is currently at a stage where they can interact with customers as individuals and use their feedback to make continuous product improvements.
"As a company that relies on customers changing their usage behaviour, there are challenges, but what keeps us going is knowing the future of what we're doing and the impact it will have on the planet," says Mikail.
The Paridwalas' optimism is well-placed: the Indian market is seeing a rapid shift towards mental and physical well-being through the use of chemical-free products. As brands like Treewear harness the hitherto under-tapped cosmetic potential of ingredients like essential oils and baking soda, the conscientious Indian consumer has much to look forward to.
---
---
(Edited by Shruti Singhal)
We bring stories straight from the heart of India, to inspire millions and create a wave of impact. Our positive movement is growing bigger everyday, and we would love for you to join it.
Please contribute whatever you can, every little penny helps our team in bringing you more stories that support dreams and spread hope.