Costing a maximum of Rs 25,000, the inventors guarantee that the method is a long-time investment, as its life expectancy is 20-25 years!
Several parts of North India continue to move towards the red zone of the air quality index, majorly due to stubble burning.
A commonly used method, it involves intentionally setting fire to the straw stubble remains of crops, after the harvest is complete.
Due to its adverse effects on the environment, it was banned by the state governments of Punjab, Haryana and western Uttar Pradesh.
While sections of farmers continue to protest against the ban, claiming that the alternative options are not effective enough, farmers in Meerut have proved them wrong.
As reported by The Hindu, in the last two years, more than 250 farmers from 50 villages in western Uttar Pradesh have successfully prevented the release of almost 2,250,000 kg of carbon dioxide using an environment-friendly method of making organic manure from sugarcane leaves and paddy waste.
This unique alternative is the Lalit-Raman (L-R) Model, which was designed by two friends, Lalit Tyagi and Raman Kant.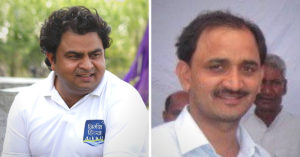 Four years ago, at a time when talks about stubble burning being responsible for the hazardous climatic situation began doing rounds, the duo decided to find an affordable and effective alternative to combat the situation.
After working for a year, they finally invented the compost pit.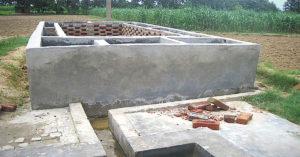 With an outer dimension of 8x3x1 m and inner dimension of 7.1×2.1×1 m, the pit manages to contain large amounts of paddy waste, cow dung, sugarcane leaves, water and soil.
This, over a period of two months, eventually yields solid manure in large quantities, enough for an entire field.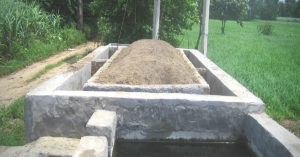 "Due to [the] large size of the pit, it can be easily filled, and after the solid manure is ready, it can be easily taken out of the pit for usage. The liquid manure can be given along with irrigation water in every 20 days' time and can also be sprayed on the crops," said Raman to the Logical Indian.
While devising the procedure, the two most important objectives were to protect and control soil quality and crop residue, and the pit was constructed in a manner to take care of that.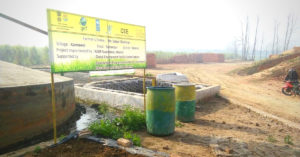 Explaining the mechanism, Raman told the Logical Indian, "We also have an additional part in the pit which collects liquid manure. We tell the farmers to construct these pits near the water source so that the liquid manure is combined with irrigation water. This is more effective than spraying insecticide or pesticide."
"One of the main challenges was to make farmers try the L-R compost pit. They were quite hesitant, in fact, for the first farmer who tried our compost pit, we paid for part of its construction. However, when more and more farmers started trying it out. At present, 250 farmers from 50 villages in Meerut district are reaping the benefits of this pit," he added.
Costing a maximum of Rs 25,000, the inventors guarantee that the pit is a long-time investment, as its life expectancy is 20-25 years.
---
Also Read: Here's How a Water Revolution is Igniting Among 15,000 Farmers in Maharashtra!
---
Today, it's worth has been recognized by many, including the Ministry of Agriculture and Farmers welfare, Government of India(GOI), Indo Global Social Service Society (Germany), Ministry of Environment, Forest and Climate Change, GoI and United Nations Development Program, New Delhi.
Equipped with this model and a larger cause for a better tomorrow, this duo is gearing up to introduce the pit across the country!
(Edited by Gayatri Mishra)