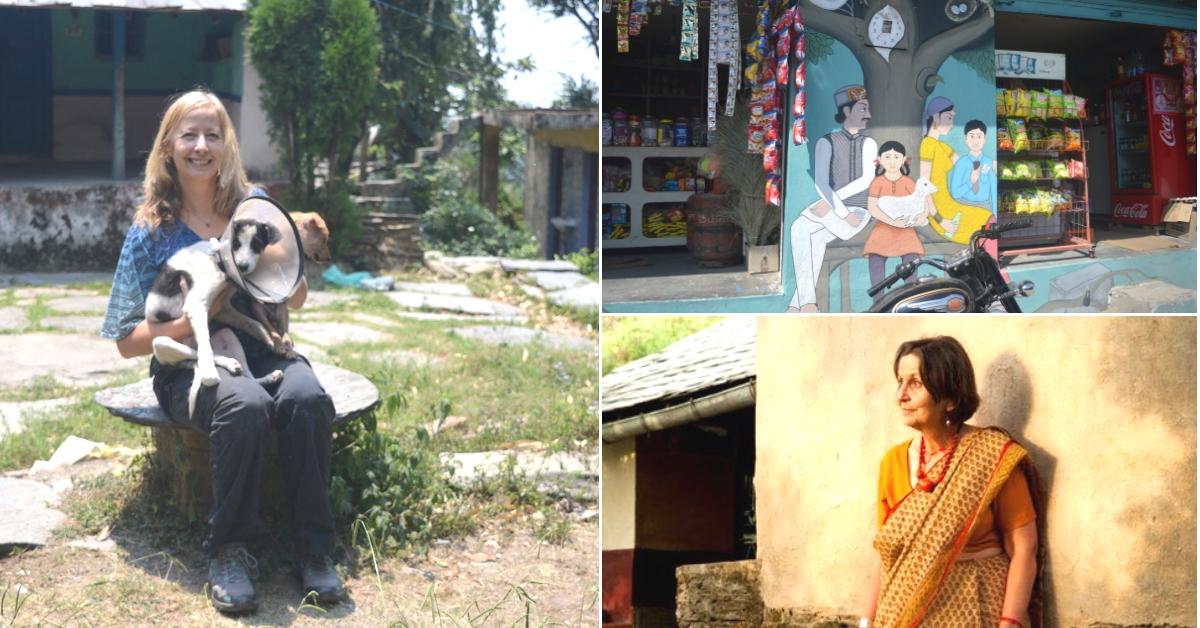 As I travelled across the Kangra Valley, I came across many foreigners who have not just made the mountains their home but have gone to the extent of learning the Gaddi dialect.
I visited Leh in July 2010 and was fascinated by the stone, timber and mud houses with identically slim rectangular windows and terraces heaped with straw. In a land of limited rain, this choice of construction material and insulation was the best bet for the residents to brace themselves against the harsh winters.
But barely a few weeks after I returned, came the news of the deluge. The cloudburst carried with it boulders that destroyed many towns and villages. The devastation in Leh was unbelievable.
Coming to the fore during the testing times were many tourists visiting india from abroad, who helped in the rescue operations and in cleaning the debris.
And this was not a one-off case of foreigners in India reaching out to people and making a positive change. Some years ago, I met an Italian lady at Bodhi Zendo, a Zen meditation in Tamil Nadu, who was instrumental in teaching life skills to women who had lost everything after the tsunami.
Many tourists from Germany and Switzerland practicing Zen meditation at the centre have also helped women in the surrounding hamlets in making hand-embroidered greeting cards that are sold abroad. This initiative, as part of the PEARL Charitable Trust in Paramakudi, provides them with much-required income.
Also making a positive change down south are Frauke Quader, a German national settled in Hyderabad, and John Pollard, a British whitewater rafting professional settled in Goa. While Frauke has been spreading awareness about the importance of the Deccan rock formations through the Society to Save Rocks that she founded, John has been training rural youth in the adventure sport to become guides.
And now, as I travelled across the Kangra Valley, I came across many foreigners who have not just made the mountains their home but have gone to the extent of learning the Gaddi dialect. Some have also travelled with the nomads to educate the children of the shepherds on the move.
In Dharamshala's cultural sphere today, there is Denis Harrap, a filmmaker from New Zealand who left a lucrative career in the United States to stay in Andretta, a village near Palampur. Denis has been a part of the organising team of the Dharamshala International Film Festival.
Jodie Underhill, Founder, Waste Warriors, is from the United Kingdom. Known as the 'Garbage Girl', she has been working with her team in cleaning up the hills. In the social space as well, there are several who have made a mark with their efforts.
I met some of the foreigners who are known for their work in Himachal Pradesh.
Deb Jarrett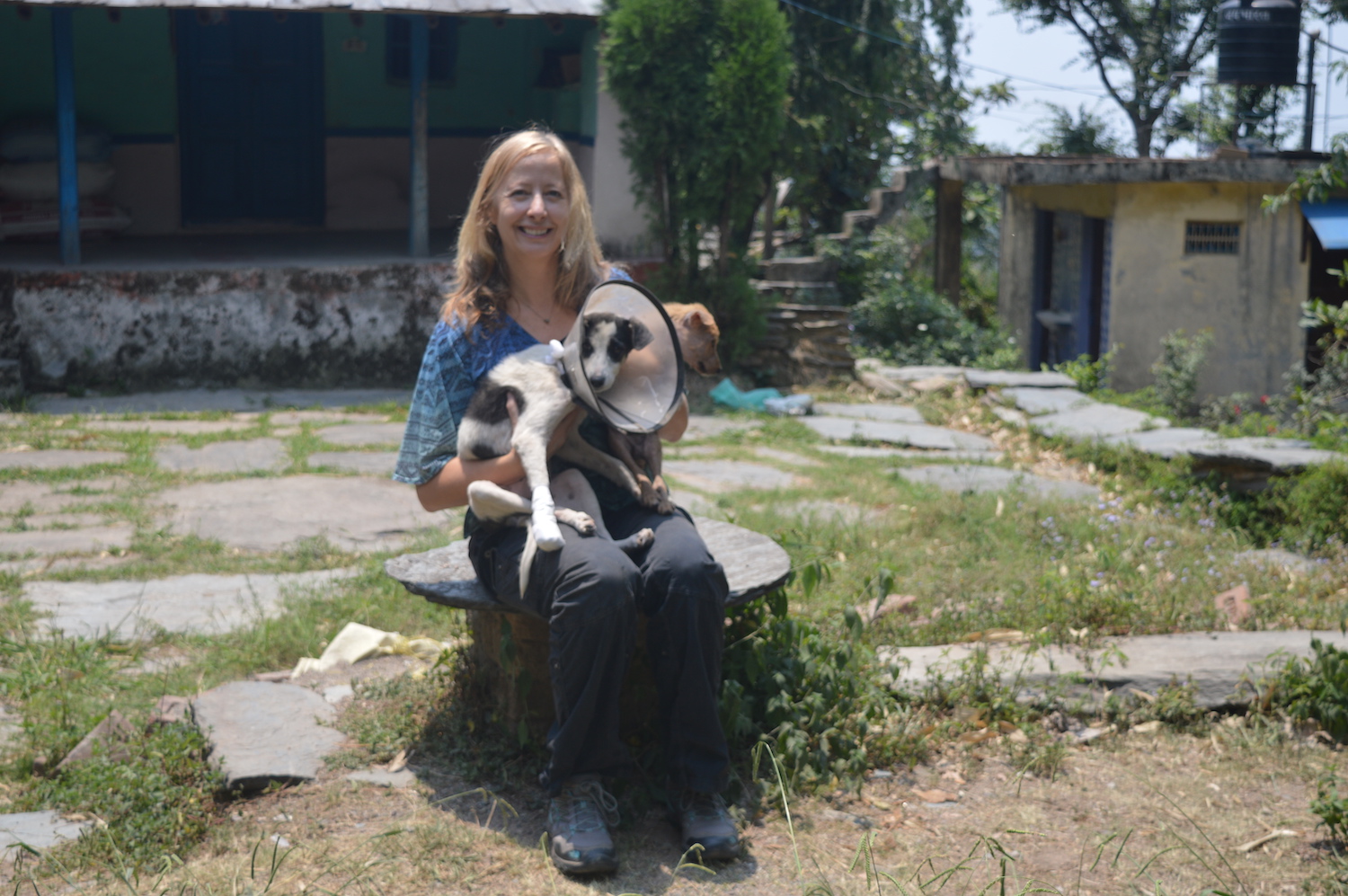 Any given day, the mobile ambulance of the Dharamshala Animal Rescue Trust can be seen around McLeod Ganj and the suburbs of Dharamshala, reaching out to animals in distress.
From saving animals hit by moving cars to treating domestic animals brought to its centre in Slate Godam village high up in the hills, the team of volunteers and vets from across the world works round the clock.
Leading them silently and listening to the cases as she walks through a mud and slate room of her office, making way through fluffy dogs, some paralysed and others injured, founder Deb Jarrett is at home in the hills with the animal care mission that she started in 2013. There is a queue of people, one carrying a sheep, another, an injured bird.
Despite a great lifestyle and job in the USA, Deb Jarrett wanted something more from life. Subsequently, she came to India in 1988, and worked with an Anganwadi centre in the Kotwali Bazaar area, between Mcleodganj and Dharamshala. Here, she came across injured dogs and underfed puppies on the road.
"In developed countries, you don't find stray animals on the road. They are sent to an animal shelter," she observes.
It was an ailing dog that started it all. She reached out for help to get it treated despite many indifferent people who did not consider treating the ill dog an important issue. But finally, a local NGO came forward and offered medication to the stray. School children joined in caring for the dog. "I thought this could be repeated," Deb says.
She went back home and decided to start an NGO in Dharamshala. A reality now, the Dharamshala Animal Rescue Trust is home to many dogs and pups, some three-legged, and others with fractured hips due to accidents.
With no takers for adoption, the injured dogs are looked after by the NGO, while a few puppies have been adopted by families in the United States, the United Kingdom and Germany. The Trust runs several programmes. Raising awareness among the locals about rabies, vaccinating street dogs and visiting schools to speak about compassion towards animals are some of its activities.
Despite limited funds, Deb and her team are upbeat as they treat the animals with compassion. The helpline does not stop ringing, and there is always someone answering the distress call promptly.
Frank Schlichtmann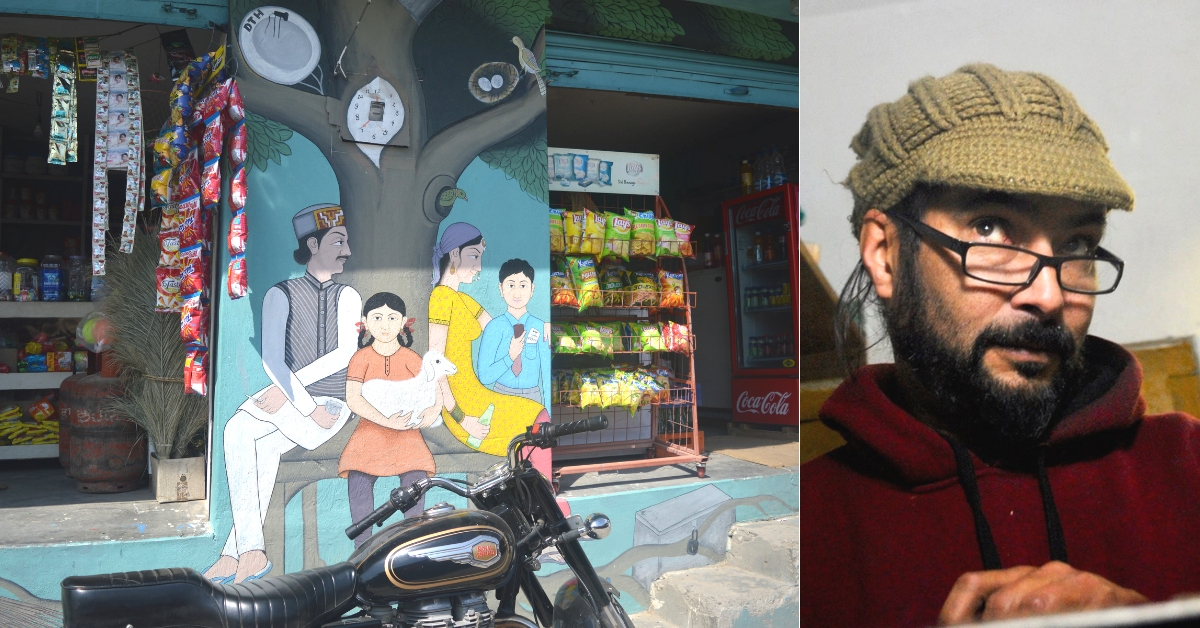 Source: Frank Schlichtmann/Facebook
Any given day, cold winds blowing from the mountains do not deter tourists driving to Gunehar.
Once just another village near the popular paragliding destination Bir-Billing, today, it is known as a platform for artists, cinema and good food.
It is the sheer effort of one man, Frank Schlichtman, which has brought the village on the global tourism radar and offered its residents, mostly Gaddi shepherd families, an insight into world culture and an alternative livelihood.
Born to a German father and Bengali mother, Frank lived in Germany when he was not globetrotting. A visit to India to meet his mother over nine years ago made him decide to stay back.
Away from the din of the cities, he chose Gunehar and opened the 4 Tables Café so that "the village also develops as a city," he says.
People come to sample his pizzas baked in a wood-fired oven, and baked trout served in a plate of herbs and olives. Assisting him in his global kitchen are locals who, in turn, take home a salary to support their families.
Every weekend, the café showcases world cinema to tourists. A gallery here presents installations from earlier village residency programmes organised by him. Titled Shop Art/Art Shop, the four-week residency programme for artists has so far seen three editions and featured works of young artists.
One can find larger-than-life murals of peacocks on kirana shop shutters, canopies on street corners and art on walls in the village that were painted by artists during the first edition of Shop Art/Art Shop.
Hong Kong filmmaker K M Lo brought his Tuk Tuk Cinema to the village children during the workshop. Inspired by the costume of the Gaddi women, designer Reema Kumar created Gunehar Fashions. The collection was showcased by local women taking to the ramp for the first time in their lives.
As part of one of the conceptual art workshops, Frank renovated a traditional mud, bamboo and slate house, which is now a home stay in the village, offering employment opportunities to villagers who have now become savvy tourist guides.
It is purely word of mouth publicity that ensures that the next art show at Gunehar is bigger than the previous one. Frank says, "We had more than 2,000 visitors to our village during the last exhibition. We had an Art Bus to connect the site to Bir and Gunehar."
He continues, "Today, there are many benefits for the village such as employment and extra earnings due to visitors. But I think the main effect is that most villagers are proud that their village is at the centre of attention and not a forgotten place anymore. Before 4 Tables, nobody ever came to Gunehar because it is not on the main route," says Frank, as he gears up for yet another event.
Though he ends up with all the bills, he is a happy man. People often ask him why he has not taken the conventional route of developing the village by empowering its people with a skill such as handicraft.
Undeterred, Frank continues with his mission to make art accessible to everyone, just like his pizzas.
---
Also Read: The Gunehar Experiment: How a Remote Himalayan Hamlet Was Transformed into a Thriving Art Hub
---
Dr Barbara Nath-Wiser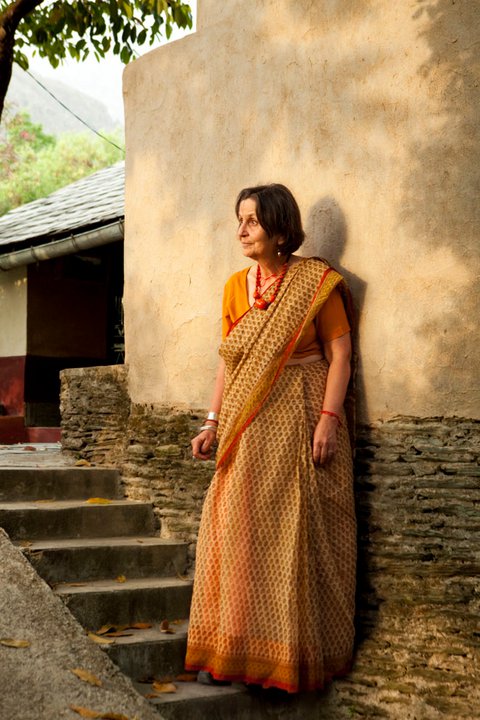 It was a chance meeting on the Delhi-Pathankot train with Dr Barbara Nath-Wiser when she was returning to her home in Rakkar village near Dharamshala, after a brief visit to Vienna.
"It is good to be home. I love the monsoons. Everything looks green," she says, as she looks out of the window, while her son Shankar, reads Noah's Ark from an illustrated volume to his children Neel, Mohan and Meena.
Pointing to the relatively voluminous luggage, he says that the bags contain medicines that Dr Barbara was carrying for her charitable clinic in Himachal Pradesh.
Along the conversation, I realised that she was the popular 'Lady Ji' of Kangra Valley, the Austrian doctor who founded Nishtha Rural Health & Environment Centre in the suburb of Dharamshala.
At her health clinic, patient records go back to 1998. Many women rush to her from remote villages in the mountains and her days are very busy. She graduated from the University of Vienna and married Krishan Nath Baba. After his demise, she decided to stay back in his village to do something for the rural folk.
"This is the 20th year for Nishtha. Before I started it, I worked for a charitable hospital, Major Somnath Memorial Hospital, and gradually decided to have my own clinic. Being a newcomer, it was difficult to establish the clinic because of the complicated bureaucratic procedures. We still have challenges. For instance, we have a staff of 25 people which means 25 salaries and funds for other activities. The main thing for me as a physician is health. But our other areas of work are interconnected. For instance, education is important in health care," says Dr Barbara.
A mix of homoeopathy, allopathy, physiotherapy, naturopathy and acupuncture are used in the treatment at Nishtha. She is assisted by a dedicated team of doctors who personally take the patients, if needed, to the Zonal Hospital or the Tanda Medical College.
Nishtha volunteers also take health education to villages. They set up camps and address women's health issues, hygiene, seasonal diseases such as gastroenteritis and other water-borne diseases, anaemia, high blood pressure, sciatica, slipped disc and calcium deficiency.
As part of the environmental programme, Nishtha undertakes door-to-door campaigns, teaching residents in the area to segregate waste.
She adds, "In Austria, there are four dustbins in every house, one each for paper, plastic, metal and green waste, respectively. Himachal Pradesh is very beautiful. Why should films be shot in Switzerland? But it depresses me to find chips packets strewn on the mountains."
As part of the environment programme, villages around Rakkar are equipped with garbage bins for plastic covers that are later compressed into blocks. These have been used successfully as building material in the place of bricks. There is also an incinerator for medical waste.
"Very little remains to be given to the rag picker," she explains.
Looking back at the 20 years of Nishtha, she says, "It is too much work. My children are not interested in the NGO. But it is the welfare of others that makes me happy. Nishtha is the result of the work of many people."
---
Also Read: Yes to 'Desi Khaad', No to Pesticides: This Organic Cafe in Himachal is a Must-Visit!
---
Phillipa Russell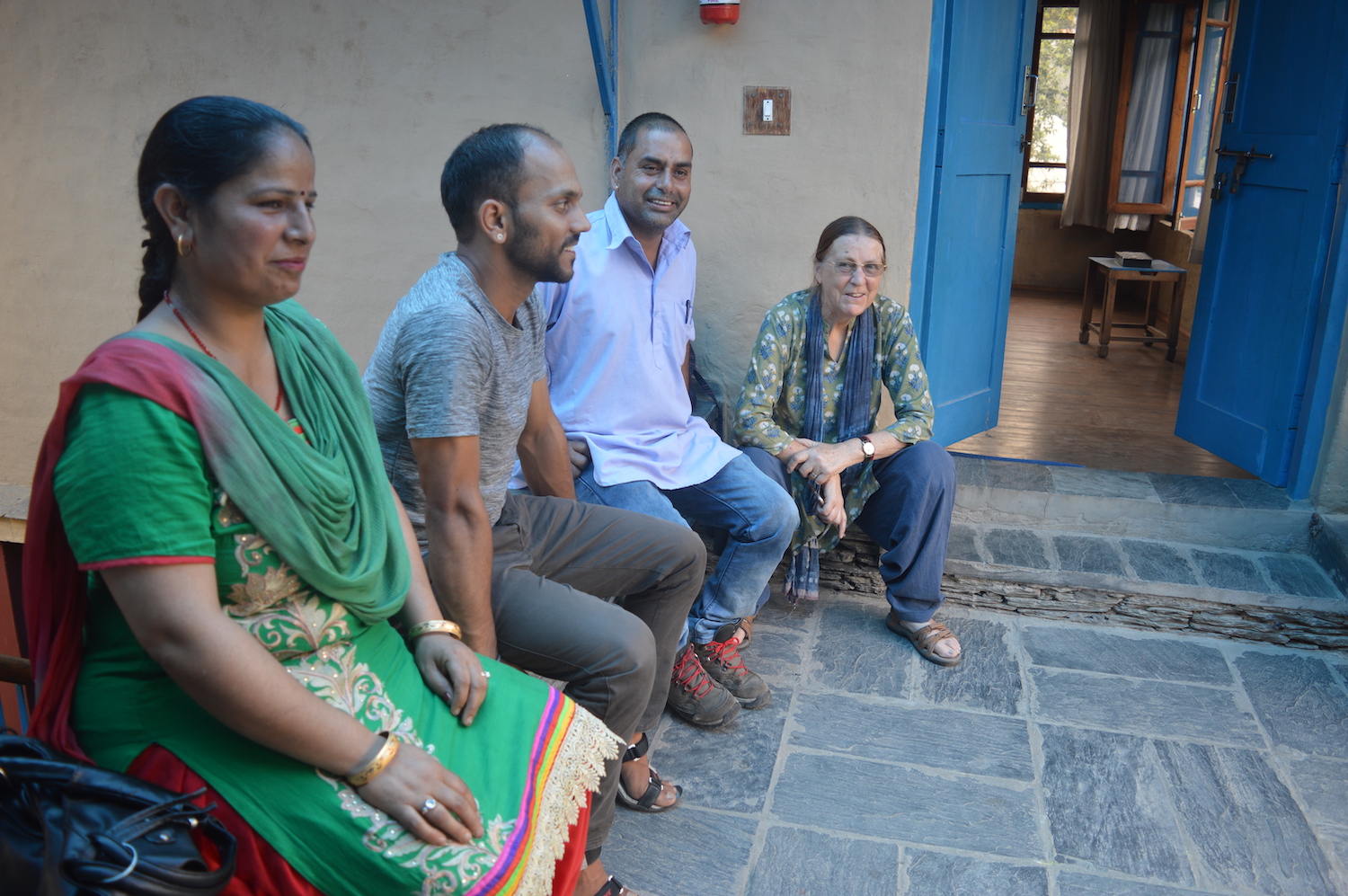 In the words of Dr Barbara Nath-Wiser, Phillipa Russell is the 'Iron Lady of Nishtha'.
This is Phillipa's 20th year at Nishtha.
Her husband, Jeremy Russell, is an English translator for The Dalai Lama. Phillipa came to India to study Buddhism in 1981. She earlier worked with the Tibetan Nuns Project in Dharamshala.
"As the nuns were ordained, they were not given work out of respect. The project aimed to empower ordained women who came to India in the 1980s and 90s," explains Philippa.
She was responsible for setting up Ekal Nari Shakti Sangathan, a movement to help marginalised women in villages. "The situation for widows is bad. Women are thrown out of the houses and held responsible for the death of their husbands. They don't know what their rights are," she says. The organisation looks into the legalities involved, FCRA, fundraising and drafting of proposals.
She initially started working with Nishtha as it was across the river from where she lived, to help with the administration but got involved with its activities subsequently. Her teams work in Rait, Nagrota and other villages in the 10-km radius.
Today, 7,000 women are part of theEkal Nari Shakti Sangathan. Support ranging from getting the pension for women to the marriage of their daughters is offered. Cases of domestic violence and dowry are referred to Jagori Rural Charitable Trust, also in Rakkar.
Nishtha also sponsors the education of the girls of single women and labourers. "We tell them the advantages of going to a college. We teach them computers. Spoken English is taught to the Gaddi children from nomadic shepherd families," says Philippa, whose interest is pre-primary education.
What made her stay back in India? She answers, "People mostly, and the fabulous mountains. There is a rich life here. The work is interesting and challenging. There is a lot of learning."
---
You May Also Like: How an American in Dharamshala Created Tibet's First Women's Football Team to Fight Sexism
---
As the evening approaches, it starts getting cold. Phillipa plans to walk back home as she lives across the river, only to continue making reports. It has been a long day for her.
(Edited by Shruti Singhal)
We bring stories straight from the heart of India, to inspire millions and create a wave of impact. Our positive movement is growing bigger everyday, and we would love for you to join it.
Please contribute whatever you can, every little penny helps our team in bringing you more stories that support dreams and spread hope.