Belonging to a conservative Muslim family, it was hard for Fatima Ahmed to break the shackles but she made sure to follow her dreams and do all that she ever wanted. From travelling the world to living like a "gypsy" and creating her very own niche in the world of art, Ahmed has lived her life on her terms. Read about this feisty and inspiring artist.
'If only silence could speak' goes the adage. Well, here silence does speak – and how! Soft, hazy, elusive images of women gaze steadily from the confines of their canvas making the much-mesmerised onlooker feel as though they would simply vanish if s/he so much as blinked. The women in red, pink, beige oil paints look ethereal, delicate and yet they convey power, strength – much like the woman who has created them.
"Space and light are very important to any work of art, especially paintings," explains legendary rebel artist and writer Fatima Ahmed, whose latest oil canvases were on display in Mumbai recently. She continues, "In life, there has to be some mystery. Everything shouldn't be very obvious and spoken out loud. In my works I don't like clutter, loud colours or screaming. I like my paintings to be as subtle as a whisper."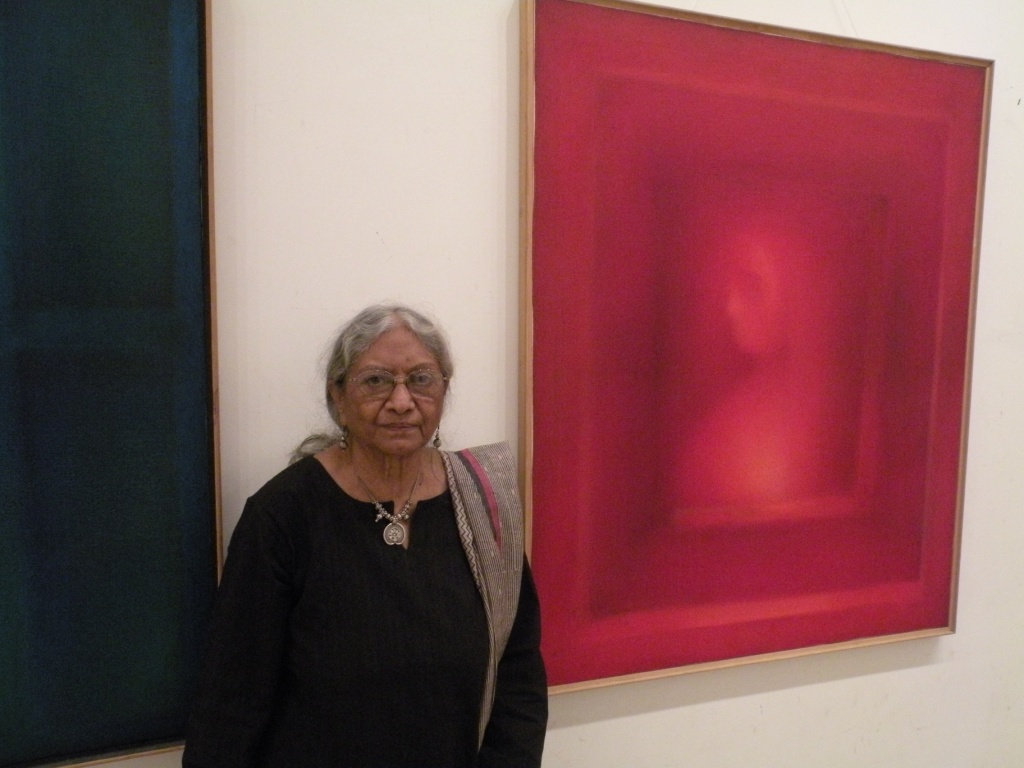 Looking at the salwar-kameez clad grey-haired woman munching happily on a samosa brought to her by one of her fans, one question that instantly comes to mind: From where does the woman, who is very obviously all fun, laughter and full of life, bring out the silence, serenity and poise, which is the hallmark of her art work?
"Let me start by saying I simply love to eat the crisp crust of a samosa," she says, with twinkle in her eyes, before adding, "Now as far as the silence in my work is concerned, throughout my life I have been more of an observer. I was a recluse during my childhood as I didn't have anyone to share my thoughts and feelings with. I was a rebel for everyone around me and way back in the middle of last century it wasn't a good sign."
Coming from a conservative Muslim family in Hyderabad, Ahmed never really fit in because she was a free spirit who believed in equality. Her father was a Collector under Nizam Osman Ali Khan, Asif Jah VII, the last Nizam of Hyderabad.
In her joint family, daughters were married off in their early teens within the extended family. Moreover, as the Ahmed family was very highly placed within the Nizam's palace, its members, too, were treated as royalty, which was never acceptable to her.
"I just couldn't tolerate treating those employed in our household as slaves. Besides, women in that era didn't have any say in any sphere of life and were forced to blindly follow all the dictates of men without questioning them. I certainly wasn't going to do that," she says emphatically, her voice betraying the anger she still feels towards the strict patriarchal rules they were made to adhere to in that period.

The women in red, pink, beige oil paints look ethereal, delicate and yet they convey power, strength. (Credit: Surekha Kadapa-Bose\WFS)
So Ahmed grew up with vivid visions of freeing everyone who was treated as a lesser human being. "Quite unknowingly, I was influenced by socialism," she remarks. And at that age she had also made up her mind that she would rather die than marry one of her cousins. According to her, the one good thing her father did was to enrol her in the Government Mahaboobia Girls School, the foremost learning institution at that time. "Our teachers taught us out of syllabus and gave us the freedom to think. I didn't like Hyderabad then but I loved my school," says the artist, who is nearing 80.
It was there that she developed a deep love for drawing, painting and the classical Indian dance form Kathak, all of which she learnt without the approval of the family elders. The dance classes came to an end as soon as her father came to know.
"Unfortunately, my mother had a stroke at the time. And though I did have a large family of sisters, brothers, cousins and aunts, I could never really converse with any of them or share my true feelings," she elaborates.
After school, as Ahmed refused marriage outright, she was grudgingly allowed to join college. But there again she met with another hurdle. She wasn't interested in any of the usual subjects of science and wanted to join College of Fine Arts, which, of course, wasn't permitted. So she found a way to get in. Mischievously she narrates, "I forged my father's signature on the application form but the principal detected my lie and quizzed me. When he understood that I was really interested in the arts and saw a painting I had done of a litter of puppies, he relented."
The demise of her parents made her leave home and Hyderabad for good. "I certainly didn't want to stay back and be bossed around by my brothers and other family members," she says about her escape to Bombay in early 1960s.
Admitting that the Hyderabad of today has changed considerably, the ageing artist nonetheless doesn't think there is much difference still in the way girls from poor Muslim families are treated, "While girls from well-to-do homes get an education, are fashionable, go abroad, mingle with the rest of the world, this is not true of the low income Muslim families. They still live in a very male dominated society and this is not only restricted to Hyderabad or India but all over the world."
Her arrival in Bombay and the "gypsy lifestyle" she led for the next two decades saw her engage closely with the world of art and writing. "I really didn't exploit the kind of opportunities that came my way. I just took life one day at a time by living it on my own terms," recalls Ahmed especially referring to her two-year stint in London where she painted, went through a financial crisis and then discovered spiritualism.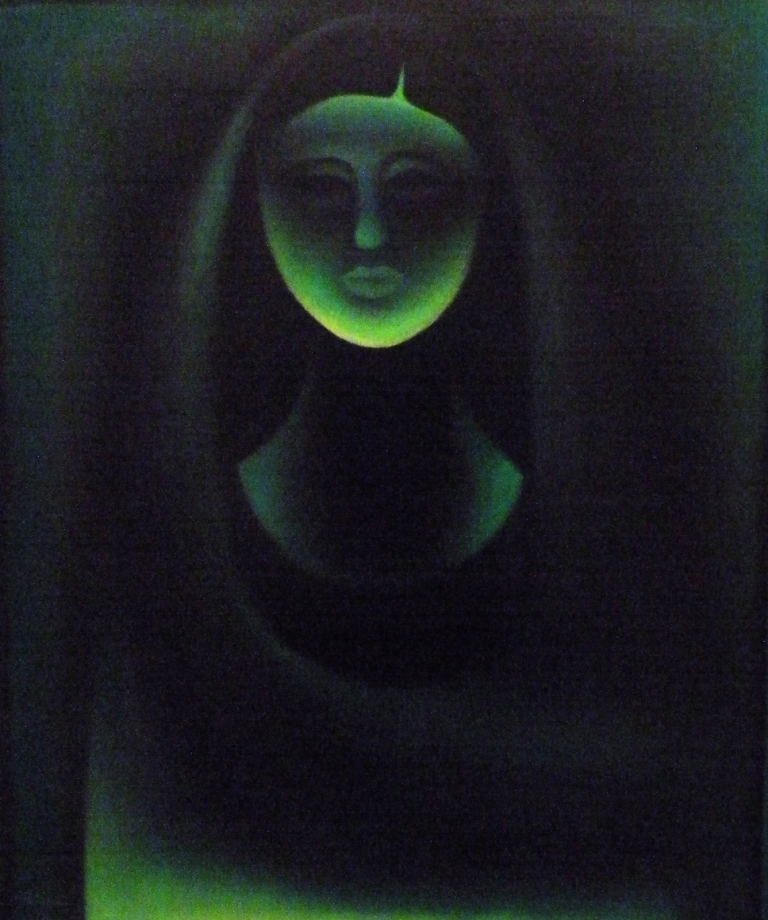 Despite those struggles, great success has come to her. She has held innumerable exhibitions in Mumbai, Delhi, Chennai, Hyderabad, Bhopal, London, Mauritius, Dubai, Hong Kong, Russia and South Africa, among many other places. Her works have been auctioned by Christies and are part of several private collections and state galleries, including the National Gallery of Modern Art (NGMA) in Delhi, Birla Art Akademi, Kolkata, the Stuttgart State Library and Masanori Fukuoka Museum in Japan.
What or who has influenced her art over the years? Initially, Ahmed says she was influenced by Gauguin, Cezanne, Van Gogh and Modigliani. But she consciously stayed away from those influences, as she felt "there was no fun in copying others", and developed her own style.
Once she got back from London to Mumbai she caught up with many of her journalist friends. One of them was late Khushwant Singh, with whom she argued, fought and enjoyed interacting. It was he who encouraged her to get into writing. She started by translating works of Ismat Chugtai, Saadat Hassan Manto, Kaifi Azmi and other Urdu literary greats into English. This paved the way for to her write the semi-autobiographical, 'In Haleema's Words'. It was on one of her reporting assignments that she visited the Rajneesh Ashram in Pune, which has become her permanent home now.
Personally, Ahmed may be less of a rebel these days but her works more than make up – though still and silent they exude the quiet strength of women.
Like this story? Or have something to share? Write to us: contact@thebetterindia.com, or connect with us on Facebook and Twitter (@thebetterindia).
We at The Better India want to showcase everything that is working in this country. By using the power of constructive journalism, we want to change India – one story at a time. If you read us, like us and want this positive movement to grow, then do consider supporting us via the following buttons.
Please read these FAQs before contributing.