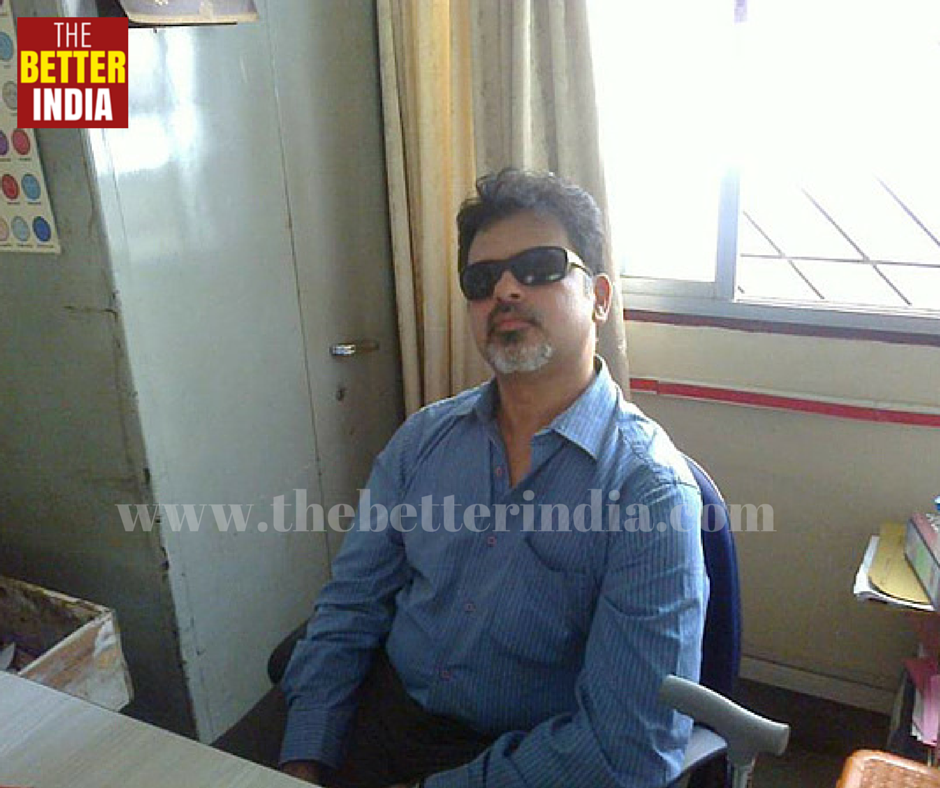 Doctors said he would become a "vegetable" and wouldn't be able to do anything. Not the one to live a life like this, Azeem Bolar started counseling people and has successfully changed many lives in a positive way. "I'd rather someone envy me than pity me," he says. Know more about his tremendously inspiring journey.
Doctors said he would become a "vegetable" and wouldn't be able to do anything. Not the one to live a life like this, Azeem Bolar started counseling people and has successfully changed many lives in a positive way. "I'd rather someone envy me than pity me," he says. Know more about his tremendously inspiring journey. 
I really didn't know what to expect when I entered his office at the Banjara Academy's counseling centre in Bangalore the other day. I wasn't sure how he would respond to the many questions I had for him. But not long after we began to chat I felt completely at ease. As our conversation proceeded, I grew increasingly in awe of him, realizing how truly fortunate I was to be in the presence of a person of great faith, courage, confidence, compassion and gentleness.
47 year-old Azeem Bolar is blind. Born with bronchitis and a heart-valve defect, he developed juvenile arthritis before he entered his teens. That didn't stop him from pursuing his dreams, though. After spending several years in East Africa, where his family had shifted from their native Mangalore, at 17 he went to Strasbourg, France, to train as a hotelier. From there he went to London, where he earned a Post-Graduate degree in Hotel Management. He wanted to become a master chef, but life had different plans for him.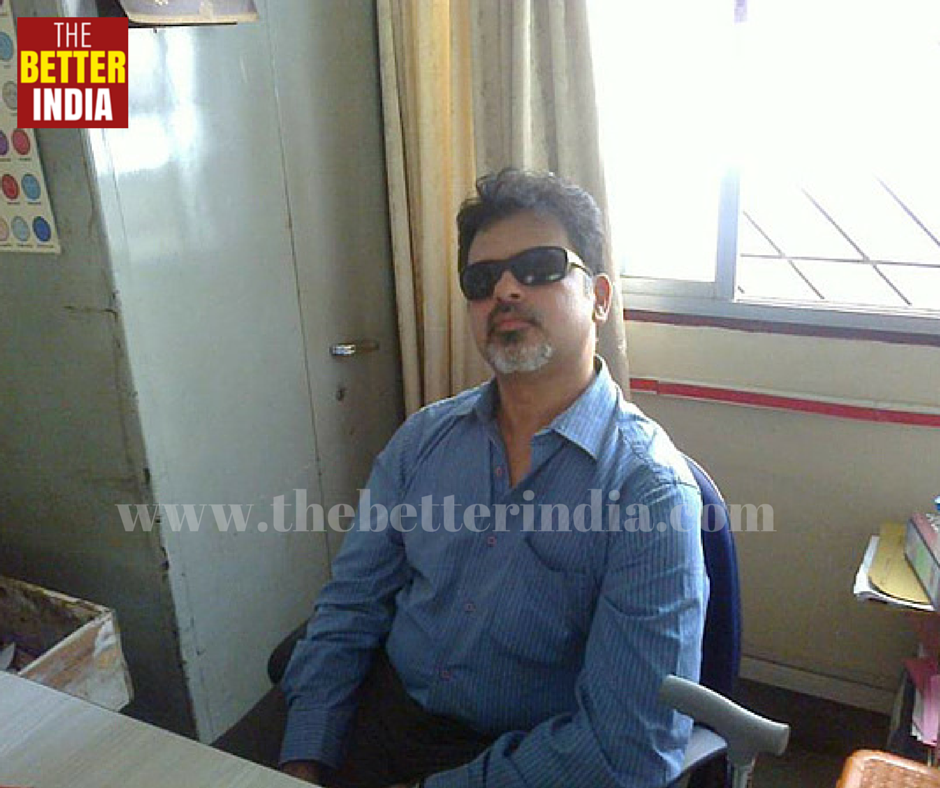 In 1991, Azeem returned to India, taking up a job as a manager in a restaurant in Bangalore. He climbed up the ladder to join The Oberoi, Bangalore, as a night manager. At this time, his vision began to fade, leaving him no choice but to resign his job.
He set up a fast-food takeaway instead, but when his vision fell to a very low level, he had to close shop and join his parents in Uganda. There, he fell in love with a 5-acre property, where he ran a restaurant for a while, but his vision continued to deteriorate. He was struck with meningitis — his brain was filled with water — and then with cerebral malaria and his first paralytic attack. Shortly after, he lost total vision due to a neurological stroke and was paralyzed on the left side of his body.
"The doctors declared me brain-dead," Azeem relates. "They told me that I would be a vegetable, that I would never be able to walk or talk, that I would be confined for the rest of my life to a wheelchair. But God has blessed me with great willpower. I told myself that I just had to get on my feet, come what may, and that's exactly I did!"
Although he was now blind and half paralyzed, Azeem didn't become a 'vegetable' as his doctors had predicted. Instead, he grew into a very successful counselor. He did several courses in counseling from the Banjara Academy, Bangalore, followed by courses in Neuro-Linguistic Programming, Hypnotherapy, Gestalt Therapy and Reiki, and then an MS in Counseling and Psychotherapy from Kuvempu University, Karnataka.
Earlier this year, he was conferred a Ph.D. by the Indian Virtual University. After becoming a 'doctor', this recipient of the National Federation of the Blind's Best Professional Award and the Cavin Kare Award for Achievement Against All Odds is now aspiring even higher.
"I want to go in for post-doctoral studies, focusing on the use of hypnosis in helping people who are addicted to drugs and other such substances," he says.
Azeem has put all the many skills and knowledge that he's acquired to good use. For many years now, he has been volunteering once a week as a Counselor at the Banjara Academy's free-of-cost counseling centre. He works two days a week at Aditi Technologies as a consultant counselor, and on other days he works from home.
Over the years, he has counseled literally hundreds of people, helping them to face and overcome all sorts of challenges, including trauma, depression, family conflicts, substance abuse, aggression, loneliness and low self-esteem.
"When some people come to me for counseling, they are amazed that a blind man can do so much for society, that I can be so happy and content and not complain about my condition. This itself leads them to realize that some of their issues aren't really as serious or intractable as they had assumed them to be," he says.
"This work of helping others gives me a reason to live," Azeem explains. "It supplies my life with meaning. In helping others, you can get over your own problems. If with two sweet words I can make someone happy, it makes my day! It gives me great contentment. In making someone else's life better, you realize that your life is not really the mess that you might otherwise imagine it to be," he says.
"On the basis of my contributions to society, I like to see myself as an inspiration for people—and that includes just about everyone—who face some or the other barrier and are trying to overcome hurdles in life."
As Azeem continues telling me about his life, I muse on how I might have reacted had I been in his place. Very likely, I might have lost all zeal for living. But Azeem is a brave man. "I've never taken 'No' for an answer," he says.
"When faced with an adverse situation, my immediate response is to think of how to overcome it. Instead of lamenting about it and demanding to know, 'Why did this happen to me?' I ask myself, 'What I can do in the given situation to make things better?' So, when I began going blind, I didn't ask myself 'Why me?' Rather, I thought, 'What can I do, being in this condition?' I never cried over what had happened to me. I didn't blame God for going blind. How could I blame God when God has given me so many other potentials that I can use to face any situation? How could I crib about the eyesight I had lost when God has given me so many other resources? In fact, I realized that through this condition God was giving me new insights—into how to help others. If I hadn't gone blind, I would never have known what a blind man feels."
There were still many things that he could do, Azeem discovered, if his eyes weren't going to get better. "I didn't for a moment think I was condemned forever. Instead, I thought, 'Okay, this is my condition now. So, how can I make the most of it in this situation?'"
It was this courageous acceptance of reality and refusal to give up that led Azeem to prepare for a vocation of helping others which he might never have considered had he not turned blind.
"Earlier, I was driven by the passion to make money, to become a big hotelier or a chef," he says. "But going blind changed all that. I decided to become a part of this noble profession called counselling. That way, I could bring hope, solace and cheer to many people faced with pain and suffering and help make a major difference in their lives. I learnt to turn what might have been thought of as a disability into an ability. Had I not turned blind, I wouldn't ever have thought of becoming a counselor and helping people at all. Instead, I would have been zipping around on a motorbike—I was such a passionate biker! Before the blindness set in, I had no social concern. Really, my blindness has brought in so much. It has made me realize the joy one gets in helping others. And that joy is its own reward. When you immerse yourself in trying to alleviate other people's sorrows, you learn to overcome your own pain. It makes you get over the tendency to stagnate in self-pity and obsess with your own problems."
I reflect on my own life as I listen spell-bound to this truly inspiring man. How often have I felt so overwhelmed by problems that I wish my life would end at once! How many times have I wanted to escape from it all to the splendid isolation of an inaccessible Himalayan cave perhaps, cut off from the rest of the world! I share my predicament with Azeem, asking him if he ever felt this way, what with all the challenges that he has faced.
"No, not at all," he answers matter-of-factly. "In fact, during all the years when I began to lose my eyesight I somehow never realized the gravity of the impairment. I visualized everything as a challenge and felt that I could easily overcome my challenges without much effort. I just did not allow myself to feel disabled. On the contrary, I found telling myself that I am challenged. Although I have been blind for several years, I have never perceived my not being able to see as a shortcoming in the way of my growth and achieving goals. I took my condition positively, realizing that a sighted counselor would tend to be biased or judgmental when looking at a client as compared to a visually-challenged counselor, who might be able to empathize better and remain focused on the client's emotional issues for a longer period of time."
Many of us often feel so stuck in the past, wallowing in self-pity and resentment, that we don't seem to be able to find our way out. But that's not how Azeem feels. "I'd rather someone envy me than pity me," he says.
"I have never felt self-pity. If I had, I would never have reached where I am today. I never ask this stupid question: 'Why did this have to happen to me?' Okay, I can't ride a bike or cook now—things I loved doing when I was sighted—but instead of lamenting this, I think of the great things I can do now: like helping others through counseling, for instance. That's why I don't see myself as any less just because I cannot see. There was a time when I used to love trekking. I was a great Nature lover. Now I cannot do that. I can't even sit on a step and have a cup of tea because I might fall. But I can still commune with Nature by listening to the breeze or the birds singing in the trees, and for that I am grateful and happy."
As Azeem continues, I learn from him how pain can be cathartic and how even traumas can turn into opportunities for inner growth, provided we approach them in the right way. "If you don't suffer, you don't learn," he says. "If things come easily for you, you don't appreciate their value. I have used my share of difficulties to stand on my own feet, and that makes me very happy."
"Life isn't always comfortable," Azeem relates. "To face the challenges that life inevitably throws up, you need to face reality, not deny or seek to escape it. And not only do you need to accept the reality of a difficult situation, you also have to ask yourself how you can turn it around and make it favourable for you. For instance, this March I had a muscle degeneration attack, and the doctors say that I might become totally paralyzed from the neck downwards. It took me just 24 hours to take this in, and I said to myself, "I will get over it!" I'm not going to give way to fear and anxiety."
"I believe in God," Azeem says, "and I know that whatever God does is for my best."
Azeem Bolar can be contacted on azeem.bolar@gmail.com
Like this story? Or have something to share? Write to us: contact@thebetterindia.com, or connect with us on Facebook and Twitter (@thebetterindia).
We bring stories straight from the heart of India, to inspire millions and create a wave of impact. Our positive movement is growing bigger everyday, and we would love for you to join it.
Please contribute whatever you can, every little penny helps our team in bringing you more stories that support dreams and spread hope.