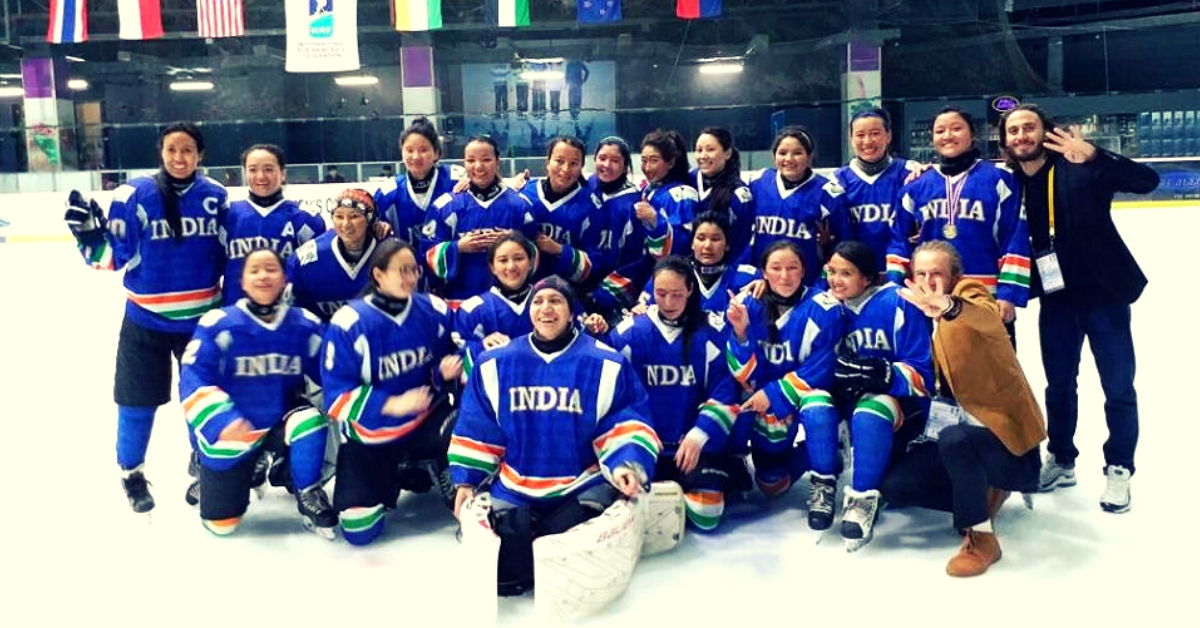 India's women's ice hockey team, entirely Ladakhi, trains with no equipment and little funds - but their dreams cannot be frozen in place. Here is their extraordinary journey!
In a country of over 1.3 billion, it is Ladakh—a region with a population of approximately 300,000—that has produced every member of the Indian women's ice hockey team.
Members train on natural frozen ponds that last just two months. These natural rinks lack critical facilities needed to play the game – like dasher boards made of Aluminium extrusion, HDPE / Poly Carbonate and Acrylic, which form the fence around an ice rink.
India's only full-sized artificial international rink in Dehradun remains shut with no State support.
The only option Indian ice-hockey players have is travelling to Kyrgyzstan, Malaysia or countries like UAE to train on full-sized international ice hockey rinks. These training expeditions are only possible due to frantic crowdfunding initiatives and out-of-pocket spending.
They use equipment borrowed from relatives and compete on a shoestring budget without no financial assistance from the State.
So, it's astonishing that these women not only managed to win two matches in 2017 at Asia's most high-profile ice hockey tournament but also maintain a burning desire to compete.
Here is their extraordinary story.
Humble beginnings
When winter months arrive in Ladakh, ice hockey is the only game in town. Youngsters can't play football or cricket. Instead, they take to ice hockey on surfaces like Gupuks, just outside Leh town, or Karzoo, where the pond freezes over for the winter.
According to the Ladakh Winter Sports Club, there are approximately 10,000–12,000 Ladakhi youth who play ice hockey in one form or another. Major tournaments like the IHAI (Ice Hockey Association of India) National Ice Hockey Championship are often held in January each year.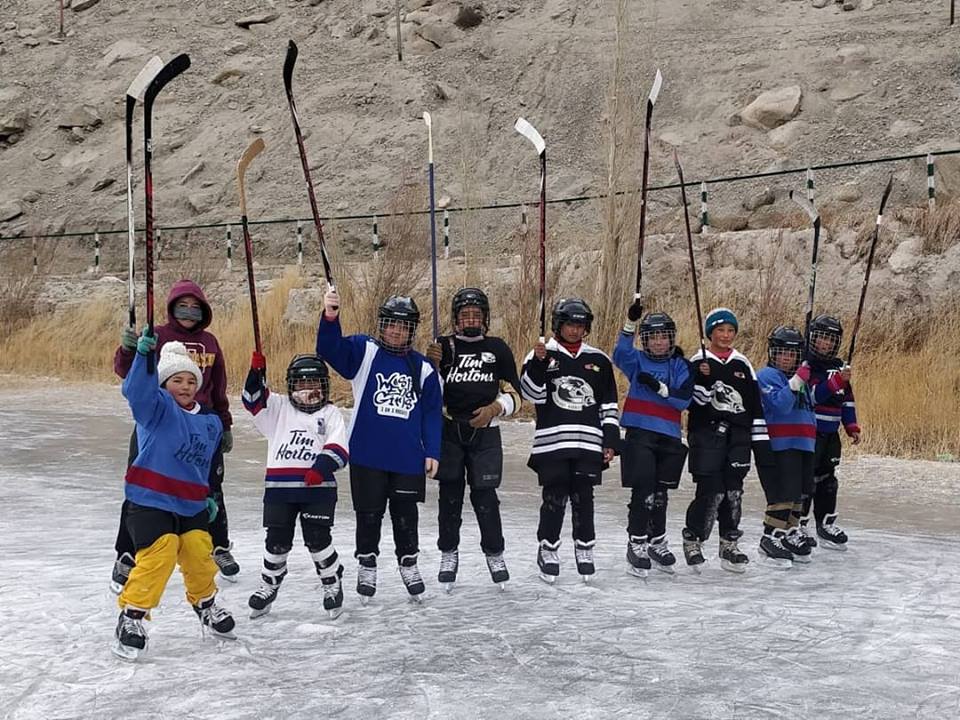 Ice hockey first made its way to Ladakh in the early 1970s when locals enlisted in the army discovered bladed shoes in an army storage facility. Rounding up some conventional field hockey sticks and balls, the first local tournaments were held in 1972 in the form of inter-brigade match ups. By 1980, however, teams made up of civilians began to emerge.
None of these teams, however, knew much about protective gear or even the rules of professional ice hockey. In some instances, the goalkeeper would wear cricket batting pads as protective gear.
Only in 2006, local authorities made it mandatory to wear protective head-gear and proper pads.
Women were initially restricted to the more "feminine" sport of figure skating, often performing during the interval between men's matches.
"I started as a figure skater. My late father had bought me skates. He was one of the members of the Ladakh Winter Sports Club, Leh. Initially, we had a female figure skater from New Zealand, who gave us a few lessons at the club which lasted a couple of years. During that period, we used to do figure skating during the intervals when men were playing ice hockey," says Disket Angmo, an English Literature graduate from Delhi University who plays defence for the Indian women's team, and also performs the role of official team spokesperson.
Besides the lack of opportunities, as then and in many cases even now, women carry the burden of societal expectations.
Yes, unlike most parts of India, Ladakhis generally enjoy a higher degree of gender equality, but it's not as if they are immune to demands for marriage, child-rearing or a stable government job.
"Most of us started by learning to skate, then borrowed ice hockey equipment to try our hand at this sport. Most members of the Indian Ice Hockey Men's Team were from Ladakh and seeing them, we also wanted to represent India," says Diskit, whose elder brother Tsewang Gylason is the Captain of the men's ice hockey team.
Early struggles
The Ladakhi women who play the sport for their country today owe a lot to the generations that preceded them. The women's game in Ladakh only came up in the early nineties, when educational institutions like SECMOL roped in a foreign instructor and sourced skates from abroad. Back then, "thin pieces of metal were fastened to long pieces of wood to make sticks. A patch of dirt turned into a skating surface, and a goal was made from wood scraps," says this Huffington Post profile.
Making the transition from figure skating to ice hockey, it was their sheer passion for the sport which drove the local Ladakh Winter Sports Club towards introducing women into local competitions since 2008. But it took till 2013 before the Ice Hockey Association of India conducted its first National Championship for Women – when even finding capable players was a task.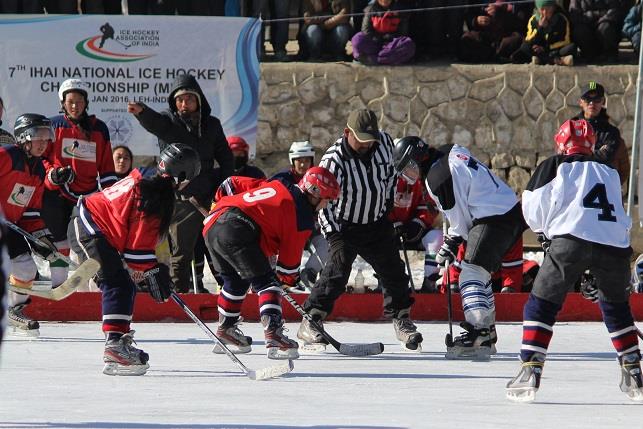 "As the number of women players grew, the Ice Hockey Association of India was impressed with our passion for the sport and decided to send a women's team for the Challenge Cup of Asia in Chinese Taipei in 2016," says Diskit, in a conversation with The Better India.
Thanks to the collective efforts of young Ladakhi women determined to play the sport. They have now four full-strength local teams compared to 10 on the men's side.
Expats coming in winters from abroad to play the sport outdoors in Ladakh and especially those from Canada play a crucial role in getting equipment and training the players.
More hiccups along the way
Training for Ice Hockey Federation's (IIHF's) Challenge Cup of Asia in Taipei in March 2016 took place at Iskate, a miniature ice rink in Ambience Mall, Gurgaon, which is barely 1/4th the size of an international arena.
The players were only able to hone their basic skills here. Some players from one of the country's most remote regions almostmissed out on a trip to Taipei because they didn't have passports.
Harjinder Singh, the General Secretary of IHAI, remembers running around government offices in Delhi to ensure most players in the side could travel.
Players who made it to the tournament, meanwhile, were daunted by the size of the tournament's ice rink. Also, they weren't sure about the official rules and learnt them as the tournament progressed. Darrin Harrold, the Referee in Chief at the tournament Taipei, went out of his way to instruct the girls on various rules. Despite their experience, the 20 ice skaters were slipping and falling because they weren't used to the surface. Trounced by every opposition they faced, the team finished with an aggregate score of 8-36.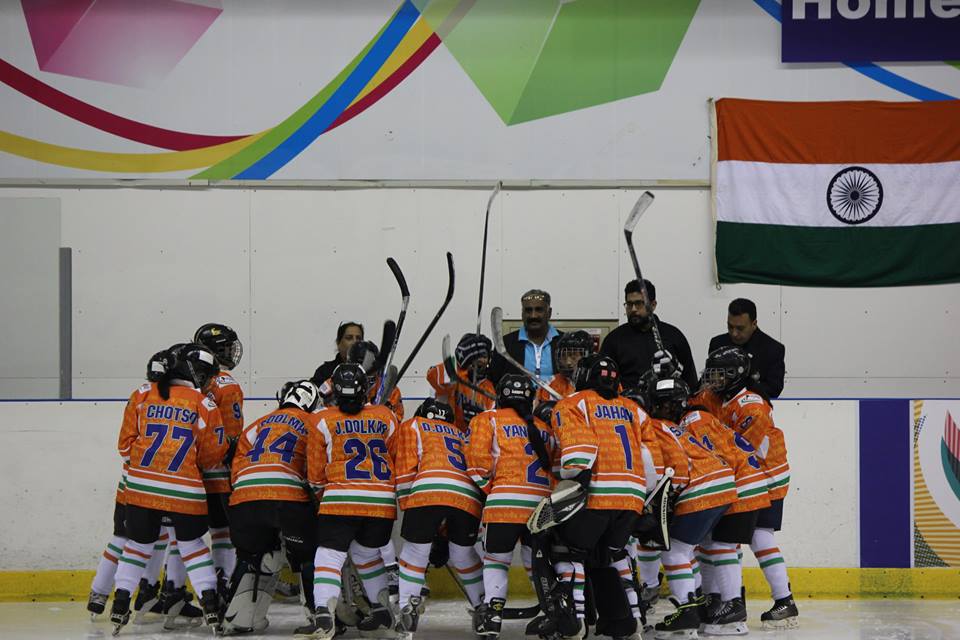 "No one amongst us had thought that the opportunity to represent the country would come so soon. However, the experience of our debut IIHF tournament in 2016 triggered that hunger to win. We understood that to win, we needed good equipment and a lot of time on ice to practice. Unfortunately, the constraints of little training time on the ice, availability of ice, lack of equipment and funds were and remain obstacles," says Diskit.
First taste of success
It didn't take too long for things to turn around—thanks to hard work, and some great crowd-funding.
In the seven-nation 2017 Challenge Cup of Asia, the women's team secured a dramatic 4-3 win in their second match versus the Philippines—their first victory at an international tournament. After the final whistle, there were tears of joy.
Even the referees and officials there shed a tear. Despite getting trounced in the following three matches by a combined a score of 3-39, the team secured another win on the final day, defeating Malaysia in a nail biter that finished 5-4.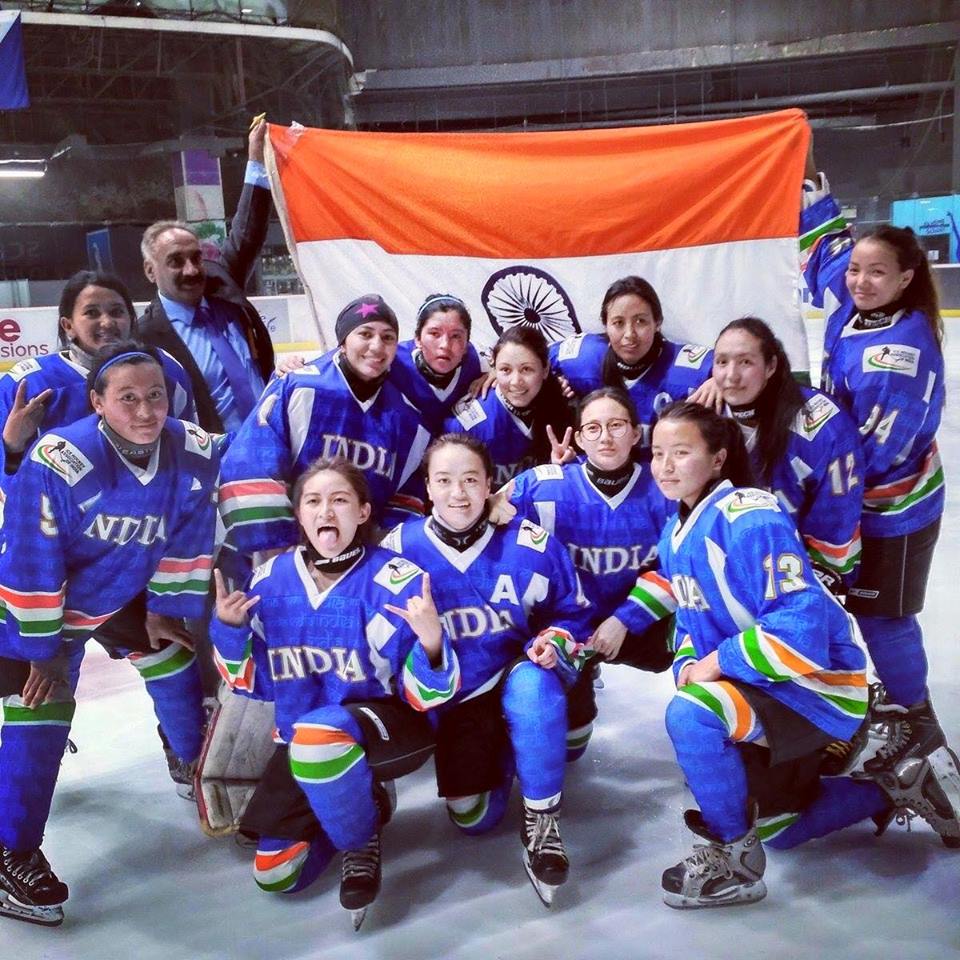 "We were all so emotional and cried so much. Even others became teary-eyed when our national anthem was being played. We felt that we had made our country proud," says 19-year-old Tsering Chorol, in a conversation with the Hindustan Times.
Diskit was adjudged the best player on the Indian team by the coach. Rapturous crowds at the airport and subsequently in their respective villages met their return to Leh. The story of the team's success in Asia's biggest ice-hockey tournament caught the attention of the world media.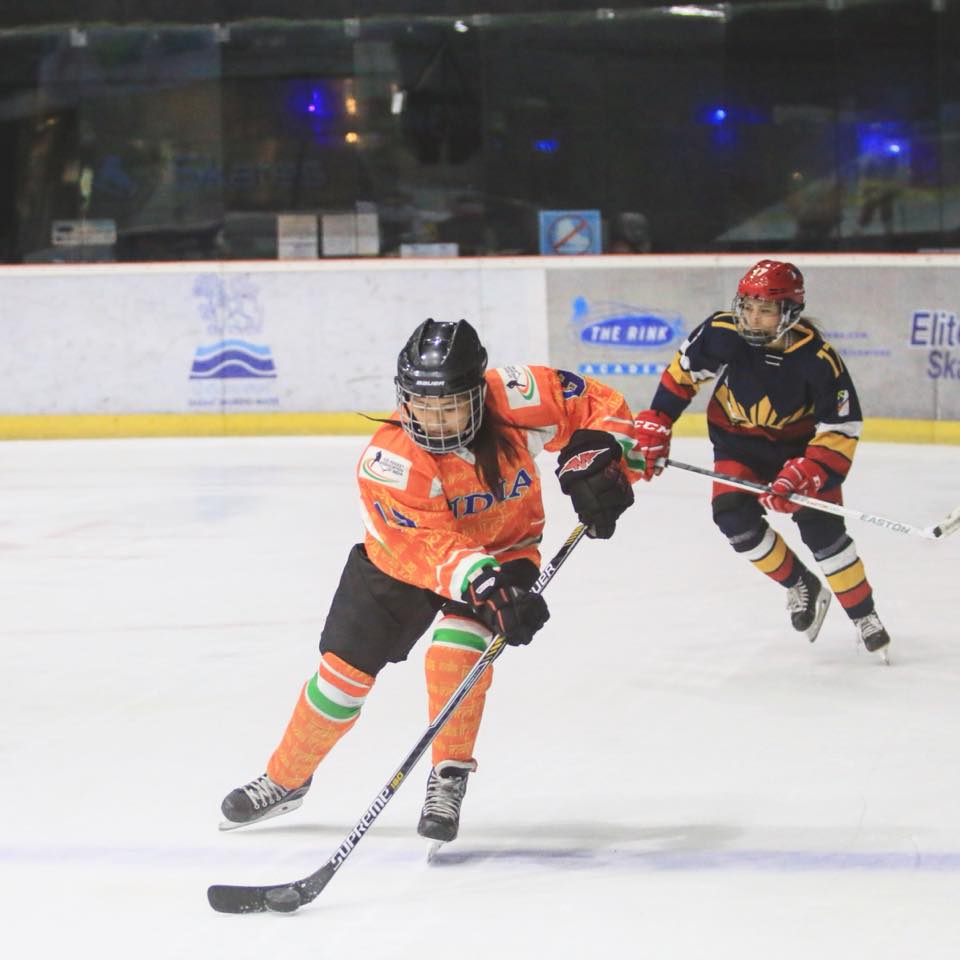 Even the Canadian Prime Minister Justin Trudeau, on a state visit to India in February 2018, met the team in Delhi. "India's national women's ice hockey team is breaking barriers, taking on challengers, and showing girls that anything is possible," Trudeau tweeted that day.
Never ending struggle
However, recognition from the Canadian Prime Minister and international fame did little to mitigate their problems as preparations for the 2018 Challenge Cup came to a halt following the unfortunate demise of Chief Executive Councilor Sonam Dawa Lonpo, who headed the Leh Autonomous Hill Development Council.
He died after a heart attack at home.
With not enough funds in the kitty, there was no training camp in Kyrgyzstan. Once again, they went into the 2018 Challenge Cup in Kuala Lumpur, Malaysia, with minimal practice.
"We had matured as players and scored as many goals in the last championship at 2017 but were unsuccessful in the 2018 Championship," says Diskit. The team lost all three matches.
Light at the end of the tunnel
However, all that publicity had offered the women's team another ray of hope. "None other than Hayley Wickenheiser, a four-time ice hockey Olympic gold medallist from Canada, took note of our story on social media. She visited us in Leh in January 2018 and requested the IHAI to get the Women's team for a Hockey Coaching program in Canada along with participation in WICKFEST – Wickenheiser Female World Hockey Festival in Calgary," says Diskit.
"It was once in a lifetime opportunity for the team. Our passion had made us believe in ourselves. From an unheard team from a remote area in India, we went to Canada for the World Female Hockey Festival. They say 'Passion Has No Boundaries' and we lived up to it," she adds.
During the festival, the team won one of four exhibition matches, but more than results the experience was invaluable. They watched NHL matches, held the prestigious Stanley Cup aloft, and even met Wayne Gretzky – the greatest ice hockey player.
"The people of Canada had opened up their hearts for us. Particularly supportive during the time they spent in Canada were families of Indian descent. None amongst them, ever thought that they would be able to meet and greet an Indian National Ice Hockey team. Most parents sent cakes, gifts and homemade meals for us, while the hockey players of Indian descent shared jerseys and equipment with the team." adds Diskit.
"It paved the way for us to become mentors and future leaders for the development of ice hockey in India," concludes Diskit.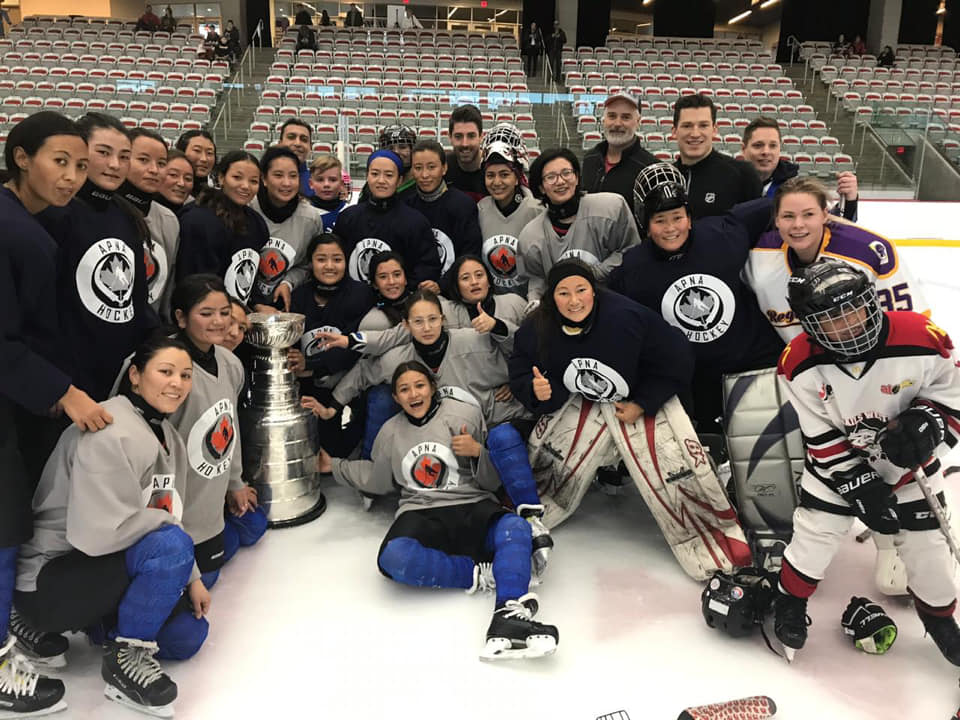 With little practice, our women were able to match up to teams in Asia's biggest tournament. Imagine what they can do with six months of practice in an international-sized ice rink instead of two on miniature ones?
Beyond training camps, the development of ice hockey in India, where a massive potential exists, needs nurturing from the very start of a child's career.
Governments can support these talented players by providing outdoor rinks, dasher boards and cover from the sun, which could increase their playing time from October to March each year.
Also, ice hockey is an expensive sport. Besides donations from various expats coming to Ladakh during winter, clubs and organisations should take the lead in getting government funding and CSR support from major corporations for equipment and coaching support programs.
Also Read: Landfills No More? IAS Officer's Brilliant 'Project Tsangda' Is Changing The Face of Leh
Finally, the government at the Centre and State would do well to recognise the sport. A career in other sports often allows a person to acquire a stable government job. Without official recognition of the sport, that option does not exist for ice hockey players in Ladakh.
Nonetheless, the IHAI can also do their part to increase participation in the sport and ensure they receive Government funding.
Having said all that, there is immense potential here and not just in Ladakh. The passion these women bring to the sport is incredible. It took them from anonymity to a meeting with the Canadian Prime Minister and a celebrity tour of Canada.
With your support, they can soar higher still.
P.S. The 8th IHAI National Ice Hockey Championship will take place from 16th January to 25th January, 2019 at Karzoo Rink, Leh, Jammu & Kashmir, India.
You can show your support by liking the IHAI Facebook page and the Ladakh Women Ice Hockey Foundation Facebook page. 
(Edited by Vinayak Hegde)
Like this story? Or have something to share? Write to us: contact@thebetterindia.com, or connect with us on Facebook and Twitter.
We bring stories straight from the heart of India, to inspire millions and create a wave of impact. Our positive movement is growing bigger everyday, and we would love for you to join it.
Please contribute whatever you can, every little penny helps our team in bringing you more stories that support dreams and spread hope.
Tell Us More