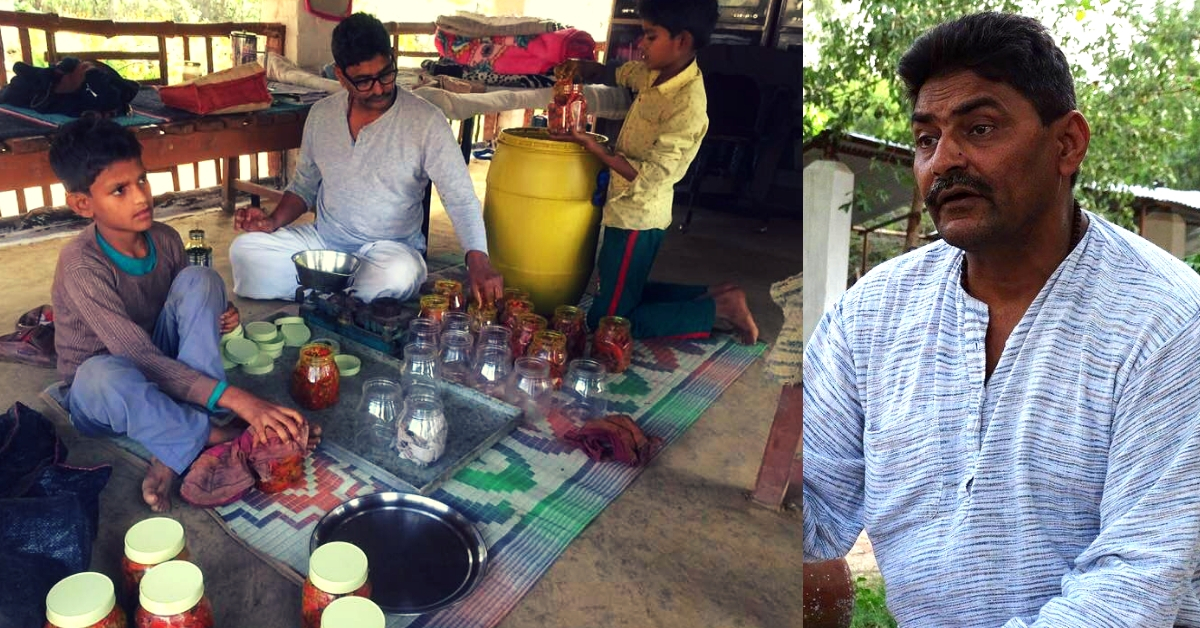 Prem's technique of 'Avartansheel Kheti', or 'periodic proportionate farming' on four acres of land, helps him earn a yearly income between Rs 15-20 lakh!
When one thinks of Bundelkhand, the immediate picture that comes to mind is parched brown land.
The hilly region in the state of Uttar Pradesh saw a crippling drought for the fourth time in five years in 2018, where hundreds of farmers were pushed to kill themselves due to mounting debts and crop failures or to completely abandon their ancestral profession.
In these distressed times, the story of Prem Singh from Banda's Badokhar Khurd village spells hope.
Amid the parched landscape, this 56-year-old farmer's lush 32 bighas (five acres) of farmland stands in stark contrast.
It is a paradise where cattle and poultry drink from the in-farm water bodies although the region has scarce water, families relish fruits from their own orchards, a processing unit manufactures 100 per cent organic products, the soil is healthy and only nourished with natural fertilisers.
What more?
Prem's technique of 'Avartansheel Kheti', or 'periodic proportionate farming' on four acres of land, helps him earn a yearly income between Rs 15-20 lakh!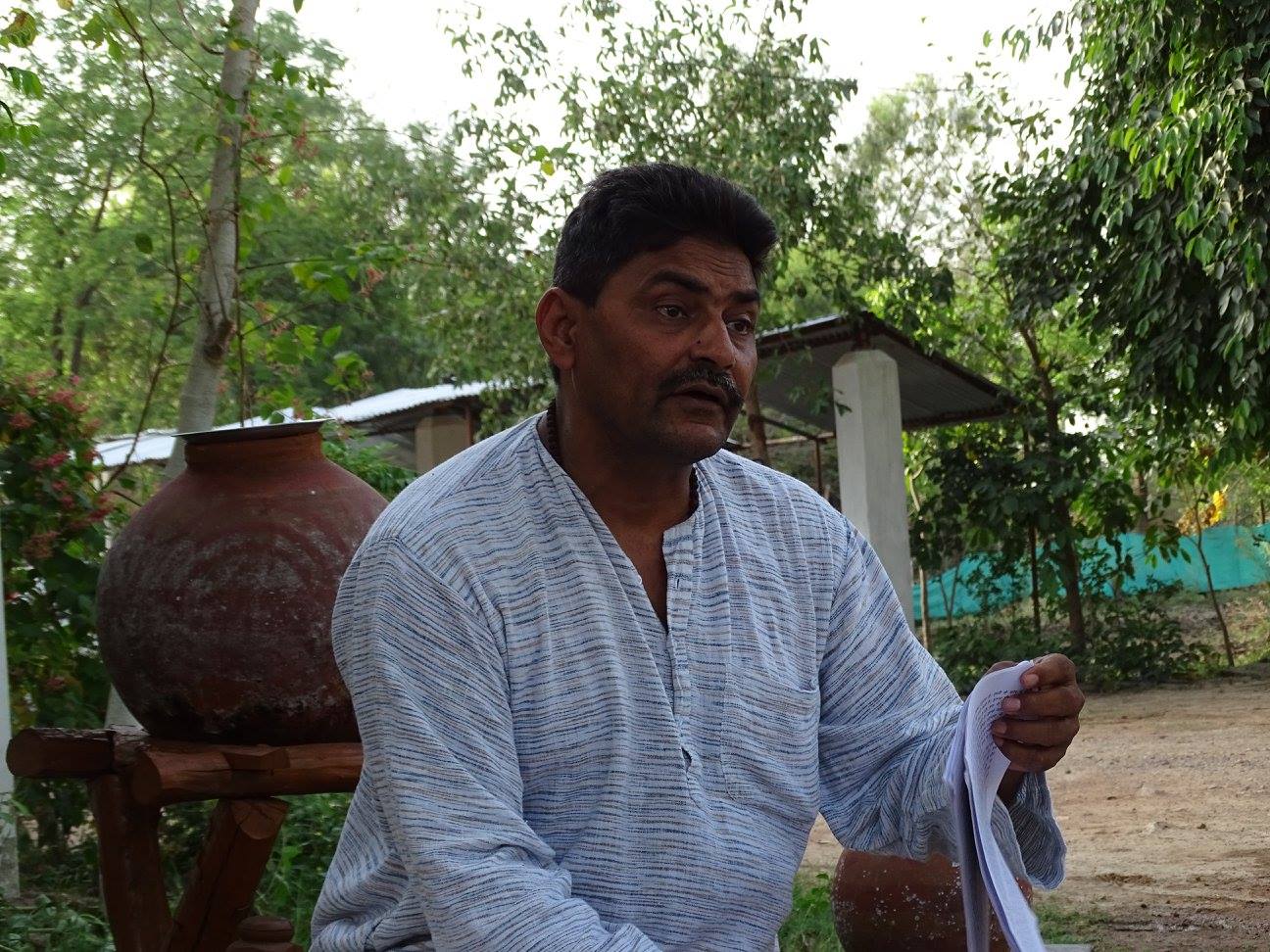 It also boasts of a 'Humane Agrarian Centre', an open university for young farmers to teach the principles of sustainable agriculture.
The Better India got in touch with this progressive farmer to document his success story.
Did he always practice organic periodic proportionate farming? No, he didn't.
Recalling his foray into agriculture, the farmer says,
"When I began as a young farmer in 1987, I followed the footsteps of my father, who was a conventional farmer. The farming scene at the time was dominated by chemical fertilisers like urea and diammonium phosphate. Although crop yield started well, the quality of our soil was constantly depleting, and the cost of production was very high in comparison to our yearly income. Tilling the soil, chemical fertilisers, fetching water from the tube wells, maintaining and using an ancestral tractor were costs that outweighed any profits."
He continues, "It was only a matter of time until uncertain weather, crop failures, and mounting debts. Although our yearly income was Rs 2.15 lakh, over Rs 1,90,000 was spent recovering production costs and bank loans. The paltry remainder could hardly sustain our family of four brothers and their children. I had two options–to quit agriculture or find a technique that could revive our field."
The answer came in the form of Avartansheel Kheti.
It meant growing crops that required a low cost of production, earning profits in a short time, while also helping his family become self-sustained.
When he first spoke to his family about going traditional in 1989, he did not get the support he required. But he pushed through.
It took two decades, but he was able to pay off family debts worth Rs 25 lakh completely!
What is Avartansheel Kheti?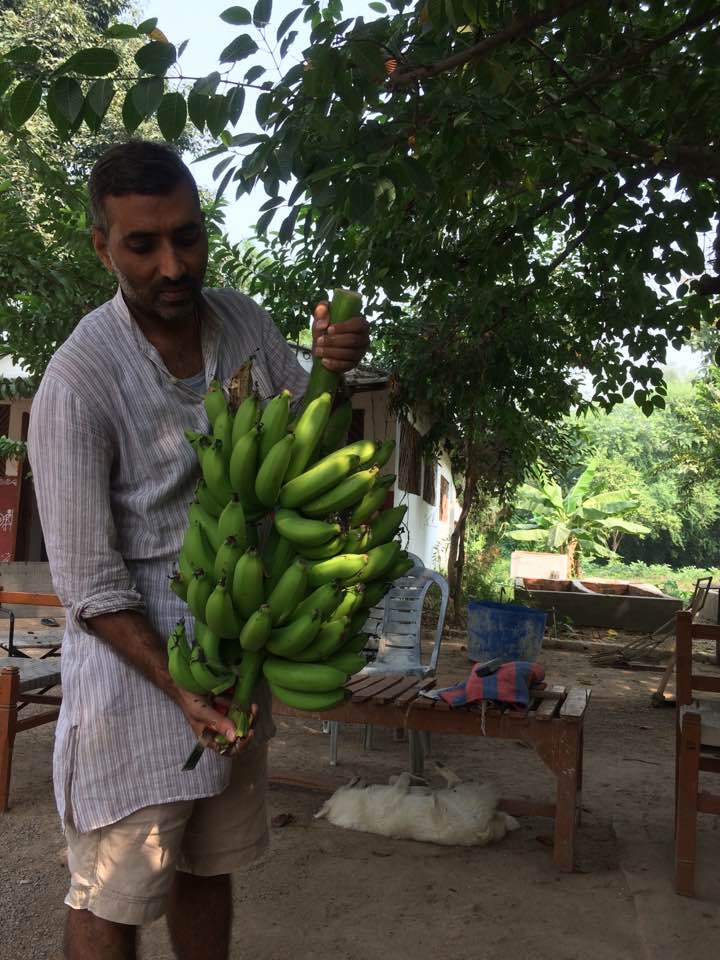 This technique requires a farmer to divide his land into three parts.
One part is required to grow fruits and trees that grow in a forest. Apart from gaining additional income for the farmer, the cost of labour required to maintain this part of the land is low.
At the same time, the diversity of the crops helps to maintain ecological balance. This part of the land also gives the farmer dried leaves which can be later mixed with cow dung for creating compost to increase the soil fertility.
The second part is used to rear livestock like cows, buffaloes, goats, and poultry.
While the milk from the cattle can be consumed by the household, the excess is sold as cottage cheese and butter after processing, and the animal dung is used as manure. This completely eliminates the farmer's dependency on chemicals to increase soil quality and yield a better harvest.
The third part of the land is used to grow crops for his home.
From staples like wheat and rice to three types of pulses, cereals, vegetables, fruits, and even spices and oil, everything that is required for consumption within the household, is homegrown.
Prem observes, "The farmer has to sustain his home first. Once that is done, the surplus should be sold in the market, not in its raw form, but after being processed."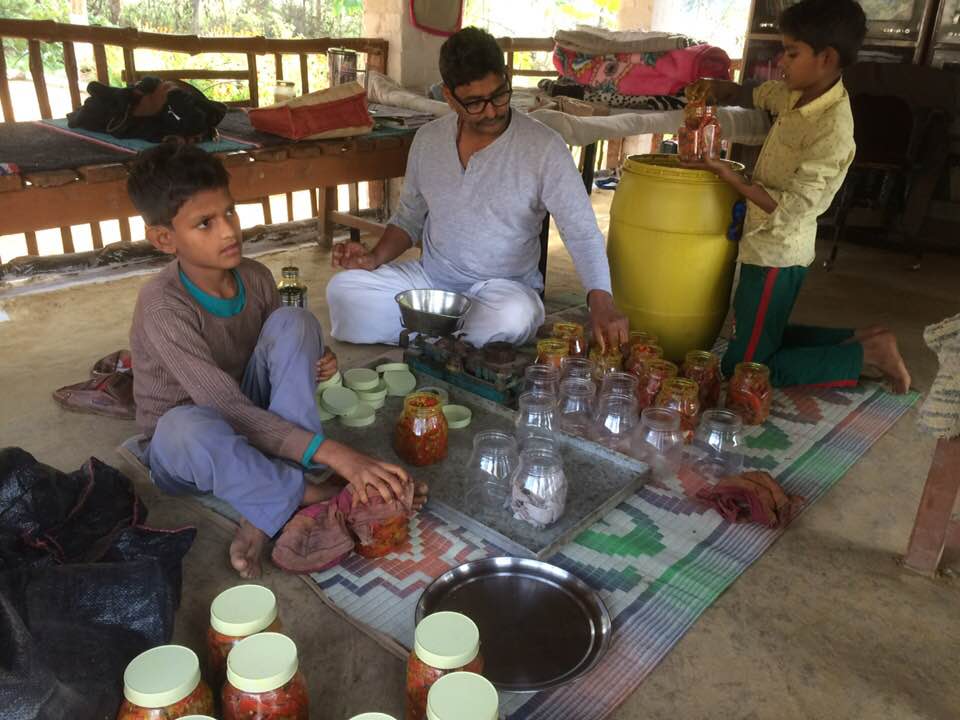 Over the last 28 years, he hasn't sold any of his produce raw. If he has 50 litres of milk, for instance, and the family requires only 15, "the rest is sold as ghee, butter or paneer; our mangoes are turned into murabbas (pickles); oil is extracted from our seeds, spices too are processed, packaged and sold," he says.
Some of the popular products are amla pickle and candy, cow ghee, mustard oil, organic rice and flour (wheat, gram, and barley).
These not only help a farmer create a market but also "add value to their produce and earn additional income".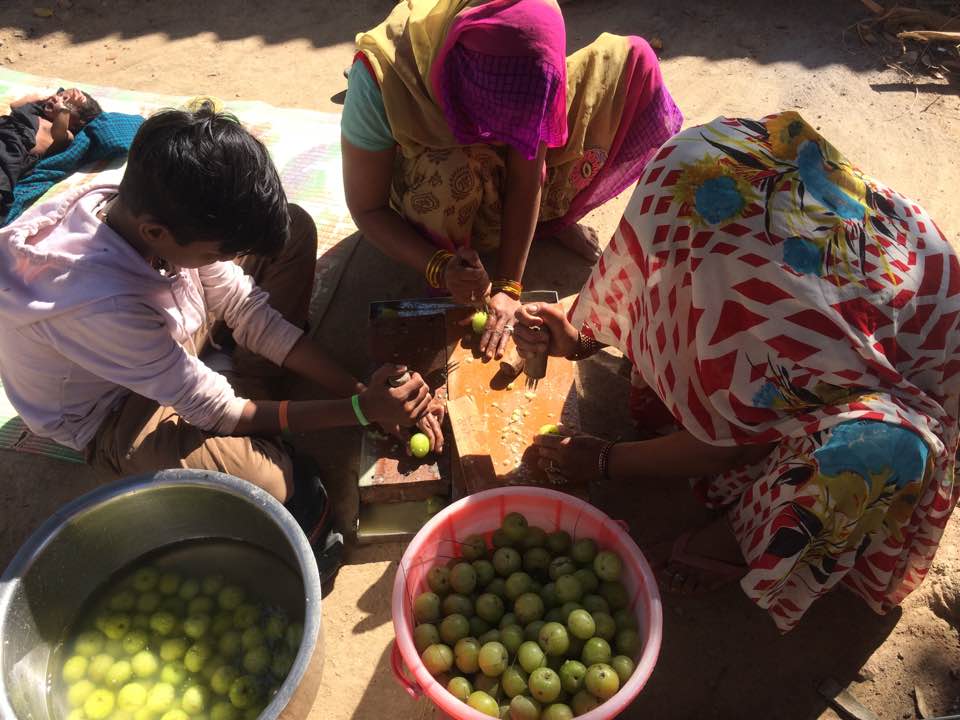 When asked what a farmer should do if they need to buy a few items from the market, Prem suggests that they buy them from within the community or neighbouring villages to help boost the local economy.
He also promotes techniques like crop rotation and the preservation of native seeds.
---
Also Read: Kerala Scientist Leaves Job to Become Farmer, Now Grows 560+ Varieties of 'Sweet Gold'
---
His four-acre farm helps the employment and sustenance of over 14 families. The farmhouse within the area has also been built in an eco-friendly manner, with no reliance on concrete or iron. The food that is cooked in the area for 40 people each day uses no LPG or gas line, as the farm is also equipped with a biogas plant that caters to these needs.
Prem has also built vermicompost pits to ensure a continuous supply of natural fertilisers. Moreover, a majority of the area is electrified using a 3kW solar grid.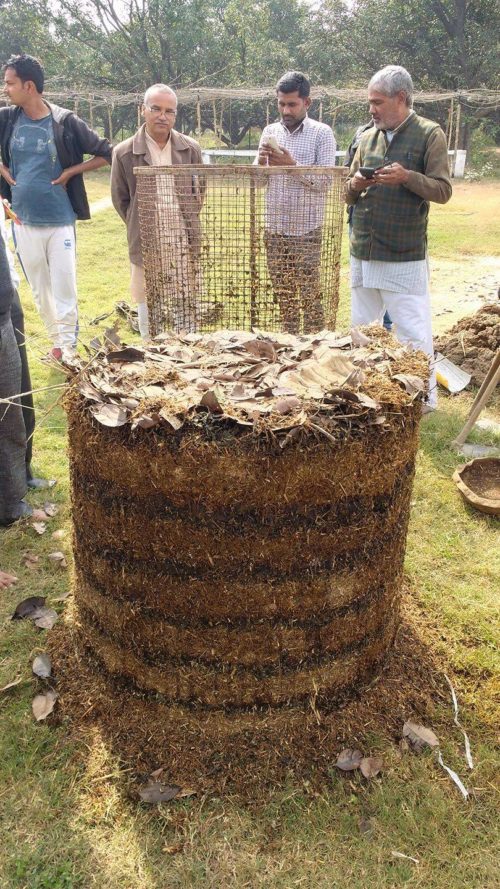 He also highlights the benefits of proportionate farming, adding how it reduces risks and dependency on climatic conditions. Also, better soil fertility and increased carbon content help recharge groundwater levels, he notes.
Since he turned to traditional farming, the farmer has never faced a loss. Instead, he uses excess profits from agriculture to help underprivileged families for education and health care and hosts training sessions and workshops to promote sustainable agriculture.
Farmers from over 22 countries have travelled to his farm to gain an understanding of new techniques. The Humane Agrarian Centre funded by him also serves as a one-of-its-kind rural museum, frequently visited by school children and college students, where they can learn about the history of agriculture in India and the benefits of sustainable farming.
Before bidding adieu, I ask him if the current state of agriculture and the debate around loan waivers troubles him.
He agrees.
"Governments have been responsible for making farmers abandon traditional farming and turn to chemical fertilisers for better yields since the Green Revolution. It was due to consecutive droughts and unplanned policies that we have been trapped into the cycle of debts, so it is their responsibility to pull us out of this debt by waiving the loans," he says.
He signs off with a message for his farmer brothers and sisters, "We have to strive to become self-sufficient. Our fate lies in our own hands, and the only way to spark a farming revolution is to revive our ancient methods of farming."
If this story inspired you, get in touch with Prem Singh on 94155 57444.
(Edited by Shruti Singhal)
Like this story? Or have something to share?
Write to us: contact@thebetterindia.com
Connect with us on Facebook and Twitter.
We bring stories straight from the heart of India, to inspire millions and create a wave of impact. Our positive movement is growing bigger everyday, and we would love for you to join it.
Please contribute whatever you can, every little penny helps our team in bringing you more stories that support dreams and spread hope.