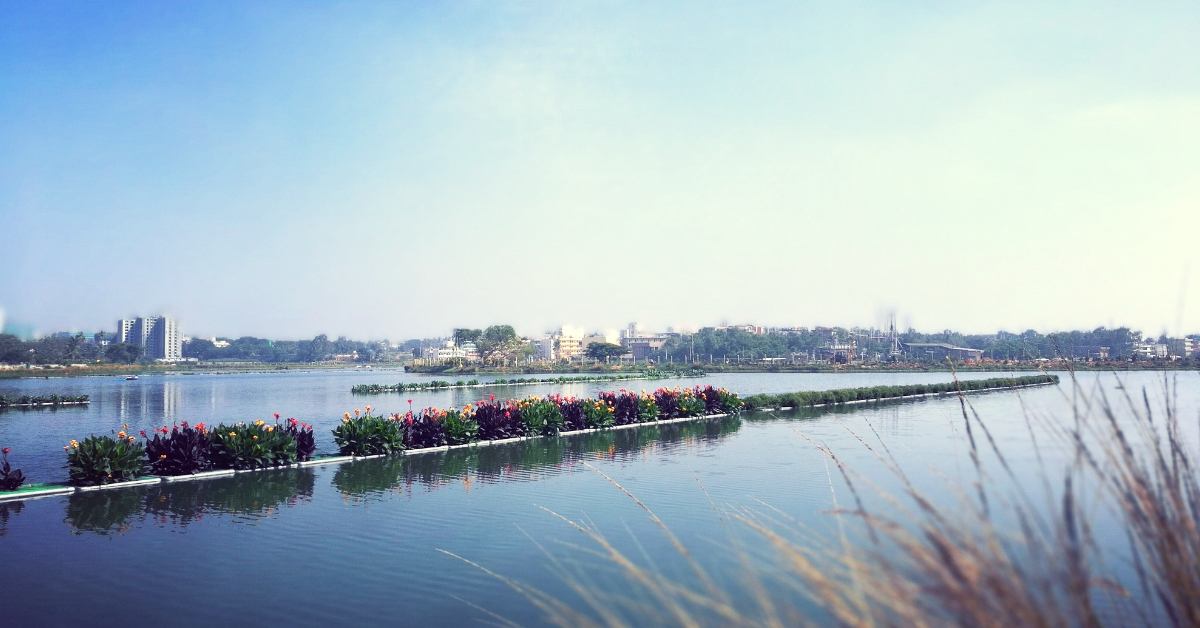 Once on its deathbed, Hebbagodi lake's stunning revival has many a lessons on how Bengaluru's dying lakes can get a new lease of life. #GreenIndia #WorldRecord
It's no secret that Bengaluru is on the verge of an imminent acute water crisis. According to the Centre for Science and Environment, the number of water bodies in Bengaluru has fallen by 79% as a consequence of unplanned urbanisation and encroachment, while the "built-up area has increased from eight per cent in 1973 to 77% now."
The CSE report goes onto state that the water table in the city has shrunk from "10-12 m to 76-91 m in just two decades while the number of extraction wells has gone up from 5,000 to 0.45 million in 30 years."
Some of these water bodies are even spontaneously combusting as a result of untreated industrial waste. So, is it any surprise that the state of lakes in Bengaluru has come under serious discussion recently?
There is a now a realisation that the water situation in Bengaluru has reached a critical phase, and something needs to be done to preserve these lakes.
Responding to these concerns, Biocon Foundation, the corporate social responsibility (CSR) arm of Biocon Ltd, India's largest bio-pharmaceutical company, undertook a Rs 7 crore project to rejuvenate the dying 35-acre Hebbagodi Lake located off Hosur Road in Southeast Bengaluru.
Over the span of nearly two years since the project started in November 2016, and with approvals from the Karnataka Lake Conservation and Development Authority (KLCDA) and other government authorities, the lake now stands rejuvenated alongside a park for children, with walkways and safe drinking water facility that the Foundation set up around it.
"We chose Hebbagodi lake, which is very close to our Biocon facility. By the time we were ready to start in November 2016, the government had formed a body called the Karnataka Lake Conservation and Development Authority to monitor such programmes. So, we applied to them and were asked to submit a detailed project report. This was the first time we had undertaken such an initiative. Everything was done in-house. Since we had the requisite technical expertise, our teams visited the site every day for close monitoring," says Pratima Rao, the Mission Director of Biocon Foundation, in a conversation with The Better India.
The Foundation began their project by first identifying the sources of pollution.
"There were five inlets through which sewage was coming in. During the course of this project, the area of Hebbagodi, which was once a village, became a township. This gives you some idea about the rapid growth in economic activity within the period in which we were doing this programme. With rapid growth, there were a lot of dwellings, and regular unmonitored dumping of sewage into stormwater drains and so on. Addressing untreated sewage flowing was a major challenge," says Rao.
In such circumstances, the conversation usually begins with setting up sewage treatment plants (STPs).
However, in the case of Hebbagodi lake, there were two key stumbling blocks—zoning regulations and a lack of space to build them considering the rapid expansion of the township.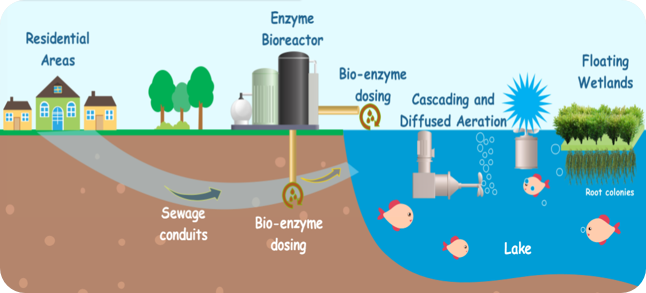 In the meanwhile, what could they do with the sewage?
"We set up a bio-remediation plant. We dose this one km upstream before the sewage enters the lake. Some of the sewage is broken down into harmless components by the time it reaches the lake. A natural and eco-friendly bioremediation process involves dosing the lake with a blend of enzymes and microorganisms to rapidly digest organic pollutants. An in-house bioreactor is set up to produce ~3,000 litres of bio-enzyme every day," says Rao.
"On the surface of the lake, we have put up floating wetlands on which there are these plants which absorb the phosphate and nitrate from the water as pollutants—a continuous natural cleaning process. At the time of inauguration, we had a reported 12,000 square feet of these floating wetlands, which found a mention in the Limca Book of Records," adds Rao.
Since the Foundation is fabricating these floating islands in-house, they can do it in a cost-effective and time-bound manner.
The beauty of these floating wetlands is that they are now the nesting ground for a variety of bird species.
"Artificial floating islands have allowed select plant species (cleaning agents) to grow hydroponically on the floating rafts fabricated with reused materials and PVC pipes to improve water quality by removal of excess nutrients. Within their vast root zone, pollutant-digesting microbes and bacteria reside and bioremediate wastewater that is laden with pollutants," says Biocon Foundation.
"Then, we put in energy-efficient cascading aerators, which were expensive. We also had to figure out how to source and transmit electricity supply in the long term. So, these didn't come operational until much later, since we were waiting for the state electricity corporation to grant us free electricity to run these aerators. Otherwise, it's just not feasible. Now, we have functional aerators which help the lake with their dissolved oxygen requirements," says Rao.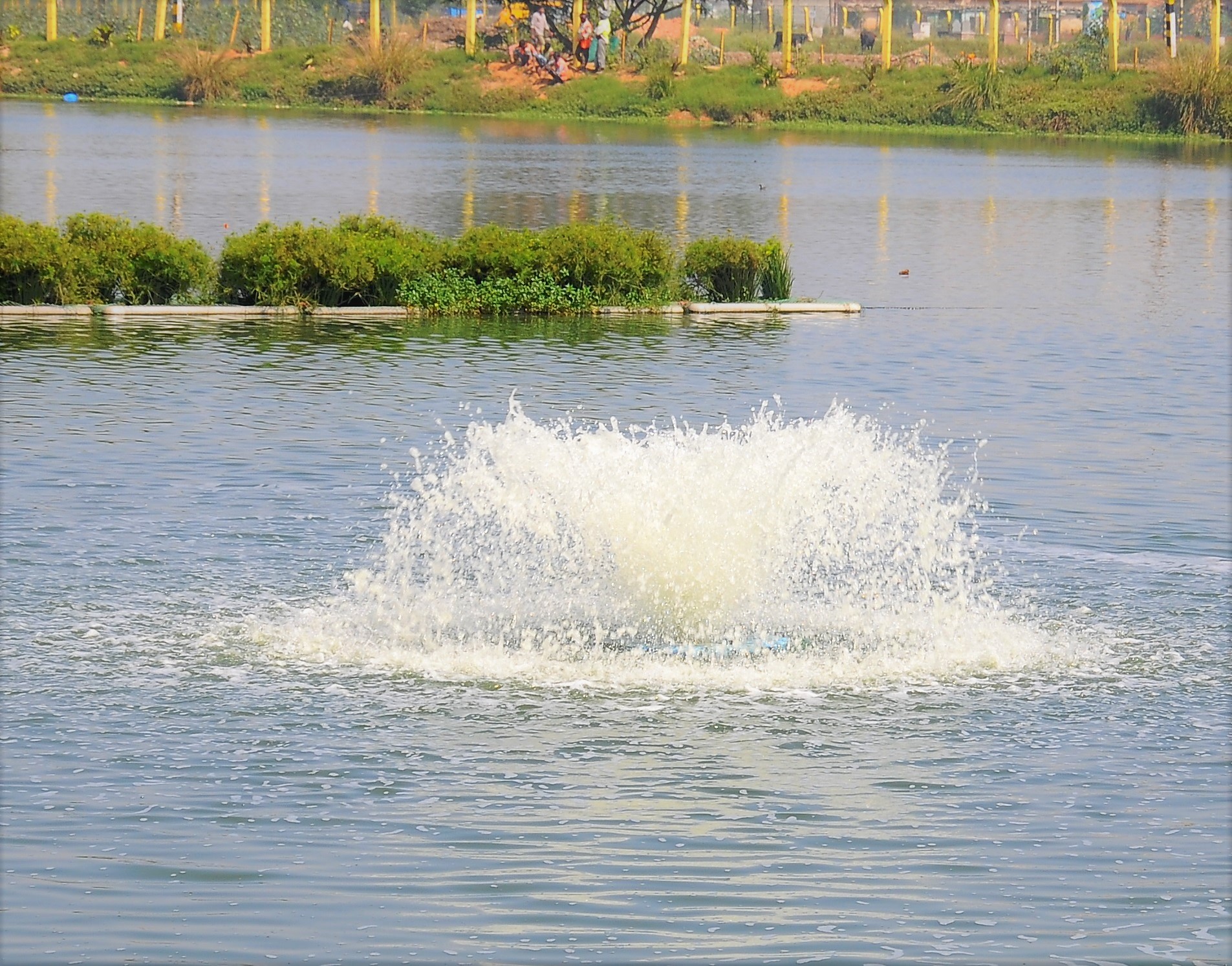 "Energy-efficient cascading aerators are implemented to restore the lake by increasing the level of dissolved oxygen in the water. Submersible mixers are employed to aid the breakdown of accumulated silt in the lakebed over a period of time to improve the water percolation in the soil," says a release issued by Biocon Foundation on December 2.
One of the major challenges before the Foundation undertaking such an initiative for the first time was how to deal with weeds.
"We spent months clearing the access area of weeds. When we cleared the weeds, there was a massive mass of vegetation which began to rot in a very short time. To deal with it, a compost processing facility was set up along the banks of the lake. All that vegetation went through the composting process and we spread the compost across areas which we were going to develop into green zones with trees, etc. So that took a long time. It took six months to remove all the debris, dredge the lake because there was so much plastic, rubbish, etc., inside it," says Rao.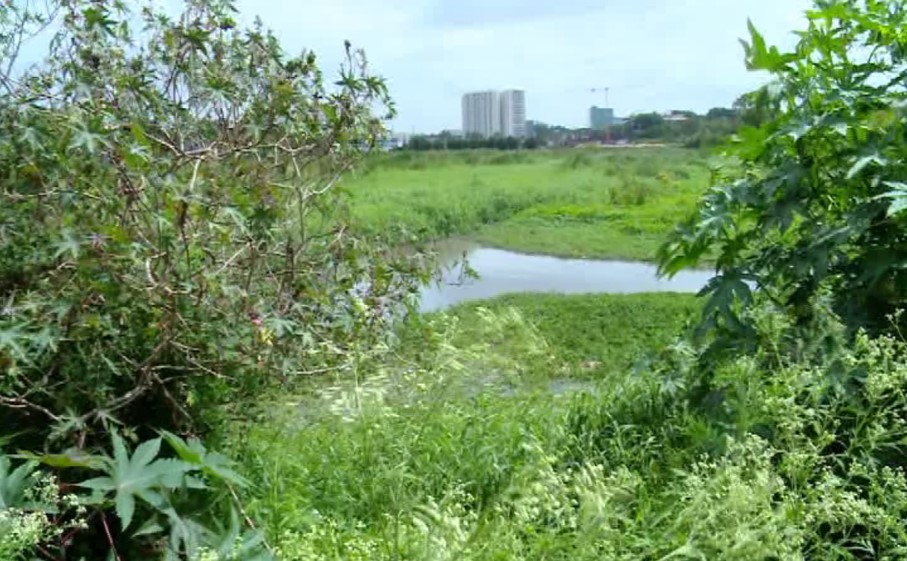 "The lake periphery of 2 km existed with barely 600 m of the native bund. Overcoming the challenge of the lake filled to the brim, a new bund was created along the remaining margin of the lake to augment its water holding capacity and create a walkway. We adopted a natural strengthening of the bund with native plant species like Vetiver that prevent soil erosion and help in water purification. Over 67,000 m³ of soil was used to create a massive 1.5 km long bund. The lake perimeter is completely fenced to preserve the environs of the lake. LED street lights are installed to make the area safe and inviting," says another Biocon Foundation official.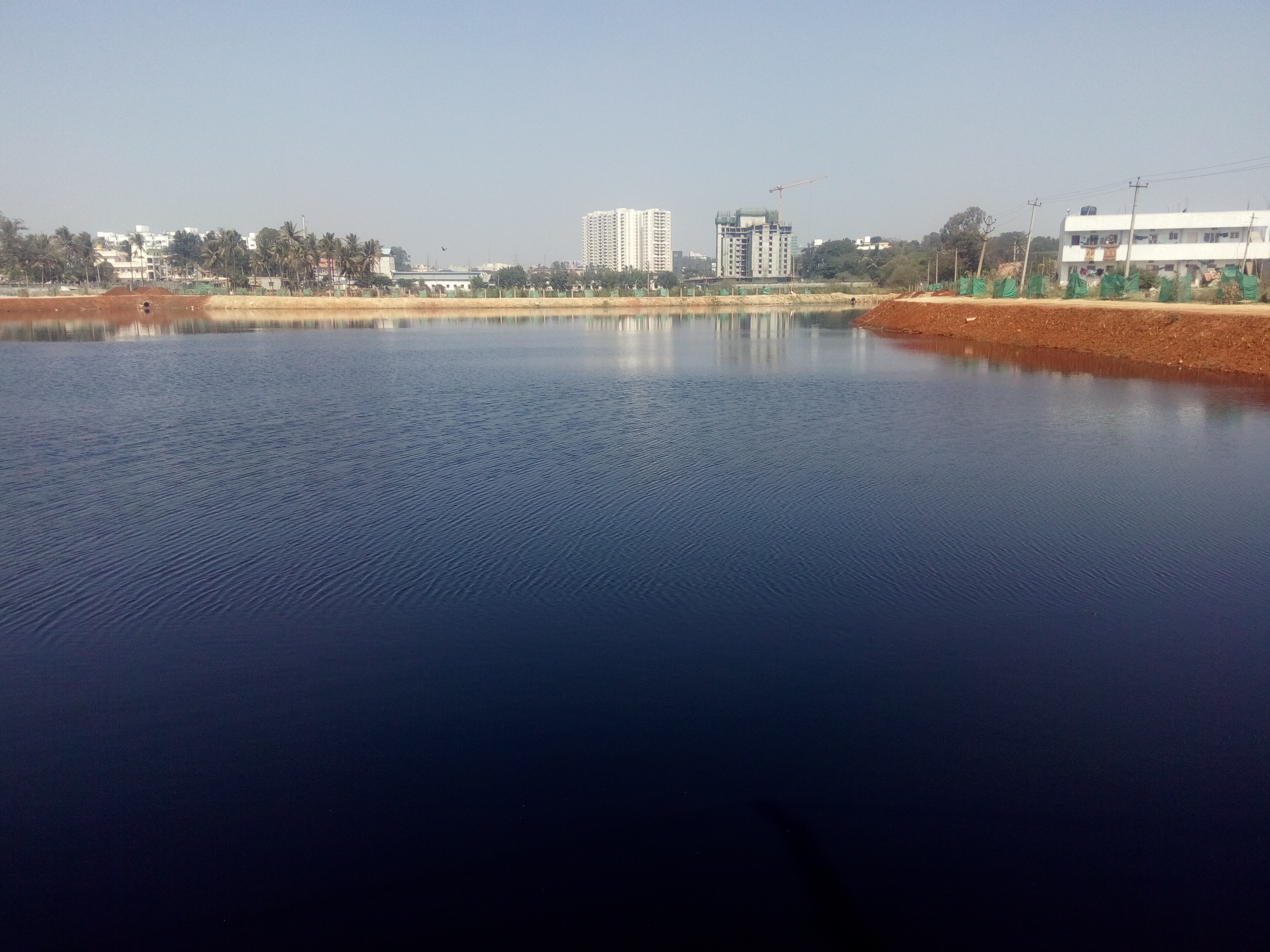 Aside from rejuvenating the lake, the Foundation set up public open spaces around the lake in the form of children's park and walkways for the local community. There is also a RO water facility installed which locals can access for safe drinking water, besides a waste segregation yard.
Speaking to The Better India, Rao admits that government authorities and locals weren't really involved on a day to day basis with the process because of the technicalities associated with it. However, the authorities extended complete support to the lake rejuvenation project and gave the necessary approvals to implement it accordingly.
Also Read: Landfills No More? IAS Officer's Brilliant 'Project Tsangda' Is Changing The Face of Leh
Meanwhile, there is regular engagement with locals, imparting to them the necessary discipline required to keep the area free of garbage. More importantly, the water is largely become cleaner.
"The pH of water is maintained between 6.5 and 8.5—appropriate levels. The significant reduction of chemical oxygen demand (COD) and biochemical oxygen demand (BOD) is indicative of the low level of organic pollutants. Dissolved Oxygen (DO) level has increased to 2.8 mg/L from nil," she says.
Since the city has no river in close proximity, local communities earlier relied on the lakes for their water supply. This made them keep the lakes clean, as they saw the value in these water bodies.
Eventually, the population grew, and of course, there were places where there were no lakes, which were getting inhabited. So, they built massive reservoirs and dug deep borewells. Slowly, water from those structures reached every home in Bengaluru, and people stopped relying on the lakes which resulted in their disuse. People started to dump garbage, real estate took over, and apartments came up on dry lake beds, which get completely inundated during the rains.
Now, it's time to reverse this process. This is how the Biocon Foundation did it. What about you?
(Edited by Gayatri Mishra)
Like this story? Or have something to share? Write to us: contact@thebetterindia.com, or connect with us on Facebook and Twitter.
We bring stories straight from the heart of India, to inspire millions and create a wave of impact. Our positive movement is growing bigger everyday, and we would love for you to join it.
Please contribute whatever you can, every little penny helps our team in bringing you more stories that support dreams and spread hope.