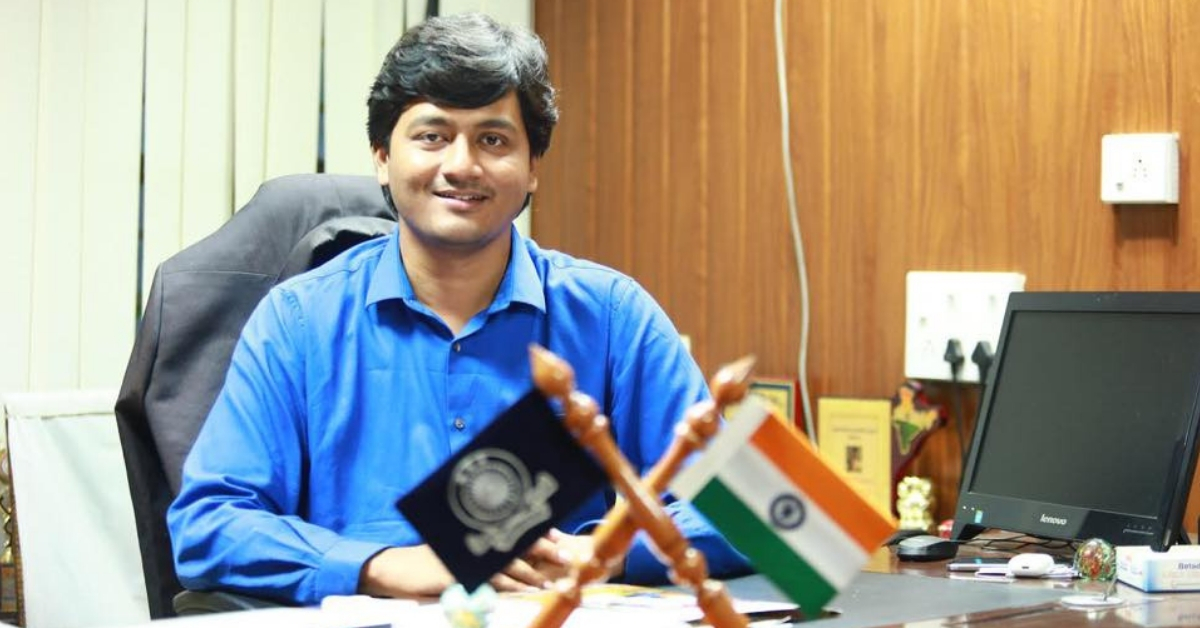 Tapping into the virtue of compassion and clubbing it together with the power of social media, a campaign titled 'I Am For Alleppey' was launched on Facebook by the Alappuzha district administration on September 14, 2018.
The rescue and rehabilitation measures undertaken during a natural calamity, are not the only things that help an area in its road to recovery. While these measures are indeed imperative in saving lives, the real job begins once the disaster has passed.
Alappuzha, one of the worst-hit districts in Kerala during the 2018 floods, is slowly rebuilding itself, with the district administration quite literally handholding the citizens to help them get their lives together again.
And the manner in which the authorities have undertaken the rehabilitation process is a remarkable model that deserves nationwide recognition.
Tapping into the virtue of compassion and clubbing it together with the power of social media, a campaign titled 'I Am For Alleppey' was launched on Facebook by the Alappuzha district administration on September 14, 2018.
The objective was to reach out to people in not just Kerala but also across the country to secure donations which would aid their rehabilitation programmes. The overall goal was to help the district get back on its feet.
The campaign was the brainchild of IAS officer Krishna Teja, the sub-district collector of Alappuzha, whose commitment to service and round-the-clock ground support made 'Operation Kuttanad' a success during the floods.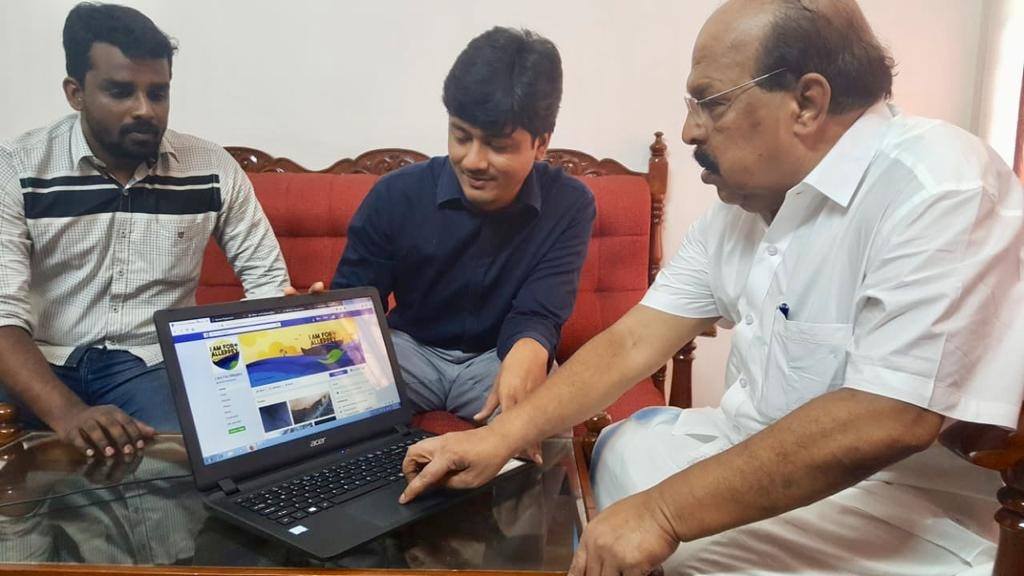 You can read about the entire operation here.
Coming back to 'I Am for Alleppey,' the sight of a severely dilapidated family healthcare centre in Kunnumma that had sheltered a lot of people during the floods led the sub-collector to come up with this idea.
Teja pondered over the multiple instances in past when people from different walks of life had come together and fuelled actual social change. So he wondered, why could it not be done in this case too?
Consequently, the very first post that went live on September 14 was about this building. It implored people to either provide financial aid or adopt the structure for its maintenance. Although Teja was quite hopeful about the campaign from the very start, receiving a response within 6 hours was something that he hadn't anticipated.
A Malayali woman based in Andhra Pradesh had reached out and expressed her desire to adopt the building. To this end, she sent out Rs 8 lakhs to fund the maintenance. This very first reaction was a sign of hope for Teja, and his belief in the general compassion in people became all the more pronounced.
The next plan of action was to identify the areas that required immediate rehabilitative measures and persevere towards taking it to the last mile. Together with his team of officials, they got down to work with the sole aim of connecting sponsors with facilitators to help identified beneficiaries.
The nine identified areas were: livestock donation, student rehabilitation, specially-abled rehabilitation, senior citizen rehabilitation, women-headed family rehabilitation, green rehabilitation, infrastructure rehabilitation, health rehabilitation, and last but not the least, fishermen rehabilitation.
All of these initiatives were carried out in a phased manner with a dedicated team deployed for each area.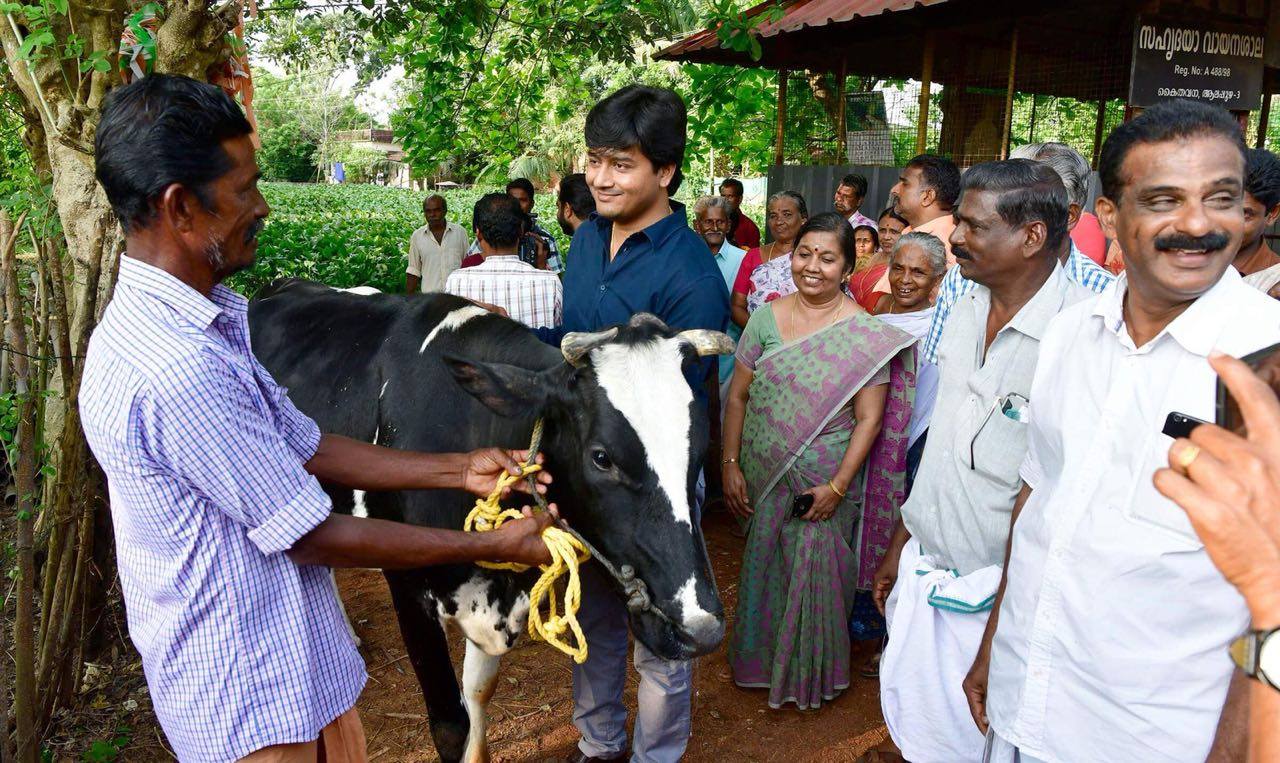 They started with the mission of giving 133 identified dairy farmers in Alappuzha, who had lost all of their livestock in the floods, their livelihoods back and sent out calls for donating pregnant cows to these families. The request for only pregnant cows was to help these farmers to get back on track as soon as possible.
Out of 120 requests, about 70 successful donations were made possible by the goodwill of individuals as well as organisations. In fact, one of the donors includes Teja's paternal uncle, Balaji Mylavarapu. Costing between Rs 48,000 to Rs 52,000, the authorities have made sure the donated cows are all procured from within the state, medically inspected and insured.
Also, every one of these beneficiaries has been provided with donated packs of cattle feed for a month. In addition to that, the initiative has also overseen about 150 donations of goats.
Next in line in their agenda was to help students get back to academics as soon as possible. Flooding in the region of Kuttanad is not a new phenomenon, and the time it takes for children to return to school roughly ranges between 3-4 months. But Teja's plan had been to speed up the rehabilitation process within 15 days.
The team procured every stationery requirement including notebooks, geometry boxes, water bottles and school bags for 40,000 children across the region, and these were handed to them, one by one, every third day. What was truly heartening was that these schools were able to reach maximum attendance, if not 100 per cent, by November 14.
Setting the precedent for public figures, actor Allu Arjun rose to the occasion and adopted 10 anganwadis in the region. In addition to that, the campaign has seen the adoption of 10 schools as well as 50 anganwadis.
Also, the team was able to procure funds through donations to supply water filters across all anganwadis in Alappuzha and repair about 20 computer labs in affected schools.
People have also been given the option to sponsor school-going children, and so far 30 student scholarships have been handed out.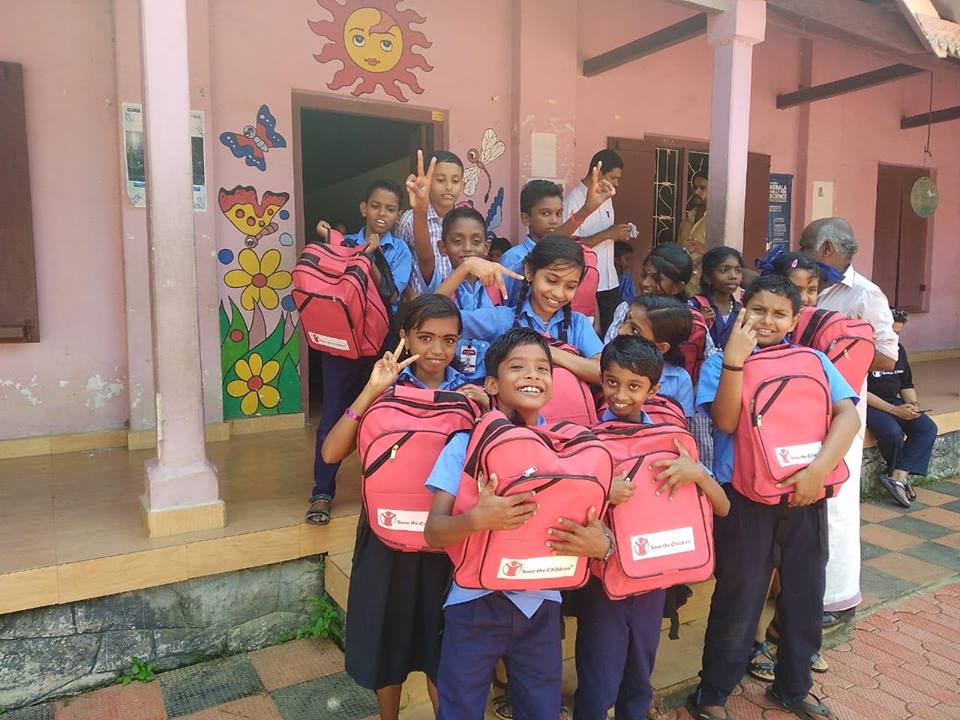 The next rehabilitation step needs a special mention, for this made Alappuzha the first ever district in Kerala to do so. Specially-abled members of the society were identified and a team of palliative care authorities were sent to the houses of every single one of them and assess their requirements.
Additionally, four mega medical camps were organised for these folks. While general livelihood kits were supplied to the beneficiaries, the assessment by the authorities resulted in the creation of custom-made kits for them to cater their special needs.
Moving on to the rehabilitation of senior citizens, four mega medical camps were organised for them as well. Even here, people rose to the occasion and helped provide two months worth of medicines, food and protein supplements to the elderly for free.
Families headed by women were next on the list. The only eligibility criterion to avail the scheme for women was to be a recipient of widow pension. About 7,000 beneficiaries were provided with not just basic kits but also non-food items (NFI) kits, that were sponsored by individuals and organisations.
As much as helping the citizens get back on their feet is important, so is reviving the lost green cover in the area. But rarely do rehabilitation measures following most disasters venture beyond the scope of human lives, livestock or even infrastructure.
By increasing the green cover, natural disasters like floods and incessant rainfall can be contained to a certain extent. Rampant deforestation for infrastructure projects and commercial plantations in recent decades has indeed affected the ecosystem.
So, a team has also been deployed for green rehabilitation that is assessing the extent of damage and planning the recovery measures accordingly.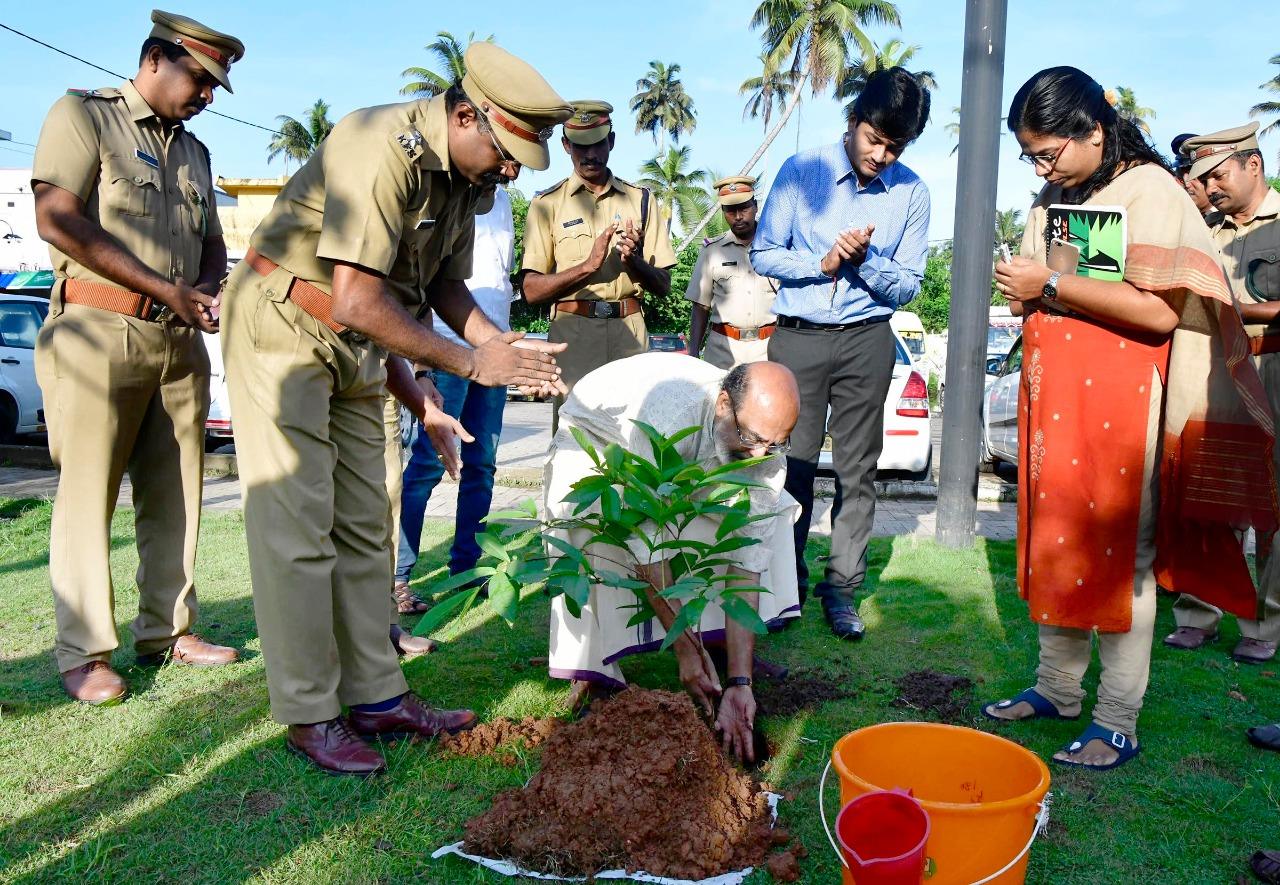 As is the case of most plantation drives, the optimal timeline to start such initiatives is being envisioned by the team during the onset of monsoon. This would ensure that the saplings would be able to grow and sustain themselves naturally.
Following next is the rehabilitation of infrastructure, and the team has been dedicatedly working towards connecting interested sponsors to adopt or provide financial aid to facilitating organisations for rebuilding houses as well as public health centres.
Many corporates have joined their hands to the cause and are helping in the construction as well as the restoration of houses for the affected people. Even here, the cinema industry has showcased spirited solidarity, with the Baahubali team adopting and undertaking the restoration of 5 houses.
Under their health rehabilitation drives, about 20 medical camps have been organised by the deployed team. They diligently reached out to all the panchayats in Alappuzha and ensured that no communicable disease outbreak occurred following the floods.
One of the worst affected in floods had been the fishermen community, who, despite losing quite literally everything, went out of their way to help in the rescue and rehabilitation operations during the calamity.
They helped rescue thousands of people who were either stuck in their own houses or were washed away with the floodwaters. To help these unsung heroes to rebuild their own lives, a team has been deployed to take care their needs. In fact, all the affected fishermen in the district have already been provided with fishing nets.
The campaign has recently completed 100 days of operation, and it showcases a rare example of effective collaboration between both the administration and the civil society towards rehabilitation.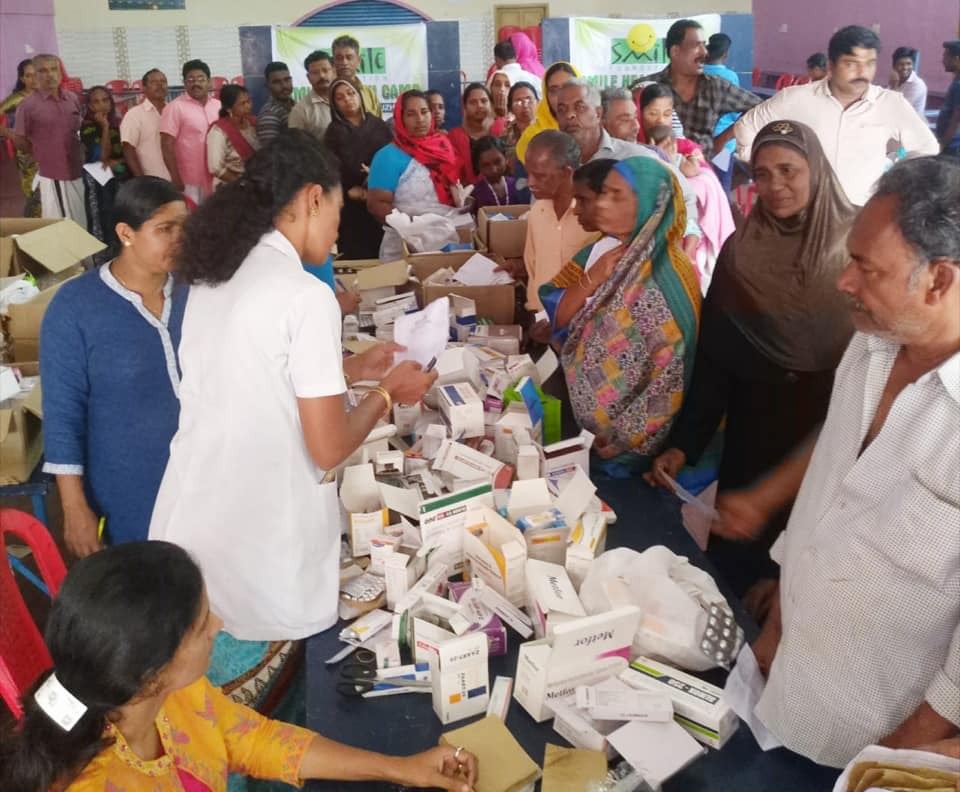 Moreover, it has caught national attention for its all-encompassing model of rehabilitation that Teja and his team have so efficiently carried forth.
The district administration gives a great share of credit to social media and its phenomenal reach that had helped fuel the entire campaign and speed the rehabilitation process.
"When we started out, we didn't realise that the campaign would end up becoming this big. None of the plans were conceived overnight, and every rehabilitative step was meted out in a phased manner. While the ideas were conceived by us, none of the initiatives would have emerged this successful if it wasn't for the unwavering support of the Alappuzha district collector," says Teja to The Better India.
The campaign is still ongoing, and flow of financial aid and support from people across the world is only getting stronger. Celebrities and public figures in Kerala have showcased remarkable solidarity since the campaign's inception and have definitely contributed in uplifting the general morale of people through online engagement.
A very heartening example of support has been that of the crew of the Malayalam film 'Oru Kaatil Oru Paykappal.' Last month, to make sure that the message of solidarity spreads far and wide, these folks printed the following words across every poster of the film: Now Stand for Kerala, Say I Am For Alleppey.
They have also decided to use a share of the film's revenue to adopt a damaged public building at Alappuzha.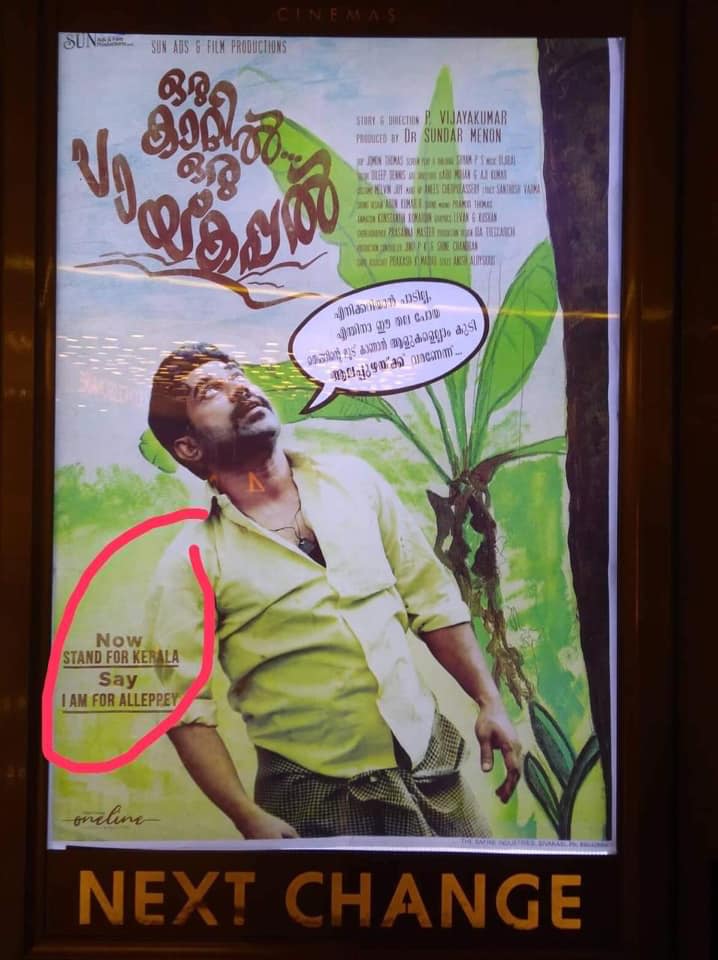 "Our present agenda is to keep this momentum of rehabilitation forward. As Alappuzha gradually recovers, we aim to drive positive perception amidst the citizens as they get back on their feet," concludes Teja.
What started out as a simple social media outreach for rehabilitation, has become a massive scale campaign that is rebuilding lives and dreams of people in Alappuzha. I Am For Alleppey has proven that the virtue of compassion exists in each one of us, and in solidarity, we will find our greatest strength.
---
You may also like: UNICEF Lauds Kerala Relief Camps as 'Exemplary': We Found out What Makes Them So!
---
We at The Better India whole-heartedly stand by Alleppey, and we request you all to support the campaign in whichever manner you can. Click here to see how you can support the cause.
You can also follow the work and progress of the campaign at I Am For Alleppey Facebook page.
(Edited by Gayatri Mishra)
Like this story? Or have something to share?
Write to us: contact@thebetterindia.com
Connect with us on Facebook and Twitter.
We bring stories straight from the heart of India, to inspire millions and create a wave of impact. Our positive movement is growing bigger everyday, and we would love for you to join it.
Please contribute whatever you can, every little penny helps our team in bringing you more stories that support dreams and spread hope.