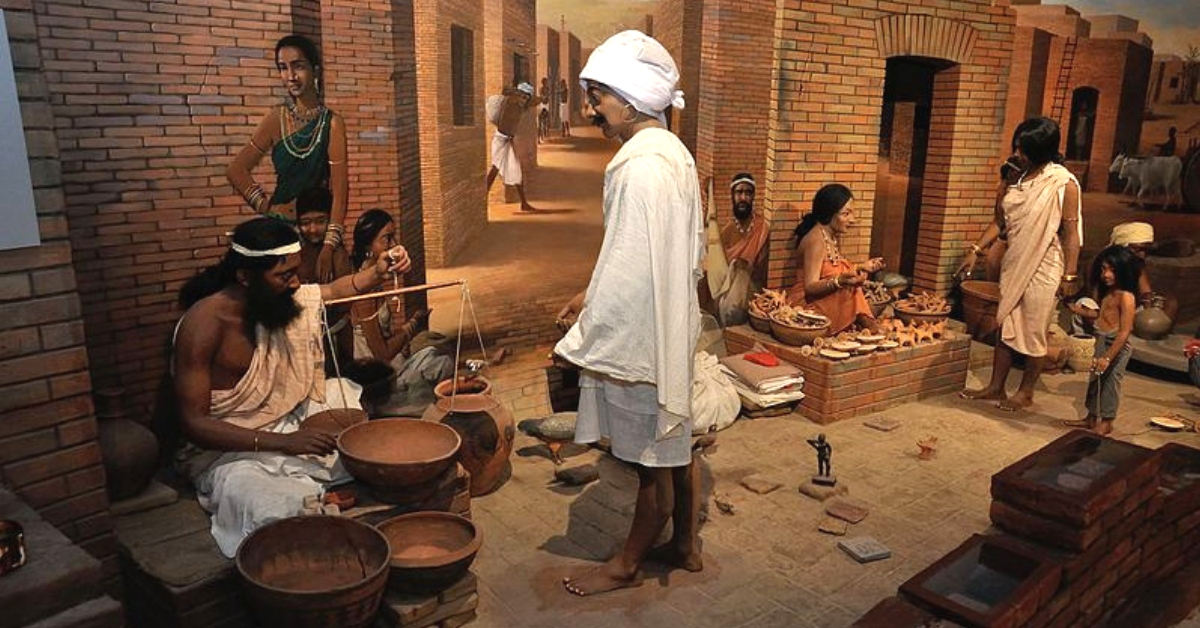 Here's a brief peek into history and what our ancestors, who lived during the Indus Valley Civilisation in the North and the Sangam period in the southern states of Tamil Nadu and Kerala, wore.
Long, flowing ghagras (skirts), embellished with beads and small mirrors worn by women during Navratri in Gujarat, add glory to the festival. In Malayali weddings, women wear a set mundu while men wear lungis—both plain white, with a beautiful golden border. The Ganesha festival in Maharashtra is incomplete without women wearing beautiful nauvari sarees, while men wear plain white dhotis along with long kurtas.
India, a land of diverse cultures, has so much to offer when it comes to fashion and attire.
However, long before sewing machines, designer outfits and mass-produced clothes were a reality, what did our ancestors wear? Well, the ethnic wear that we wear today, which is overlapped by a rainbow of colours, embellishments and accessories, holds the clue.
Here's a brief peek into history and what our ancestors, who lived during the Indus Valley Civilisation in the North and the Sangam period in the southern states of Tamil Nadu and Kerala, wore.
1. The Indus Valley Civilisation (dated between 3300 to 1300 BCE)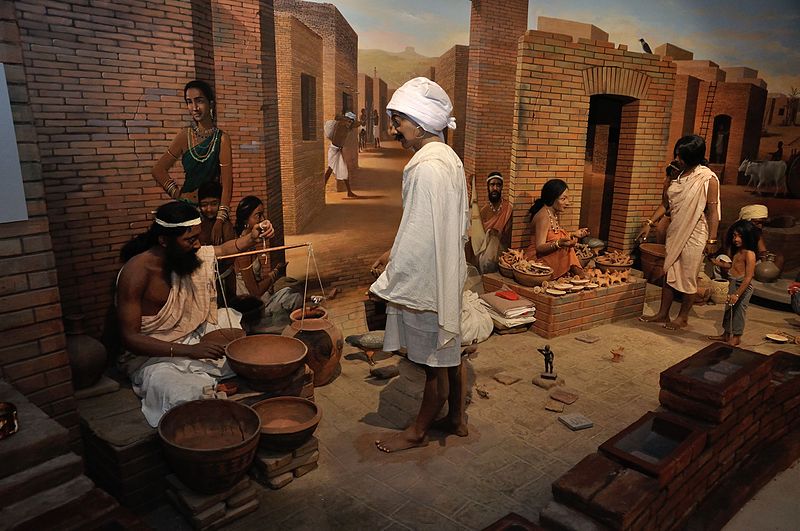 In a civilisation where cotton was domesticated as early as 5000 BCE, garments were woven from the light fabric. Experts in the art of textile making, the Harappan people, wore a two-piece garment. Both men and women wore an upper garment resembling the contemporary shawl and a lower one, just like a dhoti.
Apart from the busts and statues found in the Indus valley remains, cotton seeds, cotton silk, fibres as well as spindles, bobbins, needles that were discovered in the lost civilisation are evidence of this.
The Priest-King bust, for example, shows us that men wore a floral designed robe on their shoulders while the Mother Goddess statue shows that women were heavily jewelled.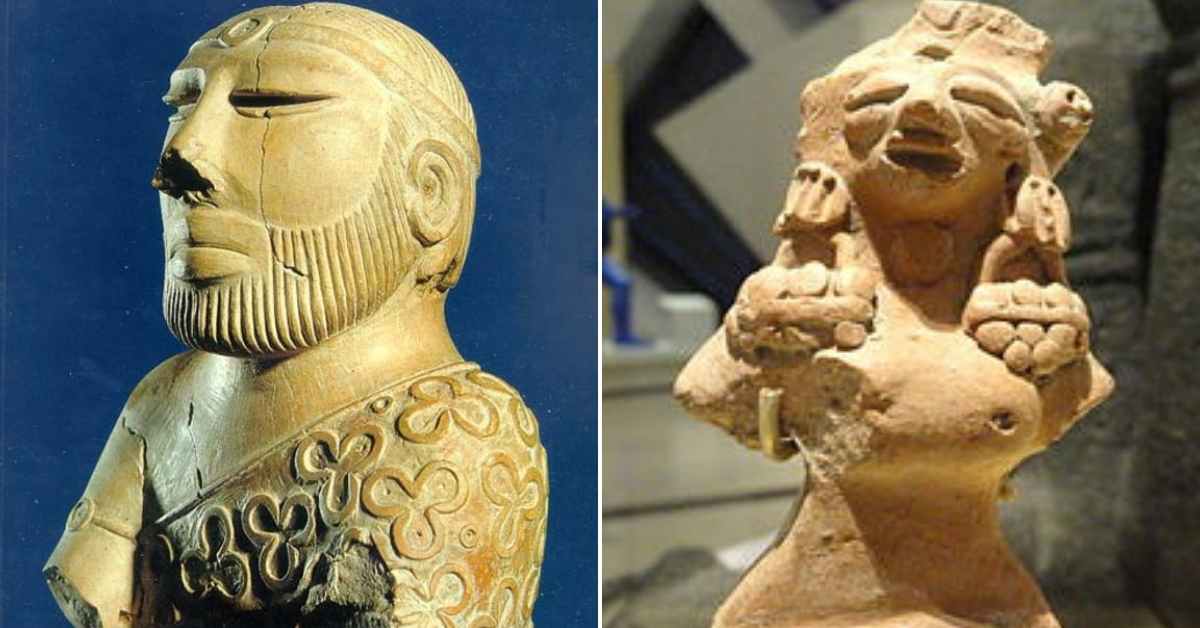 Now, we can't say for sure whether these attires were worn on an everyday basis by everyone or were restricted for special occasions. However, historical evidence, as noted by historian Kenoyer JM, shows that men wore dhotis like cotton bottoms, tied in a knot at the back while women wore knee-length skirts and tight blouse-like garments.
Other evidence also suggests that men and women also wore trouser like clothing—presumably while engaging in activities that required free movement of legs—like farming, perhaps. Flax, silk, wool, linen and even leather were other fabrics that the Harappan people used. Unlike today, both men and women wore heavy jewellery made of gold, silver copper and decorated with precious stones.
---
You may also like: Carved by a Lost Ancient Civilisation, 'History on the Rocks' Discovered in Ratnagiri!
---
A brief study of the statues discovered in the excavation will be enough to tell you that the Harappan people were fond of elaborate hairstyles and headgears. Women, for example, wore fan-shaped head gears while men styled hair-buns and coiled their hair in a ring, styling them on the top of their head. Additionally, hats and turbans were not uncommon either.
Accessories and garments worn during those times can be compared to the Sikh turban, Rajasthani bangles etc. Much after the Indus civilisation, during the Gupta dynasty, saris became a popular female attire. As the Mughals invaded the subcontinent, Iranian influences like the salwar kameez became mainstream.
2. The Sangam period between 5th to 3rd century BCE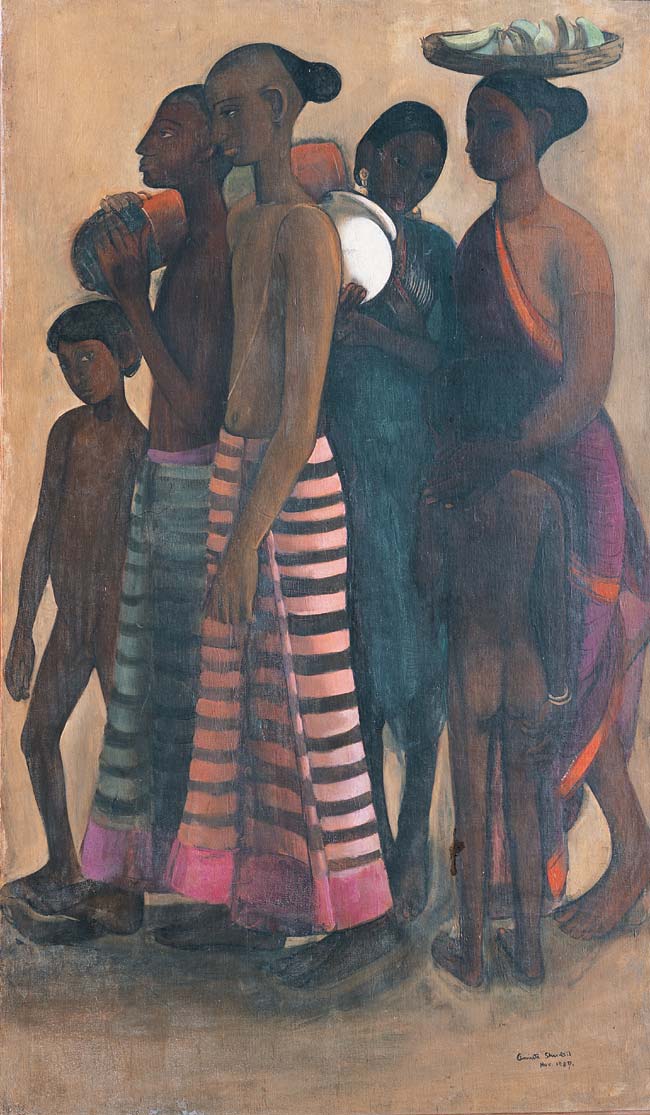 Unlike the Indus Valley Civilisation, most of the evidence about the attire of our ancestors who lived during the Sangam era come from literature. In the poems, verses and texts that are now studies, the authors describe what garments were worn routinely by men, women and children as well as those reserved for special occasions.
Santanam Swaminathan, a journalist who has studied some of these scriptures, writes about Nakkirar, a poet who lived in the Sangam period. Nakkirar had written about their need for "one [naazhi] measure of food every day, two pieces of clothes."
---
You may also like: VIDEO: The World's Oldest Curry Traced to the Harappan Civilisation
---
Swaminathan elaborates, "It shows the ancient Tamils wore one upper garment and one undergarment like Dhoti. We have descriptions of shirts called 'Kanchukam,' mostly worn by soldiers or foreign bodyguards from Rome (Yavanas=Milechas)."
Some of the sculptures and paintings from the era show women with a bare torso and a lower garment made using leaves.
Leaves of the Asoka tree, as well as punnai flowers, were used to stitch these skirts.
However, some other sculptures as also scriptures show women wearing Kalingam, a cotton garment that covered both their lower bodies and breasts.
Women were also heavily adorned, from head to toe. A gold Makuta, decorated with pearls, diamonds and rubies was worn on the head, and headbands and ear ornaments were common accessories. Apart from these, women also wore nose rings, finger rings and necklaces. The jewellery could be made from gold, pearls or other precious stones.
(Edited by Gayatri Mishra)
Like this story? Or have something to share? Write to us: contact@thebetterindia.com, or connect with us on Facebook and Twitter.
We bring stories straight from the heart of India, to inspire millions and create a wave of impact. Our positive movement is growing bigger everyday, and we would love for you to join it.
Please contribute whatever you can, every little penny helps our team in bringing you more stories that support dreams and spread hope.