Photo exhibition on gender issues, marathon to raise awareness about spinal cord injury, Bangalore Theatre League and a lot more to attend this week. Here are five events you should not miss.
1. Running For Ability – Chennai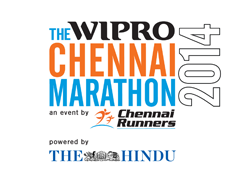 A 160-member team will represent Running For Ability on December 7, 2014 at The Wipro Chennai Marathon. Running For Ability is an initiative of The Spinal Foundation. The focus is to raise awareness of quality life after a spinal cord injury, spread knowledge about the ability latent in physically challenged persons, and highlight the importance of sports. The team includes 58 physically challenged persons who would be doing 850 kilometers without assistance.
Five of the physically challenged are doing the full marathon (42.2 kilometers) and nine are doing the half marathon (21.1 kilometers). The rest would be doing 10 kilometers each. The Spinal Foundation is Pan-India self-help group for persons with Spinal Cord Injury also representing all major NGOs & individuals working for this cause across the country.
A spinal cord injury, at one stroke, imposes multiple physical challenges such as loss of sensation, ability to walk, use hands, bladder control, bowel control, ability to procreate and manage body temperature, apart from high costs of rehabilitation, ongoing high living expenses for a lifetime, and acute psychological stress. Conservative estimates place the number of spinal cord injured in India at about two lakh persons with 10,000 new cases added every year.
As part of its Awareness Programs, The Spinal Foundation has Running For Ability, a platform for spinal cord injured and other physically challenged persons to participate in marathon events. Our first event was The Wipro Chennai Marathon, which started in 2012, and has become the marque running event in Chennai.
In 2012 and 2013, they put together a team of physically challenged – 2 and 8 respectively in the two years – supported by doctors, physiotherapists and occupational therapists from Christian Medical College, Vellore who do outstanding lives changing work on a daily basis. They had 38 and 63 runners respectively.
In 2014, their effort, now a part of The Spinal Foundation, takes a major leap with 58 physically challenged – 28 with spinal cord injury, six who are impaired by polio, nine hearing challenged and 15 amputees. The Challenging Ones – a self-help group for amputees and WORTH Trust, which recently celebrated completion of 50 years, are co-partners in the initiative.
They have a group of 85 therapists / doctors / students of Physiotherapy and Occupational Therapy from Christian Medical College (CMC), Vellore, who do outstanding service daily in restoring lives of persons affected by brain injury, spinal cord injury, amputation, stroke and children with special needs.
The collective distance by the 160-member team would be about 2250 kilometers. They have a band of dedicated about 15 Chennai Volunteers who provide encouragement and support. They hope to increase the number of physically challenged persons further in the years ahead. Check out this page for more details.
When: 7th Dec
Where: Wipro, Chennai
2. Bangalore Theatre League – Bangalore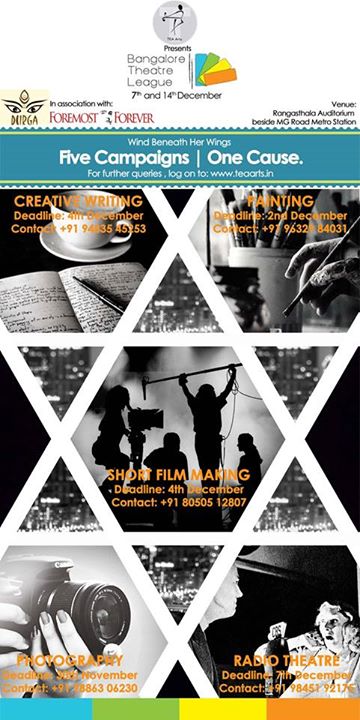 Foremost Forever, which is focused on women empowerment through art, is partnering with TEA Arts and DURGA this year to bring the Bangalore Theatre League across colleges and corporate in Bangalore, on the theme of women empowerment and women safety.
The event involves teams putting together short films, plays, creative writing, painting/photography and radio theatre with the short-listed entries being screened at the below mentioned venue and show times.
The event not only brings a celebration of women to the wider audience but also helps connect the next generation with the cause that's so integral to Foremost Forever.
When: 7th Dec and 14th Dec, 4pm and 7pm (2 shows each, on both days)
Where: Rangasthala Auditorium, MG Road
3. World Soil Day – Mumbai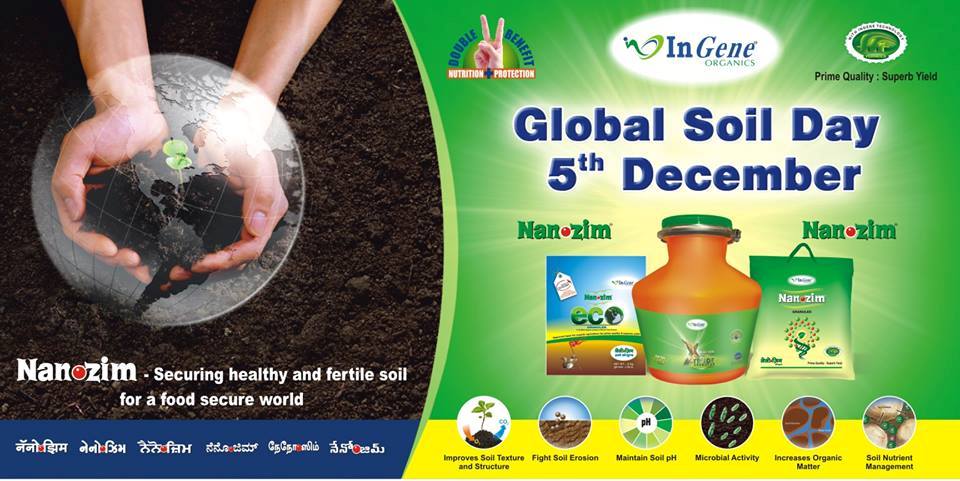 World Soil Day celebrates the importance of soil as a critical component of the natural system and as a vital contributor to the human commonwealth through its contribution to food, water and energy security and as a mitigator of biodiversity loss and climate change. Be part of this global event and educate the farmers and all stake holders to care for the soil. "Nanozim"- Securing healthy & beneficial Soil for a Food Secure World! Be part of a pan India celebration of World Soil Day and Jaago Re Kisan Campaign of InGene Organics.
When: 5th Dec
Where: Poonam Chambers, Worli, Mumbai, Maharashtra
Check out this page for more details.
4. The Gender Issue as part of Pix – Photography Exhibition – Kolkata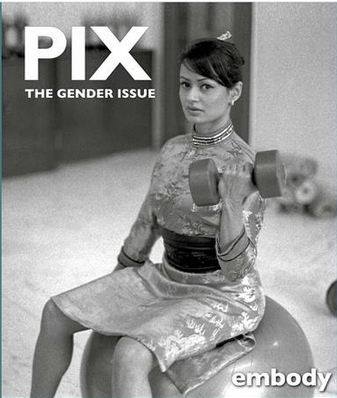 The exhibition featuring 13 artists will include a brief presentation by Tanvi Mishra on the PIX: Gender Issue followed by a panel discussion on Is Photography Stranger than Fiction?
Moderated by Philippe Calia, discussion will include Arko Dutto, Zishaan Akbar Latif and Ronny Sen as panelists.
When: From 18th Nov to 7th Dec
Where: Seagull Foundation for the Arts, 36C, S.P. Mukherjee Road, Kolkata
Know more about the even here.
5. Pet-a-Thon – Bangalore

The Pet-a-Thon is about animal causes. Express your love to the animals & voice your opinion against cruelty towards animals. Check out the event page for more details.
When: 7th Dec
Where: Petstepin, # 38, Rustam Bagh, Behind Manipal Hospital, Old Airport Road, Bangalore
Want to include your event in the list? Write to us at- contact@thebetterindia.com
Like this story? Or have something to share? Write to us: contact@thebetterindia.com, or connect with us on Facebook and Twitter (@thebetterindia)