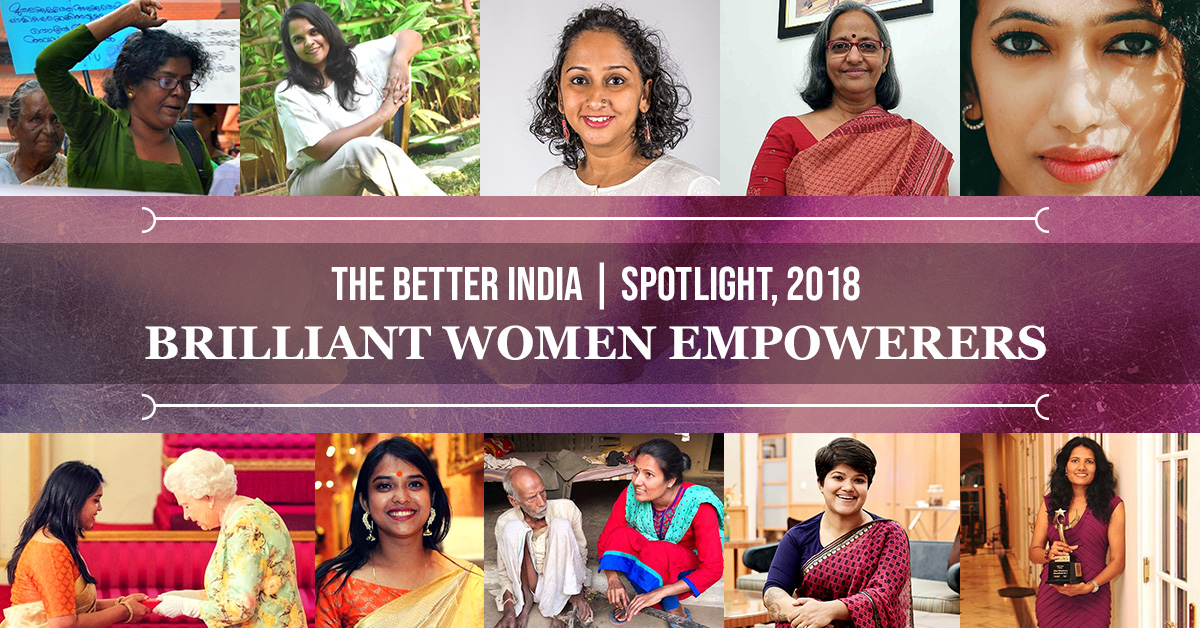 Here are the 10 wonder women of India that we would like to honour with The Better India Spotlight, 2018.
---
The Better India Presents 'Spotlight 2018': A celebration of trailblazers, champions, and pioneers of change! Ordinary folks whose extraordinary and inspiring actions have made the world stand up to take note. Join us in honouring 50 heroes, whose brilliant path to a better future deserves all the spotlight we can shine on them!
---
While the world continues to divide individuals into collectives, there exists a rare breed of persevering people who rise above that, to redefine themselves and those around them.
These are the change-makers who are not willing to let others define them, their roles in society and what they can or cannot do.
And, this spirit is best defined in the work of strong women, who, despite several obstacles, have redefined and transformed the lives of several other women.
With another year coming to an end, we at The Better India are celebrating these female heroes who have truly made a difference to thousands of lives with their unwavering patience and resilience.
Here are the 10 wonder women of India that we would like to honour with The Better India Spotlight, 2018.
Maya Vishwakarma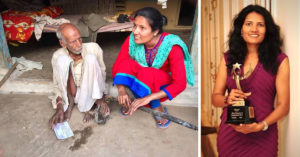 Popularly known as the 'padwoman of India', Maya Vishwakarma calls herself the 'standing example' of the dire repercussions caused to the girls and women of India, by the taboo and stigma around menstruation.
Born to a family of agricultural labourers in a village in Narsinghpur district of Madhya Pradesh, Maya did not have access to sanitary napkins until she was 26. This caused her to face many health issues later in life, thus triggering her ambition to remedy the situation.
Despite financial obstacles, she continued her education and did her post-graduation in Biochemistry from a university in Jabalpur. This was followed by her stint as a researcher at AIIMS Delhi, after which she went to the US to become a cancer researcher in Leukemia.
Through all of this, her personal health issues tied her back to the cause waiting for a solution back in her country.
"During my first period when I was in the 9th grade, I was told to use a cloth instead of pads, and I continued to do so until I finally had access to sanitary napkins at the age of 26. However, the unhygienic methods in those formative years left a mark as it caused several infections. Those made me realize, that if such a thing can happen to an educated person like me, what about all those women in rural areas shrouded in lack of awareness. That is when I knew I had to do something to change it," said Maya.
Eventually, at the age of 36, she quit her job and started the Sukarma Foundation in 2016, to create awareness around menstruation, promote the importance of using sanitary napkins and busting the stigma and myths around it.
In addition to this, the foundation also manufactures affordable sanitary napkins which are given to the women in the remotest areas of the country.
"After two years, I still feel that the work has just begun. I have started an important conversation and it needs to continue. Meanwhile, I want women all across the country and beyond to look at their own selves and care. Most women here grow up to put others before them and thus end up ignoring themselves. That needs to change for a better and safer future," said Maya.
Rukmini Rao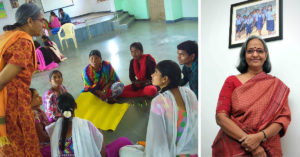 In the midst of a country stricken with a 21-month-long Emergency, Dr Rukmini Rao was among the few who rose to make their voices heard. Her trigger, she says, was an inability to stomach the injustice routinely reported in the daily news.
Her group, Saheli, was established in 1981 to help women facing domestic violence, through social, economic and legal support.
One issue which particularly infuriated her was the rising numbers of dowry deaths.
"I gathered a group of like-minded people to take all the needed efforts to support women harassed for dowry and eradicate all possibilities of such deaths in the future. This has led us to push for almost seven pro-women legislation," said Dr Rao.
These legislations include a law on domestic violence and a law against the pornographic display of women.
Speaking about the body of her work, she added, "We have been mostly working with women, but even men require such awareness to have a true impact on society. We are trying to achieve that. At the end of the day, all I am is an ordinary person, who took the leap of change. And, anyone can do that!"
Dr Rani Bang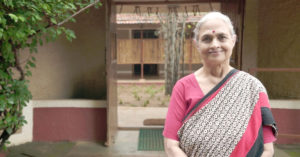 Even after forty years, the memory of an infant child breathing her last due to a lack of medical facilities haunts Dr Rani Bang. For Rani, this was a wake-up call to address one of the most pressing issues of the nation, lack of adequate healthcare for the poor.
The painful memory was from when Dr Bang met a widowed landless labourer called Rai-bai Dabole, who had come to her seeking treatment for her infant daughter with gastroenteritis and pneumonia.
The child was in a critical state and Rani had advised her to visit the nearest hospital. Two days later, the infant died.
"I was angry, upset and felt so helpless. But after confronting the mother, Rai-bai, I realized my first lesson – healthcare is not always just the facilities or the medicine, but also to make it sensitively accessible,"
Since then, Rani and her husband, Dr Abhay Bang, have dedicated their lives to the social and educational upliftment of areas in the tribal district of Gadchiroli, Maharashtra.
Together, in 1986, they started a grassroots health organisation, SEARCH (Society for Education, Action & Research in Community Health).
This couple, who has also been awarded the prestigious Padma Shri, is also known for their ground-breaking research on how pneumonia and not diarrhoea, was the principal cause of under-five mortality.
Their findings not only had an on-ground impact but also pushed the World Health Organisation to change their drug manufacture strategy.
Speaking to The Better India, she added, "There are rampant problems everywhere and the unfortunate part is that most people today are very self-centred. This attitude needs to change as no one is ordinary when it comes to perpetrating change. Anyone can do it. What I have realised that you can earn the most prestigious accolades and awards, but true satisfaction will only come from the impact of you selfless work for the larger good."
Chetna Sinha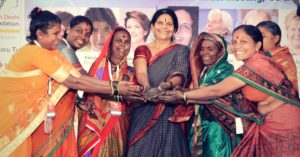 Almost 200 kilometres from Pune, the town of Mhaswad in Satara district of Maharashtra has a unique bank that provides loans as low as Rs 15 to rural women!
The Mann Deshi Bank, established by Mumbai-based Chetna Sinha in 1997, provides financial aid to rural women, making them truly empowered. So far, the bank and its eight branches have empowered more than 3,00,000 women through 140 field facilitators.
Speaking to The Better India, Chetna says she realised that social empowerment of rural women was predominantly tied to the economic opportunities they get. This bank is her effort to bridge that gap.
With the support of village women, she started the bank with a share capital of Rs 600,000.
From micro-credit plans ranging from loans for five years to one day or providing loans as low as ₹5,000 to offering women the flexibility to pay on a daily basis, the bank created its own successful model to engage these women. The bank also provides a daily loan facility, with the EMI repayment amount as low as Rs 15. The bank claims that over 15,000 transactions of this kind take place on a regular basis.
'Looking at the success, we plan to take this model all across the country and want to impact 1 million women entrepreneurs by 2022. All we need is patience and courage for that!" added Chetna.
Sonal Kapoor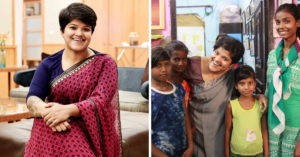 With a job in the advertising sector, Sonal was living her dream. The then 23-year-old loved her job, but it an on-ground assignment uncovered her true calling.
"I was in a slum where I met the horrors of reality. There was this 36-year-old woman with six daughters and a seventh child was on the way. I noticed that one of her daughters, a 7-year-old girl could hardly walk straight or sit properly. After a lot of insisting, her mother opened up and shared that the child was sexually assaulted in a nearby brothel. I still remember how shocked I was when she said that she would strangle the seventh child if it turns out to be a girl. After this I couldn't go back to my old job!" said Sonal, who has been fighting child trafficking since then.
In 2010, she founded Protsahan India Foundation, with a vision to eradicate child abuse, by breaking the intergenerational cycle of child abuse and poverty in urban and rural India.
The foundation uses a holistic approach with art and education to heal, help and protect the survivors and the endangered children.
33-year-old Sonal is now a member of the expert committee on anti-child trafficking, under the Delhi Commission of Women. Over the past eight years, the foundation has rescued and rehabilitated more than 19,000 children.
Speaking to The Better India, she said, "Might be a wishful thought at this point, but I hope that the world stops needing people like us, someday. People need to stop living their shallow lives and step up to stand for what's right. And, it begins with acknowledging the problems around you first!"
Sandhya Menon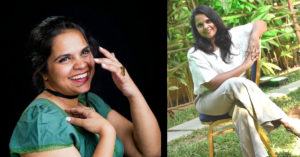 Only two months ago, the country was reverberating with the #Metoo movement.
One of its prominent voices is Sandhya Menon, an activist and freelance journalist who opened up about senior journalists who she accused of physically and verbally abusing her.
This encouraged a sea of similar responses for women across the country who shared their harrowing stories of sexual assault, thus breaking the dam of silence.
According to Sandhya, this enabled society to build a holistic picture with the larger narrative of violation coming together.
Speaking to The Better India, about her experience, she said, "I was triggered to speak up after I saw that someone as big as Nana Patekar being called out by Tanushree Dutta for assault. I pitched in because for ten years I hadn't been able to resolve the way the two of my cases were mishandled- one by me and another by the organisation."
The movement has had its own share of misuse as well. But Sandhya is confident that a proper legislative change will bring about much-needed change.
Deane De Menezes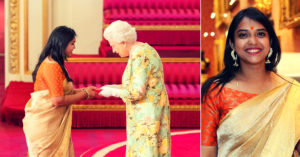 At the age of 24, Deane De Menezes has been awarded the prestigious Queen's Young Leaders Award, for her impressive initiative, 'Red is the New Green'.
The project aims to break the social stigma associated with menstruation and the economic and gender inequality driving it.
Through several menstrual hygiene awareness sessions across schools, institutions, colleges, hospitals and organizations in Mumbai, Deane and her team, has been busting the myths around periods and encouraging safe and healthy choices.
But, in addition to spreading awareness in the rural areas, Deane and her team have been making affordable menstrual hygiene products for underprivileged girls and women, in addition to installing sanitary vending machines at several points.
Also, thinking ahead and ensuring that the used pads do not harm the environment, they have installed incinerators with each vending machine, for safe disposal and destruction of menstrual waste.
In addition to manufacturing and spreading awareness about the use of sanitary napkins, the project also focuses on alternative hygiene products like tampons, menstrual cups, etc., to reduce menstrual waste.
Speaking about her future plan, Deane told The Beter India, "The award was a big push of encouragement after a long period of struggle. We hope that with this, the cause will soon become a national and international movement, with more schools, colleges and offices openly acknowledging it, and providing easy access to products. At the end of the day, periods are a natural phenomenon, as basic and normal as sweating!"
Viji Penkoottu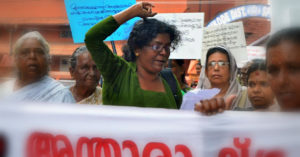 The women working in the shops and malls of Midhayitheru, SM Street, a shopping area in Kozhikode, Kerala, were denied basic human rights- the right to sit or visit the toilet.
This was not an isolated case. But has been happening around the whole state. Perturbed by the situation, 50-year-old activist Viji Penkoottu decided that it was high time someone raised their voice.
"With no toilets in or around the shops and the denial to even sit, it was as if these women were not even considered humans," Viji said, speaking to The Better India. In recognition of her contribution to the 'right to sit' struggle BBC also named her among the top three Indians on the 100 Women 2018 list.
"When we approached the established trade unions, we realized from their response that they too are male bastions. So we formed Penkoottu, an all-women's trade union, to raise voice to fight for the basic rights of the saleswomen. We then approached the shop owners demanding toilet facility for women workers, and their response was very arrogant. 'Drink less water, so that there will be less urine', they mocked us. Some of them even suggested us use a tube or a hose if women workers wanted to urinate while working hours!" added Viji.
Owing to her incessant efforts, an act securing this right was recently passed in the state. The Kerala Shops and Commercial Establishments (Amendment) Act, 2018, was eventually passed after an 8-year struggle for flexible working hours and a place to sit.
Adhunika Prakash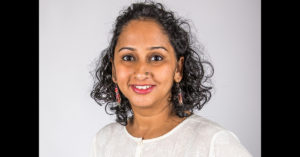 Unlike her mother and many women before her, Adhunika's first pregnancy in 2012, wasn't what she was hoping for, at least at the start. Alone in Cork, Ireland, she did not have any support from female elders or any community guiding her through the contours of the journey.
As the questions kept piling up, she eventually found some solace joining an Irish breastfeeding support group.
"Although I had some help from my mother over the phone, it was difficult to find answers to practical questions without a community around. It was only after joining this group that I realised what tremendous difference support from other breastfeeding parents could make to the breastfeeding journey.
And, soon after that, it triggered me to start an Indian group which focused on queries from the Indian cultural point of view," said Adhunika Prakash, speaking to the Better India.
The peer-to-peer support group for Indian mothers, Breastfeeding Support for Indian Mothers (BSIM), was established in 2013. What started as a Facebook group now has more than 82,000 members from India, the United States, United Kingdom and Australia.
In September, Last month, Facebook selected Adhunika as one among five global leaders in its Community Leadership Program out of 6,000 applicants. These global community leaders receive grants up to $1,000,000 each from Facebook to fund their initiative and amplify its effect on the ground.
If one wants to help anyone and is willing to spend time helping other people, the easiest thing to do is to start a Facebook Support group. If the support and help that you provide is genuine, people will automatically get drawn towards it. Social media can be used to make a positive impact in the lives of people. There is no excuse anymore for those to want to work on making the world a better place."
Trisha Shetty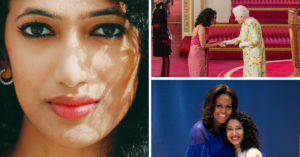 In 2017, a Mumbai-based non-profit organization, 'SheSays' led by Trisha Shetty, began a campaign, #LahuKaLagaan, which called to abolish tax on sanitary napkins.
As the campaign went viral across the country, other organisations picked up the cause. Eventually, in 2018, the 12 per cent tax on sanitary napkins was scrapped by the government.
This is not the first triumph for this 21-year-old social activist, who, since 2014, has been advocating equal rights for women, at several platforms, including, the United Nations.
The need for the NGO began in 2014 when she realised that despite the high occurrence of violence against women, there was hardly any conversation about the rehabilitation of the survivors.
Each story of abuse, be it of a woman or any member of the LGBTQ community, mattered and the organisation rose to fulfil that need for in-depth on-ground change, says Trisha.
"We kick-started SheSays with the intent and pledge to be 'values first'. SheSays has since then been a values-led organisation that has championed for causes that stands for all," says Trisha speaking to The Better India.
"At the end of the day, it is important to demand better from yourself. To unlearn problematic behaviours and learn how to be better. Once you demand better from yourself, you can unapologetically demand better from your family, friends and society," concludes Trisha.
(Edited by Vinayak Hegde)
Like this story? Or have something to share?
We bring stories straight from the heart of India, to inspire millions and create a wave of impact. Our positive movement is growing bigger everyday, and we would love for you to join it.
Please contribute whatever you can, every little penny helps our team in bringing you more stories that support dreams and spread hope.
Tell Us More