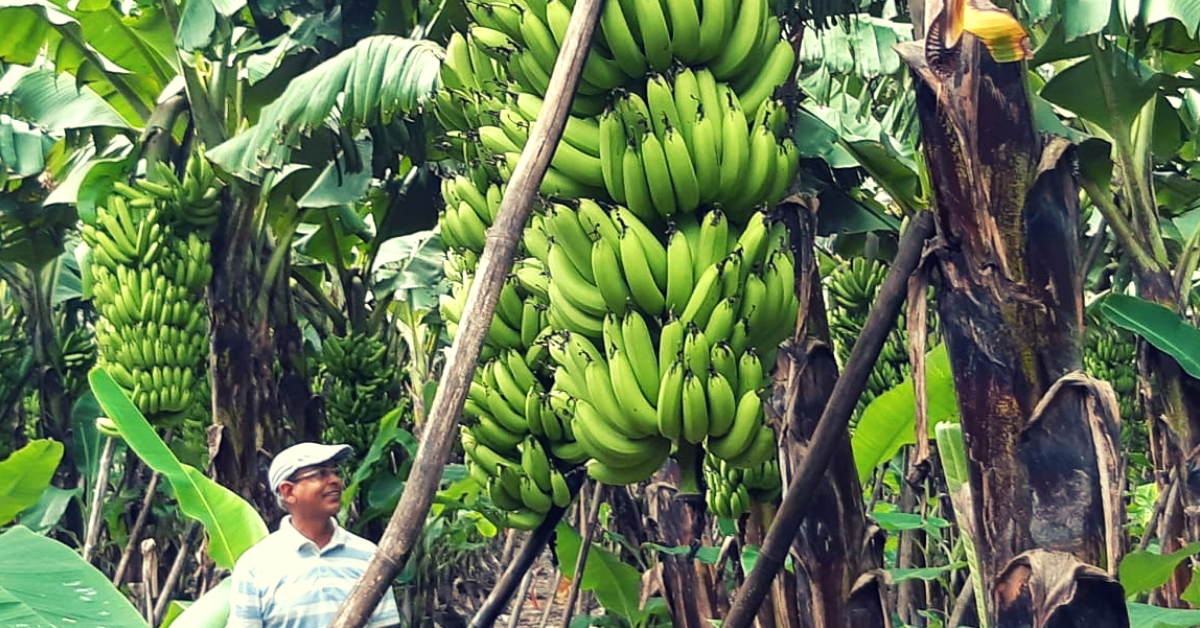 While 2018 is on the brink of wishing us goodbye, the year has shed light on many such stories and innovative ideas. Here's a quick look at ten such sustainable farming techniques.
Farming is often correlated with like barren land, unpaid loans, water scarcity, unfair prices, crop losses and farmer suicides.
And while some of these are harsh realities that we cannot turn a blind eye to, there is also an unexplored and underrated side of agriculture that doesn't get the limelight it deserves. These are stories of innovations, successful farmers and farming techniques that have the power to change the face of agriculture in India.
While 2018 is on the brink of wishing us goodbye, the year has shed light on many such stories and innovative ideas. Here's a quick look at ten such sustainable farming techniques.
1. Pune Brothers Quit High-Paying Jobs for Organic Farming, Make Rs 30 Lakh Turnover per Month!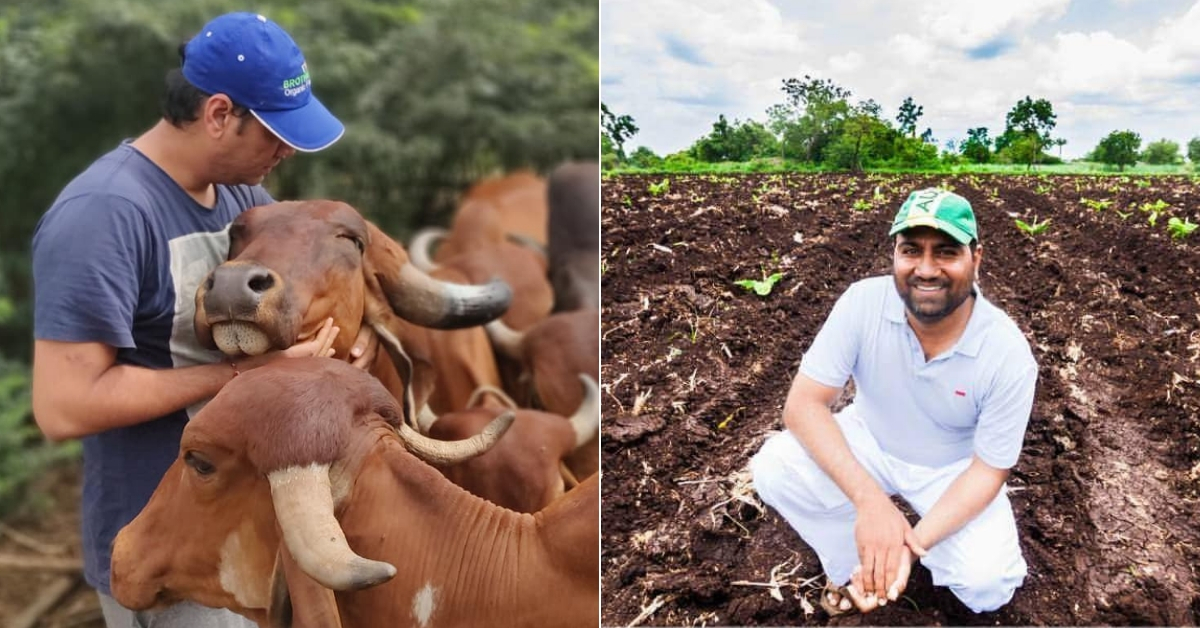 When two brothers decided to quit their lucrative jobs, return to their native village in Bhodani and turn to farming, the immediate reaction from everyone around them was an utter shock.
From turning to organic farming on two acres to practising it on 20 acres and making an annual turnover of Rs 3 crore, Ajinkya and Satya Hange have come a long way with their 'Two Brothers Organic Farm'.
Skipping sugarcane, they turned to integrated farming with native varieties of pomegranates, papayas, drumsticks, tur dal (pigeon pea), moong dal (green gram), urad dal (black gram), lobia (black-eyed pea), bananas, sugarcane and 20 indigenous Gir cows.
The brothers faced huge losses in the first few years but stuck to their gut. When they first harvested papayas, the local mandi procured a price of Rs 4/kg.
Let down by malls and other vendors, they turned to local vendors under bridges to sell their produce. Their product was tasted by the head of Star Bazaar, and then there was no looking back. They moved to the rack of every top retailer and even delivered produce to business tycoons and A-listers.
Now they sell in various farmer markets and also have their own online shop for processed organic products. Their 100 per cent organic farm attracts people from over 14 countries. They have also trained over Indian 2,000 farmers on their farm.
Read more about their journey here.
2. No Soil, No Pesticides. This Self-Taught Punekar Who Grows Veggies in PET Bottles!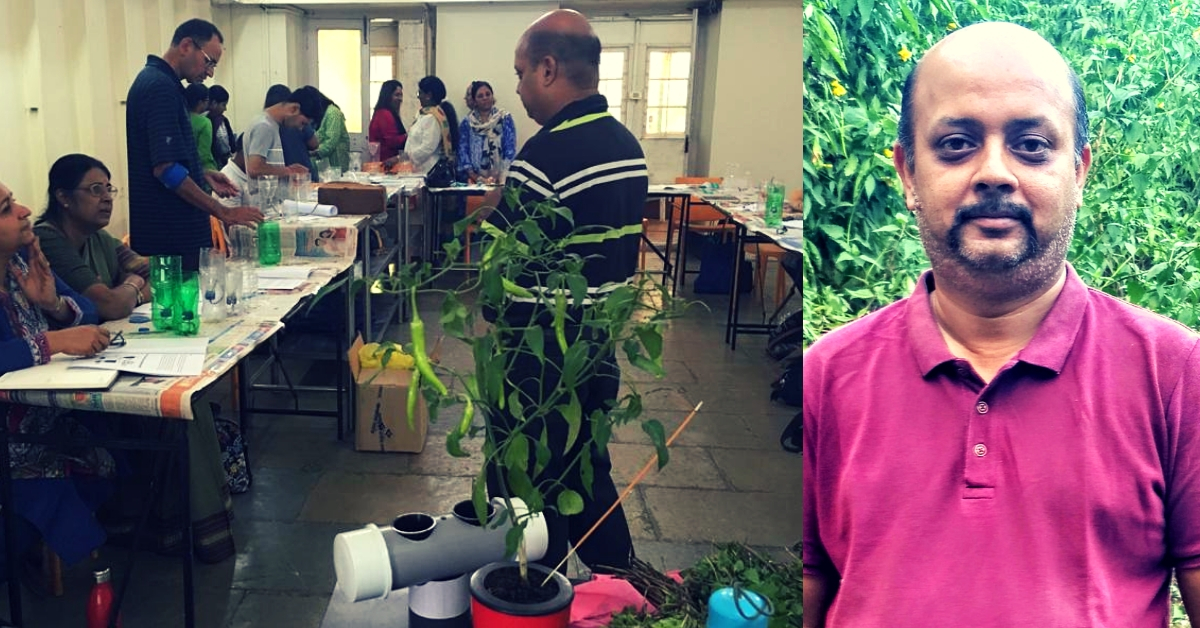 Rudrarup's first exposure to hydroponics was in class eight when his father brought home a book on the subject, long before most people knew of the technique.
At 41, this Pune-based IT professional is helping people with no farming backgrounds grow everything from herbs to mustard, tomatoes to spinach in PET bottles and homemade planters like Chyawanprash cans, yoghurt containers and even food delivery dabbas, using hydroponics.
Green leafy vegetables like spinach, mint, cilantro, basil, fenugreek, and others like lettuce, chillies and tomatoes, he grows them all on his balcony!
The growth of crop is twice as fast with hydroponic gardening as nutrients are dissolved in water and directly fed to the roots, proportionately.
Read more about his journey with this lucrative technique here.
3. Rain Shelter Farming Fetches This Kerala Cop 12 Kilos of Veggies Every Day!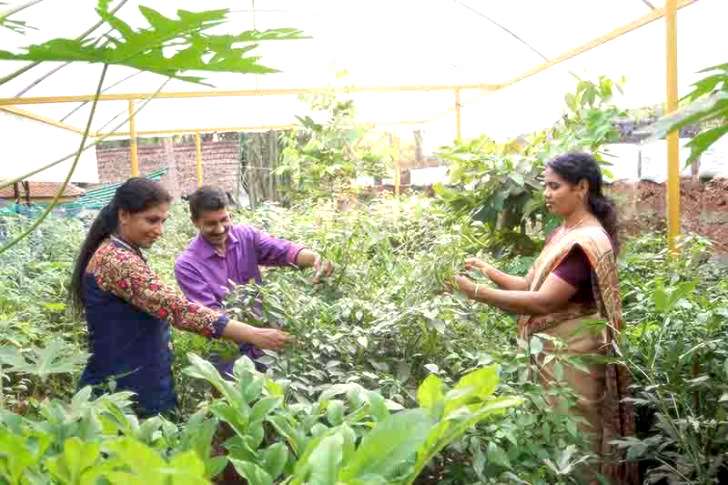 Premanandan is a Vigilance Sub-Inspector from the Moozhikkal town in Kozhikode. In the last eight years, he hasn't purchased vegetables to meet his household requirements!
Because he has been successfully harvesting 12 kilos of vegetables every single day from his 0.025-acre plot using rain shelter farming.
Similar to greenhouses, rain shelters are naturally ventilated. They are built using GI (Galvanised Iron) pipes, wooden or bamboo poles with roofs made up of a transparent UV-stabilised low-density polyethylene film that facilitates crop cultivation around the year.
He grows ten different vegetable varieties including tomato, okra, long beans, brinjal, bitter gourd, chilli and scarlet gourd, along with four different types of amaranth organically.
Read more here.
4. Traditional 'Wonder Grass' Helps TN Farmer Earn Rs 1.5 Lakh Profit per Acre of Land!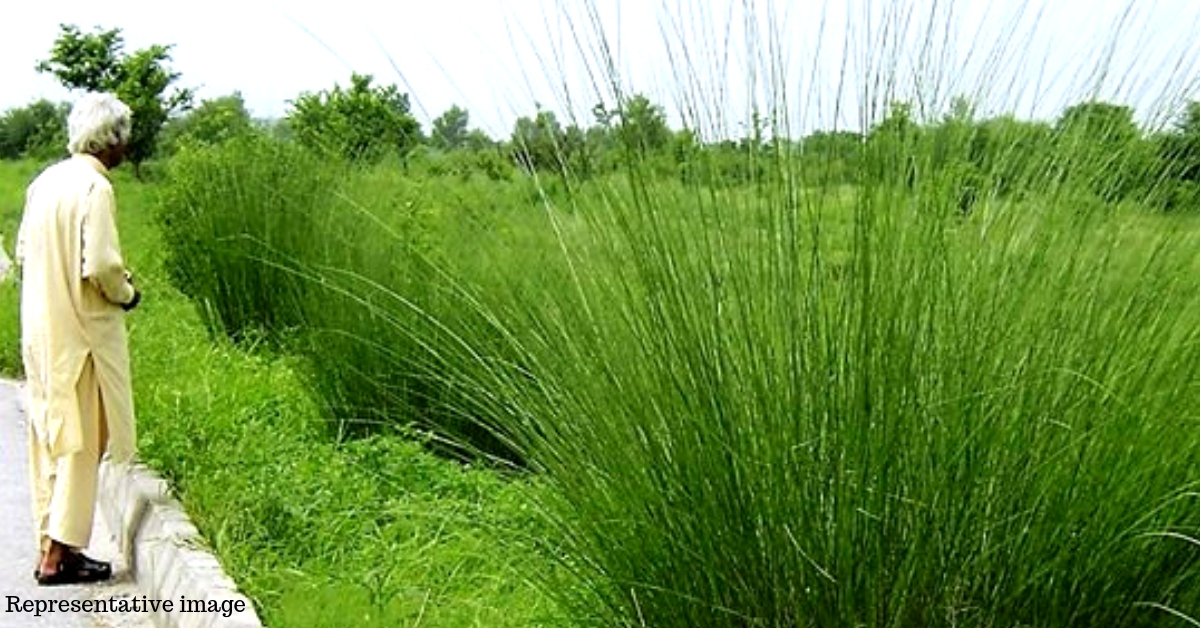 Did you know Vetiver grass is also known as the "wonder grass" of Tamil Nadu?
C Pandian, a farmer from the Sivaganga district in Tamil Nadu, has a 10-acre farm covered in the 5-feet-tall grass which is set to earn him profits in lakhs. It is in high demand in various sectors, including pharma and cosmetics.
The grass gives a yield of 2-2.5 tonnes/acre in coastal farms and up to 1.5 lakh tonnes in inland farms! While one kilogram of vetiver grass gives about 300 gram of oil and earns Rs 1.5 lakh/acre of cultivation, one kilogram of essential oils extracted from this yield fetches up to Rs 58,000!
Traditionally, Vetiver grass is used to make curtains, which are in high demand during summers. Tied up on windows and sprayed with cool water, they keep the room clean and also have a sweet fragrance that acts as a room freshener.
Innovators are now finding ways to utilise it into eco-friendly air conditioners and even anti-pollution masks. The grass is also used to make 'khus' syrup and juice and to purify water in water bodies, including artificial lakes and tanks. Another quality of vetiver is that it is an antidepressant.
Read more here.
5. Desi Jugaad Helps 21-YO MP Farmer Earn a Profit of Rs 96 Lakh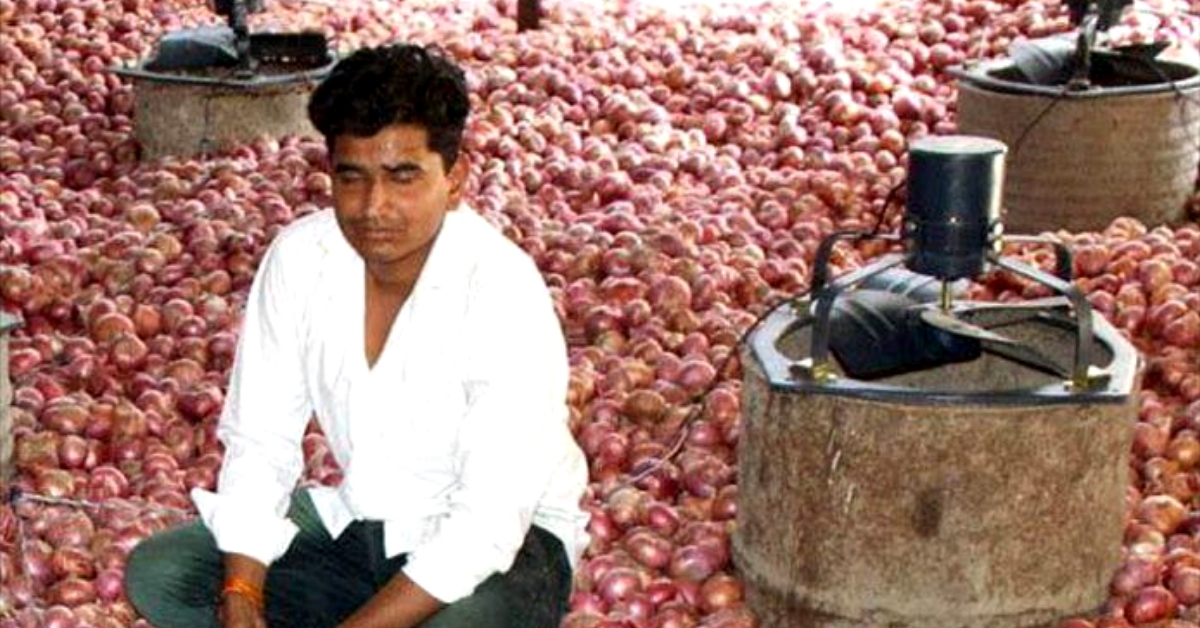 He is 21. But Madhya Pradesh farmer and innovator Rohit Patel is earning ten times more profit with onion cultivation.
While onions harvested in the summer months of March or April earn Rs 2-3/kg, when sold in monsoons, they can earn over Rs 35— ten times the price.
But that requires them to be stored until the end of the monsoon season.
Storage facilities are not cheap, so many times farmers have to use their own homes or godowns to store this crop. However, chances of this harvest getting spoilt are very high.
And so, to avoid this, in a room without windows, Patel made 8-inch-high rows of bricks at regular distances. He then spread an iron net on these rows and spread his onion harvest on it. On every 100 square feet, he installed bottomless pits (or wide pipes). He also installed an exhaust on the top of these pits, thus creating a homemade cold storage system.
Earlier, Rohit would earn Rs 90,000 for 3,000 quintals of onions, but after using this technique, he earned one crore and five lakhs for the same! This means a profit of Rs 96 lakh!
Read more here.
---
Read More: Brave, Brilliant, Innovative: 10 Amazing Kids Who Made News in 2018 For The Right Reasons!
---
6. UP's Award-Winning Banana King Earns Rs 48 Lakh/Year, Becomes Idol For Farmers!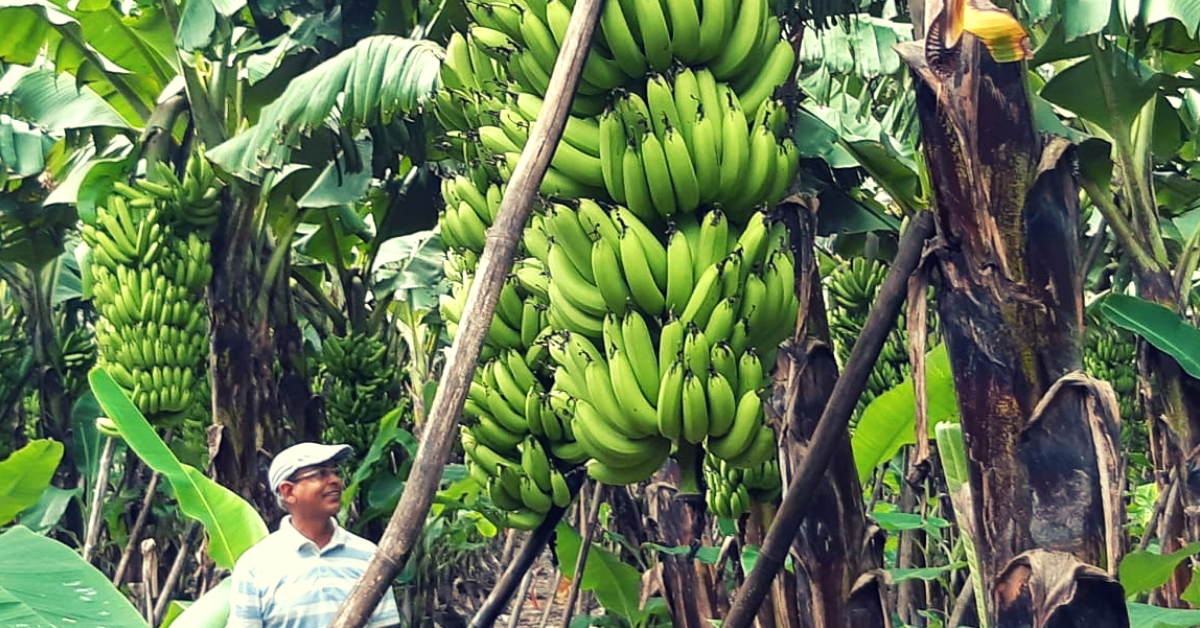 Dubbed UP's "hi-tech farmer", Ram Saran Verma works on farms spread across 150 acres and earns Rs 3-4 lakh/month!
In 1984, he managed to save up Rs 5,000 and travelled across India to interact with successful farmers, agricultural scientists and experts. When he returned to his native Daulatpur and spoke to his father about setting up a banana plantation on one acre of land, the older farmer did not approve. But Ram went ahead anyway.
What set him apart after 1988 was the distinction of being one of the first farmers in the state to introduce tissue culture for banana farming.
A 1-acre plantation yielded 400 quintals of bananas. For a cost of production of Rs 1 lakh, the farmer earned a profit of over Rs 4 lakh!
He also grows red bananas which are rich in protein, fibre and low on sugar. Smaller compared to the traditional yellow bananas, he planted 1,000 saplings of the variety back in 2012. As against Rs 15 per kg for the regular variety, these were sold at Rs 80-100 per kg.
He uses crop rotation diligently to reduce soil erosion, increase soil fertility and crop yield. Here, different types of crops are grown in the same area in sequenced seasons.
His methods have benefited over 50,000 farmers in his neighbouring districts. He also hosts training sessions and workshops for farmers from within and outside the country.
Read about his journey here.
7. A Farm That Will Live Forever: Meet the Couple Teaching This Special Technique!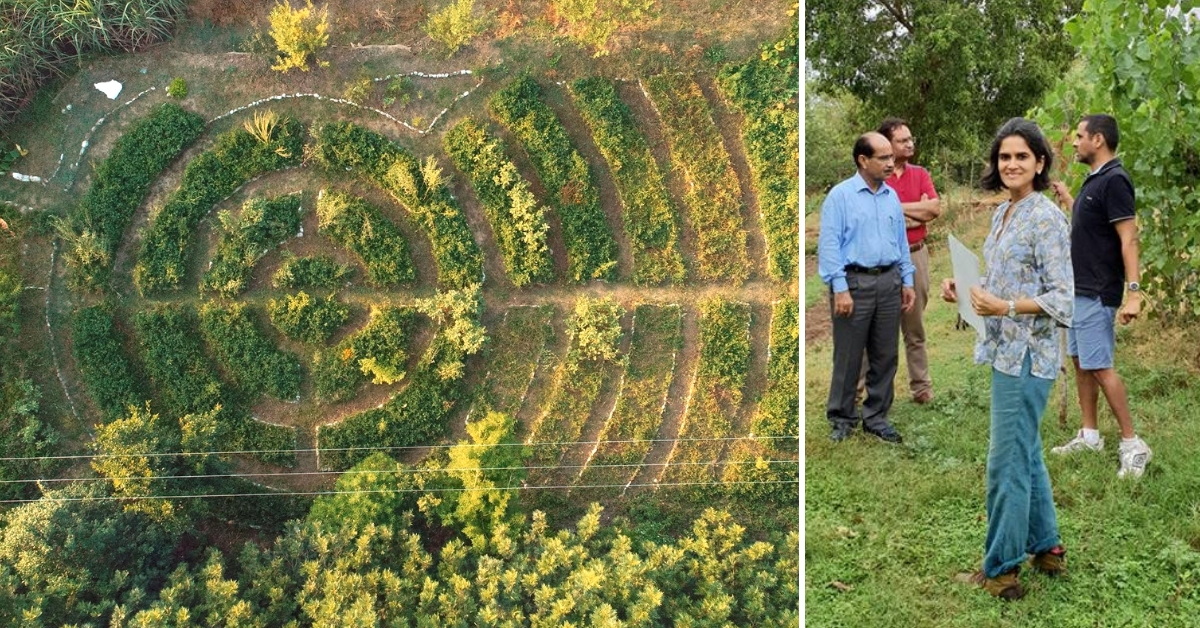 Located at the foothills of Morni Hills near Panchkula, the Aanandaa Permaculture Farm was started by a husband-wife duo in 2010 with one aim—to connect urban folk with nature. An ecosystem which turns self-sufficient over time, it has insects, birds and animals, all of which play an important role.
Originally from Chandigarh, Manisha and Agam who worked in Mumbai were concerned about the deteriorating quality of the food and water they were consuming. The solution to this came in the form of permaculture.
With no background in traditional farming, they learned everything from scratch from books, videos and local villagers.
They purchased some land near Chandigarh, and within nine months, they marked the land, fenced it up, dug a bore well for water, and worked towards the plantation.
By monsoon in 2011, they had planted over 1,000 trees in the farm. Till date, the duo runs the farm by themselves, with a team of local villagers who work at Aanandaa.
The farm is open to visitors by appointment, where they can also get an introductory session on permaculture. The duo continue to have full-time careers in Gurugram and now plan to start a seed bank, giving saplings and guiding small farmers towards farming without chemicals and unlimited water.
Read more here.
8. Maha Farmer Pays off Rs 10 Lakh Loan, Helps Create Rs 400 Cr Turnover! Here's How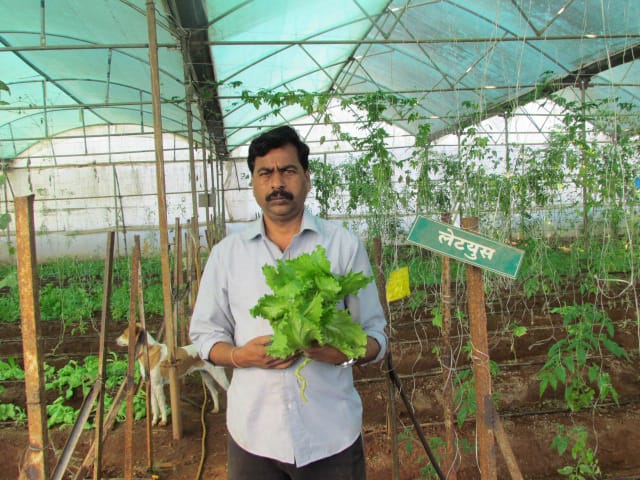 Born to a marginal farmer in Pune's Mulshi taluka, Dnyaneshwar Bodke worked as an office boy for ten years.
The success story of a Sangli-based polyhouse farmer who earned Rs 12 lakh a year inspired him to quit his job and farm. He set up a polyhouse in a 1,000 sq ft area on loan. He started cultivating decorative flowers like carnations and roses in the polyhouse. Instead of the local mandi, he tied up with decorators and hotels and also started exporting them to leading metros.
His profits were such that he repaid a loan of Rs 10 lakh within a year!
In 2004, with the help of the National Bank for Agriculture and Rural Development (NABARD), he formed the Abhinav Farmers Club to practice hi-tech farming in a group.
From 11, the members increased to 305. Farmers who earned Rs 25,000 a month, started earning Rs 5 lakh a year. They even bought 300 Maruti cars to quicken delivery and won a national award by NABARD.
They decided to use a new technique of growing exotic veggies like broccoli, Chinese cabbage, parsley, cherry tomato, celery and zucchini. While Indian vegetables earned Rs 10/per kg, exotic vegetables procured Rs 80-100/kg.
Each farmer was earning up to Rs 700-800 per day. When competition increased, Bodke came up with the idea of a 1-acre hi-tech integrated organic farming project.
The produce was directly delivered to the doorsteps of customers without any middlemen. Where engineers earn Rs 12 lakh a year, a class six farmer in rural Maharashtra was earning the same amount. To tackle delivery issues, the club connected with women self-help groups who packed, graded and delivered the produce in 126 vans.
Today, the impact of Abhinav Farmers Club is spread across six states and has over 1.5 lakh farmers and 257 farmer leaders. The annual turnover of the group is about Rs 400 crore, while Bodke's 1-acre plot is valued at Rs 10 crore! Read more here.
9. As an engineer, he earned ₹6.5 Lakh. As a farmer, ₹20 Lakh!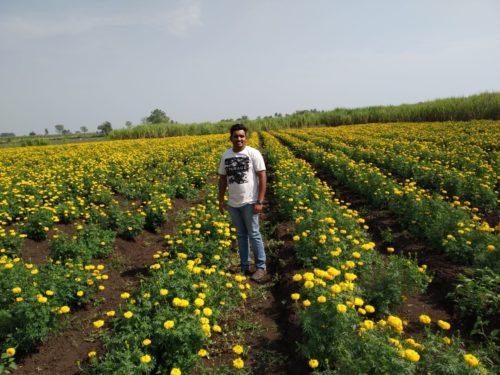 Anup worked as an IT engineer earning a handsome salary, but he lived for the weekend. Until he decided to quit.
For three months, he met farmers in Gujarat, Karnataka and Maharashtra to understand farming and returned to his village, Nagrale, in Sangli.
Today, Anup employs 10-15 workers at his 12-acre farm, where he grows coloured and green capsicum, sweet corn, sugarcane and marigold.
He says, "My package as an engineer was Rs 6.5 lakh. Here, I am earning double the money as well as satisfaction and inner peace."
He is doing this using a polyhouse. His marketing skills earned him profits in the first year itself.
After capsicum, he grew chrysanths. But uncertain market prices made him sell them at a loss. He hasn't stopped experimenting though. He has now planted marigolds in four acres and is selling them at the rate of Rs 50-60/kg.
Last year, the farmer made a turnover of Rs 20-25 lakh. He is expecting even more profits this year. Read more here
10. 2 Farmers Make Biocoal To Power Fight Against Pollution!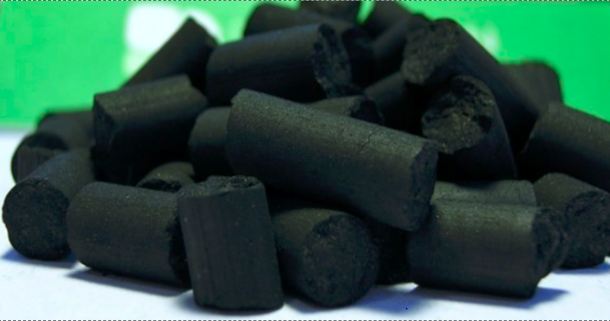 At a time when stubble burning is gaining attention for contributing to the deplorable air quality in the national capital, two farmers from Samrala city in Punjab have started a crop residue management company which makes biocoal with crop residue.
Founded by Sukhbir Dhaliwal, and Kamaljeet Singh, Farm2Energy, apart from saving the environment, also adds to the farmer's income.
Started in 2016, the company is using paddy crop, sugarcane and corn stubble residue, and trying to bid for the National Thermal Power Corporation (NTPC). Two tonnes of biocoal samples have been sent to Europe for use in thermal plants.
In 2016 and 2017, the two partners collected crop residue and sold it to biomass and cement manufacturing plants to be used as biofuel, earning Rs 30-35 lakh.
Last year, they cleared 12,000 acres in Ludhiana, Patiala and adjoining places. This year's target is 20,000 acres, of which 10,000 acres will be paddy farms alone.
They aim to export pellets/stubble powder to Europe and are clearing fields free of cost, so farmers don't face issues in sowing the next crop.
Know of any more such sustainable farming ideas? Let us know in the comments section!
(Edited by Shruti Singhal)
Like this story? Or have something to share?
Write to us: contact@thebetterindia.com
Connect with us on Facebook and Twitter.
We bring stories straight from the heart of India, to inspire millions and create a wave of impact. Our positive movement is growing bigger everyday, and we would love for you to join it.
Please contribute whatever you can, every little penny helps our team in bringing you more stories that support dreams and spread hope.
Tell Us More